It's my final "Pick Six" for this draft season, and while you'd think it'd get easier the closer we get to April 29, it's harder. What with smokescreens and the Bills' ability to pick BPA, with teams reaching for "their guy" and trades/acquisitions before and during the draft, you're pretty much locked out of the War Room. You have to go with what you know.
These are my best guesses based on prior Pick 6 articles [Mar] [Feb] [Jan] [Dec], prior Elimination Games, fit with the Bills at each position, scouted schools and the extent of contact with each school, listening to "Heart of The Process" interviews for A+ and A++ responses ([DBs] [LB] EDGE] [IDL] [IOL] [OT] [TE] [RB] [Slot], my All-Interview Team, and a munch of big boards that I trust — DraftTek, Steve Shoup at FanSpeak OTC, and NFL Mock Database (a munch of all mock drafts). I made a War Chart to visually identify best players at each pick.
"My name is Dean and I'm a Draftoholic." April 29 can't come soon enough.
I put them in order of likelihood that Beane makes that choice. They're listed almost in my order of preference, too:
RD1#30
Wyatt Davis OG, Ohio State–Work ethic and elite zone blocker. First RD1 pick by DraftTek computer for Bills way back in May 2020. What a huge addition to the OL room!
Travis Etienne RB/KR, Clemson — No bell cow in the herd? No RD1 pick last year? You had better wow the fan base with the draft's best receiving RB, most KR yards, and most missed tackles forced (84 missed tackles on only 181 attempts). If you pass on him, you play him twice a year –he likely goes to NYJ.
Alijah Vera-Tucker LT LG USC–Morris Trophy-winner is voted on by your opponents. Versatile; played LT in 2020 (athletic enough to stay there) but lined up at both OG positions in 2018 and 2019.
Teven Jenkins RT RG Oklahoma State–Opened lanes for Chuba Hubbard. His movement skills and interview are elite. Very high ceiling. I have him as the 5th-highest ranked OT. This could also be 'Bama's Alex Leatherwood if he falls to #30.
Christian Barmore EDGE DT3T Alabama– Sure, Beane has drafted a D-Lineman in every draft on Day 1 or 2 (Horrible Harry, Oliver, Epenesa); who's to say he's done? The Bills' front office is notorious for drafting D-Line early.

**** Trade Down, Get a RD4, and Take One of : Landon Dickerson OC Alabama, Pat Freiermuth TE Penn State, or Marvin Wilson DL1T DL3T Florida State. How is Mitch Morse with 5-6 concussions? Bates (not Feliciano) is your backup. Dickerson won the Rimington Award, and Alabama received a late visit this week (hence Barmore and Dickerson). Marvin Wilson leads all IDL in the draft in speed, has blocked 4 kicks, is a great interview, and Beane went to his (and ASJ's Pro Day. Marvin's my secret love. "Baby Gronk" Freiermuth wasn't the best interview, but I like the idea of his height-weight-speed in 1-2 personnel. And Penn State received another visit this week (you'll see Shaka Toney in a minute).
Zaven Collins LB, Tulsa –Will remind Beane of his favorite LB BFF, Luke Kuechly. And Tulsa is the alma mater of Bob Babich, our LB Coach. I just don't have a place for him on the field.
RD2#61
Ifeatu Melifonwu CB FS Syracuse –may be gone by our pick, but he just plays like he's the boss. Not iffy at all. If we pass on CB in RD1, Iffy's the best reason.
Trey Smith OG Tennessee–may have been first Guard picked last year, but a blood clot issue made him return. Loved his interview, Adept at the Bills' pin-and-pull, and I think they want that to be their trademark at Highmark.
Jabril Cox OLB LSU–Tops in career TKL/GM and 2nd in career TFL, there may not be a better cover LB in the Draft (Micah Parson's a better run defender but Cox is second), and there isn't one faster. Great interview. The Bills signing two ILBs doesn't change the need at OLB.
Hamsah Nasirildeen OLB FS Florida State. Some people say it was Nasirildeen that Beane was intent on seeing when he showed up at FSU's Pro Day. Gronkbuster.
Patrick Jones II EDGE Pitt–size/speed/strength, Led ACC w 62 QB pressures last year, and the Bills are going to miss Jerry Hughes sooner or later. The ACC has more Bills draft picks than any 2 other conferences.
Shaun Wade FS CB Ohio State –get the 2018-2019 version of Shaun Wade, the one who played out of the slot. Play him at FS, too. Taron Johnson is a free agent this time next year.
RD3#93

Shaka Toney ED OLB Penn State–Top 5 in sacks and TFLs in this draft class. High football IQ, Leader, spirit, and a genuine team guy: "Anything in life, you have to keep investing, keep fighting". Late Penn State visit keeps Baby Gronk and Shaka in play.
Osa Odighizuwa EDGE UCLA –3x state champ HS wrestler. Nagy: "Quick & slippery with natural leverage & hand use. Doesn't stay blocked ." Read his story.
Alim McNeill DL1T DT3T EDGE North Carolina State–fastest 4-3 scheme IDL in the draft, and one of the most versatile.
Rodarius Williams CB Oklahoma State–Greedy Williams' (CLE RD2#46) older brother, length, aggression, off-ball technique. His length causes issues for targeting. Yards per cover snap allowed at outside CB (Big 12) is #1 with 0.2.
Paulson Adebo CB Stanford–need a CB in every round, and Adebo's speed, film study, and anticipation give him the nod. Great interview.
Tommy Tremble TE Notre Dame–may drop to RD4; I may switch him with one of the speedy WRs in RD4. Tremble was the only Zoomed TE, then they signed Jacob Hollister.
RD4 ONLY IF The Trade In RD1 Is Made
D'Wayne Eskridge WR/CB/KR W Michigan–Three scouted WRs are burners (Shi Smith, Schwartz, and Eskridge); Eskridge led the three in YPC in 2019 and 2020 with 24+ …we're getting one of these.
Benjamin St-Juste CB Minnesota–Bills scouted three 6'3″ corners (Mukuamu, Melifonwu, and St.-Juste). This is the most impressive person of the three..
Divine Deablo S Virginia Tech–Muki Hawkins loves him, and Divine would love getting back to playing with Tremaine.
Chuba Hubbard RB Oklahoma State–2nd-Most forced missed tackles in 2019 (77) to ETN,, Led NCAA in rush att, yards, YPG, TDs in '19. Fastest Bills-scouted RB.
Marlon Tuipulotu DL3T USC–Bills won't likely touch 3-tech in the early rounds, but I know they like him. Doug Majeski, the Coord. of College Scouting covers the PAC12, and they're listening to him (Moss and Hodgins in last draft).
Anthony Schwartz WR Auburn–Drop rate puts him last here, but he's the fastest.
RD5#161
Paddy Fisher ILB Northwestern–depth behind Tremaine is Dodson. 2nd among LBs in TKL/G with 4.43, Intelligent, physical, hard-nosed dude .Think of Fisher as Matakevitch-Klein replacement. Tackle Machine.
Alaric Jackson OT Iowa–Epenesa's foe in practice. Best fit is RT. Thor Nystrom: "prototypical NFL left tackle frame, multiple years of pass-pro success in the Big 10, tremendous first step, and enough upper body muscle to move defenders in the running game."
James Wiggins FS/KR Cincinnati–Virtual visit with Bills. Injuries drop him but explosion and athleticism are palpable especially defending the run, where he just explodes through gaps. He's effective at the catch point as well. Bills defense would mitigate his weaknesses. Love his click and close.
Dan Moore, Jr. OG RT Texas A&M– fantastic run blocker. Really good raw strength and uses his leverage well. Concern is over bend and overall athleticism, but he will remind some of Boettger or Teller.
Bobby Brown III DL1T Texas A&M–One of the best run-stuffers in the SEC, Brown has great size and is . Used as a big guy TD package, jokes about it here .
Tedarrell Slaton DT1T DL3T Florida –Tied for 4th-Lowest TFL/GP in Class, quick-footed for his size.
RD5#174
Sadarius Hutcherson OG South Carolina — I know that Beane went to South Carolina for different reasons, but Hutcherson is at another level, lifting 225 pounds 36 times, and bench strength is high among our IOL. At 321 pounds, Sadarius ran a pair of impressive forties: 4.96/4.95. He could go earlier.
Javian Hawkins RBC Louisville–The fastest RBs in the draft, Zoom visit with Bills, but then the Bills signed Matt Breida. Dealbreaker, or placeholder? Wanna add speed? Add this: https://youtu.be/Cj2XbfJLAo4?t=161
Tommy Doyle OT Miami (OH)–He's on the team with the highest Power Success Ranks two years in a row, and it's our OL Coach Bobby Johnson's alma mater. He got Bobby to come to his Pro Day.
Trill Williams CB FS Syracuse—has played 7 positions in his football career: slot corner, free safety, OLB, PR, tailback, WR, and QB. I'd put him at tall slot corner. We're taking somebody from Syracuse
Robert Rochell CB Central Arkansas–Announcement of his Zoom interview got me scrambling for info. "Scoota" is his nickname, he had 5 INTs in only 7 Games in 2019. Twice named FCS All-American, and amassed a career 44TKLS, 5 INT, 2.5 TFL, 13 PBU, 1 FUM REC. Beane has a CB in every round; that's not true of every position.
Robert Hainsey OG Notre Dame–It's a requirement to take a Notre Dame lineman every five years. Fastest Guard in the draft, but on the light side for a Bills OL that averages 322. But we have wings.
RD6#213
D'Ante Smith OT East Carolina–bulked up to 295 for Sr. Bowl…loooong 85.16″ wingspan….Rocked the Sr. Bowl…Bills met with D'Ante in Mobile but DNP due to sprained thumb…. excellent movement skills and athleticism, would be better on a power block team.
Shi Smith WRS South Carolina–one of the three fastest scouted slot receivers, Beane went to Pro Day
Jack Anderson RG Texas Tech–blocks well, shows determination, Great in pass pro. Nasty run blocker. Jack missed most of the 2019 season with a shoulder injury, limiting him to only 3 games, allowing him to redshirt. In 2018, he was named to the Big 12's First Team.
Isaiah McDuffie WLB Boston College –I've been beating this drum since the summer. I'm not stopping. He's the late-round LB that this Front Office always scores with. Well, except Vosean Joseph. McDuffie is this LB class's 3rd highest in Tackles PEr Game (Zaven Collins, Jabril Cox). One of those is going to be a Bill.
Deommodore Lenoir CB Oregon -"luh-NORE" made 27 PBUs & 6 INTs in 34 straight starts.
Amen Ogbongbemiga ILB Oklahoma State –"AY-men awg-BONG-beh-MEE-guh" has the inner drive to push himself to be the best he can be. Coach: "I have a world of confidence in him and respect for him in the way he's led our team. I'm glad he's got something for the record book." Bills visited his school after Milano signing. Twice. Big 12's best LB, 3-year First Team All-Academic Big 12.
RD7#236
Naquan Jones DT1T Michigan State–team-first mentality, singular commitment, grit, and personality that the Bills seek. A true grinder. 6'4" 338 5.16 size-speed element forces offenses to double him. Geat consolation prize if you didn't trade down for Marvin Wilson. Great interview, too.
K.J. Britt OLB ILB Auburn–I'd draft him way earlier than mocks are saying. The interest Bills had in Auburn this year makes me hope it's K.J.Britt, as I don't think we'd find a better run defender in that Day 3 group (PFF's best run-stuffing linebacker in CFB last year with a PFF grade of 91.1 and 31 solo run stops). Britt was Auburn's senior leader and All-SEC, #3 on "Herr Hair" Kiper's Linebacker board before his injury. McBeane team player type and versatile –play him inside or out.
Dax Milne WR BYU –Zoom visit with had highest 2020 YPC vs AP-ranked teams of all Bills-scouted receivers. Perhaps he'll go to the team that drafts Zach Wilson. Here, Coach said he outworked everybody=> https://youtu.be/OFUY5WU-06c?t=108
Max Richardson ILB Boston College–Richardson and McDuffie are the next wave of BC Linebackers after Milano, and both are tackle machines. Richardson would move outside in the NFL, and for that reason may go later on Day 3.
Kayode Awosika LT RT Buffalo–"Coyote ahh-wuh-SHE-kuh" is the hometown pick. He's on the team with one of the highest Power Success Ranks two years in a row. Took canceled season and worked out. @DamondTalbot: "great player with great work ethic, light on his feet, Jaret Patterson rumbles for his career high in 2020″…So impressive in the run game. Good movement in down blocks, double teams, and pulling. Surprisingly light off the ball to reach second level quickly…Watch #73 on the first two plays of this video==> https://youtu.be/oVG4poDMfC4 . He's likely moving inside to Guard in the NFL. He needs Bobby Johnson and wings. Lots of wings.
Aashari Crosswell SS Arizona State–Bills visited Arizona State for Pro Day. Led PAC-12 in Fumbles Forced in 2019 and has had 6 INT in 2 years….2018. The safety finished the season with 43 tackles, four interceptions and nine passes defensed, both team highs. In 2019 under Herm Edwards, Crosswell increased his tackles (53) and pass deflections (10). Herm Edwards left, and 2020 saw him suspended for team conduct. Will need serious vetting.
PFAs — Offense
Racey McMath WR/ Tall Slot/ KR, LSU–I talked about him in my Sleepers article. The Cliff's notes are: 6'3″ 224 4.35, hamstring injury, raw, but size and speed. His 18 games played is second-lowest. He's my "Diamond in the Rough", like OT Trey Adams was last year. He helped out on special teams, including kick return.
Antonio Nunn WR/WRS/KR Buffalo — Local kid again. Top YPC vs AP-ranked Teams in 2019 of all scouted slot guys. This shows above average strength at the catch point; it might even be in the dictionary.
Zach Smith QB Tulsa–Both Babiches live there, and it's Dennis Hickey's alma mater. If you also take Zaven Collins, this is a no-brainer. A transfer from Baylor (he was behind senior starter Seth Russell and Jarrett Stidham), Smith was 2nd to Joe Burrow in passer rating on deep attempts in 2019. He has your ideal body type, an NFL-caliber but not quite Josh Allen rocket arm, and the requisite toughness. In his 2nd start, Smith completed 30 of 46 passes for 377 yards and 3 TDs vs Pat Mahomes of Texas Tech. In his fourth start, he connected on 28 of 39 passes for 375 yards and 3 TDs vs Boise State. He was named the starter for Game 4 of his true sophomore year at Baylor in 2018, then started every game for Tulsa in 2019 (when he had his first Bills visit). Zach Smith talks about teammate Zaven Collins here. You get the flavor of both players.
Coy Cronk, OT OG Iowa–Alaric Jackson's bookend at RT, Cronk is a transfer from Indiana, then Illinois, so he didn't know Epenesa –the Bills' only Big Ten player drafted by Beane. 40-game resume,sophisticated hand-fighting, leverage, keeps his head on a swivel, looking beyond his own block. Cronk looks for work immediately when his gap isn't attacked. He's mobile enough to execute tandem blocks with the TE, or out in space. Has had injuries, so medicals will be in his NFL future.
Jack Klenk RG Buffalo–Pittsford NY native, where training camp is held. My high school. He's on the team with one of the highest Power Success Ranks two years in a row. Helped launch Jaret Patterson.
Jake Fuzak RT Buffalo–Williamsville South, NY native. He's on the team with one of the highest Power Success Ranks two years in a row. Awosika's bookend.
Conner Olson C OG Minnesota–fundamentally sound, tough and strong, and he's effective at the second level, made 39 career starts, and is appealingly versatile (16 at C, 16 at LG, 6 at RG) .Working towards pre-med, so I wonder about that. .. Excellent size/athleticism.
Brett Heggie C OG Florida–Tied for the fewest pressures allowed among UF's starting line. On the season, the Gators rank No. 18 in total offense averaging 464 yards per game. …Heggie originally enrolled at Florida as a C but moved to G early in his career. He transitioned from G to C for his redshirt senior season following the graduation of two-year starting C Nick Buchanan. Early injuries. Diamond in the rough, versatility of position, great size, middling speed, absolutely great interview.
PFAs — Defense
Marquiss Spencer DL3T EDGE Mississippi State–His 43 games played in college has to be some sort of record. His story is unrealized potential to succeed given his 6-foot-4-inch, 285-pound body. Injuries and ineffectiveness at times. Someone has to unlock his potential, and the Bills have the coaching and time.
Jonathan Marshall DT1T Arkansas –Did you draft a backup for Lotulelei? All is not lost; take this guy. Considered the strongest player on Arkansas' roster, Marshall was one of the Razorbacks' two defensive captains this year, an AP All-SEC Second Team pick, and a Pro Football Focus first team selection. Has been compared to teammates Armon Watts and McTelvin Agim. He's also one of the SEC's more disruptive players.
Roy Lopez III, DL, Arizona–Here's another thought as a force on the inside. He's a character, and a sure fit in the locker room.
Calvin Bundage S OLB Oklahoma State–He's short, but speedy and effective. Bundage is 6'1″ 220 4.55, and his 24 career TFLs over his career is going to get him to camp somewhere. Medicals will have a back injury checked out by Day 3.
Ryan McCollum C OG Texas A&M– The Bills may not get their Creed or Dickinson, and still have to have a plan if Morse experiences his 5th or 6th concussion. McCollum was a late interview by the Bills for a reason. 6'5″ 300 5.1….He started every game this year at C for a stellar Aggies offensive line that was a finalist for the Joe Moore Award. He allowed only seven sacks all season. Smart and articulate.
Avery Williams DB/KR/PR Boise St–Another late visit by the Bills, Avery is a do-it-all on the Smurf Turf. He's Top 5 in this draft class in KR yards and in experience (1042 yards in 48 games). The Bills did bring in some FA return help, but Avery's a consideration. Known for his great ball skills., Avery collected three interceptions in 1 game, including two on throws to the end zone to prevent touchdowns, earning him STATS FCS National Defensive Player of the Week. Hard work pays off, he says.
Jordyn Peters CB Auburn–Diamond in the Rough CB with athleticism and personality. You must watch his 54″plyometric box jump. Peters has athletic ability and a high ceiling for a patient, winning team. Excellent special teams guy (3 blocked punts in 2018) and is a solid tackler. He's a team-first guy. Had an Achilles injury that he battled through.
Editor's babble: And this wraps up Dean Kindig's "Pick SIx" series for the season. This should help us get our lists together with the NFL draft less than a month away. Thanks to Dean for always bringing us the best draft analysis in the business. You can also find Dean on Twitter @TCBILLS_Astro.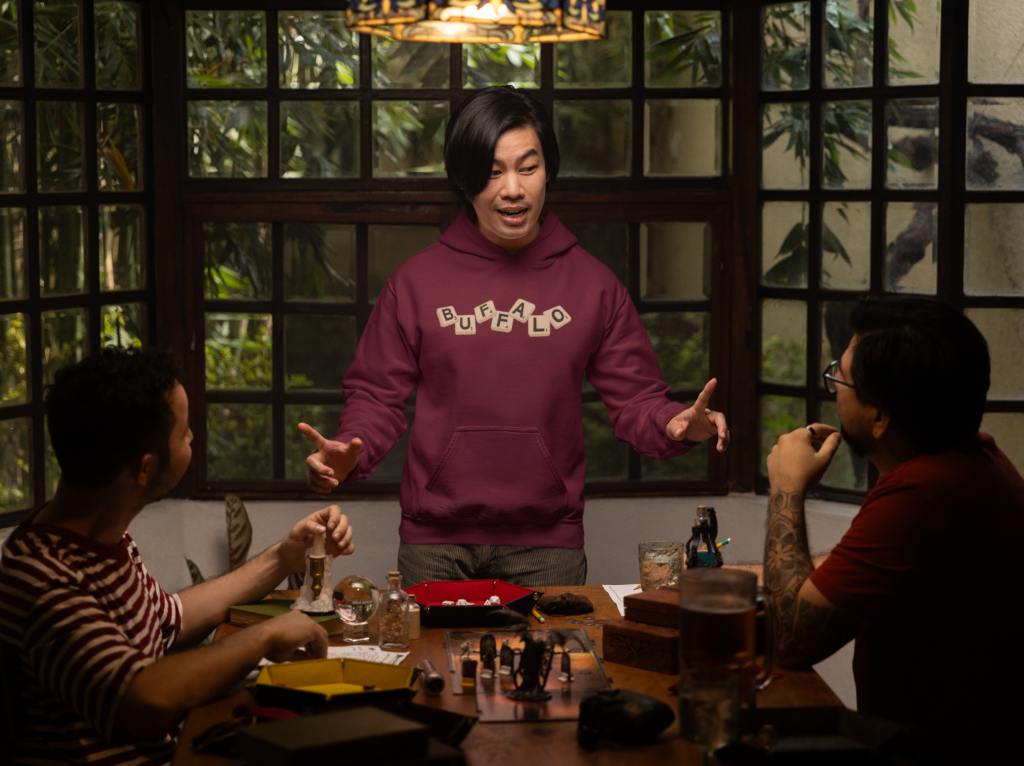 BuffaloFAMbase.com is sponsored by 26 Shirts
Every Monday, we launch a new two-week campaign of a limited edition t-shirt design. Every shirt purchase results in a donation to a local family in need. After the campaign ends, the shirt is retired. A new design is released, and a new family benefits from your fandom!