I thought I'd spice things up a little this month with a trade down. My goal was getting faster and bigger in the trenches, and a trade with the Dallas Cowboys netted me an extra RD3, a trade I simulated using my FanSpeak Premium. It's well worth the $9.95, especially this year. It's not like you're going to the movies.

TRADE WITH DALLAS (they want OT and CB out of their Day1, Day2 picks)
Sent To Cowboys:
Round 1 Pick 30 (620 pts) — Dallas took CB Caleb Farley at #10, and OT Alex Leatherwood was too attractive for them at #30, and not as good a match for Big Baller Beane.
Round 4 in 2022 (45-55 pts)

Received By Bills:
Round 2#44 (460 pts.)
Round 3#75 (215 pts)
RD2#44 C Landon Dickerson – Alabama
6'6″ 325 5.34
The first order of business is to make sure Mitch Morse is all right, but if he's not, I want an OCOG in the mold of Jon Feliciano: a hogmolly with leadership, grit, and relentlessness. The Rimington Trophy-winner, Dickerson is one snowplow of a run blocker, one that PFF ranks as the top-rated Center in the FBS (unless it's Creed Humphrey or Josh Myers –we'll be breaking them down soon). I like Dickerson's plays through the whistle, physicality and brute power up the middle, the area of the line where the Bills want to run. While Dickerson has played some RG, he's been a revelation at Center. Landon loves to have fun with his teammates, but when he gets on the field, it's all business. Alabama coaches have credited Dickerson with 0 sacks allowed and he's surrendered only 1 quarterback pressure this year. Oh, and he blocked for Najee Harris. Here's a great summary.
RD2#61 DL Marvin Wilson – Florida State
6'4" 311 4.95
Is Wilson just a run-stuffing 1-tech? Basically, that's what the Bills had in 2019 with Star Lotulelei. I think Wilson offers more: For his 26 QB hurries across his 291 pass-rush snaps in 2019, PFF gave Wilson a 90.9 pass-rush grade, second to Chase Young. We all saw what the Bucs' DL pressure did to the Chiefs. Well, that's the blueprint for beating Mahomes and getting into the Super Bowl. Fast, long, explosive, and athletic (3 blocked kicks on special teams —here's another one), Big Marv will drop a bit due to surgery for a MCL injury, and Buffalo will be the beneficiary. Wilson hails from the ACC, where most of Beane's draftees have come. One scout at the Senior Bowl said of Wilson, "Big, strong, tough dude…Marvin Wilson is a legit NFL defensive tackle. You want that kind of guy in your front seven. He can stop the run. He can stack blocks. He can rush the passer pretty well. I think he has a great future…"
RD3#93 EDGE Patrick Jones II – Pittsburgh 6'5″ 260 5.04 Let's keep building our lines with Patrick Jones II, exactly the combination of what McDermott and Beane want to add to the team: size/speed/strength, and what I want to add to the D-Line: Pressure. Jones led the ACC last year with an astounding 62 QB Pressures! He helped the Pitt defense lead the nation in sacks (51 total, 3.92/game) in 2019 and the second-highest team sack + hit rate in 2020. Jones himself accumulated 43 tackles, 12 tackles for loss, 8.5 sac, four forced fumbles and 18 quarterback hurries in 2019. He's serious in his thought and just as serious a problem for offensive coordinators.
RD3#98 OT Cole Van Lanen – Wisconsin
6'5″ 312 4.98
Adding speed and effectiveness on the other line is necessary, too. Wisconsin finished second in the Big Ten in rushing yards, in part because of Cole Van Lanen. His power, awareness, footwork, and ability to stay on blocks played a huge role in opening the running lanes for Jonathan Taylor. He changes the line of scrimmage here [LT #71]. You see Van Lanen's ability to stay on his blocks. Here Van Lanen snowplows his man 12 yards downfield. He went up against A.J. Epenesa a lot, so I'm sure he got plenty of looks.
R5#144 S Trill Williams – Syracuse
6'2″ 198 4.36
Highlights=>https://youtu.be/sAK4QXFibEg?t=20
Read This=>https://insidetheloudhouse.com/2020/09/19/syracuse-football-trill-williams-andre-cisco-nfl-talents/
Stats=>https://www.sports-reference.com/cfb/players/trill-williams-1/gamelog/
Talk about versatility. Trill Williams has played 7 positions in his football career: slot corner, free safety, OLB, PR, tailback, WR, and QB. I'd put him at tall slot corner and punt returner for the Bills. Why would the Bills draft Trill Williams (or both Trill and Andre Cisco, reviewed below) off a 1-10 Syracuse team? Syracuse's primary defense is the Cover-2, which is a fit for the Bills, and they play quite a bit of 4-2-5. Second, Williams' first 4 specialties, NCB, FS, OLB, PR are all team needs for the Bills. From a business standpoint, 'Cuse widens the Bills market further down the Thruway. Trill is physical and confident, bordering on cocky. Swagger won't be a problem. His highlight videos seem to have more posturing than plays, but Williams' INTs are top drawer, and his special teams plays are, too. Williams interviews extremely well. Trill would be a thrill if he made it to the Bills' 5A pick.
RD5#157 LB Isaiah McDuffie – Boston College
6'1″ 224 4.57
This Buffalo, NY native led the Eagles, and was fourth in the country with 107 tackles. He's tops in my SSFI (Solo Tackles, Sacks, Forced Fumbles + INTs in 2020) metric of all the LBs with 58 (Milano's was 49.5 in 2016 at the same school). McDuffie finished an outstanding season with 107 tackles and 9.7 per game that included a career-high 16 against second-ranked Notre Dame. He finished the season with double-digit tackles in seven games. As a sophomore in 2018, he exploded with 85 tackles , 5.5 TFLs, 3.5 sacks, two pass breakups and two QB hurries in his first regular season at linebacker. Then, 2019 brought The Realizer for McDuffie, who had to sit most of the season due to a spring football knee injury. McDuffie just packs a wallop; he's an oxymoron — a violent hitter with heart. McDuffie would be best on a team that can use his speed and can generate disguised pass rush and simulated pressures, which the Bills might actually have with Lotulelei, RD1 Wilson, and Epenesa, Hughes, Oliver, and Company. The BC Eagles relied on their linebackers to make most of the tackles, much like the Bills are wont to do. Some say McDuffie basked in the longer season played by the ACC, boosting his stats by playing in 11 games, but even Isaiah's Tackles Per Game were 3rd-highest among 4-3 linebackers and best in his own conference. His 6'1″, 224, 4.57 competes nicely with Milano's 6-0, 223, 4.58, and McDuffie's 125 career tackles bests Milano's 107. McDuffie adds the ability to blitz from the weakside, which he talks about here.
RD6#188 G Tommy Kraemer – Notre Dame
6'5″ 319 5.14
Brian Kelly called Kraemer "the most advanced freshman lineman" he'd ever had. Before Kraemer had his MCL injury, he was the 2nd best guard and arguably the best run-blocking guard. in two draft classes. His RT role on 2017's ND O-Line won the Joe Moore Award for the toughest, most physical offensive line in college football. Kraemer's MCL sprain in October of 2019 likely led him back to the Golden Dome for another year to strut his stuff in 2020. Here, at RG, #78 is servin' up pancakes vs Georgia. Kraemer now has 38 career starts, which McBeane salivate over, as well as the versatility at both right tackle and right guard. Kraemer is a member of a unit that led the ACC and ranked ninth in the FBS in third-down conversion percentage (49.3%). Here's a nice scouting report.
RD7#198 WRS Shi Smith – South Carolina
5'10" 186 4.22
RD7 on a good team is a place where you look at special teams and depth, and Shi Smith qualifies on both counts. A kick returner and a slot receiver with speed and quicks, Smith has a shot at backing up Andre Roberts and Cole Beasley, and possibly Isaiah McKenzie, to boot. Does this play look familiar? It's a McKenzie staple over the last two years. Whether it's on a slant route or on a deep fly route over the defense trying to cheat up on you, Shi serves up Wow catches on a weekly basis at Williams-Brice Stadium. But when you add in contact balance like this on kick return, now Beane is making cross-outs on his depth chart.
Editor's babble: The name Marvin Wilson just keeps showing up on lists of players to watch. Thanks, as always, to our draft guru Dean Kindig for his diligent work and thoughtful contributions to our blog. You can find Dean on Twitter @TCBILLS_Astro.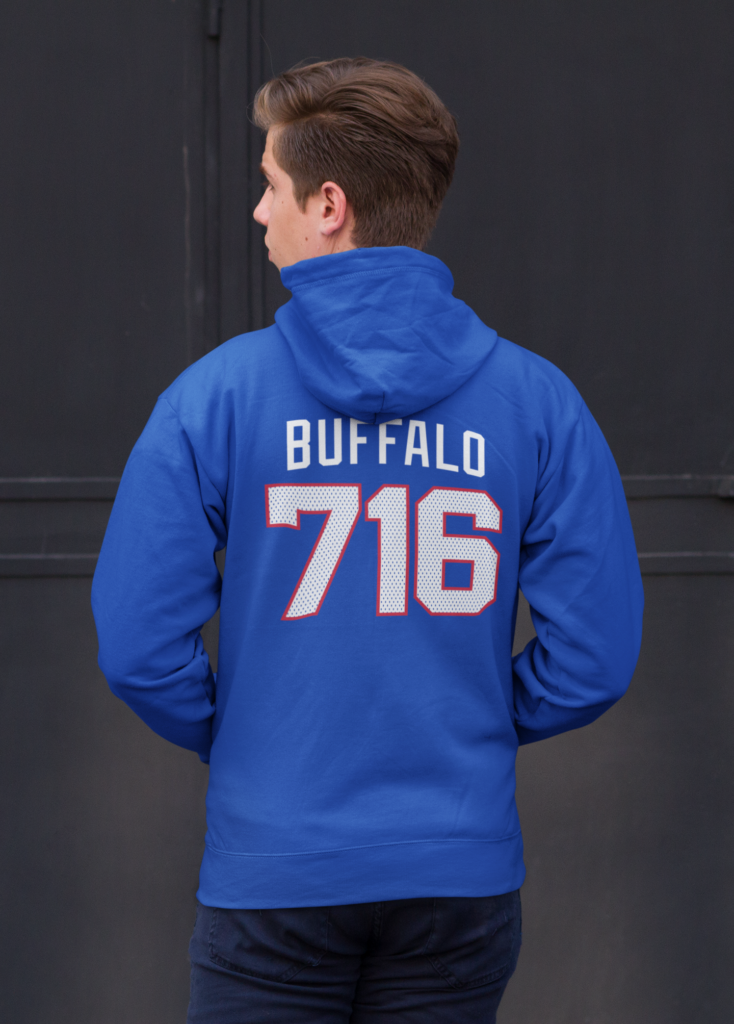 BuffaloFAMbase.com is sponsored by 26 Shirts
Every Monday, we launch a new two-week campaign of a limited edition t-shirt design. Every shirt purchase results in a donation to a local family in need. After the campaign ends, the shirt is retired. A new design is released, and a new family benefits from your fandom!