Happy New Year, BillsMafia! May your life in 2021 be healthy, joyful, and fully appreciative of your renewed thirst for human contact, travel, and dine-in meals of lobster macaroni and cheese, beef on weck, and garbage plates! I'm putting 6 players in each round that were available to Beane in the most-recent DraftTek mock. No disrespect to the Big Baller, but I've taken the liberty of making the actual pick from these compelling considerations. The pick is in bold, with an explanation below the candidates.
ROUND 1
Jaylen Waddle WRS Alabama
Derion Kendrick CB KR PR Clemson
Creed Humphrey OC Oklahoma
Marvin Wilson DL1T DL3T Florida State
Andre Cisco FS Syracuse
Kwity Paye DL5T EDGE Michigan

Jaylen Waddle's the shocker here, and they may have to trade a player to go up for him, but hear me out. Cole Beasley is aging (32 before the draft), and his quicks are going to be missed in Buffalo when he hangs up those cleats. Waddle's also a very good kick and punt returner, and the Bills had to use Micah Hyde when Andre Roberts was hurt. Roberts turns 33 before our Super Bowl win. The WR position room is one of the 3 oldest on the Bills (age 26.4), behind both lines. We're still addressing both OL and iDL/EDGE in this draft and in FA. Smoke Brown (age 31 before the draft) may return shortly from injury, but Waddle would be Stefon Diggs' #1A for the next decade or so. If we don't take Waddle, I can guarantee Miami will. Besides, Beane wants a splash first-rounder; it sells merch (see Stefon Diggs). The same argument would go for selecting Najee Harris in RD1. Don't dismiss the thunder-and-lightning that'd give you. Derion Kendrick was PFF's highest-graded CB in press coverage last time I checked. His 350 KR yds make him versatile. In fact, Kendrick made the switch from WR to DB to start the 2019 season due to the plethora of WRs at Clemson. The move was a successful one. Kendrick allowed just 5.3 yards per target while helping the Tigers reach the title game last year, and he gave up a mere two catches on the season over 20 yards –that's a Bills calling-card. He has upside at corner as the position is still new to him. His former WR background poses a big threat when he gets the ball in his hands. I suppose I could make myself psyched for Creed Humphrey, and Morse's five concussions force us to look at the Center position at some point.
ROUND 2
Shaun Wade CB Ohio State
Alim McNeill DL1T NC State
Chazz Surratt ILB-OLB North Carolina
Jevon Holland FS PR Oregon
Jayson Oweh EDGE Penn State
Brevin Jordan TE Miami (FL)

Shaun Wade, once #12 on the DraftTek Big Board, has fallen a bit due to his growing pains transitioning to an outside role, but what if you needed his height and speed for slants, crossers, and even go patterns? Wade is still excellent at press-man, and his speed (I'm estimating a 4.29 forty) would help downfield, as well. Yes, we have former UDFA Levi Wallace, a formerly-good 32-year-old Josh Norman, and we drafted RD7#239 Dane Jackson, but Wade is too good a value to pass up as a bookend to Tre White. Compared to the others, Wade is faster, more versatile, and is far superior in run support. Playing out of the slot most of the time, Wade allowed a passer rating under 70 in each of the past two seasons. In three of the last four drafts, the first CB selected has come from the Buckeyes. The Bills' scouts have avoided NC State, so I think they're going to wait a round or two for their heir to Lotulelei, so Alim McNeil would be a surprise. Chazz Surratt is more of a ILB than OLB, but he's versatile, really quick on the uptake (moved from QB to ILB), and has the admiration of his DC: "There aren't many people that walk the earth that have the combination of skills that he does." FS PR Jevon Holland or EDGE Jayson Oweh could both be in the conversation, too. I'm not sure Beane goes EDGE at RD2 two years in a row, and it might be a year early to worry about the backup to Poyer at FS opposite Jaquan Johnson. Brevin Jordan has decent speed (his 4.57 would be second on the Bills to Knox's 4.54) and strength, has jukes after the catch, shows great contact balance, is tops in YPC vs AP-ranked teams for the second-straight year, and is from the ACC, where 7 of Beane's 23 draft picks have come from. However, Jordan lacks heft for downfield and in-line blocking, which is a demand Daboll has for his TEs. A low % of Brevin's receptions went for TDs (5%).
ROUND 3
Tedarrell Slaton DL1T Florida
Daniel Faalele OT Minnesota
Paulson Adebo CB Stanford
Jabril Cox OLB LSU
Alijah Vera-Tucker OG USC
Anthony Schwartz WR Auburn
Beane's henchmen have been to the big three Florida schools, the first time they've done all three. In 2019, Beane selected Florida LB Vosean Joseph in RD5, then Miami SS Jaquan Johnson in RD6, but didn't visit Florida State in any year up until now. I bet his attention in 2020 was on two DL1Ts, Marvin Wilson of Florida State (RD1 likely) and my pick here, big Tedarrell Slaton (6'5" 358 5.38) of Florida. While Marvin Wilson (6'4" 311 4.95) would be the best interior pass rusher for the Bills, Slaton would be the best run defender –something they've had difficulty with due to age-32 Star Lotulelei's opt-out. The other DL1T, Tyler Shelvin (6'3″ 362 5.45) of LSU, won't make it to our RD2 pick, much less RD3. He'd also be a run-clogger like Lotulelei, and Star is often listed as his NFL comp. Two other players, Naquan Jones (6'4" 338 5.16) and former wrestler P.J. Mustipher (6'3″ 311 5.1) have also been scouted by the Bills. Mark it down: if one hasn't been selected earlier, RD3 is going to be reserved for a big ugly. Speaking of big, Daniel Faalele (6'8″ 400 5.24) has nice feet for the draft's biggest dude. Stanford's Paulson Adebo (6'1″ 190 4.34) has the anticipation combined with film study that McBeane likes. Football IQ is great, but when it translates into "game sense" like Adebo's, that's your corner for a decade. Physically, he's solid. Watch Adebo play the ball or undercut routes, or notice that he is never out of position. In a deep DB class, you get quality in RD3. Why not take the PAC12's INT leader in 2019? Remember the Bills took 2 PAC12 players last year, possibly because our Coordinator of College Scouting, Doug Majeski, is also the Bills' West Area Scout and a growing influence in the Bills' War Room.
ROUND 5A
K.J. Britt ILB OLB Auburn
Landon Dickerson C RG Alabama
Bobby Brown DT1T Texas A&M
Erroll Thompson ILB OLB Mississippi St
Tre Brown CB KR Oklahoma
Malcolm Koonce EDGE Buffalo
If K.J. Britt makes it through RD4, Beane runs to the podium (which is a metaphor for hitting the Enter key on his computer or "Send" on his cell phone). Britt falls because of his short amount of games spent in the SEC after grad-transferring from NDSU, where he spent three national championship seasons. When he transferred to Auburn, LSU's Ed Orgeron claimed NFL people have told him Britt may have been a first-round pick in last year's draft. Praising your enemy is always a good idea. Britt can play SAM or WILL, and that flexibility adds to the intrigue. Britt injured his hand, so he falls a bit more –into Beane's lap. Auburn's senior leader and All-SEC linebacker who at one point was #3 on Kiper's LB board, Britt was PFF's best run-stuffing linebacker in CFB last season with a grade of 91.1 and 31 solo run stops. He has range and speed, and elite cover skills. The comp I've heard is "Patrick Queen who covers better". Landon Dickerson has been getting recent buzz, so I'm thinking he won't end up RD5 in April. Bobby Brown (6'4" 325 5.08) had no scouts at his games this year, but he's a great value this late as your 1-tech. Erroll Thompson (6'1″ 250 4.5) has the ILB-OLB skillset that Beane is looking for. Don't let his thumper size fool you; he's a bit faster than Milano. I've mentioned Tre Brown before. He's one of the draft's best kick returners, and would get a long look in training camp for that role. That's the only way some of these Day 3 prospects would make the team.
ROUND 5B
Ihmir Smith-Marsette WR KR Iowa
Rashad Weaver EDGE Pittsburgh
Jimmy Morrissey C Pittsburgh
Tommy Kraemer OG RT Notre Dame
Garret Wallow S (OLB) TCU
Trill Williams Slot CB Syracuse
Continuing what I just said, we're looking for supplementary, high-upside picks on Day 3 to make the team better and deeper. This is a good time in the draft to improve special teams, and Ihmir Smith-Marsette (6'2″ 175 4.37) would be the confluence of height, speed, and 1491 kick-return yards. Day 3 might also add EDGE rusher depth to a position room that's the Bills' oldest (admittedly, Jerry Hughes and Trent Murphy skew things up). You get that feeling McDermott isn't done tweaking his pass rush. Jimmy Morrissey (6'2″ 305 5.2), while on the small side, is Pitt's four-year starting center and two-time captain. An All-ACC first team selection last season, Morrissey has Mitch Morse's smarts and none of the concussions. He graduated in 3½ years in December with a degree in finance and marketing and is taking classes toward his MBA at Pitt. He's also a Process Guy; listen to this: "You have to take care of your business off the field to take care of your business on the field. Things that you do off the field reflect what you do on the field." He didn't allow a sack last season and was Pitt's best run blocker. Tommy Kraemer is another guy who won't be available this late, but was in this mock. Based on how they feel about the other OG RTs on the squad, the Bills might seek to add to their bandolier of Day-3 hogmollies. If Garret Wallow is here, it means that nobody's considering him at a different position. Is he a S at the NFL level? one of the most prolific linebackers in college football this season (but too small for that position imho), Wallow racked up 4.17 tackles per game in his career (Milano's was Milano's was 2.97). His 77 solo tackle mark was, good for first in the Big 12 and third in the nation. Move him to S. Sort of the opposite you did for S->WLB Milano.
ROUND 6
Tommy Doyle RT Miami (OH) — DRAFTED
JaCoby Stevens SS OLB LSU
Max Richardson ILB OLB Boston College
Keylon Stokes WR/KR Tulsa
Damar Hamlin FS SS Pittsburgh — DRAFTED
Ambry Thomas CB KR Michigan

I would check to see if Penn State DL1T P.J. Mustipher is still on the board –he's the wrestler I mentioned earlier who's another run-clog specialist. If he's not there, OL Coach Bobby Johnson will be pitching Tommy Doyle here, from his alma mater. Tulsa is also Bob Babich and Bobby Babich's hometown. I like Doyle's size (6'8″ 326 5.32), length, and athleticism. Doyle started all 13 games on the left side this year, earning him First-Team All-MAC honors, and Miami's Offensive Player of the Year honors for his standout performance. But I move him to battle Darryl Williams and the Practice Squad guys for RT when Nsehke steps down. . Doyle proved to be among the few OTs in the country last year that could stymie burly Iowa pass rusher A.J. Epenesa! JaCoby Stevens (6'1″ 228 4.32) will climb boards. He's Milano-like, but lots faster. Max Richardson is one of the scouted ILB-OLB Swiss-Army knives, Keylon Stokes is the kick returner that could get taken right near the end of the draft, Damar Hamlin is a versatile, sure-tackling Safety who has the 2nd-most TFL per Game Played of all FS. He also ended up with 60 Solo Tackles in 2019 (#6 ACC). Hamlin brings experience (draft class high 46 career starts) and stable production (84 tackles, 10 pass breakups). He also knows CB Dane Jackson. One more kick-return possibility is Ambry Thomas (5'11" 174 4.4). He had a bout of colitis that caused major weight loss, which could drop him here, but he's a natural leader, with range, speed and experience. Can't fix his height, though.
Editor's babble: Many thanks to Dean Kindig for his contributions to our blog and our knowledge about who we should focus our attention on before the 2021 NFL Draft. You can find Dean on Twitter @TCBILLS_Astro.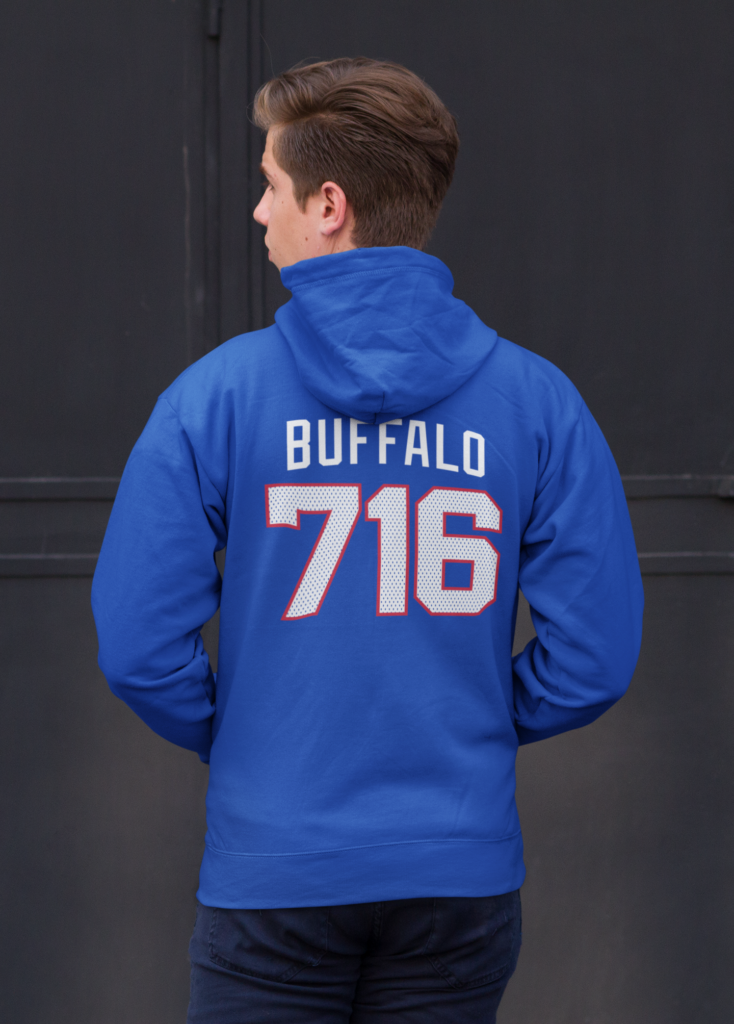 BuffaloFAMbase.com is sponsored by 26 Shirts
Every Monday, we launch a new two-week campaign of a limited edition t-shirt design. Every shirt purchase results in a donation to a local family in need. After the campaign ends, the shirt is retired. A new design is released, and a new family benefits from your fandom!