All players have been scouted in 2020 unless otherwise noted.
Each player interview is cued up to the spot where I knew he had "The McProcess" gene. Click the letter grade to listen.

RD1#30 — Click the letter grade to listen
Landon Dickerson OC OG Alabama A++
Trey Smith LG Tennessee A++
Marvin Wilson DL1T Florida State A++
Najee Harris RB Alabama A
Carlos "Boogie" Basham Jr. EDGE DT3T Wake Forest A++ — DRAFTED
Jeremiah Owusu-Koramoah OLB Notre Dame A++

Astro's Pick: I think the OL and DL woes will be fixed before the draft, JO-K doesn't make it to pick #30, and Beane takes the biggest, baddest playmaker available, RB Najee Harris. Najee is the best receiving running back in his class, has an amazing catch radius, is a dangerous receiver, and his high Missed Tackles Forced seems to attract Beane. That brought both Moss and Singletary to Buffalo. By the way, I think the Jets take Najee or Etienne 4 picks later, and is the best reason for including MArvin Wilson in the conversation. Landon Dickerson would know Daboll, but the medicals would have to clear him. How much of a gambler is Brandon Beane? To me, if Basham and JO-K aren't there, LG Trey Smith would make Beane seem a genius for 10-12 years.
RD2#61 — Click the letter grade to listen
Jabril Cox OLB LSU A++
Javonte Williams RB North Carolina A++
Ifeatu Melifonwu CB Syracuse A
Tommy Tremble TE Notre Dame A++
Kwity Paye EDGE DT3T Michigan A++
Patrick Jones II EDGE Pittsburgh A++

Astro's Pick: OLB Jabril Cox is a tackling machine. He led the entire LB class in career tackles with 258, is tied for second in games played, and he's tops in tackles per game. If Milano is somehow kept at WILL, the pick reverts to Patrick Jones at EDGE. He has the experience, temperament, and production the Bills need. The "wow" picks would be my favorite running back, bell-cow Javonte Williams (220 lbs, Highest YPC vs AP-Ranked, #1 in TDs in the ACC, big, explosive and elusive, most missed tackles per touch since 2018) and TE Tommy Tremble, arguably the second-best TE in the draft, the best blocker, and the best interview –if you click the A++, get a tissue.
RD3#93 — Click the letter grade to listen
Teven Jenkins OT Oklahoma State A++
Anthony Schwartz WR Auburn A++
Cameron McGrone OLB Michigan A++
Chazz Surratt OLB North Carolina
K.J. Britt ILB Auburn A++
Jaret Patterson RB/KR Buffalo A+

Astro's Pick: The Bills snare OT Teven Jenkins to add to the most important position room to Josh Allen's well-being. Watch Green Bay take him one pick before our #93; it's happened before in our mocks at DraftTek. Schwartz is the pick if they bid adieu to John Brown and/or Isaiah McKenzie. He'd add speed; he's slightly bigger and I bet faster than Kadarius Toney, and the Bills sniffed around Auburn games 3 times this year. McGrone and Surratt are good 3-4 linebackers who may not be "plug and play" starters, so you need a vet FA as a backup plan. K.J. Britt is the other reason the Bills scouted Auburn 3 times.
RD5#158 — Click the letter grade to listen
JaCoby Stevens SS OLB LSU A+
Daelin Hayes EDGE Notre Dame A++
Paddy Fisher ILB Northwestern A++ (not scouted)
Harry Crider C OG Indiana A+ (not scouted)
Shaka Toney EDGE Penn State A++
Kylin Hill RB Mississippi State A+

Astro's Pick: Don't count out JaCoby Stevens here to be on special teams like Jaquan Johnson did. But Beane wants team speed, and Shaka Toney at EDGE is one of the 3 fastest 4-3 rushbackers in this year's crop (after Oweh and Jonathon Cooper), and neither of the other two has the games played, sacks, TFLs per game, or impressive interview. Easy choice. I love Paddy Fisher's persona and what he'd mean as depth behind Tremaine; his interview's worth a listen. While not officially scouted, Harry Crider is a wrestler, and happens to be from OL Coach Bobby Johnson's alma mater. Crider graduated in 2 1/2 years and is currently working on a Master's. He was a William V. Campbell Trophy semifinalist, which goes to the nation's best combination of academic success, football performance, and outstanding leadership (it went to QB Brady White). RB Kylin Hill is an excellent consolation prize here. Hill wreaked havoc catching passes out of the backfield in the Bills-scouted game, an upset of LSU –8 receptions for 158 yards and a TD. He's my second-favorite RB in this draft class. My fave is up in RD2.
RD5#171 — Click the letter grade to listen
Tommy Doyle OT Miami (OH) A+ — DRAFTED
Naquan Jones DL1T Michigan State A++
Tyrone Truesdell DT1T Auburn A++
Thomas Graham Jr. CB Oregon A++
Elerson Smith EDGE Northen Iowa A+
Trill Williams CB Syracuse A-

Astro's Pick: Will Star Lotulelei return? We hope so; he's "Dead Cap Walking" if he doesn't. He's getting on in years (at half my age). We get a bigger load in the middle in Naquan Jones DL1T. Jones is noticeably faster than the heaviest 6 nose tackles in this draft, and the best interview. Jones has the team-first mentality, singular commitment, grit, and personality that the Bills seek. Naquan Jones just needs time, and Lotulelei's contract will take care of that. My curveball? EDGE Elerson Smith led this draft class in Career Tackles Per Game –even higher than Gregory Rousseau, and his D-Line Coach is Bryce Paup, 1995 Defensive MVP for the Buffalo Bills. Hear what Paup has to say in Elerson's interview. Trill Williams' top 4 specialties, NCB, FS, OLB, and PR, are all needs for the Bills. He's uber-athletic with swagger.
RD6#210 — Click the letter grade to listen
Isaiah McDuffie WLB Boston College A+
Max Richardson ILB Boston College A++
Osa Odighizuwa EDGE DL5T UCLA A++
Brett Heggie C OG Florida A++
D'Ante Smith OT East Carolina A+
Luke Farrell TE Ohio State A+

Astro's Pick: You probably haven't heard of OC OG Brett Heggie, but his interview is worth a watch. His wit and his grit are the perfect fit as the Center-in-Waiting. And….He has no concussions. I love both Boston College LBs. A lot. So much, I'm in therapy. Hey, wasn't Milano a LB from Boston College?…
RD7#230 — Click the letter grade to listen
Antonio Nunn WR/KR Buffalo A+
Antjuan Simmons OLB Michigan State A++
Garret Wallow S (OLB) TCU A++
Joshuah Bledsoe FS Missouri A+
Amen Ogbongbemiga OLB Oklahoma State A++
Aubrey Solomon DT3T EDGE Tennessee A++

Astro's Pick: The Bills met with Joshuah Bledsoe FS at the Senior Bowl, and I think it's between him and the extremely-productive S-OLB Garret Wallow for a spot –special teams to begin with. Wallow has the ceiling, and the interview to back it up. The TCU product is second to ILB Paddy Fisher in career tackles per game among 4-3 linebackers. You'd think the Bills would entertain the thought of grabbing a UB product here or in Undrafted Free Agency, and Antonio Nunn would bring the speed of McKenzie and the twitch of Beasley to the admittedly-crowded WR room. His yards per catch vs AP-ranked teams in 2019 was the highest among all the draftable slot receivers.
Editor's babble: A very interesting "Pick SIx". Thanks, as always, to Dean Kindig for his many contributions to our blog. You can find Dean on Twitter @TCBILLS_Astro.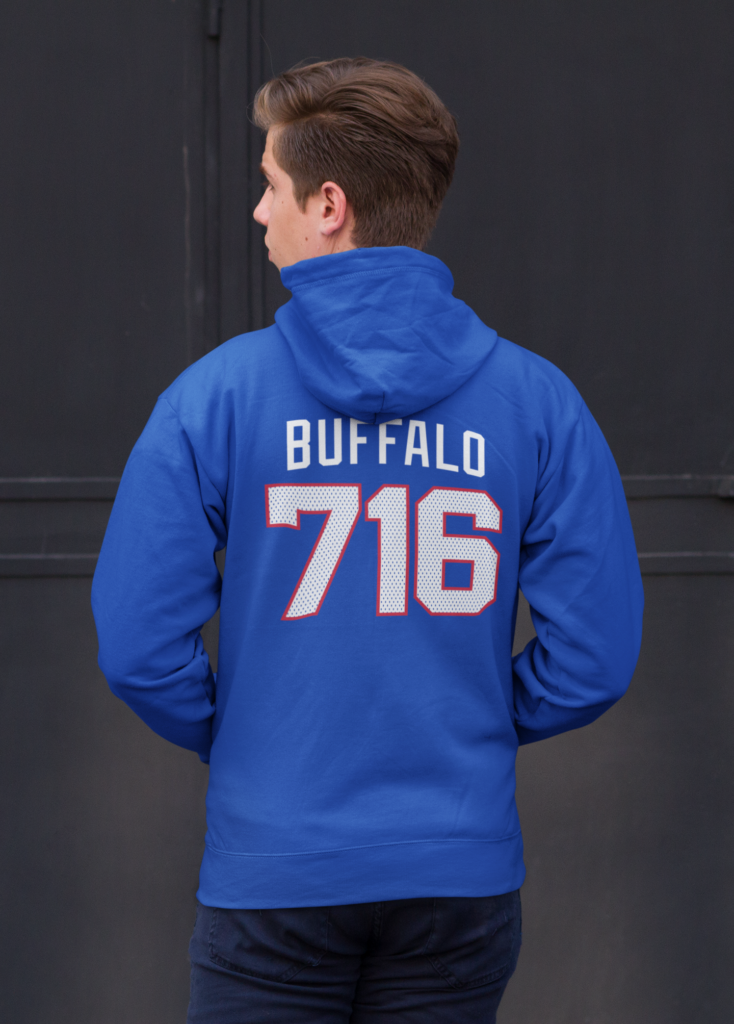 BuffaloFAMbase.com is sponsored by 26 Shirts
Every Monday, we launch a new two-week campaign of a limited edition t-shirt design. Every shirt purchase results in a donation to a local family in need. After the campaign ends, the shirt is retired. A new design is released, and a new family benefits from your fandom!