Most Bills fans can't think about anything but winning the AFC East right now. It has been awhile. In 1995, the last time it happened, you were learning the Macarena. The future looks bright, and Pegula's hires, Brandon Beane and Sean McDermott, have done it through The Process. A major part of The Process has been savvy moves in Free Agency and the NFL Draft. The pandemic didn't prevent Beane's henchmen from heading to college games in the fall to keep The Process from proceeding. All of these prospects I've listed below got a look in 2020. You can follow along as I build the BuffaloFamBase War Chart here.
Round 1
Creed Humphrey C OG, Oklahoma
Josh Myers C OG, Ohio State
Pat Freiermuth TE, Penn State
Alex Leatherwood LT OG, Alabama
Caleb Farley CB KR, Virginia Tech
Najee Harris RB, Alabama

Creed Humphrey and Josh Myers (and possibly Landon Dickerson) are going to get a hard look in Round 1, because Mitch Morse has five concussions and counting, and Feliciano belongs at Guard; he should not be hiking the ball. Pat Freiermuth, aka "Baby Gronk", would give the Bills a bona fide threat at the Tight End position. He's a playmaker who's top 2 (to Florida's Kyle Pitts) in touchdowns. Freiermuth is top five in his draft class in Receptions, Receptions per Game, Receiving Yards, TDs Per Reception, and TDs Per Game. The total playmaker, Freiermuth's the best combination of size and speed in the draft, with Pitts a close second. I think 6 or 7 highly-sought-after OTs are going to be gone before we draft at #32 (ahem), so I don't think Alex Leatherwood will be there. UNI's Spencer Brown, Alaric Jackson, and Christian Darrisaw on Day 2 are far more likely, as will Tommy Doyle, Coy Cronk, and Drew Himmelman on Day 3. In his 3 drafts so far, Beane hasn't drafted a Tackle –although who knows what he thought Cody Ford was? Long, tall, speedy Caleb Farley (6'2″ 197 4.34) is near the top of an impressive class of DBs, and he's a kick returner as well. Will he be gone? Defenders and playmakers always seem to fill Beane's Day 1 and Day 2 picks. The Bills lack a big, strong, fast back a la Derrick Henry, and the Titans have shown how effective that can be. The Bills are only 7th in Yards Per Carry (4.7 YPC), and they're awful out of the gate –they're eighth-worst in the NFL in 1st quarter Time of Possession. Teams need to respect the run for play-action to work, and it wouldn't hurt if your RB could catch the ball. Najee Harris (6'2″ 230 4.44), an excellent receiver, fills the bill perfectly. I also like NC's Javonte Williams (5'10" 220 4.35), who I mention in RD2, but remember, we already have a pretty nice 215-pound Williams on our Practice Squad, Antonio, and he has moves. Watch that downhill sidestep on the first play.
Round 2
Trey Smith LG Tennessee
Deonte Brown OG Alabama
Tyler Shelvin DT1T LSU
Jabril Cox OLB LSU
Javonte Williams RB North Carolina
Terrace Marshall WR LSU

Don't be surprised if the first two picks the Bills make are big uglies. Trey Smith and Deonte Brown (who was LG next to Leatherwood) would be the result of a hard look at our offensive line. As they have often done, the Bills should look to the Carolina's OL, who have four players combined with fewer penalties than either RT Darryl Williams or C Mitch Morse. Buffalo is third-worst over the last 3 games in rushing first downs despite a middle-of-the-pack 26 rushes per game. Devin Singletary is averaging 3.6 ypc on inside runs, and Zack Moss isn't much better (4.4). On Defense, Tyler Shelvin is the replacement for Lotulelei at DL1T. Shelvin is known more for plugging holes, occupying two blockers, and clearing lanes for linebackers more than padding his numbers, and his personality is fine with that. The traits that jump off the screen are Shelvin's play strength and whistle-to-whistle effort. Looking at LBs, I personally think Matt Milano will be with the team in 2021 one way (contract) or another (franchised), but RD2 is the earliest where Beane starts looking for a linebacker, most likely a 4-3 weakside guy. His scout henchmen have seen several who'll go in the mid rounds: Jabril Cox at LSU, an NDSU transfer, has been impressive, and has the personality the Bills look for.. Hamilcar Rashed (Oregon State, 6'4" 236 4.7), K.J. Britt (Auburn ILB who can play all 3 positions, familiar with the 4-2-5 scheme), and Paddy Fisher (unscouted) are on my radar. Now, I hesitated to add a WR here, but Terrace Marshall is a tall, deep threat with speed and great tracking ability. His 69.7% Catching Success Rate led the SEC a year ago. Seth Williams of Auburn would be the other one to watch. He's this year's D.K. Metcalf, and Metcalf received considerable interest from Beane before he traded for Diggs. Gabriel Davis could become that big WR the offense needs, but Beane drafts for value, and WRs and DBs will have value in spades. The RD2 DBs like SS OLB Trevon Moehrig, FS CB Tyson Campbell, FS SS Damar Hamlin, or CB Paulson Adebo would slide into my Pick-Six instead of WR if a receiver isn't on Beane's wish list.
Round 3
Shaka Toney EDGE OLB Penn State
Rashad Weaver EDGE Pittsburgh
Max Richardson ILB Boston College
Andre Cisco FS Syracuse
JaCoby Stevens SS OLB LSU
Anthony Schwartz WRS Auburn
The Bills have added some young EDGE talent through the draft in Darryl Johnson (2019 RD7) and A.J. Epenesa (2020 RD2), and through free agency, but it's one of the oldest positional rooms on the team. When Hughes and Addison hang up their cleats, this group will become one of the youngest. The NFL's EDGE role is changing, where QBs get the ball out so fast that pressures in the form of hurries and hits, plus ability to fall back in coverage, plus the ability to move the QB off the launch point. Shaka Toney has that combo plate; watch here and see elements of Jerry Hughes. Penn State is Pegula's alma mater. Rashad Weaver, Jayson Oweh, Jaelan Phillips, and Aidan Hutchinson could also fill that role. Tackling machine Max Richardson is a three-spot linebacker from Boston College, and I really like his sidekick, Isaiah McDuffie, who I mention later. JaCoby Stevens is an intriguing combination of Safety and OLB abilities; remember Milano had that same skillset. Anthony Schwartz combines elements of McKenzie and Beasley's game, as does Kadarius Toney, listed in the next round. Syracuse hasn't been good this year, but Andre Cisco is the candle in that dark cave. His 3.92 Tackles Per Game Played over his career might get him drafted much earlier, and I think the Bills need to invest in a Free Safety to pair with Jaquan Johnson when Hyde-Poyer are gone. Just missing would be space-eater DL1T Jordan Davis of Georgia.
Round 5A
Rasheed Walker LT Penn State
Tommy Doyle RT Miami (OH) —-DRAFTED
Kadarius Toney WRS/KR Florida
Jamie Newman QB Georgia
Joseph Ossai OLB ILB Texas
Chazz Surratt OLB/QB North Carolina
Beane continues looking at OLBs and O-Line prospects in this round, and Tommy Doyle has connections to the Bills. First, it's OL Coach Bobby Johnson's alma mater. Doyle originally arrived at Miami as a DE, and boasts tremendous size, length, and athleticism. Miami's 2019 Offensive Player of the Year was part of a stout offensive line that proved to be among the few OTs in the country that could stymie a burly Iowa pass rusher named A.J. Epenesa! Jamie Newman won't likely fall this far, but at some point we might look at one of the Day-3 developmental quarterbacks that are bigger and more strong-armed than Jake Fromm. My best bets are Newman (Fromm's successor at Georgia), K.J. Costello (Mississippi St), Davis Mills (Stanford), and Zach Smith (Tulsa).
Round 5B
Jack Heflin DT3T EDGE Iowa
Darius Stills DT3T EDGE West Virginia
Derion Kendrick CB/WR/KR Clemson
Brian Robinson Jr. RB/KR Alabama
Daniel Faalele RT Minnesota
Josh Jobe CB Alabama

Jack Heflin is from Iowa like A.J. Epenesa was, but he didn't know him. Helfin was entering the transfer portal from NIU. He's on here because the last I checked, his run-defense grade (91.6) was No. 3 nationally among interior defensive linemen. Darius Stills, along with Heflin, provide that DL3T-EDGE versatility that the Bills sought in Quinton Jefferson and Epenesa. Beane is going to start looking at the Kick Returner role right about now. Andre Roberts sits at #1 in KR average, so a look at the top KRs in the draft will be great guesses. Derion Kendrick, Ihmir Smith-Marsette, Brian Robinson Jr., Keylon Stokes, and even RB Jaret Patterson are on Beane's radar for that job. Size and speed are attractive about mammoth RT Daniel Faalele, and Minnesota was scouted for the first time this year. I don't know if Josh Jobe will drop this far –or even if he declares– but it is such a strong DB class that good corners, especially zone corners, will fall a bit, much like Gabriel Davis and Isaiah Hodgins fell as WRs last year. I think the Bills have a gem in Dane Jackson, but as Beane says, you can never have enough corners.
Round 6
Payton Turner EDGE Houston
Luke Farrell TE Ohio State
Erroll Thompson ILB Mississippi State
Trey Dean CB Florida
Tyler Vrabel LT Boston College
Jahan Dotson WRS Penn State
The Bills are getting so good that the RD6 and RD7 players won't likely make the roster UNLESS they can supplant the depth in key areas. Developmental players for the Practice Squad would also be a possibility for these guys. EDGE rusher Payton Turner played alongside Ed Oliver in 2018, and Jim Nagy loves his upside and toughness. The Bills need to do something at TE, and I think it happens in RD2 or in Free Agency. But Luke Farrell is a Process guy, in the words of his coach: "quiet, extremely coachable, driven, hard worker, but not somebody who would brag or be boisterous." He has a good sense of humor, is smart, and affable. He had the fourth-highest YPC against AP-ranked teams in 2020, and he's the biggest (6'6" 250) of the top four, meaning he's a bigger problem for defensive coordinators. Erroll Thompson would be a good backup to Tremaine Edmunds or a PS player; he's a sure tackler who can also blitz well. Trey Dean got looks when Vosean Joseph was scouted. Fifth rounder Vosean didn't make it, but like I said, the DB positions are loaded this year, and a CB and/or CB could be a great Day 3 pick. Tyler Vrabel's dad played for the Patriots, and this is a great chance to snare some of that DNA while sticking it to the Patriots. Jahan Dotson is one of five Cole-Beasley–type receivers the Bills have scouted. There's Jaylen Waddle in RD1, Elijah Moore from Ole Miss (RD3), Anthony Schwartz from Auburn (RD3-4), Kadarius Toney, and Dotson. The WR room is packed with talent, so this'll be a late pick if they don't spring for Waddle.
Round 7
Bobby Brown III DT1T Texas A&M
Zion Johnson LG Boston College
Keylon Stokes WR/KR Tulsa
Rayshard Ashby ILB Virginia Tech
Delarrin Turner-Yell SS/FS Oklahoma
Isaiah McDuffie WLB Boston College
Here are more Day-three prospects I like, arranged by how much I think they'd add to the Bills (and how likely they are to rise up draft boards). Bobby Brown and Tyler Shelvin (mentioned earlier) are the top SEC DL1Ts in my book. Shelvin played in LSU's 3-4 as a NT (as did Harrison Phillips and Ed Oliver) and is more the Lotulelei type, but Bobby Brown played in a 4-3 at A&M, is faster and more agile. He would be more able to do stunts with Oliver. Zion Johnson is a Guard with size and strength, and will climb up boards and hasn't yet. Keylon Stokes is another late-Day-3 KR, a confluence of draft position and need, and we have Tulsa visits quite frequently. Dennis Hickey, our Senior National Scout and Bob/Bobby Babich have ties to Tulsa. Rayshard Ashby is another top-tackling VaTech ILB, and Delarrin Turner-Yell can play that interchangeable FS-SS combo role the way that Poyer and Hyde do so well. Milano's from Boston College, and his weakside LB doppelganger is Isaiah McDuffie. Their body types are almost identical, and their skillset is very similar. Both are excellent tacklers (McDuffie's tops in the ACC in assists), can cover TEs, and can bring the blitz. It wouldn't surprise me if the Bills took McDuffie way earlier.
Editor's babble: Bobby Brown… gasp. That is a giant man. Happy Holidays to all as we continue to celebrate the Bills AFCE championship. We have to always have an eye to the future, and no one does it better than Dean Kindig. We thank him for his incredible insight and contributions to our blog. You can find Dean on Twitter @TCBILLS_Astro.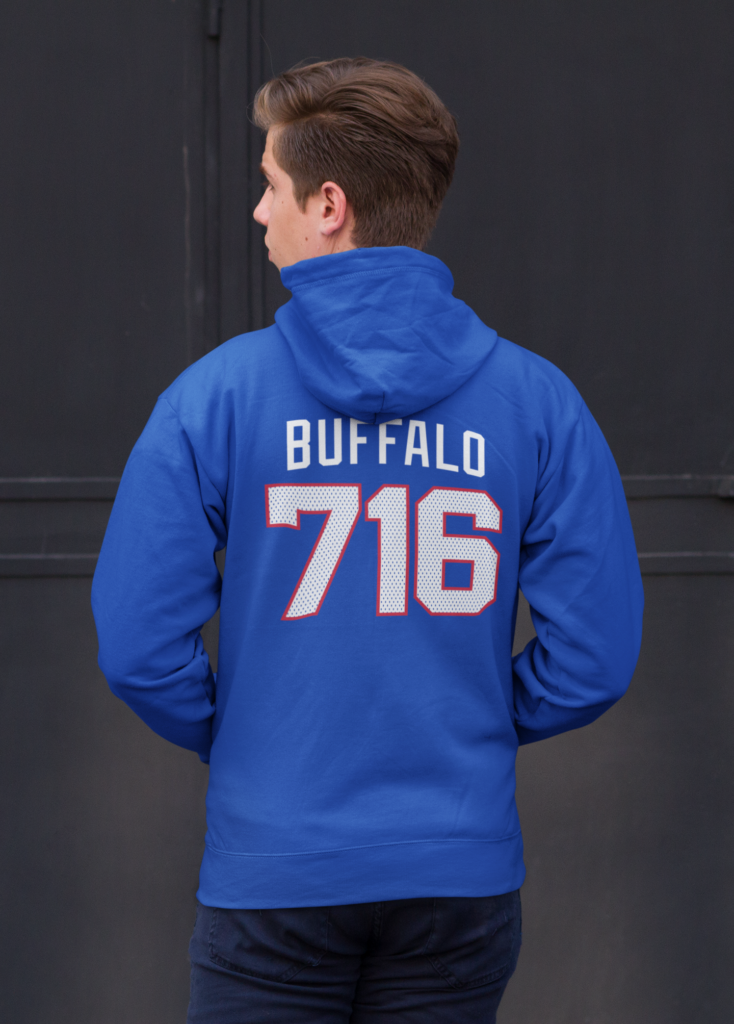 BuffaloFAMbase.com is sponsored by 26 Shirts
Every Monday, we launch a new two-week campaign of a limited edition t-shirt design. Every shirt purchase results in a donation to a local family in need. After the campaign ends, the shirt is retired. A new design is released, and a new family benefits from your fandom!