When scouting 1-techs, remember that our starter, Star Lotulelei, is coming back after his opt-out due to COVID. The NFL slides his contract ahead so that he has two more years in a Bills uniform, should he not retire before that. It isn't Star's size that commands respect in the middle; Star is only 6′ 2″, 315, but it's his brute strength that pushes back the line of scrimmage. Star's return (plus the money owed him on his contract) makes me think the Bills will not be not going 1-tech in the first round, but we're getting ahead of ourselves. NT is still a need. Here's the entire IDL draft class, listed by my own big board rank: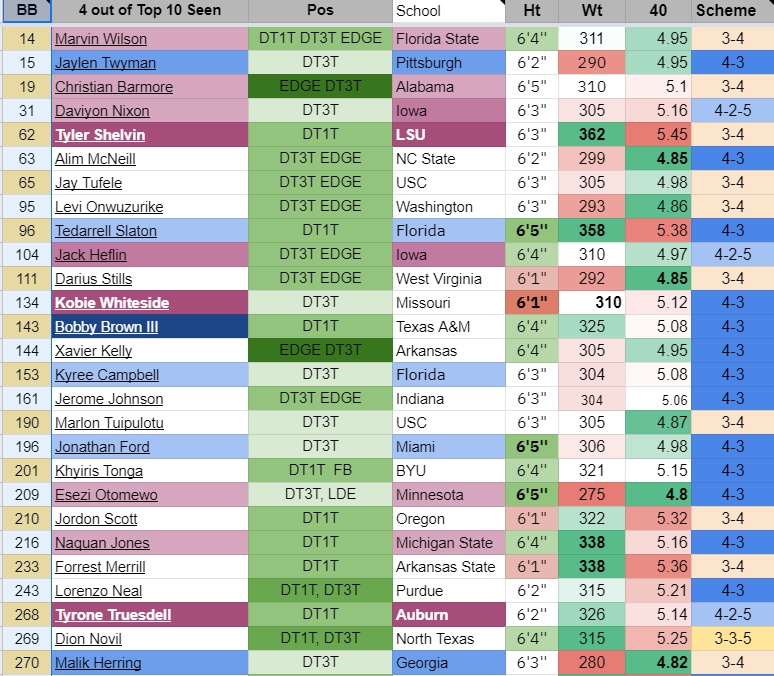 We can quickly narrow down this year's draft class of IDLs, first by whether they can play the 1-technique position or not. That yields this crew below. Some can play more than one position, and those versatile IDLs that the Bills scouted are Marvin Wilson and Viane Moala.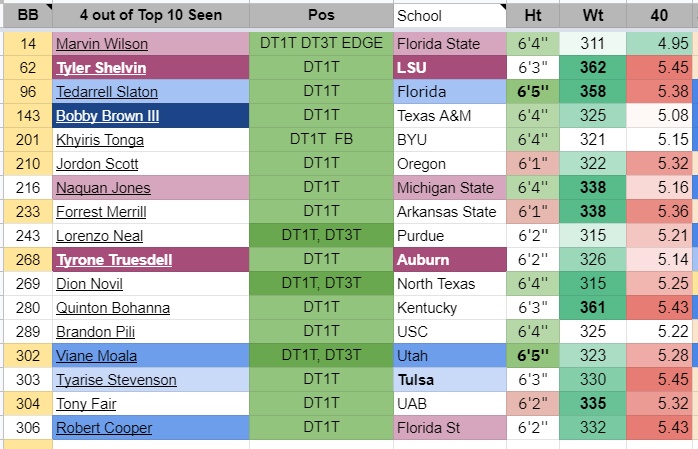 We're now going to cull the herd by eliminating those that played solely in a 3-4. I thought long and hard about one guy, Tyler Shelvin, the Nose Tackle in LSU's 3-4 defense. You could argue for keeping Shelvin around a bit longer, but here are the DL1Ts that played in a 4-3, arranged by how I think they'll come off the board. Of course, player Pro Days and some Zoom interviews can change that order real fast. Yes, McBeane and that front office have taken 3-4 DTs before (Harrison Phillips, Ed Oliver), but not with the intention of making them a true 1-technique. Phillips did so well at the bench press and he understands leverage so well that he's survived, but has not dominated, at the 1-tech.

Tedarrell Slaton is a case in point. He's a master of leverage, his 330-pound mass is well-distributed, and he's able to move around on the line. However, he'll get questions about why he was suspended before the opening day game in 2019. While I'll discuss his fit for the Bills below, I've taken him off, and some late intelligence about Lorenzo Neal's return to school takes him off the board:

Likewise, I've taken Quinton Bohanna off. His slow forty time, and the fact he hasn't been scouted by the Bills, led me to do that:

Taking off the others that have been unscouted in the last 2 years, we have a very manageable list, should Beane use the draft to add interior push and a space-eater to keep his linebackers clean. I've removed Bobby Brown III, as well, because of some comments I've read about work ethic. That definitely won't fly for McBeane:

We have three 4-3 true 1-techs plus Tyler Shelvin.
Marvin Wilson DT1T DT3T EDGE Florida State
6'4" 311 4.95
[Stats]
Games Played=34
Some say Wilson will be a 2-down, run-stuffing nose tackle for the next level, and may be long gone before Beane's on the clock, but hey, it's January, the month when most said Ed Oliver would be long gone at our pick. Wilson has been effective at multiple positions and in multiple schemes, and has the speed to do more than 1-tech. Versatile, strong, quick defensive linemen have been prized and sought out by our GM and Front Office. Wilson had minor surgery for a leg injury that curtailed his 2020 season, so perhaps he falls a bit. Wilson advocated for change on social media, using his fame to start a foundation to advocate for financial literacy in underprivileged communities. Some GMs are going to look at Wilson as an underwhelming pass rusher and pass on him in RD1. They're wrong –watch 2 plays. Our own Big Baller Beane might look at his bevy of 3-techs and believe that Wilson could function like Vita Vea for the Tampa Bay Bucs. Back from fracturing his ankle in Week 5, Vea returned to play 32 snaps in the NFC Championship Game (during which T-Bay sacked Aaron Rodgers five times). You may see his effect in the Super Bowl. At least one GM projects Wilson to RD3. He's wrong. When Marvin exited high school, he was the number one DT in the nation. Wilson ably leverages his length, strength, and –believe it or not– athleticism (his 3 blocked kicks is tied for #1 in FBS). He's just a wrecking ball in the middle, where the Bills have been vulnerable this year without Star: You can see #21 needs two guys to block him, yet he changes the line of scrimmage in an instant, and they fail to keep Wilson from making the play. If Marvin Wilson's 2019 season is taken into account (and it certainly will this year), they'll see a colossus who had more sacks than Derrick Brown. In 2019, Wilson's 90.9 PFF pass-rush grade across 291 snaps was the second-highest figure in college football (you may have heard of the #1, Chase Young). Rush defense is Marvin's major calling-card. He'll keep our linebackers clean. Fit For Bills: A+
182 Naquan Jones DT1T Michigan State
6'4" 338 5.16
[Stats]
Games Played=36
The Bills also scouted Michigan State vs the Buckeyes, and if it wasn't to see the competitive but ultra-chill CB Shakur Brown (who declared late but had 4 tackles and 1 assist in the scouted game, despite Ohio State constantly throwing to the other side), or Antjuan Simmons, #34, who led the Sparty D with 4 tackles and 8 assists in a loss), maybe it was to check out Naquan Jones (0 tackles, 4 assists). Offensive coordinators just sigh and dedicate two OLs to handle this level of pressure all game. Jones didn't get the notoriety of some of the others, as he did time as a key backup at defensive tackle for three seasons. Jones went from 247 snaps and 13 tackles as a redshirt freshman, to 295 snaps and 26 tackles and two snaps in 2018. In 2019, he dipped to 257 snaps and 15 tackles and just one sack. However, now he's the starter. Per Walter Football, Jones "still looked like a heavy nose tackle and gap filler in the 2020 season and didn't display improvements as a pass rusher." He didn't get the stats because (1) he played on a bad team, (2) he was functioning like Lotulelei, and (3) his development was slowed by lack of starts. Teams with good scouting departments like the Bills' always look for Day 3 diamonds. Jones has the team-first mentality, singular commitment, grit, and personality that the Bills seek. Naquan Jones just needs time, and Lotulelei's contract will take care of that. Fit For Bills: A+
198 Tyrone Truesdell DT1T Auburn
6'2″ 326 5.14
[Stats]
Games Played=31
Playing in Auburn's 4-2-5 defense that's similar to the Bills' scheme gives Truesdell a leg up on the competition. The "toughness" box will get checked when Beane's minions discover that Truesdell was playing overtime with no backups available at the beginning of the season. Truesdell played 240 of a possible 304 total snaps in the first four games. I love Truesdell's personality, quickness to close, and his competitive fire. While Naquan Jones is taller, both are pretty fast for gigantic gap-pluggers who "stay home", true to their assigned gaps. Truesdell had 5.0 TFL, 3.0 sacks next to Derrick Brown (Panthers RD1#7) who drew the double teams, and Truesdell didn't palpably improve his pass-rush production as a senior without Brown. He's still a great late Day 3 pickup, especially for his intangibles. Fit For Bills: A-
And, In Case You Didn't Eliminate Him:
62 Tyler Shelvin DT1T LSU
6'3″ 362 5.45
[Stats]
Games Played=17
Shelvin has been great against the run in LSU's 3-4 defense, posting an 88.3 PFF run-defense grade, and even better lining up as strictly Nose Tackle, his most-natural position. He's a two-down load in the middle, occupying blocks and keeping your linebackers squeaky-clean. You're not getting a pass-rush. In fact, Shelvin is tied for 3rd-Lowest TFL/GP in this draft class. Pressures are going to come from the DT3 (Oliver, Phillips, etc) next to him because they'll face fewer two-man blocks. Shelvin functions more like Lotulelei, just 40 pounds heavier! He has the length to be effective as a 4-3 NT. As a pass rusher, Shelvin's more of a collapse-the-pocket, hole-plugging, double-team-occupying type than a gap shooter, but he keeps linebackers clean, somewhat of a thorn this year with Lotu's opt-out. We were weak up the middle, particularly against the run, and that's Shelvin's forte. You see his play strength and unbudge-able anchor. Should Shelvin be the Carolina Bills' RD1 pick like the Panthers' first 2013 pick in Star Lotulelei? Maybe, but comparisons can be dangerous. This isn't a perfect clone of Star. Inconsistent effort, balance issues, and inconsistency are Shelvin's drawbacks, and McBeane values consistency, 101% effort, and minding your gaps. Ed Orgeron has said the same thing about Shelvin two years in a row: "When he turns it on, he's different that the other guys that we've got. If we can get it consistent for this game, we sorely need it." He hasn't. I chuckle every time I recall what my friend Moose said about him: "Shelvin strikes me as a guy who strikes fear in the heart of Chinese Buffet House owners." I just chuckled again typing that. Fit For Bills: A-
Editor's babble: Every year I obsess about one position for the draft. This year it's DT1T, so this list is intriguing. So far I'm liking what I see written about Naquan Jones, but it's too early to tell if he will end up being my draft obsession for the year. Thanks, as always to our dear friend Dean Kindig for his many contributions to our blog. You can find Dean on Twitter @TCBILLS_Astro.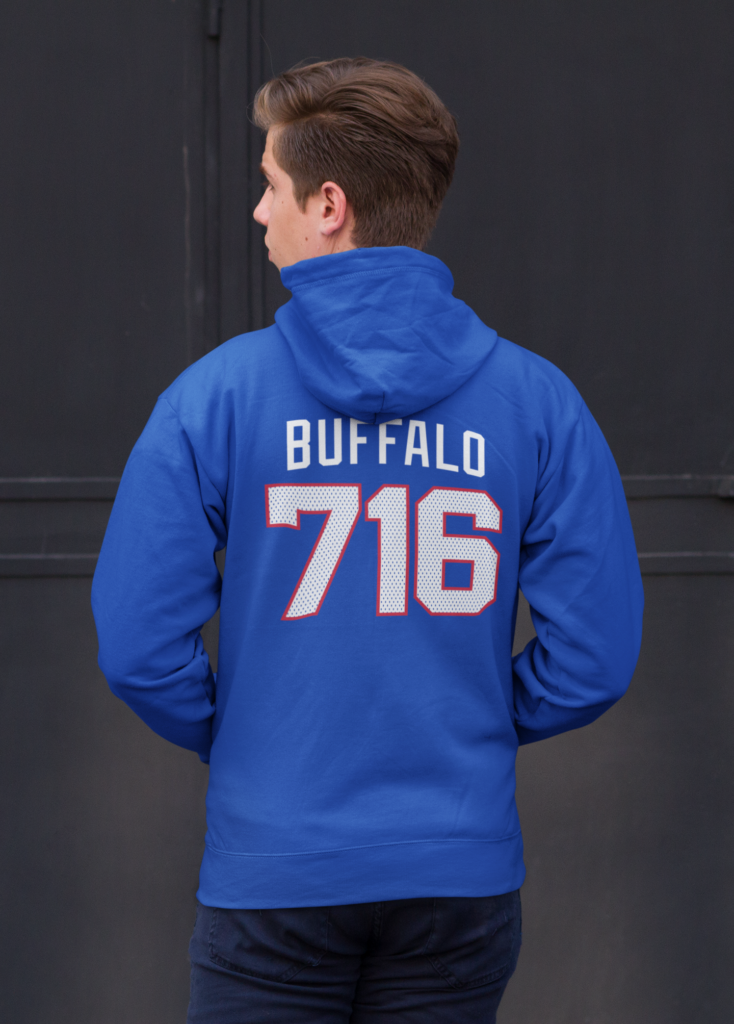 BuffaloFAMbase.com is sponsored by 26 Shirts
Every Monday, we launch a new two-week campaign of a limited edition t-shirt design. Every shirt purchase results in a donation to a local family in need. After the campaign ends, the shirt is retired. A new design is released, and a new family benefits from your fandom!