Just like last year, I'll pick 6 players in each round for the 2022 NFL Draft for the Buffalo Bills, using big boards and simulators I trust. I've arranged players in my order of preference, which factors in likelihood at that pick, interview, skillset, positional need, and current average ranking on big boards. I do this bi-monthly (defined by the dictionary as every other month or twice a month, WTF?)
Give me a follow on Twitter to discuss!
Don't worry about rounds taken this early. It's August. We're drafting 32nd in each round.
RD1 #32
Jordan Battle SS Alabama 6'1″ 206 4.42 — Deep Dive Here
Bubba Bolden SS Miami 6'2″ 200 4.4 — savvy, athletic, anticipation, tackler in space
John Metchie III WR Alabama 6'0″ 195 4.38 — Deep Dive Here
Jahan Dotson WRS PR Penn State 5'11" 180 4.35 — Deep Dive Here
Sevyn Banks CB Ohio State 6'1″ 200 4.42 — Deep Dive Here
Aidan Hutchinson DE Michigan 6'5″ 269 4.64 — Deep Dive Here
RD2 #64
Jaquan Brisker SS Penn State 6'1″ 210 4.42 — Deep Dive Here
Ikem Ekwonu OG RT NC State 6'4″ 325 5.24 — #79 LG CuedUp Play
Henry To'o To'o ILB-OLB Alabama — Deep Dive Here
Tyreke Smith DE Ohio State 6'4″ 267 4.57 —Deep Dive Here
Nolan Smith OLB Georgia 6'3″ 235 4.46 —Best on team where he can pin his ears back
Christopher Hinton DT3T Michigan 6'4″ 313 4.84 — explosion of Ed Oliver
RD3#96
DeMarvion Overshown OLB Texas 6'3″ 217 4.46–moved S to OLB: good fit (4 plays)
Keaontay Ingram RB USC 6'0″ 222 4.38 — Deep Dive Here
Jarrett Patterson C OG Notre Dame 6'5″ 305 4.97–pulls well, stays engaged.
Obinna Eze OT TCU 6'7″ 315 5.02– Deep Dive Here
Brandon Smith OLB Penn State 6'3″ 244 4.44–minds the QB's eyes, INT
Zakoby McClain OLB Auburn 6'0″ 220 4.48–works off blocks, speedy, effort, awareness
RD4#144
Zion Johnson OG Boston College 6'3″ 310 5.14–OT/OG position flex, ACC team
Lecitus Smith OG Virginia Tech 6'3″ 320 5.14–on the rise. interview by Cover1 here
Graham Mertz QB Wisconsin 6'2″ 215 4.74–Fire, Competitor. Grit. Watch.
Ronnie Bell WR PR Michigan 6'0″ 189 4.34–punt return chops, dangerous underneath
Jerrod Clark DT TE Coastal Carolina 6'3″ 335 5.16–Massive, quick, affable NT, ex-TE
DeAngelo Malone OLB Western Kentucky 6'3″ 230 4.43–C-USA DPOY, 2-3x teamed
RD5#181
Lucas Krull TE Pittsburgh 6'5″ 260 4.76 — physical specimen, RD1 upside, affable, fun
Sterling Weatherford OLB Miami (OH) 6'3″ 221 4.58 -Impressive, Passion, Tackler. Read
Payton Wilson OLB NC State 6'3″ 240 4.57 — Watch #11 Here
Zonovan Knight RBC KR NC State 5'11" 206 4.36 — KR; vision, can change plan, spin, contact balance and strength
Raheem Blackshear RB Virginia Tech 5'9″ 194 4.36 — Speedy heir to Matt Breida, Great traits. Focus on the catch. Thurman-Thomas-like stiff-arms, Breaks the poor safety's ankles, setting him up almost 10 yards in advance.
Brendan Radley-Hiles CB Washington 5'9″ 186 4.37 –xfer Oklahoma. "Bookie" nickname, blows up a screen here because HE SMELLED IT. Hungry, underdog mentality, fourth-quarter mentality
RD6#226
Taylor Riggins OLB Buffalo 6'1″ 250 4.73
James Mitchell TE Virginia Tech 6'3″ 242 4.54
Alec Lindstrom OC Boston College 6'4″ 300 5.18
Akayleb Evans CB Missouri 6'2″ 188 4.42
Darnell Jefferies DT Clemson 6'2″ 290 5.04
Ty Chandler RB North Carolina 5'11" 205 4.32
RD7#259
Yusuf Corker FS Kentucky 6'0″ 197 4.42
Amari Gainer OLB Florida State 6'3″ 225 4.5
Jordan Strachan OLB South Carolina 6'3″ 215 4.64
Aubrey Solomon DT Tennessee 6'4″ 315 4.97
Carter Warren OT Pittsburgh 6'5″ 325 5.18
Donovan Jennings OT South Florida 6'5″ 338 5.36
Editor's babble: A lot of SS in this 'Pick Six'! And of course we would love to see UB's Taylor Riggins in a Bills uniform :) We are so grateful for Dean Kindig's contributions to our blog. You can find Dean on Twitter @TCBILLS_Astro.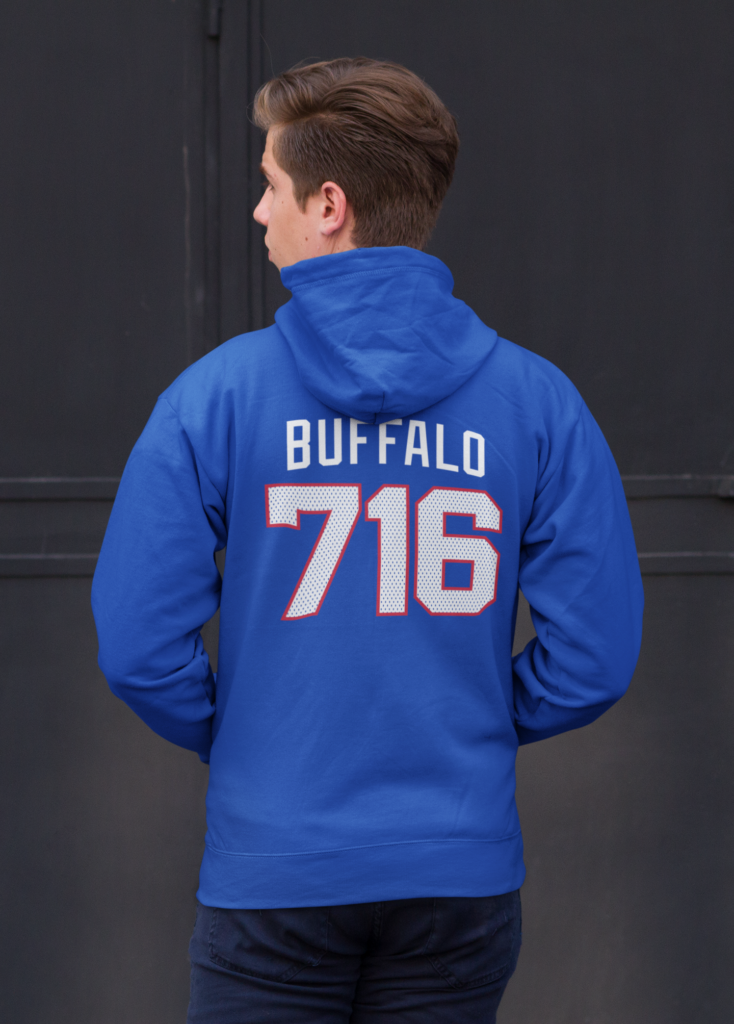 BuffaloFAMbase.com is sponsored by 26 Shirts
Every Monday, we launch a new two-week campaign of a limited edition t-shirt design. Every shirt purchase results in a donation to a local family in need. After the campaign ends, the shirt is retired. A new design is released, and a new family benefits from your fandom!