Jahan Dotson WRS PR Penn State
BIG10
5'11" 180 4.35
A+++ Interview –Click to hear the best part
Stats

The fastest player of my A+++ interviews, Dotson hails from Terry Pegula's alma mater, a college Bills scouts visited three times this past year. The Nittany Lion has played in 30 career games, making 26 starts and averaging 16.8 YPC from scrimmage. The John-Brown-sized water bug has 26 career receptions of 20 or more yards, and has posted 5 career touchdown catches of 60 or more yards (75 vs. Illinois, 2020; 70 vs. Illinois, 2020; 68 vs. Iowa, 2020; 60 at Indiana, 2020; 72 vs. Purdue, 2019). Dotson had the most first-down catches by Big Ten WRs. Dotson can excel at special teams, too. His punt-return and one-hander highlight-reel plays will put your eyelids on stilts (see CuedUp plays below).

Dotson often attracted the attention of two defenders, allowing his sidekick, Washington, a free ticket to ride. It doesn't show up on his stat sheet, but it's what team players do. He speaks of staying in the present moment in his interview, urging his teammates to eliminate distractions. Wow. Here's some eye candy: Dotson against Sevyn Banks for the touchdown. Had the Bills not drafted Marquez Stevenson, Dotson would be an A+ fit for them. Let's watch 14 plays.
CuedUp plays to watch (#5 jersey)
=> Watch Dotson make a man miss going full speed on this TD punt return
=> One-handed TD grab just because against CB Shaun Wade — Watch 3 views, note get-off and subtle pushoff, watch another view here
=> Speed to burn, and burn you deep, against Indiana — Watch 2 views; Watch the route concept in the 2nd view
=> Wide receiver screens work extremely well after the catch for Dotson
=> Dotson makes you respect your offense from the line of scrimmage to the end zone
=> Dotson can make an inaccurate quarterback look better
=> Circus catch takes focus, big hands, and athleticism — Another view
=> Back-shoulder catch where only he can catch it — Watch 2 views
=> Three forced missed tackles and a nifty change of direction on the punt return
=> Catch radius at the 6-yard line and athleticism for the score, again vs Shaun Wade — Watch 2 views, then watch 4 more here
=> This looks like Josh Allen to Stefon Diggs or Gabriel Davis
=> Tight cut and sideline awareness — Watch 3 views
=> RPO touchdown vs Sevyn Banks #7 — Watch 4 views
=> Another get-off shows shuffle, brush-off with arm to Wade's elbow, cross over with right foot to get inside
=> My-ball mentality at the catch point. Nice fight in mid-air –Watch 2 views
Who Needs a Jahan Dotson?
Arizona leads the list. That's because they ran the most screens: Arizona's Larry Fitzgerald, who led the NFL with 22 screens, is 37 and is now a free agent. His teammate, Christian Kirk, age 24, was tied for second. with 17. Minnesota is next; they'd start Dotson as their punt returner. Their punt-return "solution" was 5th-rounder K.J. Osborn, who put up fewer than four yards per return in 2020. The Detroit Lions' returner, Jamal Agnew, is now a Jaguar, and Agnew is a very similar player to Dotson. Agnew ran a 4.34 forty, and that's my guess for Dotson. DraftTek has WRS (slot) receiver ranked as a P2 priority for the Lions right now. The Panthers' D.J. Moore will be a UFA when he's age 26 in 2023, and will likely get re-signed, but Kansas City Chiefs' Tyreek Hill will become a UFA at age 29, also in 2023. He'd be making $11M in 2022, with all of it being a cap hit. The Titans could use another wideout. While they have 12 receivers for camp, it's not a corps that will strike fear in your heart. While I like Dez Fitzpatrick and adore Racey McMath, an early selection of a productive receiver like Dotson might get them out of 30th place in Team Passing Play Percentage, behind only New England (31st), who didn't fix their WR woes through the draft. Contrast the Pats' pitiful performance with Baltimore (32nd), who has been drafting 2 new targets per year since picking 2018 RD1 QB Lamar Jackson: Rashod Bateman and Tylan Wallace (2021), Devin Duvernay and speedster James Proche (2020), Marquise Brown and Miles Boykin (2019). If teams know you'll likely run, they can defend you. The Ravens' time to shine is coming.
Editor's babble: Bookmarking this baby as a reminder to watch Jahan Dotson when I get a chance. Thanks, as always, for Dean Kindig's top shelf contributions to our blog. You can find Dean on Twitter @TCBILLS_Astro.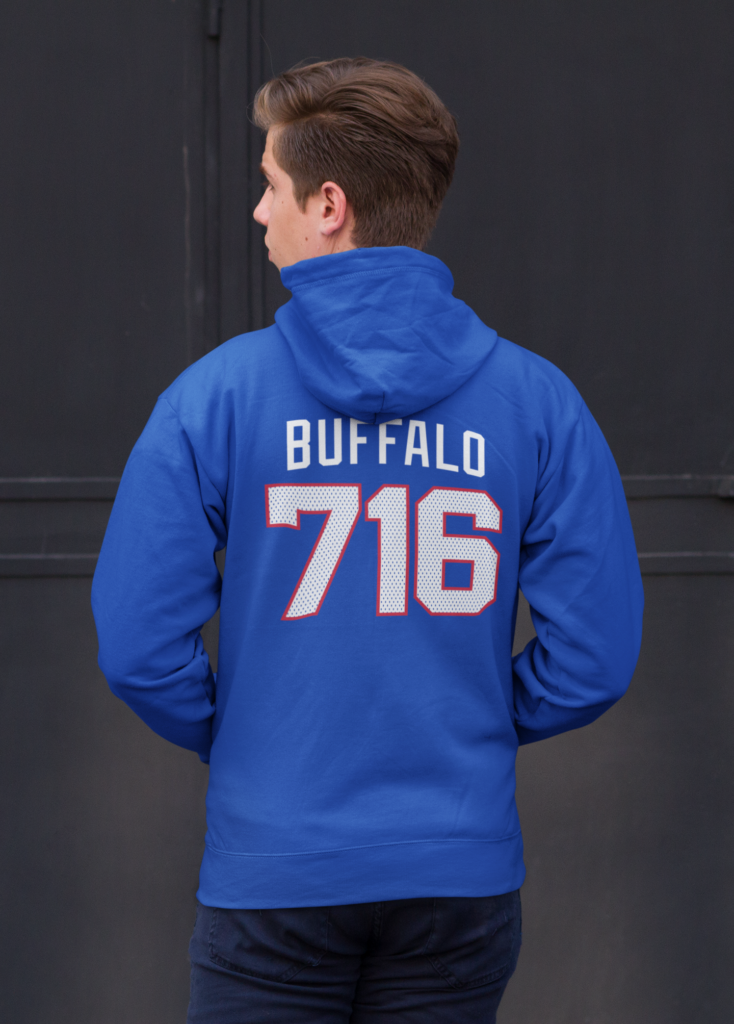 BuffaloFAMbase.com is sponsored by 26 Shirts
Every Monday, we launch a new two-week campaign of a limited edition t-shirt design. Every shirt purchase results in a donation to a local family in need. After the campaign ends, the shirt is retired. A new design is released, and a new family benefits from your fandom!