What I tried to do is psychoanalyze Big Baller Beane, the Bills' General Manager, even before the college football season gets started, so you can have some names to look at on Saturdays. We'll find a school match for each drafted Bills player, a player who matches our drafted Bill's skillset, and a position match (as if we need more edge rushers).
ROUND 1
Recent Draft: Gregory Rousseau, EDGE, Miami, he of 83″ wingspan with no college stats since the 19.5 tackles for loss and 15.5 sacks in 2019. That opt-out helped Big Baller nab Groot at the bottom of RD1. Luck, or genius? Or stringent preparation meeting opportunity?

School Match: Bubba Bolden, SS, Miami was Rousseau's teammate for the Hurricanes in 2019, and I like his savvy, athleticism, and anticipation. I want a Bubba with my Boogie. Watch the FF here.

Traits Match: Thayer Munford, OT, Ohio State. The longest wingspan on offense in RD1 might belong to Munford. I fear he'll be long gone when we draft at #32. Watch #75 here. You'll see why.

Position Match: EDGE. We're not drafting EDGE in RD1 next year, but if we were, I'd opt for Xavier Thomas DE Clemson. Beane likes him some ACC players, and Thomas will be the ACC EDGE going closest to pick #32. Watch Thomas as an arc-bender. I'd also put Xavier on special teams. Here's why.
ROUND 2
Recent Draft: Carlos Basham, DE, Wake Forest has DT3T versatility and quickness, and that gets you a role in the D-Line rotation sooner than later.

School Match: Jaquarii Roberson, WR, Wake Forest . At 6'0″ 182 4.42, I don't think Roberson will be going in RD2, but he'll go earlier than you'd think. Roberson was on fire down the final stretch of games in the ACC. Look at this. Beginning on Halloween against Syracuse, Roberson notched games of 130, 167, 138, and 131 yards.

Traits Match: Christopher Hinton, DT3T, Michigan. I'd play Hinton anywhere on the D-Line. He is so quick off the ball, he reminds me of Ed Oliver. His numbers, 6'4″ 313 4.8, makes him a 3-tech in your brochure, but quickness is good anywhere on the lines. There was already some pop to his game as early as the All-American Bowl.

Position Match: EDGE. Zion Tupuola-Fetui DE Washington. It's unfair for Beane to hoard EDGE rushers with the crop he has. But that didn't stop Beane from taking A+++ Interviewee Boogie Basham, and it wouldn't stop Beane from adding ZT-F here. His interview was so great, I did a deep dive on him here.
ROUND 3
Recent Draft: Spencer Brown, OT, Northern Iowa. Brown's hard-to-miss size and top-end ceiling got Brown drafted by Beane. Small school? No matter. Beane said the 6'8″ Spencer Brown will likely be the swing tackle behind Dawkins and Daryl Williams this year, as he's proven to be a quick study. Brown worked with Joe Staley in the off-season to tweak his game in lieu of a normal season at NIU.

School and Traits Match: Trevor Penning, OT, Northern Iowa. This junior moved into Brown's slot when Spencer Brown declared for the draft. Both are bull-strong. In fact, Penning holds the NIU record with a 625-lb. lift. He's every bit as sincere as Spencer Brown, and both have the same toughness and aggression on the field, showing a penchant for pancakes (he's LT #70; stay for at least 3 plays).

Position Match: OT. Obinna Eze, OT, TCU . Another Deep Dive due to his excellent interview. You even pronounce it "Oh-BEANE-ahhh".
ROUND 4
Recent Draft: None. RD5: Tommy Doyle, OT, Miami (OH). Bobby Johnson, OL Coach for the Bills, was a player and coach at Miami of Ohio, and he jumped at the chance to individually work out Tommy at his alma mater at his Pro Day. Like Spencer Brown, he's 6'8″ and a little heavier than Brown at 320 lbs. He's played both RT and LT (his first start was vs A.J. Epenesa), and he's a Minnesota hockey kid. I put him on the PS for his high upside.

School Match: Sterling Weatherford, DB , Miami (OH). The Bills should once again look to Miami of Ohio for another Bills standout. Weatherford has many descriptors: Impressive. Passion. Tackler. Size. The best thing is, Weatherford has many positions at which you could play him. He's on ESPN's list of top 10 returning Safeties, but I'd see him fitting in anywhere in coverage. He posted coverage grades above 70.0 when he lined up in the box, in the slot, and at deep safety. Great article on Weatherford here.

Traits and Position Match: OT. Cordell Volson, OT OG, North Dakota State. Volson slides out to RT this year from his RG position last year. I like his agility on pin and pull schemes, seen here and getting to the second level, seen here. Like Tommy, his height (6'6″) is not a liability, as he has nice forward lean. The other similarity is that Volson has 50 games played already before this season even starts, and that's something Beane looks for.
ROUND 5
Recent Draft: Marquez Stevenson WRS/KR, Houston. Marquez Stevenson has the quicks and the return skills to double as a small, speedy slot receiver (think Isaiah McKenzie) and an above-average returner (think Andre Roberts). A Shreveport native, his brother was a close friend of Tre White's. His 4.21 short shuttle and 6.86 3-cone times are pretty good, and seem to matter to Beane: McKenzie's times are 20 Yd Shuttle: 4.15 (T-2nd with Brandon Powell, now with Dolphins) and 3-Cone Drill: 6.64, T-1st with Emmanuel Sanders.

School Match: None.

Traits Match: Kyler Gordon, CB FS, Washington.
Position Match: WR-KR. Reggie Roberson Jr. WR KR SMU. For sheer speed in the mid-rounds of the draft, Beane will look at CB FS Kyler Gordon, whose interview is impressive. You're likely taking Gordon because you want to match the deep speed that's been added to the AFC East (Jets-Elijah Moore; Dolphins-Jaylen Waddle joining Will Fuller). If we're matching receiver traits and kick-return chops, you'll go with Reggie Roberson Jr., WR KR, SMU. Roberson (pronounced "robber-son") will vault up draft boards this year by dint of three traits: hands catching=>https://youtu.be/b0zgvajsmu8?t=31 speed to burn=>https://youtu.be/b0zgvajsmu8?t=73 and moves and effort like this=>https://youtu.be/b0zgvajsmu8?t=130.
ROUND 6
Recent Draft: Damar Hamlin, S, Pittsburgh / Rachad Wildgoose, NCB, Wisconsin. Beane likely chose the experienced (48 games over 5 seasons) and gritty Hamlin for his team-leading tackles (67), size, and length, just not his speed. The safety was named team captain in 2020, and was second-team All-ACC. Future nickel corner Wildgoose, on the other hand, was a surprise early declaration who had a minimum of film due to injury and 2020-itis. He's Beane's sheer value pick where you shoot for the moon. He's raw, but shows some promise.

Schools Match: Deslin Alexandre DT3T/EDGE Pittsburgh / Jake Ferguson TE Wisconsin. Deslin Alexandre is exactly what Beane looks for: a position-flexible defensive line artist. He's a former edge defender who can slide inside a la Boogie Basham. He has the length of Gregory Rousseau and the get-off of Ed Oliver. Not a bad traits match. Jake Ferguson, a subject of one of my Deep Dives here. I think Beane will have his minions return to Pittsburgh and Wisconsin this fall. One other name to remember: QB Graham Mertz of Wisconsin. I love his fire and grit.

Traits Match: I think Beane would more likely match Hamlin's "games played" trait than any other. On offense, that's WR PR Jahan Dotson. He's one of my Deep Dives, anyway: https://buffalofambase.com/2021/07/15/deans-deep-dives-jahan-dotson-wr-pr-bills/ I've already nominated him as my "pet cat".

Position Match DB. For an experienced DB to add to the mix, Brendan "Bookie" Radley-Hiles, CB, Washington blows his competition out of the water with 35 games played entering this season. He's an upcoming Deep Dive, but listen to his interview here. His brother says this about BR-H's leadership trait: "I've coached him from six years up to the eighth grade. He's always been the team captain, just a natural leader." Now I want a Bookie to add to my Bubba and my Boogie.
ROUND 7
Recent Draft: Jack Anderson, OG/OC, Texas Tech. Seemingly an afterthought after Beane took Spencer Brown (Shoo-In) and Tommy Doyle (Bubble 53), Jack Anderson's size and position flex –particularly at Center– make him an intriguing Practice Squad candidate. He's a nasty mauler type who is also an extremely smart and skilled technician. If they have to move Bates from Center, Anderson's demeanor and quick feet are a good set of traits to slot in. I have Anderson over Lamp and Hart.

School and Position Match: OG OC. Dawson Deaton OC OG Texas Tech was Jack Anderson's teammate. I expect we'll hear Deaton's name on Day 2 as the season gets on. He plays with a wide base and plays it right up to the whistle.

Traits Match: Bryan Hudson OG Louisville. I'll try and match Jack Anderson's nasty mauler trait with skills that have high upside. Bryan's a player you likely haven't heard of yet. Recruiter Steve Wiltfong calls him the next Brandon Scherff. "Has the traits to develop into one of the best interior offensive linemen in college football. The foot quickness and explosiveness make him unique. Moves and runs well, tough, physical, strong kid that is also one of America's top high school shot put and discus throwers. Flexible athlete, fluid athlete and balanced. Blocks in space and glides to the second level. Projects as a multi-year starter and high NFL Draft selection." Whoah.
Editor's babble: Dean's work identifying 'McBeane' traits from interviews by others is nothing short of amazing. You can find Dean on Twitter @TCBILLS_Astro.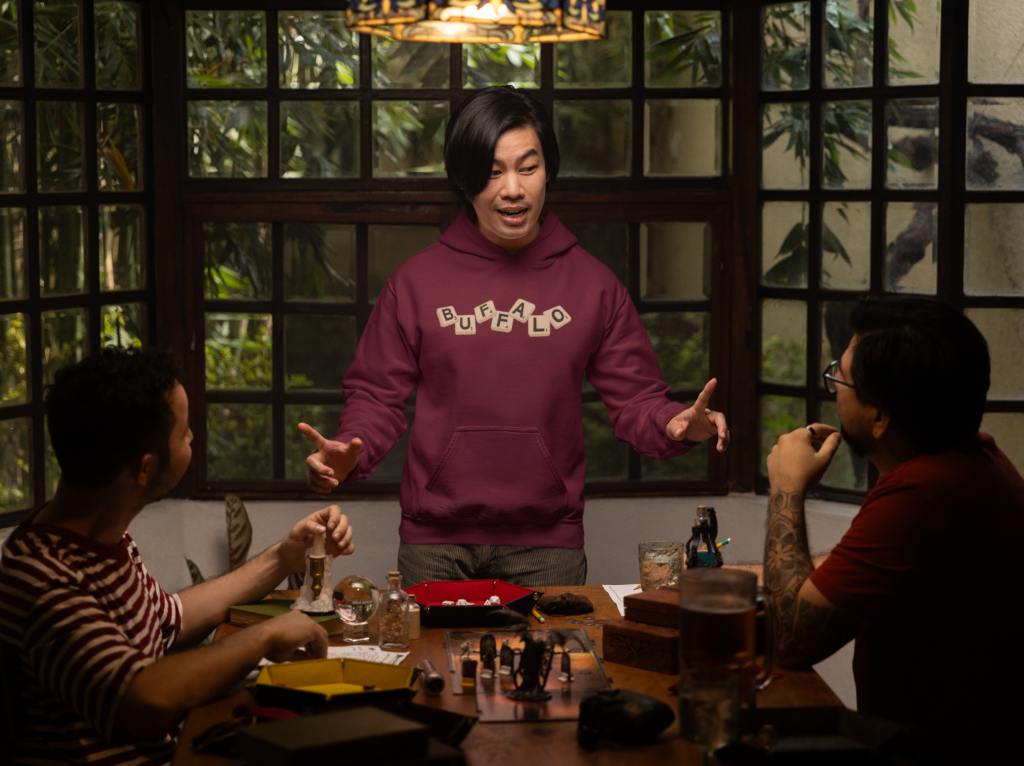 BuffaloFAMbase.com is sponsored by 26 Shirts
Every Monday, we launch a new two-week campaign of a limited edition t-shirt design. Every shirt purchase results in a donation to a local family in need. After the campaign ends, the shirt is retired. A new design is released, and a new family benefits from your fandom!