Can there be such a thing as a "disappointing win"? The recent Miami Dolphins game would be this year's best candidate for one, but it cleared up some doubts I had about the Guard position. A Guard with Tackle potential, a swing Guard, or a Guard that has Center experience would be worth looking into even if Beane signs a free agent in the offseason. That's playing the long game, and Beane plays it pretty well.
By looking here, you can see the positions that Bills scouts (and Beane himself) are looking at. Don't get too hung up on Big Board rankings at this point; I would obsess over multiple scout visits to schools whose games Beane has already attended.

These players are in order of my current preference.
RD1 #32 — All scouted by Beane
Kenyon Green OG OT Texas A&M — Versatile, better size, speed, and run blocking than Feliciano with the same nasty attitude and finisher's mentality. 6'4″ 330, 4.96. Green's best trait may be his versatility. He's played C with Luke Matthews out. He played LT with aplomb against DE Justin Eboigbe and NT Tim Smith in the scouted game vs 'Bama. The OL didn't allow a sack or even a hurry by Alabama.
Jordan Davis DL1T Georgia– Huge, fast, and disruptive for a NT. Doesn't sacrifice his gap –a team player. Lotu's heir. Beane and another scout saw #95 log 3 tackles, 2 TFL, and 1 sack against Clemson, earning him Nagurski Player of the Week.
Kaiir Elam CB Florida — 5 Solo tackles in SEC title game, elite PBU hand use.
Jordan Battle SS Alabama — Read my Deep Dive, and then Watch.
John Metchie III WR Alabama –Ghana, moved to Brampton, Ontario, 1 hour and 53 minutes away from Orchard Park. Watch.
Bubba Bolden SS FS NCB Miami –Versatile Safety type the Bills always like to sign. Teammate of Greg Rousseau's in 2019 and 2020, Bolden has savvy, athleticism, speed, and anticipation.
Just Missed: Trevor Penning OT Northern Iowa, Spencer Brown's teammate on NIU OL. Yes, I'm taking Penning. He broke UNI squat record with 625 lb lift, has fluidity and dancing-bear athleticism for his mammoth size, great motor, plays through whistle, and has Spencer Brown's level of nasty.
RD2 #64 — All scouted by Beane
Jamaree Salyer OG OT Georgia–"juh-MAR-ee" Only a RSSoph, he's a huge, pretty fast bookend Guard or swing Tackle. RT in 2019, LT in 2020 and LT this year. Handles the spin move well. Oh, and watch his feet.
Nicholas Petit-Frere OT Ohio State–Read Dean's Deep Dive. Beane may have to trade up for a shot at this guy.
Daxton Hill SS FS Michigan –athleticism, position versatility, elite at either S spot. Watch 4 plays.
Amare Barno EDGE Virginia Tech — One of the fastest EDGE rushers this year, Barno was switched from OLB to EDGE last season, a brand-new position, and he logged 16 TFLs in 11 games. Barno had 6 tkl, 2 asst, 1.5 sacks against UNC in a Beane-scouted game. He's from Beane's favorite conference, the ACC, and right now he leads that conference in TFLs. 3x scouted.
Brian Robinson Jr. RB Alabama – 3 games, 306 yds. in most-recent scouted game. A tank with contact balance.
Jeremy Ruckert TE Ohio State – Nagy: "Ruckert has 9 TD on only 28 career catches… aggressiveness & toughness set him apart from other TEs." Slobberknocker blocker. 4 games scouted, twice by Beane. Watch.
RD3 #96 –All scouted by Bills
Matt Bockhorst C LG RG Clemson – He's out for the season with torn ACL, but with 1000 snaps in his pocket, he will likely rehab and declare.
Zach Charbonnet RB UCLA – A fast Zack Moss. One report has Beane at a game, another has 2 scouts. Whoever it was watched a treat, 6 carries, 106 yds (17.7 ypc), 3 TDs. Heisman numbers. Two views of this TD run. Wow. Here's 3 missed tackles forced.
Dohnovan West OC OG Arizona State– #61 here likely got a long look by a Bills scout. Another play here has him blocking second level on the failed 4th and 1. Later, he showed nastiness and power on another 4th down.
Khalil Shakir WRS Boise State –The S is for small, slot, speedy. McKenzie, Brandon Powell and IR'ed Marquez Stevenson show the Bills want that archetype. The scout saw 5 for 91 yds (18.2 YPC), and 2 TD, and he ran kickoffs too.
Nakobe Dean LB Georgia–Beane and 2 scouts saw 3 tkl, 2 asst, and 2 sacks including this one. Wouldn't surprise me a bit if they took Nakobe earlier. Like at #32.
Tyrone Truesdell DL1T Florida — scouted by Beane , Watch. Was Auburn's most experienced defensive player, transferred to Florida. (44 games over the last four years)
Tre Turner WR Virginia Tech– 4 catches for 64 yards (16 YPC) & a game-sealing 12-yard run …another nice catch here. May slide to RD4, though.
RD4 #134 –All scouted by Bills
Reggie Roberson Jr. WR SMU – Sanders (age 34) and Beasley (age 32) need another Mustang on the Bills, just younger. This 6'0″ 200 4.28 SMU guy may be the fastest in the draft. Say "robber-son", see hands catching, plus McBeane-style moves and effort.
Wan'Dale Robinson WRS Kentucky – A transfer from Nebraska, Robinson has some Tutu Atwell or Isaiah McKenzie in him. The leader in receiving yardage in the SEC as of this writing, Wan'Dale caught 4 for 65 yds in the scouted game. His A+++ interview is compelling; just listen to a snippet.
Brian Robinson Jr. RB Alabama – subbed for Najee at times. 6'1″ 228 4.48 likely at Combine. Beane and Hickey saw him run for 4 TD vs undefeated Ole Miss. Need to vet this: suspended (with Najee) for the first half of the 2019 season opener for missing a team function.
Brandon Smith LB Penn State – Smith was able to thrive in 2020 because of Parsons' 2020 opt-out. flies around the field, made 20 stops in 9 games in 2020, would be a good revenge get for Giants, who lost out on Micah Parsons to the leapfrogging Cowboys. Here he minds the QB's eyes for the INT. Moves up even farther, I think, due to the OSU-PSU game with 4 tackles solo (one saving a touchdown), 4 assists. SS Jaquan Brisker and Smith are fast. I want both.
Sam LaPorta TE Iowa — Led Iowa in targets, catches in '20. Watch #84 block. Scout 2x, the underrecruited LaPorta might be the next Hockenson or Kittle.
Isaiah Likely TE Coastal Carolina–best TE in Sun Belt conference at 20.0 YPC. This is a nice snatch. Just don't stand over your opponent afterwards.
RD5 #174 –All scouted by Bills
Chris Hinton DL3T Michigan – so quick off the ball that you're thinking he's Ed Oliver. Son of a Denver Broncos first-rounder back in 1983. While his best spot in the pros is 3-tech in a 4-2-5 scheme, that quickness is good anywhere on the line. You see effectiveness, despite being often double-teamed. Give EdO some rest.
Cade Otton TE Washington – While the Bills look for traits over college production (see: Knox), Otton did lead the Huskies in catches (18), receiving yards (258) and receiving TDs (3) in 2020. Like current Bill Tommy Sweeney, Otton is another slobberknocker blocker in this draft.
Leddie Brown RB West Virginia – Scouts have seen Leddie twice, and he didn't disappoint: 17 carries for 73 (4.2 ypc), 2 TD plus 4 catches for 43 receiving and another TD the first time, and then this 80-yard run enroute to a 19 for 161 (8.5 ypc), 1 TD and 3 receps.
Lewis Cine FS Georgia – Pronounce it right –"seen", and you'll remember that you've seen him here first. Sports Illustrated called Cine "one of the best run defending safeties", and it's a perfect fit with Leslie Frazier's system. He gets downhill in a hurry and delivers blows like this.
Zamir White RB Georgia – Fast, humble, hungry. With a nickname of "Zeus", you wouldn't expect Zamir White to be such a soft-spoken man. He has a slight stammer, also a cleft lip left over from birth trauma. White's quickness plus vision plus size plus backstory are all compelling. He's likely the best RB in the SEC –Beane's second-favorite conference to the ACC. Think Breida speed in a Zack Moss body. Beane and another scout saw Zamir's 13 carries, 74 yds (5.7 ypc) against Clemson.
Quay Walker LB Georgia – 6-4, 220-pound Money 'backer in the Bulldogs' 3-4 scheme. He's a conundrum, exuding talent and athleticism in one moment, then a hair-pulling play on another.
RD6 #200, #210 CHOOSE TWO –All scouted by Bills
Jerrod Clark DL1T Coastal Carolina – The poor man's Jordan Davis. Massive (6-3, 345), quick, and so affable in his interview. Clark, who was a TE in HS, had spinal surgery earlier this year but he's played back into form. Clark notched 1 tackle, 2 asst, and 1 sack in the scouted game. The Chanticleers ("shon-di-CLEARs") had several upsets last year due to a very Bills-like locker room spirit.
Braylon Sanders WR Ole Miss –The senior made an incredible one-hand, toe-drag-swag catch for the Rebels in front of Beane and Hickey. That helps. Would we have a Sanders as an heir to a Sanders?
Luke Fortner OC Kentucky – I like the Kentucky OTs with LT beasts Dare Rosenthal and RT Darian Kinnard, and in the scouted game, they ably went up against Carter and Moon of Florida. Lost in the moment was the heady play of Center Luke Fortner in the Kentucky win. Former Center and SEC analyst Cole Cubelic named Kentucky the best O-Line in the country, and I think Beane wants a piece of that to –uh– fortnerfy the OL.
Coby Bryant CB Cincinnati – His nickname is probably "Not Sauce Gardner", but don't sell him short. Teams threw to Bryant's side a lot, and paid for it. That's what happened in the scouted game. Coby had a pick-6 INT worth watching. Nagy describes Coby as a "long 6'1" cover guy with 30 career PBU. He can recover & he's physical. Springy athlete. He can also catch one-handed, evidently.
Josh Proctor SS Ohio State –Proctor had the highest snaps for OSU before an injury took him out for the season. If the senior declares for the draft, he'd be a steal.
Boye Mafe EDGE Minnesota – While "BOY-yay MAH-fay" had 3 tackles in the scouted game, he was handled pretty well by OSU's OTs.
RD7 #226, #251 CHOOSE TWO (not all scouted by Bills)
Brock Hoffman C Virginia Tech– Can play all 5 spots & played some RT, now at Guard. Watch #76 run and pancake people.
Geoff Cantin-Arku ILB Syracuse–Scout paid a visit to Cuse. His 6'3″ 228 4.67 would be a slower Tremaine. 61 tackles, 7.0 TFLs, 4.0 Sacks last year.
Ben Brown OC OG Ole Miss – Brown #55 was a big help on this TD run for the Rebels. Brown is not fast, but he's very smart. He's likely a help at two or three line spots, with 24 starts at right guard and 10 at center entering this year.
Isaiah Pola-Mao FS USC – Extremely personable redshirt senior with team spirit. His size (6'3″, 205) and heart will be attractive to Big Baller. Pola-Mao's mother is a cousin of former Trojans and Pittsburgh Steelers safety Troy Polamalu. He's a fit with what the Bills like to do with their safeties.
Dion Novil DL1T North Texas – Dion is a raw NT prospect who plays in the Mean Green's 4-2-5 system, but scouts will like his relentless pressure. Just not his balance. There's potential there. Beane finds Zimmmerrrifffic players.
Charleston Rambo WR Miami – Turns on the jets here. One of the lightest on my board.
Editor's babble: Get your scouting glasses on and check out these players this weekend. We are so grateful for Dean Kindig's incredible contributions to our blog. You can find Dean on Twitter @TCBILLS_Astro.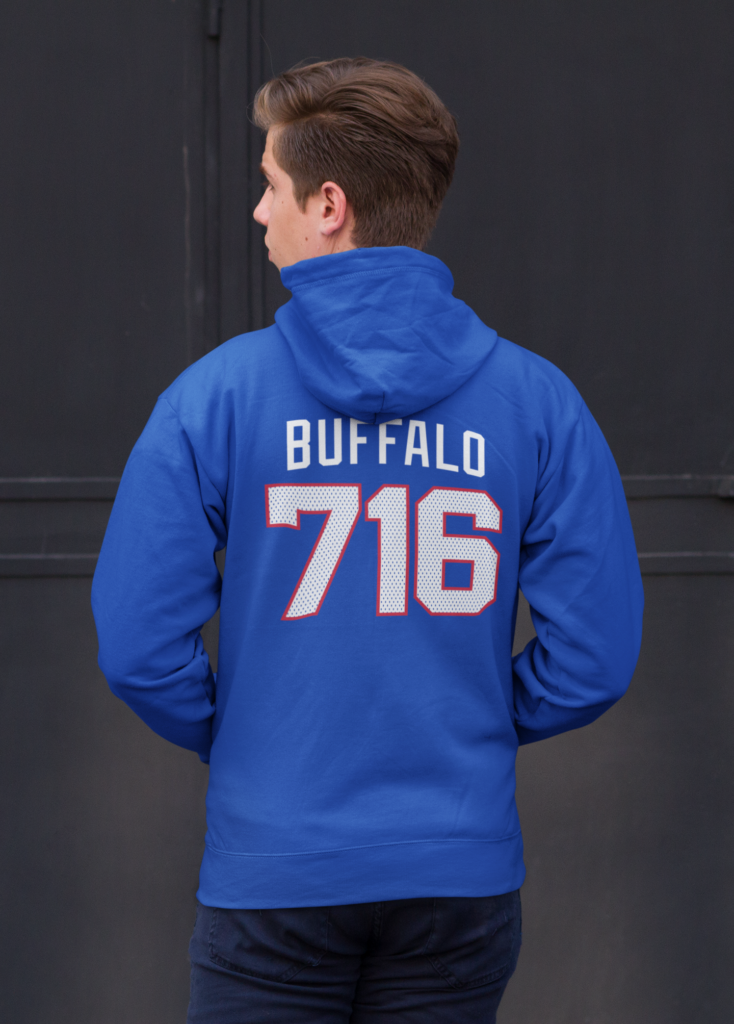 BuffaloFAMbase.com is sponsored by 26 Shirts
Every Monday, we launch a new two-week campaign of a limited edition t-shirt design. Every shirt purchase results in a donation to a local family in need. After the campaign ends, the shirt is retired. A new design is released, and a new family benefits from your fandom!