Nicholas Petit-Frere OT Ohio State
6'5″ 300 4.92
BIG10
A+++ Interview— Click to Listen to the best part …or was this the best part?…
Stats
Impressive and well-spoken, Petit-Frere (French for "little brother") was the nation's highest-rated offensive lineman in the 2018 class and was the No.1 OT prospect in the country, per 247Sports. NP-F is no longer the little brother; he gained 50 pounds of good weight between 2018 and 2020 under the tutelage of strength coach extraordinaire Mickey Marotti and his fine staff. But Nicholas Petit-Frere is even more impressive on the inside; be sure to listen to his interview linked above. NP-F and LT Thayer Munford are the top duo of bookend tackles in the draft, imho, and I have company in believing that. Let's watch 10 plays.
CuedUp plays to watch (Ohio State RT #76, later 78)
–NP-F in his first start gets the early jump on the DE, putting him in the driver's seat
—Nicholas is playing too high up here, so his leverage is significantly minimized against the Northwestern DT
—I like his mirroring in pass pro with excellent quickness, he could get his arms up more and "calm his feet down", which he did as the season went on
—Here's when I got excited about NP-F's potential. Look at his quickness out of the gate on the down block, stays with it
—Gets to the second level, effective in his block. Arm placement is low because his bend is high.
—Shows powerful leg drive and ability to turn his man
—Works tandem with the RG on this touchdown, note footwork, stays square, sticks around to give DE one last push, just because. At times, his wide stance (and not bending) reminds me of Seantrel Henderson.
—NP-F has a nice punch: Placement is exquisite here.
—Here, NP-F initially works with chipping TE Jake Hausmann, and then with a pretty good pass blocking RB Master Teague, to fend off one of my faves from last year, Shaka Toney (RD7, WFT). Nick clearly knows where his help will be coming from, and knows Toney can't be allowed an inside move.
—Rutgers DE Mike Tverdov is allowing Nick to show off his excellent lateral movement as well as his effective punch. Note Tverdov's spin move at the end and how nimble NP-F is. He recognizes it and counters. The result of this play was a TD, as well.
What NFL Teams Need a Nicholas Petit-Frere?
The simple answer is, damn near all of them. There are only 20-25 great offensive tackles, and your team better always be grooming one.
The only teams I'll give a pass to are teams who are already Top 12 in "Least Sacked" AND top 12 in most Yards Per Rushing Attempt. This short list of four includes Kansas City (4th least sacked and 10th in YPRA), Green Bay (5th and 6th), Cleveland (6th and 7th), and New Orleans (9th and 12th). Arizona just missed my arbitrary cutoff with 13th-least sacked and 9th in YPRA. But I'll bet that 4 of these five teams draft one anyway in 2022. It's what winning teams do: Draft, Develop, Re-Sign.
Teams that drafted an OT in the Top 50 picks last year could get an exemption. That's Lions, Raiders, Vikings, Bears, Dolphins, and Jaguars. The year before, the Giants, Jets, Bucs, Fins, and Titans took an OT. But some of those teams have older OTs (or high cap hits) with contracts expiring in 2022 per Spotrac, and I'll keep them on the NP-F list This includes Lions (Vaitai and Decker), Raiders (Kolton Miller), Bears (Germain Ifedi). Dolphins drafted tackles in RD1 and RD2 in the 2020 draft, but they still might look at the position early on Day 3. The Bucs are still likely in the OT market [depth chart], and were the only playoff team in this list. In fact, didn't they win the Super Bowl?….
What teams were Bottom 12 in "Least Sacked" AND Bottom 12 in Yards Per Rushing Attempt? If they didn't draft a tackle recently, they're on my list. These include these four teams: New York Jets, Cincinnati Bengals the Washington Football Team [depth chart] and Detroit Lions [depth chart]. I like the Jets' OTs (Becton and Moses), so they could wait until Day 3. Likewise, the Cincinnati Bengals will say adieu to Reilly Reiff age 34, FA in 2022, but Jonah Williams, Jackson Carman, and D'Ante Smith is a good start at fixing both rush and pass offense.
Editor's babble: I'm with Dean on the need to keep a constant stable of developing OTs. We are so grateful to Dean for all his tireless work to keep us up to date on which CFB players to keep an eye on this season and for all his other great contributions to our blog. You can find Dean on Twitter @TCBILLS_Astro.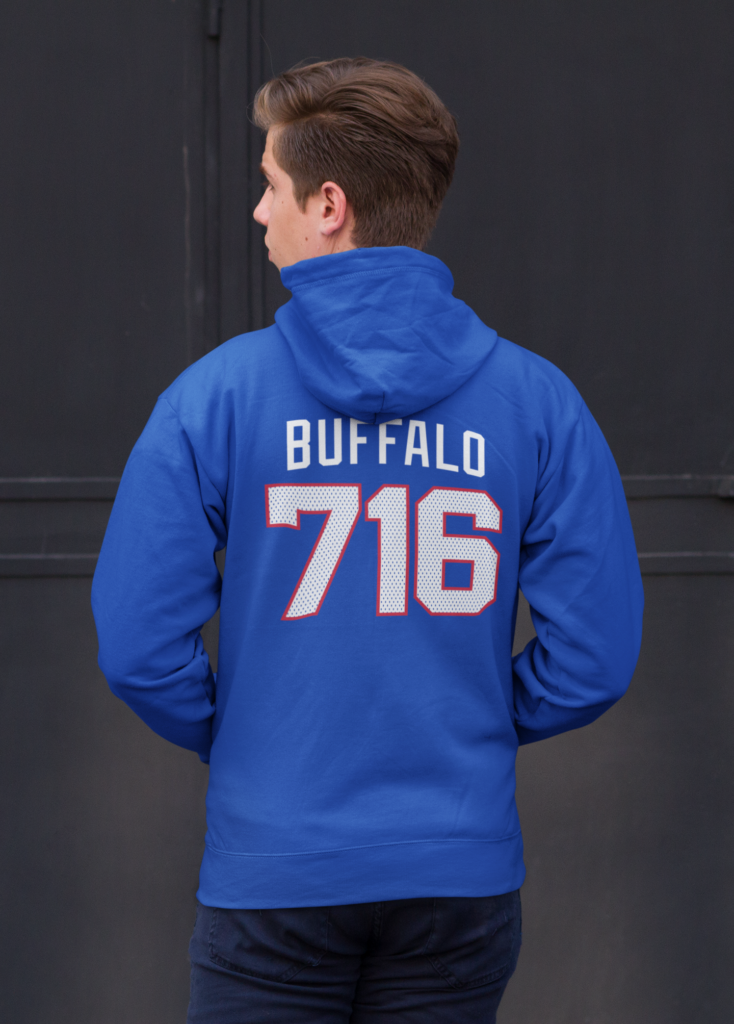 BuffaloFAMbase.com is sponsored by 26 Shirts
Every Monday, we launch a new two-week campaign of a limited edition t-shirt design. Every shirt purchase results in a donation to a local family in need. After the campaign ends, the shirt is retired. A new design is released, and a new family benefits from your fandom!