I'm not even that upset about the kneel downs. The Buffalo Bills have positioned themselves where humiliating the Patriots is low on the priority list, if only to save wear and tear. Looking for more divisional wins is the most satisfying form of vengeance even for those whose memories reach back a couple years ago.
The true devastation inflicted by the Bills on their erstwhile bullies involved implementing a strategy for future success that not only works on its own but also provides an alternative from typical bombast. A general reputation for winning is the only thing better than doing so in a particular way.
A game with relatively few throws by their own standards still featured a handful of incredible ones. Remember who's doing the passing. Josh Allen is in the Matrix. He simply must have stepped out of bounds yet didn't. The quarterback who makes the incredible routine doesn't care about your trifling physics. Allen's ability to complete plays while contorting around the game's boundaries makes him like Tage Thompson on pretend grass instead of real ice.
The surgical dismemberment of New England was worth the time in the waiting room. Numerous precise incisions show who was paying attention during medical school. Flaunting just enough sadistic delight to endanger their medical degrees is the opposite of malpractice.
I put down the video player on a different glowing screen to type this.  But even inhabitants of an era featuring constant stimulation don't need endless spectacular highlights.  Expecting every game to feature nonstop aerial thrills becomes like watching arena football, and I'd have to check if they still play that.  As for an AFL team still competing, the Bills won two of those league's championships by defying expectations of repeated deep attempts.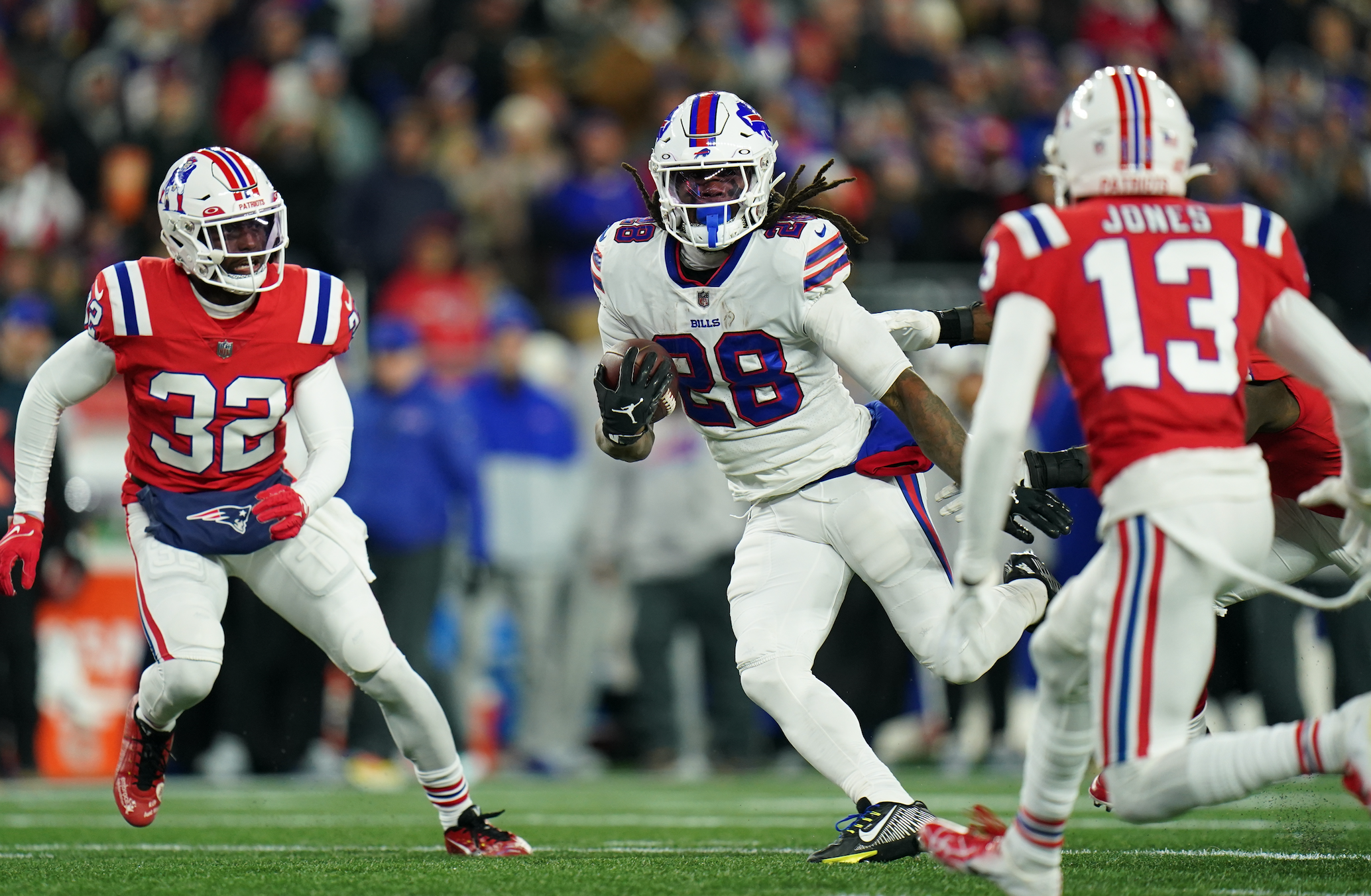 Rushing is like blackjack where you have to expect some losses. Patience rewards those with the goal of finishing slightly ahead. You don't even have to wait that long for a payoff: the game's only going to be like three hours, and a battered defense will be evident with time left. Good teams don't need to hope they're dealt desired cards.
Frequent handoffs hurt Allen's MVP candidacy in the best way. The award almost becomes a slight against the winner's team because it implies they would have sucked without that one person. A backhanded compliment against the rest of the roster implicitly means the recipient does more on his own than anyone else. Spreading out gains aids the percentage of wins.
Some discoveries shouldn't be novel. Suddenly realizing the benefits of rushing more than passing feels like discovering you can take a screenshot instead of grabbing your phone to photograph your tablet. Notably, the quarterback ranked third in running yards against the Patriots, which for this team is as rare as a Buffalonian who respects Bill Belichick. Devin Singletary jumped over Antowain Smith last Thursday to get two spots ahead of Allen on the Bills all-time rushing list, and the passer seems fine with falling a bit behind. Handing off shows true selflessness.
Bills games could be less exciting earlier.  The conference's best team by record nonetheless remains dedicated to keeping games competitive.  The late first-half turnover didn't keep them from winning comfortably against the reeling Patriots.  That last bit sure was fun to type.  Regardless, minimizing risk at half's end would reflect needed focus.  Roger Goodell appreciates the effort to keep games close, which is just another reason to be embarrassed into ball security.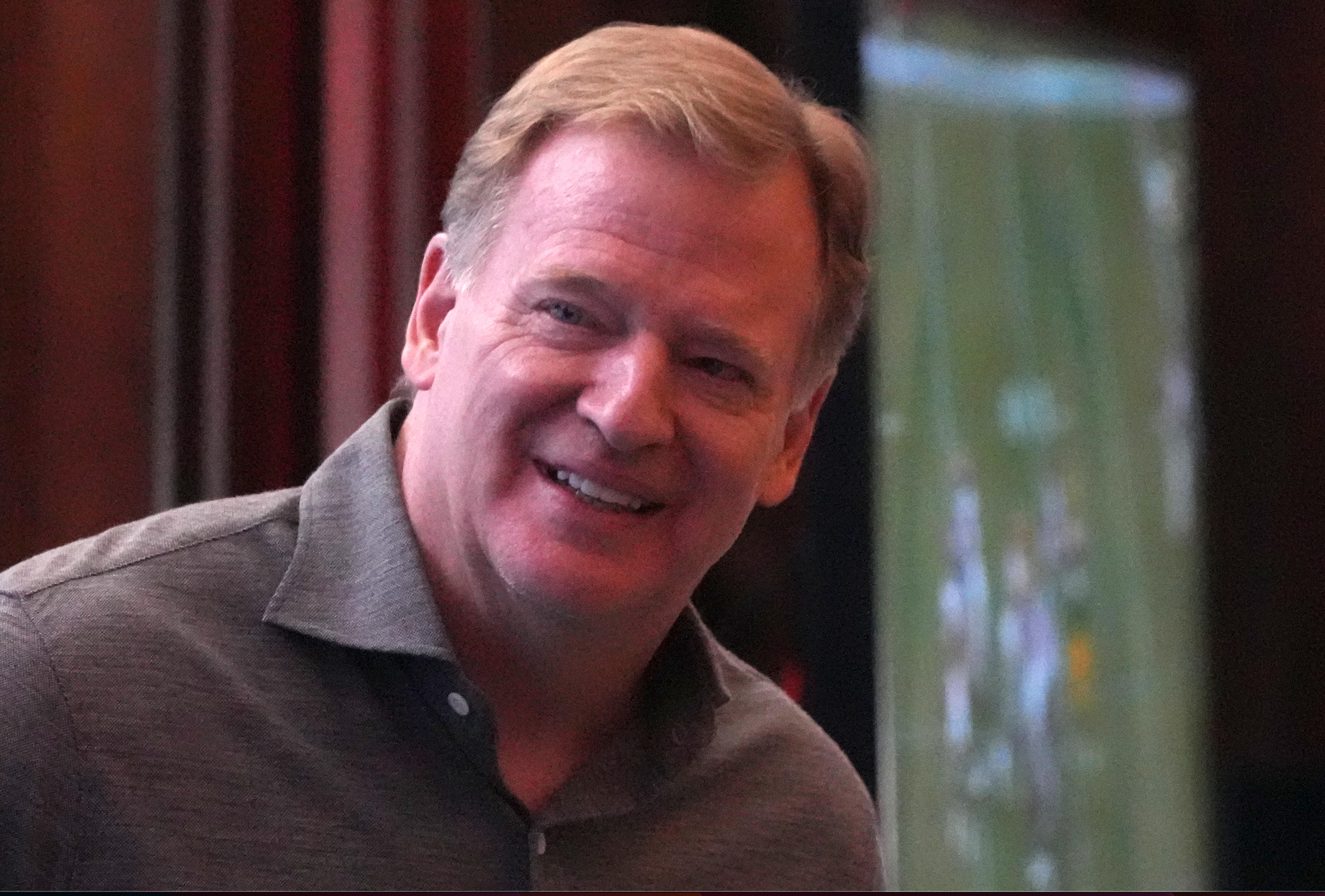 Humans tend to heal as time progresses even when it comes to prom rejections.  Getting starters back is the best way to improve.  The rather obvious notion of telling them to mend just like they should score more points would nonetheless make life easier for all involved parties.  Listen to me and feel better.
Those who could use a rest have never been more thankful for a Thursday game. The ritual disruptor helpfully staples a long weekend to the usual interval. A couple extra days without an official work event is a short vacation to treasure, especially if your job involves smashing into others. The smallest amount of time is appreciated in the biggest way for the ailing.
I wish they weren't getting the chance to show they can finish without Von Miller. We can only hope he'll be ready to play at some point in January. Everyone be good and ask for the same thing from Santa. In the meantime, a collaborative effort that reflects selfless teamwork is the best way to cope with a particularly tough injury suffered by a super awesome addition to Buffalo's sports scene.
An early December conference lead is only worth noting for the effort required to preserve the presently temporary euphoric jolt.  The Bills won on Sunday without playing.  All their present prominent competitors lost as the world finally turned out like I wanted.  Improving while watching is a rare event the Bills have earned the right to enjoy for a few minutes.  Everyone's aware the work only starts in the year's last month.  Knowing their perch isn't guaranteed serves as the best way to remain there.
Editor's babble: We are grateful for Anthony Bialy's thought provoking and entertaining contributions to our blog. You can also find Anthony on Twitter @AnthonyBialy.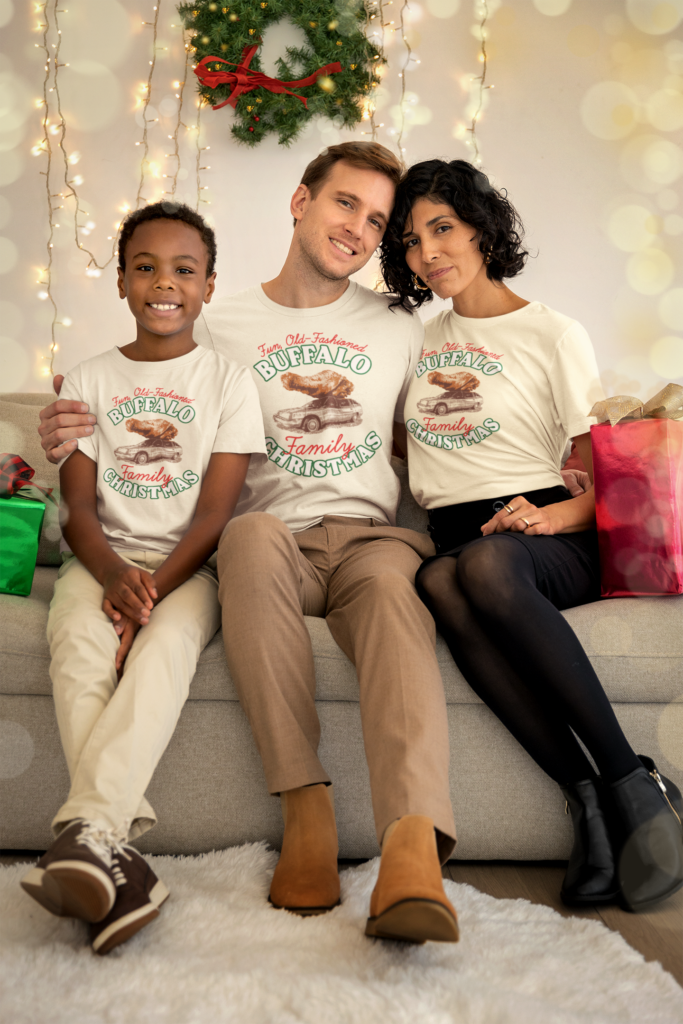 BuffaloFAMbase.com is sponsored by 26 Shirts
Every Monday, we launch a new two-week campaign of a limited edition t-shirt design. Every shirt purchase results in a donation to a local family in need. After the campaign ends, the shirt is retired. A new design is released, and a new family benefits from your fandom!