Here's my Pick Six at each 2022 Draft pick for the Bills, which I'll do every other month up to the Combine, at least. Hopefully, it'll give you some players to watch on Saturdays. All of them have already been seen by The Big Baller himself, Brandon Beane.
I've put them in order of likelihood of them being the Bills' pick in that round, largely because of who's already in that position room and who'll be a free agent. Don't get hung up on their rank on my Big Board just yet; some of your big boards aren't even looking at film yet, and others are copying the big boards of others. Pay attention to the conference; Beane has drafted as many ACC players than any 3 other conferences.
28 Jordan Battle SS Alabama
Beane
A+++ #9 SEC
[CuedUp] [Stats]
6'1″ 206 4.42 Deep Dive=> https://buffalofambase.com/2021/07/08/deans-deep-dives-jordan-battle-safety-bills/ A South Florida guy who I doubt has ever seen snow, Battle is a consummate Bills Safety: communicator and wrap-up tackler=>https://youtu.be/JuKWv2IrsTI?t=48 , experienced and quick diagnostician in the 4-2-5 that the Bills frequently use. He ably covers TEs and Slots without surrendering runs. His interview, despite the stammer and word-finding difficulties in his delivery, exudes passion, past coaching, and character. "Battle" is a perfect name. I've talked before about the fact that the Bills need a Tight End Killer to dominate in the AFC East. Battle should be on your radar screen. FIT FOR BILLS: A+…. Mac Jones talks about him here=>https://youtu.be/DnRVxomY8IQ?t=306
32 Bubba Bolden SS FS NCB Miami
Beane
A++ #21 *** ACC ***
[CuedUp] [Stats]
6'2″ 200 4.4
xfer USC but teammate of Greg Rousseau's in 2019 and 2020, savvy, athletic, anticipation, watch the FF in CuedUp. I saw Bolden tackle Tutu Atwell in space –not an easy task given Tutu's speed. Bubba's a solid tackler who can come up and bring the ball carrier down. Bolden speaks about accountability for one's self as well as his teammates, in his A++ interview. Manny Diaz is in McDermott's innercircle, and the Hurricanes deployed Bolden in multiple spots on their defense. Bolden aligned at FS, Two-high split, Nickel, and in the box. Go to Cover1 for more. Cover1: "he can improve at the POA against blockers. Whether it is indecisiveness or not, Bolden must take on stalk blocks from receivers with aggression and a 'You cannot block me' attitude. Bolden whiffs and misses on too many tackles in the open field."
37 Josh Jobe CB Alabama
Beane A++ #28 SEC
[CuedUp] [Stats]
6'1″ 194 4.4
It's a long o in Jobe, and you'll say OHHHH on the CuedUp. He's the Bills' CB2 that should be there when we pick in RD1. Jobe didn't allow a 20+ yard catch last season, and Levi Wallace has. It's science. Of course, they still have to play the games. We'll see how good Jobe is without Surtain this year.
38 Tre Turner WR Virginia Tech
Beane A++ #11 *** ACC ***
[CuedUp] [Stats]
6'2″ 195 4.36 tied with Doubs for tallest target of the fast WRs. jet sweep=>https://youtu.be/3njtg8m9Ydg?t=52 fighter at catch point=>https://youtu.be/3njtg8m9Ydg?t=86 outside shoulder catches=>https://youtu.be/3njtg8m9Ydg?t=125
40 Tyreke Smith DE Ohio State
Beane, 2 A+++ #11 BIG10
[CuedUp] [Stats]
6'4″ 267 4.57
What?!? Another EDGE? Fat chance! Except Jerry Hughes and Mario Addison are getting older. He's a Deep Dive, which you can read here => https://buffalofambase.com/2021/07/22/deans-deep-dives-tyreke-smith-bills-de/ Tyreke was beset by injuries (groin, hand), then a COVID diagnosis before the Natty. All have taken their best shot on the Buckeye DE, but he seems resilient, and demonstrates my favorite trait: grit. Dust off your Ohio State-Clemson Sugar Bowl tape, and watch Tyreke keep Clemson honest (two tackles, one sack, pass breakup, and forced fumble). Smith, and his sidekick Zach Harrison (gone before we pick at #32), get off the ball super quick. I'm sure if Tyreke focuses on the details, his ceiling is the next Chase Young. I admire that he seems resilient, and still has grit. After helping his team win the Sugar Bowl, Tyreke had to watch the championship from home. Watch him this season to see him get off the ball with explosion. Tyreke and Zach Harrison will be a dangerous duo. If healthy, Smith will garner [unfair] comparisons to Chase Young. Here's what Young says, though: "He's gotten more locked in on the real-small details," Young said. "I always tell him that if he does that and gets real locked in, he can definitely be a force to be reckoned with. I feel like he already is. Tyreke's going to be a real great football player." Smith played in seven games for Ohio State in 2020, recording eight tackles and a sack with three quarterback hits, winning 24% of pass-rush battles when in there, per PFF.
43 Nicholas Petit-Frere OT Ohio State
Beane, 2 A+++ #78 BIG10
[CuedUp] [Stats]
6'5″ 300 4.92 7
Petit-Frere is one of Dean's Deep Dives, impressive and well spoken, LT Petit-Frere and his LG Thayer Munford are the Big Uglies to watch for the Buckeyes. Petit-Frere was nation's highest-rated offensive lineman in the 2018 class and was the No. 1 offensive tackle prospect in the country according to 247Sports. He gained 50 pounds of good weight over 2018-2020 -Nicholas already has work as a public spokesman for a Tampa technology startup.
RD2
61 Henry To'o To'o ILB Alabama
Beane A+++ #11 SEC
[CuedUp] [Stats]
6'2″ 225 4.44 22
Yet another Dean's Deep Dive due to his A+++ interview, Henry transferred to 'Bama from Tennessee's Volunteers, where he was already a film room regular as a 2-year defensive signal-caller with the Vols. To'oTo'o went to high school at football giant De La Salle, and was a Top-50 prospect at the time. As a freshman in 2019, he earned All-America status, then returned in 2020 to lead the Vols in tackles (76) and TFLs (10.0) and in run stuffs (17), a number that happened to lead the SEC. He approaches each practice like he attacks each game –full out, with grit and toughness. Tide ILB Dylan Moses has moved on to the NFL as a free agent with Jacksonville, but 'Bama will likely slot Christian Harris there, and Jaylen Moody is no slouch, either. Henry attacks each game like he does each practice –full out, with grit and toughness. McDermott's gonna love this kid.
65 Kyren Williams RB Notre Dame
Beane A++ #23 *** ACC ***
[CuedUp] [Stats]
5'9″ 194 4.38
The CuedUp shows Kyren's second effort and balance. A RB is faced with instantaneous choices whether to Bang It up inside at the crease, Bend It one gap over and change gears, or he can Bounce It outside. I like Williams' fight for the extra yardage. It helped Kyren to gain himself 1279 yds and 13 TDs in 2020. I suspect he'll have more in 2021. The argument against Kyren Williams is that Matt Breida's the same player. Breida (5'10", 195, 4.38), the Niners' speedster, is that change-of-pace back for a one-year contract, but it'd be neat to give him some competition (assuming they extend Breida). Kyren Williams will be worth watching this year, but Kyren's size and RB's devalued position drops him here. After drafting 5 big uglies in 2020, I bet Beane gets at least one toy in RD 1-3. Watch him in pass pro; he talks about it here.
71 Xavier Thomas DE Clemson
Beane A++ #3 *** ACC ***
[CuedUp] [Stats]
6'2″ 265 4.53
Recently, I noticed McShay has him going #32 in his draft, and I'm not ready to vault him up that far (it's how I felt about Boogie Basham last year). Xavier's traits could make it happen. He's a tight arc-bender from the near-side here, and can abuse your RT (see 3 views of another play here) I don't know if it's a word, but I like Thomas's ferocity. Here, Thomas lines up wide, reads the swing pass and arrives exactly when ball does (2 views). He seems to sniff out plays immediately, and that'll lead to tons of TFLs.
86 Jamaree Salyer OT OG Georgia
Beane A++ #69 SEC
[CuedUp] [Stats]
6'4″ 325 5.17
Pronounced "juh-MAR-ee", Mr. Salyer has made the steady graduation from bookend Guard with McClendon, then RT in 2019, to LT in 2020 and LT will be his starting spot in 2021 as well. He's fast and quick, and he handles the spin move well (watch his feet). Again Salyer's feet are his friend. In run blocking, his OL coach is going to ask him to get lower, but he's a dancing bear in pass protection. I hear the Bills like to pass it.
91 Jarrett Patterson OC OG Notre Dame
Beane A++ #55 *** ACC ***
[CuedUp] [Stats]
6'5″ 305 4.97 2
Patterson's intriguing as an heir-apparent to Mitch Morse down the line. He's played some Tackle on one of Pro Football Focus' top-rated offensive lines in 2020, but mainly played Center blocking for Kyren Williams. He can pull well , stays engaged until the whistle and plays a neat game of Seek and Destroy at that 2nd level. Jack Anderson was put at Center the first time he came to practice after being drafted in RD7 of the 2021 Draft. His qualities match Patterson's quite well: technician, will use handwork and leverage, can play multiple positions. Jarrett has the versatility that the Bills covet on the offensive line. He missed most of the 2020 season due to injury, and, perhaps most important, his eyebrows are distracting. Notre Dame was producing the highest-combined pass-block grades of any offensive line in 2020 and was a top rushing offense (231 yards per game) against some of the ACC's and FBS's best rush defenses.
95 Haskell Garrett DT3T Ohio State
Beane, 2
BIG10
[CuedUp] [Stats]
6'2″ 299 4.95
Garrett wasn't at spring football practice due to a gun shot wound to the lower part of his right leg, but he played in Game 1 and Game 2 as of this writing. role player who supplemented the rotation behind NFL-bound starters and capitalized briefly on his chance to shine. Upside up the wazoo, which Beane looks for especially in RD3 and beyond. He's too light for 1-tech, but is Ed Oliver-sized.
RD3
106 Nolan Smith OLB Georgia
Beane A++ #5 SEC
[CuedUp] [Stats]
6'3″ 235 4.46
I enjoy watching Nolan Smith's quickness off the ball, and an opponent best in a system where he can pin his ears back, like the Bills employ.
108 Jameson Williams WR KR Alabama
Beane A++ #1 SEC
[CuedUp] [Stats]
6'2″ 188 4.3
Watch Jameson's 94-yard touchdown vs Miami in the CuedUp above. Jameson's not the sharpest knife in your drawer, but has palpable athleticism. Best of all, he's a dynamic returner.
109 Zamir White RB ST Georgia
Beane A++ #3 SEC
[CuedUp] [Stats]
5'11" 215 4.38
With a nickname of "Zeus", you wouldn't expect Zamir White to be such a soft-spoken, humble person. White is so easy to root for. Listen to the Interview here. He has a slight stammer, also a cleft lip left over from birth trauma. White's speed plus size plus backstory are all compelling, and he's likely the best RB in the SEC –which is Beane's second-favorite conference to the ACC. Both conferences will be a draft gold mine in this upcoming class. White is a seam finder, bounce-it-out playmaker with ankle-spraining jukes. Think of Breida speed in a Zach Moss body. White prided himself playing on the Bulldogs' punt return team. Get your opponent 8 in a box, and run this toss sweep.
122 Phidarian Mathis DT3T NT Alabama
Beane A++ #48 SEC
[CuedUp] [Stats]
6'4″ 317 5.14
Call him "Phil", he's over his 2020 Oct leg injury. "Phidarian" is a cool name, one that sounds as if you'd need to go to graduate school to become one. Most call him "Phil", though. Phidarian is articulate and he gets it. When asked about how tough Bama practices are, he said simply, "You get to get better". Oooooh. BillsMafia would love his style, and Phil may have some 1T-3T versatility. Still, I'd rather have a pure one-tech than another hybrid IDL. But Phil Mathis oozes Process.
133 Lewis Cine FS Georgia
Beane A++ #16 SEC
[CuedUp] [Stats]
6'1″ 190 4.4 16
Pronounced "seen", SI describes this guy as "one of the best run defending safeties …ability to get downhill in a hurry is what allows him to deliver the devastating blows that he has become famous for". I caution you that some of Lewis's hits will be called in the NFL, like this one in which Pitts was knocked out of the game. His reckless play also allows him to cover up mistakes he makes in his reads, which he'll have to work on this year.
136 Lecitus Smith OG Virginia Tech
Beane A++ #54 *** ACC ***
[CuedUp] [Stats]
6'3″ 320 5.14
Pronounced "luh-SEE-tuss", Smith had the opportunity to turn pro alongside Christian Darrisaw following the 2020 season, but he decided to take another year to refine his craft. He was a TE at 260 in HS, so you'll appreciate his footwork. Cover1 did a neat interview and film study with Lecitus on the CuedUp. You'll see why a Lecitus Smith draft pick will Make You Wanna Shout.

RD4
152 Teradja Mitchell OLB Ohio State
Beane, 2 A+++ #7 BIG10
[CuedUp] [Stats]
6'2″ 242 4.62
Voted captain, had worked behind Borland and Pete Werner, now's his chance. Has suited up for 28 games, but now he's with the ones.
161 Jermaine Johnson OLB Florida State
Beane A++ #11 *** ACC ***
[CuedUp] [Stats]
6'5″ 262 4.52
xfer Georgia, looking for more playing time, has experience and technique. 4.0 sacks in seven games in 2020.
174 Charleston Rambo WR Miami Beane
A++ #14 *** ACC ***
[CuedUp] [Stats]
6'0″ 175 4.38
xfer Oklahoma, deep threat. Rambo had himself a strong sophomore season, grabbing 43 receptions for 743 yards and five touchdowns, good enough for second on the Sooners. One of the best names in the draft. Expect good chemistry with D'Eriq King. Turns on the jets here=>https://youtu.be/RaST8RJUVaM?t=15
188 Meiko Dotson CB Florida State
Beane A++ #15 *** ACC ***
[CuedUp] [Stats]
5'10" 195 4.46
xfer GaTech then FAU
Dotson was #1 in the NCAA in INTs with 9 in 2019, taking them back 108 yard the other way.
195 Myron Tagovailoa-Amosa DT Notre Dame
Beane A++ #44 *** ACC ***
[CuedUp] [Stats]
6'2″ 282 4.93
MT-A is #37 on RedZoneInsider's Big Board, and he does have nice awareness. He's Tua's cousin, which is cool, but I'm not sold on the one-trick ponies. MT-A's a 3-tech only.
207 Sheridan Jones CB Clemson
Beane A++ #26 *** ACC ***
[CuedUp] [Stats]
6'0″ 185 4.4 14
"We want to try and be that little piece of hope that everybody can try to make a change" is a wonderful quote, and his appeal doesn't end there. Sports Illustrated is pretty high on Jones, who they see as benefiting from Derion Kendrick's release. Jones has been playing like a 'man on a mission', Swinney recently said. Jones has become more physical, which is exactly what the secondary lacked at times last year. " He will have plenty of competition for a starting spot in that Clemson backfield. I like Levi Wallace better, but then, Beane always takes a Day 3 DB. Write it in indelible ink. Could be Mullen, Dean, Lucas, or Blades here in addition to Jones.
RD5-6 (PICK THREE OF THESE due to Bam Johnson trade)
219 Eugene Asante OLB North Carolina
Beane A+++ #7 *** ACC ***
[CuedUp] [Stats]
6'5″ 200 4.48
Chazz Surratt's backup with FF in first game is very articulate and passionate. Listen to Interview. It's one of the best of the players Beane has already seen.
221 Boye Mafe DE Minnesota
Beane A++ BIG10
[CuedUp] [Stats]
6'4″ 265 4.5
"BOY-yay MAH-fay" was fifth in the Big Ten last season in sacks (4.5) and is first in the conference in sacks per game (.90). That's in the stratosphere of AJ Epenesa and Bam Johnson's sack-per-game numbers.
234 Latavious Brini SS OLB Georgia
Beane A++ SEC
[CuedUp] [Stats]
6'2″ 210 4.56
Excellent out of the gate vs Clemson with 2 tackles, 2 assists, and the pass broken up in the end zone in the CuedUp. Remember that Milano was a SS-OLB at Boston College; well, that's how the Bulldogs are using Brini.
240 Emil Ekiyor Jr. OG Alabama
Beane A++ #55 SEC
[CuedUp] [Stats]
6'2″ 324 5.26
Sophomore (2020) Won the starting job at Right Guard next to Landon Dickerson after 2019 Knee INJ. Wonderful story of his Nana's role in his life until she passed from a second cancer diagnosis. Remember, SEC Guards have to work against SEC D-Linemen.
256 Tyrone Truesdell DT Florida
Beane A++ SEC
[CuedUp] [Stats]
6'2″ 326 5.14
xfer Auburn. "Having his leadership, he's kind of the silent leader. He's not a vocal guy but he just shows up and works. That's one of the things that I admire about him." Truesdell has appeared in 44 games over the last four years while making 19 starts at DT. During that time, he has totaled 67 tackles, including nine for a loss, and three sacks, while also recovering a pair of fumbles." -DraftScout
263 Drew White ILB Notre Dame
Beane A++ #40 *** ACC ***
[CuedUp] [Stats]
6'0″ 227 4.72
Process Guy. Lifts for Athletes vs Rare Diseases. Ideal Bills teammate. I definitely think Beane has him on his early board.
266 Cam'Ron Harris RB Miami
Beane A++ #23 *** ACC ***
[CuedUp] [Stats]
5'9″ 210 4.35
Watch out for Cam'Ron. He patiently rode the pine until starter DeeJay Dallas was drafted in the fourth round by the Seattle Seahawks. Hear me out on this. The Bills had a Zoom visit with Javian Hawkins and a GM Visit to Travis Etienne last year. Both had 4 fifteen-yard runs in 2020 (tied for second-most in the Power Five). So why not put There Cam'Ron Harris –who was FIRST on that list with SIX 15+ yard runs– off the short list? He'll be one of the fastest as well, hitting 22.0 MPH in only 6.5 seconds on this 75-yard TD, or 23 MPH per Manny Diaz's GPS (and remember, Manny Diaz is in McDermott's inner circle, as uncovered by Erik Turner). Beane mentioned YAC yards, and Harris is known for that, too. Harris runs angry, and you can pick that out on his highlight films. Miami is the alma mater of Bills QB Ass't Coach Ken Dorsey, Northeast Area Scout Pete Harris and Area Scout A.J. Highsmith. See hesitation move and contact balance here, and his nose for the end zone here.
314 Jacob Copeland WR Florida
Beane A++ #15 SEC
[CuedUp] [Stats]
6'0″ 203 4.38
The Bills need an inside slant guy. Copeland is dangerous on inside slants (watch 2). I like his comeback availability, his speed over the top, and his fight. The position room might be short on all three.
Editor's babble: Some fine work here by Dean Kindig. A lot of great info to use while watching college football. We are grateful for his tremendous contributions to our blog. You can find Dean on Twitter @TCBILLS_Astro.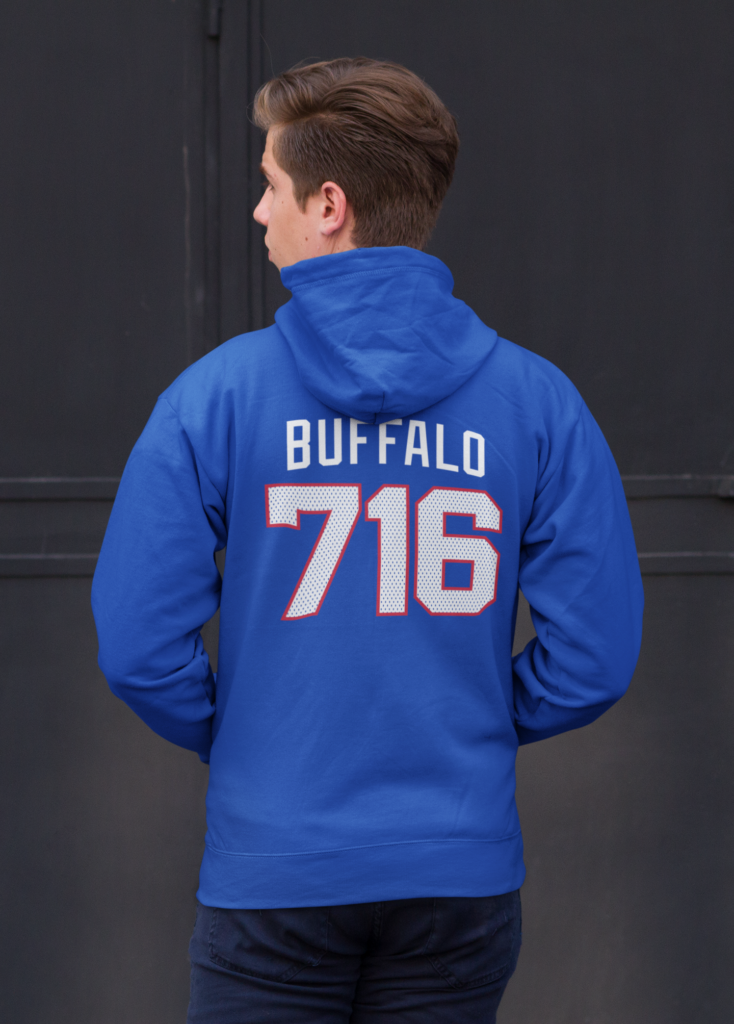 BuffaloFAMbase.com is sponsored by 26 Shirts
Every Monday, we launch a new two-week campaign of a limited edition t-shirt design. Every shirt purchase results in a donation to a local family in need. After the campaign ends, the shirt is retired. A new design is released, and a new family benefits from your fandom!