Wide Receiver:
Seeing the Bills' WRs at training camp yesterday, I was not only impressed by the incumbent starters (Diggs' catch-point acumen, Davis's box-out and toe-drag swag, Harty's separation), but also the newly-signed guys. It's a testament to Beane's acumen. The SH-Trio, as I call them, Sherfield's boundary reliability, Shorter's sheer size, and Shakir's versatility, offer Josh a solid 4-5-6, with my early picks of Tyrell Shavers and Jalen Wayne virtually unnoticed and certainly threatened by great starts by Isaiah Coulter, KeeSean Johnson, and Dezmon Patmon. All three showed out on Day One, and it wouldn't surprise me to see any of them having a spectacular preseason –and/or becoming Beane's trade collateral.
Kyle had his best throw of the series, a long pass to KeeSean, connected with him again later on, and KeeSean was also selected as one of the first gunners on special teams. Kyle completed one to Dezmon Patmon, who made the reception look easy, almost pro. Coulter had one of my two Catch of the Day receptions yesterday, a dime from Barkley in traffic.
Jalen Wayne, Isaiah Coulter, and KeeSean Johnson are likely vying for one PS position, and KeeSean, with his gunner assignment, is likely in the clubhouse. The tall guys behind the draft pick Justin Shorter (6-4, 229, 4.55) are the 29-year-old Marcell Ateman (6-4, 216, 4.62), Dezmon Patmon (6-4, 225, 4.48), and Tyrell Shavers (6'6″ 210 4.59). All three have career catch rates of 50% or below, while Shorter's combined catch rate from Penn State and Florida is 63%.
Let's give KeeSean Johnson and Isaiah Coulter the two WR spots on the Practice Squad for now. Shavers and Wayne will have to catch my eye. They didn't.

Tight End:
The personnel grouping of 2 TEs and 1 RB was used a lot on Day One. Dawson Knox (2 TDs) wasn't going to let anyone forget who TE1 is, but Dalton Kincaid is the real deal, and eventual TE1A. He makes Josh more accurate as Kincaid reached back for more than one errant throw with elite athleticism and focus, and a 50+-yard TD on Day 2. At first glance, the TE3 spot is Quintin Morris's to lose, but Dorsey gave plenty of work to Joel Wilson and Jace Sternberger, and the game wasn't too big for either. Sternberger looked smooth on a TD catch from Josh in the back corner of the end zone. He's smaller but so smooth. The appeal of Joel Wilson is an impressive 71% catch rate in college. They even had Wilson line up out wide with a second TE, Gilliam, inline. For now, we'll keep the incumbents Knox, Kincaid, and Morris on the 53, with both Wilson and Sternberger on the PS.

Running Back:
How important is James Cook? On one play yesterday, Josh ran a play-action fake to the new #4, Cook, then passes to him when he clears the line. Clever play for a good gain. RB2 Damien Harris is an upbeat guy who'll add locker room presence and touchdowns. Harris can help out in goal-line situations, much to the chagrin of James Cook fantasy owners. Murray is huge (anyone old enough to remember Braxton or Boobie?). You need that bull, and he certainly looks like he can still play at age 33. Jordan Mims and Darrynton Evans may both make the Practice Squad because of the season-ending injury to Nyheim Hines. Reggie Gilliam is the versatile chameleon who could be battling Quintin Morris for one roster spot. He's a RB-FB-TE who'll play special teams. We'll keep the incumbents in place for now.

Practice Squad:
Here's my starting attempt at a Practice Squad. I'd like a younger DT1T, but 30-year-old Ankou had a decent enough start on Day 1 with a would-be sack.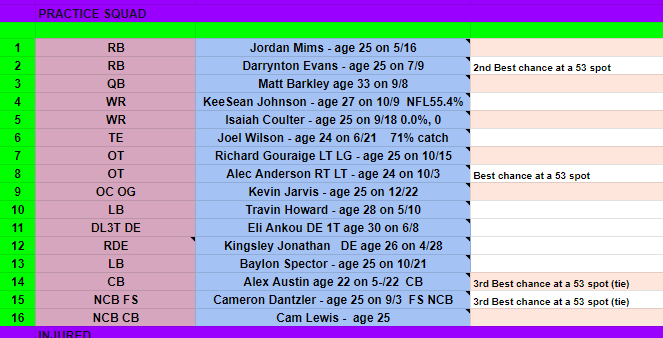 Editor's babble: We are grateful for Dean Kindig's many contributions to our blog. You can also find Dean on Twitter @TCBILLS_Astro.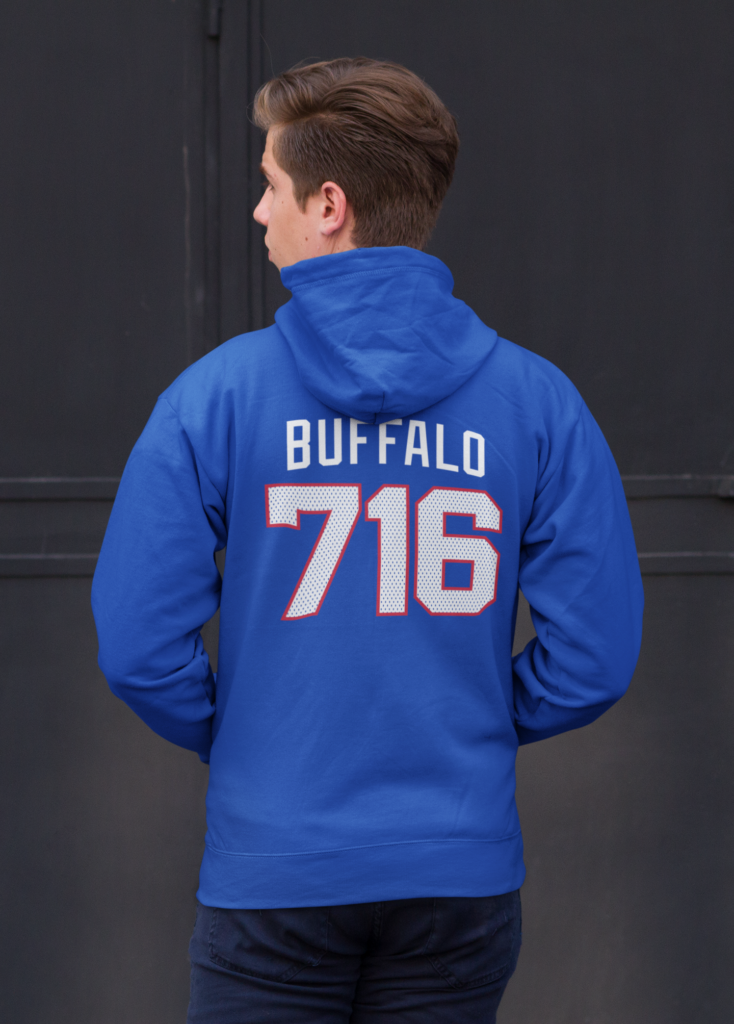 BuffaloFAMbase.com is sponsored by 26 Shirts
Every Monday, we launch a new two-week campaign of a limited edition t-shirt design. Every shirt purchase results in a donation to a local family in need. After the campaign ends, the shirt is retired. A new design is released, and a new family benefits from your fandom!