You always recall the first day of school, the first day of summer camp, your first kiss. Well, this is hotter than that. Riding the school bus from my old high school was a zap back in time. I got to Sutherland about 8:15 and was finally in my stadium seat at 9:11. Somethings never change though… Rob Boras and the running backs coach are walking around the track. Right now, there were more people in the Bill store than there are in our seats.
My original nominee for practice squad receiver, Jalen Wayne, and Reid Ferguson are the first two out of the tunnel at 9:18 . Justin Shorter, Ed Oliver, and AJ Epenesa are next, with AJ stopping to chat.
Ed Oliver comes through the tunnel gets a big cheer, with hardly a peep for the hogmollies, Alec Anderson and Ryan VanDemark, who just head on down to their corner of the football field to our left. Nick Broeker joins them. These unsung heroes will make the difference; let's show them some love.
Dorian Williams is out there now, looking shorter than I expected. Certainly not Tremaine size. He doesn't seem to know where to go. First reaction? I don't think he's the starting middle linebacker. Later, Tyrel Dodson gets initial ILB reps.
Khalil Shakir signed some autographs on the way in.
Dion Dawkins comes through the tunnel to cheers, takes off his helmet, smiles his Cheshire Cat grin and directs the crowd's huzzahs like he would an orchestra. What a character.
Dawkins' cheers were dwarfed by huge cheer for 2023 NFL MVP Josh Allen, looking one year older than last year. Older as in mature.
Just like last year, the offensive line is already begun some more organized stretching, as Kromer runs a tight ship. Of all the Hogmollies assembled to our left, Brian Bates and Mitch Morris are doing the most stretching exercises. Veterans.
Tight ends are directly in front of us to the left, and the quarterbacks are warming up front right. Micah Hyde enters to a generous round of applause, waving and smiling to the crowd.
But perhaps the warmest cheer of all was when Damar Hamlin came in, as well. He smiles and humbly acknowledges the crowd's awe for him. He has a literal chance of a lifetime this year. For Redemption.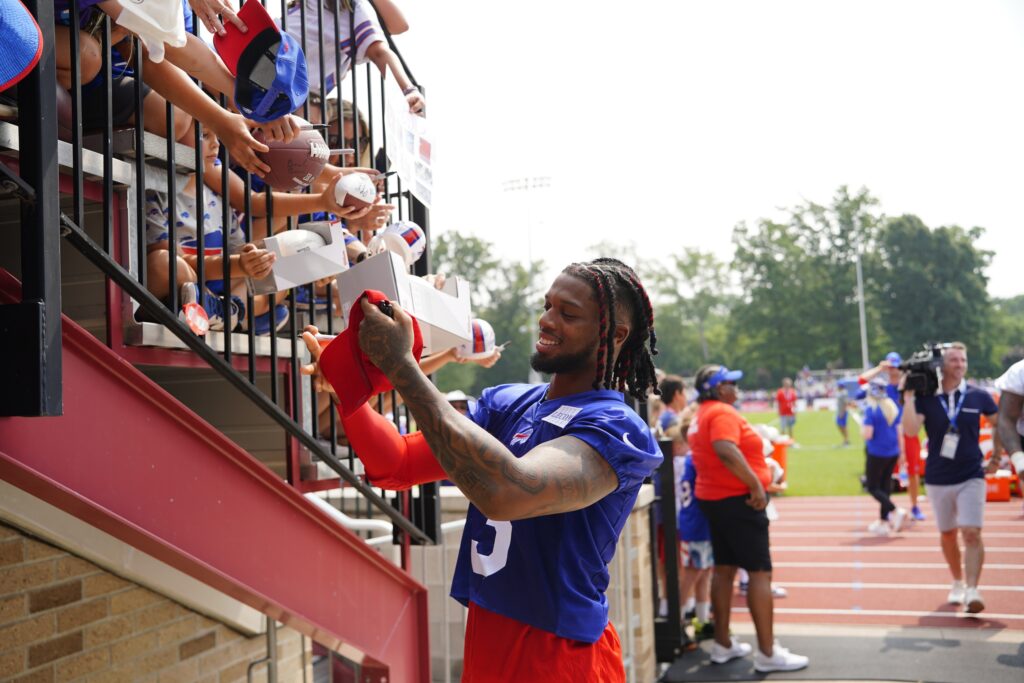 Diggs and Poyer also get cheers just slightly less than those for Hamlin.
Tre White stops to sign autographs, as Sal Cappacio takes cell phone pictures of him.
Sean, McDermott, Dawson Knox, and WR Isaiah Coulter lead the final contingent onto the field.
Erik Turner comes up and joins me. I'm flattered that he hangs out with senior citizens. Fedora Joe isn't even here yet; he got a later start and he timed it as 77 minutes from bus line at Sutherland up to his seat.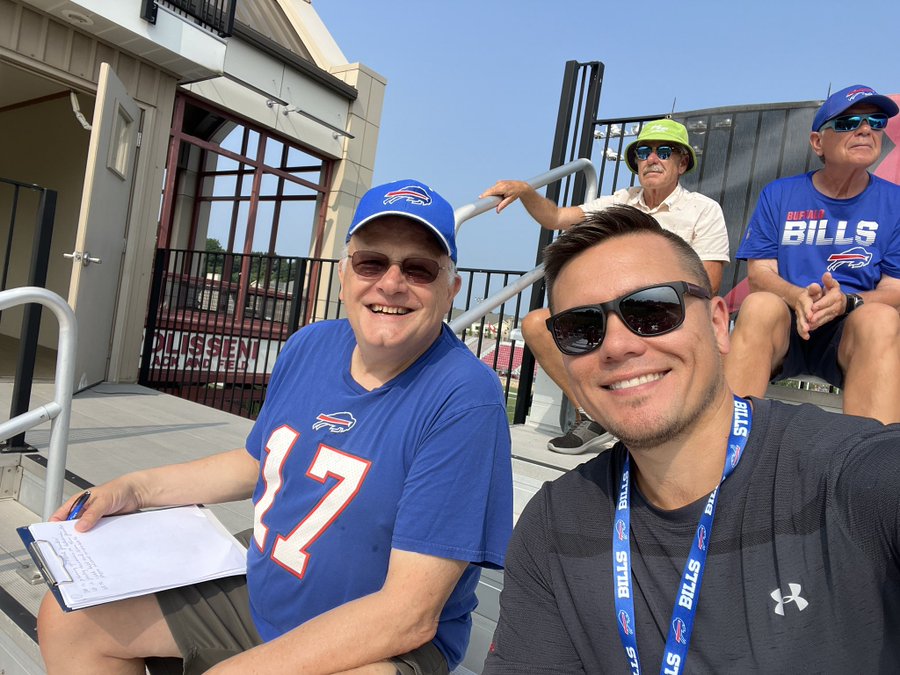 Dean Kindig and Cover1 Savant, Erik Turner. Credit: Erik Turner, Cover1.com
The Positional Drills addressed the Bills' unimpressive turnover margin in 2022 (27 takeaways, 27 giveaways after being +8 the year before). The defensive backs were gathering up rolled "fumbles" tossed out by the coaches. The linebackers forced turnovers by poking the football out. WRs and TEs caught a pass, then turned and ran through a guantlet of teammates. Reggie Gilliam had the most trouble, failing to catch the ball twice.
My Calisthenics Stars go to the players exerting the most apparent effort rather than going through the motions. Today's Stars: Stefon Diggs, Kaiir Elam, Leonard Floyd, AJ Epenesa, Tre White, Barkley, and josh. Trainers were stretching out Harty during calisthenics, but he was a full participant from then on.
Best hair is a tie between WR Braydon Johnson and Baylon Spector.
The kick returners were Khalil Shakir, Darrynton Evans, and Deonte Harty. In that order. New faces, new places.
During kick return drills they used some new faces as gunners. KeeSean Johnson, Dane Jackson, Kaiir Elam, and Alex Austin showed a mix of familiar and unfamiliar numbers.
The punter Sam Martin had one punt, a boomer that went 70 yards from where he stood into the far end zone. He was disappointed; likely he is trying to drop it at the 1-yard line, and you just feel he'll do it by Preseason Game 1.
Positional drills had Rob Boras mixing up the older TEs with the newer guys. Dawson Knox and Gilliam went first, followed by Quinton Morris and Jace Sternberg, then Joel Wilson with Dalton Kincaid.
I spy a Sherfield Fins jersey at the fence down below. All of the blue shirts seem to be leaving him alone.
The offense is practicing jerk routes, which have the WR fake an out pattern, plant their foot, and head in the opposite direction. The best receiver at doing this is Stefon Diggs, likely the best in the league, but Harty is a close second today. Davis and Shakir tie for third place. We'll give Harty the "Jerk of the Day" Award.

Even on the 5-on-5's that followed, the Bills had both Knox and Kincaid out there. Expect lots of "12" personnel. Josh throws a sweet slant to Kincaid as his first official training camp pass, then hits Sherfield on an out pattern. Knox gets a catch on a stick route, then Kincaid catches another slant on a play Georgia uses a lot (Erik Turner said it). The next play had Gilliam inside with Joel Wilson out wide. Jace Sternberger catches a pass by Josh in the far corner. He's smaller but so smooth. Kyle Allen got one rep here. It was a late throw but complete. You will see the "Kyle Allen late throw" comment often in my notes today. Part of it is that he's newbie, getting to know playbook and players, but at some point, he'll have to pick up the tempo.
In 11 on 11's Set 1, Josh has Bates and McGovern at RG and LG. Torrence gets some work at RG a bit later. Josh executes a play-action fake to the new #4, James Cook, then passes to Cook when he clears the line. Clever play for a good gain. Gilliam is in motion on the next play, but Ed Oliver jumps offsides. Tre White gets a PBU, and it felt like old times. Allen passes to Sherfield, but it was incomplete, a bit long.
Kyle Allen is in now, and hits Sherfield, then hands off to Damien Harris on a nice run inside. His long pass down the near sideline to Shorter is wobbly and incomplete. After a lot of pre-snap motion, Kyle has his best throw of the series, a long pass to KeeSean Johnson.
Barkley's turn is unproductive, 2 incompletions.
In the next significant part of practice, they worked on Goal-to-Go situations, and here's when we see Torrence in at RG, with McGovern still manning the LG position. Josh goes 1-for-3, with lots of Gilliam pre-snap and a completion for the touchdown. Josh is harried on his second play, and scrambles effectively, but Shorter in the corner can't come down with it. Matt Barkley's next; right now, you'd have to think he's the #2 QB due to seniority. On his first play, he shows why he should be: He throws an absolute dime downfield to (remember the name) #82, Isaiah Coulter. We'll make that our "CATCH OF THE DAY" Number 1 of 2.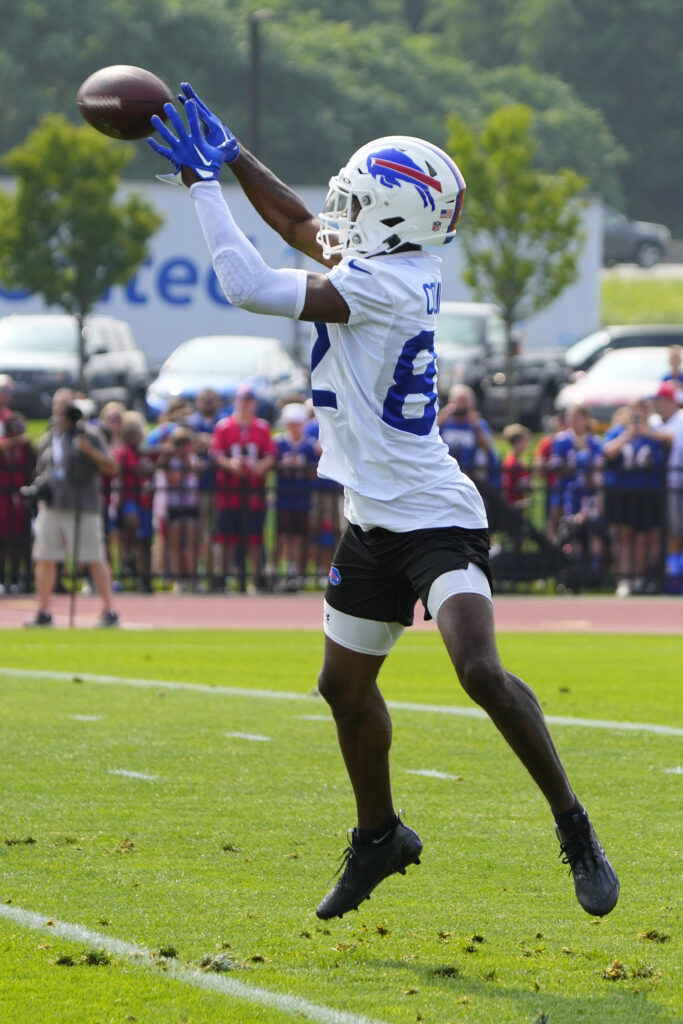 When Kyle Allen ran his first play of his series, both Travin Howard, one of the better practice squad-worthy LBs, and Eli Ankou (DE 3T 6-6 325), had his dead to rights pretty quickly. His second play is another of his "Throws Late" passes, but completes it to TE Joel Wilson. Kyle's handoff to Latavius Murray goes in for the touchdown.
Josh is back in now, and you see first-hand just how fast and quick Deonte Harty is. The first play, a jet sweep right, is faster than McKenzie ran it, and it's a TD. Sherfield and Shakir two-thirds of the SH-Trio, are split out to begin the play, but one motions, and it's all eye candy as Josh hands it off to James Cook. The next play, another jet sweep right, is still effective, although it's possible Tyrel Dodson would have tackled him if he could. Josh's fourth play is a throw to Dawson "Remember Me?" Knox for the touchdown.
Kyle Allen has a nice throw to Kincaid to begin his series, then the Jumbo Package tries to get Latavius Murray into the end zone, but the D-Line says, "Not this time". The defense keeps the pressure on as A.J. Epenesa gets in too fast for an indecisive Kyle Allen. Barkley takes his turn, handing off to #37, Darrynton Evans. Mea culpa: I had #35 as Evans, but this guy is good; he catches a pass on the next play for a TD. Again Kyle Allen has trouble getting rid of the ball. I would too, with both former first rounder Shane Ray and Cortez Broughton getting in some pressure.
Josh Allen has his TD pass to Stefon Diggs INTERCEPTED by Benford on the next play. This makes for our DEFENSIVE PLAY OF THE DAY.
Meanwhile, on the other half of the same field, Bass-O-Matic is competing with –well– himself, as there are no other field goal kickers in camp. Reid Ferguson is hiking, Sam Martin is holder. That combo is going to win a game or two for the Bills this year.
In the next series off 11 on 11's, emphasizing clock management, Josh throws it too far to Davis down the right boundary, but then Josh throws far side to Diggs, who ONE-HANDS IT while being pretty-well-covered. We'll make that our "CATCH OF THE DAY" Number 2 of 2, and close to a first down. Josh passes it to my man Khalil Shakir (I'm in Boise in a couple weeks) for the first down. It's Sherfield-Shakir-Davis in 21 personnel with The Dalton and Dawson Show, but Davis didn't turn back to see a pass coming to him with Dane Jackson and Micah Hyde on the coverage. A pass to Dawson Knox connects initially, with Dotson on the tight coverage, and the ball squirts out after the completion, but it's ruled that Knox was already down and had completed the process. Is this the most annoying call refs have to make?
Barkkley enters as second QB, and his eye manipulation is next-level: He throws a completion to James Cook out in the flats, who gets it out of bounds before time expires. Bass-o-Matic comes in for a 50-yarder. I had a bad angle; I think he made it.
Finally, Kyle Allen comes in as 3rd QB. Dodson and Bernard show blitz, but drop out at the last minute, but Kyle completes it to Dezmon Patmon, #19, who is a dark horse to win a practice squad job (see my front-runners on my depth chart on Google Sheets here). A pass on the outside to Harty, a too-high completion to Gilliam in the flats, and a completion to KeeSean Johnson ended the clock management drill.
My biggest takeaway is the speed of Harty, the sheer athleticism of Kincaid, and the veritable logjam of capable receivers behind the starters. My buddy Joe's 3 stars for the practice go to 3. Benford, 2. Harty, and 1. Kincaid, with an honorable mention to Dodson.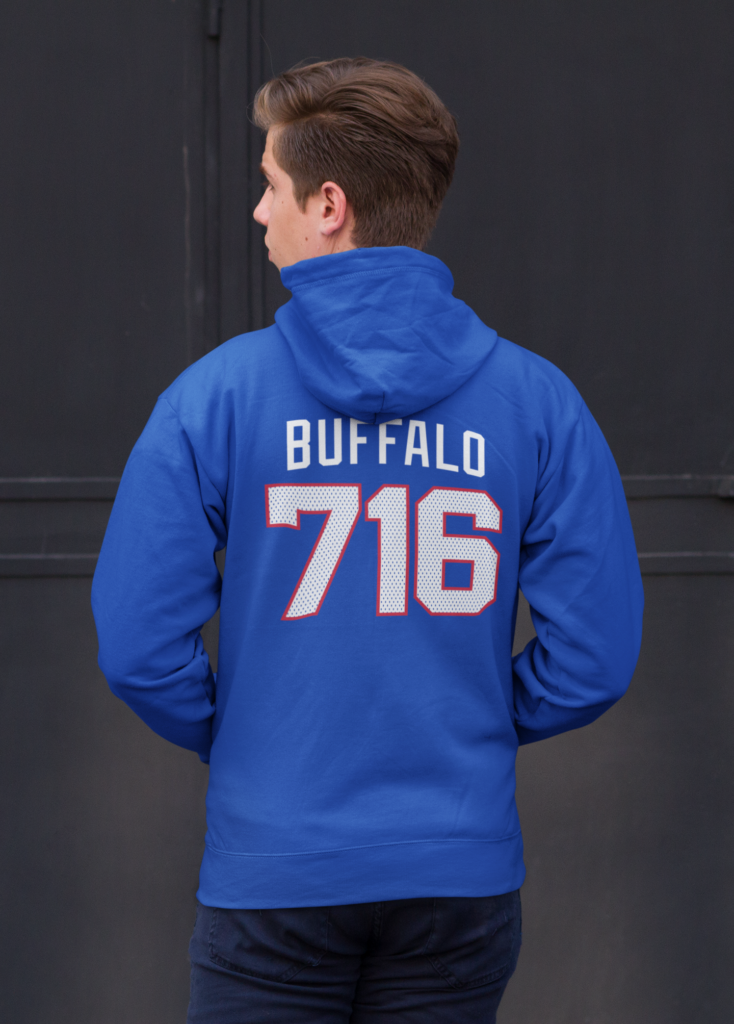 BuffaloFAMbase.com is sponsored by 26 Shirts
Every Monday, we launch a new two-week campaign of a limited edition t-shirt design. Every shirt purchase results in a donation to a local family in need. After the campaign ends, the shirt is retired. A new design is released, and a new family benefits from your fandom!