Each month I try to pick 6 players for Brandon Beane to consider at each of his draft picks, numbering 8 this year. I've challenged myself this month; I only used names of already-scouted players. The number preceding each player is his current spot on our BuffaloFAMBase Big Board, which you can use to make your own mock draft on FanSpeak's NFL Draft Simulator. Each Interview below is queued up to a specific point where I knew he would raise Beane's eyebrows. For most players, I have a play for you to watch that would mesh well with what the Bills like to do –just click the number where it says "Watch #". I have also placed the players in my order of preference in each round, with the first one being my "pet cat" for that round.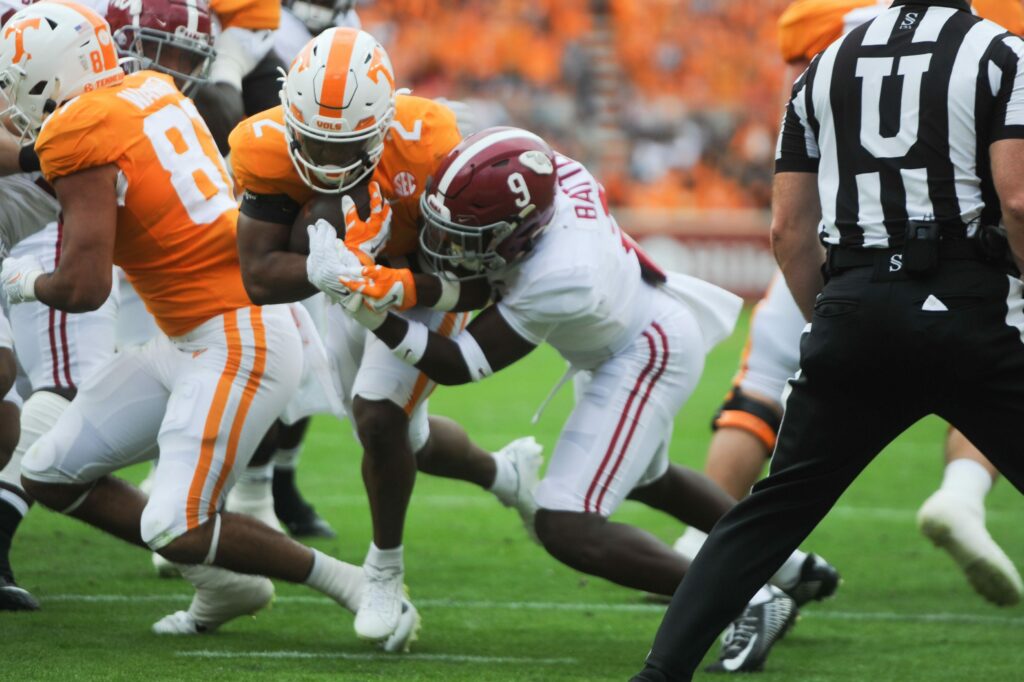 RD#1#31 (31 is the top spot this year, due to a certain aqua and orange team forfeiting their pick)

31 Jordan Battle SS Alabama [Stats] [Interview]
Watch #9
6-1 206 4.42
2 Beane and 4 scout visits in 2021, 1 scout visit so far in 2022
2.79 solo tackles per game
A South Florida guy who I doubt has ever seen snow. A senior, Battle is a consummate Bills Safety: a communicator and wrap-up tackler, an experienced and quick diagnostician in the 4-2-5 that the Bills frequently use. He ably covers TEs and Slots without surrendering runs. His interview, despite the occasional stammer and word-finding difficulties in his delivery, exudes passion, past coaching, and character. "Battle" is a perfect name. I've spoken before about the fact that the Bills need a "Tight End Killer" to dominate in the AFC. Battle should be on your radar screen. A Deep Dive on Jordan Battle I wrote over a year ago lives here.
36 Garrett Williams CB Syracuse [Stats] [Interview]
Watch #8
5-11 190 4.54
1 scout visit in 2021, 1 scout visit so far in 2022
4.29 solo tackles per game
Follow me on this logic: the ACC is Beane's most-often-tapped conference. Williams led the ACC in pass breakups in both 2020 and 2021. Teams trying to outscore the Bills will have to pass often. Therefore, the Bills will be very interested in Garrett Williams. CB – Garrett Williams is tied for the ACC lead with 4 interceptions, which ties for fifth in the FBS and first among linebackers. He also led the team with 69 tackles and had a takeaway in seven of Syracuse's 11 games in 2021. I like Williams' aggression, his nose for the ball in man or in zone, his elite agility, and his ability to cover deep. From a business point of view, it wouldn't hurt to extend the BillsMafia reach eastward into Orange country.
32 Jared Verse EDGE Florida State [Stats] [Interview]
Watch #96
6-3 247 4.76
Beane and 2 scout visits in 2021, Beane and 3 scout visits in 2022
12.5 pressures in last 6 games
Another ACC player receiving plenty of Beane's attention is Jared Verse. "Another edge?" I hear you cry. Here's my logic: Von Miller is 33, the injury-prone Jordan Phillips was paid $3.5M and is a free agent in 2023, and Epenesa and Lawson (2023) are meh. You only have Groot and Boogie going forward. A transfer from Albany, Verse was the man in 15 games over two seasons at Albany, recording 74 tackles, including 21.5 for loss with 14.5 sacks, 15 quarterback hurries, two forced fumbles and one pass breakup, making him a slam-dunk first-team all-conference selection and CAA Defensive Rookie of the Year. This past January, Verse transferred to the Seminoles, and his big bag of tricks transferred readily, with 4 sacks in the first 3 games and a game-wrecking performance against LSU: 2 sacks, 1 blocked FG, and 2.5 TFLs. Leslie Frasier is playing his EDGE rushers wide to force OTs onto islands to defend our rushers one-on-one. Verse is ideal for those 5- and 9-tech roles. Verse, a redshirt sophomore, is already in the RD1 conversation.
30 Hendon Hooker QB Tennessee [Stats] [Interview]
Watch #5
6-3 218 4.62
1 scout visit in 2021, 1 scout visit so far in 2022
70.6% completion rate
Another position you'd think Beane would ignore for his first 2022 draft pick would be QB. Redshirt senior Hendon Hooker plays for the upstart Tennessee Volunteers, and may be a WTF or WOW pick. Hooker transferred from ACC Virginia Tech, and now plays vs SEC pass rushers. I fully expect Hooker to end up being one of the first two quarterbacks drafted, but for now, he's within reach of the Bills should they want a second 6'4″-plus mobile quarterback. Hooker threw five touchdowns against Alabama in the Volunteers' 52-49 upset win, and did it with an offensive line that Football Outsiders had last year with a bottom 10 OL sack rate. However, the redshirt junior's completion rate (70.6%) has actually improved every single year in college. Hooker will turn 25 in January, and there have been only 3 QBs drafted in RD1 that old.
31 Isaiah Foskey EDGE Notre Dame [Stats] [Interview]
Watch #7
6-4 257 4.77
Beane and 2 scout visits in 2021, 1 scout visit in 2022
1.31 pressures per game
Yet another EDGE who should go earlier than the Bills' 31st pick, Isaiah Foskey is the sack leader for the second straight year for the golden domers. In fact, in 2021, he put up the third-most sacks ever in a Notre Dame single season (11.0). Beane looks at pressures per game very closely, because every one of his EDGEs has exceeded the 1.2 pressures per game benchmark, and Foskey's on that pace with 42 pressures in 32 games (1.31 PPG).
36 Siaki Ika DL Baylor [Stats] [Interview]
Watch #62
6-4 358 5.5
0.5 pressures per game
Control of the line of scrimmage and absorbing offensive linemen to let the LBs swoop into gaps untouched is the trademark of the Leslie Frasier / Sean McDermott defense. The success of the NFL's #1 defense as of this writing is due in large part to large men like DaQuan Jones and Tim Settle Jr. Unselfish guys who know that sacks are mere substitutes for lunch pails, they sacrifice gaudy stats for wins. Siaki Ika, also a large man, is a redshirt junior schooled in the Aranda-McDermott Baylor scheme after transferring from LSU for the 2021 season. Ika recorded 24 tackles with 6 tackles for loss and 4 sacks in his first season at Baylor and was named the Big 12 Conference Defensive Newcomer of the Year and second team All-Big 12. Ika has been described as a DT1T plugger, a character, and lover of his culture. His mission on every play is to secure the middle, occupy two IOLs, and rag doll them on occasion. But…and it's a big but…He's the slowest draftable IDL on my board.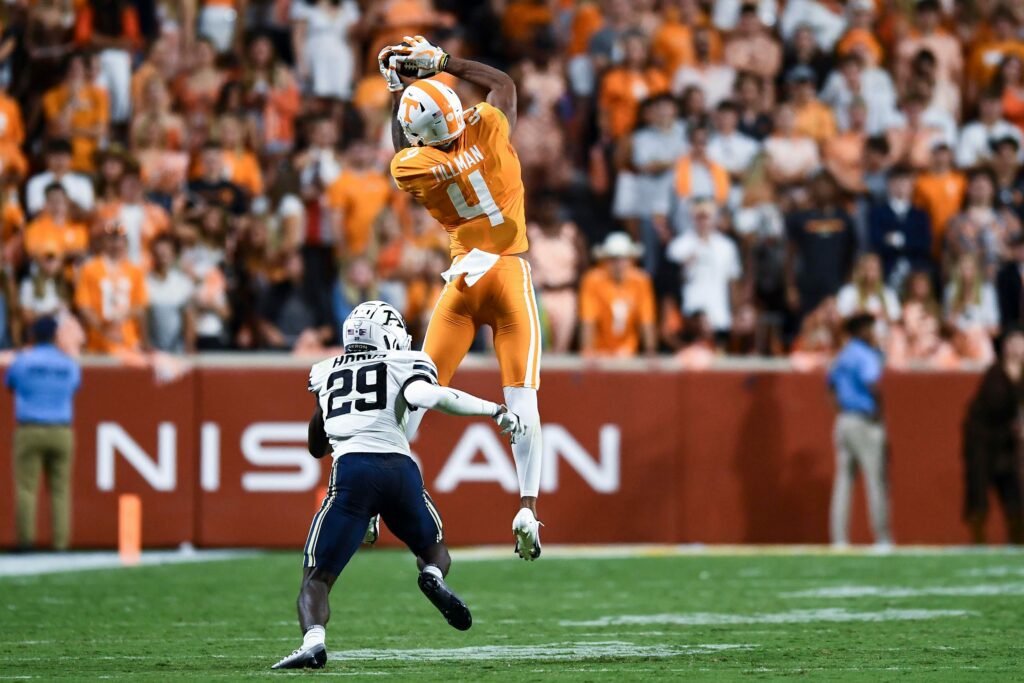 RD2#63

59 Cedric Tillman WR Tennessee [Stats] [Interview]
Watch #4
6-2 215 4.52
1 scout visit in 2021, 1 scout visit so far in 2022
Tillman tore it up in 2021, nabbing 64 catches for 1,081 yards, which was fifth-best in the SEC. That averages out to 16.9 yards per catch; not too shabby. This would be impressive in its own right, but Tennessee's O-Line last year was bottom-20 in pass protection, per Football Outsiders, suggesting that quick passes were used often. So…How did Tillman net numbers so high? Yards After Catch. He's a redshirt senior, and with Tennessee's rising ratings, I expect you'll see more of Tillman. The Bills need YAC receivers besides Diggs, who ranks #14 as of this writing.
61 Tony Grimes CB North Carolina [Stats] [Interview]
Watch #1
6-1 195 4.4
Beane and 3 scout visits in 2021, 1 scout visit so far in 2022
Grimes graduated early from his high school, and had to face Dazz Newsome and Dyami Brown in practice, so he faced a huge learning curve. Part of it was just getting used to the speed of the game. Tony wanted to redshirt, but his dad, and his CB coach Dre Bly, counseled him to persist. After a few weeks he started to emerge. He's still showing an upward trend. Read about his progression here, or watch a news feature about it here. It's Beane's favorite conference, his alma mater, and his attitude is, "You can never have too many corners." Especially with Grimes' speed. Grimes is a junior, and would not have to declare. He'd be RD1 next year.
62 Xavier Thomas EDGE Clemson [Stats] [Interview]
Watch #3
6-2 265 4.53
I saw Todd McShay had Thomas going #32 in his draft in May, which was wrong on so many levels. First, there are only 31 picks this year (T.Y., Dolphins), he had the Chiefs there, and he had the Packers and Bucs in the NFC Championship. The Bills may still be interested in adding outside rushers despite their recent draft and free-agent activity at the position. I think Rousseau is ready to step in as EDGE #1 when Von Miller steps away, but between Boogie, Shaq, A.J., and Mike Love, you may have a starter, maybe. That's just not enough depth at a position that's football's top three in importance. Xavier Thomas is an arc-bender who can make good OTs look foolish. I've seen him line up out wide like the Bills did against the Chiefs. The RT just can't get out there in time (3 views) against Thomas's explosion. Watch how Xavier reads the swing pass here, and arrives exactly when ball does (2 views). I would hope Thomas would start on special teams, because he's excellent there, too. As teams gear up to stop the Bills' offensive firepower, you'll see more RPOs, and Mr. Thomas disrupts RPOs . Think he's ready for stunts and games that the Bills run? Watch this. In addition to his explosion and football smarts, Xavier has a top 5 forty-yard dash among draft-eligible EDGE rushers.
64 Owen Pappoe OLB EDGE FS SS Auburn [Stats] [Interview]
Watch #0
6-1 222 4.38
1 scout visit in 2021, 1 scout visit so far in 2022
Think about whether the Bills would be interested in taking the draft's fastest LB in RD2. Pappoe is a feisty, effort-plus linebacker, and I love his genuine and affable personality. He'd be a fit in the Bills' 4-2-5 scheme, which is what Auburn runs. I'd see Pappoe in the Bills' system as a versatile chess piece to move around.. He had 11 tackles, 1 sack, 1.5 TFL in Auburn's bowl loss to Northwestern. He's averaging 3.24 solo tackles per game, so Pappoe's not shy. To my knowledge, Auburn is unscouted this year, but was visited last year.
60 Zion Nelson OT Miami [Stats] [Interview]
Watch #60
6-5 312 5.05
The Bills are going to add to their hogmollies on the offensive side. While I think they'll do it via free agency, look for a tackle and flexible IOL at some point in the draft or UDFA. Hailing from the ACC is Zion Nelson. His long arms and churning legs help him stay square to his opponent. He boasts very good explosion and athleticism for his size, and he's quick to the second level While Nelson's OL had a bottom-20 Runblock Rating in 2021 per FO, Nelson was a gem. He's easy to pick out on that line.
64 Dawand Jones OT Ohio State [Stats] [Interview]
Watch #79
6-8 360 5.57
Dawand Jones, The Biggest Buckeye. Ever. Jones isn't as quick as the OSU OTs in the past, but very earnest. He's working on consistency and showing up on every play. That's why he's lower on my board than some. A former basketball star in HS Jones is pretty athletic for a big man, one who's definitely not the Kromer archetype we talk about. Excellent interview. Jones is fantastic in his pass blocking, but many will say he's too big in order to run block effectively because his pad level is too high. That can be taught. Here, his down-block springs Williams for a big gain. It's a moot point though; he's going to a passing team. Know of any? His OL had one of FO's Top Run-Blocking AND Pass-Blocking Grades in 2021. I'm impressed with his footwork laterally.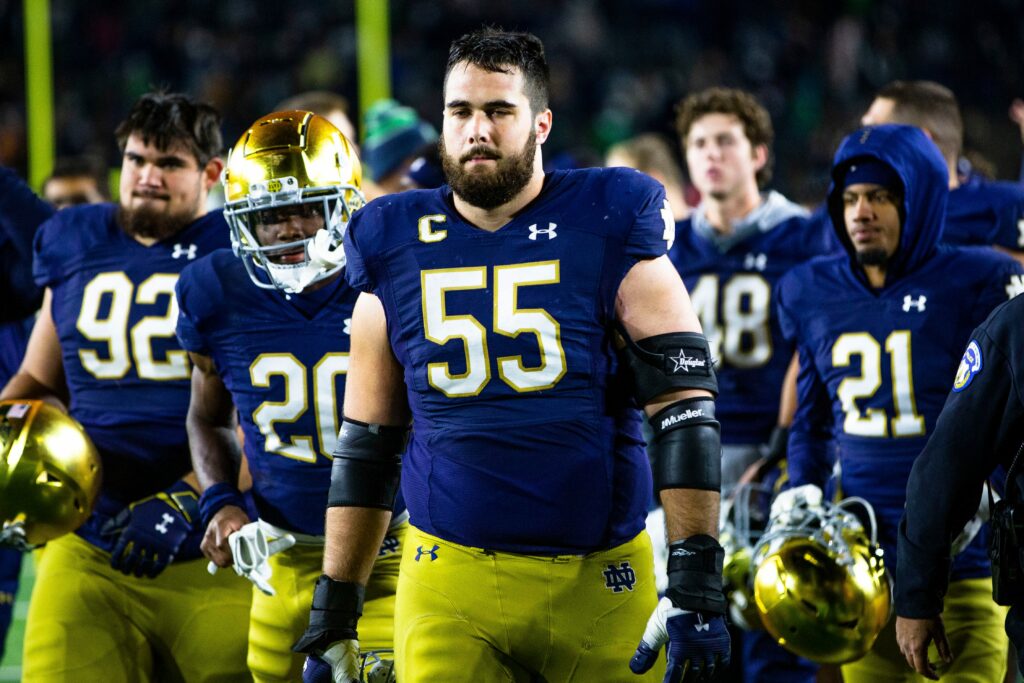 RD3#95

97 Jarrett Patterson C Notre Dame [Stats] [Interview]
Watch #55
6-5 305 4.97
If Beane selects a hogmolly for the inside, I think he'll want the versatility of Ryan Bates or Ike Boettger. Jarrett has the versatility that the Bills covet on the offensive line, equally adept at LG or Center, and Saffold and Morse aren't spring chickens. One of the draft's 5 fastest Centers, Patterson has even played some tackle on one of Pro Football Focus' top-rated offensive lines in 2020, but because of his smarts and "seek-and-destroy" mentality, I'd see him at Center eventually. Here, he's at LG (#55), blocking for Kyren Williams, showing that he pulls well. He shows no quit until he hears the whistle. He has played some Tackle (blocking for Kyren Williams). Team was producing the highest-combined pass-block grades of any offensive line in 2020 and a top rushing offense (231 yards per game) against some of the ACC's and FBS's best rush defenses. In 2021, Jarrett had 918 snaps, one QB hit, and no sacks while playing at center. His eyebrows are distracting, but so are Morse's.
103 Olusegun Oluwatimi C Michigan [Stats] [Interview]
Watch #55
6-3 310 5.12
Bearing the same number 55, and close on the heels of Jarrett Patterson for me in pet-cat status, "OH-loo-shah-goon OH-loo-wuh-TIM-me" ranked No. 1 in the ACC and No. 12 in the nation in tackles for loss allowed (4.2), while also ranking No. 2 in the ACC with 2.0 sacks allowed a game. Listen to his interview and juxtapose it with Patterson's, and you'll agree we're splitting hairs here. Olu loves our early music, and as a member of a garage band, I respect that. Olu can play LG or Center equally well. Turning his man takes strength and technique finesse, which is easy to see. Michigan is one of FO's Top Run-Blocking AND Pass-Blocking Grades in 2021.
96 Ronnie Hickman FS CB NCB Ohio State [Stats] [Interview]
Watch #14
6-1 205 4.5
Described as "twitchy", "athletic", "frenetic", and "scrappy" in the draft evals, Hickman reminds me a bit of Kaiir Elam in that both display that self-critical intensity. I see Hickman now taking better angles and making aggressive solo tackles (3.7 per game so far this year). This might well be the player that has attracted Beane to Ohio State games, and 5 scouting visits both last year and this year already. Up to now, Beane hasn't drafted many players from the Big 10, but this is about to change, as scout visits to Big 10 games are way up this year. Hickman will need to be in a great defensive system for awhile to reach his immense potential, and I think the Bills' system would be ideal.
97 Dalton Kincaid TE Utah [Stats] [Interview]
Watch #86
6-4 242 4.72
Kincaid has that fun, quirky personality that is the most likely to fit with the Bills. Be sure to watch the CuedUp play; Dalton's excellent toe-drag swag is celebrated by him and Kuithe. He's an athletic junior transfer in a loaded TE room for the Utes. He's being used more and used better in recent games; Kinkaid has had 23 catches and 2 TDs in the last 2 games, and 20 total catches against #7-ranked USC and #18-ranked UCLA. In his interview, the player he said he'd like to spend an hour with is one of Josh Allen's faves, Phil Mickelson. Ready for the Dawson and Dalton Show?
98 Payton Wilson OLB ILB NC State [Stats] [Interview]
Watch #11
6-3 240 4.57
Another ACC find for Brandon Beane might be Payton Wilson. He was the leading tackler in the ACC a year ago, and had double shoulder surgery, missing spring practices. He recovered well, and had 36 tackles in his last 4 games, including #5 Clemson and #18 Syracuse. He'll be up in RD2-3 territory shortly. Payton ranked second among all returning Power 5 linebackers in TFLs in 2020 with 25.
104 Blake Corum RB KR Michigan [Stats] [Interview]
Watch #2
5-7 200 4.34
This is the next Breida (5-9, 195, 4.39). The Bills' interest in bringing in speedy backs who can catch the football leads me to Blake Corum. Brandon Beane and area scout Fisher have paid a visit this year, and 5 Michigan games have been scouted. Here's my pitch for Corum: He's a kick returner with excellent contact balance. He has lateral agility galore. He shows patience, but can kick it into Leap mode in an instant. In his most recent game, he took 33 rushes for 177 yards (5.4 YPC) and one touchdown against Michigan State, and a 28 166 (5.9 YPC) 2TD stat line against then-#10 Penn State. In a scouted game against Maryland this year, he went off with 30 runs for 243 yards (8.1 YPC) and 2 TDs. Corum runs behind one of FO's Top Run-Blocking AND Pass-Blocking Lines in 2021. The Bank of Ann Arbor presented Blake with the Community Award for his work with the youth in his Washtenaw County, so his head's in the right space to be a Bill.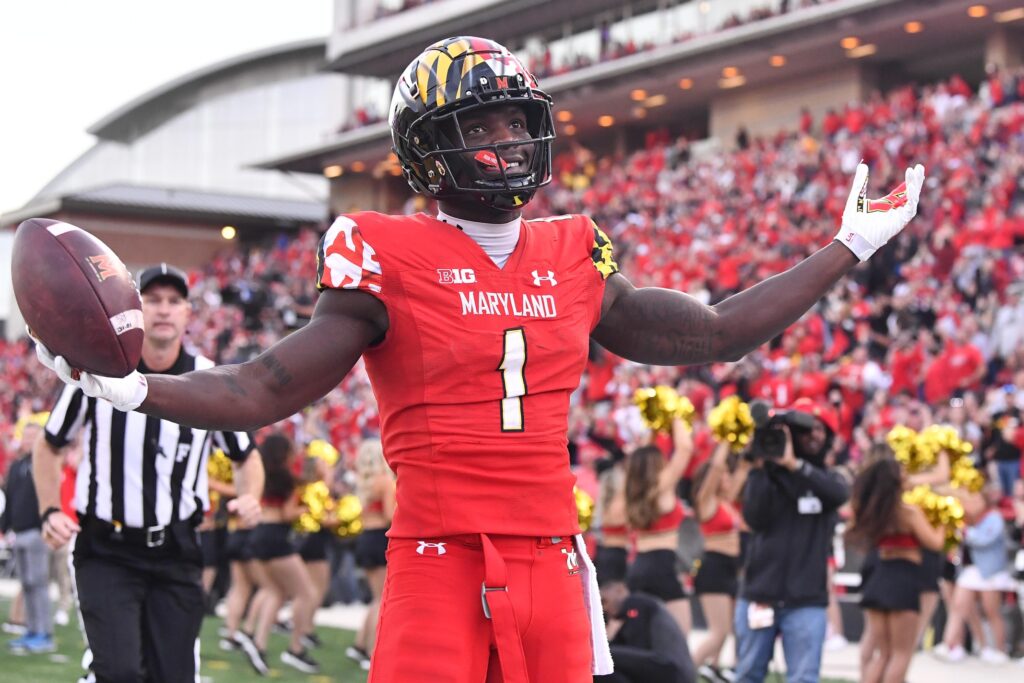 RD4#127

123 Rakim Jarrett WR KR Maryland [Stats] [Interview]
Watch #5
6-0 200 4.45
Maryland has receiving more scout visits the last 2 years, and it's a confluence of improved players (Tagovailoa, Dontay Demus, Jaelyn Duncan, and several underclassmen), and veteran coordinators with excellent teaching and recruiting talent in Dan Enos and Brian Williams. "ROCK-'em" Jarrett is dynamic with the ball in his hands. In addition to his 62 recepts for 829 yds and 5 TDs last year, he's a capable kick returner. Watch 2 plays on the CuedUp.
124 Robert Scott Jr. LT RT Florida State [Stats] [Interview]
Watch #52
6-5 312 5.43
Robert Scott is a good OT on a below-average O-Line. He's the top LT on a Beane-Seen Team. Just a redshirt sophomore, Scott is on the All-ACC Academic Team and a Seminole Scholar. Last season, he boasted true swing tackle flexibility, having started at LT vs. No. 9 Notre Dame, Jacksonville State, North Carolina State, Miami, Boston College and Florida, and then at RT vs. Louisville, Syracuse, North Carolina, UMass and Clemson. You know that the Bills value red zone efficiency, and in 2021 Robert blocked for a line that helped FSU convert 32 consecutive Red Zone trips into points, the longest active streak nationally. Florida State ranked first in the ACC in overall Red Zone TD percentage of 73.8.
127 Darius Muasau OLB UCLA [Stats] [Interview]
Watch #53
6-1 230 4.65
Muasau, a transfer from Hawaii, has a career solo tackling average of 4.73 per game. He had 10 tackles, 5 of them solo in Hawaii's scouted game vs UCLA, and that's where he transferred. In fact, Aug 28 2022 was the Bills' first scout visit of the season, and Muasau isn't disappointing anyone. In his last 6 games, he'd tallied 6, 9, 8, 8, and 6 tackles, with the middle 3 games against ranked Washington, Utah, and Oregon. All-Mountain West first team, Butkus list.
125 Darnell Washington TE Georgia [Stats] [Interview]
Watch #0
6-7 270 4.67
This SEC Junior didn't participate in any spring activities due to a lower body injury, but Washington came on strong when the season got underway. This giant poses matchup problems when he's out on routes, and has the athleticism to block (or leap) opponents. He's made more than 2 catches in 3 of his last 4 games, and Georgia will need him down the stretch. Listen for the name when the Bulldogs are playing. By the time the draft rolls around, he'll likely be in the RD1-2 conversation.
126 Jaheim Bell TE South Carolina [Stats] [Interview]
Watch #0
6-3 230 4.57
A junior playing in the SEC, Bell is that shorter, lighter and faster type of TE (think a lighter, faster Quintin Morris). Concern will be injuries and blocking in space. I like what I see from Jaheim, despite the fact that his OL isn't great at pass blocking. It affects the number of targets Bell has seen, as well as the depth of target. This is one case where the tape will matter a LOT more than stats. He's been used in goal-to-go situations as a ballcarrier, as a big slot, and on sweeps where his excellent contact balance can be leveraged.
128 Lathan Ransom NCB FS Ohio State [Stats] [Interview]
Watch #12
6-0 205 4.5
Another junior, Lathan Ransom is my nominee for a Taron Johnson-type nickel. He's a wrap-up tackler who can fell huge tight ends like a lumberjack (watch 2 views of the same play), and prevent big RBs from first downs. He's an excellent communicator and quick diagnostician. From his single-high spot, watch Ransom be unafraid to stick his nose in the fan.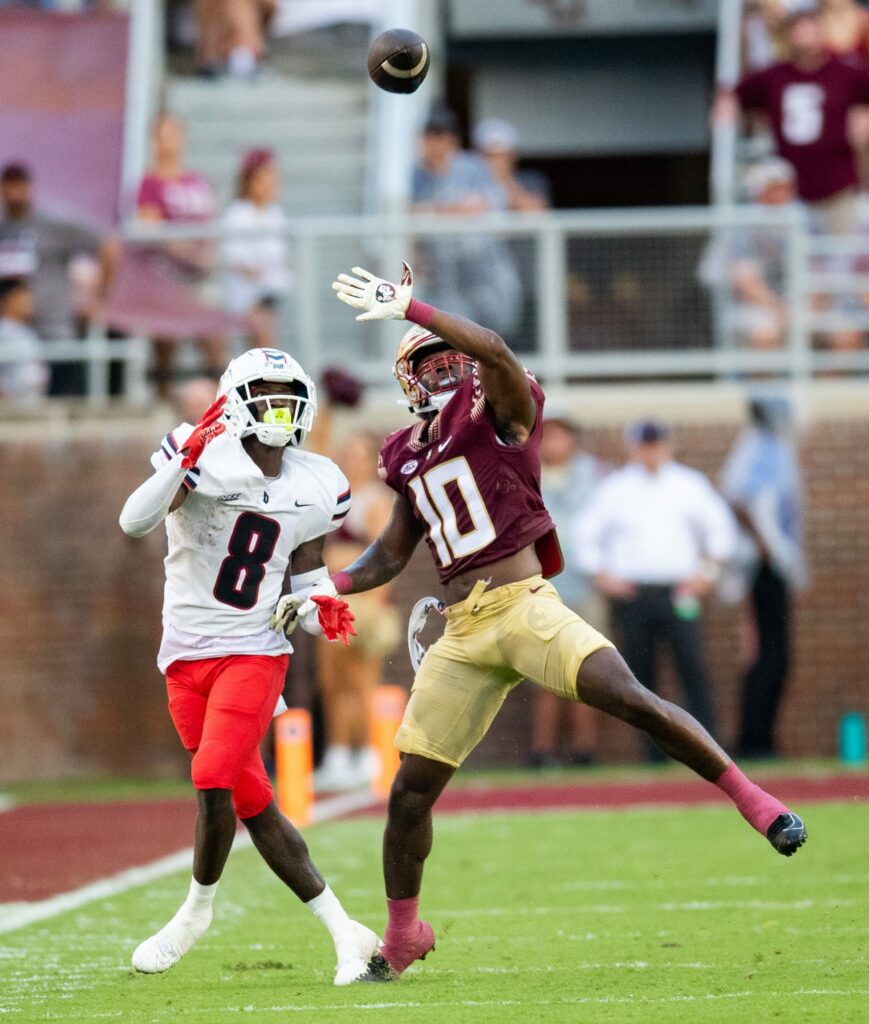 RD5a#138

125 Jammie Robinson FS Florida State [Stats] [Interview]
Watch #10
5-11 203 4.49
3.94 solo tackles per game, career
"JAY-me", a transfer from South Carolina, appeared in all 12 games with the Seminoles with 11 starts, and recorded a team-leading 85 tackles, including 7.0 for loss, a team-high four interceptions, three pass breakups and two forced fumbles. Those interceptions tied for most in the ACC, and likely nabbed him the first-team All-ACC moniker. As the Bills will be looking at life after Poyer-Hyde, they'll need to stock the shelves at safety. Make sure you have a slobberknocker on your team (stick around for 2 views, plus the Michael Mayer tackle).
131 Javion Cohen G Alabama [Stats] [Interview]
Watch #70
6-3 305 5.09
The Guard with the best interview, Cohen has played LG and LT for the Tide with the right attitude and mindset …He earned 1,073 snaps in 14 games, allowing only two 1/2-sacks. This Alabama OL opened holes and provided time for the nation's No. 6 scoring offense (39.9 ppg), the No. 7 passing offense (338.2 ypg), the No. 3 unit in third-down conversion percentage (52.0) and the No. 5 red-zone offense (.926). Cohen had plenty of pancakes — 21 knockdown blocks.
148 Xavier Hutchinson WR Iowa State [Stats] [Interview]
Watch #8
6-3 210 4.42
Hutchinson led the Cyclones in receptions (50) and receiving yards (612), ranking second in the Big 12 in catches per game (5.0) and third in receiving yards per game (61.2). Must-read article lives here. Hutchinson is, per Sports Illustrated, "one of the best at planting his foot in the ground and cutting or throwing in a quick juke after the catch." That's where Yards After Catch begins. The Bills have only one WR in the Top 20 in YAC. Expect them to do something about it in draft or Free Agency. Hutchinson is not a one-trick pony, though; his release at the line is excellent, his toe-drag swag is swaggy, and his acrobatic catches will get oohs and ahhhs.
136 Tyler Davis DT3T Clemson [Stats] [Interview]
Watch #13
6-2 300 4.95
A redshirt senior in Beane's ACC, Tyler Davis is a disruptive 3-tech who will meet Beane's requirement of 1 pressure per game over his career. As of this writing, Davis's 38 pressures (14 sacks + 24 TFLs) over 36 games equals or betters the Bills' D-Line draftees. Watch #13 in his Wake Forest and Syracuse games this year.
132 Justin Flowe ILB OLB Oregon [Stats] [Interview]
6-1 229 4.5
A Feldman Freaks List LB, Justin Flowe is biding his time. A foot injury recovery is requiring full rehab, and Flowe will have better leg drive when he's 100%. Justin is a punishing hitter on the field with a sleepy personality off the field in the interview. Injuries have kept him out of the –ahem– flow. As a true freshman, Flowe tore his meniscus, then in the first game the next year he suffered the foot injury. Only 6 GP. One of my most unclear evaluations right now. Here's PFN's Eval. Has attacked his rehabs twice, and that may appeal to McBeane. Excellent vs run –he's had 12 solo tackles in his 6 games this year.
144 Eugene Asante OLB Auburn [Stats] [Interview]
Watch #7
6-5 200 4.48
Current Vikes' LB Chazz Surratt's backup at North Carolina for 2 years, Eugene Asante was all set to take the mantle, but Jay Bateman replaced him with soph Cedric Gray as a better fit in his defensive scheme. Asante transfers to Auburn. Eugene is very articulate and passionate, and this year he's more vocal. Listen to that Interview. Asante missed some time in the spring due to his father's passing. Long arms are Tremaine-like. Eugene's brother Larry Asante (2010 RD5, Browns) played 5 years in the NFL for 3 teams. His don't-give-up tackle is worth a watch.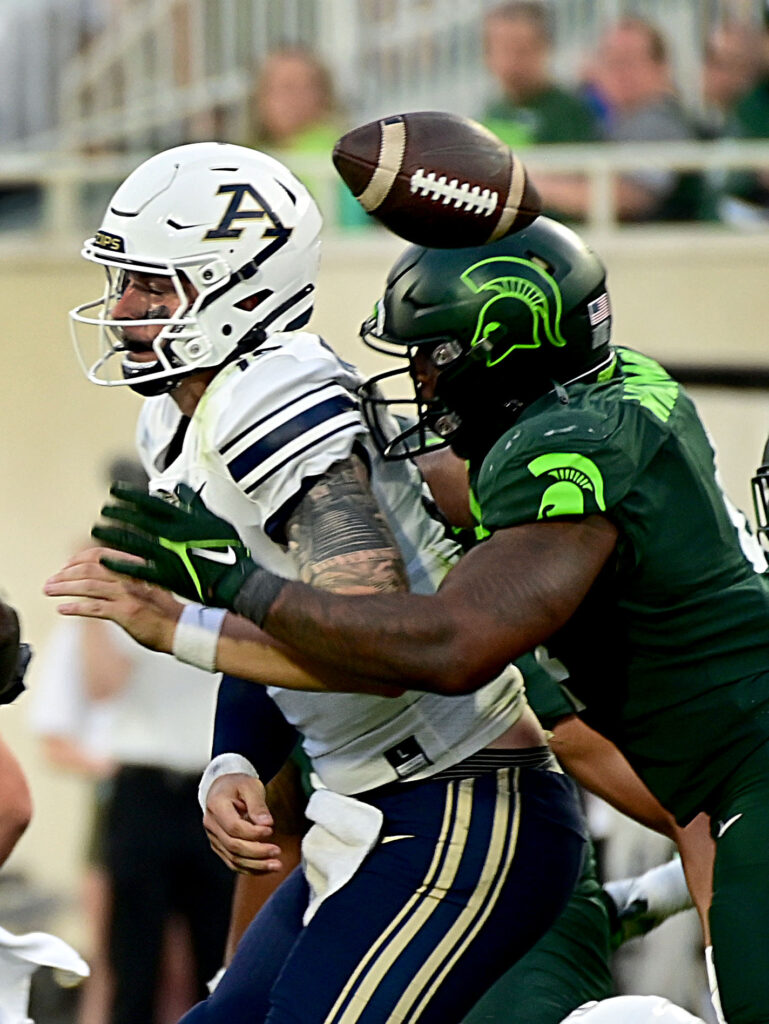 RD5b#159

161 Jacoby Windmon EDGE Michigan State [Stats] [Interview]
6-1 250 4.72
3.38
Keep your eyes on Jacoby; he's going to be flying up draft boards as the Spartans head into the teeth of their schedule. His motivation comes from a place of gratitude, but also as an escape from a section of New Orleans that saw the violence of 3 hurricanes and 100 shooting deaths in just over 4 months. You have Josh Allen on the offensive side of the ball able to leap defenders in a single bound. Wouldn't you like to have the same thing on the defense? Watch this bend of the arc and try not to think of Von Miller. 45 pressures in 35 games says it all. I'll be moving him up in the coming iterations of my big board.
165 P.J. Mustipher DT1T Penn State [Stats] [Interview]
Watch #97
6-3 326 5.06
Nagy: "Have heard great things from staff about DT P.J. Mustipher's character. At 6041v, 323v he's also one of the top big run-stuffers on our @seniorbowl board. Hopefully the knee injury that he went down with today isn't too serious." Double-teamed here, but doesn't get home as frequently as the other RD1-4 DTs (5th-lowest pressures per game in class). You're not asking him to penetrate; you're asking him to mind gaps. Like DaQuan Jones (6-4, 320), who's 31 in December.
167 Treshaun Hayward OLB Arizona [Stats] [Interview]
Watch #24
6-1 229 4.58
3.46 solos per game career
Hayward has accumulated 229 tackles, including 16 stops for losses, in 39 games at WMU. In Nov 2021, he left WMU because of "personal issues." In 2021, he had played in and started each of the Wildcats' first five games before missing the remainder of the season. Love his intensity. While Arizona lost all 5 games this year, Howard remains steadfast, with 8, 4, 8, 8 (against Oregon, the scouted game), and 6 tackles.
163 Zak Zinter G Michigan [Stats] [Interview]
Watch #65
6-5 320 5.35
Beane and Fisher went to a Michigan game, and while they weren't likely looking at Zinter, he's worth a look on Day 3. Here, Zinter shows he can pull to his right quickly and seal off the defender for the RB. He has more trouble pulling to his left; part of that was needing to quickly identify his assignment. Zinter has played more RG than LG, and he's likely a swing Guard at best. Uses his heft to great advantage.
170 K.J. Henry EDGE Clemson [Stats] [Interview]
Watch #5
6-4 260 4.57
…KJ, you may not have wanted to do this interview. K.J. Henry has already completed his college degree. The redshirt senior is a team leader, a student of the playbook, all full of play-after-play effort. He is like Shaq Lawson in that he holds his end against the run and occasionally finds his way into the backfield. In 12 games (6 starts) last season, Henry posted 9 tackles, 6 tackles for loss and 3.5 sacks. He works with kids, is fun in the locker room. Just can't get the old Tiffany Jeffcoat interview out of my head. He did tie BJ Ojulari as the P5 Edge Rusher with the most QB pressures in Week 7 with 7. Watch the Wake Forest and Georgia Tech games for his best work. One of the five fastest DE's in the draft class.
159 Erick All TE Michigan [Stats] [Interview]
Watch #83
6-4 245 4.61
BIG10 SR Scout, 5x 2 Beane, Fisher 19 13.1 TE ST Almost Knox's forty time, 2021: Appeared in 13 games as a tight end and a special team contributor; made eight starts at tight end and caught 38 passes for 437 yards with two touchdowns to earn his third varsity letter; All-Big Ten selection (honorable mention, coaches and media; 2021) …If he becomes a reliable blocker, he's got the tools to play in the bigs., on line with one of FO's Top Run-Blocking AND Pass-Blocking Grades in 2021.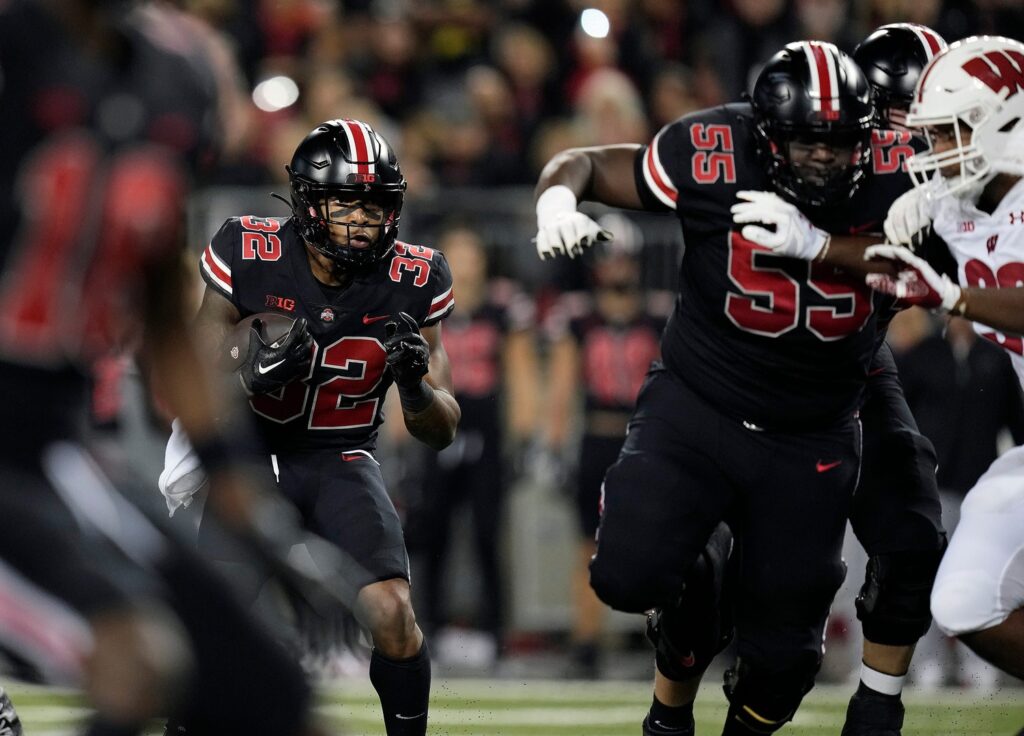 RD6#191 — Pick used to acquire Nykeim Hines from Colts

197 Matthew Jones RG OC Ohio State [Stats] [Interview]
Watch #55
6-3 310 5.09
Jones played RG and OC, and to find a player with Jones's size (6-foot-4, 315) and mobility needed to play Center is a huge bonus, and the Bills would be in the market soon. The Buckeye OL has one of FO's Top Run-Blocking AND Pass-Blocking Grades in 2021. Jones waited a long while for his turn to play on the Ohio state line, and now has played in 16 games for the Buckeyes, including all eight games of the COVID-shortened 2020 season. He's now one of Ohio State's highest-graded offensive linemen. Effective as a blocker in the run game. He's nimble and agile, and has that Kromer archetypal body.
185 SirVocea Dennis ILB OLB ST Pittsburgh [Stats] [Interview]
Watch #32
6-1 230 4.62
A senior in the ACC, from Syracuse NY, "sir-VOSS-ee-ay" is a family name. Is he the next Pitt backfielder to Bills? Maybe, but his tackling isn't as wrap-up as Damar Hamlin's and Dane Jackson's (watch 3 tackles CuedUp). He needs more of these tackles on tape. He describes himself as twitchy, and he'll have to be if his forty time is that slow. OF course, Hamlin's 40 was 4.60 and Jackson's was 4.57. These backfielders need to go into zone defenses. Maybe Leslie Frasier knows that.
193 Ronnie Bell WRS PR Michigan [Stats] [Interview]
Watch #8
6-0 192 4.44
Do we need a slot guy with punt return chops? Someone who is dangerous underneath and shows toughness and athleticism? Believe me, Bell's personality would fit the current WR room. He gets an advantage playing with one of FO's Top Run-Blocking AND Pass-Blocking O-Lines in 2021.
191 T.J. Bass G Oregon [Stats] [Interview]
Watch #56
6-4 318 5.31
Redshirt senior T.J. Bass played LG in 2020 and 2021, then LT in 2022. The Ducks' OL is top 20 in Run-Blocking in 2021 per FO; and Bass had the unenviable task of replacing Shane Lemieux (Giants 2020 / Round: 5 / Pick: 150).
215 Cornelius Johnson WR Michigan [Stats] [Interview]
Watch #6
6-3 211 4.4
This year's Nico Collins. "He's preparing harder," said cornerback Vincent Gray. "His focus has increased. I feel like walking into that role has been a big time receiver for us who we need to make plays on a consistent basis. I would say he's locking in a lot more mentally." Harbaugh: "It's a big catch range that Cornelius has," said Jim Harbaugh on Monday. "I think that's a big complement in our passing game. Also, he's a tough competitor. " Johnson led the Wolverines (12-1) with 37 catches for 602 yards and has scored three touchdowns. He played with the luxury of one of FO's Top Run-Blocking AND Pass-Blocking Grades in 2021.
176 Kei'Trel Clark CB NCB Louisville [Stats] [Interview]
Watch #13
5-10 188 4.52
I like my Nickel Corner to be from the ACC or SEC, be hands-y, tools-y, and have a "my ball" mentality. Kei'Trel (Nickname "Tre") was second team All-ACC last year when he led the team with nine pass break-ups. He played in 8 games before tearing his ACL in a loss at NC State … was playing one of his best games, already recording five tackles and a career-best four pass break-ups. This season, Clark was instrumental in a win against Wake Forest, where he made six tackles, two for loss, his first career sack, a pass breakup and a 46-yard pick-6. I'm going to keep my eye on Tre.

RD7#223 — Pick Used to re-acquired Dean Marlowe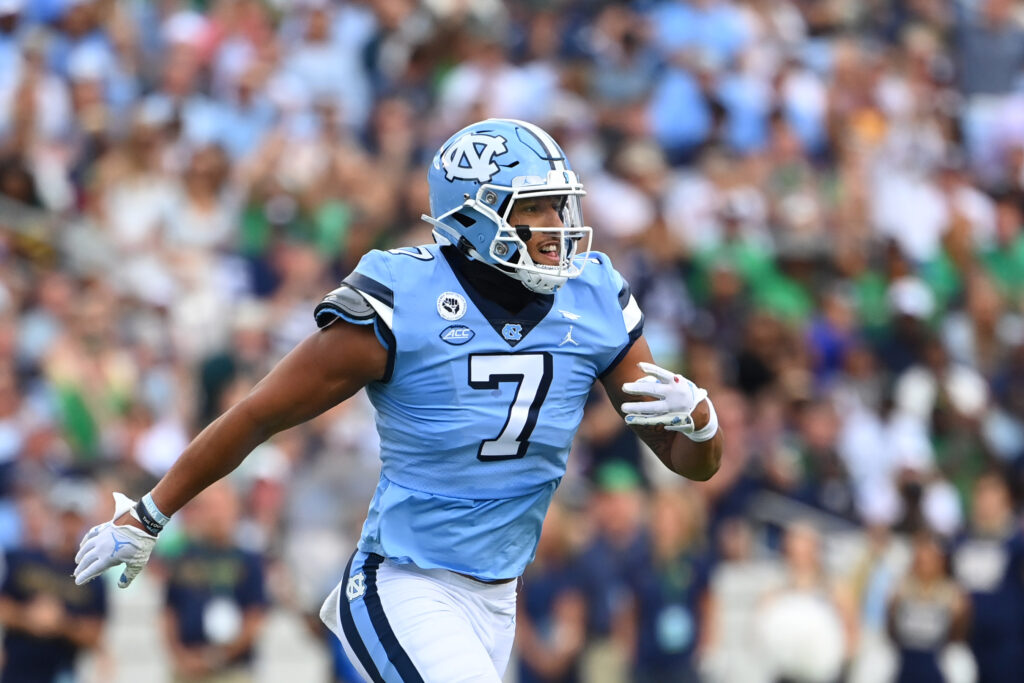 223 Noah Taylor OLB ILB North Carolina [Stats] [Interview]
Watch #7
6-4 225 4.58
Taron Johnson. Jaquan Johnson. Dane Jackson. Damar Hamlin. Baylon Spector. Christian Benford. Big Baller Beane owns Day 3, Who's Beane's next Bail Inspector (My autocorrect is a comedian)? Noah Taylor's an OLB that fits so well with what the Bills do. He's twitchy, sorts through traffic, is bendy when blitzing. Hailing from the ACC and Beane's alma mater, Taylor has the size-speed combo plate that our GM is looking for.
222 Tyler Harrell KR WRS Alabama [Stats] [Interview]
Watch #8
6-0 194 4.19
Running a hand-timed 4.19, the 2023 draft's fastest WR and KR has only 1 reception vs AP-ranked teams as of this writing, this 75-yarder. Harrell has speed to burn. I've heard comparisons to Tutu Atwell. Tyler Harrell has 161 career KR yards, but is not listed as 1st string returner yet on Ourlads depth chart. Harrell spent three years at Louisville, and Saban denies claims of tampering to get him to 'Bama (9 days after Harrell entered the transfer portal). In the first three years of his collegiate career at Louisville, Harrell did not see the field much, either. He found himself buried on the depth chart. I guess Louisville didn't need that 4.19 speed. I expect Harrell will climb into Day 2
228 Brenton Cox Jr. EDGE ILB OLB Florida [Stats] [Interview]
Watch #1
6-4 247 4.62
Redshirt senior Brenton Cox is so focused, so aware, and so versatile, I have to keep an eye on him. Here, he shines in a tipped ball drill. Now, he sniffs out the razzle-dazzle for big TFL. Then, he makes the fumble recovery for the Gators. Brenton has that 1 pressure for every game played stat that Beane seems to require: 49 pressures in 44 games.
230 M.J. Sherman LB Georgia [Stats] [Interview]
Watch #8
6-2 250 4.53
SEC Jr Beane, 3 2 9 3 0.5 OLB ILB Models his game after Von Miller, especially his versatility
231 Justin Ford CB Montana (no scout visit yet) [Stats] [Interview]
Watch #21
6-1 190 4.53
In five drafts since 2018, Brandon Beane has drafted five DBs in RD 6-7: Benford, Hamlin, Wildgoose, Jackson, and Jaquan Johnson. It's the position group Big Baller taps the most in the late rounds. Here's another. Justin Ford had the most interceptions in the 2021 season (9) and three defensive touchdowns in 2021. He recently recorded an interception in 8 straight games, tying an FCS record, and it's the third-most in NCAA history regardless of division. I'm hearing there are NFL teams that absolutely love this kid's big-play ability. Ford is not afraid of anything and he makes plays every time he is on the field. First Team All-American.
219 Cory Durden DT3T DT1T ED ST NC State [Stats] [Interview]
Watch #48
6-4 315 5.04
Durden is a transfer from FSU (2018-2020), where he played with Marvin Wilson. Pro Football Focus (PFF) ranked Durden No. 11 in its top 30 countdown of the best college football transfers in 2021. PFF noticed and noted that Durden was Inconsistent: " plays with a high motor and has unbelievable quicks for a 6-foot-5, 315-pound man," PFF said in the article. "That said, he has so much to work on from a technical standpoint and is often errant; it works out for him sometimes — but not always." They're right. He'd be top 10 among P5 IDL pass rushers, but be a liability against the run. Still, he has some promise Here, Durden plays special teams and secures a block up the middle, blowing right through his gap. He's worth keeping an eye on this year. Durden was named a first-team All-ACC performer and earned the team's Carey Brewbaker Award for Top Defensive Lineman. He was the Wolfpack's starter in the last seven games of last season at defensive tackle. Watch his game against Clemson. Durden tallied six tackles, 1.5 sacks, and had a QB pressure in that contest.
UDFA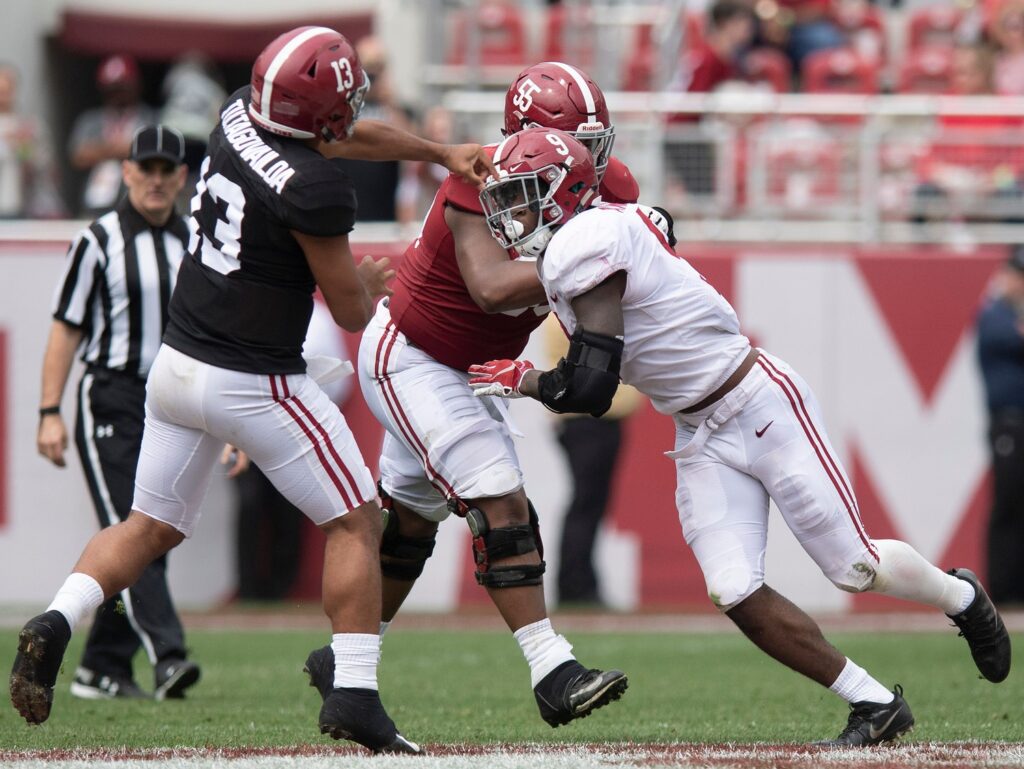 252 Eyabi Okie (formerly Eyabi Anoma) EDGE OLB Michigan [Stats] [Interview]
Watch #18
6-4 270 4.63
Mazi Smith's sidekick (take both). A 5 star recruit coming out of high school, Okie possesses the athletic traits to be one of the best edge rushers in this draft class. He had career stops at Alabama, Houston, and UT-Martin, and now he's at Michigan, arriving there just 2 ½ weeks before the season opener against Colorado State, and as of this writing, he's notched 6.5 pressures in 8 games. That's getting the hole shot right out of the gate. I'm taken by his interview and how well he internalizes the direction of his coaches.
255 Sevyn Banks CB FS KR LSU [Stats] [Interview]
Watch #7
6-1 200 4.42
Our special teams aces are getting long in the tooth. Sevyn Banks (#7 on the field) is a special teams ace for the Tigers, and prides himself as a technician. I've been watching Banks since June of 2021 when I did this Deep Dive on him.
270 Bryan Hudson OC OG Louisville [Stats] [Interview]
Watch #7
6-4 310 5.28
If Beane wants to take TWO IOL in this draft, my second vote is for versatile IOL Bryan Hudson. The 2021 Louisville O-Line was the best in the ACC under then-OL Coach Jack Bicknell Jr (former Steelers line coach who's now at UNC), The Cardinals allowed just 1.54 sacks per game, the best marks in the ACC. The RG opposite Lecitus Smith (Cardinals, RD6 last year), Steve Wiltfong calls him the next Brandon Scherff. Hudson's traits of foot quickness, explosive first step, toughness, strength and physicality will bode well down the line at all three interior positions. I like Hudson's selflessness and willingness to do what needs to be done for the team to succeed.
266 Chris Braswell OLB EDGE Alabama [Stats] [Interview]
Watch #41
6-2 240 4.5
Braswell won't be one of the first 10 Alabama players to be drafted. The Tide's depth is, as usual, front-loaded, but late-round gems can be found by Beane. Braswell is one of them. 'Bama LB Mack Wilson was drafted by the Patriots in RD5 (now with Browns) and LB Shaun Dion Hamilton was picked in RD6 (now a Lions defensive assistant). Braswell's interview should tell you he's gregarious, a team player, that he loves the game and likes hitting. The CuedUp play shows how effective Braswell is on special teams, as he blocks a punt.
268 Keidron Smith CB FS Kentucky [Stats] [Interview]
Watch #20, Watch #1
6-2 200 4.4
Smith comes over from Ole Miss where he spent four seasons. The versatile defensive back never missed a game playing for the Rebels, and the most important ability (at least in our DB room) is availability. Keidron moved up on my board after Kentucky's 9/10/22 win over Florida, where Smith had 1 solo tackle, 1 pass broken up, and 1 Pick-Six. Keidron offers excellent size, DB positional versatility, and the skills similar to our DB room that make our zone-heavy scheme work. As a junior last year, Keidron finished second on the team with 64 total tackles, including a 38 solo stops. He's had 13 solo tackles in the past 4 games. Keidron and Jammie Robinson are my best guesses for Beane's DB Draftees.
270 Will Mallory TE Miami [Stats] [Interview]
Watch #85
6-5 245 4.63
The TE class is, in my opinion, not that good this year. You can count on one finger the number of TEs with Dawson Knox's size-speed gifts. You're more likely looking for diamonds in the rough in RD7 or UDFA. Beane will look in the ACC, his favorite conference, for the standouts. A redshirt senior, Will Mallory could go anytime on Day 3. How someone who's as good a receiver as Mallory was so inexplicably underutilized last year is a mystery to me. Watch the catch in the CuedUp. You see the Intensity yet some physical restlessness in the interview.
Editor's babble: These "Pick Six" articles by Dean Kindig are gold for watching college football. We are grateful for his many contributions to our blog. You can also find Dean on Twitter @TCBILLS_Astro.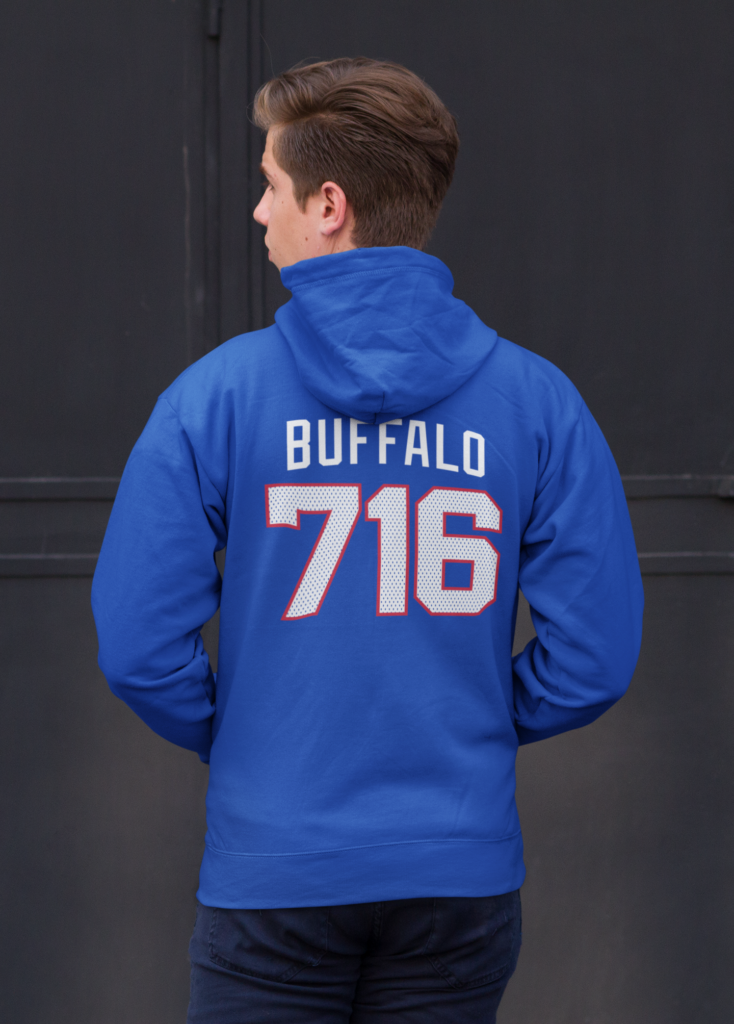 BuffaloFAMbase.com is sponsored by 26 Shirts
Every Monday, we launch a new two-week campaign of a limited edition t-shirt design. Every shirt purchase results in a donation to a local family in need. After the campaign ends, the shirt is retired. A new design is released, and a new family benefits from your fandom!