Practice Notes Wednesday
The dog days are over and the temperature is down to 68°, so 88° on the shiny aluminum bleachers. The usual trackwalkers are out for their morning stroll, and the Gatorade bottles are being wheeled into place. DJ Milk is all set up too, and it's 9:04. A couple of folks who read these notes come up and introduce themselves to me: Paul has been a season ticket holder since 1989, as well as three ladies who also read Joe's Fedora Forecast articles (in the picture with Joe and me). I'm wearing my favorite jersey, my #26. No, not Singletary. Winfield.
First Five
Kaiir Elam and CJ Brewster are the first two out of the indoor facility, as per usual. Raheem Blackshear is next. Kaiir Elam is taking reps on the JUGS machine. Trey White's out there, throwing a football back-and-forth to a very lucky 10-year-old. Jaquan Johnson is sitting on a plyometrics box, re-tying his sneakers and stretching. Daniel Joseph is the next player we spot. Those are your first five today.
Big Kids
There's 21…It's a welcome sight to see Jordan Poyer; he doesn't have a brace, but wait a minute… that's an imposter! It's Jordan Phillips wearing Jordan Poyer's jersey! (Yes; it fits VERY snug!) After the Case Keenum autograph bit yesterday, anything is possible. These are just big kids.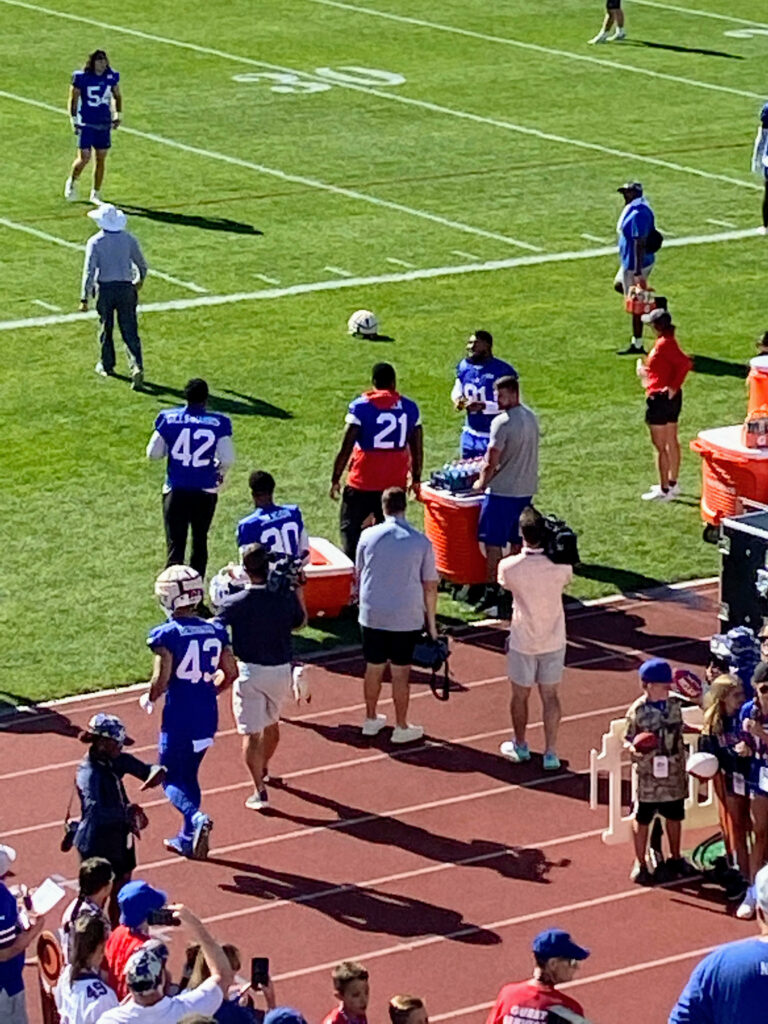 Araiza and Shine
Matt Araiza is taking hikes from the JUGS machine. He does a soccer style move to pick up a football down on the ground with just his feet, then kicks it a couple of times, and then kicks it right into the laundry basket. Singletary and Cook walk out together. Duke Johnson trails behind in a microcosm of Beane's running back decision in a few weeks' time.
New Jersey!
A game warn, O.J. Simpson jersey. We also spy a Stefon Diggs Maryland jersey, a Josh Allen WYO jersey, an old-school Beebe, and a Poz. And Ed Oliver is doing a little soft shoe dance on the field. Big cheers for Von Miller today, and he loves it.
Short 11 on 11
Micah and Jaquan are at safety, lots of pre-snap movement by the defense. If you saw Buffalo plus yesterday you notice that the defense had its way yesterday. We'll see if that's true today.
Calisthenics Stars
Stars at calisthenics today are Damar Hamlin, Reggie Gilliam, AJ Epenesa, Christian Benford, and Boogie Bash'Em. If I get to name more than five, add Case Keenum and Taron Johnson. When the whistle blows, Jordan Phillips (still wearing the Poyer jersey), and the 3 quarterbacks were first in the race to the other field.
Special Teams Drills
We'll be looking at onside kick recovery first . Shakir and Hyde look the most comfortable with it, as does Siran Neil. Nick McCloud handles his onside kick very well. Khalil Shakir handles a second onside kick and then moves back for kick return giving a high-five to Isaiah McKenzie. The third one back for kick return today is Duke Johnson.
Positionals
It's Day 10 of practices open to the public and for the first time, the entire starting offensive line is out on the field and practicing. Rob Boras has spent a lot of time with OJ Howard, showing footwork, position of hands when blocking, etc. HE later works with them on releases off the line. Assistant OL Coach Wendell has the offensive line doing combo blocking. The tight ends then join the offensive line for some run play work. Turnstile Bobby Hart does not look out of place. Did I just type that???
The receivers are working with the PVC hurdle again, going through the hurdle dipping the hips and doing in patterns. My opinion: It's going to be very hard to cut one of those receivers. Each has had their moment in the sun. After Diggs-Davis-McKenzie and maybe Crowder (age 29), the conversations between Rob Hall the WR Coach, Ken Dorsey the Offensive Coordinator, and Brandon Beane the GM will come down to which receivers offer the greatest red zone mismatch (the 6'5″ Hodgins?), maybe the most reliable youngster who can do kick return (Shakir?), the fastest deep speed (Tanner Gentry's 4.27 forty vs Speedy Stevenson's 4.48), the special teams contribution (Kumerow?), or the one with the jukes (Tavon Austin and his 6.76 3-cone). My Dad always said, "The harder a decision is to make, the less it will matter." Think on that.
Josh Allen, who is without Stefon Diggs (rest day), zeroes in on Gabriel Davis in the coffin corner of the end zone, then follows up in the same place with Kumerow. Then fade routes from the 10-yard line. Then Keenum does crossers with McKenzie and Khalil Shakir. Josh overshoots Kumerow, but deals a perfect strike to McKenzie. He then throws a bomb to Davis for a Catch of the Day; the crowd erupts. Allen answers with perfect throws to Tanner Gentry (his Wyoming target), McKenzie, Crowder, and Shakir. The Defense returns to Polisseni Field.
7 on 7
Bernard is running with the ones today, and they're running with three LBs for some seven-on-seven work. McCloud's getting some looks at Safety. The QBs are practicing scramble drills. Gabe Davis's comeback route is well-defended by Kaiir Elam and Taron Johnson, and it's incomplete. Allen answers with completions to Zack Moss and OJ Howard. The twos have Case Keenum connecting with Raheem Blackshear, but the next throw is a tipped ball to McCloud for an interception. I'm sure Barkley got a turn, but all eyes are on Jim Freakin' Kelly, so if a tree falls in the forest and there's nobody there to hear it…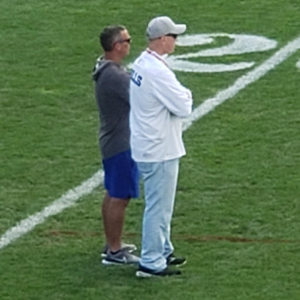 11 on 11
The Finally Intact Offensive Line of Dawkins-Saffold-Morse-Bates-Brown parades out, hopefully the answer to yesterday's defensively-dominated practice. Allen uses play-action, and it's James Cook with a nice run. He follows it with a screen to Knox, and a play-action pass deep to Davis. After a draw play to a now-healthy Zack Moss, Sean McDermott huddles up with the defense. A handoff to Cook shows that #28 has a fifth gear that nobody else in that room has. A shout-out to the twos' stars Brandin Bryant at DT and Reggie Gilliam who lines up at Chameleon. The star for the threes was Raheem Blackshear, who apparently has that fifth gear, as well. Watch for him soon at a Practice Squad near you.
Bring in Da Noize, Bring in Da Funk
The defense returns to practice field three, and the offense practices plays against air with DJ Milk blaring crowd noise over the loudspeakers. Diggs plays a couple plays without a helmet. The WRs had a kerfuffle lining up at one point on a trips right (3 WRs same side of formation) play, and Chad Hall squared them away.
11 on 11 Again
Knox catches a Josh Allen bullet against Christian Benford, and then Gabe Davis catches one. The substitutions start, and the defense's wheels come off, with two straight offsides penalties, one by Ed Oliver, and the other by Matt Milano. Ed comes out. A good defense by Damar Hamlin negates a possible Kumerow catch. Quessenberry comes in at RT, and Van Roten at LG. An Allen throw to Moss gets a first down, but Josh's deep pass to Davis is caught out of bounds.
The twos suffer from the same inaccuracy with Keenum throwing behind Reggie Gilliam. Case course-corrects and connects with Cook and OJ Howard (Cam Lewis in coverage, taking his life in his hands). The Catch of the Day to Sweeney for a TD might have been the best catch of camp, and every teammate of Tommy's (at least the white jerseys) mobbed him in the right corner of the end zone.
Heroes among the threes in their 11 on 11 include LT Luke Tenuta with excellent form (sitting in his chair, active feet, arms square), and Blackshear with a nice run and a nice catch.
The ones return, and the star here is Von Miller's quickness, athleticism, and bend getting around Dawkins as fast as a flash. Rousseau gets in pretty quick in his own right on the following play. A handoff to James Cook and a pass to the fleet RB puts out the defense's fire. There is liberal substitution at this point. On the next play, AJ Epenesa comes barreling in from his right DE position, but he pays for it; the play pitches right outside of him for a nice gain.
The twos have an OL of Tommy Doyle-Van Roten-Jacob Capra-Bobby Hart-Alec Anderson against a defensive front four of Epenesa-CJ Brewer-Brandin Bryant-Shaq Lawson. Keenum's throw is too wide for Neil Pau'u to catch. The threes enjoy a Duke Johnson reception and another Catch of the Day by Quintin Morris, almost a flip, against Jordan Miller. Josh Thomas on a blitz would have had a sack on the next play.
Field Goal Follies
Some fun was had, as Dawson Knox and Micah Hyde both made field goals. The more important note is that Araiza was the holder. Bass made a FG from 35 that'd have made it from 55.
Red Zone Roadkill
The ones on defense got the better of the offense, with the ball on the 11. Matt Milano breaks up a Josh pass to James Cook in the coffin corner, and then Taron Johnson gets a PBU on a pass to Knox. The twos had more success, with Keenum passing to Isaiah McKenzie. The defense surged back, with a too-long pass to Tanner Gentry. Finally, Sweeney catches another TD pass (it's his day to bring out the Sweeney-vs-OJ Howard conjecture).
Today's Stars:
4. Jordan Phillips Impersonating Poyer
3. Micah Hyde, Kicker
2. Tommy Sweeney's Best Day as a Bill
1. Jim Freakin' Kelly
BuffaloFAMBase Big Board | BuffaloFAMBase Depth Chart | BuffaloFAMBase Current Roster | Astro's Pick Six
Editor's babble: We are so blessed to have Dean Kindig giving us his insight with his AstroNotes, and the many contributions he makes to our blog. You can find Dean on Twitter @TCBILLS_Astro.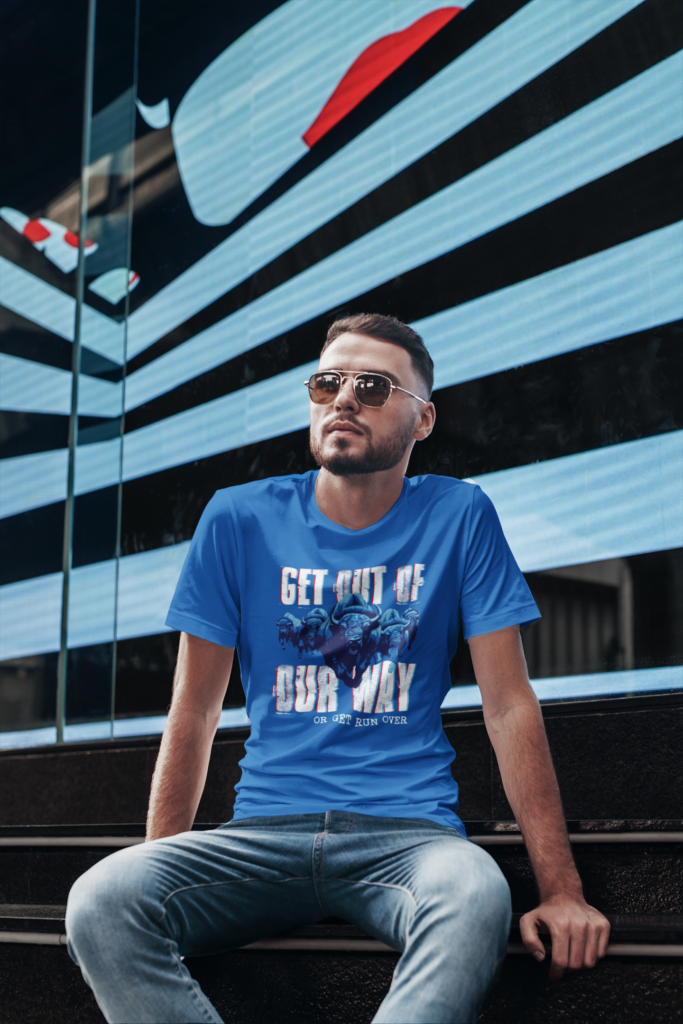 BuffaloFAMbase.com is sponsored by 26 Shirts
Every Monday, we launch a new two-week campaign of a limited edition t-shirt design. Every shirt purchase results in a donation to a local family in need. After the campaign ends, the shirt is retired. A new design is released, and a new family benefits from your fandom!