My favorite drizzly day ever! I ran into one of my favorite teacher co-workers, Jeanette, her father, and kids, and I've seen Erik Turner Cover1. No serious injuries, either.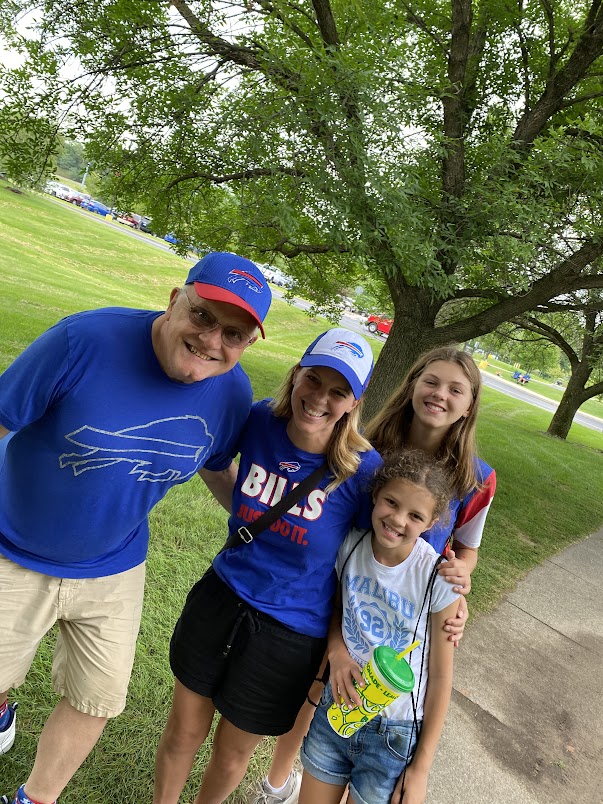 Photo: Dean Kindig.
It's a totally overcast sky, with a non-irritating drizzle keeping us cool, and it's 9 o'clock. First day I haven't had to put on sunscreen.
I'm under the press box overhang directly above the tunnel. Kaiir Elam is out here stretching, as are the trackwalkers, plus CJ Brewer and Blackshear. Daniel Joseph is fourth. Christian Benford is fifth; he's frequently in the 'Early Five'. Slowest day getting the First Five logged, as it's 9:19.
Jordan Miller, the guy that replaced Trayvon Fuller, is doing a lot of warm-ups. He'd be an interesting practice squad candidate, if somebody could just unleash that 6-2 height. Needs to eat more wings, though, as he is a string bean.
NFLN is here again. They have a satellite truck and blinding sodium lights under a tent like you'd see at the craft festival. Which I guess covering football sort of is.
McKenzie comes out to the largest cheer yet, and jumps Josh Allen-like over a Christian Benford, who is stretching. He never saw it coming. I love McKenzie's smile, and his great sense of why he's on this green earth.
Refs are here and the drizzle has stopped. Coincidence?
The ones trot out a line of Dawkins, Hart, Morse, Ford, and Quessenberry –three placeholders. Saffold, who's hammering on a tractor tire with a woodsplittting maul by the exercise bikes, should be back at LG really soon, but I'm not a doctor.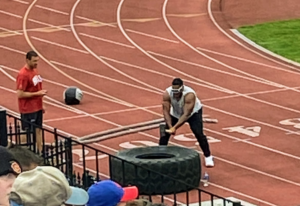 Calisthenics Stars show you the way the exercises are supposed to be done. We award today's stars:
Khalil Shakir
Isaiah Hodgins
Taron Johnson
Daniel Joseph
Taiwan Jones
KR Drills and Positionals
Brief huddle, then the defensive line heads to the other field. As usual, kick-return blocking is taking a high priority. I think you'll see that in the preseason games, for sure. The returners today Include Raheem Blackshear, Duke Johnson, Isaiah Hodgins, Tavon Austin, and Isaiah McKenzie.
Knox and Howard are facing away from the ball until the last minute and then turn around and pass is there from Rob Boras. They don't look huge until you look at folks on the sidelines near them. Then you see how disproportionate they really are.
The rain and DJ Milk start up at the same time. There are two referees meeting with Sean McDermott at the 35-yard line, explaining what they will do with Kaiir Elam's exuberance (Just Guessing). Allen is flicking 20- yard passes (effortlessly it seems) to tight ends.
OL are using the blocking sleds for the first time. Up until now, there's been a lot of emphasis by Kromer on hand placement and quick arms –getting them up quickly and locked on the chestplate of the defender. Today that lower body get to work out, too. Greg Mancz and Roger Saffold are off on the side stretching. Spencer Brown is doing positional drills, and Tommy Doyle is, too. Kromer's down there coaching Bobby Hart. Hey, anything is possible. Joe remarks that Tommy Doyle looks great every day. Eyes right now are on the sizzle of the wide receivers to our right doing the quick stops demanded by the hurdle drill, but you might wanna look at the offensive line play and what Kromer is doing with them to our left.. That's the substance over sizzle, and line play is the stuff that championships will be made of. Take one ball of clay – either Ford, heart, Quessenberry, or even Alec Anderson, and turn him into a starter or sixth reliable guy, and it will be one of the unsung songs of this season. DJ Milk's song sums it up: "This Is How We Do It".
You can talk all you want about how good and mature Shakir's hands are, and I'd agree, but I'm seeing the same thing from Isaiah Hodgins.
James Cook is practicing with the receivers. He's another Chameleon who can be who you want on any given series or play.
The defense returns to "Come On Feel The Noise Girls Rock Your Boys".
Mano a Mano
Merely my opinion, but here's who I have winning their one-on-one blocking:
Tyrel Dodson
Edmunds over Moss
Hamlin gets outside on OJ Howard
Taiwan Jones
Josh Thomas
James Cook okay vs Marquel Lee
Tavon Austin
OJ Howard
Devin Singletary over Tyrel Dodson
Zack Moss
Knox cleans up Josh Thomas
Sweeney takes Josh Thomas
Taiwan Jones deked
James Cook holds his own
11 on 11
Dawkins, Hart, Morse, Ford, and Quessenberry …Some just placeholder to keep the twos intact for tomorrow's scrimmage. The DL has Shaq Lawson, DaQuan Jones, Jordan Phillips, Ed Oliver, and Greg Rousseau. Good Luck. Gabe Davis says, thank you very much, and catches an almost-40-yarder from Josh Allen. Next, Josh throws behind Crowder on a slant, but the pro slot reels it in like a fisherman. The play worked because James Cook was excellent at selling the RPO fake.
Alec Anderson, Tanner Owen, Jacob Capra, Greg VanRoten, and Tommy Doyle are the twos, with Raheem Blackshear getting some work at RB. Case Keenum has Neil Pau'u, Tanner Gentry, Isaiah Hodgins, and Tommy Sweeney as playmakers. But Tavon Austin, Tanner Gentry, Khalil Shakir, and Neil Pau'u were also seen with Barkley, so there'll likely be some cross-pollination among the twos and threes, which makes good sense in evaluating the receivers' play.
New Jerseys
Gabe Davis UCF jersey sighting and Schobel and Bennett jerseys, along with the Prince Emili shirt from the other day.
More 11-on-11
Damar Hamlin stays right with Gabriel Davis and denies him the ball. Singletary goes nowhere. Moss rumbles for a 1st down, forcing his opponent to make a business decision. Ed Oliver was double-teamed, but pressure was still the culprit in making the pass incomplete. The Combo Plate of DeQuan Jones and Ed Oliver in the middle really occupies most of the offensive line's energy. Allen completes a pass to McKenzie over middle in tight coverage. Tremaine gets a star for today, and the key difference this year is DaQuan Jones and an improving Ed Oliver in the middle occupying the Hogmollies and allowing Edmunds to do his job. Benford replaces Elam at this point. The Defense extends the run play horizontally, especially with Rousseau. Shaq Lawson is also effective at this, so this should lay waste to any run game. Damar Hamlin declares late on a blitz, and gets a would-be sack on Josh Allen.

Case Keenum comes in, and his first throw was caught, but McCloud hits the receiver hard; he'll get a star for the day with two such slobberknocker hits. Ja'MArcus Ingram gets a PBU; he's had a couple nice plays this camp –will that be enough? The defensive line is Lawson, Daniel Joseph, C.J. Brewer, Epenesa for the twos. A Keenum throw to Tanner Gentry looked like it might have been a catch, but is ruled incomplete. The ref earns his $.
Next play has Lawson closing quickly on Case Keenum, and a blitz by Josh Thomas gums up the next play.
With the threes in, Barkley hands off to Duke Johnson for a nice gain. Bark throws to Tavon Austin for a first down. You can see that Von Miller is coaching Rousseau on the sideline after their series. The star of this series was Luke Tenuta at right tackle. He did exactly what Kromer had been teaching these first several practices: he got his hands up quick, locked on, used ballerina feet, and moved Mike Love to his left and out of the way on two plays in a row. The results? An impressive Catch of the Day by Hodgins and a Taiwan Jones run on the handoff from Barkley. McCloud is a banger. He got a hit on Tanner Gentry that sent him into next week. Barkley overled Khalil Shakir and it's 3rd down. The series ends poorly for the O, with an
INT seemingly thrown to Baylon Spector with no wide receiver in sight.
More kick-return blocking. Nobody on the Peloton Patrol
3 stars: Joe
3. Damar Hamlin
2. David Quessenberry
1. Edmunds
3 stars: Dean
3. Tremaine
2. Kromer and Luke Tenuta
1. McCloud
BuffaloFAMBase Big Board | BuffaloFAMBase Depth Chart | BuffaloFAMBase Current Roster | Astro's Pick Six
Editor's babble: We are blessed to have our A-Team (Dean and Joe) out there reporting what they are seeing via AstroNotes. You can also find Dean Kindig on Twitter @TCBILLS_Astro and Joe Reagan @joer869.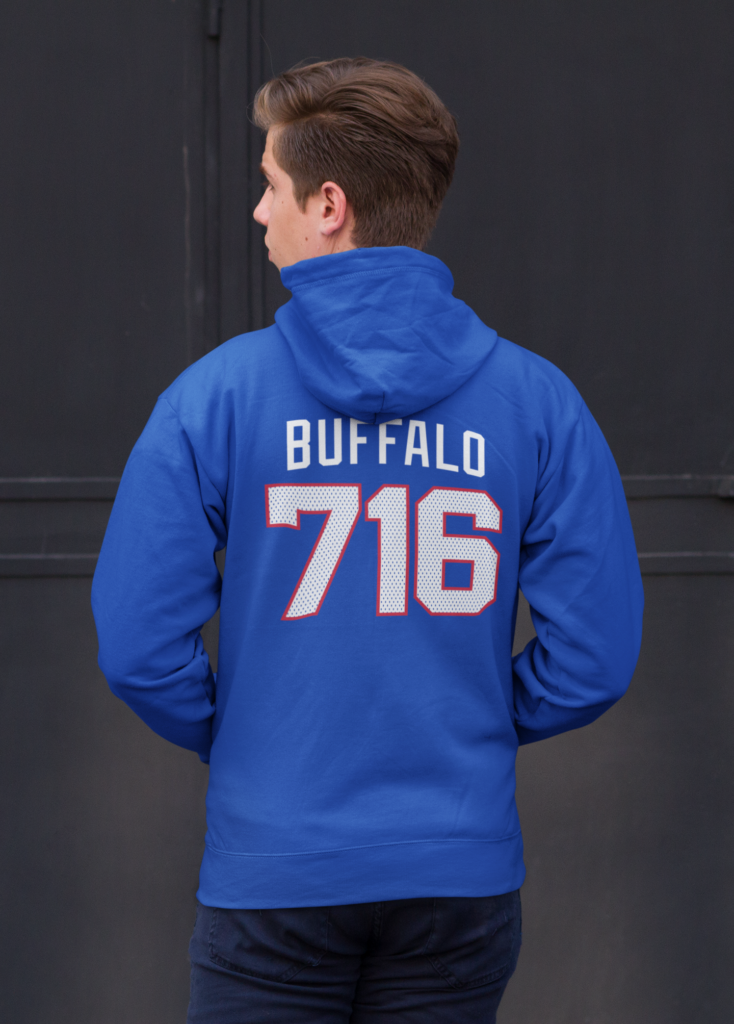 BuffaloFAMbase.com is sponsored by 26 Shirts
Every Monday, we launch a new two-week campaign of a limited edition t-shirt design. Every shirt purchase results in a donation to a local family in need. After the campaign ends, the shirt is retired. A new design is released, and a new family benefits from your fandom!