Practice Tuesday – August 2, 2022
The sky is almost 100% covered with rain-filled thunder clouds, and I am sitting atop aluminum bleachers. One can only hope that a taller person sits next to me. If not, consider this my final Astro note. Go Bills (I adore maudlin humor)!
All the usual suspects are walking around the track this morning, although Rob Boras was a tad late. Kelly Skipper is wearing a Texas Longhorn orange Bills shirt. I hope that color doesn't catch on for the Bills. And my older son lives in Austin.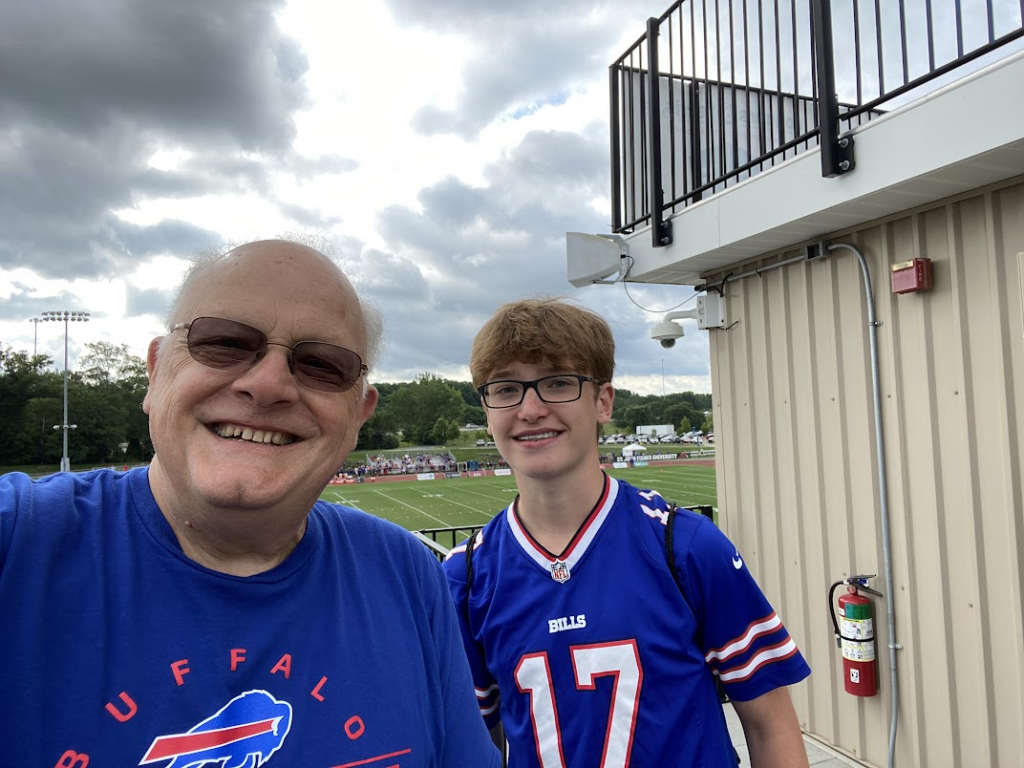 I gave a BuffaloFAMBase roster to Cole from Hoboken NJ, who was only able to get one ticket for one practice this year. He remembers the good old days in 2016 ( I have socks that old) when you didn't need a ticket. This is part of the fallout for being as good as the Bills have become. It's not a conspiracy to deny us tickets. It's not a need for a Constitutional Convention. We just got good.
Kaiir Elam, Jaquan Johnson, and CJ Brewer are the first three that I see today. Elam stops at the JUGS machine for a quick 15 passes, so Raheem Blackshear will have to wait his turn. Athletes are creatures of habit, which is a big reason why they have become pros. That's why you see the same players and coaches walking the track, stretching, doing the same exercises, going back to the same routines that got them this far.
Christian Benford takes his turn at the JUGS machine, then Kaiir Elam jumps back on for some more work on the machine. This is why he'll become a good one over time. Shakir and Poyer are next to catch passes.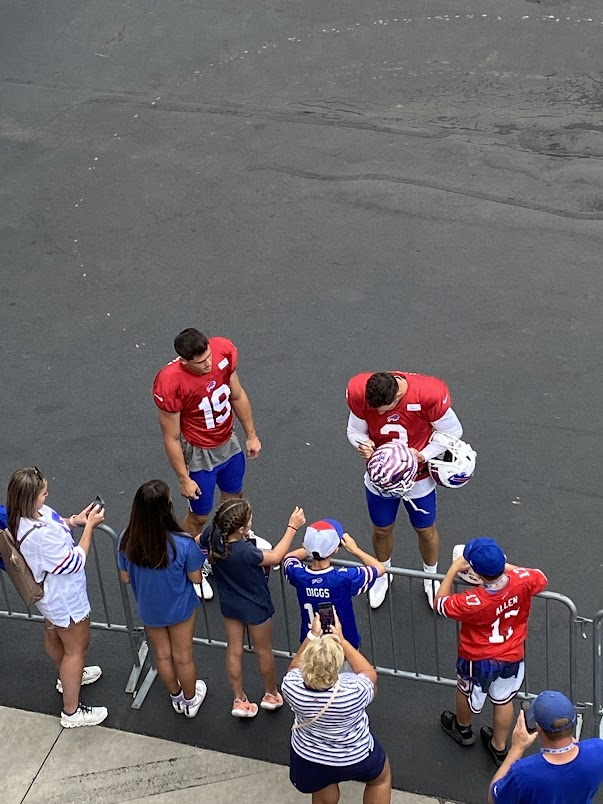 Araiza and Haack come into view walking together, signing some autographs, including a Zubaz helmet that should definitely be our alternate helmet. Forget the red.
Sean McDermott looks ready for playing golf in the New Zealand National, all in the Johnny Cash look except for the bucket hat, all white.
In a position where availability is the best ability, Kumerow makes his reappearance. Fill in your "TD Jesus" 3 Days reference here, you heathens.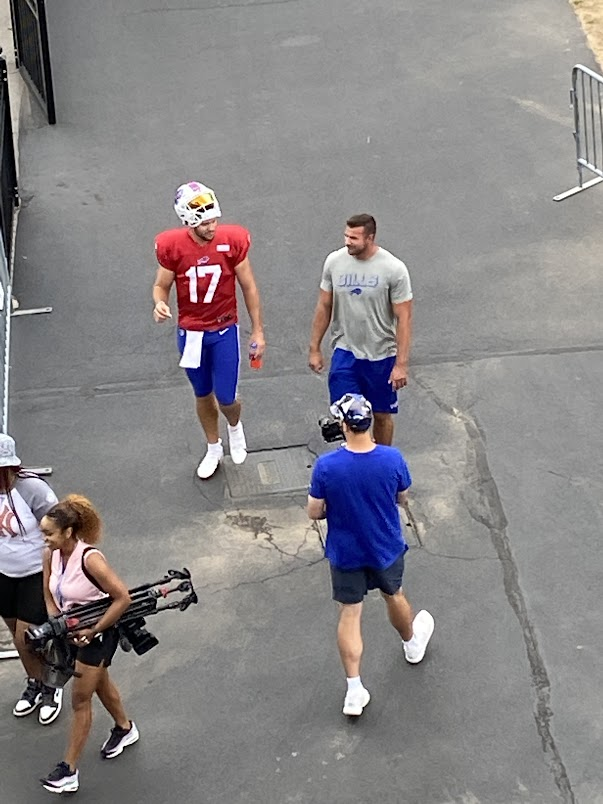 Josh is one of the last in the parade of players, but he garners the loudest applause.
Micah Hyde is dressed for practice, but in the corner by the Peloton bikes, as is Roger Saffold and Greg Mancz. Tommy Doyle is back and practicing, and Spencer Brown, too. Immaculate Reception King Dion Dawkins is warming up.
11 on 11
The usually-quick 11 on 11 is longer today because they are practicing hurry-up offense. .It's Dawkins Ford Morse Quessenberry and Hart left to right. A little flick to Gabe (little flick=15 yarder) and a throwaway. Boogie out, Rousseau in. A pitch to Singletary on the flats. Drag route to Singletary. The classic hook and lateral catch-and-pitch from Diggs to Singletary that's todaay's Catch of the Day . The Red zone throw to McKenzie that he couldn't hold onto. Oopsies.
The twos have a chance. I'm missing somebody, but we have from left to right Alec Anderson, VanRoten, (Morse?), Tanner Owen, and Spencer Brown. Tanner Gentry and then Speedy Stevenson made impressive catches.
Calisthenics
Tyler Elam, Case Keenum, Jamison Crowder, Luke Tenuta, Josh Allen, and AJ Epenesa did the stretches correctly.
Jordan Poyer and Josh Allen are sprinting to the other field, sporting their intrinsic desire to be first, as do Milano and Barkley.
That leaves Kromer and the OLine Dancing B to our left. Kick return blocking is to our right. Sean McDermott is standing directly next to the larger band of returners which include Taiwan Jones, Khalil Shakir, James Cook, Marquez "Speedy" Stevenson, Reggie Gilliam, and Tavon Austin. They continue to emphasize blocking during the return pretty emphatically. McKenzie remains the most successful returner of the bunch, which has winnowed itself down to Khalil Shakir, James Cook, and Marquez Stevenson. Likely surprised, Joe Giles-Harris gets hit by an onside kick in the safety helmet. He's OK. His roster spot is not.
Baylon Spector (autocorrects to Bail Inspector) looks like he could be a real asset on special-teams. He's a future Tyler Matakevich for someone else.
New Jersey: A Stefon Diggs Maryland Terrapins jersey.
Ryan Bates is sitting on the Peloton. Sitting. We will bring you more updates.
Positionals
All blue jerseys have gone to the other field, leaving us with wide receivers doing S-pattern drills to our right without a QB, and an amalgam of the TEs, offensive line, and running backs to our left.
Bobby Hall is using the armpit-high hurdle again, doing dig routes then comeback routes with the wide receivers. Hall shows them how to do it, and Diggs always goes first. The best limbo contest would be between Diggs McKenzie Shakir and Crowder. They continue, now doing toe-drag swag routes.
The quarterbacks return, again led by Josh running the fastest.
They do crossing routes to the back of the end zone McKenzie Gabriel Tavon Austin, Grant Brown and dad Crowder. Kumerow is not participating in this. Now they're doing dig routes, the same route that was just practiced in the drill with Bobby Hall. I love quick implementation of what you've just taught.
11 on 11's
Some nice blocking by the OL for a Singletary slither. After a false start we see some good blocking out front by Dion Dawkins and 68. They're definitely working on the run game today. Tremaine Edwins diagnosis and fills the gap behind EdO and some beefier defensive tackles.
When the twos are out there, Prince Emili flings a guard aside like a ragdoll. Jordan Phillips figuratively and literally stands out in there, as VanRoten of the threes attempts to block him. Even the DLine of the threes looks like it will be very stingy vs runs up the middle.
Meanwhile Micah Hyde and Spencer Brown are really working the Pelotons, almost like it was a competition. It likely was.
DaQuan Jones and Tremaine Edmunds put a stop to run up the middle by the twos. Jones and Phillips in the middle will be a run defense Mount Rushmore…But how do you take EdO off the field?
Injuries to Speedy and Poyer tainted the otherwise-underwhelming practice. I left a bit early so I missed it. Up to that point, the best news was the return of several players, and now we have new butts to fit on the Pelotons.
BuffaloFAMBase Big Board BuffaloFAMBase Depth Chart BuffaloFAMBase Current Roster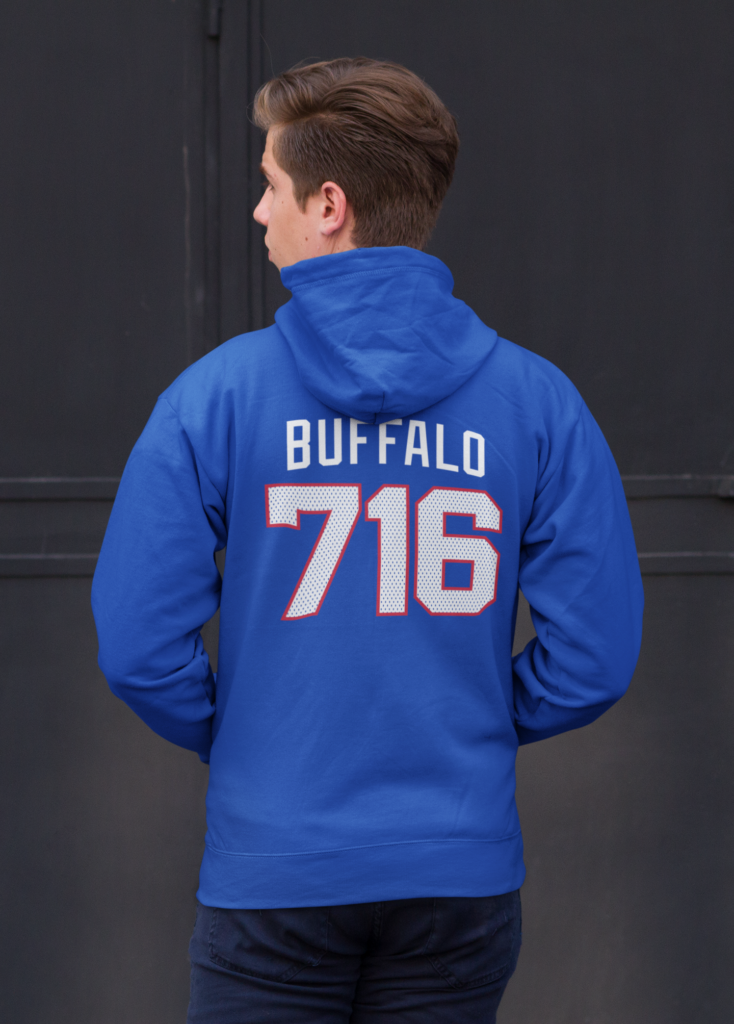 BuffaloFAMbase.com is sponsored by 26 Shirts
Every Monday, we launch a new two-week campaign of a limited edition t-shirt design. Every shirt purchase results in a donation to a local family in need. After the campaign ends, the shirt is retired. A new design is released, and a new family benefits from your fandom!