The Buffalo Bills 2021 season was defined in 13 seconds, a number that will continue to haunt real Bills fans until they get over that Kansas City Chiefs Mountain.  The Bills finished the 2021 season with a 11-6 record, two less wins than the year prior, and an exit one round earlier in the Divisional round of the NFL playoffs.  Some will say the Bills took a step back this year, others will say they were more competitive versus the Chiefs and were 13 seconds away from hosting an AFC Championship game.  The Bills won their first home playoff game in front of a full crowd in over 20 years versus the New England Patriots, a team that has haunted them over the past couple decades.
With the Pandemic restrictions slowly lifted throughout the year, the Bills and the NFL were as close to normal as we could get. The Bills, at times throughout the 2021 season appeared to be coasting, taking their foot off the gas, and resting players in a heavy rotation to be fresh and playing their best ball come the playoffs.  The plan almost worked but losses to the Jacksonville Jaguars and the New England, in a game which the Patriots threw the ball three total times ultimately cost the Bills from having a higher playoff seed and securing an extra home playoff game or two. 
The Bills and the fans were robbed of a home AFC Championship playoff game due to coaching blunders by Sean McDermott and defensive coordinator, Leslie Frazier.  The Bills lost to the Kansas City Chiefs in the Divisional Round in heart breaking fashion 42-36 in overtime where Josh Allen and the Bills lost the coin toss, and the offense never saw the field, a rule that was later changed to give both teams an opportunity at 2022 spring owner's meetings. In order to get back to that point and beyond, Coach McDermott needs to rally his troops and get everyone back on the same page buying in and going out there and not taking any weeks off. It's important to navigate the regular season and be playing in Orchard Park as much as possible come January.
With Josh Allen locked up long term, the Bills are in a different position than in years past and have to navigate the salary cap which didn't go up as high as anticipated because COVID.  General Manager Brandon Beane will have to get very creative this off-season as the Bills have 18 free agents scheduled to leave, most notably; Jerry Hughes, Mario Addison, Emmanuel Sanders, Levi Wallace, Ryan Bates, Isaiah McKenzie and Harrison Phillips. 
The salary cap sits at $208.2 million and the Bills enter the off season OVER the cap by $6.5 million.  There are a variety of ways Beane and company can navigate the cap, many of which will be tough conversations regarding pay cuts or restructured contracts moving money down the line.  Beane was a wizard last off-season coming up with creative ways to restructure contracts and bonuses, which created cap room to keep many of their own free agents and sign a few other free agents around the league to deals that won't prohibit them in the future or put them in cap harm going forward.  Many players bet on themselves signing small, one-year deals to stay with the Bills, build off last year and possibly cash in next free agency, in Buffalo or elsewhere.
As teams start to win and have success in the league, it's harder to keep your roster together.  It is inevitable players will come and go but it's important to identify your core and keep them together as long as possible, and that's exactly what Beane has started to do. It's a good problem to have, and for the Bills and their fans, "In Beane we trust." The Bills have their franchise quarterback in Josh Allen, something that hasn't been able to be said here since Jim Kelly.  When you have a stud quarterback, you become a destination regardless of cap-space and location.  Players are going to want to play with Josh Allen and want to come play for a winning team, something the Bills aren't used to being. Hopefully this offseason, we'll see a couple NFL free agents take less money to go chase a ring.
With the AFC conference loaded with quarterbacks and good teams now, the Bills can't get complacent. Patrick Mahomes, Joe Burrow, Justin Herbert, Russell Wilson, Lamar Jackson and DeShaun Watson all sit in the AFC and it's no guarantee that you'll make the playoffs let alone, go far every year. It starts with your division and as long as Bill Belichick is in New England, they won't be a push over. The Bills need to improve the roster and will have free agency and the draft to do so.
The Bills opened up March with signing depth 23-year-old linebacker Tyrel Dodson to an extension.  The Bills like Dodson and by keeping him it allowed the Bills to cut serviceable third linebacker A.J. Klein who filled in for Matt Milano and Tremaine Edmunds injuries nicely last year.  Klein is more of a two-down linebacker and on the slower side.  Cutting Klein allows the Bills to save $5.1 million on the cap putting them still over at $1.4 million.  Klein isn't fast and the Bills got 'ate up' when they played 4-3 or nickel last season on fast wide receiver crosses.  Slot corner Taron Johnson needs to be on the field as much as possible and if you're going to play linebackers in this day and age of the NFL, they need to be three-down linebackers who can cover and Klein simply wasn't going to be that guy.  It was a no brainer move releasing Klein.
The compensatory selection process might come into play next year as the Bills will likely lose more players and money in free agency than money spent coming in. The compensatory process awards extra draft picks based on players lost and gained in free agency from year-to-year. Backup quarterback Mitchell Trubisky is set to cash in on a $10 million plus contract to go compete for a starting job in Pittsburgh, after sitting behind Allen for a year. If the Bills lose any other free agents, that number will only go up and the NFL has a formula where you subtract players and money lost versus the number of players and contracts you bring in and award extra draft selections based on that. However, this theory went out the window as soon as the Bills signed Von Miller to a lucrative deal.
With the amount of Bills free agents this March, there are only a few I'd realistically want back.  Guard Ryan Bates is a restricted free agent and tops my list.  Bates came in down the stretch and really helped the offensive line.  Devin Singletary was able to run more effectively and the line really seemed to gel with him in over Jon Feliciano and Cody Ford who are potential cut candidates.  Cornerback Levi Wallace took a pay-cut last year to remain in Buffalo, while I didn't see him doing so this year, he played really well at the cornerback position and did the best he could when Tre'Davious White went out for the year. Wallace ending up taking a cheap deal with Pittsburgh, creating an off-season hole at cornerback.  With White's torn ACL and recovery, it's imperative the Bills find a number two corner and even someone in the draft. 
The Bills lack speed, with Isaiah McKenzie one of the few speedsters the Bills have on their roster at this time.  The Bills are losing receiver Emmanuel Sanders to free agency and need to keep as many receivers as possible.  McKenzie didn't cost too much and allows the Bills to stay creative offensively. Depth safety Siran Neal was a player I wanted to keep, and the Bills extended him in February with their first move of the off season.
As the offseason progressed, the Bills cut guard Jon Feliciano freeing up an additional $3.46M and were under the salary cap (as of March 10th). The Bills signed receiver Jake Kumerow to a low-cost deal to provide back-end receiver depth but more so for his special team's skillset.  Receiver Isaiah McKenzie was brought back on a two-year deal, which is huge considering Cole Beasley and his agent were shopping for a trade. McKenzie will earn $4.4M over the two seasons.  The Bills keep their versatile speedy wide out and weapon for Josh Allen. 
Offensive guard Daryl Williams was cut freeing up more cap room.  Williams signed a large, three-year deal last off-season worth up to $24 million to play right tackle.  With Spencer Brown coming in and doing well, Williams became an overpriced guard. The move saves $6.3M in cap space.  Center Mitch Morse signed a two-year contract extension which should give him a nice pay raise but lower the cap hit with some structured bonuses. With the loss of Feliciano and Williams, the Bills added guard Rodger Saffold who was cut by the Titans.  The move does not count against the compensatory formula after Saffold was recently cut, and not a free agent.  The Bills matched exclusive rights free agent Ryan Bates to keep their depth on the offensive line and upgrade with this pair.  The Bills continue to comb through free agency making less than sexy moves, but moves that will help the roster in niche key areas.  The Bills restructured Matt Milano's contract saving $4M and allowed them to sign a couple depth defensive tackles who will likely platoon with each other.  Defensive Tackle, Tim Settle from Washington and DaQuan Jones from Carolina will come in and play defensive tackle.  Star Lotulelei was cut and the move didn't save a ton of money, but was more of a numbers game at defensive tackle.
The second day of free agency, the Bills were able to sign JJ McKissic from Washington.  McKissic is a dynamic pass catching running back that the Bills severely lack. In unprecedented fashion, McKissic decided to go back and play for Washington, a move Brandon Beane more or less said was dirty tactics by Washington for poaching him back.  The Bills ended up signing pass catching back Duke Johnson, a clear downgrade from McKissic, but perhaps an upgrade from the Matt Breida experiment.  The Bills tried to use Matt Brieda last year as their scat back, but Breida couldn't play special teams and stay on the field.  With the late season emergence of Devin Singletary, the Bills will have a nice one-two punch in the backfield.  Johnson can line up in the slot and can also pass protect very well.  New offensive coordinator Ken Dorsey will enjoy this new Swiss army knife, to get creative and pair with McKenzie. Zack Moss is a training camp cut candidate if Johnson makes the team as it will be hard to get Johnson on the field otherwise with the Bills bringing back Taiwan Jones, a very good special teams player.
The biggest splash in free agency came when Brandon Beane was able to land future hall of famer pass rusher Von Miller from the Super Bowl champion Los Angeles Rams.  Miller signed a large 6-year $120 million dollar deal and most people freaked out because of his age (32) and dollar amount.  Patience was needed until we saw how the contract was broken down and it's essentially a 3-year deal for $53 million where Beane can get out of the back end of the deal, if need be, much like his deal was with the Rams. With 115.5 career sacks, Miller fills a huge need being able to bring down the quarterback.  The Bills often are able to get pressure and force the ball out, but when it comes down to it, Mahomes was able to escape and make plays versus Buffalo while the Bengals were able to bring Mahomes to the ground with last year's free agent add Trey Hendricks.  Miller will be a great addition and mentor to Gregory Rousseau. Paired with Boogie Basham and A.J. Epenesa the Bills youth will be learning and watching an all-time great go to work. 
Beane and company didn't stop there, Beane brought back Shaq Lawson and Jordan Phillips on the defensive line.  It shows a lot about the culture that the Bills brought back players that had success in Buffalo, left, got paid, and decided to come back when it didn't work out elsewhere.  Phillips and Lawson will provide spark off the bench and provide great team morale, which was lost when Harrison Phillips left, and with Jerry Hughes likely to sign elsewhere.  
Wide receiver Jamison Crowder was signed from the Jets on a very cheap incentive based one-year contract. Crowder is arguably an upgrade from Cole Beasley who was cut to save $6.1M a few days prior.  Crowder can play inside and out and provides the Bills versatility.  Crowder's biggest issue has been health.  If Crowder can stay healthy, he gives the Bills a nice weapon for the offense and stop gap until the Bills get younger at the position. The deal Crowder signed ended up being a one-year $2 million deal with only a base salary of $1,120,000.  Beane has been able to manipulate the cap signing players to low-cost incentive-based contracts or using guaranteed money to lower the cap hits for this year.
Another underrated signing that went largely un-noticed happening on the same day as the Von Miller splash was signing tight end OJ Howard from the Tampa Bay Buccaneers to a one year, $3.5 million deal.  A former first round draft pick, Howard didn't see much playing time with Rob Gronkowski and Cameron Brate occupying most of the snaps.  With Dawson Knox breaking out last season for nine touchdowns on only 49 catches there likely will be some regression on the touchdown totals.  Knox isn't the best blocker while Howard is a very good blocker.  Howard has a ton of upside and a scenery change could come in handy. When the Bills go in two tight-end sets, the Bills will have more versatility and another pass catching option.
While the entire AFC seemed to get better this off-season, the Bills did a good job in the first wave of free agency replacing many departed free agents and upgrading at a few positions. There's still glaring holes on the roster that can be patched later in free agency or in the draft, but currently the Bills are tight on the cap. The Bills could really benefit using younger receivers at the position, with Diggs and Crowder approaching 30. Diggs signed a 4-year, $96 million extension, similar to what Davante Adams and Tyreek Hill got this off-season, which ties him to Buffalo for six years. Diggs likely won't see all six years but the Bills will need to address the receiving depth this year or next to provide some insurance behind their number one receiver.  The Bills also need to add speed in the defensive backfield with the Miami Dolphins adding Tyreek Hill, Raheem Mostert, and Chase Edmonds to pair with Jaylen Waddle.  Additionally, the offensive line could be improved with some youth and provide depth.
Former Bills quarterback Matt Barkley also returned to Buffalo. Barkley is a smart veteran who knows the system, and likely will be here for the summer to get Case Keenum up to speed whom the Bills traded for the moment DeShaun Watson signed with Cleveland. The Bills sent a 2022, seventh round selection for Keenum, one of the better backups in the league.
The Bills were able to upgrade this off-season. They acquired solid depth, and backup players that have started or played significant snaps elsewhere. Buffalo isn't used to being a free agent destination but winning changes everything.  With Josh Allen's playing style and not afraid to take a hit or scramble, getting a backup quarterback was key.  If Allen were to go down for a handful of weeks, Matt Barkley (BDB) isn't going to get it done, so Case Keenum provides a better option.  Barkley is beloved in the locker-room and most of the community (except where he lives) but needed to be replaced.
The compensatory selection process likely won't come into play next year as the Bills added more money onto the roster in free agency than players lost. The compensatory process awards extra draft picks based on players lost and gained in free agency from year-to-year.
The 87th annual NFL draft scheduled for April 28th- April 30th this year in Las Vegas, Nevada with locations including Allegiant Stadium, home of the Raiders.  The draft should be business as usual with no restrictions this year due to Covid.
The Bills will enter the draft with seven draft selections.
Round 1: Pick 25
Round 2: Pick 57
Round 3: Pick 89
Round 4: Pick 130
Round 5: Pick 168
Round 6: Pick 185 (From Carolina)
Round 6: Pick 203
Round 7: Pick 231 (From Atlanta)
The following table represents a trade value chart. The Bills head into the draft picking late in the first round and having an extra sixth round pick. The Bills will be limited in what they can do but they'll be flexible. I can see the Bills trading up as the roster is pretty much set and difficult to make the roster or even trading down to add some younger contracts to the books. I hate to play both sides here, but either is an option I could see.
Example – Should the Bills want to trade up for someone they like who is falling down the draft board; Pick 25(720) and Pick 89 (145) would net you 845 points which should be good enough to trade up to 20th overall with Pittsburgh.  Sending your 1st and 3rd round pick to move up five spots would have to take a special player for Beane to consider it, but as we know he loves making his deals.
Table below:
For purposes of this mock, I'll try to draft based on whom I think the Bills staff will select, mixed with need, and who I may want. The Bills are allotted thirty pre-draft visits and without COVID restrictions, the Bills and every NFL team can get back to having private workouts, and face to face visits. Every year three or four players will come from this list. Below is a list of draft prospects who have had some sort of contact this spring that have been confirmed.
On to the Mock!
The Bills are set to pick 25th overall. Though I don't anticipate them trading up unless someone they love falls, I also don't anticipate them trading back unless it nets them a selection this year and next year, instead to push back the contracts by a year.  Last season these college kids did a great job adjusting to the NFL with limited practice reps, meetings, and organized team activities because of the COVID-19 pandemic. This year the players will be able to be on the field a bit more as restrictions are gone.  The Bills are in prime position to go best player available at any position and find pieces that can help the team chase a championship.  Picking 25th does have its advantages.  Teams picking in the early second generally like to trade up to the late first to acquire a player that has a 5th year option.  All first-round picks have a 5th year option, whereas rounds 2-7 are four-year contracts.
1st Round – (25th Overall)
Roger McCreary – Cornerback–Auburn– 5'11 190 lbs.
The Buffalo Bills select Roger McCreary with the 25th selection of the first round in the 2022 NFL draft. 
The selfish part of me wants the Bills to load up on a receivers with speed and just keep giving stud quarterback Josh Allen weapons.  The college game is filled with receivers, and Beane will have to remain diligent in adding speed throughout this draft.  With Tre'Davious White coming off a torn ACL and likely to be eased back into spring and summer programs, the Bills will need to add a corner at some point.  Since drafting White in 2017, the Bills have been able to piece together the second cornerback position with a handful of older veterans on cheap deals, such as Kevin Johnson, Vontae Davis, Josh Norman, E.J. Gaines with varying results.  The Bills are keeping their options open, as there are still some serviceable corners on the market for the Bills to add.  The Bills committed to White with a long-term deal, and it would be wise for the Bills to add a rookie in the first round with the very important fifth year option as the cornerback position is the second highest paid position after quarterback. Outside of White, the Bills depth at corner is thin, after losing Levi Wallace to free agency.  The Bills depth at the position is Dane Jackson, who did some good things last year and Taron Johnson who primarily plays in the slot for the Bills. 
Drafting McCreary would help the Bills groom a young first round cornerback while they perhaps platoon him with an older veteran, or another prospect they can find later in the draft. One thing that stood out to me is that the Bills typically love drafting players with some kind of connection. At the cornerback position the Bills value games started and experience, McCreary played in 39 games for Auburn, and while it's not the highest in the class, the number is certainly respectable, something Beane and company covet. Current Auburn defensive coordinator Derek Mason, was on Bills defensive coordinator Leslie Frazier's staff when Frazier was the Minnesota Vikings head coach, both employ the same 4-2-5 scheme (four down lineman, two linebackers, and five in the secondary.)
McCreary finished his career in Auburn playing in 39 games, racking up 30 passes defensed, six interceptions, and 10 tackles for loss.  He is a press-man cornerback who isn't always the best at getting physical with receivers.  McCreary is aggressive by nature and has enough strength to change route timing. McCreary would provide great competition with Dane Jackson and has the flexibility to play outside or inside, something that coach Sean McDermott covets.  The Bills run a lot of zone coverage and ask their cornerbacks to tackle, something McCreary doesn't shy away from.  "I love the weight room. I love benching. So, I'm coming with a lot of energy and I can bring the pressure." McCreary said.  As a senior at Auburn, McCreary notched five interceptions, nine tackles for loss, 20 passes defended his past two years.  Playing in the toughest conference in the nation, the SEC, McCreary posted an 89.9 Pro Football Focus grade which is tops in the class for 2021.  McCreary might slip into the second round because he doesn't possess high upside, but the same could have been said about White when he was drafted 27th overall.  Only one of the top 30 cornerbacks in last year's draft was able to bench press 225, 20 times, and McCreary ended up with 19 reps.  McCreary made first-team All-America and first-team Southeastern Conference after his senior season, ranking sixth nationally in passes defensed with 16.  "He plays with an edge, he plays with a chip on his shoulder," said Jim Nagy, director of the Senior Bowl. "A great profile of that was the Iron Bowl game against Alabama. He competed his tail off, got his hands on a bunch of balls. He's feisty. He's a good reactionary athlete so he can match routes."  The Bills like their corners to have long arms, White's are 32 ¼ which is long for being 5'11, McCreary's are 30 ½ inches, which is average in length around Taron Johnson's size.  When Auburn had their pro-day, McCreary was able to run a 4.46, 40-yard dash.  McCreary has covered players like Davonta Smith, Jaylen Waddle, Jamar Chase throughout his career at Auburn. "I was happy that my defensive coordinator was Kevin Steele, he threw me in the fire early my freshman year.  I feel that helped me. I got to see how the game goes in college. As I got more experience, I knew what play was going to happen." McCreary said.
Other Possibilities (Round 1)
*List includes a list of second round targets the Bills could go after depending on spot Bills end up selecting.
Andrew Booth Jr. – Cornerback – Clemson– 6'0 194 lbs.
The Bills cornerback depth outside of Tre'Davious White has been a patchwork job throughout the McDermott tenure. Should the Bills opt for a corner with more upside, they might be looking at Andrew Booth Jr from Clemson.  There's no question that cornerback will be one of the top priorities for the Bills in the 2022 NFL Draft. Booth has already been to Buffalo on a Top 30 visit ahead of the draft.  As a starter for the past two seasons, Booth Jr. looks like a good fit for the Bills defense.  One of the better run tackling corners in the draft, Booth Jr. can help support the run on the outside, and McDermott loves his zone corners to be able to contribute. The Bills may have to trade up a few spots, should they want to land Booth Jr.  Booth is a rangy, long-armed athlete who is able to use his hands and length well in press coverage, while attacking the ball.   Booth Jr., doesn't panic when the ball is in the air, and has the skillset to be able to track the ball and attack with precision timing and get his hands through the receiver.
In 2021, Booth Jr played in 11 games, and had 37 tackles, one interception and five pass breakups.  With above average speed, he's able to cover downfield once his long strides get going. While Booth offers more long-term potential, I believe he offers more bust opportunity than Roger McCreary. Booth Jr. has the pedigree to be a big-time player in this class, as he was a five-star Rivals.com recruit in 2019 ranking 14th nationally coming out of high school.  Due to a quad injury, Booth Jr. was unable to work out at the NFL combine or Clemson's pro-day. McDermott and staff would prefer Booth's long arms and height versus McCreary but there are some questions about how well Booth can play in zone, something the Bills run often.  There are mixed reviews deciding if Booth Jr. can play zone, some say he's a fit in all schemes, others question his tackling ability because when he does make tackles, they tend to be shoe-string type tackles.  In Booth's career at Clemson, he finished with 68 total tackles, one sack, nine passes defended and five interceptions in 22 games played, which is on the lower side of experience Beane and company generally like.
Jaylen Pitre – Defensive Back – Baylor – 6'0 198 lbs.
A sneaky draft pick for the Bills at 25, could be Jaylen Pitre from Baylor.  Pitre is a Swiss-army knife defender who can line up all over and provide McDermott and Frazier a lot of versatility and depth.  With Jordan Poyer set to become a free agent and switching agents, it's likely to start thinking that the Bills won't be able to keep and pay everyone.  Poyer's now represented by Drew Rosenhaus and is likely looking to get one more big contract. Poyer's wife is also hinting at trying to stay home in Florida for political and tax reasons, being a more desirable state than New York in that regard.  After Poyer and Hyde, the Bills have unproven players like Damar Hamlin, Josh Thomas and Jaquan Johnson, who played okay with limited action, because Poyer and Hyde don't leave the field much. With NFL offenses constantly evolving, Pitre is match made for coach McDermott.  Pitre's was Baylor's "Star" position meaning he was the quarterback of the defense and lined up all over the place to confuse offenses.  Pitre literally lines up everywhere in the box, on many occasions you can see him rushing off the edge or shedding blockers and helping make critical stops against the run.  Pitre is a bit undersized to play the hybrid role in the NFL but should be able to add some weight to his frame.  With the NFL shifting to spread offenses and speed, you'd rather have a guy like Pitre on the field as a third safety rather than a slower linebacker like Tremaine Edmunds or A.J. Klein, chasing slot speed receivers on crossing routes. Pitre doesn't let his size dictate his play, he's willing to take on larger blockers and maintain gap control, he can brush past chipping tight ends and help make plays in the backfield. Pitre is an elite hustle player with exceptional character something McDermott would love. Pitre appeared in 52 games for the Baylor Bears, starting 30 of them, with 140 tackles, four interceptions and eight sacks. Pitre's senior season was amazing, 66 tackles, 3.5 sacks, 18.5 tackles for loss, two interceptions, seven passes defended and three forced fumbles, all over the field.  Pitre is able to keep track of the players in his zone, while reading the quarterbacks eyes and remaining in position, but not losing any aggressiveness. The Bills could use more hybrid type players as they will match up with teams that like to throw the ball around.  Pitre would be a sneaky way to get to the quarterback or drop back in coverage versus the likes of the Chiefs, Chargers, Bengals, whom all have weapons.
Jameson Williams – Wide Receiver – Alabama – 6'1 179 lbs.
If the Bills are looking for speed this draft, look no further than Jameson Williams. While corner is a more pressing immediate need, adding some more toys to the offense and keeping up the fire power to compete in the playoffs will be huge.  Williams had a very productive 2021 season, racking up 79 catches for 1,572 yards and 15 touchdowns.  Williams was projected to be a top 10 selection until he tore his ACL in the National Championship game against Georgia.  "I mean, I think we're going to take the best player, we really are. His case is a little – got an asterisk by it, because he's not healthy." Bills GM Brandon Beane said. The doctors are definitely going to have to weigh in on where he's at in the rehab process. What does that look like? Because he tore his ACL in January, whatever that is, it's two months later than Tre'Davious tore his. So, does that mean are you drafting him and he's starting the year on the PUP, or does that mean he has a full redshirt year? Did everything work out perfectly in the surgery? Is he on time for October 1st? Those are the things that we'll have to get answers to, but if you took his injury out, and he was the best player on the board, no doubt." Beane said. 
Williams is a burner with a projected 4.39 speed, something the Bills could really use. "I just know nobody can run with me." Williams said when asked about his forty-time.  ESPN NFL Draft analyst Matt Miller said the Bills should run up the card if Williams slides to 25. "It's feasible that he's there and if so, Brandon Beane should turn the card in faster than when they picked Josh Allen." Miller said. "He's a perfect fit for this Bills offense."  With the Williams injury, it could allow Crowder and McKenzie to work the slot and allow Williams to ease into the lineup and by the end of the year, when the Bills really need to make some splash plays, they can unleash Williams and hope he can make some plays down the stretch.  This might be a very good opportunity for the Bills to get an impact player at 25 that they normally wouldn't have a chance at.  "I would love to play with Josh Allen." Jameson said he's had a meeting with the Bills and hopes to stay in touch.  The Bills ranked last in the NFL in yards after catch and with Williams speed, he'd likely change that, averaging 19.9 yards per catch. Williams is said to be ahead of schedule and posting work out videos.  The Bills may have to trade up a few spots should they want him or look elsewhere in round one so they can potentially fill the speed need.
Nakobe Dean – Linebacker – Georgia – 6'0 225lbs.
Tremaine Edmunds is on his fifth and final year of his rookie deal.  The Bills may not have the money to extend him, as they've shelled out the bag for quite a few in house players over the past two years.  The Bills need to get faster on both sides of the ball as we saw in the playoffs when Tyreek Hill (then with the Kansas City Chiefs) was able to run, crosser after crosser and just outrun the Bills linebackers and safeties with ease.  Hill was since traded to Miami and will be on the Bills schedule two times a year along with fellow speedster Jaylen Waddle.  The 2021 Dick Butkus Award winner for the nation's best linebacker, racked up 72 tackles, 10.5 for a loss, six sacks, 31 quarterback hurries, six pass breakups and two interceptions.  At just 6'0, 225 lbs, Dean is very undersized, but would play a hybrid type role in the NFL, and would be able to play all three downs. "Against the pass, he has the athleticism to match up with RBs and TEs underneath.  He has good feel and burst-to-close as a zone dropper. He is an outstanding blitzer, utilizing timing and the ability to slip blockers for sacks/pressures. The Georgia staff raves about his leadership. Dean reminds me a lot of Jonathan Vilma coming out of Miami."– Daniel Jeremiah, a former NFL scout and current NFL analyst.  Dean is sideline to sideline linebacker with a high football IQ, and great leadership skills. An injury to his pectoral muscle limited him from working out much at the combine, but will be ready for spring and summer.  With Dean being undersized, he may fall to round two, but in the right fit he could be gone by the 20-30 range as the draft gets closer and he's able to do a bit more testing to show that the tape matches the in person drills. Regarding his size, Dean has answered every critic. "For me, it is no concern at all. I feel like everybody is going to blow it out of proportion. It is what it is. I have been hearing it my whole life ever since ever since I started getting recruited in high school. I am going to take it in stride. It does nothing but make the chip on my shoulder that I play with bigger and bigger." Dean said.  
Kyler Gordon – Cornerback – Washington – 6'0 – 200 lbs.
The Bills will have their options with corner at pick 25, unless they decide to trade down.  A corner I like more than Anthony Booth Jr. is Kyler Gordon out of Washington.  Gordon has the length the Bills generally like at corner with 31" arms and has the versatility to play outside or in the slot if need be.  Buffalo runs a ton of zone coverage techniques and Gordon is effective in zone coverage and makes plays on the football.  With Levi Wallace gone, the Bills will need to address the position and add some much needed depth.  In 2021, Gordon had 45 tackles, two for loss, seven passes defended, a forced fumble and two interceptions. Gordon isn't afraid to help set an edge versus the run and wrap up and tackle, something that McDermott asks all his corners to partake in. During the 2021 season Gordon played 354 snaps, and allowed 0 touchdowns on the season.  Gordon's able to process the developments in front of him and diagnose a player quicker than most.  Gordon is a former dancer with a kung fu background, his hips are fluid and he's able to make up ground with sound technique.  Fellow first round hopeful Trent McDuffie funneled coverage over to Gordon who made plays when called upon.
On the radar: (CB) Trent McDuffie, (LB) Quay Walker, (WR) Jahen Dotson, (OT) Trevor Penning, (S) Jaquan Brisker, (C) Tyler Linderbaum, (G) Kenyon Green, (G) Zion Johnson, (WR) Treylon Burks, (S) Lewis Cine.
2nd Round – (57th Overall)
Dylan Parham – Center/Guard – Memphis 6'2 311 lbs.
With their 2nd round selection, pick 57th overall, the Bills select guard Dylan Parham from Memphis.  You may be thinking the offensive line is set for 2022 and you aren't wrong. However, there's not much behind them signed for the long term.  Buffalo enters the 2022 season with Dion Dawkins and Mitch Morse signed until 2024.  Second year standout Spencer Brown is slotted to play right tackle and free agent signee Rodger Saffold will play left guard on a one-year-deal. The Bills were able to bring back Ryan Bates on a four-year deal who likely will play right guard.  Outside of that the Bills have Ike Boettger on a one year deal, and Cody Ford, who could possibly be cut this off-season as depth guards.  With Mitch Morse's injury history, the Bills could use a center to groom.  Parham projects as a long term option at center, who will likely come in and play a depth guard role.  Morse will be 30 this season and the Bills would be wise to start grooming his replacement.  The Bills could also use a swing tackle, so drafting a tackle here wouldn't be out of the question.  The Bills recently brought back Bobby Hart to compete with last year's draft pick Tommy Doyle for the Bills third tackle emergency role.  With Saffold 34 years old and Ford on the last year of his deal and not impressing thus far, adding depth here is important.  With new offensive line coach Aaron Kromer back with the Bills, he'd be able to mold his draft picks into his scheme and fit.  Kromer relies on mobile offensive linemen and being able to get out in space, where the former Bobby Johnson relied on big-people-movers.  Parham would fit Kromer's system perfectly and is a sound technician and able to learn and move around the offensive line.
Dylan Parham is a converted tight end who is a bit small at 6-3, 311 pounds but is able to use his athleticism to get onto defenders quickly. As a redshirt freshman in 2018, Parham started all 14 games at left guard, In 2019 Parham continued to have success at guard before moving to right tackle in 2020. Ultimately moving back to guard for the 2021 season shows Parham's versatility and didn't allow a sack all year and only allowed two quarterback hurries. Running a 4.93 40 yard dash at the combine, shows how quick he is for 311 lbs. As a run blocker Parham won't overpower anyone with his muscle, but he has enough strength to drive defenders and use angles to create creases in zone run blocking schemes. Parham had a great week in front of scouts at the Senior Bowl and raised his draft stock. The Bills used one of their 30 Pre-Draft visits on having Parham come tour the facility. Parham was a four-year starter inside the Memphis spread, RPO- heavy scheme, something the Bills do from time to time with Josh Allen.
Other Possibilities: (Round 2)
Trey McBride – Tight End– Colorado State – 6'3 249lbs.
The Bills seem to be doing their due diligence at tight end this draft season. With Dawson Knox coming off a nine-touchdown season and on the last year of his rookie deal, the Bills may not be able to afford him and may be looking to bring in a tight end. Another option is that new offensive coordinator Ken Dorsey may want to incorporate more two-tight-end sets and with newly signed free agent O.J. Howard only on a one-year deal, the Bills may look to add another pass catching option to the fold with only Tommy Sweeney as depth. The Bills held a private workout with McBride at Colorado State this spring. The Bills also met with McBride at the combine and Senior Bowl. Drafting McBride would be a luxury type pick or if the Bills traded down from their round one selection, netting an additional second round selection. McBride is one of the top tight ends in the year's draft class after hauling in an impressive 90 catches for 1,121 yards. McBride only had one touchdown last season, but was able to help consistently move the chains, something the Bills will miss with Cole Beasley gone. The Bills only kept two tight ends on the roster, so it seems the Bills might just be kicking the tires and if he's falling down the board, they might be forced to stick to their word and draft the best player available and figure out the depth chart over the summer. Bringing in McBride for so many visits, might just be a tactic to get Knox's agent to potentially lower his demand and possibly sign for cheaper than anticipated to play with Josh Allen. The 2021 All-American John Mackey award winner is a solid athlete and great route runner but won't burn anyone with his speed. McBride would be able to contribute right away in the NFL, while not the best blocker it's certainly something he's capable of doing. McBride's a natural catcher of the football and has strong hands to pluck the ball out of traffic.
John Metchie III – Wide Receiver – Alabama – 5'9 182 lbs.
Should the Bills pass on receiver in the first round, they might be in position to draft John Metchie III out of Alabama. Buffalo brought in Metchie III for a visit in early April.  Metchie is on the smaller side at 5-foot-9 and 182 pounds, but grabbed a team leading 96 receptions for 1,142 yards for Alabama last year during his junior campaign.  Unfortunately, like Jameson Williams in the National Championship game, Metchie III tore his ACL in the SEC conference championship game. At the combine Metchie III told reporters he expects to be cleared by June and to participate in training camp.  Even if that projection is inaccurate, Metchie III should be ready to contribute this season should his medical check out with the Bills staff.  Alabama coach Nick Saban has said Metchie is "the epitome of what you look for in a wide receiver."  Metchie has played both outside and in the slot.  In 2020 Metchie caught passes from current New England Patriots quarterback Mac Jones.  As a projected hybrid receiver at the next level, Metchie would be able to contribute this year before taking over for Jamison Crowder next season.  Prior to the ACL injury, many thought Metchie III would be a first round selection, currently he's being talked about as a mid-to-late second round selection where the Bills could have a great talent fall in their laps.  The Bills could be using their pre-draft visit on Metchie III just to find out a bit more medical information to see if they are ok with the selection.  "He's got some dog in him.  I mean, he's a competitor.  He's a hard worker, but he's well-grounded. A lot of these guys are so emotional about everything that they get things out of perspective pretty easy and he's not that way." Saban said.  Nick Saban doesn't hand out praise often, when he does you listen.  "He's smart, he's bright, he can learn.  Guy's been productive here, he's a good player. He's a hard worker. He's never an issue. He's never a problem. You'll like him in your organization. You'll like him on your team. He's a really good, good, good, guy." Saban said, which is likely music to McDermott and Beane's ears.
Had Metchie III ran at the combine he thinks he would have run a 4.4 40-yard dash. "I think getting open is the key of being a receiver. Getting open, creating space and versatility. I think you can put me anywhere on the field and I can get open." Metchie will also be able to help in the run game. "I think I'm the best blocking receiver in the class, for sure. It's something we talk about in the room a lot, it's our pride in not only playing with the ball but also playing just as well without the ball and having a big impact without the ball, as well." Metchie said.
Nicholas Petit-Frere – Offensive Tackle – Ohio State – 6'5 315 lbs.
If the Bills are looking draft best player available in the second round, it could be Petit-Frere whom the Bills have had contact with this spring with an official visit.  With Dion Dawkins and Spencer Brown set on the outside, this could be a luxury type pick and the Bills don't have a swing tackle on the roster.  At 6-foot-5, 316 pounds, 33 5/8" arms and 10 ¾" hands there's no doubt that Petit-Frere will be a tackle at the next level on either side.  Petit-Frere is very athletic for a big guy and he excels in the run game. Petit-Frere is very effective on the motion /bubble and jet sweeps, something the Bills use from time-to-time.  Petit-Frere is athletic enough to make outside zone blocks, which new offensive line coach Aaron Kromer typically runs.  Pass protection is still not fully defined but at the next level with proper coaching and his athleticism, it shouldn't be a problem at all.  During his collegiate career, Petit-Frere allowed just 36 pressures and only three sacks.  Some scouts do think he has guard potential and while he never played it in college, this could have Petit-Frere fall to the third round, perhaps why Beane is doing his due diligence.  A zone-heavy scheme with lots of play-action in the passing attack would benefit him must and playing inside he'd be able to handle a scheme like that.
Tyler Smith – Offensive Guard/Tackle- Tulsa – 6'5 324 lbs.
While on paper, many might think the offensive line is set, but I really think the Bills need to come out of the first-four rounds with an offensive lineman to add to their depth as many on the depth chart only are signed to a one-year-deal. Tyler Smith from Tulsa is an intriguing boom-bust type prospect with an insane amount of upside. Smith is a nasty blocker who attacks opponents and has the strength to drive his blockers off the ball and finish plays strong. Smith played tackle in college, but projects best to guard at the next level. Smith measured 6'5, 324 lbs. at the combine with a 5.02 forty-yard dash. According to Pro Football Focus, Smith was one of the highest-graded run blockers. In pass protection, Smith only allowed two sacks and just nice pressures as a left tackle. Smith was called for 16 penalties which may show that he's better suited to play guard at the next level. "He's a tenacious football player who seemingly looks for pancake blocks on every snap. He is aggressive and fully earns labels like "mauler" and "road grader" From day one, he will make an NFL offense tougher and more physical. As a run blocker, Smith is explosive into contact and has the power to overwhelm opponents. As a pass blocker, Smith is aggressive and is a wall once he sets the clamps." One AFC scout said. Tyler Smith could be the Cody Ford, do-over. Beane was very excited to have Cody Ford fall in their lap and it just hasn't worked out so far. Smith could be that mauler with athleticism that the Bills are looking for.
Chad Muma – Linebacker – Wyoming – 6'3 239 lbs.
With just Matt Milano signed under contract beyond the 2022 season, the Bills need to make a decision on Tremaine Edmunds and also add depth to the position.  The Bills met with Muma at the NFL combine and are showing early interest.  With four years with the University of Wyoming, Muma was able to put up some impressive statistics which included 266 tackles, and 142 coming this past year.  Averaging over 11 tackles per game the past two seasons, Muma finds a way to always be around the ball.  Splash plays were also big for Muma with 16 tackles for loss, 4.5 sacks, and three interceptions coming the past two seasons.  Muma can come in and learn and potentially be Edmunds replacement or if the Bills keep Edmunds, can play in three linebacker packages and contribute on special teams right away.  With few glaring needs on the Bills roster, the Bills might be drafting for years down the road, getting young bodies in place and replacing their starters when the time comes. Muma ranked 10th in the nation among linebackers in coverage stops, something Edmunds has struggled with. If Muma produced like he did this past season in a power-five conference, he'd be a top-ten draft selection, so scouts and GM's will have to really study the tape and see how Muma will produce versus a higher level of competition.
On the radar: (RB) Breece Hall, (RB) Kenneth Walker (WR) George Pickens, (WR) Christian Watson (TE) Isaiah Likely, (LB) Quay Walker (CB) Jayln Armour-Davis, (WR) Skyy Moore, (G) Ed Ingram, (CB) Martin Emerson (DL) Perrion Winfrey.
3rd Round – (89th Overall)
Calvin Austin III – Wide Receiver – Memphis – 5'8 170 lbs.
With the 89th overall pick the Buffalo Bills double-up with prospects from Memphis with one of my favorite players in the draft class, Calvin Austin III.  It's no secret the Bills have to get faster, they lack speed on offense and lack playmakers who are able to take it to the house on any given play.   The third round is where I see the Bills landing their prized toy in gadget guy Calvin Austin III.  If the Bills trade down in round one and accumulate an extra second or third round pick, I could see the Bills drafting an offensive player earlier. 
After the Bills heartbreaking loss to Kansas City, Brandon Beane defined Tyreek Hill as a unicorn. "If you see a guy like Tyreek Hill out there, let me know, I'd love to have him." While comparing the two is a lofty projection, Tyreek Hill was actually traded to the division rival Miami Dolphins this off-season. Calvin Austin III may be as close as we can get to finding our Tyreek Hill 'lite" in this draft class. Calvin Austin III isn't the biggest guy on the field but he's lethal in the red zone and with his elite speed and quickness in space he really shined at the Senior Bowl and NFL Combine. Austin was a track All-American who ran a 4.32 forty-yard-dash at the NFL combine. Austin's explosiveness was on display at the combine also posting an 11-feet, 3 inch broad jump and a 39 inch vertical at just 5-foot-8. "It definitely made me feel like I can take a deep breath," Austin said about his 40 time. "The one thing they're going to talk about is the 40. All the guys I was talking to at the combine, the 40, it puts that pressure on you, so it definitely allowed me to take a little deep breath." After producing at the combine, Austin's stock continued to rise, and he's more than just straight line speed. "I'm not just either a straight line receiver or a slot guy. I'm a guy that can do both. Outside, inside, short routes, intermediate, deep routes. It just shows my versatility." A lot of GM's have given Austin praise this draft process. "They've seen the work that I put in and see my improvement. A lot of them saying keep on doing what you're doing and working hard, because that's one thing I want people to know about, me and one thing they do take notice that work and improvement I've put in." Austin said.
Players like Austin are projected all over the place in NFL drafts. Austin could go as early as the second round or slip into the third. In a deep receiver class, if Austin falls into the Bills lap at pick 89, Brandon Beane should sprint his card to the podium.
A four-year player for the Memphis Tigers, Austin broke out his Junior season with 63 receptions, 1,053 yards and 11 touchdowns in 2020. In 2021 Austin followed it up with another 74 receptions, 1,149 yards and eight touchdowns. With Cole Beasley gone, and Jamison Crowder on a one-year-deal, the Bills need to find some youth in the receiver room. Stefon Diggs is locked up long term Gabe Davis is on his rookie deal and Isaiah McKenzie is only on a two-year deal. You can never have too much speed and adding Austin would allow the Bills to get very creative all over the field, especially with the RPO's and Josh Allen's scrambling ability. A player like Austin would allow Allen to not have to run so much down by the goal line, something the Chiefs perfected with Hill. The home-run potential is something the Bills tried adding with running back Matt Breida last season but wasn't able to see the field because he couldn't play special teams. Austin is able to contribute on punt returns as well, producing two touchdowns on 29 returns.
Overall, Austin is a fun prospect and plays much larger than his size. With his speed he's able to put pressure on defenses always having to account from him and down in the red-zone is a lethal threat to score every time he touches the ball. With his smaller frame he won't gobble up snaps, but the Bills will be able to rotate him in and help stretch defenses vertically.
Other Possibilities: (Round 3)
James Cook – Running back – Georgia – 5'11 190 lbs.
Devin Singletary proved down the stretch of last year, he could be a productive 15 touch, NFL running back, whom some of us have believed in from the start.  The Bills don't have to go receiver here, they just need to add speed to the offense.  Singletary lacks speed and Zack Moss is too similar to Singletary from a skillset and could potentially be cut, should the Bills bring in another back in the draft.  Duke Johnson was added to compete in training camp to see if he could be the number two or three guy.  Taiwan Jones was also brought back and likely will lock in the third running back position based on special teams skill.  The Bills have sniffed around Isaiah Spiller this off-season (no relation to C.J.) however I think James Cook from Georgia would be a better fit in the Bills backfield.
I'm not a big proponent of drafting running backs in the first-two rounds, but in round three and beyond I think this is where Beane typically likes to draft his offensive players.  Cook is the younger brother of Pro Bowl running back Dalvin Cook, however they are different types of backs.  More than half the league has scheduled Cook for a pre-draft visit, the Bills being one.  Cook wouldn't be a high volume running back, he'd allow Singletary to continue to be the 15 touch running back, but Cook's snaps would be more dynamic. Cook is a tremendous pass-catching back, who is able to run routes out of the backfield but also able to split out wide and create mismatches on linebackers and safeties.  The Georgia Bulldogs, rotated their backs heavily and Cook has low tread-wear which in today's NFL is a good thing. With just 230 total collegiate touches, 113 coming last year, Cook was able to make those count averaging an impressive 6.5 yards per carry and scored 14 times.  Out of the backfield Cook caught 27 balls for 284 yards and four touchdowns. Cook played special teams for a majority of his Georgia career and that will really help his chances on being in the weekly lineup for the Bills.  With an impressive 4.42 forty-yard dash, Cook is one of the faster running backs in the class.
"NFL teams view Cook as a 'do everything' back; he's terrific inside runner with necessary speed to beat defenders into the open field or around the corner. Cook is an exceptional pass catcher, and as the tape proves, he's just as adept lining up as an outside receiver as he is catching the ball out of the backfield. With so much versatility as well as the ability to line up in a multitube of offensive schemes, you could imagine the interest in Cook league-wide" an anonymous NFC scout said.
Sean Rhyan – Offensive Tackle/Guard – UCLA – 6'5 321 lbs.
Sean Rhyan started three years for the UCLA Bruins and is actually a former rugby star who was actually offered a spot on the US men's national developmental program in high school.  "There's been some chitter chatter that I could be a guard and the league, but I have been telling them that I'm not going to box myself and only being a tackle or a guard.  I told them that I'm ready to play anything they want me to and I'm going to play it extremely well." Rhyan said. Rhyan started 19 games at left tackle and has the versatility to play both tackle and guard. In 2021, the Bruins averaged over 200 yards per game running the ball, for the second straight season, a lot because of Rhyan. In 862 snaps, Rhyan only allowed one sack, three quarterback hits, and 9 total hurries. Rhyan was named to the first-team All-Pac-12 team by the league's coaches. Rhyan is a dominant road grader type guard, and with Aaron Kromer back as the Bills offensive line coach it seems the Bills are looking for offensive line help that fits a certain skill set. Rhyan would be an excellent project tackle to take in the third round with a great fall back option of playing guard. With a year of seasoning and no immediate rush to see the field, Rhyan would be a great option for the Bills to come in and learn the system and potentially challenge for a starting spot or swing job in 2023, after Ford and Boettiger come off the books.
Troy Andersen – Linebacker – Montana State – 6'3 242 lbs.
The NFL is shifting towards hybrid linebackers and safeties and grabbing a player like Troy Andersen out of Montana State would be a huge get for the Bills. Andersen is one of the most versatile players in college football, playing quarterback, running back, linebacker and punter at the FCS level. A team captain, Andersen produced big time in the 2021 season with 150 tackles, 14 for loss, seven pass breakups, two sacks, and two interceptions. Andersen would later be named the FCS Defensive Player of the Year and a first-team All-Big Sky selection. At the Senior Bowl Andersen would continue to ball-out heading into his NFL combine performance. At the NFL combine, Andersen ran a ridiculous 4.42 forty-yard dash, which was the fifth-fastest for a player over 240 pounds since 2003. "He's going to be a day one starter at linebacker." Daniel Jeremiah said on NFL Network, a former scout himself. "In the fall he was outstanding. Went to the Senior Bowl and was one of the better players down there. Then he comes out here and runs a 4.4. He's eliminating any kind of questions you could have about his ability to come in and make an impact right now."
According to Next Gen Stats, Andersen was one of five linebackers in the class to earn "elite" athleticism scores at the combine.  Andersen can change direction very quickly and is a strong tackler and has very good awareness in zone coverage, something coach McDermott asks of his linebackers.  Andersen met with the Bills at the combine and just seems like a football player that McDermott would love having on his squad. "Kid is a beast, He won us games at running back, quarterback ,and then held down a top five defense in the FCS at linebacker. If he's not starting at linebacker day one, he can play every position on special teams." West Wilson a former defensive back teammate at Montana State, Bleacher Report video producer, and more importantly friend of Pinto Tailgate in Buffalo.  (Fun Fact:) "My first and only diagnosed concussion in college was from Troy."
It'll be hard to project where Andersen goes this draft, some teams really covet these hybrid, do-it-all linebackers and others shy away for various reasons whether it's conference or size. The Bills absolutely should consider drafting Andersen in the third or even potentially trading up with the looming contract situation of Tremaine Edmunds. The Bills need to get faster at linebacker with guys that can cover and make plays in space.  Too many times in big games Edmunds was caught flat-footed, and slow to diagnose plays. Andersen is the perfect high upside day two selection that will make an NFL GM look like a genius with his work ethic and desire to learn.
On the radar: (RB) Isaiah Spiller, (OG) Wesley French, (OG) Jamaree Salyer, (C) Luke Fortner, (WR) Kevin Austin Jr, (RB) Rachaad White, (CB) Zyon McCollum (TE) Jalen Wydermyr, (TE) Cade Otton.
4th Round (130thOverall)
Nick Cross – Safety – Maryland – 6'1 215 lbs.
With the 130th overall selection, the Bills select Nick Cross, safety Maryland.  With a top 100 grade according to NFL Draft Analyst Tony Pauline, Cross may not be here for the Bills at 130 overall, but things can change if the Bills decide to draft him with their third round pick or with any potential trade opportunities where he ends up as a Buffalo Bill.  Micah Hyde and Jordan Poyer are the heart-and-soul of the Bills defense, but the duo only has two years and one year left respectively.  Buffalo needs to seriously examine their long term solution to safety, with Jordan Poyer recently changing his agent to Drew Rosenhaus.  Poyer recently stated he'd love to finish his career in Buffalo, but that might not be the case as the Bills won't be able to keep everyone under the salary cap.  The Bills depth at the position isn't the greatest with Jaquan Johnson, Siran Neal, and Damar Hamlin, mostly unproven, because Poyer and Hyde generally don't leave the field. However, drafting someone like Cross with immense upside would be beneficial as he wouldn't have to play meaningful snaps right away and learn under a great duo.
Cross played all around the Terps' defensive rotation his first six games as a freshman, after that he was a starter.  In three collegiate seasons, Cross amassed 134 tackles, six interceptions, and nine pass breakups. Cross would instantly add speed to the Bills secondary, which isn't the fastest.  Cross ran an impressive 4.34 forty-yard-dash at the NFL combine. Cross' speed allows his defensive coordinators to play one-high look pre-snap as he's able to come down in the box and get back if need be. Cross brings the size and athleticism to play multiple roles in McDermott's defense which includes both safety spots, or the Siran Neal type role where he's to match up on bigger tight ends.  Cross would bring some much needed speed to be able to cover the freak-athlete slow receivers that have given the Bills problems over the last couple seasons. "I feel like my skill set allows me to fit anywhere, I play sideline to sideline, and can cause havoc in the run game, if you want to match me up with a tight end, I can cover them also and I can blitz and understand snap counts." Cross said,  "I can play all four special teams spots, and been able to play at a high level, I'm a pro's pro, take care of my body, watching extra film, and constantly working on my technique. GM's and coaches can go to bed at night knowing they don't have to ever worry about my work ethic on and off the field."
Other Possibilities:
Velus Jones Jr. – WR – Tennessee
Lecitus Smith – G – Virginia Tech
Kellen Diesch – OT – Arizona State
Dameon Pierce – RB – Florida
Dohnovan West – C – Arizona State
Neil Farrell Jr. – DT – LSU
Danny Gray – WR – SMU
Erik Ezukanma – WR – Texas Tech
Verone McKinley III -S – Oregon
Bryan Cook – S – Cincinnati
5th Round (168thOverall)
Chris Paul – Offensive Guard – Tulsa – 6'4 323 lbs.
With the 158th overall selection, the Bills select Chris Paul, Guard from Tulsa.  I'd like to again reiterate that the Bills likely won't use all of their late round draft picks, I can easily see them trading up this year, or packaging them for future earlier picks in 2023. The Bills roster is in better shape than it has been and these late round draft picks have trouble making the roster.  Rachad Wildgoose and Jackson Anderson both were cut in training camp and were Buffalo's 2021 sixth and seventh round selections respectively.  Should the Bills use the draft selection, I can see the Bills going with Chris Paul from Tulsa.  Paul started all four seasons on the offensive line and played all over in his 38 games.  Between right tackle, right guard, left guard and left tackle Paul was extremely versatile. "As an individual player you're at your specific spot but it's really important for you to know what the right guard, center, and left guard, and left tackle are doing because things happen maybe somebody gets banged up." Paul said.  "If you're more experienced of a player your number will be called on to maybe switch to a different spot, things happen so it's really important for you to know what's going on not only for your assignment but for the overall scheme." 
Paul was able to produce heavily in the run game, coach Philip Montgomery ran a complicated spread offense and ran out of various formations, something Paul was able to pick up on with ease. While Paul played a lot of tackle in college, he most likely will become a guard in the NFL and the Bills could use some depth on the interior.
Other Possibilities:
Matt Araiza – P- San Diego State
Luke Masterson – OLB – Wake Forest
Mike Rose – ILB – Iowa State
Jake Ferguson – TE – Wisconsin
Ty Chandler – RB – North Carolina
Chase Lucas – CB – Arizona State
Jaylen Watson – CB – Washington State
6th Round – 185th Overall (From: Carolina)
Josh Thompson – Cornerback – Texas – 6'0 198 lbs.
The Bills continue to add depth and competition in cornerback room with Josh Thompson, a cornerback from Texas. Thompson ran a 4.40 40-yard dash this year during the NFL Scouting Combine and also had an impressive 37.5-inch vertical at his pro day. Thompson played in 45 games for Texas, a trait that Bills GM Brandon Beane prefers when scouting defensive backs. As a team captain in 2021, Thompson played in nine games and recorded 34 tackles, and one interception which he took back for a touchdown. While the numbers weren't great, he often wasn't being throw at, and that says a lot in the Big-12 air-raid conference. Thompson was able to play various positions in the secondary and contribute on special teams as well. One knack on Thompson is that he did deal with a few injuries in college, which is why Beane likely met with him at the combine. Some NFL scouts see him as a safety while others will want to try their luck with him at corner. With Tre'Davious White coming off an injury, if the Bills don't bring in a veteran later in the summer to help compete, look for the Bills to grab a couple corners in this draft to help add to the room with White, Jackson, Johnson, and Lewis.
Other Possibilities
Deane Leonard – CB -Ole Miss
Malcom Rodriguez – OLB/SS – Oklahoma St.
Yusuf Corker – FS – Kentucky
Kyle Phillips – WR – UCLA
Smoke Monday – S – Auburn
Darien Butler – LB – Arizona State
6th Round –203rd Overall
Jeremiah Gemmel – Linebacker – North Carolina – 6'1 225 lbs.
The Bills address the linebacker position with their second choice in the sixth round in Jeremiah Gemmel from North Carolina.  Gemmel is an undersized linebacker who likely gets selected on the third day of the NFL draft.  Gemmel is a coverage linebacker who is best suited to play nickel and in obvious pass situations.  At just 6'1, 225 lbs., it'll be hard for Gemmel to take the beating inside and be a run stopping linebacker. In space Gemmel is able to use his lateral mobility and shuffle across the line.  Gemmel is best suited to play coverage in a zone-based scheme, where he can be protected up front and be able to play his zone and find space. 
In 2021, Gemmel had 78 tackles, six for loss, 1.5 sacks and an interception.  According to NFL.com draft analyst Lane Zierlein, he's compared to Tanner Vallejo, whom this Bills staff drafted the Milano draft in 2017, so they won't be afraid of his size. "Nicknamed 'The General' by his teammates for his leadership traits, Gemmel is jam-packed with a treasure chest of intangibles that coaching staffs will love. He plays instinctive, fast football with an impressive regulator to alter speeds and maintain tackle-ready positioning.  There are elements of his game that stand out, but the body of work is more solid than spectacular. He is undersized and could struggle with taking on NFL blockers, but his football IQ and range could make him an intriguing run-and-chase 4-3 Will linebacker with special team's potential." Zierlein said.
The Bills need a linebacker with fast instincts who can diagnose quickly and make plays. According to co-defensive coordinator Jay Bateman "The first thing to know about Jeremiah Gemmel on the field is that he does not stop talking, moving, thinking or reacting. Lining up in the heart of the defense, he swings his arms like a conductor and directs his teammates with amazing traits."
"Communication is key on the defense with a lot of moving parts." Gemmel said.  "When they come out in formations or sets or bunches, I feel like I diagnose the formation really quickly, and If I can get that vocalized to the D-line or secondary, I can help them get lined up and focusing quicker. I have a big responsibility going out there, but I wear it with pride. That's something I like to carry when I go out on the field.  Gemmel is a big family and Bible study guy, something McDermott likes when building his culture.  "I'm a pretty religious person, my grandma instilled a lot of that in me, she had a lot to do with , not only with my stepfather and my grandfather, but her also instilling in me things that I carry along with me to this day." Gemmel said.
Other Possibilities
Cade Mays – OG- Tennessee
Cole Turner – TE – Nevada
Braylon Sanders – WR – Ole Miss
Jaylon Redd – WR – Oregon
Jerrion Ealy – RB – Ole Miss
Jack Jones – CB – Arizona State
7th Round –231st Overall
Jordan Stout – Punter – Penn State – 6'3 209 lbs.
The Bills were able to restructure Matt Haack's awful contract this off-season, now on the hook for only one more season, the Bills can get out of the contract by cutting him this summer with only $700,000 in dead salary cap.  The Bills don't punt often, but when they do, they weren't good at it. Haack statistically ranked towards the bottom in every NFL punting category.  The Bills thought they could upgrade from Corey Bojorquez in 2020 and failed to do so.  Lucky for the Bills, this is one of the best punting classes, potentially ever. With their last pick the Bills select Jordan Stout from Penn State.
Stout is ranked the second-best punter in the draft class behind the 'Punt God' Matt Araiza from San Diego State who is projected to go anywhere from the 2nd to 5th rounds.  Stout handled both kicking and punting with Penn State, but projects to be only a punter at the next level.  Stout is able to flip fields and punt darts depending on his field position.  Stout is consistent, 30% of his punts traveled 50 yards or more with a very low touchback rate and many more dropping inside the 10-yard-line. In today's NFL you have to be able to punt the ball quick and Stout doesn't have a long delivery at all, he's able to punt quickly with a two-or-three step approach.  With an impressive hang time, Stout was able to allow his coverage team time to get downfield and force many fair-catches.
"They're telling me that they would love for me to be the next Johnny Hekker. That's the greatest compliment you can get as a punter." Stout said.  Stout was able to improve his punting average from his first season to his last by more than five full yards.  Stout's career long of 76 yards in BIG 10 conference conditions shows he also has a leg. Stout's skill at dropping punts inside the 20 at a 44.2% clip will be beneficial to the Bills. During the Senior Bowl, Stout had a 75 yard punt.  During Penn State's Pro Day, he didn't kick much, most teams wanted to see how he did holding the football for field goals.  The Bills should be in the market for a punter, if Brandon Beane is true to his word, that every position can be upgraded and is up for grabs, perhaps the weakest on the whole roster is the Bills punting position.
Other Possibilities
Jake Camarda – P – Georgia
Brian Asamoah – LB – Oklahoma
Jaivon Heiligh – WR – Coastal Carolina
Ben Brown – OT – Ole Miss
Obinna Eze – OT – TCU
Damarri Mathis – CB – Pittsburgh
Undrafted Free Agents:
Curtis Hodges – TE – Arizona State
Avery Atkins – P – LSU
Devon Williams – WR – Oregon
Britain Covey – WR – Utah
Ja'Sir Taylor – CB – Wake Forest
Greg Eisworth III – S – Iowa State
Kelvin Pinkey Jr – DT – South Florida
Jake Hummel – OLB – Iowa State
Bamidele Olaseni – OT – Utah
E.J. Perry – QB – Brown
Derig King – QB – Miami
Editor's babble: Thank you Greg Kowalczyk, for this contribution to our blog!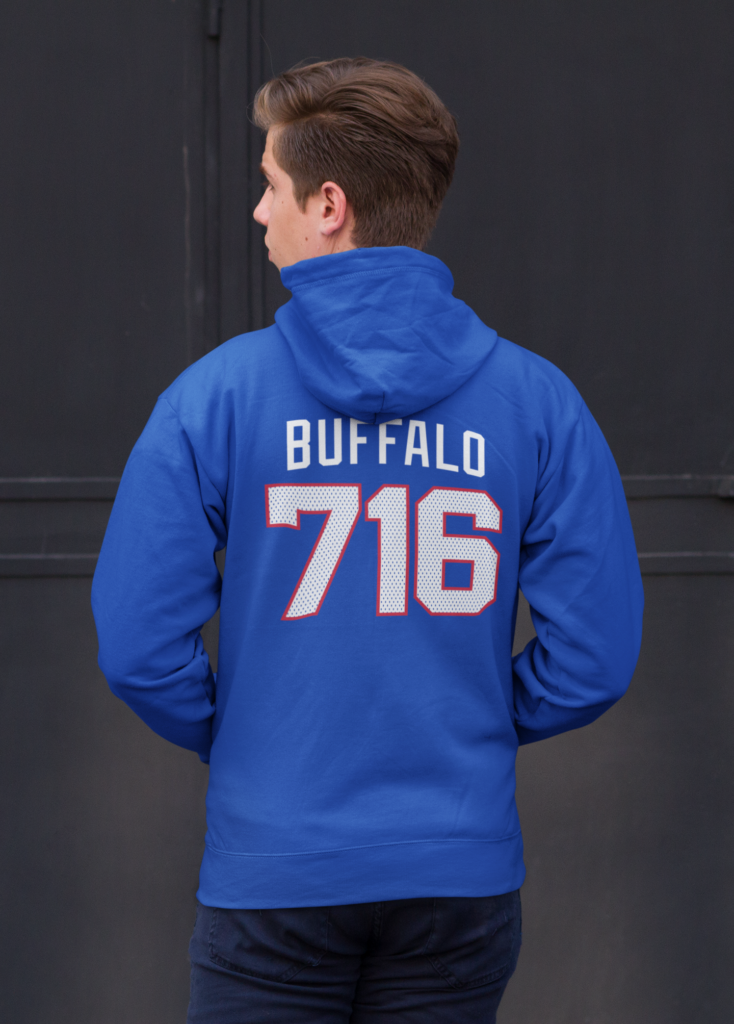 BuffaloFAMbase.com is sponsored by 26 Shirts
Every Monday, we launch a new two-week campaign of a limited edition t-shirt design. Every shirt purchase results in a donation to a local family in need. After the campaign ends, the shirt is retired. A new design is released, and a new family benefits from your fandom!