The Buffalo Bills have the NFL's 10th-most-expensive WR room, per Spotrac, which is better than the NFL's 3rd-most-expensive last year. Seven wideouts combine to use up 11.50% of the Bills' salary cap, including Stefon Diggs (6.70%). Now, Diggs (age 28, 3.39%) isn't going anywhere, but Emmanuel Sanders (34, 2.45%), Cole Beasley (32, 3.9%), and Jake Kumerow (29, 0.49%) just might.
These Bills WRs play distinct roles.
Some are Smurfs. The 5-7 173, 4.34 Isaiah McKenzie and the 5-8, 175, 4.34 Cole Beasley, are good for outflanking laterally-slow defenses with jet sweeps and end-arounds. Should they all declare, there are 20 scouted WRs in this draft whose Combine forty could rival or beat McKenzie's 4.34, including Garrett Wilson, Jahan Dotson, Reggie Roberson Jr, Jaylon Robinson, Kyle Phillips, Britain Covey, Mycah Pittman, Tre Tucker, Ainias Smith, Giles Jackson, and Jaylon Redd. In fact, with the plethora of talent in this extra-large draft pool, it's possible that 4.5 speed or slower will make you a UDFA. They'd have to be as elusive as McKenzie and reliable on third downs as Beasley.
Now, not all of the scouted speed merchants in the draft are Smurfs. The Bills were high on D.K. Metcalf (6-3, 228, 4.3) in 2019, and while nobody has that size-speed mix, some come close. Jalen Tolbert (6'3″ 190, 4.3), Jaivon Heiligh (6'2″ 200 4.35), Tre Turner (6'2″ 195 4.36), Kevin Austin Jr. (6'2″ 215 4.36), and Theo Wease (6'3″ 211 4.38) are fast and big, and offer defensive coordinators a deep-speed problem, because CBs and smaller safeties are typically too small for them.
I think it's possible the Bills move on from Kumerow and/or add another 6'3″ or taller guy, even with their archetypes Gabriel Davis and Isaiah Hodgins in the stable. Drake London (6'5″ 210 4.4) will be gone by our pick, but some of my attainable favorites include Tolbert, Turner, Alec Pierce (6'3″ 213 4.4), Justin Shorter (6'4″ 228 4.42), Dontay Demus, and Theo Wease. Not as fast, but faster than Kumerow, is A.T. Perry (6'4″ 206 4.56) of Wake Forest, Boogie's school.
Others are masters at gaining separation with stop-start ability, like Diggs and Beasley. Garrett Wilson and Chris Olave will be gone, but maybe you especially might like Reggie Roberson Jr, or Justyn Ross. I think our own Isaiah Hodgins will impress here, as well.
Sideline "toe-drag swag" artists like Gabriel Davis (6-2, 216, 4.45) include shorter-and-faster scouted receivers like Garrett Wilson (6'0″ 203 4.32) or Braylon Sanders (6'0″ 195 4.35).
7 Garrett Wilson WR PR Ohio St –5 for 80, 1 TD, then 8 for 117 yds, 1 TD vs Oregon [Watch #5], then 4 for 124 yds vs Akron, including an elegant screen with the stiff-arm; 2 PR for -1 yards. He went off against Penn State where he caught 7 for 82 yds (11.7 ypr) and had a 7-yard run that showed off his stop-start ability.—Twitchy YAC monster. Tough SOB, too. A couple plays later he reels off this beauty. His other scouted game saw him pull in 10 catches for 119 yards and a TD. This TD catch took focus and elite sideline awareness.  Wilson is the most solidly-built (6'0″ 192, 4.32) of the fast guys, played last year in the slot, then moved outside this year. He plays like he's 6-foot-3, with good vert, strong hands, more speed than Olave. He high-points the ball consistently, uses the sidelines well, has fine body control, and exhibits fabulous route-running. I have him holding off Olave and Jameson Williams (should he declare) as the top WR taken.
18 Jameson Williams WR KR Alabama – 9 for 154, 2 TD [Watch] [Watch Another], then his Ten catches for 160 yards led the Tide over LSU. I just like this kid's vision. Sometimes you go east and west to get north and south. Jameson is the coaches' choice for SEC Special Teams Player of the Year, leading the SEC with a 37.44 kickoff return average. He's big enough and fast enough, and doggone it; people like him. He's 6'2″ 188 4.3.
23 Chris Olave Ohio St –4 for 117, 2 TD, then 12 for 126, 0 TD, then  2 for 12 yds and 1 TD vs Akron. Watch the Isaiah McKenzie play here. Has separation and hands. In the Michigan game, he makes some improbable catches like this one. In the game vs Penn State, he had 3 catches for 44 yards and a TD  (2 views). Some miscommunication here foils a sure touchdown on 4th down. Olave's interview is off-putting, showing a "flat" affect; how would he fit in the Bills' WR room? Olave is 6'1″ 188 4.4.
24 John Metchie III Alabama – intense, tough [Watch #8]. 6 catches, 76 yds (12.7 ypr), 1 TD, then 6 catches for 45 yards vs Florida and 9 for 73 and a TD vs LSU. Gets separation. Be sure to read my Deep Dive here. I have Metchie as the closest RD1 WR to the Bills' pick (at #32). He's 6'0″ 195 4.38.
41 Jahan Dotson Penn State — Didn't flash early, but ended up catching 11 for 127 yards and a direct-snap TD. Here's his first catch with 3:00 remaining in the first half. He catches the ball while sliding, doing his best impression of Cole Beasley here…and here. Most of his catches were first downs. Just watch this separation against Michigan. He ties it up 14-14 here. He's small and fast (5'11" 180 4.35), and his interview is A+++.
50 Tre Turner Virginia Tech — 4 catches for 64 yards (16 YPC) & a game-sealing 12-yard run …another nice catch here. Then vs WVU, he logged 3 carries for 1 yard. In the same game, Turner had 2 catches for 17 yards. He was open, though. In a third game, Turner  Watch this jet sweep. He's a fighter at the catch point and makes outside shoulder catches look easy. He has good breaks and good brakes. He's tied with Doubs for tallest target of the fast WRs (6'2″ 195 4.36). Turner and Tolbert will lead The Beane's List for big WR weapon. His interview is A+++.
65 Jalen Tolbert South Alabama – 11 catches, 174 yards, 1 TD. Entered this game with 34 games played. At 6'3″, 190 and potential 4.36 speed, Bills might be looking for one more big receiver in the D.K. Metcalf mold (who they coveted), and Tolbert didn't disappoint. He's 6'3″ 190 4.3, and his interview is A+++.
69 Reggie Roberson Jr SMU — [Watch #21] – "Robber Son", a favorite of mine for his speed and hands. Roberson caught 3 passes for 41 yards and this beauty for a TD (Stick around for two views). He's 6'0″ 200 4.28, and his interview is A++.
77 Khalil Shakir WR KR Boise State — 5 for 91 yds (18.2 YPC), 2 TD and ran kickoffs. Yes, please. He's 6'0″ 191 4.37. His route-running has been compared to the Bills' own Stefon Diggs. Rare praise indeed.
78 Ainias Smith WRS RBC PR Texas A&M – 6 for 85 (14.2 YPC), 2 TD [Watch #0]. He's a small (5'10" 190 4.32) Swiss Army Knife and, like Khalil Shakir, best while working as a WRS or change-of-pace, slightly-faster Matt Breida. Expect Smith to run low 4.3's at the Combine or Pro Day. He returns punts, too. Another first down. Stock up.
89 Zay Flowers WR Boston College – Pretty pass to Flowers in the second half. He makes the catch without a yard of separation between him and #2 Jermaine Waller, for what it's worth. He went 3 for 55 yards, an 18.3 ypr day.
95 Jaivon Heiligh WR PR Coastal Carolina – Say "HIGH-ly", Steele's SBC All-Conference First Team, also PR. 21.6 YPC after 3 games. Had a productive 6-122 (20 ypc)-1 TD in the first game scouted, and led the team 6-87 (14.5 ypc)-1 TD in the second scouted game. Watch his jukes here. Could run a 4.3 forty at the Combine. He might have been scouted a third time when he played vs the Buffalo Bulls. There he caught four passes for 91 yards and a TD , becoming the fourth Chanticleer in school history to surpass 2,000 career yards.
96 Braylon Sanders WR WRS KR Ole Miss – 2 catches for a whopping 64 yards. Think of a speedier, bigger Cole Beasley. He's 6'0″ 195 4.35 in your program. Confluence of need and draft position for the Bills. Outstanding interview cued up. Watch this catch.
97 Jadon Haselwood Oklahoma – Redshirt sophomore had 3 catches, 38 yards, 1 TD. Savvy route-runner who already knows how to get the opposing CB flat-footed. He will remind some of Gabe Davis (6-2, 216, 4.46). Don't think he'd declare; just remember the name.
99 Mycah Pittman Oregon–5'11" 198 4.36, not getting the targets expected:  No stats in 2 scouted games. Criminally underutilized by Oregon in both games, although he did suffer a key "block in the back" penalty. Fast, shifty, great hands, but I prefer Wan'Dale Robinson, Braylon Sanders, David Bell, and Velus Jones better for the Bills in the mid-rounds. I do like Pittman's interview — A+++— which is up there with Velus' and Wan'Dale's.
101 Justyn Ross Clemson –4 rec 26 yds. Drew a DPI. But Swinney says the 6'3″ 205 4.4 Ross misread the route on the Georgia Pick6. Second-tier interview at A++.
110 Wan'Dale Robinson Kentucky – At 5'11" 185 4.35, Wan'Dale has some Tutu Atwell or McKenzie in him. [Watch WRS #1's impressive touchdown, shown from 3 angles]. Robinson caught 4 for 65 yds in one scouted game, and went off for 12 catches, 39 yards, 1 TD in the other. A+++ interview.
112 Frank Ladson Jr. Clemson–1 catch for 4 yds. I don't like him as well as some sites, who see RD3 there. He's 6'3″ 205 4.46, so size but no top gear. His focus is excellent (#2 here) and here he makes a difficult overhead catch on a SLUGGO route. Second tier interview: A++.
120 David Bell Purdue – 6 for 121 yds, 3 TDs. Here's one of the TDs. Watch #3 and replace McKenzie in your mind with Bell–Daboll would love this play. The 6'2″ 210 4.42 Bell likely made one cut too many at the end, should've followed the left shoulder of #88 TE Garrett Miller. Check out the contact balance here. One of the best single performances for the Bills scouts. A++ interview.
126 Joseph Ngata Clemson –6 rec 110 yds, Ngata suffered an abs injury early in the game but led Clemson in the scouted game. He's 6'3″ 220 4.4. Ladson and Ngata's upsides are through the roof, but performance has been basement-sump-pump underwhelming. I'm putting his interview in the third tier, A+, so he's below Bell for me.
131 Velus Jones WR KR Tennessee – [Watch #1]. Another 6'0″ 200 4.32 kick returner in the Isaiah McKenzie mold. He'd be stiff competition for Marquez Stevenson, too. Watch this 100-uard return. But this one is my favorite KR for the contact balance and the vision. Velus was named SEC Player of the Year award, and he said he would give it to the blockers on the team. His interview is worth listening to: A+++. So very McBeane.
132 Carlos Carriere Maryland – Here's all you have to know: a 6'5″ WR caught 4 passes against a good pass defense. Carlos Carriere led Maryland pass-catchers with 53 yards (13.2 YPR) and a touchdown. He offers a 6'5″ 200 4.48 high target on the sidelines here, with good hands and sideline awareness. He's not real fast, but that height is like Packers' Allen Lazard's, and he's doing fine. A++ interview.
159 Charleston Rambo WR KR Miami – 7 rec 33 yds. Rambo transferred to Miami from Oklahoma. He returned kicks when he was with the Sooners (13 for 326 yards and a 25.1 avg), but had no opportunities with Miami. At 6'0″ 175 4.38, he's a natural for the slot. Rambo destroyed Georgia Tech on 7 receptions for 210 yards and a TD. A++ interview.
171 Alec Pierce Cincinnati – 1 catch for 19 yards and a fierce-at-the-catch TD (2 views; stay around for the second). He uses his ball skills and ample frame at the catch point on Bullard. The OC for Cincy is a genius; he schemed that matchup like a stage director. Nice 6'3″ 213 frame with 4.4 speed. He blocks downfield quite well, a huge requirement on the Bills. Either of the Robinsons (see below) and/or Pierce could be that late-day WR gem. Very impressive interview: A+++.
180 Cornelius Johnson WR Michigan – 4 catches for 39 yards (9.8 ypr). This year's Nico Collins. 3 catches for 51 yards in one game, 4 catches for 39 yards in another, then against Ohio State, 2 catches for a whopping 48 yards (24 ypr). He's one of the 20+ WRs that's 6'3″ or better who's been scouted by McBeane. Here's the slippery slant. Here's the deep pass that sets up Haskins' second touchdown from the 2. He won't necessarily declare, but he could rise if he does. Interview is A+++, which makes me think he'll be a Bill.
198 Danny Gray WR SMU — Led SMU in receptions and yards, 8 catches for 140 (17.5 ypr), 0 TDs. [Watch #5] [Watch #5 again] [Watch #5 again] The 6'1″ 180 4.32 receiver from Cole and Manny's school is going to be drafted earlier than he's slated in current mocks. Gray's is one of 13 interviews I thought rated a A+++,
219 Tay Martin Oklahoma State – [Watch #1] [Another similar catch] One of 15 big wideouts the Bills have scouted. Martin is 6'3″ 186 4.4, and had 6 TDs in 7 games at the point he was scouted by the Bills. His interview was in that second tier at A++.
231 Theo Wease Oklahoma – The cocky 6'3″ 211 4.38 receiver is dangerous on shallow crossers. I like his use of his size here. Wease, a junior, has played multiple spots this spring, including Z and slot. He blocks well –if his target is stationary. He plays for his big brother, Mikey, who died playing the sport he loved. Interview was underwhelming.
234 John Mitchell Florida Atlantic – 6'4″ 228 4.44, from Singletary's school. Certainly in the running for the Comeback Player of the Year after a career-threatening injury. His numbers after his rehab were better than they were previously. He has played TE and WR. Wonderful A+++ interview. I'd listen to Mitchell's and Velus Jones's all the way through.
245 Demetris Robertson WRS KR Auburn – Two catches for 40 yards. Here he is against Pappoe (Demetris is #0). He's a receiver who can double as your kick returner for a decade. The speed merchants scouted by the Bills who returned kicks last year were Robertson, Waddle, and Elijah Moore. Robertson's speed on screens and end-arounds is impressive, and screens have been suggested as an antidote to QB pressures. He did remove a parking boot from a parked car, but who among us can say they were an angel in college??? The interview suggests he'll be an RD7 afterthought: A.
270 Brandon Robinson FAU The 6'4″ 200 receiver had 4 catches for 60 yds (15.0 ypr), and a TD. A redshirt junior, Robinson has already declared for the 2022 draft. I haven't found a decent interview yet.
276 Justin Shorter Florida – That Isaiah Hodgins type. Great size (6'4″ 228 4.42) and ferocity at the catch point. Just chiseled=>https://youtu.be/v4ZngywiO2I . He only notched 4 catches for 11 yards in the first scouted game, then DNP vs Alabama, then 3 catches for 54 yards against Tennessee, and finally 3 for 19 in the loss to Kentucky. Interview is second tier, A++.
282 Jaylon Robinson UCF –6 for 140, 1 TD in Game 1, then DNP (knee) in the 2nd scouted game. 5'9″ 163 4.36, Jaylon is the lightest draftable on my big board and will draw comps to Tutu Atwell (5-9, 165), a second rounder for the Rams. He has jukes, though. Gabriel Davis teammate. This year, he was #1 Receiving Yards Per Reception in the AAC. A++ interview is second tier.
292 Kwamie Lassiter II WR Kansas – Likely caught Bills' scouts' eyes in the Kansas-Oklahoma game, where he caught 7 passes for 101 yards. He's 6'0″ 175 4.4, and his interview is A++.
294 Gunner Romney BYU – The 6'3″ junior is distant relatives of Mitt Romney, and elected to catch 9 balls and 2 TD in 2 games for Bills scouts, including this one.
298 Britain Covey WR KR Utah – Dangerous returner when healthy. Watch #18.
300 Sean Ryan West Virginia – 6′ 3″, 198 receiver from Brooklyn, 3 for 48 yds (16.0 ypr) [ Watch #10 here].
Some UDFAs:
301 Curtis Hodges TE WR Arizona State – The 6'8″ former WR is a mismatch, led all ASU receivers with 4 catches for 76 yards (19 ypc) no ASU receiver caught a TD. He needed to be 1 yard deeper here. He needed to give Daniels help here.
310 Jeremy Singleton Houston – [Watch #13] 3 for 62 yds, 2 TD vs Tulane. CuedUp play is very Bills-y. See if you agree. Watch how fast Singleton gets north and south after the reception.
319 Dannis Jackson WRS Liberty – I've been looking for Cole Beasley types in this draft, because you know why. Look how open Dannis is on this play, and his cutback. He's just a junior.
330 Jaylen Erwin WR KR Houston – A 5'11"-171-4.38 kick returner who's a reliable receiver. Nice slant here for the first down.
368 Duece Watts WR Tulane– 3 catches, 48 yds and a TD. [Watch #2] He was logging 25.5 ypc vs AP-ranked teams when scouted. His fierce concentration is on display here.
396 Sam Pinckney Georgia St – ~Only 1 catch for 12 yards vs UNC, but the 6'4″ target had posted 83-1,275-12 TDs over the previous 19 games. He's 6'4″ 210 4.46.
Editor's babble: So great having Dean Kindig back in the saddle doing his thing. We are grateful for his tremendous contributions to our blog. You can find Dean on Twitter @TCBILLS_Astro.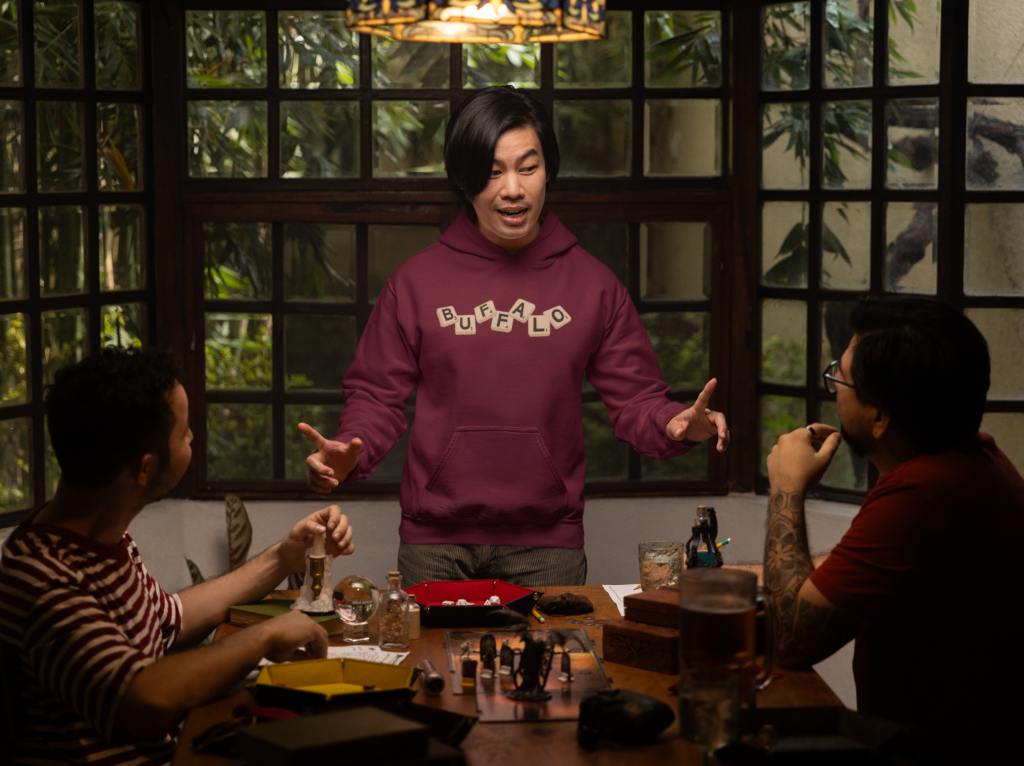 BuffaloFAMbase.com is sponsored by 26 Shirts
Every Monday, we launch a new two-week campaign of a limited edition t-shirt design. Every shirt purchase results in a donation to a local family in need. After the campaign ends, the shirt is retired. A new design is released, and a new family benefits from your fandom!