It's time to make some predictions, combining the information from all of my BuffaloFAMBase articles:
=> BillsMafia War Chart
=> War Chart 2,
=> Scouting The Scouts 1-3
=> All A++ Interview Team
Let's see what Brandon Beane has in store for us on April 29 through May 1. We'll look at each position separately.
——————
DL1T — Beane has to get someone with size to take over for Star Lotulelei. He'll be 32 before we win the AFC Championship, and because of his reworked contract for two more years of guaranteed money, we'll like wait until he'll be a UFA in 2024 to cut ties. Two Day 2 names are worth watching for: Marvin Wilson and Tyler Shelvin. These are different players. Wilson is extremely athletic and plays special teams (he's blocked 3 or 4 kicks), while Shelvin is extremely large and blocks hallways. I've seen mocks where either or both are available in RD3, but don't count on it; they'd be gone by #93. Bobby Brown III likely would be in range there. Some RD5 considerations are Naquan Jones of Michigan State and the athletic Khyiris Tonga of BYU, and Bills had a scout there. Tonga was their starter at DL1T, and occasionally as a FB. In each of his four seasons he had two or more pass deflections. Officially 35 bench press reps got Horrible Harry drafted, although it looked like 39.
Best Bet: Khyiris Tonga, RD5B —the urgency to draft my pet cat Marvin Wilson at RD2#61 this year just isn't there. Maybe a miracle happens and we nab him at RD3.

——————
DL3T — I doubt that we'd take Barmore, 'Bama's 3-tech in RD1, especially one whose interview didn't wow me, and especially since we once drafted one Marcel Dareus from Alabama. I'd be looking later on for an IDL, though; it's what McDermott does. Levi Onwuzurike, a wrestler, split time between DL1T and DL3T, and I'd look for his name around RD3#93. Marlon Tuipulotu of USC is likely drafted in RD4, and Beane's wheeling and dealing might nab him with an acquired pick. I've heard Iowa DL3T-EDGE Jack Heflin's name mentioned as a RD6-7 possibility. Heflin's 2019 run-defense grade (91.6) was No. 3 nationally among interior defensive linemen, and he's familiar with the 4-2-5 the Bills essentially play. He grad-transferred in after Epenesa left, so their paths didn't cross.
Best Bet: Levi Onwuzurike in RD3; Jack Heflin, RD7-PFA.

——————
EDGE — Kwity Paye will be long gone when the Bills are on the clock –even if they trade up. While Oweh is attractive for his speed and PSU alma mater, Oweh's too-few Games Played plus too-few Sacks (especially when the Bills got only 5 as a unit) are major "turn-Owehs". I really don't see Beane risking his first rounder on a "Boom or Bust" prospect. In fact, I like Shaka Toney, his bookend EDGE rusher, better. Toney is Top 5 in sacks and TFLs in this draft class, and only costs you a RD4 (Memo to Beane: get a RD4). Dan Morgan went to Joseph Ossai's Pro Day, and they Zoom-interviewed Patrick Jones, but, inexplicably, neither player had a Bills scout at his games this year. Wouldn't you watch your RD1-2 in a live game? Odeyingbo and Robinson have my full attention, though. Odeyingbo finished his career with 125 tackles, 31 tackles for loss, 12 sacks, one interception, one caused fumble, two fumble recoveries and 22 quarterback pressures. Robinson, who was Brian Burns' successor, had Beane at his Pro Day, and showed he was a capable run-stopper off the edge with 31 total tackles and 4.5 tackles for loss in his first two seasons. He looks good in shorts, but he is not a consistent or productive pass rusher, having recorded just one sack in each of his two seasons.
Best Bet: Dayo Odeyingbo in RD3 and take Malcolm Koonce if he's PFA. Shaka Toney in acquired RD4.

————
CB —-Don't get me wrong; I love ASJ, and would dance if they drafted the superb press-man corner, but I believe Beane when he touted Dane Jackson, and the scheme the Bills play will allow them to wait. Besides, this draft has 7 rounds of DB value; it's unbelievable. We might just take two. Iffy Melifonwu solves two problems, one at CB and one at FS. He's huge and feisty, and will create problems for WRs and TEs coming into his territory. Paulson Adebo was the PAC12's INT leader in 2019, and the Bills took 2 PAC12 players last year –possibly because Doug Majeski is Bills Coord. of College Scouting and West Area Scout. His anticipation and film-rat work give him high grades. St-Juste from Minnesota is another Melifonwu –just smarter. He had to learn a new playbook in 3 weeks for the 2019 season, and he excelled out of the gate, putting up 10 PBU, which was #3 in the Big Ten. Rodarius Williams is #1 in Games Played, #3 in career tackles. He's Greedy Williams' older brother. His length, aggression, and off-ball technique cause issues for targets. Rodarius's yards per cover snap allowed at outside CB is #1 in the Big 12 at one-fifth of a yard! The fact that the Bills have 5 scouted, A++ corners on Day 3 make me think they're prepared at any round, and will be patient –until they pounce.
Best Bet: Iffy Melifonwu in RD2.

————
Safety —- I wasn't impressed with too many Safeties' interviews, especially Nasirildeen's and Wade's. You could say they were "Iffy". Hey! What if the Bills took Melifonwu to cover both CB and S bases, and took another versatile late-round CB/FS like fast-backpedaling Darren Hall, listed as a CB above? If the Bills go for a mid-round safety, get a Dean Marlowe type: That's Jamien Sherwood. Per SI.com, he excelled near the line of scrimmage. Having the long arms and the necessary physicality, Sherwood operates as a wide net. Isolated in space, it can be difficult to get around him. He also does a nice job using his long arms to fight through trash to get to the ball carrier. This is particularly valuable as he regularly blows up wide receiver screens. He'll need to get with a team that uses plenty of 2-high and box safety. Think Bills, Browns, etc. Sherwood's a threat on the blitz, is explosive and closes quickly. looks tailor-made for a Rover position in a 4-2-5. Sherwood specifically covers TEs –a major point– and adds to the athleticism that can potentially negate the need for a third linebacker. He's shown the ability to be a reliable tackler, and he's got experience playing on coverage units in special teams. He likes to come down hill and make tackles, operate in the box and make plays at the line of scrimmage. He notes teams think his ability to cover tight ends is valuable. We will too. Mizzou's Safety/NCB Joshuah Bledsoe is my backup plan. He plays lots of deep, slot, or over the TE on the line of scrimmage. Bledsoe has been a starter on his defense for the last four years, with more than 40 games played in that time. Major advantage: You can keep your old Bledsoe jersey.
Best Bet: RD2 CB FS Melifonwu or RD5A SS/OLB Jamien Sherwood; RD7-PFA Darren Hall, with Bledsoe as a backup plan.

————
OT—– I am of the school that says an improved offensive line –even the same starting five with actual time to jell– will have more of an effect than another drafted rookie RB. Pull the trigger on a Tackle in RD1 or trade down a tad (for that RD4) and take Mitch Morse's non-concussed Center replacement. Strength, upside, and counter-trey/pin-and-pull athleticism; that's what I'd want for my O-Linemen. Oklahoma State's Teven Jenkins or BYU's Brady Christensen would be my top two Tackle options, with Jalen Mayfield for sheer upside. Miami (OH)'s Tommy Doyle got paid a visit from Bobby Johnson, our OL Coach, and Doyle's line was #1 in Power Success Rate, per Football Outsiders.
Best Bet: OT OG in RD1; consider Tommy Doyle RD7-PFA.

OG OC —- If you don't draft a Tackle, draft Wyatt Davis or get Dickerson/Humphrey in a trade-down (remember that RD4?). I would also be ecstatic if the Bills got Trey Smith. Other than those four, I'm happy with the Guard group we currently have, including Forrest Lamp. My friend Moose sees Wyatt Davis as Quenton Nelson.
Best Bet: Wyatt Davis in RD1 or Trade Down for a Top Center.

RB—— No A++ interviews here, and I'm hoping the Bills wait on drafting their RB for a year at least. It's an above-average RB room, and it's now on Daboll and the OL to unleash them as teams try to defend our passing juggernaut. Watch Erik Turner's video about Moss-Singletary and the blocking in 2020.
Best Bet: Pass On a Running Back.

QB—– If the Bills take a QB, I'd be very surprised. Still, I didn't see Jake Fromm at RD5#167 coming, either (+167 Value on DraftTek's Big Board when drafted). If I were forced to pick one, I'd take 2020's most-improved QB, Feleipe Franks, or PFA Zach Smith of Tulsa. The best bet, though, would be to stick with whom you have.
Best Bet: Don't Draft a QB.

TE—I think the Bills would stand pat at TE unless they have fallen head-over-heels in love with Tommy Tremble. A trade-down for Pat Freiermuth is acceptable to me, but if you're drafting Tremble for his blocking ability, seen by most from one clip on Twitter, you're forgetting unused Tommy Sweeney, seen as 2019's best blocking TE. Eubanks is bigger, faster, and did better vs AP-ranked teams.
Best Bet: Nick Eubanks, RD6.

WR — Beane isn't going to stop drafting WRs in this pass-first league. While Gabe Davis is the youngest active player and Isaiah Hodgins hasn't played a down, our WR#2 Emmanuel Sanders is 34 years old and the oldest Buffalo Bill. The WR#3, Cole Beasley, is sixth-oldest on the team. Don't be shocked if the first player drafted is a WR. Minnesota's Rashod Bateman is high-character and principled as they come, and has this draft's highest Yards Per Route Run. He was top 4 in Yards Per Catch vs AP-Ranked Teams in 2019 (along with Bills-scouted WRs Osirus Mitchell of Miss State and Antonio Nunn of our own Buffalo Bulls). I've seen comparisons to LSU receiving greats Jarvis Landry and OBJ. His three best qualities are excellent hands, body control, and laser focus at the catch point. The Bills seem to be high on RD1-2's Elijah Moore, and he's the next Emmanuel Sanders (age 34) in terms of route-running, and RD7's Frank Darby isn't far behind him in that skill. Finally, RD3-4 Anthony Schwartz is this year's speed guy that has trouble catching the football. A RD5 Shi Smith is a much better choice IMHO.
Best Bet: Racey McMath or Antonio Nunn in PFA.

ASTRO'S FINAL MOCK DRAFT
RD1: C Landon Dickerson plus Trade-down For RD4 (if gone, take C Creed Humphrey)
RD2: CB FS Ifeatu Melifonwu (if gone, take WR Elijah Moore)
RD3: DL1T Marvin Wilson (if gone, take IDL Levi Onwuzurike)
RD4: EDGE Shaka Toney (if gone, take IDL Marlon Tuipulotu or CB Benjamin St. Juste)
RD5A: SS/OLB Jamien Sherwood (if gone, take S/NCB Joshuah Bledsoe)
RD5B: DL1T Khyiris Tonga (if you got Marvin, take WRS/KR Shi Smith or Frank Darby)
RD6: TE Nick Eubanks
RD7: OT Tommy Doyle

PFA:
—CB FS ST Darren Hall
—WR KR Racey McMath
—WRS KR Antonio Nunn
—LB K.J. Britt or Antjuan Simmons
---
Editor's babble: Tommy Tremble or Racey McMath win the best name contest. Of course, I had to add the obligatory picture of UB's Jaret Patterson :) Thanks to Dean Kindig for his many contributions to our blog. You can find Dean on Twitter @TCBILLS_Astro.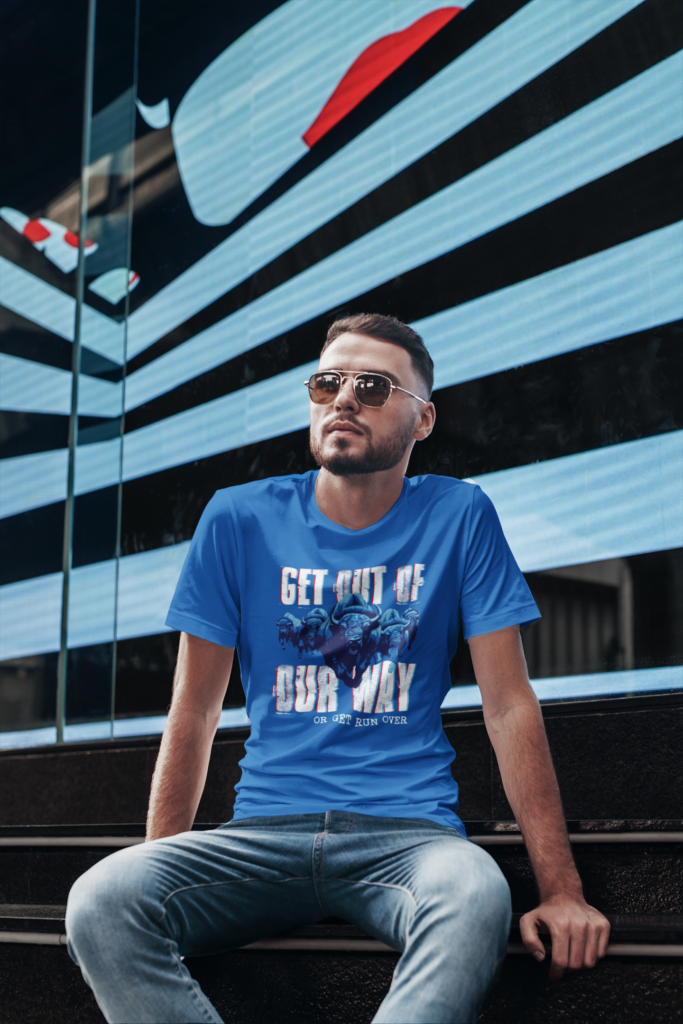 BuffaloFAMbase.com is sponsored by 26 Shirts
Every Monday, we launch a new two-week campaign of a limited edition t-shirt design. Every shirt purchase results in a donation to a local family in need. After the campaign ends, the shirt is retired. A new design is released, and a new family benefits from your fandom!