The Bills scouts are venturing out to watch players at college football games. Where have they gone thus far? What positions have the Bills been looking at? Are there any surprising revelations about what Big Baller Beane is thinking? Who are the most intriguing players eligible for the 2021 NFL Draft?
Here's what I have unearthed from July through October 24 [Part 2, from October through now, lives here]:
7/13/2020 Visit to Tulsa
Best Guess: Bob Babich (LBs) coached at Tulsa, and it's Safety Coach Bobby Babich's hometown. It's also the alma mater of Dennis Hickey, Senior National Scout. Any of them could be traveling to Tulsa, and this would be a non-story. …Or is it? Babich could have been looking at hometown Tulsa OLB-EDGE Zaven Collins has been rocketing up draft boards; he sits at #78 to #178 on various boards I trust. The landing spot could be closer to the Bills' RD3#89 spot. Zaven has played a role in Tulsa's 3 come-from-behind victories, rallying from 18 down at UCF, 14 against East Carolina and a 21-point comeback against Tulane.
Most-Intriguing Guess: Tulsa's other best fit for the Bills is WR Keylon Stokes, who has the entire draft class's career-most 1201 Kick-Return Yards, plus a very respectable 16.8 ypc as a receiver, despite no decent QB to throw to him.
7/16/2020, 7/18/2020 Visit To Penn State
The Bills' rented jet went there twice, once on the 16th and once on the 18th, so it was a 2-nighter for whoever remained in Happy Valley.
Best Guess: Beane is likely looking at RD1 Penn State LB Micah Parsons, who I have at #8 on my own Big Board. Micah Parsons plays ILB for the Nittany Lions, but he'd be the ideal replacement –or supplement– for OLB Matt Milano. Gushed Brad Kelly: "If [Parsons] declares for the 2021 NFL Draft, Penn State's Micah Parsons will be the best LB prospect in (at least) the last 7 classes." His 94.8 grade in run defense is insane. PFF-College has Parsons and Bolton at a >90 grade, and last year's top 2 (Simmons and Jordyn Brooks) both went by pick #27 –about where we are right now!
Other Possibilities: ED Shaka Toney #110, CB Tariq Castro-Fields #187, C Michal Menet #190, S Lamont Wade #243.

Most-Intriguing Guess: "Baby Gronk" is his nickname: TE Pat Freiermuth #57 on my board. PFF had him at #30 last time I looked. He has what I'd like to have seen from Kroft and are just beginning to see from Knox: vise-grip hands, barn-door catch radius, and NFL-caliber inline blocking. In 2019, he had 12.7 yards per reception for 875 yards and a whopping 15 TDs, with a 12 ypc average against AP-ranked teams. That is a touchdown catch every 4.6 receptions and 1.67 games. He lined up everywhere. Make sure to watch Penn State this year. After all, it's your owner's alma mater.
9/16/2020 Visit to Oklahoma
Best Guess: OC Creed Humphrey #26. Humphrey, a HS Champion wrestler, plays Center for the Sooners, and he's a tough SOB. He shows the ability to handle two players at once, and unlike our current Center, plays mistake-free, and…um… wasn't called for a false start in the game against the Chiefs.
Most-Intriguing Guess: CB/KR Tre Brown is intriguing, as he's a CB and Kick Returner, and the Bills need both. This makes more sense than a WR/KR combo, given the talent at WR that's not even playing thus far.
Other Possibilities: OLB/ILB Caleb Kelly #183, SS/FS Delarrin Turner-Yell #214.
I'm high on all four Oklahoma players. Creed Humphrey, our top Center, and Tre Brown, one of the top KRs, have bona fide chances of being Bills for a decade or longer. Caleb Kelly has experience in a 4-2-5, and can play either ILB or OLB. Turner-Yell adds FS-SS versatility at Safety. His 60 tackles last year is top 3 in this draft class.
9/17/2020 Visit to Boston College
Best Guess: O-Line. I have four offensive linemen from Boston College on my board for the Bills. Like Oklahoma, my best guess is Guard Zion Johnson (#87), a transfer from Davidson, rapidly became a force for BC, and was a three-time ACC Offensive Lineman of the Week last year. He was named First Team All ACC at the end of the season. I'm not as sold on C Alec Lindstrom (#110). Lindstrom is a likely finalist for the Outland Trophy. The 2017 winner was Ed Oliver, so there's that.
Other Possibilities: OT-OG-OC Ben Petrula (#144). Petrula is the Jack of all trades on the BC line, and versatility is an ability valued by the Bills. OLB-ILB Max Richardson, their uber-productive ILB, is another thought. He plays in a 4-3, is a redshirt Senior, and plays at Milano's alma mater.
Most-Intriguing Guess: OT Tyler Vrabel (#118). Vrabel is the son of a certain Patriot-player, now Titans' coach Mike Vrabel. Anything that will piss off the Patriots.
9/26/2020 Mississippi State at LSU game
Best Guess: A replacement for Star Lotulelei. Right now, I have my Big Board with #26 as 6'3″ 362-lb-load DL1T Tyler Shelvin from LSU. When Lotulelei returns to the Bills after his opt-out, he'll be 31, and the Bills desperately need his block-eater abilities. DT1T isn't what you'd think a team would draft early, but the Bills War Room has a history of drafting DTs in Round 1. My notes say that Shelvin is great against the run –check. It also says his comp is… Star Lotulelei of the Buffalo Bills. Hmmmm.
Other Possibilities: For LSU—#76 LB Damone Clark, #80 WR Terrace Marshall, #83 LB Jabril Cox, #126 S JaCoby Stevens, and #134 RT Austin Deculus. For MISS STATE—–#67 LB Erroll Thompson, #100 QB K.J. Costello, and #185. RB Kylin Hill. K.J. Costello threw for 6 TDs and 600+ yards against LSU in this scouted game, and that likely opened some eyebrows. Would you take a QB in RD3 after taking one last year in RD5? ED Marquiss Spencer (3 tkl, 2 sacks) got pressures and did damage, and he's #166 on my early Big Board.
Most-Intriguing Guess: LB Jabril Cox. A Bills scout got to see 3 good LBs in this game for the price of one ticket: Erroll Thompson (4 tkl, 6 ast, 1 sack), Damone Clark, and Jabril Cox, and all expected to be Top 100. However, my money's on Jabril Cox and his 2.133 TFL's per game. For comparison, Milano's was .90. All three of these LBs play in a 3-4, though.
10/17/2020 Temple at Memphis
Best Guess: Since Beane and McDermott arrived in Buffalo, the Bills have annually been sniffing around Memphis. Imagine a Devin Singletary with more speed. RB Kenneth Gainwell will run a 4.4 forty at the Combine. While he's only a redshirt sophomore, I expect him to declare. Gainwell's the only RB in the nation to earn PFF rushing and receiving grades over 85.0. The downside is that he's the same size as three RBs the Bills already have at 5'11", 191, 4.4…just a little faster.
Most-Intriguing Guess: Currently my #125 player but unranked on the BBs I trust, DL Ifeanyi Maijeh of Temple has strength and push to generate pressures. Watch number 88 collapse the pocket and blow up this play. Here you get to see quickness and hand use from 88; the end result is the same.

Other Possibilities:
For MEMPHIS: 84. WR Damonte Coxie, 128. QB Brady White, 89. CB T.J. Carter, 257. K Riley Patterson.
For TEMPLE: 149. WR Jaden Blue, UNR QB Anthony Russo.
10/24/2020 Lottery-Assigned Bills Scout at Ole Miss vs Auburn
This was assigned by lottery, but teams not interested could simply not apply. Besides, they get to see Auburn's current version of last year's Bills' draft darling, D.K. Metcalf, in WR Seth Williams, my #37. Williams is another big-bodied, solidly-built receiver who can catch anything thrown his way. He can make exceptional catches in traffic. Would the Bills invest any more draft capital on the same kind of player as 2020's gold mine of Gabriel Davis and Isaiah Hodgins?
Best Guess: ILB K.J. Britt, my #140. Britt suffered an injured hand and had surgery last year, so he's just coming back on the radar. He's Auburn's senior leader and All-SEC linebacker who was #3 on Kiper's board before that injury. He had racked up 68 tackles, including 10 for loss, last year. PFF had Britt as the best run-stuffing linebacker in CFB last season with a run-D grade of 91.1 and 31 solo run stops.
Other Possibilities: WR/KR/PR Elijah Moore. The looming need to replace Andre Roberts' returning abilities leads me to see a pattern emerging after one quarter of the college season: some top returners are getting scouted. I'm not impressed with G Ben Brown for Ole Miss; while he has nice sustain, and stays in his chair, he seems to take a while to get into position and doesn't have the strength of some others at RG, which throws his balance off. He does remind me of current Bills Guard Ike Boettger when he declared.
10/24/2020 Lottery-assigned Bills Scout at Alabama-Tennessee
Best Guess: Alabama has seven players who could go in RD1 of the 2021 NFL Draft, but, Tennessee has a pair of talented Guards you should watch. OG Trey Smith, #68 on my BB, may very well have been the first OG selected last year, but there was an issue with blood clots. That behind him, Smith emerged as one of the nation's dominant guards in 2019, earning him first-team All-SEC kudos. He's Cubelic's top SEC OG and on the Outland Trophy Watch List. The Draft Network loves his athleticism: "At 6'6, 320, Trey Smith is like a freight train when he gets moving. He is a dominant run blocker at the point of attack. His elite play strength is on display…" LG Trey Smith will be sought after as a Guard adept at the pin-and-pull, and guess what the Bills like to do. Guard Cade Mays transferred in from Georgia, where he played with Fromm, Trey Hill, Solomon Kindley (Dolphins), and Andrew Thomas (Giants) on that Georgia OL (Mays is wearing jersey #77 at RT here). A junior iDL, Aubrey Solomon would be fast enough to play anywhere on the line, but he's too light for a 1-tech (although that's where he might play this year, and what the Bills are likely searching for). These out-of-position 3-4 NTs always seem to be attractive to the Bills (Ed Oliver, Horrible Harry, Vernon Butler). Watch bench strength of Solomon should he declare, because it's part of the iDL archetype for the Bills.
10/24/2020 Minnesota-Michigan
For MINNESOTA: 46. WR Rashod Bateman, 84. OT Daniel Faalele, 252. C Conner Olson.
For MICHIGAN: 54. DL Aidan Hutchinson, 61. OT Jalen Mayfield, 83. EDGE Kwity Paye, 111. LB Cameron McGrone, 145. WR Nico Collins, 204. TE Nick Eubanks.
Big Ten football opens again, with Bills scouts electing to visit this one first.

Best Guess: OT Daniel Faalele is a giant from Australia, still learning football, and the biggest in the FBS at 6'8+" 400 pounds, rugby background, sheer size/feet/power with mobility in the run game. Actually has mobility and upside.
Most Intriguing: EDGE Kwity Paye's up there with Basham, Chambers, and Odighizuwa for 270+ pounders effective at tackles for loss. The Bills took Darryl Johnson in 2019 in part because he had the draft class's highest TFLs Per Game.
For Michigan, I love LB Cameron McGrone as an ideal fit for the Bills LB corps. The only reason he'll drop is that he's a very good player on Michigan's underperforming defense. It wasn't his fault. EDGE/3T Aidan Hutchinson (6'5″, 278, 4.74) is a good tackler with versatility. For Minnesota, WR Rashod Bateman is a player with character and principle. Bateman changed his number to "0" for zero tolerance against racism, and he's PFF's second-highest-graded returning Big Ten player.


Where DIDN'T the Bills go, and what does that say?
DID NOT ATTEND Tennessee @ Georgia
Georgia's top prospect in my eyes is FS/CB/NCB Tyson Campbell, who has height and speed (6'2″ 180 4.34). I wrote about him recently here. His versatility in three positions of need for the Bills jumps out at you. S Richard LeCounte, QB Jamie Newman, and another C #73 Trey Smith might get a gander. But even as of 12/10/2020, when I updated this, the Bills hadn't returned to Georgia since last year when they drafted Jake Fromm.
DID NOT ATTEND Florida @ Texas A&M
Florida TE Kyle Pitts might be the first Gator drafted and the Bills might watch DL1T Tedarrell Slaton later on, too (they just hadn't by 12/10/20). Florida's COVID problems might have their team on hold for scouting. Good plan. Other Gators worth considering will be CB Marco Wilson and QB Kyle Trask if he drops a round or two. For A&M, my favorite player is LB Anthony Hines. Another value if he drops a couple rounds would be QB Kellen Mond.
Editor's babble: Thanks, as always, to Dean Kindig for educating us about players we should be watching as potential picks for the Bills. You can find Dean on Twitter @TCBILLS_Astro.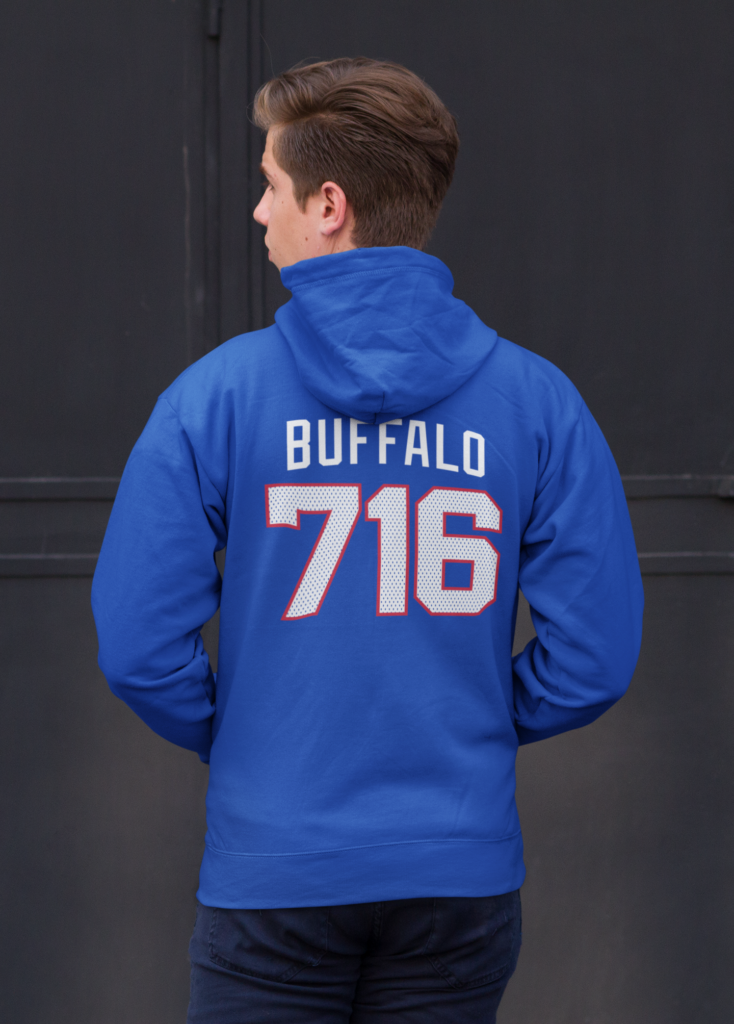 BuffaloFAMbase.com is sponsored by 26 Shirts
Every Monday, we launch a new two-week campaign of a limited edition t-shirt design. Every shirt purchase results in a donation to a local family in need. After the campaign ends, the shirt is retired. A new design is released, and a new family benefits from your fandom!