The Bills scouts are still venturing out to watch players at college football games. Where have they gone thus far? What positions have the Bills been looking at? Are there any surprising revelations about what "Big Baller Beane" is thinking? Who are the most intriguing players eligible for the 2021 NFL Draft? This is Part 2. I'd suggest you read Part 1 first. Part 1 of "Scouting the Scouts" lives here.

The players connected to the Bills on both of these "Scouting The Scouts" articles have been placed on BuffaloFamBase War Chart, which lives here.

Georgia Tech – Florida State
New information puts a Bills scout at the Georgia Tech – Florida State game [Highlights] . It was the first visit ever to either school under Beane's tenure.

FLORIDA STATE——DL1T Marvin Wilson (#12); S-OLB Hamsah Nasirildeen (#15 on our board); CB Asante Samuel Jr. (#43); WR Tamorrion Terry (#48).
GEORGIA TECH— 196. LB Quez Jackson (#196).

The Seminoles used defense and special teams to stay in the game, but lost their season opener for the fourth straight year. Smallish CB Asante Samuel Jr. had two interceptions and two pass break-ups for Florida State. And 6-4, 311-lb DL1T Marvin Wilson blocked a pair of field-goal attempts. You read that right. Yes, he's definitely in the Bills' sights in RD1. I don't think Georgia Tech was the reason the Bills scout came to Tallahassee, but junior LB Quez Jackson, 6′ 1″, 225 lbs, led the Yellowjackets in tackles with 9, 7 of them solo. He's had 6 or more tackles in every game this year but one –Clemson. He had 4 tkl and a sack there. Remember the name if he declares.
Best Guess: S-OLB Hamsah Nasirildeen (6'4″, 215, 4.28 best 40-time) is a Matt Milano type but bigger and faster. While lining up at safety, much of Nasirildeen's success came from coming up and stopping the run, a great fit with what Buffalo Bills do –and need. A reminder that Milano played that similar S-OLB role for BC.
Most-Intriguing Guess: DL1T Marvin Wilson. We didn't think Ed Oliver was going to fall in 2019. He did. IT would be even stranger for Wilson to fall to #32 (wink, wink).
Auburn – LSU (Lottery-assigned)
Per Chase Goodbread, the Bills won the lottery to attend the Auburn – LSU game [Highlights], the second game scouted by the Bills for both schools.
AUBURN—WR Seth Williams (#46); WRS Anthony Schwartz (#89), LB K.J. Britt (#85).
LSU—–WR Ja'Marr Chase (DNP), (#7); DL1T Tyler Shelvin (#50), S JaCoby Stevens (#67), LB Jabril Cox (#72), WR Terrace Marshall (#89).

Don't discount Auburn making an indelible impression with the upset victory. LSU WR Terrace Marshall was kept in check (4 catches for 28 yards, 7.0 ypc), but WRS Anthony Schwartz and WR Seth Williams were definitely not. WRS Anthony Schwartz (4 catches, 123 yds, 30.8 ypc) would be the ideal slot receiver to take the reins from Cole Beasley some day. They ran Schwartz on jet sweeps that looked eerily familiar, like McKenzie had been portaled into his body. WR Seth Williams might be the D.K. Metcalf of the draft's receiver class. I like CB Roger McCreary in the RD6#185 range, although I expect Beane will pull the trigger on a cornerback before then. McCreary posted a PFF coverage grade of 81.1 last season while logging 36 tackles, an interception, and nine PBU. WR Ja'Marr Chase, who opted out and didn't play, led the FBS last year in receiving yards and receiving touchdowns and won the Fred Biletnikoff Award as the country's best receiver. Wouldn't want you to forget him.
Best Guess: K.J. Britt of Auburn is one of four linebackers with 4-3 experience that I consider the draft's rivals for Matt Milano: ILB/OLB Micah Parsons of Penn State, OLB/ILB/ED Sam Williams of Ole Miss, Britt, and WLB Isaiah McDuffie of Boston College, Milano's alma mater.
Most-Intriguing Guess: WRS Anthony Schwartz (4 catches, 123 yds, 30.8 ypc) would be the ideal slot receiver to take the reins from Cole Beasley some day. They ran Schwartz on jet sweeps that looked eerily familiar, like McKenzie had been portaled into his body. Schwartz was available at RD3#89 in the most recent DraftTek mock along with Linderbaum, Faalele, and Shaka Toney, all mentioned in this article.
Buffalo – Miami (OH)
BUFFALO–RB Jaret Patterson (#122); EDGE Malcolm Koonce (#177), LT Kayode Awosika (#203).
MIAMI (OH)–RT Tommy Doyle (#195), C Danny Godlevske (#235).
Rachel Lenzi of the Buffalo News noted that GM Brandon Beane made a scouting visit to the Buffalo – Miami (OH) game [Highlights]. Beane was likely there to see the Buffs' RB Jaret Patterson (#122 on my board; I wrote about him here) for his missed tackles forced, and EDGE Malcolm Koonce (#177) for his nonstop motor, but I think the Buffs' offensive line, which has ranked #3 in the nation as of this writing, got some hard looks. The line has lots of seniors with ties to western NY. RG Jack Klenk and TE Jake Molinich are both Seniors from Pittsford Sutherland HS, where you go to pick up the Bills shuttle to training camp (it's also my high school alma mater). They're blocking for Patterson here on this goal-to-go. Molinich is lined up inside, jersey #44, powering off that ball with impressive leg drive. And #59 in the video, RT Jake Fuzak, played at Williamsville South in Buffalo. Senior TE Zac Lefebvre, 6-6, 235, who scored a TD in this game with a 4-67-16.8 stat line, played his HS football at Victor Central, an eastern suburb of Rochester. He's a nice downfield blocker and gets YAC on each catch. Those 3 would be preferred free agents or late Day 3 selections. FS Tyrone Hill, a RS Sr, made a wow tackle here. CB Roy Baker, a senior, had the INT for the Bulls, his second week in a row. But they were avoiding throwing anywhere near CB Isaiah King (3 tkl, 1 asst) on the other side. RB Jaret Patterson, #26, is the star, though. Here, he throws a nice block to allow the TD. Here, he shows the YAC that Beane likes. I'm not sure he is unique enough to be picked by the Bills, with Singletary, Moss, and Christian Wade already in the fold.
Best Guess: Diminutive receiver WRS Antonio Nunn (#1 here) will be drafted Day 3 for plays like this, and for plays like this. Oh, and touchdowns like this. Cole Beasley is on the wrong side of 30. While I like speedsters Anthony Schwartz and Tutu Atwell earlier, none would complain about Nunn.
Another Guess: LT Kayode Awosika (#73), pronounced "coyote", is 6-5, 315 and hails from Minnesota. He's not the only Tackle Beane was looking at, though.
Most-Intriguing Guess: Particularly interesting to me is RT Tommy Doyle on the other side of the field. Our Bills OL Coach, Bobby Johnson, played for Miami (OH), and later became the RedHawks' TE & OL coach (1999–2004). Doyle's feet are something to behold; I've cued them up — he's #54 in the highlight video. Miami-OH had Football Outsiders' #1 Power Success Rate in the nation, so Beane was likely looking at 2 lines for the price of one.
Iowa – Minnesota
Iowa: C Tyler Linderbaum (#57), LT Alaric Jackson (#140), WR/KR Ihmir Smith-Marsette (#144)
Minnesota: Rashod Bateman WR (#23); RT Daniel Faalele (#103) (DNP).

Scott Dochterman, who writes about Iowa football for The Athletic, tweeted that the Bills sent 1 scout to the Iowa – Minnesota game [Highlights]. A total of 13 teams were represented, but Minnesota sent three scouts; we've had them frequently mocked to WR Rashod Bateman at #23 a few picks before us, and I reckon this was due diligence for the Bills. Bateman opted out a few weeks after this game to focus on the NFL Draft. San Francisco sent two scouts, and based on need, they could be there looking at the big OTs, OT Alaric Jackson for Iowa (who pulls nicely here, #77, and does second-level damage here). I won't include Iowa DL3T Daviyon Nixon here, as we're set on 3-techs.

Best Guess: The scout for the Bills likely was looking at O-Line, but most of all, I think they were told to watch Iowa C Tyler Linderbaum, a redshirt sophomore. A former wrestler who beat Tristian Wirfs to send his wrestling team to states back in 2017, Linderbaum's physical play, toughness, leverage, awareness, and level of nasty seems like an ideal fit for a team like the Bills. Iowa's Power Success (Run) Ranking is #11 right now.
Most-Intriguing Guess: WR/KR Ihmir Smith Marsette as heir apparent to Andre Roberts' job. He's a receiver, sure, but he leads all but unscouted Hassan Hall of Louisville in career KR yards with 1344.
Flight To Penn State [FlightAware]
Yes, I chase jets. It's just a half-hour jaunt from Buffalo to Penn State. How? Your rented Lear averages 441 mph. This is the second flight to Penn State this year.
Penn State: LB Micah Parsons (#10), TE Pat Freiermuth (#51), ED Shaka Toney (#91).
The jet returned to Penn State after the Jersey Jets win (6 Bass FGs), where Smoke Brown didn't play and Milano just wasn't himself. Jefferson, Addison, and Hyde had one mere tackle apiece. Epenesa and Darryl Williams had 0 tackles. The game was won because of Beasley, Diggs, Tyler Kroft, and Moss.
Best Guess: I have to give more credence to the idea that a trade-up for best-in-a-decade LB Micah Parsons could happen, and that ED Shaka Toney is a consideration in RD3.
Most-Intriguing Guess: Additionally, while Kroft minded the store effectively during Knox's absence, a weapon like TE Pat Freiermuth could elevate the passing game. Allen was efficient vs the winless Jets.(30-43-307, 0 TD 0 INT), but came up empty in the red zone. Coincidentally, "Baby Gronk" Freiermuth is 2nd in the TE class in career TDs.
Ohio State-Michigan State
Chase Goodbread tweeted that the Bills were one of 10 teams represented today for the Ohio State game, adding, "Said to be one GM in the house. They'll see an Ohio State roster minus 23 unavailable."
OHIO STATE: 19 Wyatt Davis OG; 29 Shaun Wade CB; 57 Baltimore Josh Myers OC; 100 Tyreke Johnson CB; 130 Baron Browning ILB.
MICHIGAN STATE: 190 Naquan Jones DL1T
Best Guess: My best guess is that GM Beane isn't the GM that is there. It's likely a team that needs QB Justin Fields or maybe CB Shaun Wade. The teams that went to the game are from Atlanta Falcons (CB?), Carolina Panthers (QB), Pittsburgh Steelers (CB, maybe QB), our Bills (CB or C), Chicago Bears (CB), Detroit Lions (QB maybe), Green Bay Packers (QB maybe), Indianapolis Colts (D-Line), Houston Texans (Guard), and NY Jets (QB, CB may be first 2 picks). Should Wade fall to our pick, the Bills have the opportunity to have bookend lockdown corners. Josh Myers in RD2 would be a coup, too, especially if Beane passes on Creed Humphrey in RD1.
Most-Intriguing Guess: DL1T Naquan Jones in RD5B (alhough I like Marvin Wilson and Tyler Shelvin earlier at the position, too). Naquan's combo of size and speed in our defense is an upgrade from Lotulelei.
Editor's babble: Although I will always be cheering for RB Jaret Patterson from my alma mater, UB, I'll be keeping my eye on FSU DL1T Marvin Wilson. Bills DL can only try to scheme to cover the loss of DL1T Star Lotulelei this season. As always, many thanks to my dear friend and draft guru Dean Kindig. You can find Dean on Twitter @TCBILLS_Astro.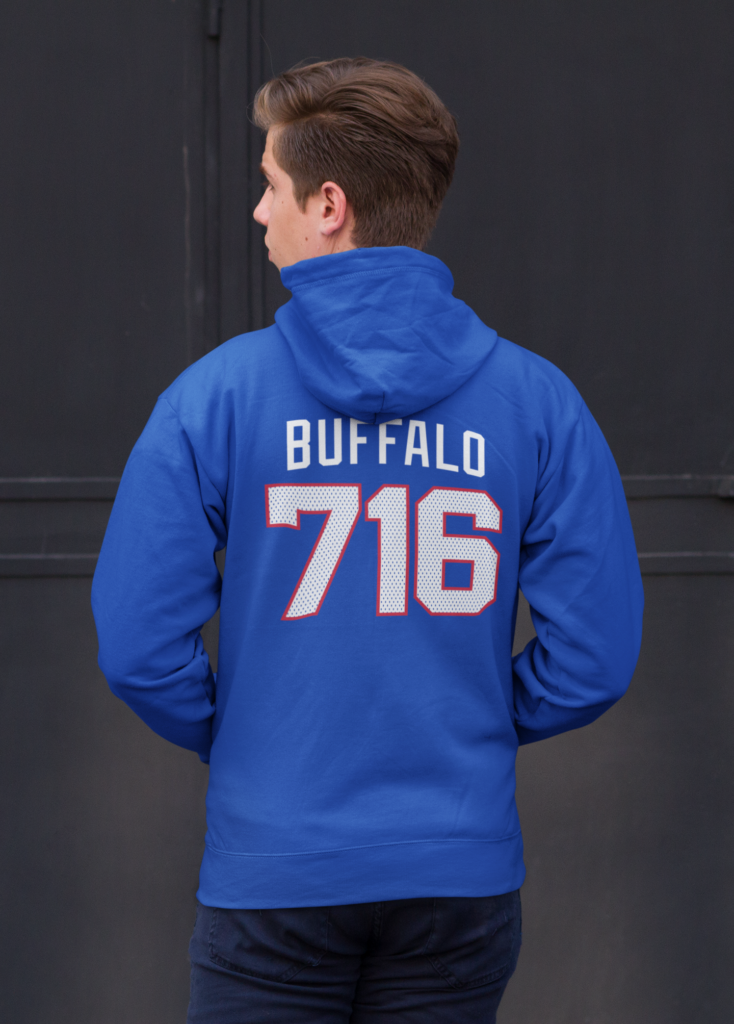 BuffaloFAMbase.com is sponsored by 26 Shirts
Every Monday, we launch a new two-week campaign of a limited edition t-shirt design. Every shirt purchase results in a donation to a local family in need. After the campaign ends, the shirt is retired. A new design is released, and a new family benefits from your fandom!