I'll save the "sky is falling" for the experts who can sort out the x's and o's about how to fix the Buffalo Bills' mortally wounded defense. Ditto for why the offense is performing so poorly on the field. My area of concern is about the wear and tear I see around Josh Allen's 'mentals' at the moment.
It's been obvious for some time Josh Allen has not been himself. The carefree, smiling, jocular quarterback we've come to know and love as fans seems to have been replaced by someone who looks like it's increasingly become a chore to interact with the media. But the real red flag for me came when the change in tone was directed toward the fan base last Wednesday.
Yikes.
That comment will not sit well with our already hypersensitive fan base, that's for sure.
So what in the blazes is going on with Josh that would cause him to show frustration toward a fan base that's done nothing short of anointing him our savior?
I opined before the season started that Allen was undoubtedly experiencing an inordinate amount of pressure to bring a Lombardi to Buffalo this season. Going into his sixth season, he repeatedly acknowledged during the off season he's no longer a young and developing quarterback. He stated numerous times his life mission is to bring an NFL championship to Western New York.
But that kind of pressure alone is the fire that fuels many professional athletes, including Josh.
So what other factors may be contributing to the guy we barely recognize in terms of outward behavior?
There are likely many reasons for the downcast vibe the fan base is sensing from Josh Allen, but they probably are based around some configuration of the following two variables:
Some form of internal turmoil within the organization.
I wouldn't begin to speculate about exactly what may or may not be going on between Sean McDermott and Ken Dorsey, but the blow off by Daboll after the Giants game certainly suggests SOMETHING went haywire in that relationship. So if McDermott is leaning on Dorsey and Josh to play a certain way… essentially 'neutering' what Allen does best in terms of playing instinctively… it would explain why Josh appears increasingly frustrated and/or stressed.
We already know Josh Allen is a self-described "people pleaser", so any 'family' dysfunction is going to affect him differently than if he was more like Stefon Diggs… who rarely gives a rip what other people think. If there's any dysfunction going on within the organization, this will stress a person with this type of personality to a much greater degree.
So whatever the reasons are for any dysfunction, Josh will try to "get along" as best he can. However, I could certainly see a scenario where Allen may blow up about being constrained too much by being forced to play the game in a manner that does not fit his personal style; or as he was aptly described once by a Patriots fan on a podcast (I choose not to name): Josh Allen is Captain Chaos.
Internal burnout caused by demands of job versus introverted personality.
Josh Allen is self-admitted introvert. The degree to which someone demonstrates an introverted personality can have a profound effect on stress levels if the individual is in a highly visible job or is a celebrity for whatever reason. Introverted people require solitude to process their stress. Add to the fact Josh was raised in a rural area and it can be accretive in terms of producing internal stress for him. It's not a coincidence Allen built a house he rarely has to leave… so you get my point. Josh Allen is not Jim Kelly, who loves being with people.
Allen appears to have his circle be family, friends/significant other, teammates, the Bills' coaches and organization. All the social media stuff he used to do in the past looked contrived. Now he's making commercials because they are lucrative, but I suspect not because he necessarily enjoys doing them.
There is a type of burnout you can see in people who have a conflict between their innate personality and their occupation/celebrity status. Going into his sixth season, Josh is likely now wrestling with the loss of the freedom he once enjoyed when he wasn't a super star celebrity. There's a grieving process for what once was a life away from prying eyes.
These are all very normal human experiences. Allen will do what he always does and try to figure it out for himself. Hopefully he will accept support from others along the way because it can be a tricky road to navigate.
The sweet young boy is now a man trying to recalibrate in a big boy world.
In conclusion.
All of the factors described above are likely to be impacting Josh Allen's 'mentals' at the moment. Those of us at a certain age can look back with a smile of recognition for that time of life when you're trying to put it all together. I've said many times to clients over the years that the decade of our 20s is the most challenging.
Josh will no doubt figure it out, but it's obvious he's got a lot on his mental plate at the moment.
Editor's babble: If you got through this and still want to punish yourself more, you can also find me on Xwitter @RobynMundyWYO.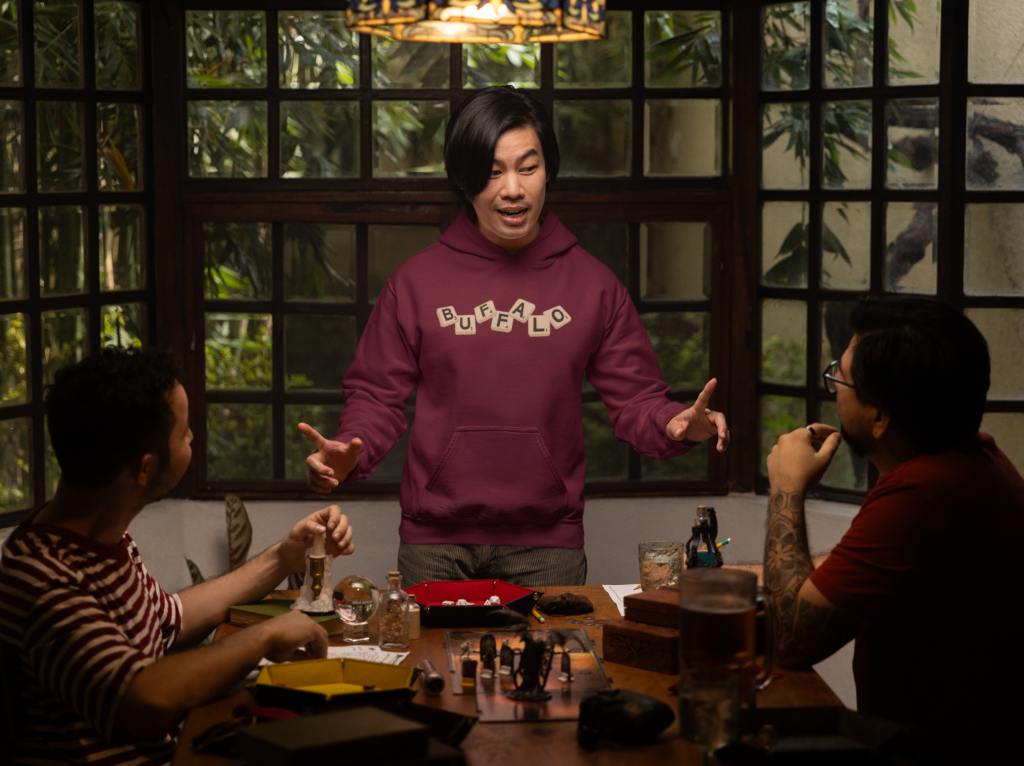 BuffaloFAMbase.com is sponsored by 26 Shirts
Every Monday, we launch a new two-week campaign of a limited edition t-shirt design. Every shirt purchase results in a donation to a local family in need. After the campaign ends, the shirt is retired. A new design is released, and a new family benefits from your fandom!