These are BuffaloFAMBase's top 25 college players who have already been scouted by the Bills for the 2024 draft, and it's only Week 1 of the season! In fact, these 25 have all had TWO scout visits to their game, campus, or hometown, and appear high up on our Big Board, which lives here. I've foolishly sorted them into when they'll be drafted, but people, it's Week 1.
DAY ONE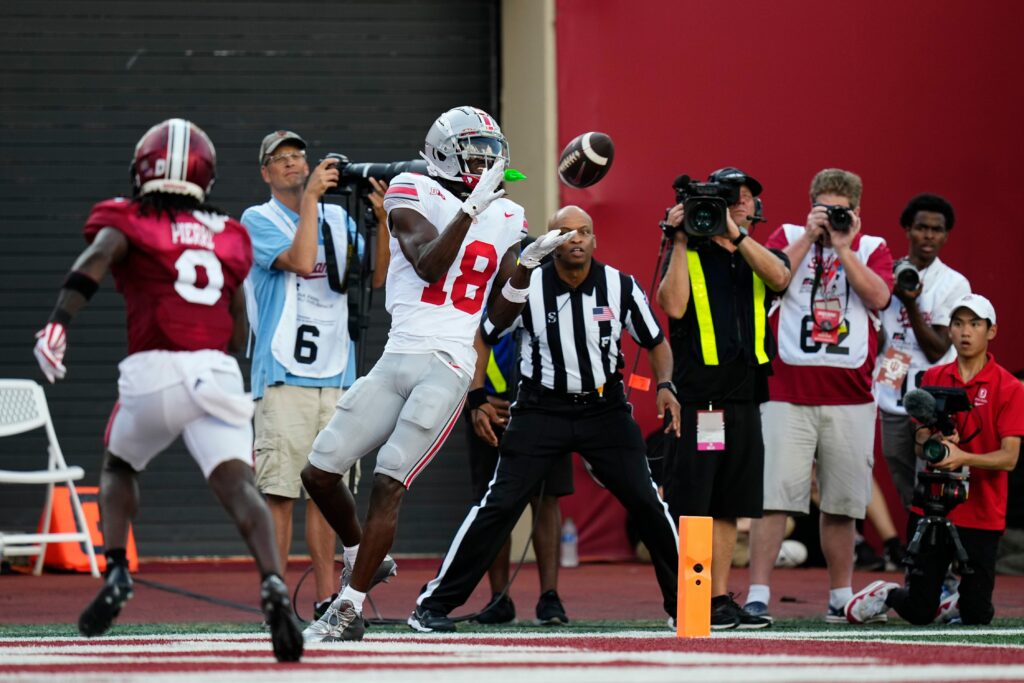 3 Marvin Harrison Jr. WR Ohio State
Interview: A+++
Best NFL Position: WR 'X'
6-4 205 4.46
By the time the Bills draft at #32, Marvin Harrison will already be in Arizona, meeting up with the Cardinals. His obscene 17.3 YPC against AP-ranked teams and 64% catch rate means this son of one of the game's all-time greats is one of the sure-fire picks in the draft. Beane might not trade up for him, or even trade that disgruntled WR for him because of what PFF said about Marvin Junior: " yards after the catch work isn't a big part of his game". Harrison had a shoulder injury in the 2nd quarter of his first game this year. That's not dropping Marvin where we'll be drafting. Likelihood of Bills Drafting: A+ (the player), D (the draft slot).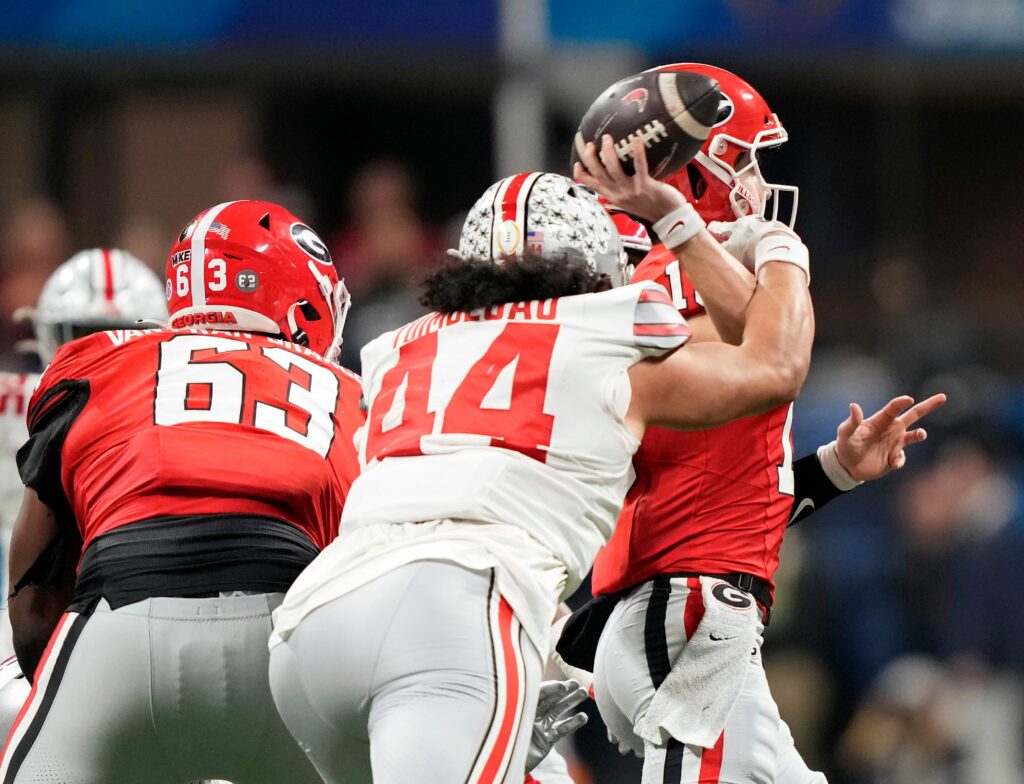 8 J.T. Tuimoloau EDGE Ohio State
Interview: A+++
Best NFL Position: EDGE 4-2-5
6-4 270 4.67
My comp for Cameron Heyward (or the other way around), J.T. "TOOEY-mo-lo-aow" has logged 22 pressures in 24 games so far, which is on pace with AJ Epenesa (whose career averaged .97 pressures per game in the same conference). The difference, though, is how quickly Tuimoloau gets home: Of the 20 pass rushers with .75 career pressures per game or more, Tuimoloau (1) has the most Bills scout visits in the last 2 years; (2) has the most scout visits this year; (3) is second-fastest, and he outweighs the fastest, Richard Jibunor, by 37 pounds. He can take over a game. In fact, in the Buckeyes' eighth game of the 2022 season vs. then-#13 Penn State, Tui notched 6 tackles (three for loss), 2 sacks, 2 interceptions (one a touchdown), 1 forced fumble, and a fumble recovery. He also defended a pass that was intercepted by a teammate. There's a lot to like, but a lot of draft capital required to trade up in the top ten for yet another EDGE –a position where the Bills haven't been too swift at judging talent. Pro Football Network calls J.T. an "explosive long-strider who bounds off the line. He has terrifying power capacity with his burst and length, but he's also surprisingly nimble and flexible for his size, and he has a nose for the football in close quarters." I don't think that describes any defensive lineman on our team. Likelihood of Bills Drafting: A+ (the player), D (the draft slot).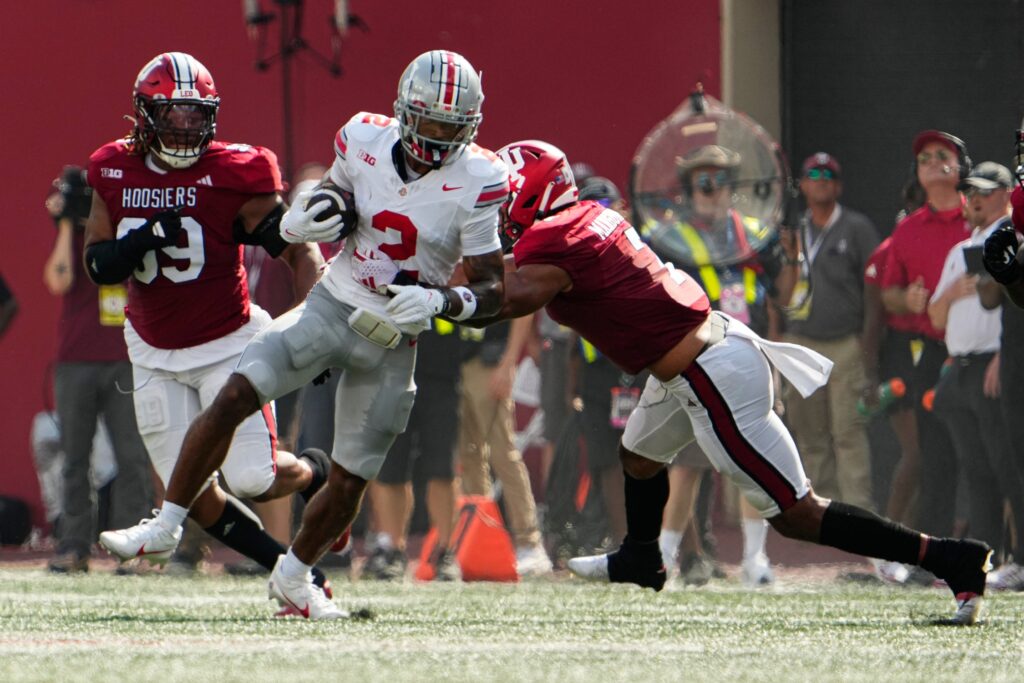 10 Emeka Egbuka WR Ohio State
Interview: A+++
Best NFL Position: WRS KR
6-1 205 4.42
Egbuka is your YAC Monster with sure hands who'll most likely make his living out of the slot. He's logged a career 72% in catch rate, among the highest in this draft class. He's an ideal slot who'll double as a kick returner with 605 yards in his career. Beane speaks about YAC, and in 2022, Egbuka had 526 Yards AFTER Catch. He shows the God-given ability to win vertically, he has natural hands, and Egbuka plays through contact. He tracks the ball well, and has a good size/frame. Will Beane think he has his "slot" in Kincaid? Will Beane get some Gabe Davis insurance? If Egbuka begins to drop, watch Beane answer these questions with a trade-up. Likelihood of Bills Drafting: A+ (the player), D (the draft slot).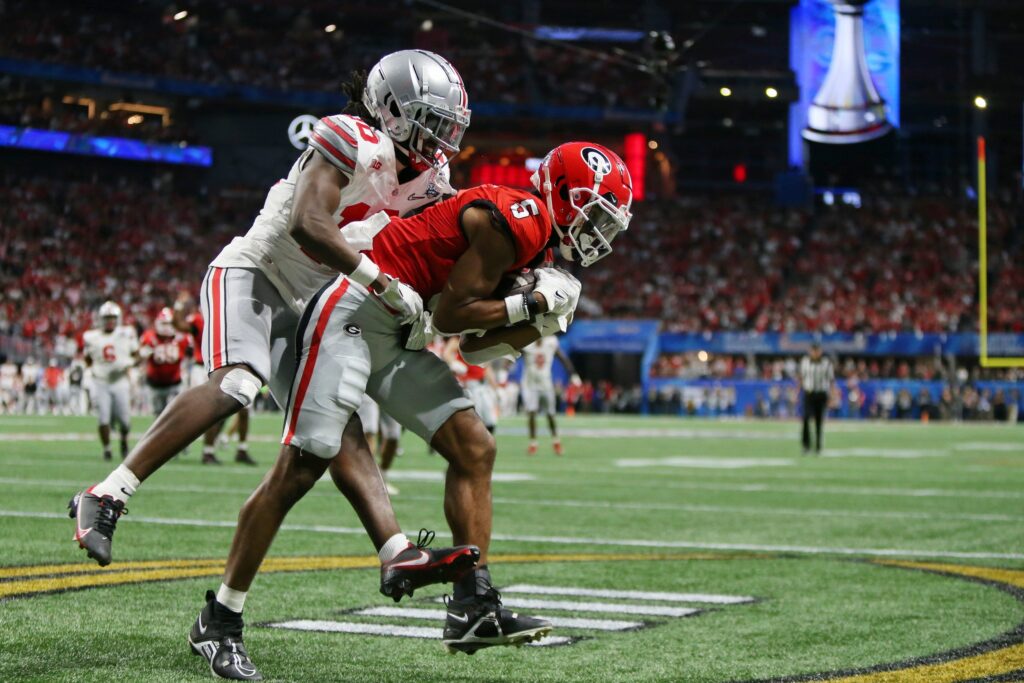 18 Denzel Burke CB Ohio State
Interview: A+++
Best NFL Position: CB
6-1 190 4.49
I still have Denzel Burke as my CB#2 in this class. You don't see Burke's instincts, awareness, long speed, and size coalesce in one person that often. If I have any reservations, it's that I thought Burke played better as a freshman than as a sophomore, so he's worth a hard look in 2023. The other knock on him is his lack of game-changer productivity (24 games, 24 starts, 1 INT). Burke has resolved to take it up a notch in Year 3, and I have resolved to give him the benefit of the doubt. Nate Wiggins of Clemson could catch him for that CB#2 spot, but Wiggins' poor angle in Game 1 cost the Clemson Tigers a QB TD. For me, Kalen King, Penn State, and Jason Marshall Jr. of Florida are closing in on Burke. Likelihood of Bills Drafting: B-
23 Michael Hall Jr. DL Ohio State
Interview: A++
Best NFL Position: DT3T EDGE
6-2 290 4.96
It doesn't help when you have the poorest interview of the Day One prospects. It certainly raises the level of expectation when you're given the moniker of "Baby Aaron Donald". A third setback for Hall was a shoulder injury in the second half of 2022 after being given limited snaps in 2021 (35 snaps total at the end of blowouts against Akron, Maryland, Indiana and Michigan State). Hall's limited playing time on the field in 2021 and 2022 means he'll be a bit rusty at the beginning of this season. A fourth factor in my grading him lower than most big boards was a memorable unsportsmanlike conduct penalty against the Akron Zips –slashing his throat during a celebration after making a play. Hall was pulled from that game, and was given a stern talking-to. Hall can still mature enough to be the Alpha Dog the Buckeyes haven't had since Chase Young left in 2019. For me, Hall still needs a dominant, focused, controlled, healthy season to go in RD1. He's maturing. A year ago, his interview I watched was two notches lower than the most-recent A++. Now, he speaks only about D-Line and not self. Likelihood of Bills Drafting: D+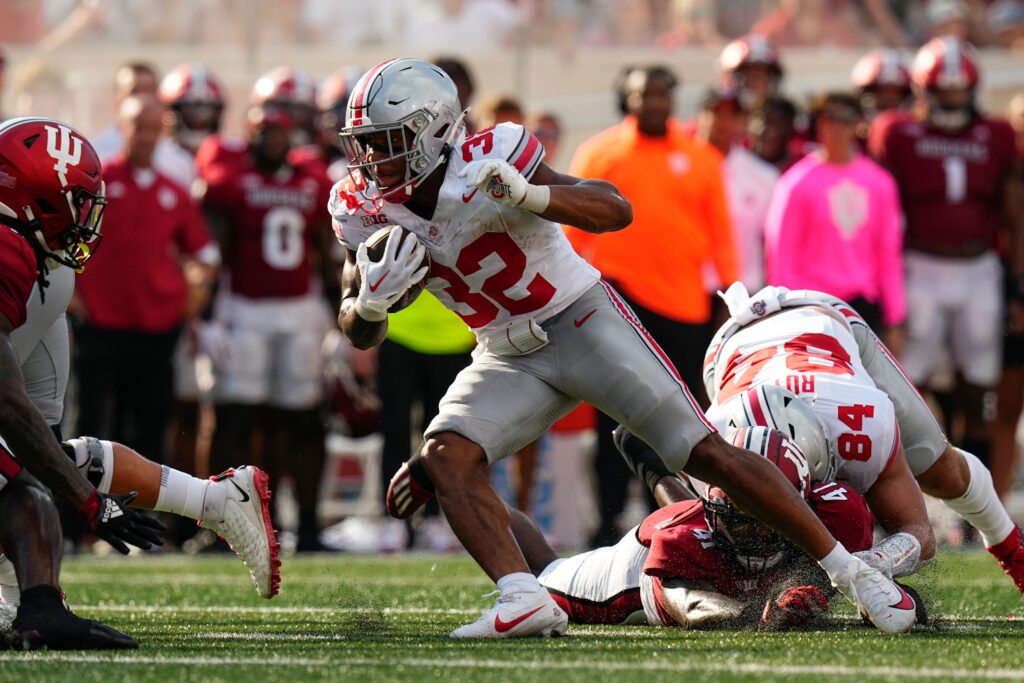 34 TreVeyon Henderson RB Ohio State
Interview: A+++
Best NFL Position: RB KR
5-10 214 4.39
There's hope for Henderson sliding into the bottom of Round 1, despite the Buyer's Market on Running Backs. One factor is Henderson's 5.5 yards per rush vs AP-ranked teams in his career. Another is his James Cook-like hands (10.97 YPR). Henderson's been successful as a kick returner, too, another skill that's becoming a harder sell due to rule changes reducing a kick-returner's cachet. TreVeyon has the size, speed, and smarts. He's a playmaker — he broke the Ohio State freshman TD record in 2021– but injuries in 2022 limited him to only 571 rushing yards and six scores. The traits are there, though. It's going to come down to one team falling in love with him, as opposed to teams investing in all the vet talent that's out there. Likelihood of Bills Drafting: A-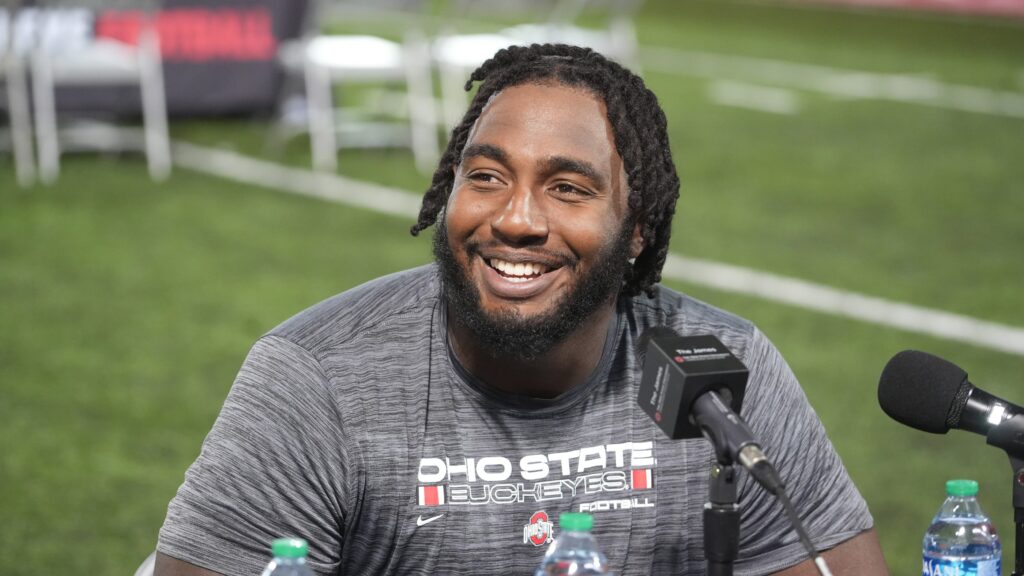 37 Donovan Jackson G Ohio State
Interview: A++
Best NFL Position: LG
6-2 310 5.09
With Right Guard O'Cyrus Torrence solidly entrenched in the Bills' offensive line for the coming decade, what are the chances Beane tries for the early selection of a Left Guard? Jackson has the 6th-fastest forty time among Guards. Ric Serritella, the creator of NFL Draft Bible, says Jackson has an "elite combination of athleticism and play strength. On every rep, Jackson was in control, as he was almost never off balance or lunging at defenders. In the run game, Jackson plays with his hands in tight and uses his grip strength to sustain blocks…. He is able to work to the 2nd level and is an impact blocker in space. Jackson has a level of explosiveness off the snap that is rare for a guard." I sense Kromer's salivating already. Likelihood of Bills Drafting: A+
DAY TWO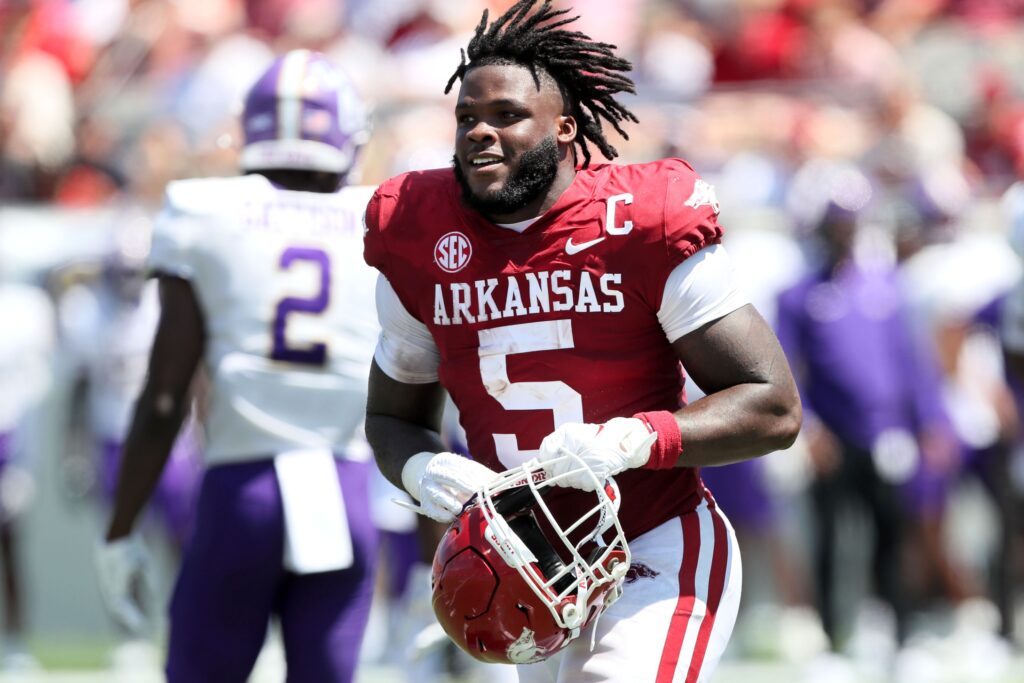 40 Raheim "Rocket" Sanders RB Arkansas
Interview: A++
Best NFL Position: RB
6-2 227 4.52
The first visit by a Bills scout this draft season was to Arkansas. Could the Bills be looking at the ideal complement to James Cook? Latavius Murray is 33, and Damien Harris is a different body type. Moreover, Harris had only a 3.9 YPC from his college days, and was primarily a goal-to-go option in New England. Rocket's 5.4 yards per carry career vs AP-ranked teams, plus his 9.74 yards per reception, allow him to be a feature back and/or a "thunder and lightning" back for the Bills. "Rocket" Sanders excelled as the Hogs' best playmaker last season, logging 7 games over 100+ yards rushing, so he's shown that he can be a workhorse. He carried the ball 20+ times in five of the 2022 season's last 6 games. He's going to drag the pile, as Sanders is tied for 2nd-heaviest (Estime) . Sanders' 6.2-yard college average is better than former Razorback Darren McFadden's 5.5-yard average, and Sanders is a more productive receiver (1,059 yards compared to McFadden's 1,003 yards). Likelihood of Bills Drafting: B+.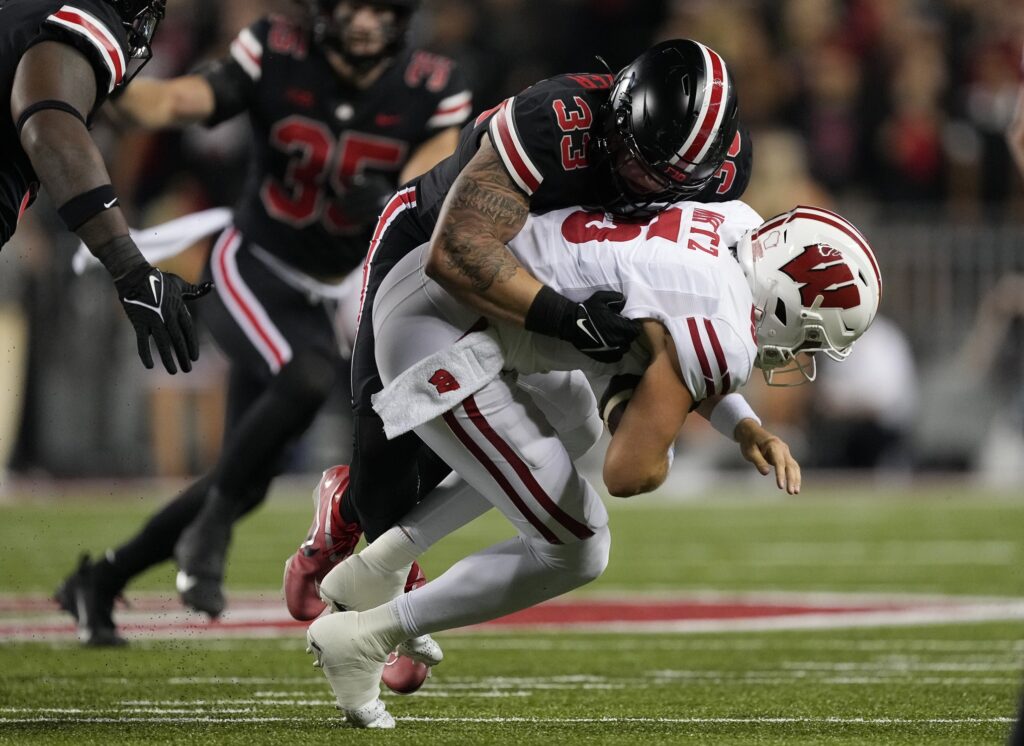 41 Jack Sawyer EDGE Ohio State
Interview: A+++
Best NFL Position: EDGE 4-2-5
6-4 267 4.58
Despite Jack being his first name, Sawyer has been misused up to this point. As a RSSoph, he played the JACK role in a 4-2-5, aka Leo or Elephant. That's a hybrid role for a player who rushes the passer but also plays the outside linebacker. Sawyer needs to be rushing the passer, as he's disruptive first and foremost. He spent his 2022 season splitting time between trying to progress as a defensive end and learning a brand new position that probably never fit Sawyer in the first place. He played 329 snaps as a result — third among defensive ends — en route to 24 tackles, 6.5 tackles for loss, and a team-high 4.5 sacks. Sawyer figured it out before his coaches, I think, and he sat down with the coaching staff after the season, adamant about getting back to traditional defensive end. Having to split time learning two things often means never quite getting the hang of either (you can call it multitasking when you eat and drive, but sooner or later, you're getting the lapful of cola). Only the much-lighter Von Miller would actually beat Sawyer in a foot race among Bills D-Linemen (Rousseau's the same weight as Sawyer; they'd tie). You'll see the results sooner than later! Here's where Jack's stats will appear –Keep track of Jack. Likelihood of Bills Drafting: A+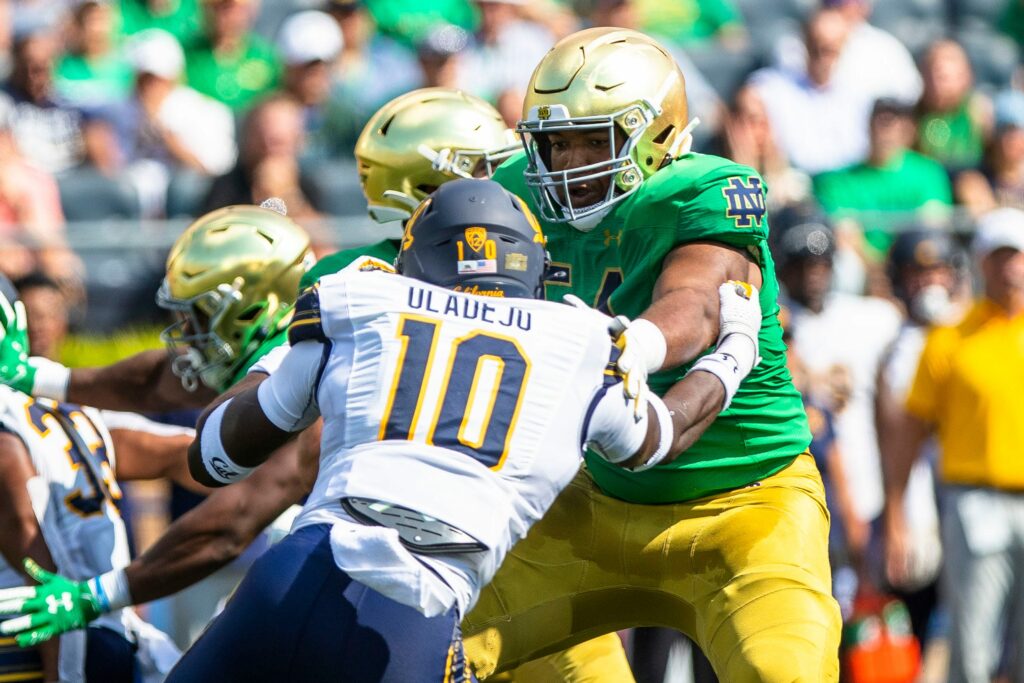 61 Blake Fisher OT Notre Dame
Interview: A+++
Best NFL Position: RT->LT
6-6 327 5.32
Blake Fisher has the super size, the quick handfighting, the brute strength, and the deft footwork to play LT, but there's a problem at Notre Dame: Joe Alt is the LT, and he's even better than Blake –possibly going as early as Pick 5. Fisher has upside as a swing tackle or a big guard. His biggest drawback is that he's tied for the 6th-slowest OT on my board. It's possible Blake may drop in the draft some more. Notre Dame Offensive Line Coach Harry Hiestand announced his retirement in February after 40 years of college coaching, so Alt and Fisher might drop a tad, but if that happens, the talent is there for a later-Day-2 steal. Likelihood of Bills Drafting: B+
75 Tyleik Williams DL Ohio State
Interview: A++
Best NFL Position: DT3T only
6-3 318 4.97
Tyleik had been playing behind Michael Hall at DT3T, so he's been lost in the shadows a bit. When COVID hit, he ballooned out to 360 pounds –so much for the shadows, except the gigantic one he was casting on the coaching staff. A nutrition plan seemed to help a little, but he seemed tired, especially late in games. Nevertheless, Tyleik persisted, and it's yielding noticeable results. I have him weighing a svelte 318, and his never-to-be-trusted team website has him at 290. Williams' get-off is now even more lightning-quick (he's the draft's fastest IDL), and his productivity has broken out like acne on a 14-year-old: he's leading the defense with 5 tackles. He even got the start over Hall, mentioned above. Watch Tyleik vault up from Day Two into the late Day-One convo. Keep track of his stats here. Likelihood of Bills Drafting: A-
76 Tommy Eichenberg LB Ohio State
Interview: A+
Best NFL Position: ILB
6-2 239 4.73
You're seeing those "Too Early Mock Drafts" putting Eichenberg in Buffalo. It's a lazy guess. First of all, listen to Eichenberg's interview and decide if he's McBeane's type. While Tommy owns the third-most solo tackles per game in the ILB class (4.07), it's my humble opinion that his success is minimized by the number of incorrect decisions he's making –wrong hole, bad angle, etc. I am perfectly willing to be wrong about Tommy, especially if we decide this season that we don't have an ILB on our team. Likelihood of Bills Drafting: D
82 K.J. Jefferson QB Arkansas
Interview: A++
Best NFL Position: QB
6-3 242 4.76
Stats
I think the Bills will look for a backup QB in the 2024 NFL Draft, one that has some of Josh Allen's good qualities (arm strength, accuracy, persona), and maybe not some of Josh's bad qualities (hero ball). Boasting a 64.8% completion rate vs AP-ranked teams, K.J. Jefferson is one of five signal-callers I've zeroed in on (you'll hear about them in a future article) that meet that metric. Jefferson had an injured shoulder/collarbone worth monitoring, but he does have the touch. His 289 yards, 3 TDs vs CIN moved him up. Jefferson is quick and decisive, as you see here. He's missing Treylon Burks dearly, though. Both made both better. I have October 7 vs Ole Miss circled on my calendar as Jefferson's coming-out party. Likelihood of Bills Drafting: A
92 Beaux Limmer C Arkansas
Interview: A++
Best NFL Position: OC RG
6-5 302 5.17
When (not if) the Bills scout Arkansas some more, they'll look at the guy hiking the ball to Jefferson, as well: Beaux Limmer. He's one of the best pass-blocking linemen in the draft, and country-strong, as well. The strength coaches sometimes have to cut Limmer off from maxing out on his lifts. "They're really high, and the thing is, the crazy part is that we don't really know how high, because usually they're like, 'All right Beaux, you've gone high enough, like, we don't need you to go anymore," teammate Brady Latham said of Limmer's personal bests. "I've never seen Beaux fail on a weight. So, like, you name it, he could probably throw it up there." I understand Limmer could put up 600 pounds on the bench and possibly 700 pounds on the squat. Bills seem to factor bench strength heavily in their evaluations. Likelihood of Bills Drafting: A+
97 Cade Stover TE Ohio State
Interview: A++
Best NFL Position: TE, but could see OLB/EDGE
6-4 255 4.76
Would you triple down on a TE with Knox and Kincaid? One that has a 75% career catch rate? What if he has played three different positions (DE, TE, LB) and would be ranked as the No. 7 OLB? What if he scored 2 TDs in the scouted game vs Maryland last year, and looked equally impressive in a scouted win over Penn State (6 receptions for 78 yards and a touchdown)? What if he was uber-athletic, setting his high school's all-time scoring record in basketball? Stover made the transition back to tight end from linebacker quite recently, in 2022, and that level of rawness reminds me of Kincaid. Still, Knox has a 4-year contract ending in 2027 and Kincaid could be ours until 2028, so a Day Two TE isn't likely. Still, Watch his stats here. Likelihood of Bills Drafting: C-
99 Miyan Williams RB Ohio State
Interview: A++
Best NFL Position: RB
5-9 225 4.52
"MY-in" Williams is this year's Buckeye bowling ball with, I'm told, a Peyton Barber build and feel vs contact. He logged 5.0 YPC vs AP-ranked teams in 2022. Miyan has a wonderful smile, but it's not the sharpest interview, and not much of a receiver, with a 7.21 YPR. Beane will like his contact balance and his almost-adequate speed (although he was caught from behind on one of his five TD runs vs Rutgers). But keep this in mind: Ohio state backs almost always profit from a great OL. So while Williams' 7.0 overall rushing average was #1 in the Big Ten in 2022, that draft had OT Nicholas Petit-Frere and OG Thayer Munford, and this year's draft has OG Donovan Jackson and C/G Matthew Jones. Miyan was carted off the field in Nov 2022 with an apparent leg injury, but Miyan looked just fine on September 2. Williams ranks #1 in YAC/Carry. If you think Latavius Murray (6-3, 230, age 34 when we win the Super Bowl) needs an heir, Williams might be a good option if he lasts until RD4. Likelihood of Bills Drafting: C
107 Lathan Ransom S Ohio State
Interview: A++
Best NFL Position: SS
6-0 207 4.5
Lathan Ransom, on my Top 15 Best Name candidates in this draft, was in good spirits' after breaking a leg in the Rose Bowl on New Year's Day 2022, and attacked his rehab the way he attacks the ballcarrier. He's earned only 13 starts out of 33 games played, but he's earned his way onto the field. Watch for number 8 this year. I think he'll pick up speed as the Buckeyes' season goes on. Likelihood of Bills Drafting: A-
DAY THREE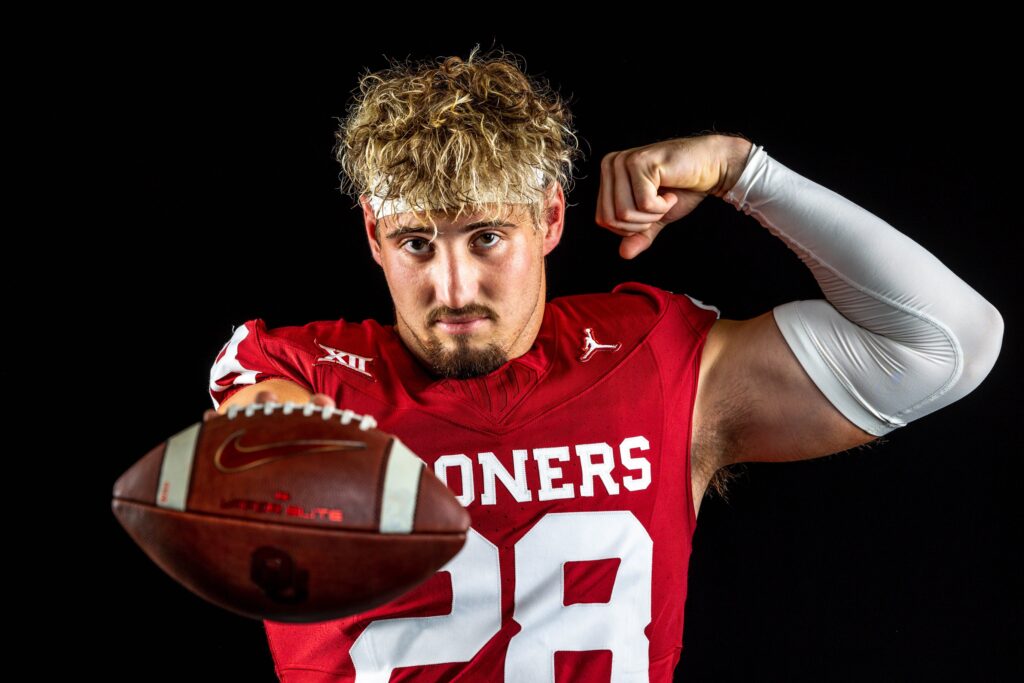 123 Danny Stutsman LB Oklahoma
Interview: A+++
Best NFL Position: ILB <-> OLB
6-3 240 4.73
The reasons I like Danny Stutsman are his versatility. productivity, and persona. He can play outside or inside with equal aplomb. He made the 4th-most solo tackles per game (9.6) among the 2024 draft's ILBs, and led the Big 12 Conference with 125 total tackles. That ranked him 18th nationally (first in Big 12). He can blitz from either spot (his 10.5 tackles for loss ranked second on the team), and he's a Steady Eddie: he made double-digit tackles eight times and recorded at least seven tackles in 11 games. Stutsman doesn't care about stats, though; he just wants to win football games. He has impressive size, length, and interview (take a listen to the good part). The Bills don't usually dip into the Big 12 waters for their fish, but I'd make an exception for Stutsman. He looked great in the Sooners' 73-0 dismantling of Arkansas State. Yikes. Likelihood of Bills Drafting: A+
149 Tyler Guyton OT Oklahoma
Interview: A+++
Best NFL Position: RT
6-7 316 5.15
Seeing a trend here on Day Three? If the Bills don't draft an Oklahoma player on Day Three this year, I'll eat cilantro raw. Tyler Guyton would go a long way to providing competition at RT, which I understand some fans think is a problem. Guyton transferred out of TCU after two years there , ostensibly to gain playing time (perhaps he doesn't like to compete in national championships; we'll look into it). To begin his 2022 season with the Sooners, Guyton started at LT, but was switched to RT after one game, and shifted to primarily a RT role rest of the season. Watch him at RT at Nebraska and vs Florida State in the Cheez-It Bowl. This year, Guyton's 10-yard penalty for holding nullified a TD in Game 1. The jury is still out deliberating. Would the Bills ever take another Oklahoma offensive lineman? Likelihood of Bills Drafting: D
159 Billy Bowman S Oklahoma
Interview: A++
Best NFL Position: CB FS KR
5-10 190 4.42
Owning a Top 2 forty time among draftable safeties, Bowman has always impressed me when he's been healthy. I love Bowman's elite changes of direction and aggressive but clean hitting with keen angles. He plays with good anticipation. He's a proven playmaker, and in his first game this year, (scouted), he returned a kickoff for a TD. After missing Week 6 and Week 7 of 2022 due to injury, Bowman picked up where he left off. He finished the campaign with 60 tackles (two for loss) and three interceptions, which earned Bowman an All-Big 12 honorable mention. In high school Billy was a three-sport athlete with terrific track speed (10.84 100 as a sophomore), so the athleticism is palpable. Likelihood of Bills Drafting: A+.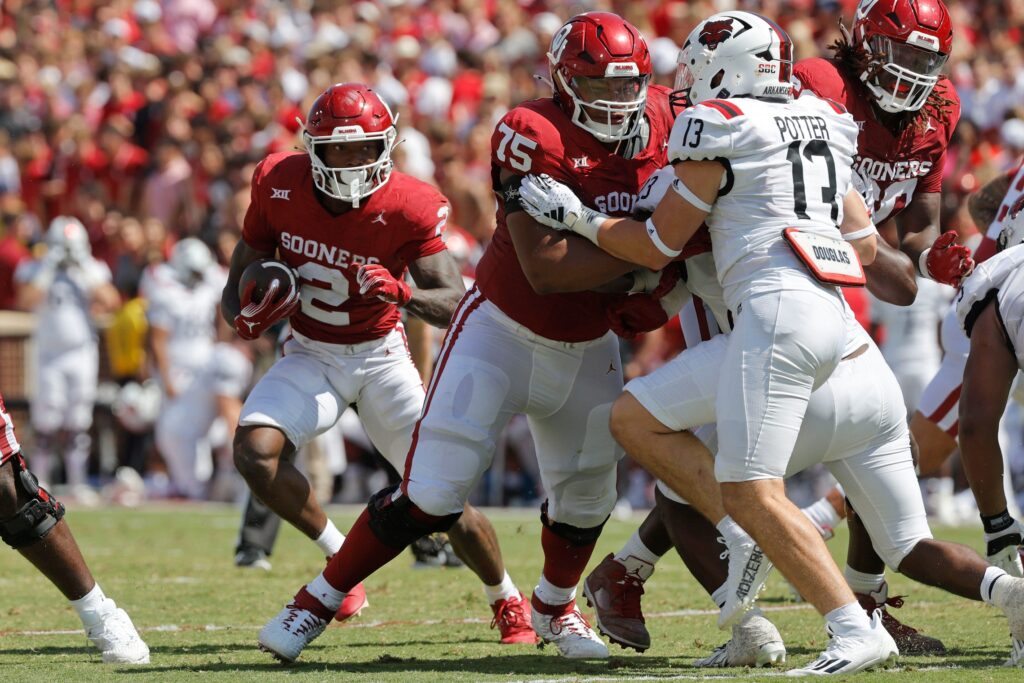 165 Walter Rouse OT Oklahoma
Interview: A+++
Best NFL Position: LT<->LG
6-5 318 5.21
I think the Bills have learned the Secret of the Hogmolly. They'll draft at least two, and probably three more linemen to control the lines of scrimmage on both sides of the ball. This one can be interchangeable at LT or LG. Rouse, a redshirt senior, received shoulder surgery for a labrum tear in December 2022, and has been full-go since the end of spring. Per Alex King, he says LT #75 "Shows quick feet, good eyes, & smooth redirect ability on this E-T stunt. Like the way he finishes the block as he shows his grip strength." Don't take Alex King's word for it; take it from the Stanford transfer himself: "I came here with a job to do. Coming here to play football next year, I want to help OU get better. OU's going to help me get better as a football player and as a man. I'm just really excited about it. It's been a great journey so far." At 6-5, 318, Rouse is a Kromer archetype. What's not to like? Well, besides Cody Ford? Likelihood of Bills Drafting: A-.
180 Josh Proctor S Ohio State
Interview: A+++
Best NFL Position: SS FS ST
6-2 205 4.44
The Bills will take a Safety earlier than Proctor will go, but they might double-dip at Safety to assure they have the next Poyer and Hyde duo. Owner of a Top 3 forty time, Proctor is the fastest safety in the BIG10. He didn't play in 2022 due to a compound fracture of his leg. He talks about it here. It's his attitude and push through his rehab that has me intrigued. While he was out, he lost time to Lathan Ransom (see Ransom, above), but Proctor starts at Free Safety in 2023. This is his sixth season, as he's a redshirt senior with hardly any tread on those tires after minimal work last year –192 snaps in eight games, with most of his time being spent on special teams. Proctor only played over 20 snaps in a game three times all year, finishing with 21 tackles, 1.5 tackles for loss, a sack and two pass breakups. His low solos per game should be analyzed more carefully. Some draftniks say Proctor can't consistently take a good angle in tackling, and that it shows in his solo work. Likelihood of Bills Drafting: B-.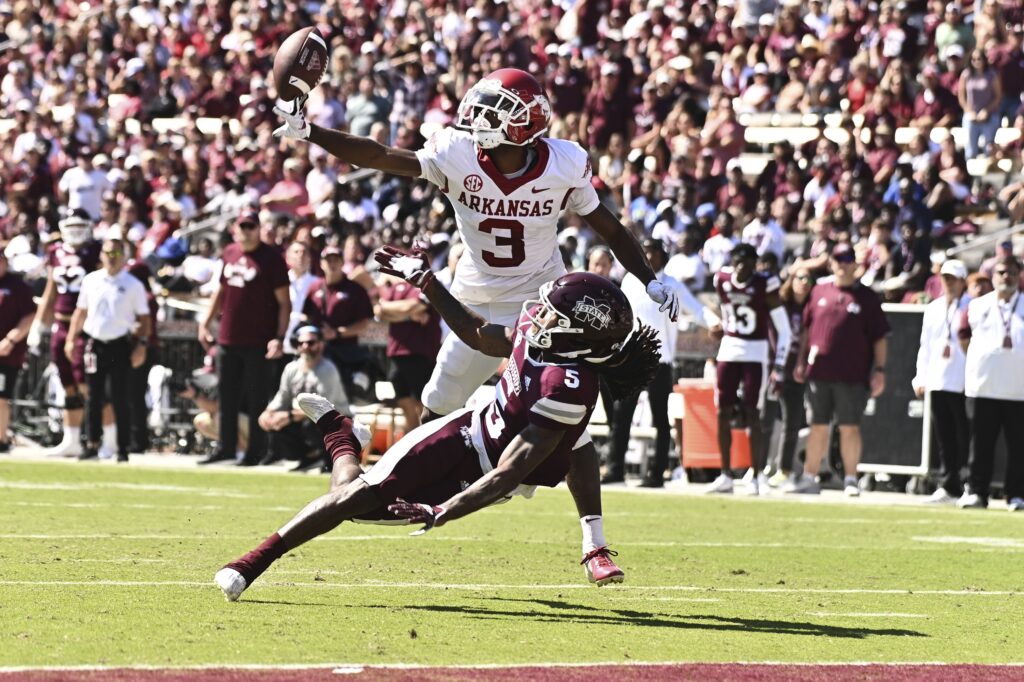 207 Dwight McGlothern CB Arkansas
Interview: A+++
Best NFL Position: CB FS
6-2 182 4.5
SEC cornerbacks get a lot of high-level competition to develop their craft. McGlothern was named to the Pre-Season All-SEC 1st Team this year, his second at Arkansas after two years at LSU. McGlothern has proven himself to be a steady performer in a Razorback secondary that frankly needed one. Dwight had 52 tackles and led the team with four interceptions last year –good for #2 in the SEC. Add in McGlothern's height and length –he's hard to throw over. Thirst for learning comes through in the Interview. Watch his stats here. Likelihood of Bills Drafting: A+.
220 Andrew Raym C Oklahoma
Interview: A++
Best NFL Position: OC OG
6-3 305 5.26
The Bills will have to find a cerebral, strong leader to succeed Mitch Morse when his time is through. Limmer, mentioned before, and Andrew Raym seem to emerge for me. A Big12 Academic Team, and All-Big 12 Second Team honoree, Raym started first 10 games in 2022 at center before missing the last three games due to injury. He is remarkably upbeat about the season through it all. He's had his share of injury, but when he's played, he's been impressive. Likelihood of Bills Drafting: B.
221 Kyle McCord QB Ohio State
Interview: A+++
Best NFL Position: QB
6-3 222 4.73
I'm not sure about McCord. He certainly struggled against unranked Indiana. He's had 0 throws vs AP-ranked teams before this season. Ryan Day barely played McCord last season, even in games that were blowouts in the third quarter. McCord attempted just 20 passes, completing 16 (80%) for 190 yards and a touchdown. My advice is to just keep an eye on McCord here. Likelihood of Bills Drafting: C+.
Editor's babble: Dean Kindig is our guru who gets us ready to watch college football with the Bills in mind. We are grateful for his contributions to our blog. You can also find Dean on Xwitter @TCBILLS_Astro.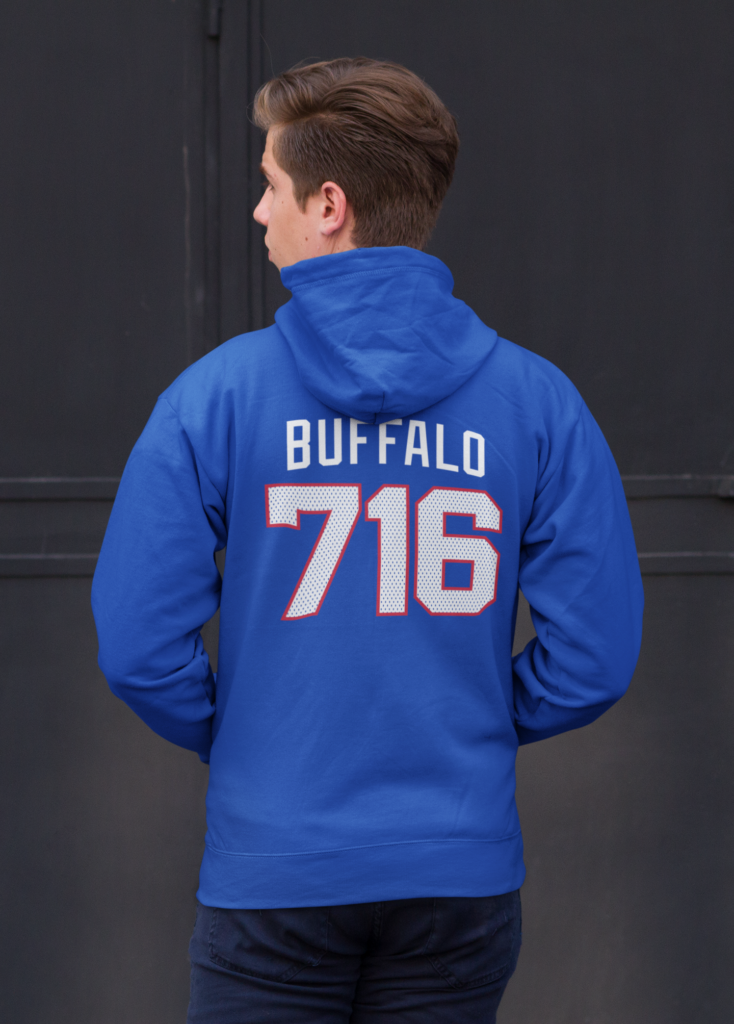 BuffaloFAMbase.com is sponsored by 26 Shirts
Every Monday, we launch a new two-week campaign of a limited edition t-shirt design. Every shirt purchase results in a donation to a local family in need. After the campaign ends, the shirt is retired. A new design is released, and a new family benefits from your fandom!