Weather: Pouring at the bus stop, but it slowed to a drizzle and then cleared nicely. The Mafia came prepared! No dent in attendance..
Jersey of the Day: A crisp Shane Falco Washington Sentinels #16 jersey (portrayed by Keanu Reeves in "The Replacements").
The final practice of 2023 at Fisher started with a 3rd and short situation at the opponents 25. Murray took a handoff on the first rep, then a play action and roll out to Kincaid. Sternberger, Wilson, and Mims in at TE and RB in 12 personnel with the twos. They moved to the goaline, with a jumbo I-backfield with Morris leading Murray.
It seems safe to say that no D3 practice football field in the nation drains better than Fisher.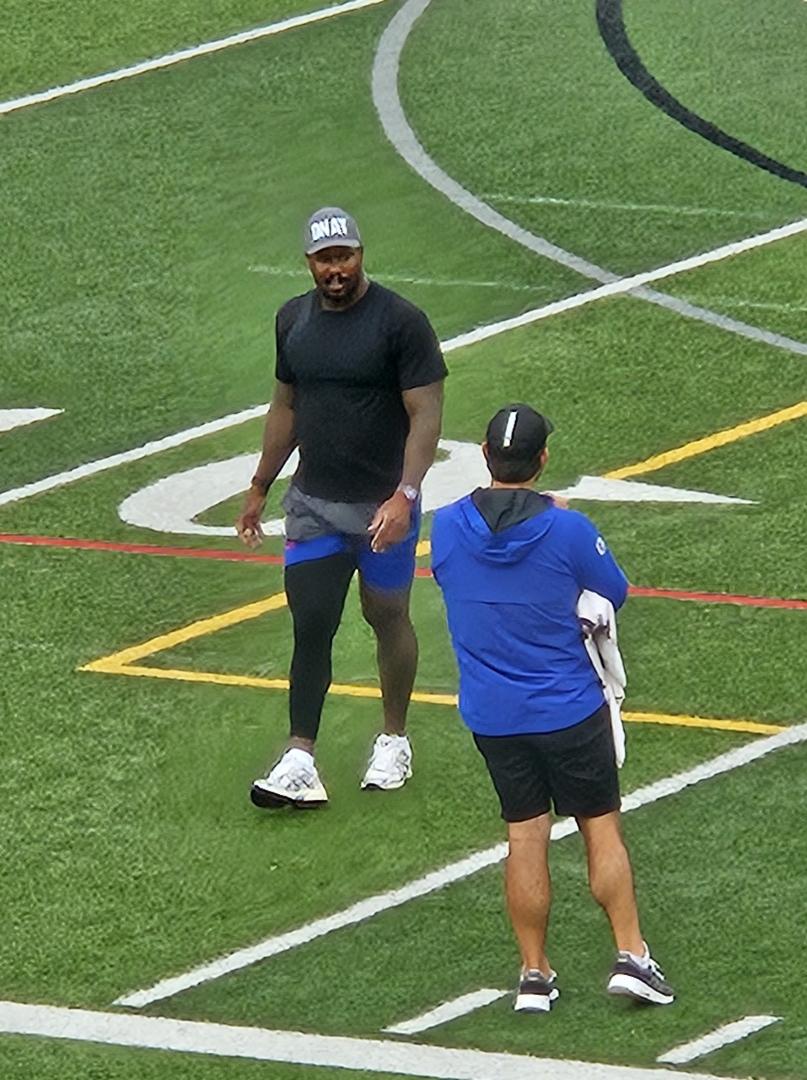 The defense trotted to the small field in positional drills, while ST worked on kickoffs today on the main field. Andy Isabella got most of the reps at KR, with Darryton Evans joining him later. No Harty…Watching the gunners held our attention for a bit, but watching Von Miller work out with Tyler Matakevich on Fisher's Stadium Field was more interesting. Take all the time you need guys. The best part of today's pitch and catch was a 35 yard beauty from Josh to Diggs to the post, or more accurately, the scaffolding.
Back in 11 v 11, some ongoing conflict between Diggs and Elam migrated to our sideline. Being physical is why the Bills drafted Elam, but staying on the legal side of playing CB in the NFL is a work in progress. One interesting look had Sherfield in the slot and leading a Cook sweep. His blocking ability ought to get him on the field more often than a WR4 normally would. Murray ran the pitch sweep with the twos and looks pretty fast for a 33 year old RB. The Diggs injury scare came the next time the ones were out there. It looked like a calf, but it turned out to be a back issue and no cause for concern. The one injury that is concerning from today was Terrell Bernard, who left and didn't return with a hamstring injury. Dodson looked like the opening night starter anyway, but opportunity knocks for Baylon Spector. Kyle Allen had a nice day. He showed better speed than Trubisky or Keenum on a long running play. A nice fade to Shorter in the end zone resulted in an obvious interference penalty on Dane Jackson.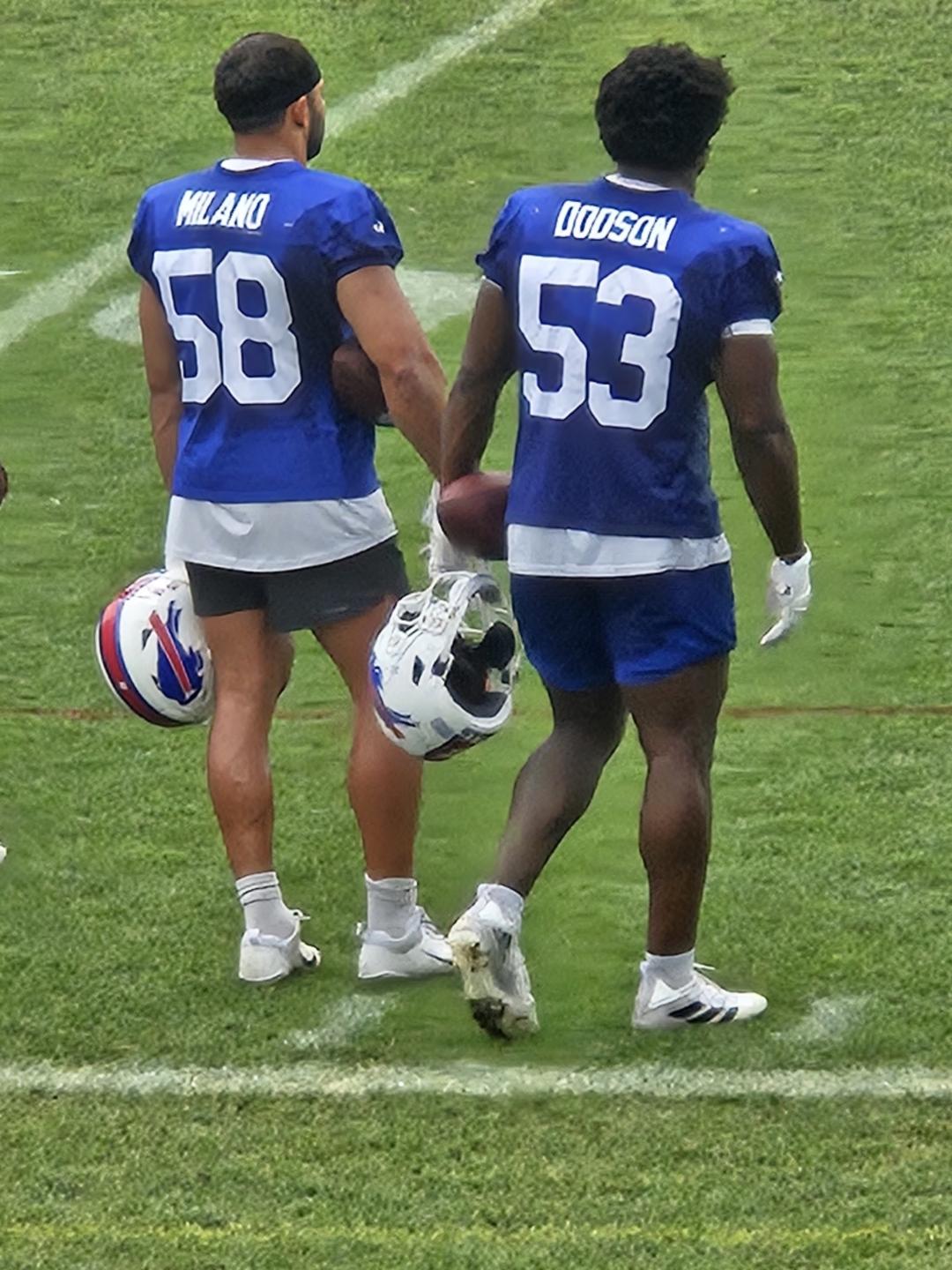 The defensive play of the day came from Matt Milano on a leaping interception of Matt Barkley. The hit of the day came from Baylon Spector on KeeSean Johnson…pretty loud considering they weren't in full pads. The offensive play of the day came on a tipped pass that Dalton Kincaid snagged in the end zone.
The trucks are loading. 10 days of capacity crowds. A very big thank you to the families who shared the tickets that allowed this website to carry on the tradition of the AstroNotes. Dean will have to let us know the date of origin. We witnessed solid showings by the draft class of 2023 and an exciting group of FA veterans that the naysayers cannot be factoring in. A large swath of Bills Mafia made being here a big priority in their summer, and I didn't encounter many disappointed fans that had their golden ticket. Saw plenty of Mafia at local bars, restaurants, and at last night's Red Wings game. Here's hoping there is a way to keep the Bills at Fisher and satisfy demand. The biggest demographic trend this year was a sharp increase in seniors and groups of women. Safe travels home all!
Editor's babble: And another training camp at SJFU is in the books. We are so grateful for Dean and Joe's tireless effort to secure tickets to camp, as well as all the time it takes to write up AstroNotes. You can also find Joe on Twitter @joer869.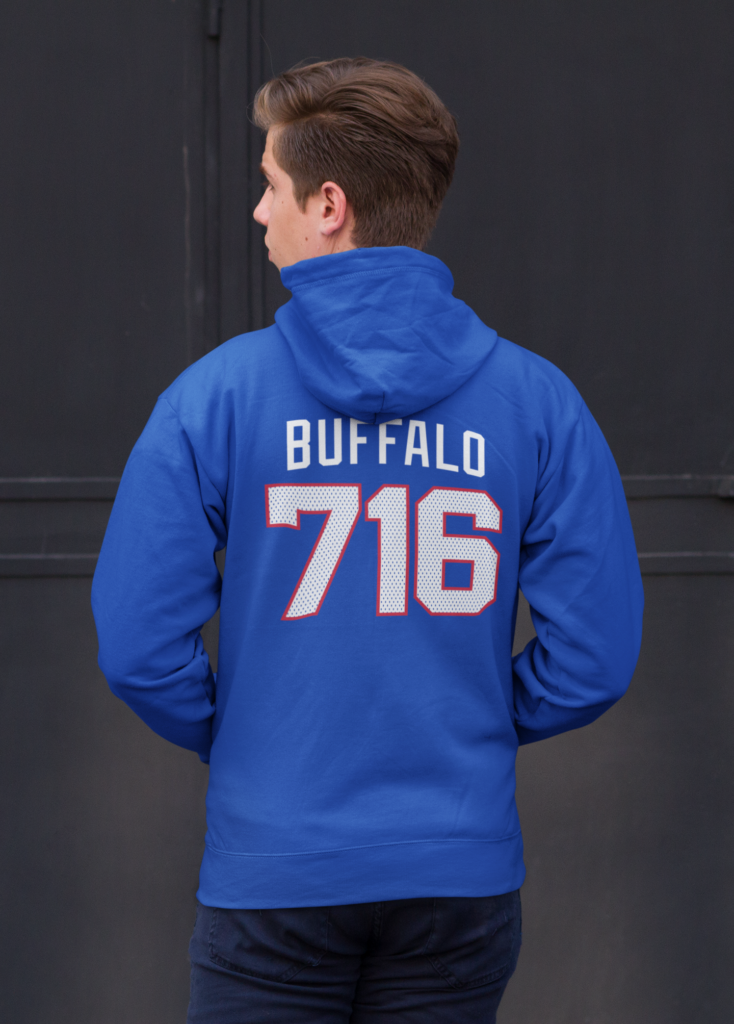 BuffaloFAMbase.com is sponsored by 26 Shirts
Every Monday, we launch a new two-week campaign of a limited edition t-shirt design. Every shirt purchase results in a donation to a local family in need. After the campaign ends, the shirt is retired. A new design is released, and a new family benefits from your fandom!