Weather: 7:30-9:00 steady rain, then morphed into blue skies and sunshine!
Special Guests: Darryl Talley, Steve Mariucci.
Birthdays: Marv Levy, James Hetfield of Metallica, and FamBase Editor and Writer Robyn Mundy.
Jersey of the Day: Arizona Cardinals white Pat Tillman.
It was nice to see Ring of Honor member Darryl Talley greeting Dorian Williams on his way to the practice field; and hopefully imparting a little wisdom to the rookie. Billy Buffalo was the last out of the locker room. I can't imagine that suit is much fun when wet. A pre-practice version of "Shout" had the daily capacity crowd fired up. On the eve of the Blue and Red they brought in Officials for the first time. Yes, Sean McDermott owns shorts.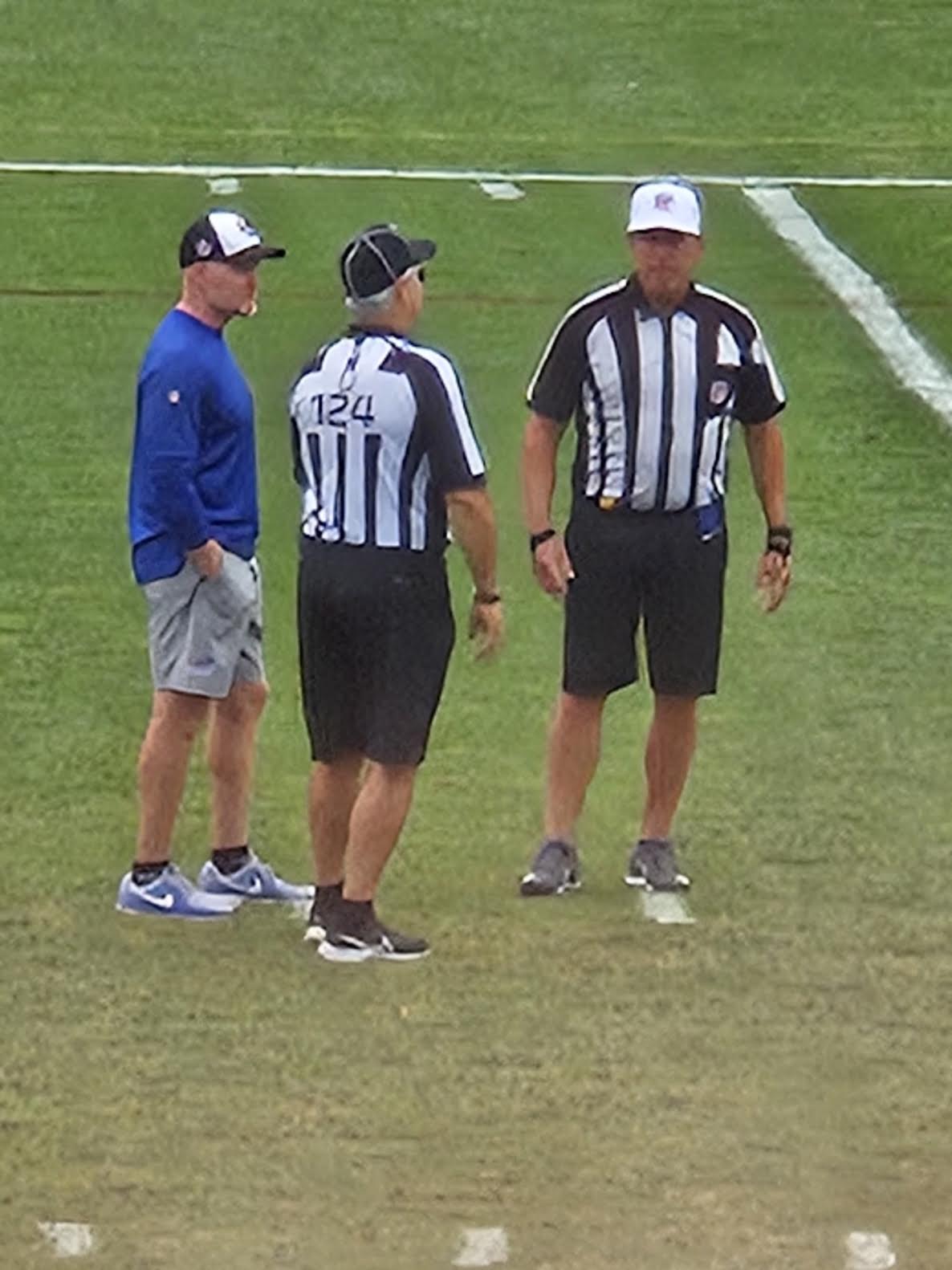 The session opened with a half speed 11 v 11 for the 1s, 2s, and 3s. The work was split fairly evenly all day. Maybe the most entertaining part today was the dancing during warmups of Stefon and Dion to the "Cha Cha Slide". Maybe not for real games, but that would be fun for the Blue and Red a la "Remember the Titans." Von Miller was doing some highly athletic things on the side…it looks like sooner than later.
Positionals occupied the 10-10:35 segment. In front of us were defenders working on a snap timing drill with an official's assistance. For the first time this year-BLOCKING SLEDS. Such a long way from Vince Lombardi days. Just Isabella, Harty, and Evans returning punts. No Shakir. In the special teams drills, Shorter is everything that Hodgins wasn't.
It's funny how routines set in. Our spot next to the Press Box always seems to have the TEs in front of us when they break off. Counting Gilliam..boy, do they all look good. What was a weak spot is a huge strength. He may not get as many snaps or targets, but Dawson Knox is going to be employed in all kinds of ways and have a blast doing it this season. On one trips-right formation today Knox took the handoff.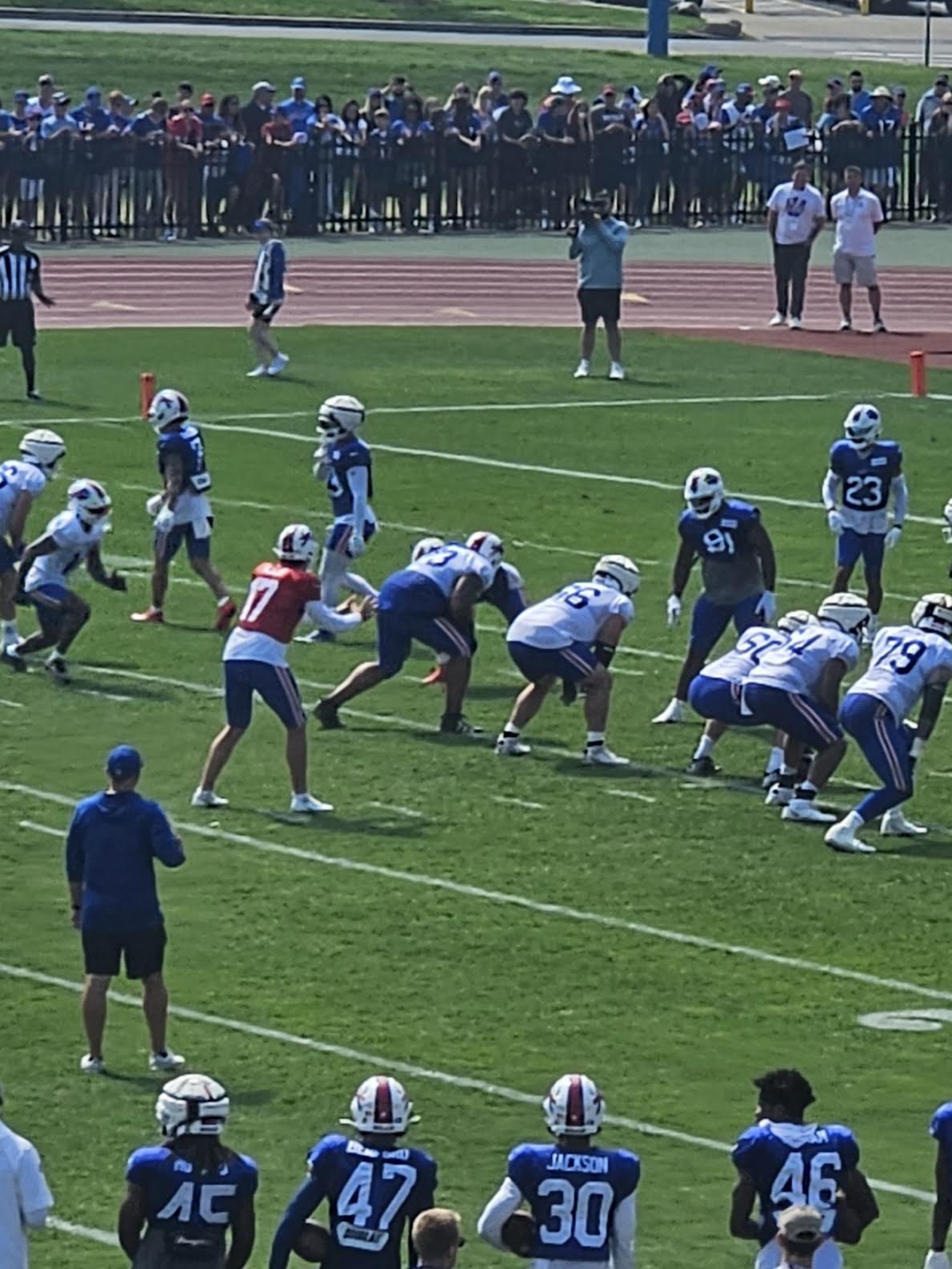 The closest thing to full speed football so far this TC came next with 11 v 11 and all running plays. Ahh, the sound of shoulder pads colliding. Biggest hits came from Milano, Floyd, and Dodson. The more impressive look at the RBs came later in the red zone. How about a Cook sweep, a nice change of pace move, and around the corner to the pylon? Or broken tackle bull rushes into the end zone by Harris, Murray, and Evans? Loved it!
The most beautiful pass and catch of the day was from Allen to Knox in the SW end zone. More short stuff for Gabe should leave our TEs in favorable matchups downfield. Shavers and Isabella made tough over the middle TD catches from Barkley with the twos. The first yellow flag flew shortly after 11. AJ Epenesa made a beautiful play swatting down a Josh Allen pass. Quieter days for Kincaid, Harty, and Shakir, but they all got one before the end of practice. Gabe Davis continued to shine with a beautiful run and catch TD. Elam had a little better day than Dane Jackson but both had an interception.
Not only my favorite warm up, but the practice ended with sideline to sideline wind sprints, which is a fan favorite in any sport at any level. Off to Highmark!
Editor's babble: We are grateful for all the contributions made by Joe Reagan for our blog. You can also find Joe on Twitter or X or whatever it's called today @joer869.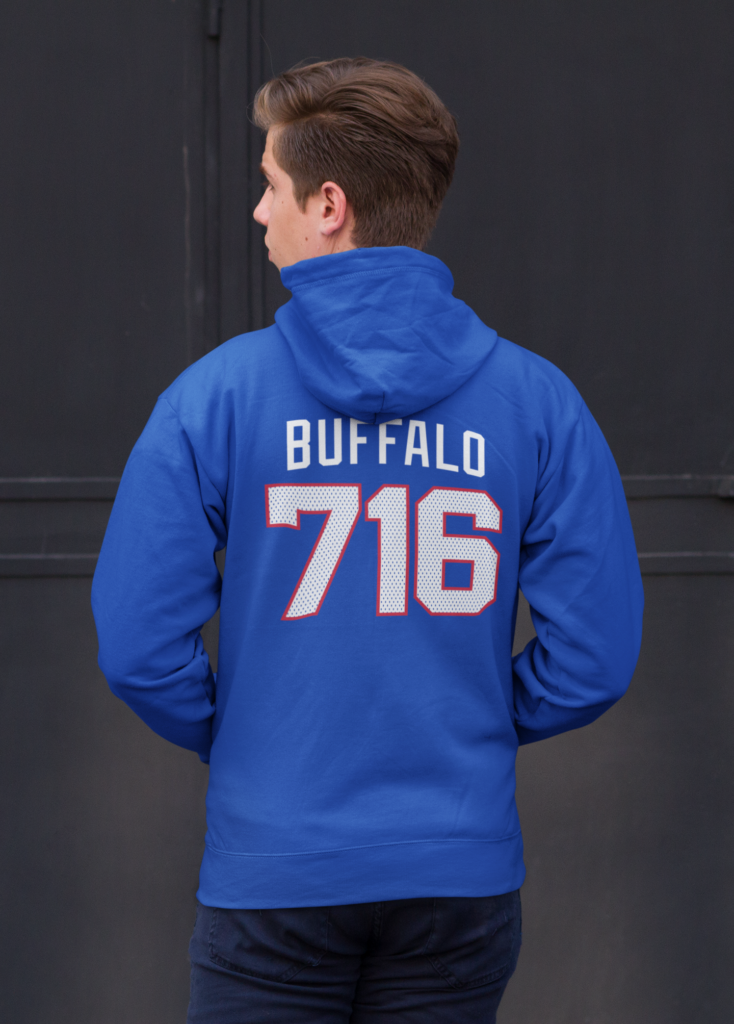 BuffaloFAMbase.com is sponsored by 26 Shirts
Every Monday, we launch a new two-week campaign of a limited edition t-shirt design. Every shirt purchase results in a donation to a local family in need. After the campaign ends, the shirt is retired. A new design is released, and a new family benefits from your fandom!