Bills Camp 5
Today is Fedora Joe's birthday, and we were able to get tickets from my niece, Karen, and her husband. We are extremely grateful, and plan to respond with the best AstroNotes ever. We don't have tickets for tomorrow, so we are appealing to your extra ticket of those six that you received. Kindly, DM me on Twitter or email me at Dean.Kindig@gmail.com.
I got to Sutherland to catch the $1 (no more senior discount) shuttle buses at 8:02. I am in my seat and it's 9:01. . The temperature is in the mid 60s so up on the aluminum bleachers, it's about 70° with puffy clouds blocking the sun for now.
The entire team will be in pads today, excepting Pegula, who has attended practice each day. Continued wishes and prayers for Kim in her recovery.
We stopped off at the Merch tent, and they had a Hall of Fame helmet signed by the team Hall of Famers. A man this week paid cash for a helmet worth $1575. They had a poster-size photo of Jordan Poyer making a great catch for $80, and I understand that Poyer actually bought one. I hope he got a discount. For, you know, like, being in the picture.
There's no real reason to get here at 9:10, but it does give us a chance to pick the best seat. The stands directly behind the tunnel are already 75% full, but there are only five people in my whole section, including me. By the time calisthenics are done, our bleachers are full, including some big names in Bills Podcast Land, including Chris Jahnke, Joe Marino, Joe's brother David, Joe Miller, and Pat Moran.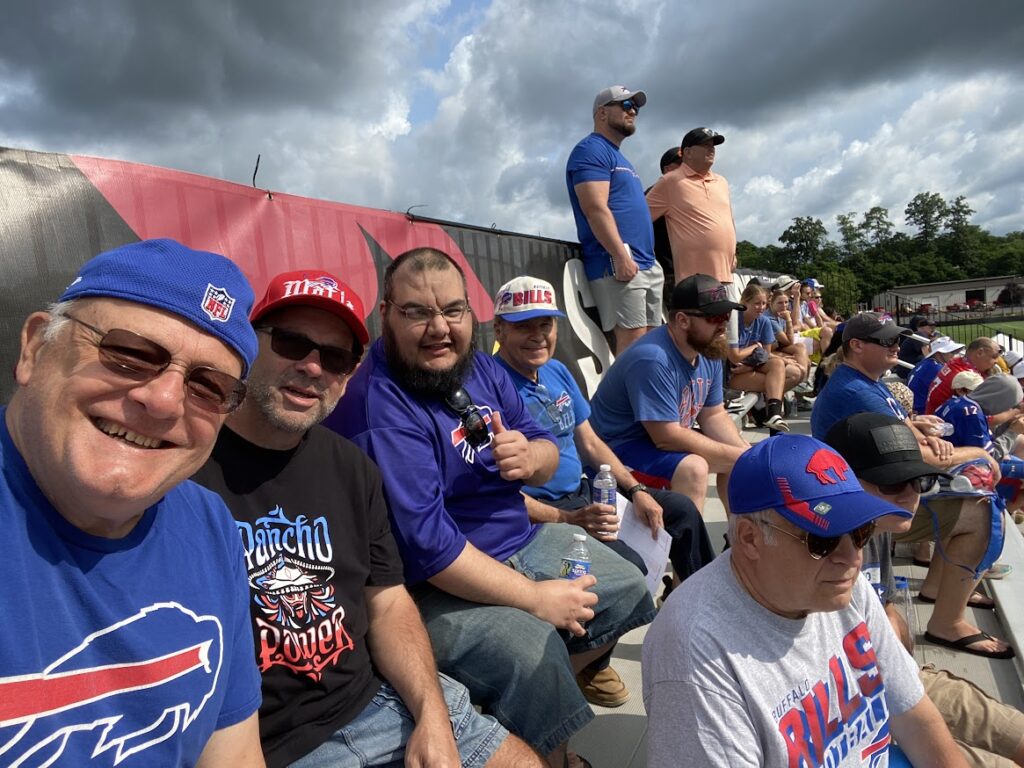 The Early Eleven today begins with David Edwards, Tre White, Ken Dorsey, Ed Oliver (who gallops for a photographer), Justin Shorter, Alec Anderson, Brayden Johnson, Nick Broeker, Richard Gouraige, Dorian Williams, Khalil Shakir.
Receivers are practicing on the JUGS machines, or stepping over hurdles (this includes Tre White ). If a player gets on this team by dint of sheer effort, it's wide receiver Justin Shorter (6-4, 229, 4.55). Shorter is busting his butt every day. I have him as one of the 53 on my Depth Chart.
A few people, like David Edwards, O'Cyrus Torrence, and Tyrell Shavers, look even bigger in pads than they did 24 hours ago. There's no helping Andy Isabella.
Rob Boras is spending an a lot of extra time with Jace Sternberger.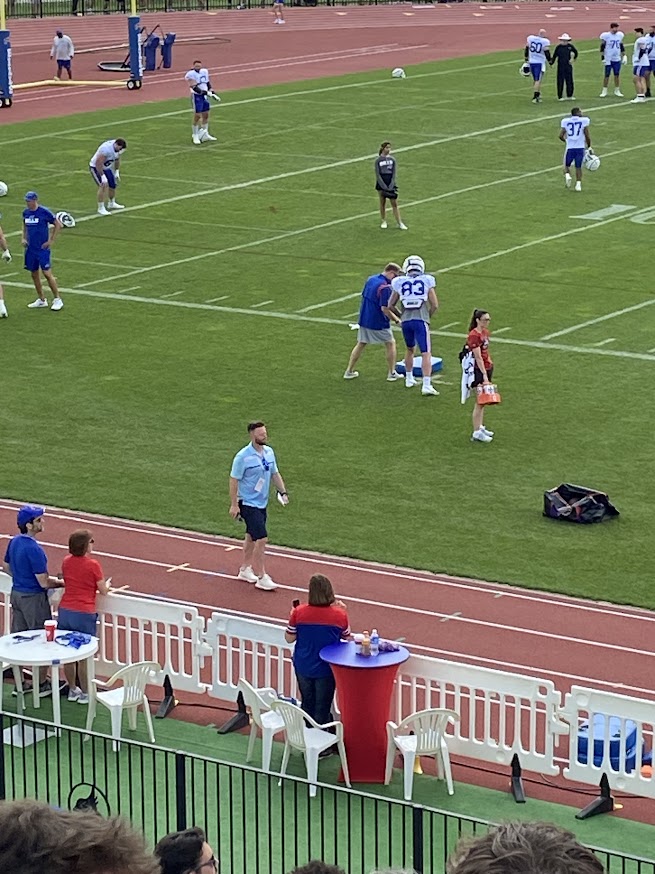 Sean McDermott is over talking to the Hogmollies on offense: Alec Anderson, Connor McGovern, Mitch Morse, and Ryan Bates. Defensive coach, huh?
They are giving Andy Isabella some extra JUGS work. Some of the starters are coming now. Kincaid's applause gets louder every day. The only players whose cheers were louder? The roar for Poyer, Josh Allen, and Diggs.
The Jersey of the Day is a Washington Redskins John Riggins, number 44. Some old farts might remember him.
Damar Hamlin comes out to a generous cheer. It's his first time in pads since being loaded into an ambulance. Yesterday's Jersey of the Day echoes in my mind: "We Are Damar".
O'Cyrus Torrence is out with the ones for the informal 11 on 11s, with Khalil Shakir. On the defensive line, it's Rousseau on the left defensive end, with DT Boogie Basham (offsides on one play), DT Ed Oliver, and Leonard Floyd. Bernard is the middle linebacker. Passes to Diggs, Shakir then Davis are casual arcs. They all return to the 25-yard line for second teams. Benford is the is the outside linebacker right now.
Justin Shorter reels in a long pass From Kyle Allen. Sherfield, Shorter, and Harty are your second-team receivers now. Shorter catches a second ball from Allen in the far corner of the end zone.
Barkley connects with KeeSean Johnson, then Dezmon Patmon, then Isaiah Coulter. Joel Wilson, he of the great hair, makes an impressive catch. Patmon again for his second of the session.
Calisthenics stars
️ have Stefon Diggs, Gabriel Davis, and you'd be hard-pressed to nominate many others. The extra effort isn't there. I blame the low-fat turkeyburgers.
Harty, Evans, Shakir, Isabella, and Patmon seem to be the kick-returner order. There is some gunner practice on the far side of the field going on simultaneously, and third-rounder Dorian Williams is is one of them. Rob Boras is working with the two tight ends that are locks to make the squad. Hint: their initials are DK.
Kromer has the offensive line arrayed in military fashion, working on drive blocking.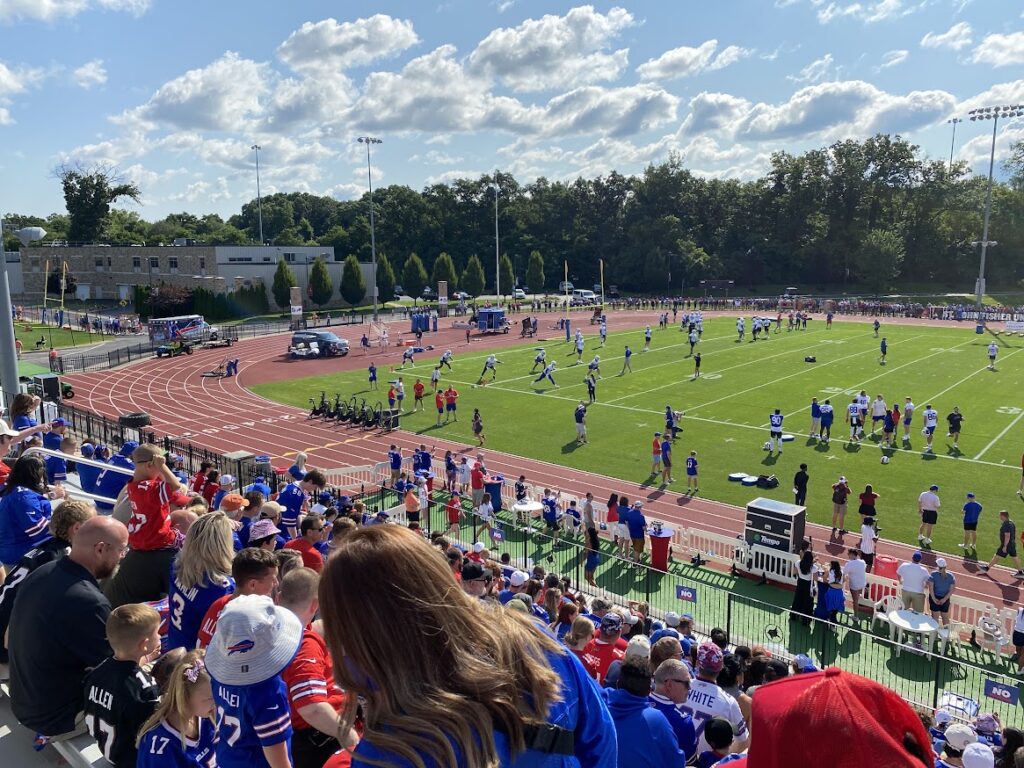 Hamlin is out there with the special teams' first unit. Is it a salute? Speaking of salute, Gunners are Dane Jackson and JaMarcus Ingram, and I spy former first rounder Shane Ray looking better than ever.
Darrynton Evans then Andy Isabella got the first punts of the practice. For Kick Return it's Harty then Evans. Evans gets a squib kick, pausing only briefly to secure it better. The next is an onside kick. No kicks into the end zone. The Chiefs kick will echo in our heads forever and ever and ever.
Sometimes there are roster clues by watching the order in which players go during positional drills. The TEs went in this order:
1. Knox
2. Kincaid
3. Gilliam
4. Joel Wilson
5. Quintin Morris
6. Jace Sternberger
The outside WRs went in this order:
1. Diggs
2. Davis with KeeSean Johnson
3. Braydon Johnson with Tyrell Shavers
4. Dezmon Patmon with Trent Sherfield
The slot guys went in this order:
1. Shakir
2. Harty
3. Andy Isabella
4. Isaiah Coulter
The offensive line and the defensive line are practicing double-teaming the rushers. D.J. Dale impressed more than I thought he would. He caught my eye twice. Alec Anderson, who earlier had played Center with the threes, also looked good. The other noticeable rusher was AJ Epenesa.
11 on 11
James Cook bounces off of the impressive Leonard Floyd and "motors" around the left end. Taron Johnson snuck around the left and past Dawkins to make a tackle in the backfield. On the third play, Cook went off right guard and got a healthy 10+ yards. Damian Harris got the 10-yard gain on the fourth play.
Barkley is in with the twos, and Kyle with the threes as per usual. Jordan Mims was the running back with the threes. I'll tell you, Mims has some Jukes, great forward lean, and relentless leg churn.
Harty got immense separation on Micah Hyde on the other side of the field and Josh dropped it in over the top for a touchdown. Catch of the Day!
More 11 on 11
Spencer Brown throws a deft block to spring James Cook to the outside on the first play. It's Bernard and Bates at the "question mark" positions. Play action fake but Epenesa doesn't take the candy and came in strong , but Josh Allen, cool as a cucumber, gets rid of it for a 70-yard play to Diggs. Catch of the Day!
We return after the twos and the threes . Boogie Basham came in from the DT3 spot for a would-be sack. Kaiir Elam is one of the cornerbacks, Bernard and Dotson the linebackers. Cam Lewis and Damar Hamlin are the safeties. I'm sorry to write this, but Dorian Williams doesn't look like he knows what he's doing yet. Grooming him behind Milano is the definite way to go. This isn't Tulane.
Leonard Floyd is being so disruptive that you're going to have to double somebody. Will it be Rousseau? Or Floyd? He's been that serious a problem.
Gabe Davis makes a Catch of the Day on the far side of diving grab of a "meh" pass from Josh. Dawson Knox makes a nice grab on a slant, with interior space being opened up by threats like Harty, Shakir, Cook, etc. running out to the flats. Gabe Davis grabs a Josh pass on a flare-out to the left, and Davis is 100% catch rate today. To underscore this here's a very nice catch on our side of the field by Gabe. Hopefully today silences the coin-flip catch rate mantra about Gabe Davis.
Benford and Elam on the outside. It's a nice run up the middle by James Cook. The blocking is only part of the story; Cook's quick hit of the gap with rapid acceleration and elusive moves is the best part of the story.
Skipping the twos and threes again.
Dorian Williams is in and Baylon Spector is out. A very nice catch by Shorter makes you think that he will have a field day in preseason against the other twos and threes.
Josh is back out there and on the first play, Ed Oliver was on him immediately. You like to see that what with all of the money Beane shelled out. Amazing that James Cook was able to catch the outlet pass, though. The next play is a catch by Diggs on an out pattern, and he goes over and kneels on the sidelines. Hard to tell if he's sulking. More motion pre-snap, this time by Trent Sherfield, who realigns on the slot side. Elam backs off and toward the boundary, and that actually takes himself out of the play, which went inside him to his right.
Bates has a black wrap on his left leg, which we hope is only precautionary. One of Dion's legs is also wrapped. Gone are the days of light tan-colored ACE bandages.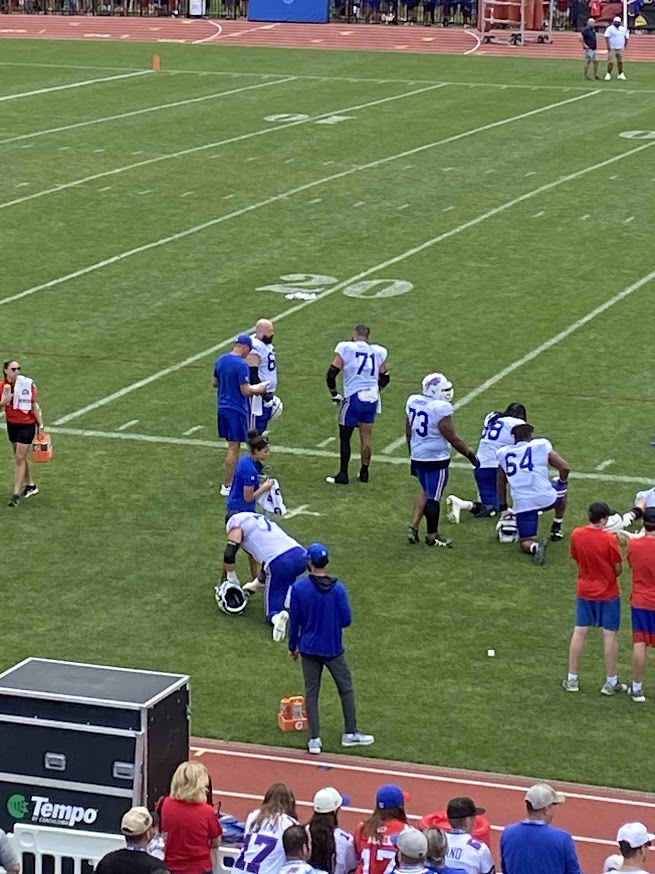 Kincaid gets a slant pass from the right side, followed by a sliding catch by Diggs that merits a Catch of the Day. Diggs gets in Micah Hyde's grille after that one. Dorsey is proving to me, at least, that he knows how to stress the defense with personnel alignments. Here's a stressor… Gilliam's lined up out wide next to Trent Sherfield. I am also impressed that he is mixing in the twos and threes with the ones to see how they handle it. Cam Lewis was just the nickel corner against the slot. Botched snap –Will have to look at the Center position. Kincaid with another catch. I think his catch rate is 100% as well as Davis today. They are moving Shakir all over the place. Now he's out wide with Hardy in the slot. Good luck with that matchup, too. Damien Harris gets the call and squeaks through the initial line and takes it to the house despite being tackled.
The ones are now starting at the 8-yard line, third down. Josh passes to Diggs on a quick slant, and he does the "I am him" celebration in the end zone to a lot of fan whoops and hollers.
The trick play on which Allen was dinged by Taron Johnson might be something they want to take a look at. It's not serious; no trainers are around him. Morse said something to him, then he's talking to Hyde and shaking his hand. Iron sharpening iron?
Happy birthday Joe!
Editor's babble: Yes, Happy birthday, Joe! And many thanks to Dean Kindig for his contributions to our blog. Hopefully someone can help Dean obtain a ticket for tomorrow's practice. You can also find Dean on X at @TCBILLS_Astro.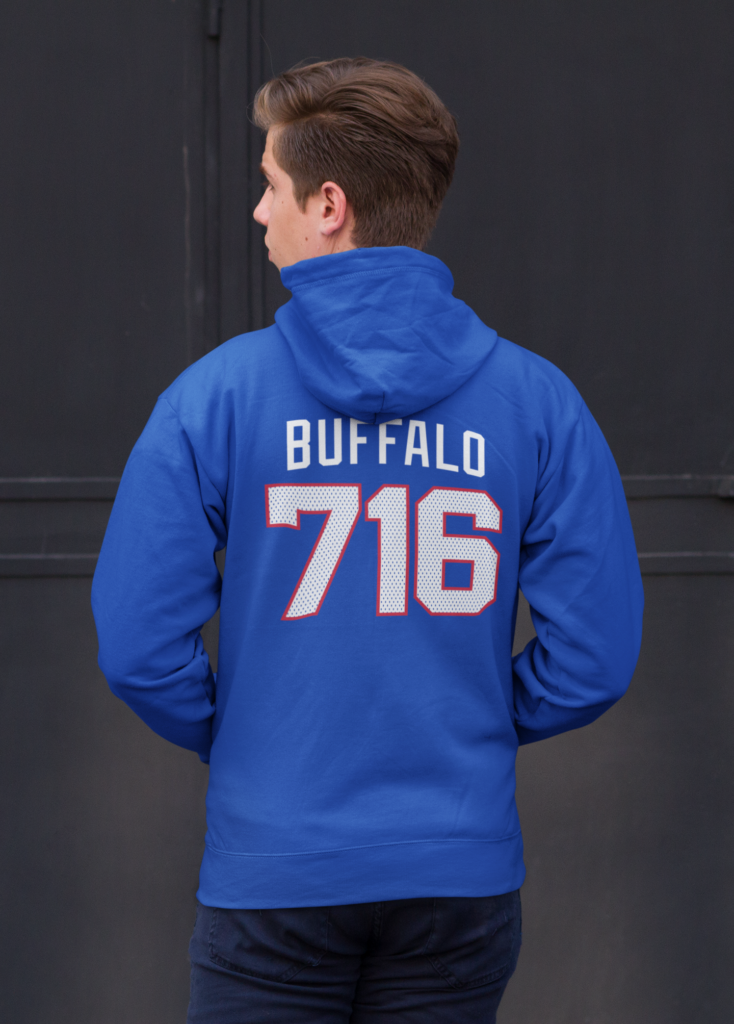 BuffaloFAMbase.com is sponsored by 26 Shirts
Every Monday, we launch a new two-week campaign of a limited edition t-shirt design. Every shirt purchase results in a donation to a local family in need. After the campaign ends, the shirt is retired. A new design is released, and a new family benefits from your fandom!