Great news! Bills co-owner Kim Pegula is at training camp today. So are these handsome BillsMafia boys: You get me, Joe and Brian today, spotting all we can spot.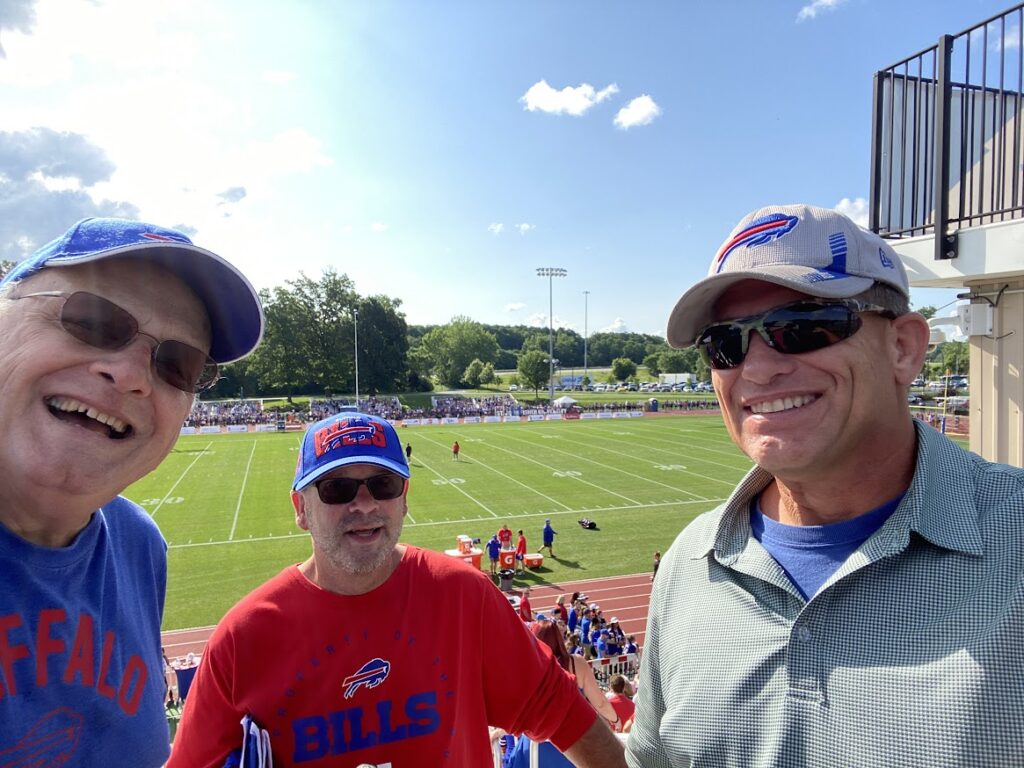 Nobody's in pads today. Carolina blue sky today with a high temperature when we leave about 68. Finally, it felt like football weather.
Best T-shirt we saw on the way in was "We Are Damar", with the charging buffalo. Just try to stop us this year.
Khalil Shakir waves again when I yell "Boise State! Boise State!". Brian says that he looks like a movie villain. His goatee does have a sinister look.
The NFL Network, truck, dish and tent are set up in the far right corner of the field. Peter King spends a long time with Sean McDermott. Perhaps King didn't notice Sean looking down at his watch.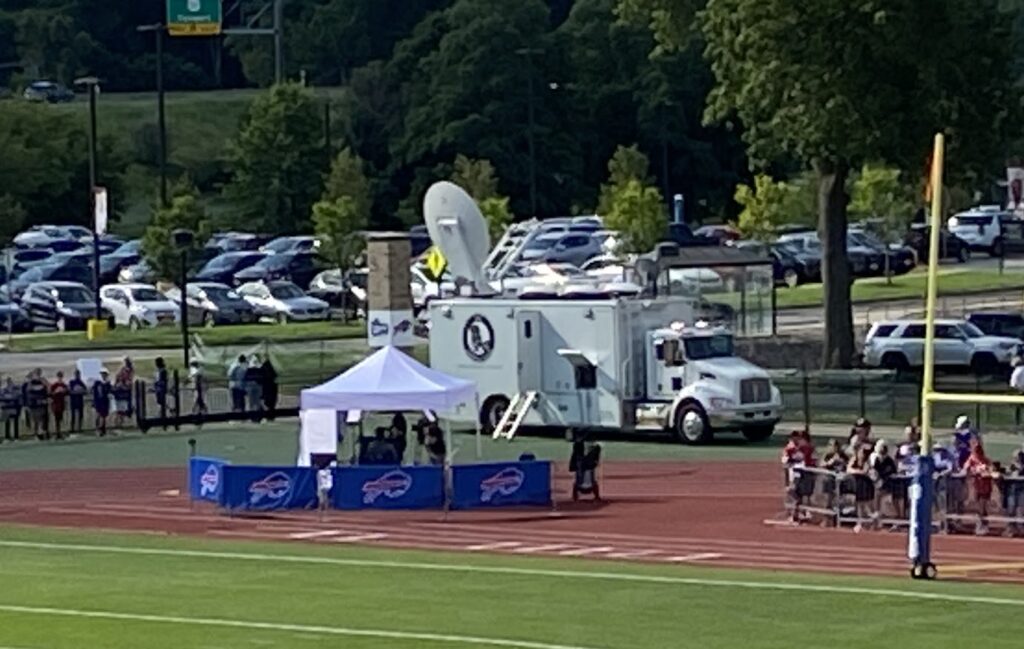 It's 9:30. Seven offensive linemen are already stretching, but only Jace Sternberger is out there repping the tight ends so far.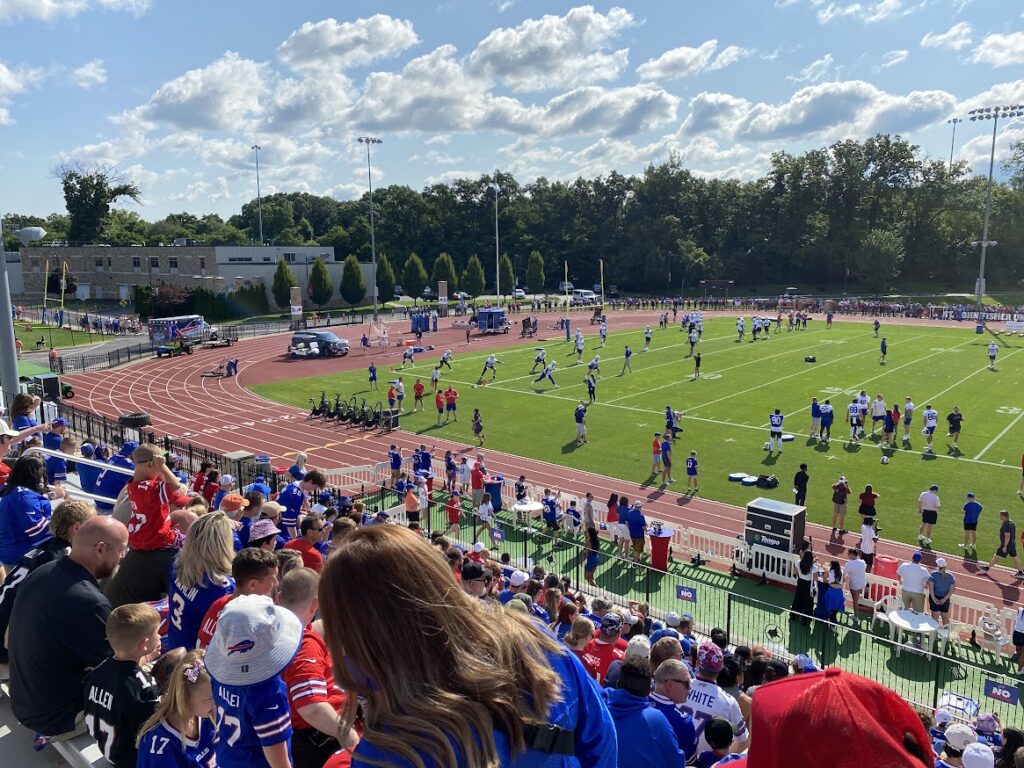 The teams always limber up before calisthenics, and today Torrence is out there with McGovern as the starting Guards. They're practicing third and seven. They run a play, and dash off the field. It's called a fire drill to run a field goal attempt without a time out. They repeat this drill twice, making sure they get all 11 on the field for a field goal.
The twos are out there now, with L->R O-Linemen Quessenberry, David Edwards, Ryan Bates at Center, Boettger, and RT Brandon Shell..
Andy Isabella has chosen Jalen Wayne's old number, 87. Isabella was drafted #62 in 2019, representing yet another early draft pick. I'm sure you know that Isabella beat Denzel Ward in the hundred meter dash in an Ohio high school state track meet. Isabella comes in with Christian Benford (#47) and Braydon Johnson (#15).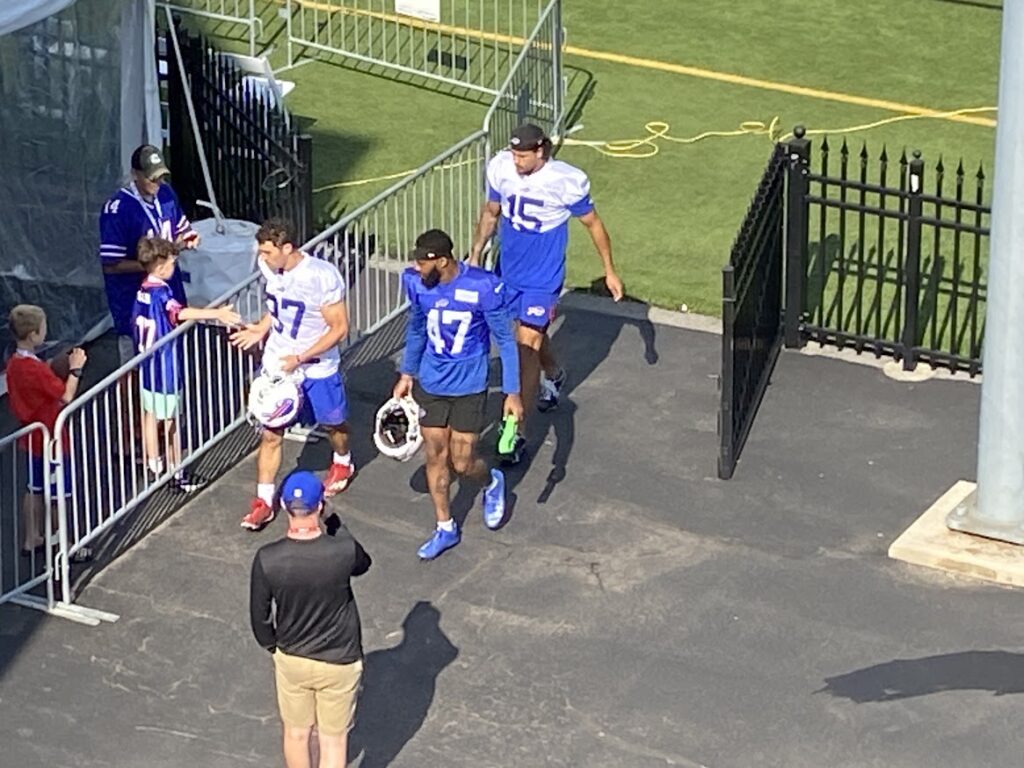 The calisthenics stars today are Tre White, Taron Johnson, A.J. Klein, Trent Sherfield,  Baylon Spector, and Justin Shorter.
Josh Allen was getting his back stretched out during calisthenics, and so did Harty. Nothing to see here. They did Harty at the same time at the last practice.
Isabella is number 87 and has gotten to join the kick return crew from our last practice with this order of participation: Darrenton Evans, Deontay Harty, Khalil Shakir, and finally Isabella. Expect this to be winnowed down to three so that one of them –Harty? Shakir?– can focus more on first- or second-team reps.
Bob Boras is only working with Knox and Kincaid. All the others are on special teams practice right now. Kaiir Elam and Dane Jackson are the gunners. The JUGS machine is doing the punting right now for practice downing the ball at the 1-yard line. They're amazing at getting into position for this. First, Siran Neal downs the ball at the one yard line. The next punt, they down at the three. When they actually let Sam Martin actually kick the ball, it looks virtually the same. Martin get a punt to bounce out at the 1-inch  line. Martin drops another one, and Ja'Marcus Ingram downs it at the one. Ingram's one of Joe's uncle Vito's shots to make the roster. Darrynton Evans drops a punt, then catches the Mulligan. Dane Jackson downs the ensuing punt at the two. Not to be outdone, then Ja'Marcus Ingram does the same thing. I'm starting to keep track of Special Teams stars, and my depth chart has Ingram on it, but practice squad for now.
Joel Wilson and Jace Sternberger have some pop to their game. It would be tough to drop Jace "I Was Drafted Before Knox" Sternberger … just as I said that, Sternberger muffs one. My guess is that he's still practice squad battle with Joel Wilson, with the edge to Sternberger.
Quarterbacks are practicing a one-step drop and a quick pass to the tight ends on deep slants. Very cool. That worked really well for Kyle Allen, who had some trouble with the quick release earlier this week. Suffice it to say that his early hesitations on Day 1 had more to do with newness.
Offensive linemen are working on two- and three-linemen combo blocks.
Joel Wilson and Dalton Kincaid look especially comfortable in space with what I remember as the "out and go", running an out pattern then turning upfield, hoping the DB takes time turning his hips, giving the receiver the separation.
Now the quarterbacks and wide receivers are practicing out patterns. We have a rare drop by Dezmon Patmon, and a beautiful catch and turn up field by Gabe Davis. Shorter and Davis are looking nimble.
We watch some well-executed jerk routes by Khalil Shakir, two by Harty, and by the new guy, Andy Isabella. Those are the slot guys (I see Sherfield more on the outside). Stefon Diggs puts on a little shake 'n' bake after his catch. He stops where Sean is; I'm sure Stefon and Sean are discussing what condiments to put on their turkey burgers.
Isaiah Coulter sinks his hips extremely well when he's in his break. Quick and deep, creating a spring that rockets him out in a new direction . Lots of emphasis is being placed on RAC in every praactice. Secure the pass and turn upfield quickly.
Like every other practice we've been to, the emphasis is on RAC (run after the catch). I'm told that the Chiefs ran up 2,000 more yards for Mahomes mainly due to RAC. Our WRs would just catch it and prepare to get tackled. See Beasley.
The O-Line during this positional work is practicing 2-man on 1-man drive blocking, then one of the OL looking for work, picking up the extra defender.
Tight Ends are practicing blocking to their left, or to the right, keeping their feet moving, and turning their player.
The eye candy is to my right with the quarterbacks throwing balls to the wide receivers. I'm watching the Hogmollies to our left. It's the element that will make or break this team. Some of the reps:
=>Leonard Floyd with a nice fake outside-duck inside move.
=>Van Demark holds his ground against Leonard Floyd.
=>Boogie Basham is driven to the ground.
=>Spin move by Shane Ray takes Gouraige on the inside
=>DaQuan Jones is stymied with a bull rush.
=>Ed Oliver is too quick for most humans, even Ryan Bates.
I yield to the eye candy to our right, just in time to spot Isabella making a nice catch while covered. He's showing some separation as well.
Time for 11-on-11. We are in 12 personnel, and the Guard opposite McGovern is Bates this time. Dodson is barking out to the Defense.
Some plays from the 11-on-11 series by the ones:
==>Josh's Easy Button gets the call. It's James Cook for a nice gain. He looks bigger and faster, and just as smooth.
==>Leonard Floyd is playing like his hair is on fire. He made short work of the offensive lineman in front of them, and Allen avoids the would-be sack by stepping up and to his left.
==>Dodson is put on a spinning wheel. It seemed like he went on a full circle, and didn't know what hit him until the catch was made.
==>Deonte Harty is going to stretch the field width-wise as well as lengthwise. When he goes toward the sidelines, he's opening up massive real estate for the TEs and RBs.
==>Better protection this time, and Allen hits Dalton Kincaid on the far sideline.
==>The draw play that worked so well last Friday doesn't fool anybody this time. Later on in practice, an unlikely player has a big-man pick six.
==>They're playing for keeps out there. Someone should tell them they don't have pads on.
==>Bernard is too small for middle linebacker.
==>The next play took too long to develop. Latavius Murray stayed East-West, horizontal and it didn't move upfield. Likely a loss.
Barkley is next in the rotation; he's moving people around like a vet…he is? Age 33 on 9/8? Anyway, Ja'Marcus Ingram again, this time breaks up the pass to Justin Shorter. I'd take more advantage of Shorter's height.
Allen is back in.
==>KeeSean Johnson and Terrel Bernard are in there quick, and Allen is whistled for the loss.
==>Bernard is in doing Milano's role this time. It's a pass out in the flat to Gabe Davis for a 5 yard gain. Davis runs it out although he would have been tackled by Siran Neal or Benford.
==>Boogie and Epenesa are the D-Ends for team 2, and they were able to knock down a pass by Kyle Allen.
==>Play action fake, pass out to the flat to your Practice Squad Gimme, Isaiah Coulter.
The siren sounds. It's about now I realize: No music today. I can hear myself think.
Ones are out there again, and Sherfield and Davis are out there with Diggs in the slot. Knox is the tight end, and James Cook's in the backfield. Good luck, NFL. But it isn't only this personnel grouping teams will have to deal with. Just take a gander at the mismatches on sequential plays here:
==>On the next play, it's Diggs and Shakir as double slots.
==>Gilliam and Harris start in the backfield.
==>Knox in motion, with Davis, Shakir, and Sherfield.
==>Double Tight Ends, Davis, Shakir, and Sherfield.
McDermott's been with the offense all day today, even on 11-on-11. He was paying attention to the offensive side 100 percent.
The down marker shows first down. The play clock is off, and Kaiir Elam and Tre White are your cornerbacks. O'Cyrus Torrence is at Guard. In our first CATCH OF THE DAY, Gabe Davis catches a TD pass over Tre White on the first play. A quick out to Harty gets 15 yards on a cleverly-executed pick play to this side. The very next play is James Cook catching a pass for a touchdown on far side against Poyer and Hyde for the second CATCH OF THE DAY in only three plays.
Maybe McDermott should go back with the defense now?!?
Barkley is now the quarterback, with Gilliam and Latavius Murray in the backfield. It's Murray with a nice run around the right end. That's the nicest play I've seen from Latavius this summer. And it was going so well for the offense, but Poona Ford has his Big Man Pick Six on another screen. People will say that Josh Allen almost caught Poona as he galumphed down the field, but remember: Allen didn't throw it. Barkley did.
Buffalo isn't known for their strong screen game, and they still won't be. Screens are one for three right now.
Kyle Allen enters the game as the number three QB, and the offensive line is Richard Gouraige, Nick Broeker, Alec Anderson, Kevin Jarvis at Guard, and whoever 72 is –It's not Tommy Doyle.
Back to the ones.
==>Dane Jackson's on Gabe Davis in the corner of the end zone, Dane with a possible face guard, but they all just trot back to the huddle.
==>Groot exerts early pressure, causing Allen to throw it too soon to James Cook, who was at the goal line.
==>Coulter with Christian Benford on him, and a beautiful catch by Coulter. This is my third and final CATCH OF THE DAY. Remember his name; he'll be on the practice squad.
==>The ball is placed on the 10 yard line for the ones. Torrence is the right guard. DaQuan Jones shows how quick he can be laterally, getting out to meet Allen on the quarterback keeper.
==>Knox intercepted by Poyer, with Spencer Brown chasing Poyer down.
==>Rapp with a nice hit on Gilliam on the far side. Remind Rapp that there are no pads. Somebody really ought to tell the players.
Kyle Allen's in.
==>Touchdown from Kyle Allen showing some eye manipulation there.
==>Stymied on the next play –everybody was covered. That'd be a coverage sack.
==>Baylon Spector and Shane Ray brought enough pressure on the next play, so they had to just throw it away. Kyle did throw it to the right spot, but the WR wasn't there yet.
Josh Allen is back in under Center, and Connor McGovern is one of the guards and Torrance is the other guard.
The ball is at the two.
==>Nifty swing pass out to Harty, who is able to get to the pylon faster than Dean Marlowe. Speed kills.
==>Fake handoff with Josh following the back up through the center. You have to keep that play in there to keep the defense honest.
Kyle Allen again.
=>end route to KeeSean Johnson and it looks like he hit ground  just short of the touchdown.
==>Kyle Allen calls "Omaha" and he passes to the  far corner and it's too high. Nice tight coverage by you know who –Ja'Marcus Ingram.
Editor's babble: These camp reports are golden. We are grateful for all of Dean Kindig's contributions to our blog. You can also find Dean on Twitter @TCBILLS_Astro.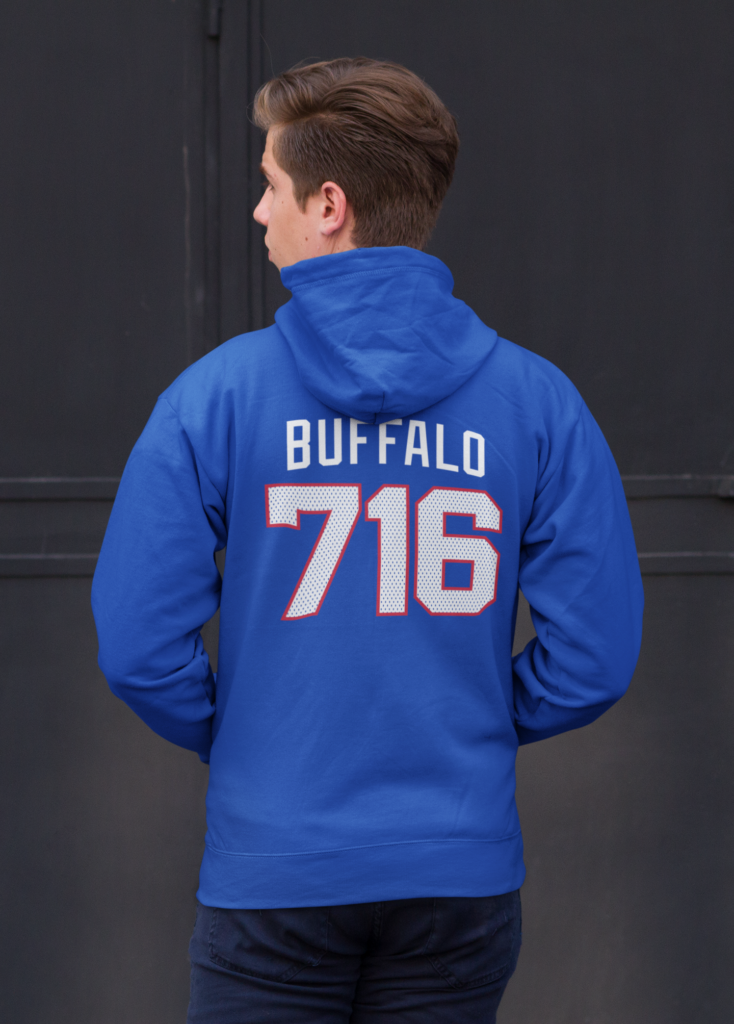 BuffaloFAMbase.com is sponsored by 26 Shirts
Every Monday, we launch a new two-week campaign of a limited edition t-shirt design. Every shirt purchase results in a donation to a local family in need. After the campaign ends, the shirt is retired. A new design is released, and a new family benefits from your fandom!