Training Camp! Thanks to @JoeR869 for covering for me yesterday, and to @716Matt for giving me a ticket for today.
It's warm with a slight breeze and it's a cloudless Carolina blue sky. I got to the Sutherland buses at 8:10, good enough to catch the 4th bus, and I got to my seat at 9:03.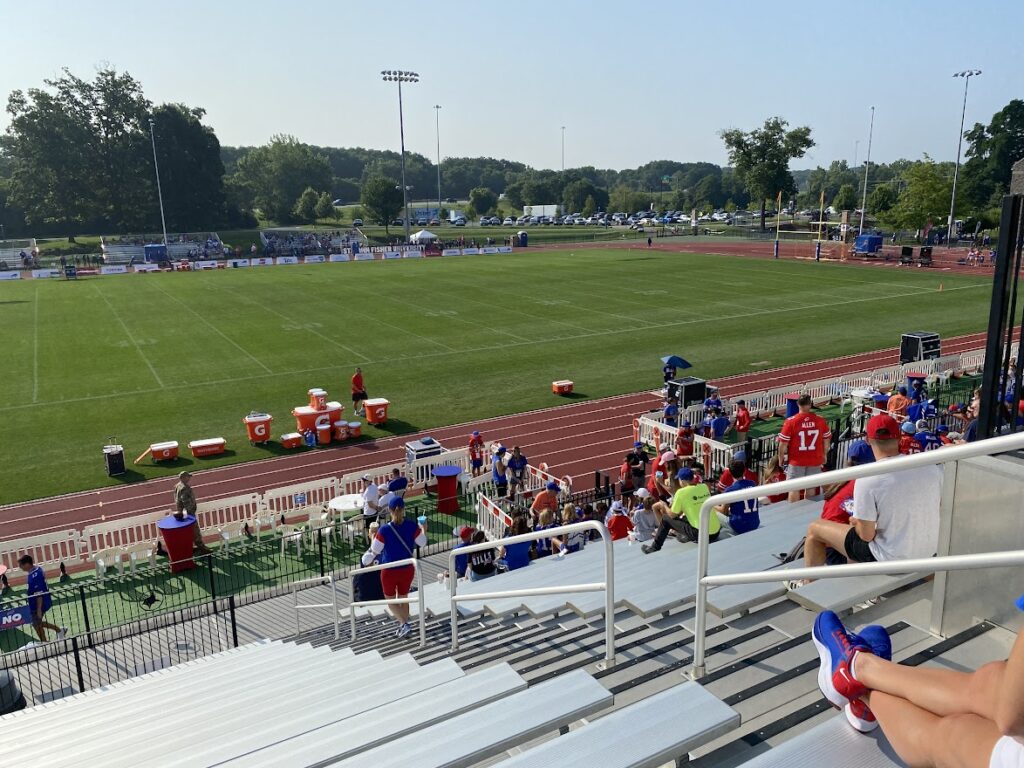 Forget everything I said the first day… James Cook is definitely in the conversation for best hair. Joel Wilson is a close second. Cam Lewis ran out of the tunnel the fastest this morning and immediately begins work. He's in the business of staying on this team. Most of the informal stretching we see involves knees and hamstrings, as could be expected given what's been happening around the AFC. We don't want any injuries that have been happening in the AFC East. And I'm sitting behind the guys of Cover 1, Greg, Erik, and Mike, so possibly by the process of osmosis, I will be smarter by the end of the day.
My guy Khalil Shakir stops by the JUGS machine on the way in. I yell, "Boise State!", and he smiles and waves up to me. It's the little things.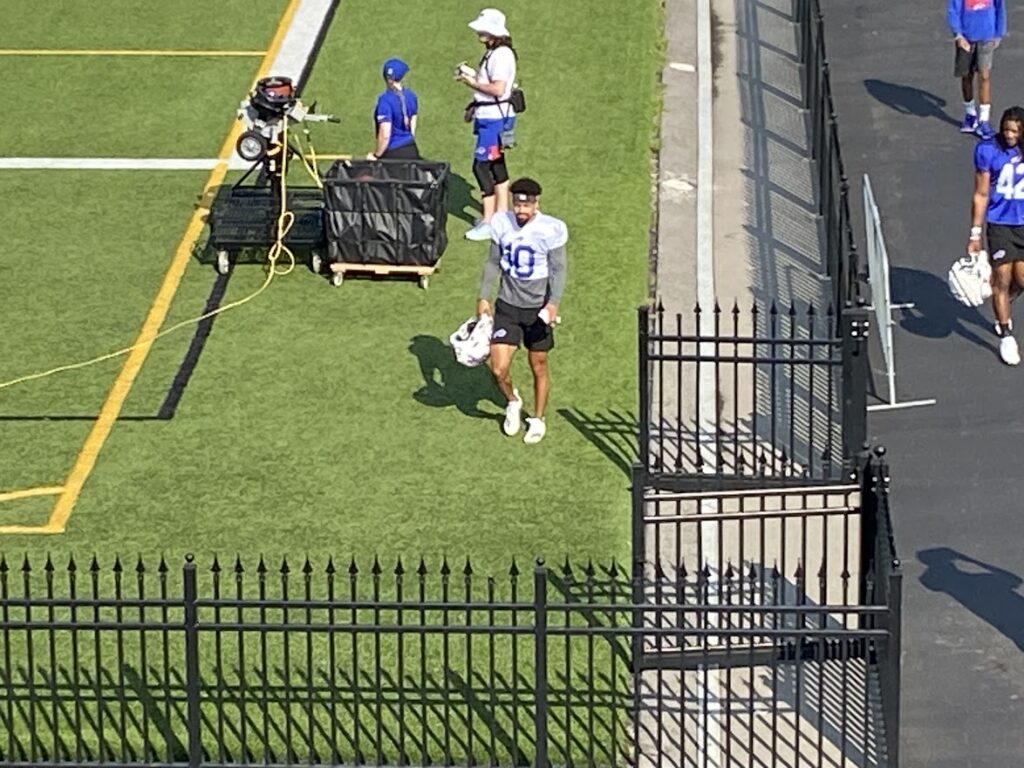 McGovern is the left guard, Torrence is at right guard, and Shakir started with the ones. To warm up, you're seeing Madden-like plays, with James Cook split out wide, stressing the defense horizontally. The first drill is just the first unit marching down the field, moving the chains. Tre White and Kaiir Elam are the CBs, and it's good to have Hyde back there with Taron Johnson and Jordan Poyer. On one notable play, Baylon Spector smells out the swing pass to James Cook, and Josh threw it out of bounds.
Kyle Allen is out with the second team, with Damian Harris the running back. A pass to Justin Shorter with Christian Benford in coverage goes for a gain of 30. Kyle must've had a coach speak to him after reading my Day 1 notes, because Allen threw the pass on time and with touch. Kyle shows touch on the next pass, too, with a dime down the left side to Reggie Gilliam.
Barkley's turn. He throws a nice pass toward the near side to Joel Wilson, then one over the middle to KeeSean Johnson, who gained separation on the play, and immediately turned upfield (also a coaching point; you can tell).They split Joel Wilson out wide on the next play. Somebody must've talked to the quarterbacks about getting the ball out faster.
The first team is back in, with Gabriel Davis to the nearest side, and Cook in the backfield.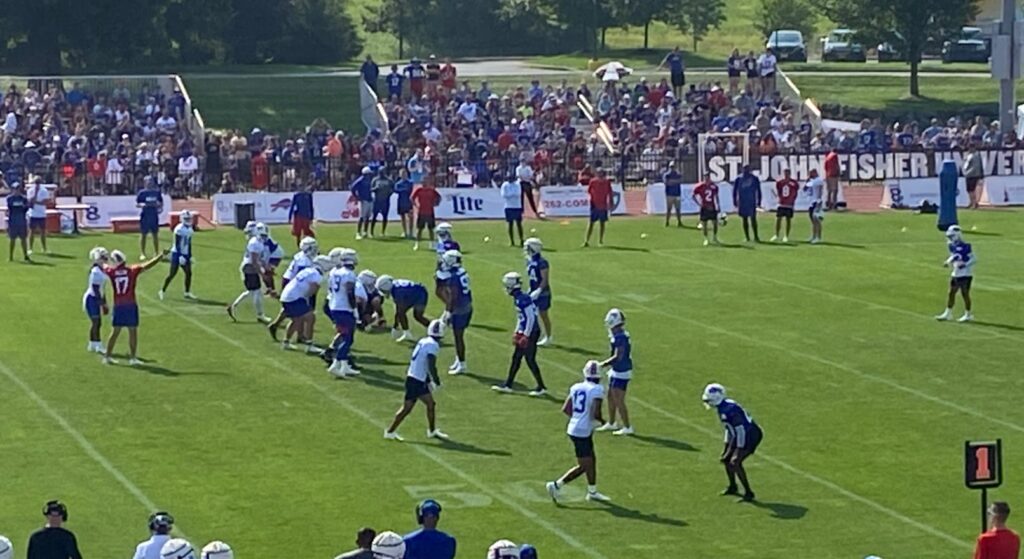 Lorenzo Alexander is here on the sidelines, as is Terry Pegula and Brandon Beane. Love to see the old guard here.
During the stretching, the Calisthenics All-Stars are harder to find today because they're all a little bit more vigorous in the way that they are stretching. Again, it's possible that the team had somebody talking to them about warding off injury. Okay, if you force me to pick one who's really putting in the effort on offense, I would have to say Justin Shorter. He's just in a different gear. One guy on the defense ? Tre White.
During the kick return drill, the order of appearance in a rotation was Darrynton Evans, always first, Deonte Harty second, and Khalil Shakir third. The kick return guys have to do some different things today, with a defender in front of them when they catch the ball running up 20 yards to catch the ball, then running back 15 feet to catch the ball. No misses. on any of them. When they add the whole kick return team, some of the gunners are Tyrell Shavers, Bryan Thompson, Jordan Mims, and Jared Mayden.
Matakevitch was over on the ropes doing rehab work, later working with a trainer with the medicine ball.
Tight Ends are doing delayed jerk routes with Rob Boras. They then do out patterns, with Boras throwing the ball. The offensive line is working on the sled. O'Cyrus Torrance actually broke a sled in college, but that hasn't happened here yet.
O-Line is now working combo blocks and traps. Brandon Shell, Richard Gouraige, and Alec Anderson have some pop to their trap blocks.
The wide receivers are catching balls thrown at them as they are running 3/4 speed directly at the passer. This is helpful practice and prep for comeback routes. Justin Shorter is a big man; he's a full helmet taller than KeeSean Johnson.
Quarterbacks are throwing to the tight ends, and Joel Wilson looks impressive enough for the practice squad spot on most teams, but it's a crowded room. Sternberger catches everything thrown his way, and he's so smooth. However, with the flexibility of Reggie Gilliam, there might not even be room for some very good players. Sternberger made a twisting catch that was a 9.5 level of difficulty.
I know most of last year's players, but I still have to look at my roster with the new guys. So far, some players are as-yet invisible. I haven't singled out Jalen Wayne, or Tyrell Shavers, or Ryan Thompson, but I've looked down more than once for KeeSean Johnson and Isaiah Coulter.
In some separation aspects, and in tight man-on-man drills, Joel Wilson looked a little less like a NFL player. However, Jordan Mims looks every bit the part. Darrington Evans also impressed.
Sternberger makes the CATCH OF THE DAY with Dean Marlowe draped all over him like a cheap suit. It was an amazing catch. Marlowe had him dead to rights, but Sternberger came down with it. Sternberger's trying to work his way back to the league after leading the USFL in touchdowns last season.
Jared Mayden did all he could but Dalton Kincaid made the catch anyway. Isaiah Zia Coulter continues to impress. He caught a nice 40- yarder down the side just as the siren sounded.
In the second set of 11-on-11s, you see a lot of pre-snap motion, and Dalton Kincaid, with a subtle stick, turns up field immediately for more RAC yards. On the ensuing play, Knox is put in motion, but the O-Line doesn't hold. The defense gets to Josh Allen for a would-be sack, but Josh throws it anyway, because why not? Allen throws it to Diggs on the far side, and he catches it.
Down marker says second down. Shakir is out wide, and signals to motions to Allen. It's a handoff up the middle to Cook for a good gain. First down. Kyle Allen comes in at QB, with the likes of Reggie Gilliam, Quintin Morris, Brandon Shell, Harty (remember, Shakir was with the 1's), and Damien Harris. Gilliam gets the first call on an in-breaking route. Most of the motion directed the defense's attention to the outside of the field, which just opened things up over the middle. On the next play, Quintin Morris double handles the pass, but brings it in.
Barkley's the QB now, and Latavius Murray and Darrynton Evans are the running backs. The defense is stout and the handoff to Evans, goes nowhere. anyway. We're seeing some well-designed plays, and not all of them are going to work against a top 5 defense.
Allen's back in 21 personnel, with Deonte Harty and Trent Sherfield. They execute the finest screen play I have ever seen the Bills run. Greg Tompsett says, " I didn't know we were allowed to do that!. That got Cover 1 excited; tune in tonight to hear all about "The Day in July 2023 They Ran a Screen".
Von Miller is doing some high step skipping on the sidelines with a trainer. Terry Pegula came over, sporting the same identical hat as Sean McDermott.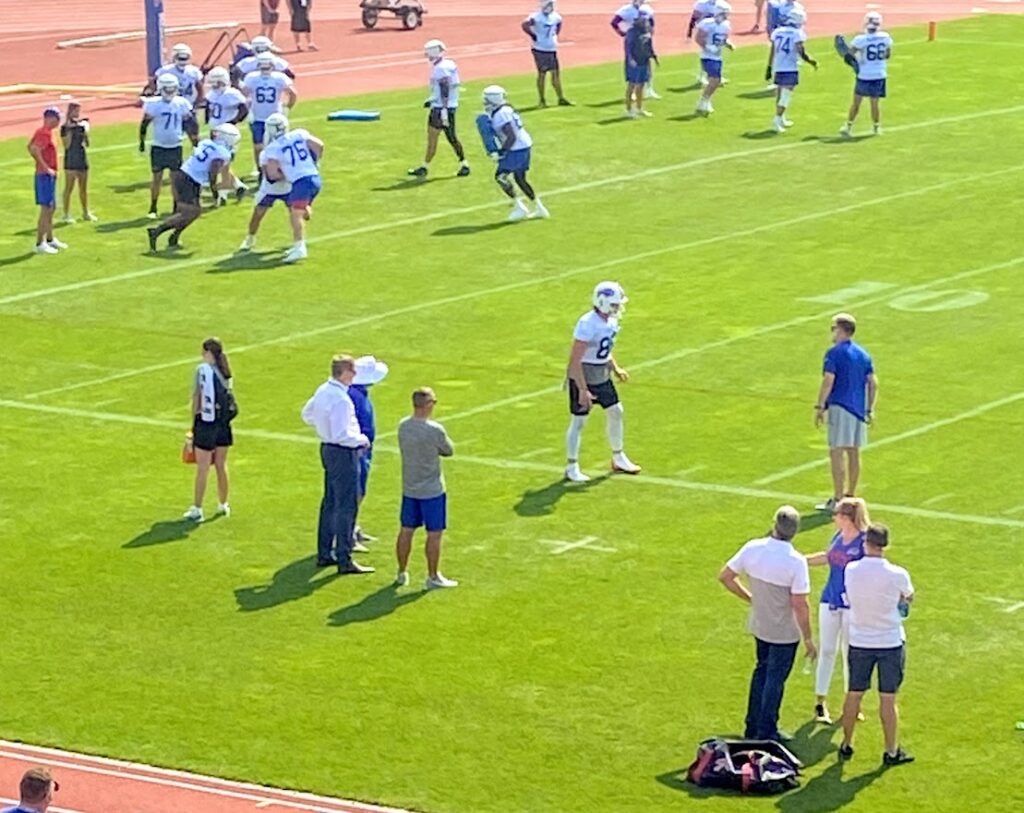 Bates and Gilliam are with the ones now against air, just going through plays. McGovern's getting the LG work. It's getting hot. Greg offers a random guy $50 for his umbrella. Everybody laughs; even the guy with the umbrella.
The best moment of camp may have been O'Cyrus Torrence stopping to sign a helmet autograph for this young girl. Even big guys who break blocking sleds can be kind.
You can, too.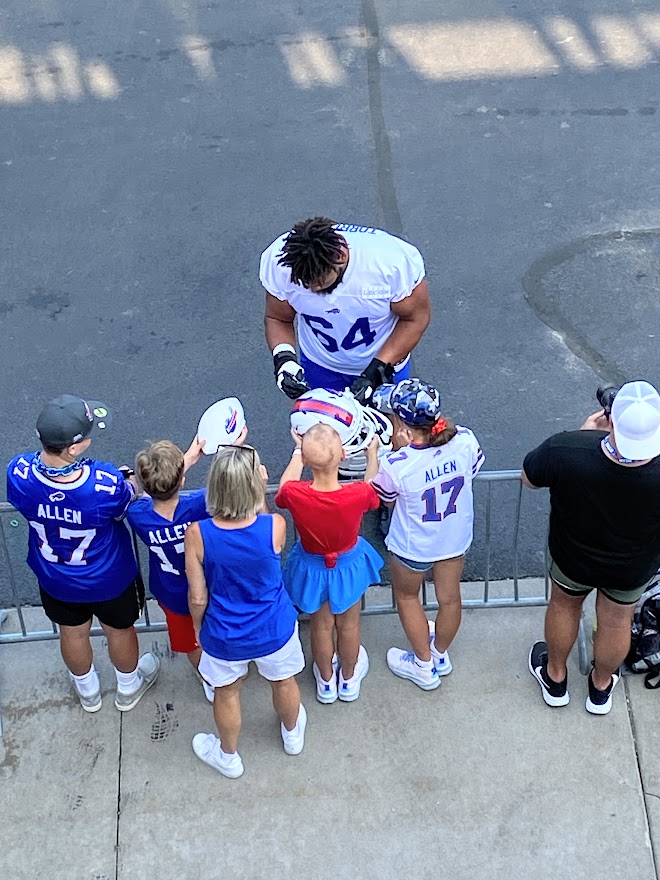 Editor's babble: I'll never be able to convey sufficient gratitude for the many contributions Dean Kindig brings to our blog. You can also find him on Xwitter @TCBILLS_Astro.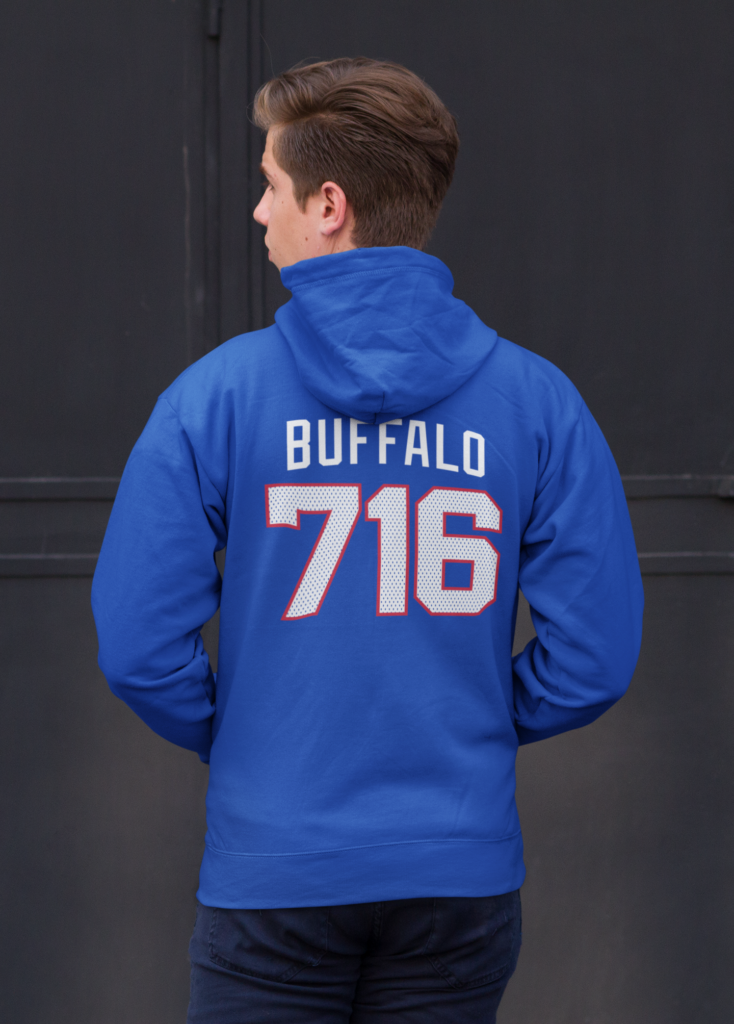 BuffaloFAMbase.com is sponsored by 26 Shirts
Every Monday, we launch a new two-week campaign of a limited edition t-shirt design. Every shirt purchase results in a donation to a local family in need. After the campaign ends, the shirt is retired. A new design is released, and a new family benefits from your fandom!