There sure are a lot of players to choose from. How does one narrow down choices? Drafting potential replacements for our favorites is a matter of business even as we cheer personally for those affected. The Buffalo Bills have a wish list that's a bit lengthy for a team mentioned as a contender, which at least means fewer reaches based on need.
An ardent opinion does not necessarily reflect the best course. Every player wants someone at their position to work alongside but not replace them. Management avoids asking the present roster who to choose for same reason they don't sell beer at 7-Eleven from a self-serve machine like Slurpees, namely the honor system doesn't always work. It's not to be cynical, but players might have ulterior motives. Letting Brandon Beane take care of one of his tasks might just work out better than conducting a vote. It's for the best that Twitter polls are non-binding.
The Bills don't need the first pick to start a religion. The franchise was saved in 2018. Another draft based around hoping everyone else seeks a quarterback shows how nice it is to have already solved the biggest problem.
This draft could test the claim that teams select newly-eligible talent purely based on who they figure to be the best available. Every office claims to have every prospect ranked, which would make the draft a formality if true. Buffalo will never let the world know if the player they deem to be the best prospect happens to be a quarterback when it's their turn.
Holding the pick for ransom is the sort of phrasing the NFL would prefer we avoid. But helping another team address a need would ideally lead to a trade, and and not merely for variety. There are four and maybe five quarterbacks who look like they'll be drafted on opening night, which is good news if you want to select from the rest of the field. Throwing off the Predict the Pick contest is worth the disruption. Lawyers will have to determine the winner of a football not autographed by the player who doesn't exist.
The secret is out about Josh Allen. We tried to limit chattering about him to our indoor voices, but it was still only a matter of time before other clubs heard about his abilities. Teams know Buffalo isn't exactly in the market for that one particular position. Beane's job is to make those who aren't as fortunate at the most prominent position compete with each other.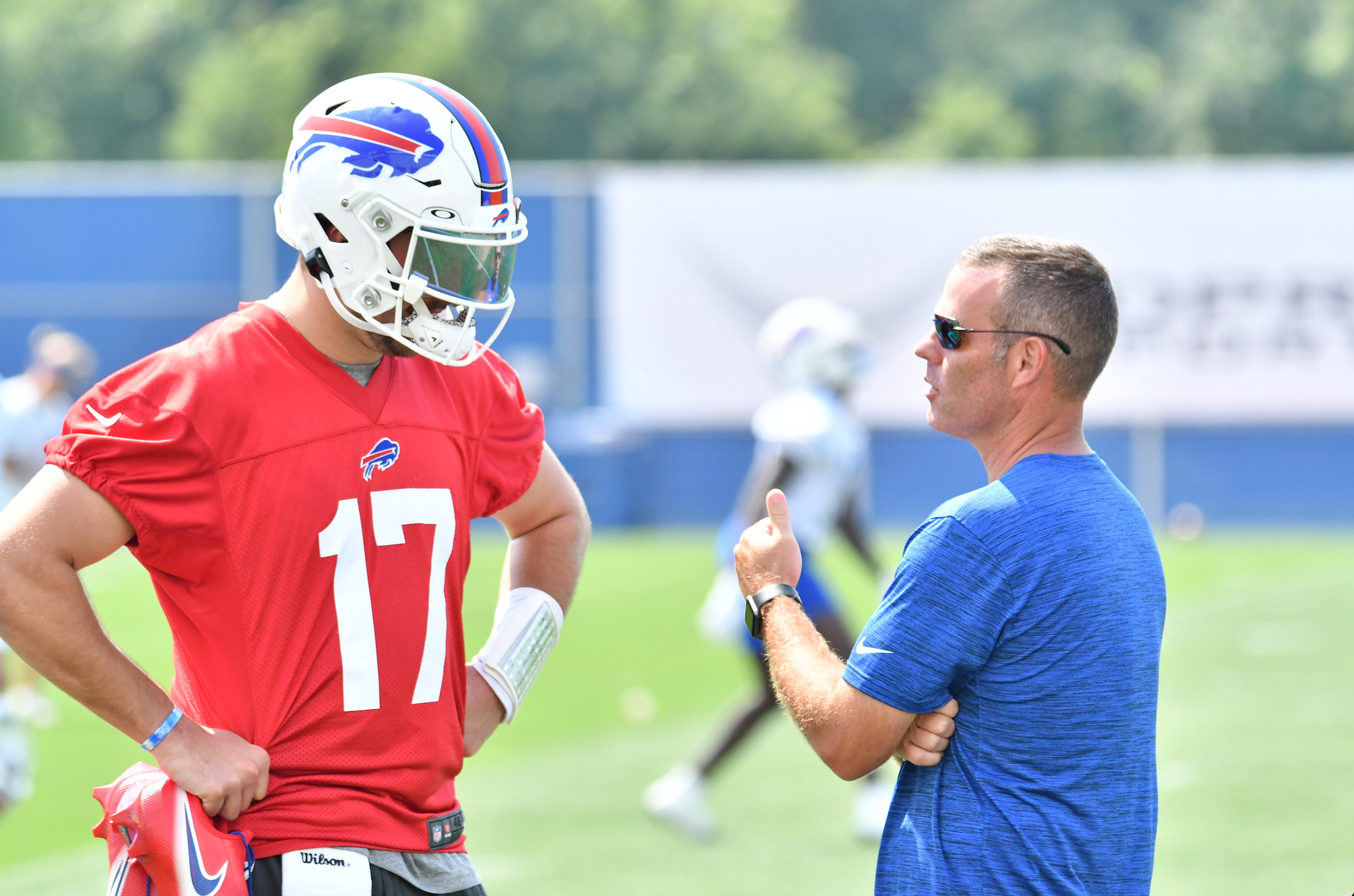 Unlike during the regular season, there may be several games this week.  While a three- or four-team contest might be a bit confusing on the field, such chaos is welcome on the phone.  Increasing the pick's value through making it seem hot is the scenario created by a successful seller.
Demand for captive players reflects the options available. One side of the participants use free market principles during a process which limits the rights of employees to work where they please. There's a limited amount of mutually voluntary exchange available. Convincing a franchise longing to complete more forward passes that a prospect like Hendon Hooker deserves to be chosen late Thursday is the initial step. Next, do the same with a couple others. Drawing in multiple bidders is spring's version of the play-action fake.
Calculating potential permutations is as arduous as wishing Aaron Rodgers well with his new company. The unfathomable nature won't stop every fan from trying to crunch the numbers until tomorrow night. We will soon be done wondering what every general manager is thinking. Knowing many of them aren't good at the job further complicates matters. The biggest issue with listing previous Bills general managers who specifically mismanaged is how to rank them in terms of incompetence.
Acting individually is only the start. Anticipating how teams will react requires determining how they must respond to each other. Picking a field trip partner is tricky when every other classmate is doing the same.
Management never gets to rest. Sleepless sharks ponder whether, say, the Lions will suddenly be in the wide receiver market after the releases and suspensions of a couple of theirs for thinking a team facility would be the perfect place to bet on sports or that it was wise to wager on games in the same league.
As for permitted gambling, the draft queue reflects honest assessment. The Bills must contemplate if the lack of running back production is caused by offensive line struggles, maddening play-calling neglect, and excessively relying on Allen to dash and not handoff recipients themselves. A quality control coach suddenly seems like the franchise's most important job.
Cheering for certain players at particular job categories is how fans turn the buildup into a competition.  Arguing about the biggest deficiency will surely create joy.  Drafting after sunset is the punishment for succeeding at going earlier a few years ago.  Guess which players general managers themselves guess will be awesome.  Factors start getting removed soon.
Editor's babble: Let the countdown begin. We are thankful for Anthony Bialy's thought provoking contributions to our blog. You can also find Anthony on Twitter @AnthonyBialy.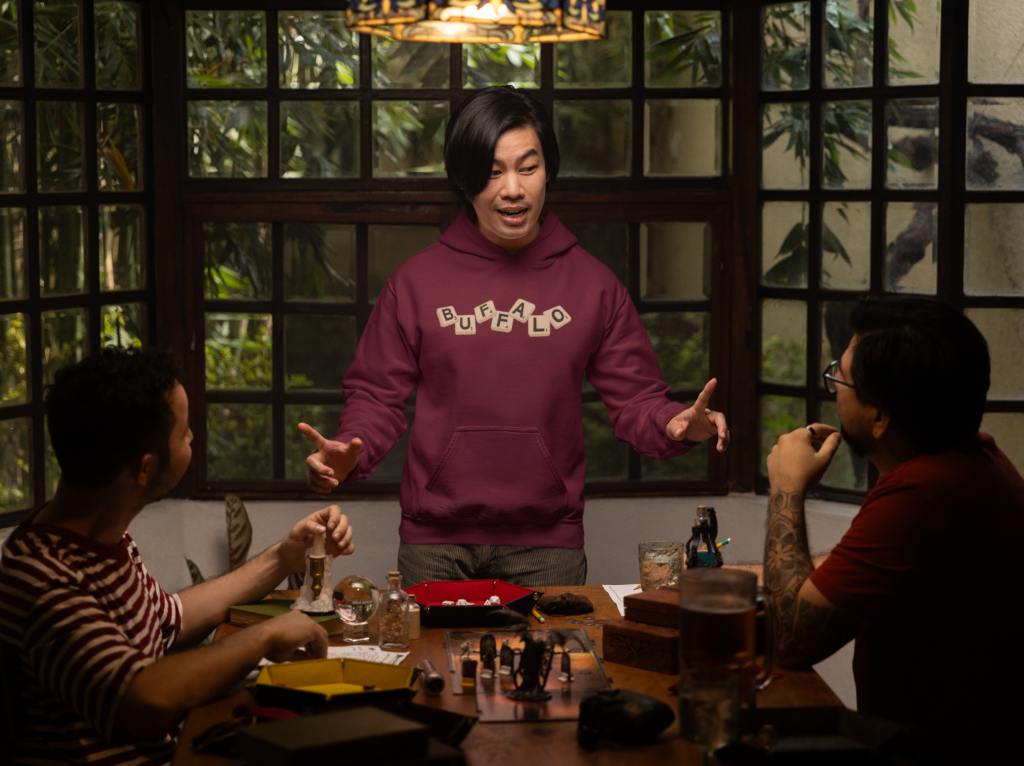 BuffaloFAMbase.com is sponsored by 26 Shirts
Every Monday, we launch a new two-week campaign of a limited edition t-shirt design. Every shirt purchase results in a donation to a local family in need. After the campaign ends, the shirt is retired. A new design is released, and a new family benefits from your fandom!