You know the drill: Mitch Morse is a compelling leader, but you know his next concussion could be the final straw. OG OC Rick Bates, age 26 on Valentine's Day, signed an offer sheet with the Chicago Bears reportedly worth $17M over four years, but Beane matched it, so he's back and could slide over. OG OC Ike Boettger, age 28, after 10 starts and 636 snaps in 2021, suffered an Achilles injury in Week 16. He played only 1 game in 2022 –Christmas Eve against Chicago (6 snaps, plus 5 on special teams). He's back, and I hope he rounds back into form, but as a backup. Journeyman Greg Van Roten, age 33, played in 15 games, starting 4, a total of 355 snaps, most notably at Center. He's on a 1-year contract as well, playing for his 6th team. 
As I mentioned when looking at the Guards, the need for hogmollies has been partially masked by the play of our uber-mobile QB and our RBs. Over the last 3 games, in fact, the Bills were 3rd in the league in rushing yards (164.7 ypg, including Josh Allen), and they've been doing it with chewing gum and duct tape. Josh Freaking Allen has an opportunity to be greater than he already is (Josh has made the NFL's highest number of deep completions over the last 2 years when given 4 seconds or more to throw), and the offensive line giving him that amount of time is at the core of that stat. Pass blocking equals third reads.
Here's this year's crop of Centers. Obviously, some can play more than one position, which I've added here: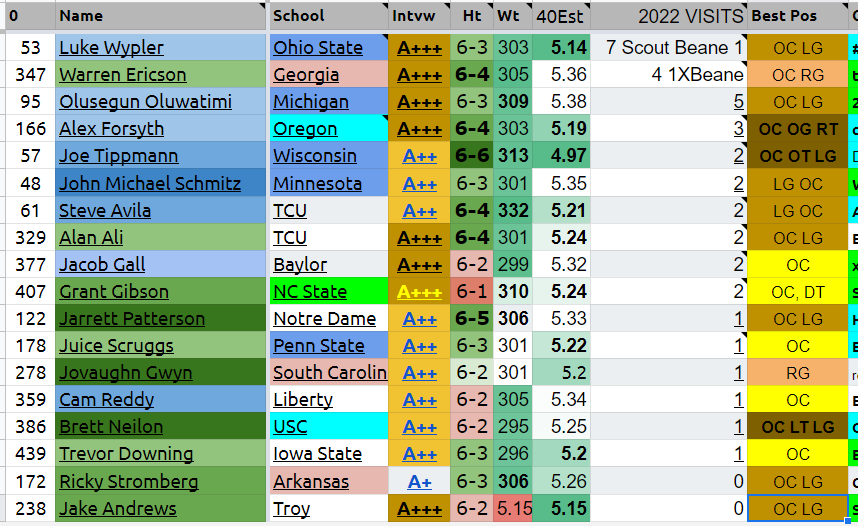 The First Elimination: Archetypal Size.
Let's look at some possible Centers already on the team, at least for now:
Mitch Morse=6-5, 305, 5.14
Ryan Bates=6-4, 306, 5.09
Ike Boettger=6-6, 313, 5.47
I'm eliminating anyone shorter than 6-3, lighter than 303 (goodbye, John Michael Schmitz and Juice Scruggs from Terry Pegula's alma mater), and, since nobody among the draftables is slower than Boettger, I'm knocking off the bottom quartile of the group by forty time (also John Michael Schmitz). Just because someone looks like Eric Wood is no reason to draft him, especially at #27 or #59. Jarrett Patterson of Notre Dame is a tough cut, too –he's never allowed a sack. I'd be delighted with that pick as a developmental LG-OC pick in RD4, I guess, but not as a Day One starter.
This would theoretically also eliminate Olusegon Oluwatimi, but if the Bills get quicker Guards, he does so much of what the Bills want a Center to do. Plus, this is my game; I can do what I want! One other sidenote: remember TCU's Alan Ali in the UDFA pool, if he makes it there. One of the best interviews on the OL, Ali's junior season at SMU was his best, where he gave up zero hurries or sacks. He exudes effort, smarts, and physicality, and oozes Process; you can hear it in his interview. The other UDFA I'd bang the table for is Trevor Downing, who set up blocks for a guy named Breece Hall.

The Second Elimination: Credentialed Scout Visits.
Ricky Stromberg, the group's worst interview, was also not scouted. Coincidence? I think not. I do regret crossing off Jake Andrews from Troy, He's a State Champion Wrestler, and ran a pretty nice 1.8 ten-yard split recently. He'd be the best RD6 or an acquired RD7 pick for the Bills –again, just not as the starter solution. Andrews is a bull with a high developmental ceiling. Before this season, Andrews had lifted 415 lbs. on the power clean, a 600- lbs. squat, a 450- lbs. bench and a 585- lbs. deadlift, so basically the entire trio of Buffalo Plus (Hi, Jenna). In Andrews' career, 37 straight games, he allowed just six sacks.
Here's my short list, sorted by forty time:

Our RD2 pick is currently #59, and I think Brandon Beane would love an extra RD2 or RD3 to pull off the best draft of his Bills career. More on that in a mock draft article this month. The Bills' #59 pick (or Free Agency) has to come out with a Center who can play Guard to start, and slide over when Morse calls it a day. Let's look at My Five, in order of my fondness for fit with the Bills: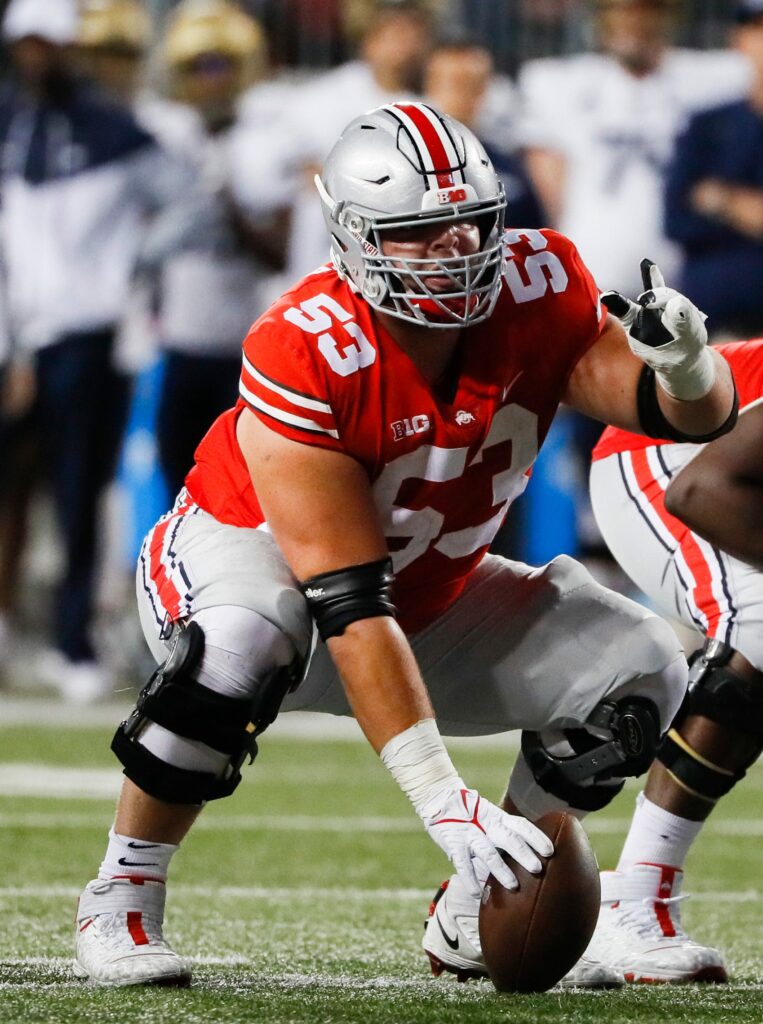 Luke Wypler – Using NFLDraftBuzz's ranking system, Wypler's #2 in Run Blocking, #2 in Pass Blocking, #2 in forty time, and one of the best at the second level, something the Bills would like to do better. His quick hand use and understanding of leverage, gains quick control of the defensive lineman in front of him. He's one of the draft's 5 fastest Centers. Wypler is first for me because of his technical prowess. This means control, balance, staying square, using leverage, hand placement, and execution of longer pulls (a key difference with Schmitz), allowing him to climb to the second level. Wypler's school had the only Beane visit among my Five, and a whopping 7 points of contact (games, interviews ,Senior Bowl, etc.), and if they don't show up at Pro Day, I'll eat my BillsMafia bucket hat. Great Bills-y personality and intelligence in his interview; I've cued it up for you.
---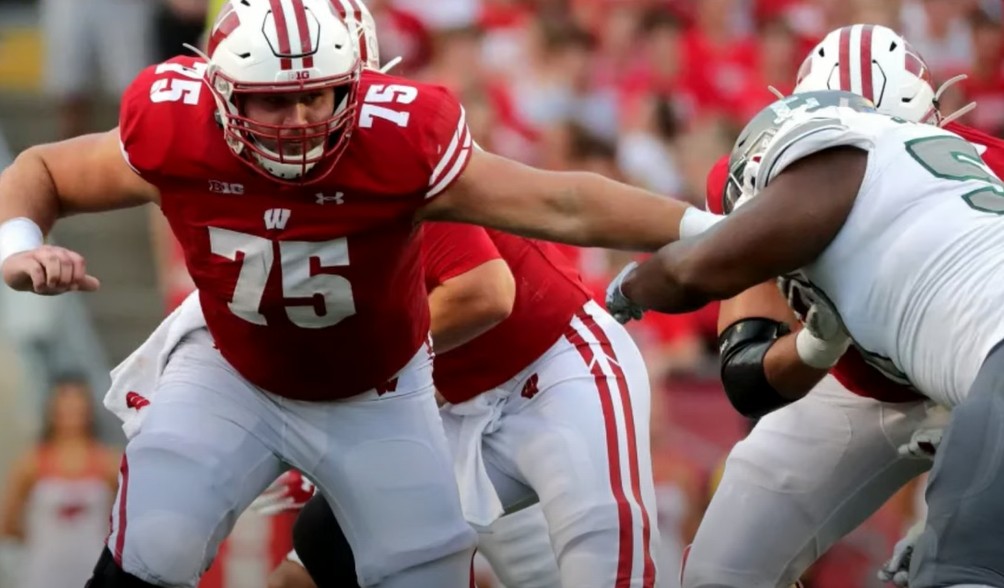 Joe Tippman – Tippman is the draft's fastest Center (1.65 10-yard split in the forty) and is a card-carrying member of Bruce Feldman's Freaks List. If Kromer decides to Frankenstein himself a starting Guard or Center (or even an OT, I'm pretty sure), he'd just get Joe Tippman as the model and clone him. He'd also like the nasty temperament and IQ. I didn't like his interview quite as much as Wypler, but I liked his work on the field. A lot. His career 102 pancake blocks speaks for itself. He uses his mauler mentality, his massive size, and explosion factor to full advantage to neutralize opponents. That explosion also helps in executing pulls left and right. Add Tippman's mobility and quicks to the Bills' line, and you're controlling the line of scrimmage, something Sean McDermott has mentioned now and again.
---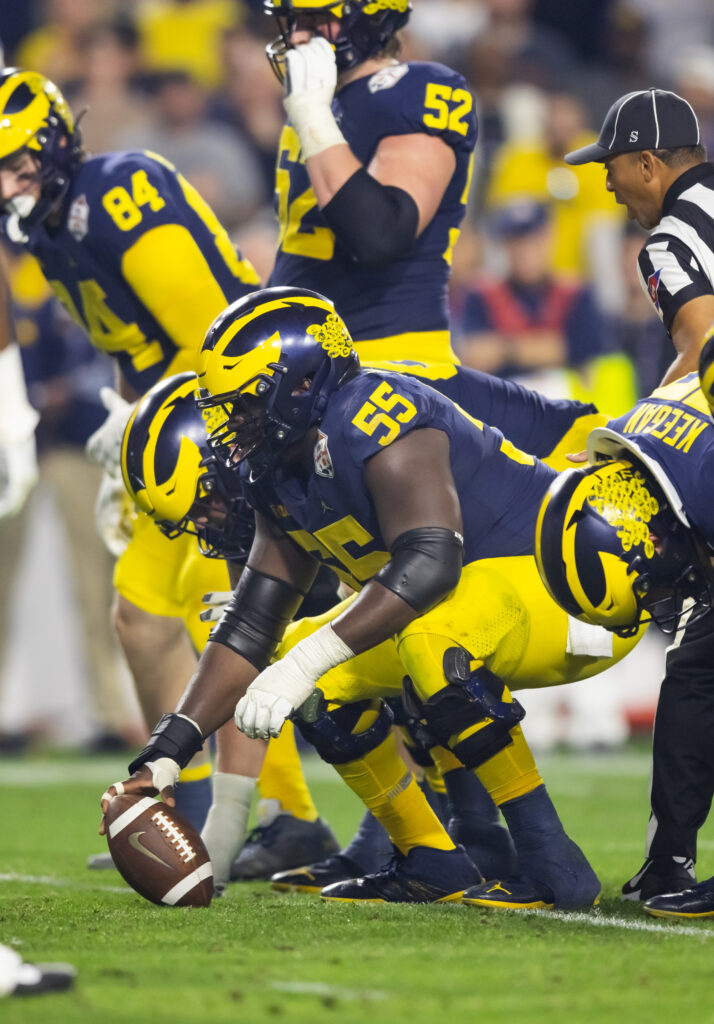 Olusegun Oluwatimi – I want the best player on the best college O-Line in both 2021 AND 2022. Outland Trophy-winner Olusegun Oluwatimi (It's really not hard: "Oh, Lou, Shah Goon", "Oh, Lou, a TIM-me") was ranked No. 1 in the ACC and No. 12 in the nation in tackles for loss allowed, while also ranking No. 2 in the ACC in sacks allowed per game. In the Ohio State game, I wondered whether Olu could turn his man, and on two of those long runs in the 4th quarter, he showed he could on that Buckeye DL! To be fair, early RD1 buzz has dissipated whether you think it's fair or not, and you're looking at a RD3 value pick. I love OluOlu's personality, and his love for my music.
---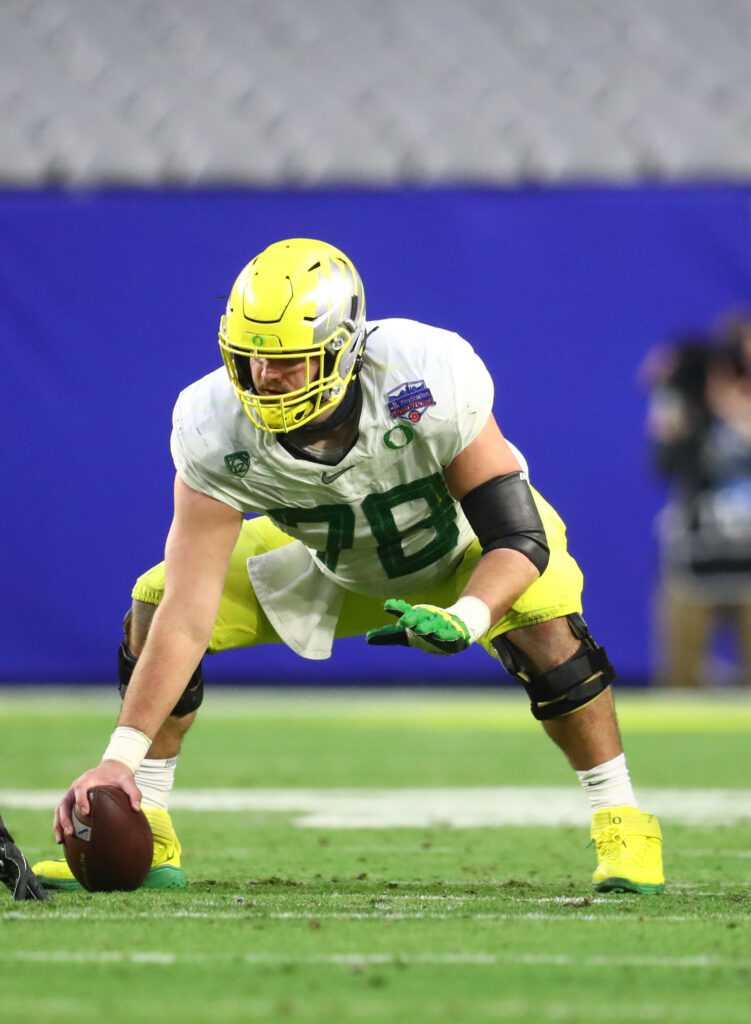 Alex Forsyth – How can you not include the cerebral signal-caller with the finisher mentality, the "Gorilla Glue Toughest Player on Planet Earth"' Center for the Ducks, for his play in the Bills-scouted upset of then-No. 3 Ohio State??? Watch 2 plays. I think Forsyth would have been higher by now (#199 on the consensus board; I have him at #166; we have a #137 pick I'd use with no qualms). He needs the Bills training facilities, as he missed 4 straight games with back spasms. Be sure to catch the Ducks vs Washington game, and watch Forsyth's work on that game's final drive. The combo blocks he was throwing down were not to be believed.
---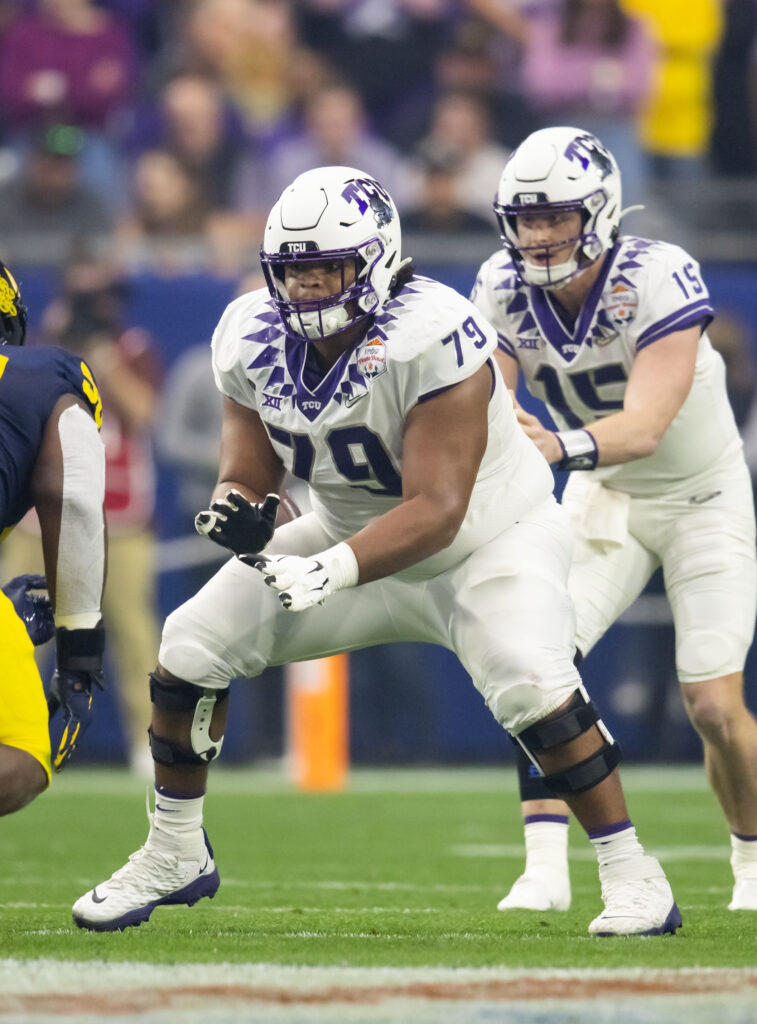 Steve Avila – Avila is great in a phone booth, but not great in space; again, if you want to do pin-and-pull plays and get your Center to the second level, you're not taking Avila. Also, Avila has the Center class's third-worst run-blocking score on NFLDraftBuzz. While Avila can play all 3 interior spots, and while Kromer will like the methodical hand usage and wide, steady base, he needs to look up. He falls victim to the looper here; not entirely his fault, though. Draft Network has commented on his lack of overall range, saying, " When Avila is put in situations where he has to move his feet, he often loses his base and technique and becomes an ineffective blocker. Also changing direction appears to be a challenge for Avila." I think he'll be left behind.
Editor's babble: Just spoon this liquid gold of knowledge into my brain. Dean Kindig is a draft wizard. We are so grateful for his knowledge. You can also find Dean on Twitter @TCBILLS_Astro.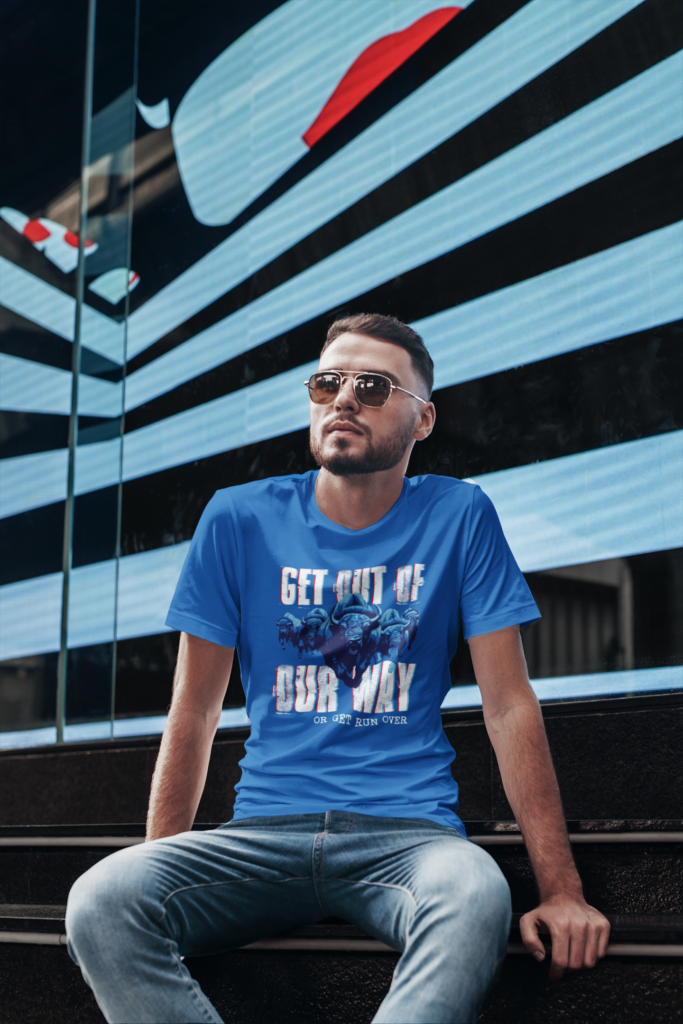 BuffaloFAMbase.com is sponsored by 26 Shirts
Every Monday, we launch a new two-week campaign of a limited edition t-shirt design. Every shirt purchase results in a donation to a local family in need. After the campaign ends, the shirt is retired. A new design is released, and a new family benefits from your fandom!