Sorry, but you're getting old if you remember Bowling for Dollars on Ch2. Not as old as me, but old!
Back in 1973 I was a young single guy doing weekend sports at KTRK-TV (ABC) in Houston, and it was pure Heaven for me. Houston was a big market with NFL (Oilers), MLB (Astros), NBA (Rockets), and great college football with Houston and Rice among others.
Because everything was film, the hours were drastically different than they eventually became with satellite technology and "live shots" from just about anywhere. Three days a week I did both news and sports reporting and photography as well, and almost every night when the Astros were home I'd go from work to the Astrodome for a scrumptious free dinner and great view of the ballgame. After the game, there was usually time for a quick refreshment at one of a gazillion discos or bars in a city filled with young people.
Then I'd anchor the sports on Saturday and Sunday.
Totally out of the blue, I received a call from Ch2 in Buffalo, inviting me to fly up for a visit about a job that would make me a main Monday – Friday – guy Sports Director, at almost double my salary in Houston.
There was a catch.
In order to pay me more, I would also host a Bowling for Dollars show. They paid me out of a different budget for doing that. The lanes would be built right into the studio, and we'd tape an entire week's shows one night a week: I'd bring several shirts, ties and sports coats and change for each show.
It would take too long to explain why I shocked myself by deciding to leave big and dare I saw much warmer Houston for Buffalo, but always up for an adventure, I made the move.  Have never regretted it.

What I didn't realize, and quickly hated, was that the popularity of Bowling for Dollars (huge in Canada as well) would make me far more recognized as the "bowling" guy than the sports guy. The shows were 7 p.m. Monday through Friday, and we'd receive anywhere from 20 to 50 THOUSAND post cards each week for people wanting to either be on the show or become a "pin pal" (clever huh?) that meant if you were drawn from the barrel, you shared what your bowling "partner" earned.  I'd get to spin that big old barrel for every contestant. 
The pot started at $200, on a painted bit of plywood that probably cost $50, and went up $20 each time the bowler failed to get two strikes in a row. It's not easy to get two strikes in a row when you're nervous, and we had jackpots often get to $7 or $8,000. If the bowler got a spare, he/she and the pinpal split the $20, but if the bowler fired 2 strikes, you split the jackpot.
We once had an auto dealer (not West Herr, ha) offer a car if a bowler could get four strikes in a row, and that meant a car for the pin pal too.
What would be the odds, that it would happen twice in less than two weeks?  But it happened, and the dealer was out four cars, so much for that.  True story.  One woman from Canada actually complained about the color of her free car.
The corniest part, by far, and what made me feel like a cheap Bob Barker, was the quick interview before each contestant made their throws.
We had an audience, which usually consisted of family and friends, and I'd always ask among other things if my guest had brought anyone along. They'd introduce them, and then I'd ask if they wanted to say hi to anyone watching, and they usually did. Sometimes, making my eyes roll internally, they would actually bring a long list of names. "Hi to Uncle Charlie, Jane, Alice, Billy and the cat Mr. Wiggles….etc etc." People in the audience also brought signs, for that added touch of schmaltz.
Hey. Let's be real.  This was WAY beyond hokey and camp, and I was always instructed NOT to get a laugh at the guest's expense.
Not easy!
I did this for about 2 years, and after much begging and negotiating, Ch2 finally let me become the Sports Anchor only, which was a huge relief.
In retrospect, hosting Bowling for Dollars was a GREAT experience. They even flew me to Baltimore a couple times for BFD school with Burt Claster Productions, who owned the show. They had this show in many markets, and I was once offered a job in Philadelphia to do weekend sports and host BFD there.
The people were awesome. Just as Buffalo as it gets, although we had doctors and lawyers too, and to this day I'm asked if there are any tapes of the show left. But these salt of the earth people laughed and loved it all.
Sadly, or gratefully, no, there are no existing tapes.
The tapes back then were all reused. Now of course everything is computerized and accessible. I read one that virtually half of ALL motion pictures ever made are gone forever.
Of all the crazy answers and guests – one New Year's Eve we had a woman quite inebriated – but there's one I'll always remember with a smile.
A little old man, nervous as could be, was my guest. I brought him out, and he was frozen. Finally, I asked if he'd brought along anybody he'd like to introduce.
He said "no, I haven't".
Then…."is there anyone out there you'd like to say hello to?"
"Not really. I don't know any of these people".
Ok.  I'll spare you any more…
Editor's babble: I'm in the club who fondly remembers Ed Kilgore on Bowling For Dollars. So much fun to have Ed share his memories with us. We are grateful. You can also find Ed on Twitter @Kilgore2Ed.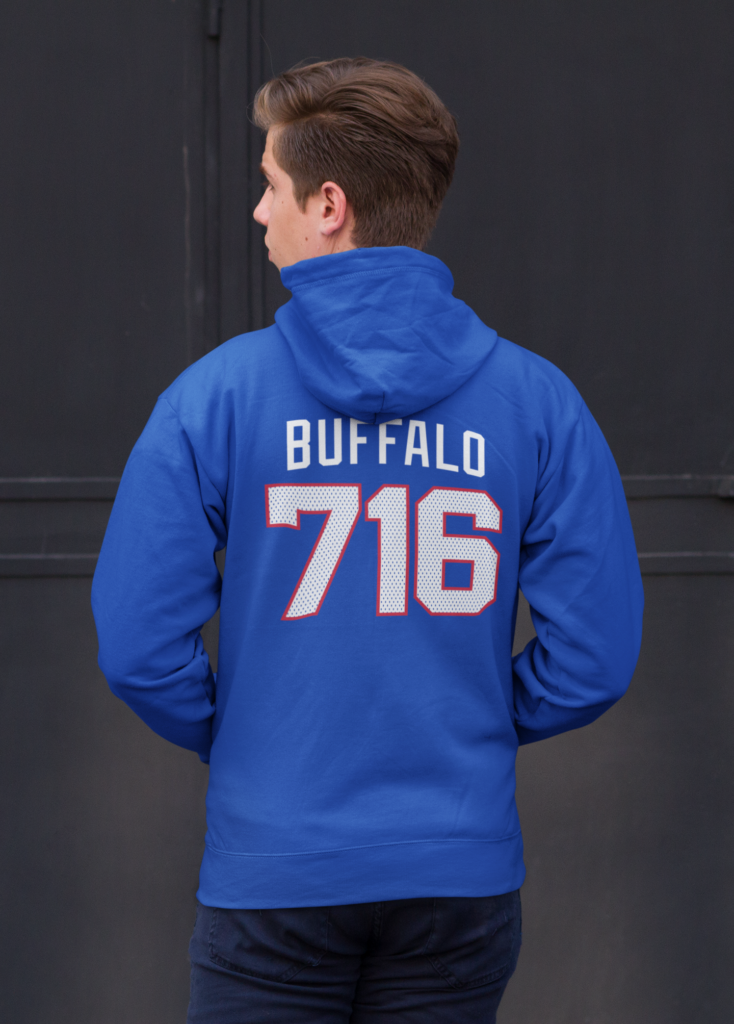 BuffaloFAMbase.com is sponsored by 26 Shirts
Every Monday, we launch a new two-week campaign of a limited edition t-shirt design. Every shirt purchase results in a donation to a local family in need. After the campaign ends, the shirt is retired. A new design is released, and a new family benefits from your fandom!