After starting the season with unmitigated hype as Super Bowl favorites the Buffalo Bills were defeated in the AFC Divisional Round of the playoffs for the second consecutive season. The 2022 season couldn't have started any better for the Bills. After being given the chance to open the NFL season against last years Super Bowl Champions, the Bills steamrolled the LA Rams and won 31-10. They then somehow showed an even more dominant performance the following week on MNF against the Tennessee Titans (a team they had lost to two years in a row) blowing them out 41-7 at home. Both the offense and defense looked unstoppable. The Bills caught a tough loss the following week in the exhausting Miami heat, but won three games in a row after. These three consecutive wins included a come from behind victory against the Baltimore Ravens on the road, an offensive shellacking of the Pittsburgh Steelers, and a win in a back-and-forth contest against the Kansas City Chiefs in Arrowhead, who had sent the Bills packing the previous two post seasons. After this moment, all the of the preseason hype felt valid.
Bills fans were on top of the world at the early BYE week. After returning from the BYE, they defeated the Green Bay Packers on SNF, but they had a hard time in the second half, turning the ball over twice, and only putting up three points. The New York Jets then went on to lead a master class in how to defeat the Bills and Josh Allen which I believe was the turning point of the season that suggested this team might not be able to win it all. Allen threw 2 uncharacteristic INTs, fumbled the ball twice, was sacked 5 times, and hit a total of 8 times. The Jets presented a physical format of play which left Allen with a UCL injury and exposed an offensive line that couldn't protect their QB on a consistent basis. Allen gutted through the injury, but once again struggled with turnovers the following week. He fumbled a snap on the goal line after a fourth and inches goal line stand by the defense, that would have won them the game, but it allowed Minnesota to score a TD and take the lead. Allen was able to get the Bills into overtime, but he threw a pick in the red zone when they had a chance to score a TD and lost them the game.
The Bills persevered throughout the rest of the season, winning every single one of their last seven games amidst countless adverse situations. They dealt with two different catastrophic snowstorms in Western NY, played three road games in 12 days, dealt with injuries from various positions including losing Micah Hyde and Von Miller for the year, and witnessed their teammate, Damar Hamlin, suffer a cardiac arrest on the field on MNF which left him not breathing for nine minutes as the Bills training staff frantically performed CPR on him and ultimately saved his life.
Although the Bills defeated every one of their divisional opponents after the Jets game in a lot of close affairs, it rarely passed the eye test, and they looked like a great team without an identity of what they do consistently well. By the end of the season the team was left with "no energy" or "juice". They put up a 17-0 lead against a banged up Dolphins in the Wild Card round, but turnovers once again found the Bills in a one-score nail biting contest they should have dominated. The warning signs came to fruition Sunday as the Bills were manhandled by the reigning AFC Champion Cincinnati Bengals at home 27-10 in a contest that frankly had an eerie feeling to it.
Today I'll discuss why/how the Bengals demolished the Bills last weekend, where the Bills find themselves after a stunning loss, and what they need to do/invest in moving forward to prevent themselves from becoming another great Buffalo team that couldn't bring home a championship.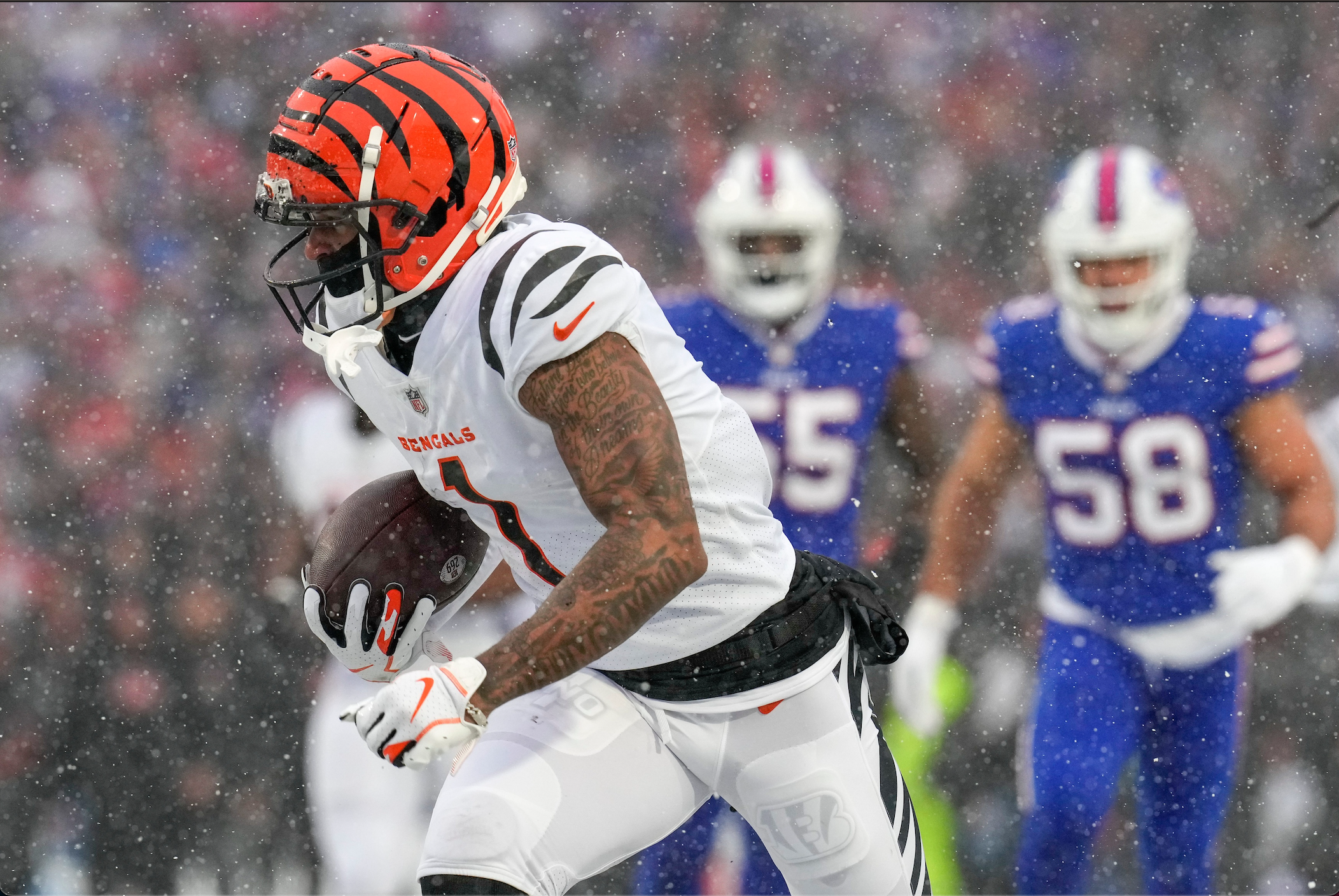 Game Review
Bengals Start off Hot
After the Bills decided to defer on the coin toss, the Bengals immediately made them pay for it by orchestrating a 6-play 79-yard TD drive that only took a little over three minutes to complete. The Bengals had no issue with the snowy environment capping off the drive with a 28-yard TD by WR Ja'Marr Chase who found himself wide open in the middle of the field. The Bills struggled to bring any pressure and Burrow stepped up into the pocket and delivered a clean throw to Chase.
With the Bills needing to respond it became obvious how the Bengals were going to approach the game. After catching a 4-yard pass on second and eight, Stefon Diggs was essentially suplexed WWE style by CB Cam Taylor-Britt. The Bengals were laying as many hits as possible on this Buffalo team and they made sure they felt it. On third and four, Allen had Diggs open for what would have been a big gain, but Allen was hit by DE Joseph Ossai who blew past LG Roger Saffold immediately and interrupted the throw.
The Bills punted and the Bengals immediately responded again with a 10-play 72-yard TD drive that lasted over six minutes. Burrow and RB Joe Mixon slowly chewed up the Bills defense gaining chunks of 16 yards and 11 yards at a time. The Bills defense showed no answers for the run or pass game even with three of the Bengals starting offensive linemen out with injury.
The Bengals ran for a total of 172 yards on the day which was their second highest total of the season and only allowed one sack/three QB hits. Both sides of the Bengals lines dominated the Bills all day. When the Bills finally forced the Bengals first third down of the day, DE Boogie Basham was drawn offsides, and when they forced a third down in the red zone they got duped by Burrow for a 15-yard TD to TE Hayden Hurst. On the play Burrow made the Bills defense think he was gonna dump it off to Chase with a pump fake, but Hurst ran past the defenders and was wide open in the end zone.
After the Bengals forced another three and out for the Bills offense, it tied Sean McDermott's worst first quarter scoring margin at home for the Bills, as he has only been down 14-0 at home two other times in his six-year tenure. The game continued to be one of his worst products on field as a head coach.
Attempts at Coming Back Fall Short
On the ensuing Bengals drive, the Bills came up with their lone sack of the day on third and seven, as they forced Burrow out of the pocket and into the arms of All-Pro LB Matt Milano. The Bills finally responded offensively with a 15-play 75-yard TD drive that nearly lasted eight minutes and got just about every member of the Bills offense involved. The team capped it off with a 1-yard rushing TD by Josh Allen where he matched the Bengals physicality and trash talking, shoving multiple defenders after the play in the goal line area letting them know he didn't have any quit in him. After the doom and gloom of this week, plays like this remind you we have an absolute dog at QB who isn't afraid of any 300-pound plus defender.
After making the game a one-score contest and injecting some life into the Bills sideline, Burrow continued to carve up the Bills defense and a particular egregious play cannot go unmentioned.
After forcing a rare third down on the day, for whatever reason, the Bills decided to play soft coverage/send a blitz on third and four on the BUF 14-yard line which Burrow easily converted into a first down. Although the three receivers at the bottom of the screen are clearly wide open before the snap, Chase is given an immense amount of cushion by Tre'Davious White and Burrow immediately fired the ball to him which gave them a first down in a one-score game on the goal line.
I have zero explanation why this was done and it's genuinely infuriating. It's Levi Wallace's coverage on the boundary during the "13 seconds" fiasco level bad. White should have been at the line shoving Chase to let the pressure get home and get him off his route – just like the Bengals CBs were doing to the Bills all day. Instead, Chase broke White's tackle and Tremaine Edmunds had to run away from blitzing (because Burrow got it out so fast) and make the tackle. I hate to be negative, but this moment was an affront to the players and fans, especially considering how soft coverage at the wrong time sent us packing last year.
After a Chase TD was called back from a slight movement of the ball caused by Milano, the Bengals settled for a FG making it 17-7. The Bills were given the opportunity to score before the half and receive the ball again to start the second half. This is a moment in football where games often can get flipped if the offense can execute. Despite an absolutely ridiculous throw into double coverage for a 25-yard gain to Gabe Davis, the Bills couldn't convert at midfield and punted it before halftime.
After opening the second half with a 14-play 65-yard FG drive that took nearly half the third quarter, the Bills made it a one-score game again and more importantly, kept the Bengals offense/Bills defense off the field. The Bengals continued to drive down the field and after forcing two incompletions, forcing a third and 10 at midfield, McDermott made another critical mistake defensively and called a timeout. You don't do this in one-score contests on defense, you need to save these in hopes it's a one-score game when there's two minutes left on the clock in the fourth quarter. You need to be able to stop the clock to either drive down the field or get the Bengals off the field with time left. The margin of error in the NFL is razor thin, and that increases tenfold in the playoffs. Something as little as using your timeouts erroneously can get you sent home without a ring.
After wasting a timeout, the Bills decided to blitz CB Taron Johnson who TE Hayden Hurst pretended to block for a split second, but he easily ran by him and got a first down because all of the Bills defenders were out too deep to make the tackle. Moments like this visibly deflated the team and the Bengals proceeded to score a TD to make it a two-score game again at the end of the third quarter. On third and two, with a first down needed, Allen launched the ball deep by the boundary to Gabe Davis who had a step on the corner but was unable to come down with the catch. Allen would have been wise to give the ball to an open Knox running across the field slightly past the first down maker. On fourth and two, the Bills decided to punt, which once again, I have to question why, even though the Bills were deep in their own territory. The defense was struggling all game and if you're gonna pay Josh Allen upwards of 40 million dollars year, you need to trust him to get a measly two yards. Go out swinging, not hoping you aren't gonna lose. The Bengals proceeded to drive down and kick a FG which gave them a 17-point cushion that led them through the fourth quarter into victory.
I'll be honest and admit the fourth quarter was one of the most difficult quarters of Buffalo Bills football I've watched in my life, and I know we've all seen some stinkers. Not only did Bills fans clear out the stadium because they knew it was over with 10 minutes still remaining, but "Who Dey" chants echoed through the broadcast clear as day from the Bengals fans who made the trip to Orchard Park. Tre'Davious White and Jordan Poyer (who may have played his last game as a Bill) collided headfirst in the end zone and both had to head to the medical tent. Allen continued to take a beating due to sloppy offensive line play and the broadcast showed an irate Stefon Diggs with his hands wide clearly showing his displeasure with Allen, QB coach Joe Brady, and effectively the offensive staff as a whole. The dream season that started with a wild welcoming party in LA, ended with a nightmare in Orchard Park that left more questions than answers surrounding the Bills future moving forward.
Looking Forward
In this section, I wanted to take the time to answer some of those aforementioned questions surrounding the Bills right now and give my stance on what I think they should do moving forward to keep this team as a perennial playoff contender that can possibly take home a championship to the 716.
Where do the Bills need to improve to win?
I think this is pretty obvious. The Bills need to start investing draft capitol/cap space into their offense, notably the offensive line. They've used a patchwork offensive line that had Allen take an absolute beating during this playoff run. Allen was hit a total of 21 times between the Bengals and Dolphins game and eight of those hits resulted in a sack. In the Miami game, Allen was pressured on 48% of his drop backs which was the most of any QB in the playoffs this year so far. In the Bengals game he was pressured 40% of the time which was the fourth most. What's notable about this number against the Bengals is they only blitzed on 16% of those pressures which means the O-Line was not holding up at all and the film demonstrates this as well.
If you watch the video above, you can see Josh Allen barely has a full second before he has 327 pounder DT D.J. Reader screaming in his face forcing him to run to this right as LG Roger Saffold didn't stand a chance against Reader. When he runs to his right he has to step up because RT Spencer Brown is also getting launched into the backfield by DE Sam Hubbard. Subsequently Allen is on the run and gets hit by a CB and LB simultaneously. It makes sense why Allen stepped into the post game presser with dried up blood on his sleeves. This is not something that is sustainable if Bills fans want to see Allen have a long career. He needs more time to throw.
In addition to drafting offensive line, the Bills desperately need more skill players on offense that teams have to game plan for. Right now, teams figure if they can bracket and double team Stefon Diggs they have a great chance of stalling this Bills offense. Josh Allen needs to do a lot to make this offense work. I would love to see the Bills go for a WR or dynamic RB in the first round. Anyone who can bring some explosive plays to this offense would help drastically. They've continually gone defensive minded in the first few rounds of the draft and a lot of those players are rotational pieces at best. Players like AJ Epenesa, Boogie Basham, Greg Rousseau, Ed Oliver, Kaiir Elam, and Terrel Bernard were taken when dynamic offensive players were still on the board. If you take a look at some of these drafts it's quite shocking who we passed on that would automatically make this offense better.
For example, Elam was benched for a sixth round pick at the beginning of the season and played sparingly the rest of it. I'm not saying he is a bad player or pick, but why aren't we playing guys we place so much value in? The Bills chose to pass on dynamic players like GB WR Christian Watson, NYJ RB Breece Hall, and SEA RB Kenneth Walker who immediately contributed to their respective squads and offer some young speed (which the Bills lack). These players are also on rookie contracts so they are much more cap friendly than say an Odell Beckham Jr. would be in free agency. If Josh Allen is the heart of this team we need to invest in him, and that doesn't mean strictly giving him a large contract. It also means investing in offensive pieces so we can set him up for success, not an early retirement party.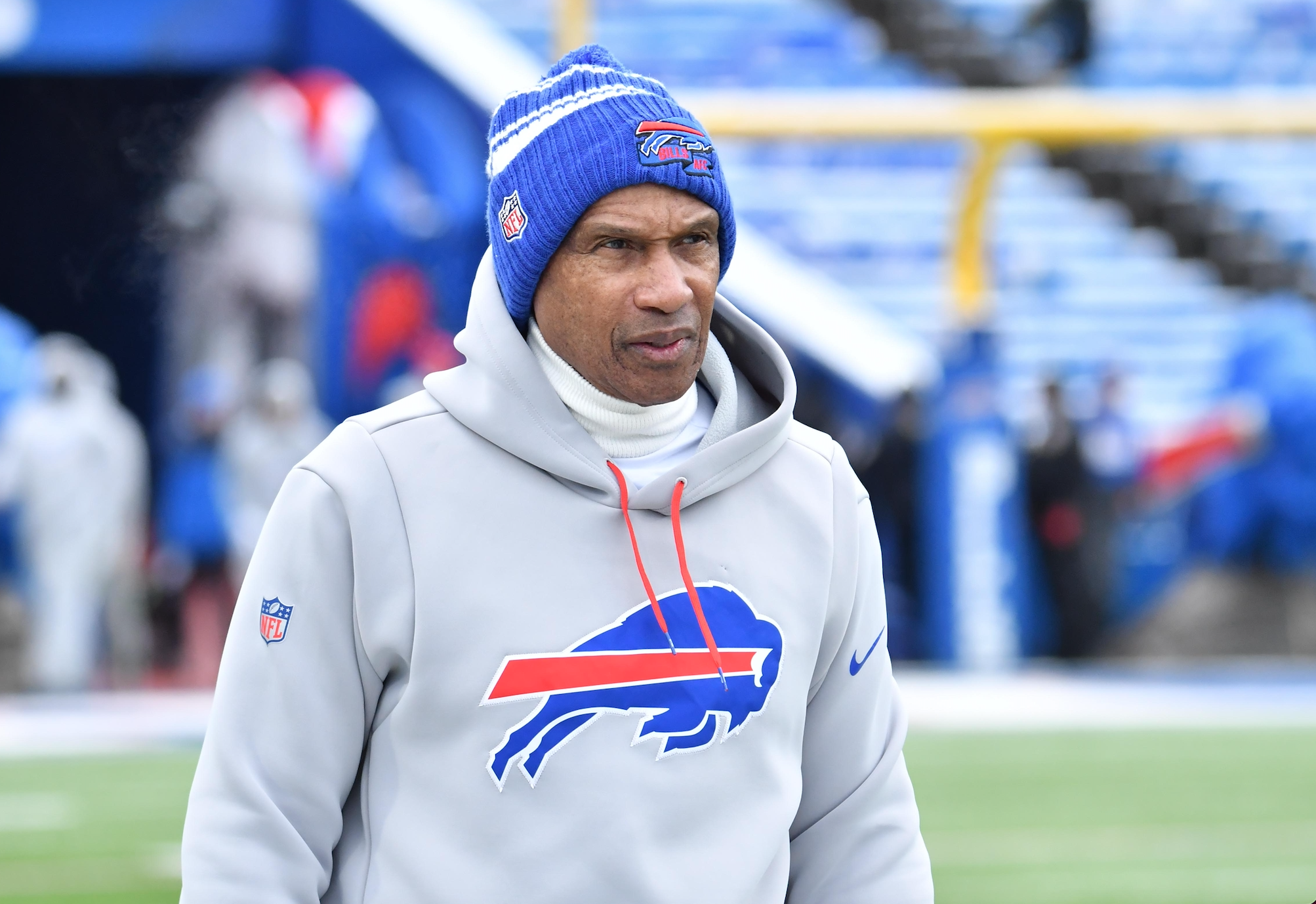 Is it time to move on from some of the staff?
In short, yes. Obviously, McDermott deserves more time as the head coach of this team. He led his squad in an admirable way through all of the trials and tribulations of this year and is a commendable leader who does love his team. The reality though? This team has hit a plateau and their last three playoff exits are flat out unacceptable from a defensive coach who isn't unfamiliar with the postseason. In the 2020 AFC championship game, the Chiefs put up 439 yards of offense and 38 points. In the 2021 Divisional Round game, the Chiefs put up 552 yards of offense and 42 points. In last weekend's affair the Bengals put up 412 yards and 27 points. It could have easily been more. Their opponents have averaged 35.6 points and 467.7 total yards per game in those playoff exits. Simply put? This defense has not worked in the playoffs against elite talent, and it feels like they haven't been able to stop anything in those aforementioned games.
Although McDermott is a huge part of the defense, I don't think it would be the biggest mistake to consider a new defensive coordinator or at least get someone else in the building with a fresh set of eyes. Leslie Frazier is a popular guy in the locker room and I'm certainly a fan, but some of his play calls and tendency to play soft zone has failed us in the postseason repeatedly. It works against young QBs who are still learning how to read a defense, but QBs like Burrow and Mahomes have no issue knowing where to put the ball immediately. It's difficult to imagine he's learned from mistakes when he called similar baffling coverage as he did last year during the "13 seconds" incident. I wouldn't be shocked to see McDermott let him go just to get some pressure off of himself. The NFL uses scapegoats for failures and Frazier could fall victim to it. Regardless of if Frazier goes or not, there needs to be change in coverage and he needs to trust his guys to cover man-on-man in more situations.
OC Ken Dorsey is also another figure in the Bills coaching staff that has taken a lot of heat this year. It was his first year as a play caller and from the sounds of the end of season press conferences, McDermott and Allen both seemed to confirm he will be back next year. My main concern with Dorsey is that the play calling seemed predictable and lacked creativity. I genuinely can't recall anytime the Bills even tried to run a trick play on offense this year. The short passing game just wasn't there and it felt like Allen needed to make a big play off script more times than not to get the ball moving downfield. I would also speculate that Diggs is actually more upset with Dorsey/the play calling than Allen as well. Towards the latter half of the season it felt like every broadcast mentioned Diggs losing it on the sidelines at some point and he clearly had an issue with the lack of targets he was getting. The Bills were not getting him the ball towards the end of the year like they should have and need to put more emphasis on getting the ball in his hands in any way possible. More often than not, Diggs can be the player to get your offense out of a rut, you just need to scheme him up appropriately.
What positives can we take away from this season?
After listing some of my concerns with the team moving forward, I wanted to take some space to close up with some positive thoughts. First off, I would just like to thank everyone who read, shared, or told me in person they liked my articles this season. Thank you! I put a lot of time and thought into these pieces, so it means a lot when they're well received, or people tell me they learned something. I would also like to thank the Buffalo FAMbase network for taking me in and treating me like family since I joined on. Bills Mafia really has a family type atmosphere that is always looking out for each other. So thank you all!
In regard to the team, I think the Bills will always have a serious chance moving forward. They're just a hair away from making the Super Bowl every year and the consistency of getting into a good playoff run is half the battle. We have made the playoffs the last four years in a row and have now won the AFC East Division Title three years in a row. Orchard Park is becoming a staple of the NFL playoffs again and that isn't done by coincidence, it's done by excellent leadership matched with hard work and talent.
Even if they run it back with the totally same coaching staff it's worth noting they went 14-4 on the entire season. That is damn good. They are led by an incredible coach who is willing to show his care for his players and is willing to adapt his conservative defensive minded philosophy/background in favor of what his players succeed in. The Bills have an entire system of players who are loyal to the organization, and they are constantly developing talent to step up when others go down. Adding in a general manger who has a great relationship with his coach and star QB and you have a formula for sustained success.
Most importantly, we still have Josh Allen. Since the 2020 season he not only has become the face of the franchise, but he leads the league in total touchdowns with 130 over that span. Allen made watching the Bills fun again and helped update their offense to the 21st century which was sorely needed. He's an impressive leader and has no issue with wearing his heart on his sleeve, talking trash to defenses, and throwing passes that only a few pros can pull off. He's a consummate professional that is on a career path similar to those who have a gold jacket. I can't wait to watch him play for years to come and I can't wait to see what he has in store for the Bengals when they play next year in the regular season. If we know anything, we know 17 doesn't forget the moments where others had the best of him.
Lastly, and most importantly, Damar Hamlin survived a terrifying event which had the entire world in shock. This entire NFL season could have been a lot different if that event took a turn for the worse. It's hard to imagine what the NFL would have even done. It's a blessing he lived and I think his life is more valuable to Bills Mafia than a championship. We can get that next year.
Editor's babble: It's been such a pleasure reading and posting Joe Larkin's terrific contributions to our blog. We look forward to any all future articles he writes. You can also find Joe on Twitter @jooelarkin.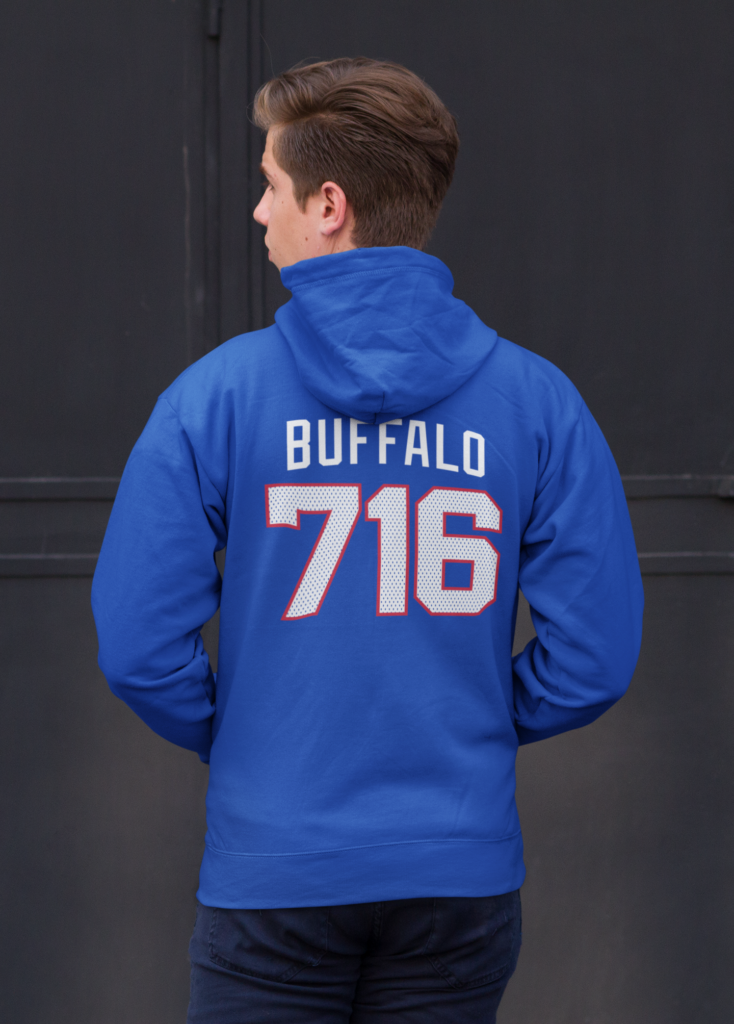 BuffaloFAMbase.com is sponsored by 26 Shirts
Every Monday, we launch a new two-week campaign of a limited edition t-shirt design. Every shirt purchase results in a donation to a local family in need. After the campaign ends, the shirt is retired. A new design is released, and a new family benefits from your fandom!