"It doesn't matter how you win, it's if you win"
These are the words Josh Allen preached leading up to last Sunday's Wild Card game against the Miami Dolphins and the same words he calmly said afterwards. The 34-31 home victory served as Allen's fourth playoff win in his career and set the stage for the Bills to take another step towards their ultimate goal of bringing home the Lombardi Trophy to the 716 for the first time in NFL history. Although Bills fans are generally unfamiliar with deep playoff runs over the last 20+ years, aside from Allen's rise to fame since the 2020 season, a lot of fans and media alike felt a shake of confidence in a team that was deemed an unquestionable Super Bowl contender in the offseason. It's not hard to question why. The Bills put a 17-0 lead over the seventh seed Dolphins who were preserving with a third string QB making his third career start and ended up blowing said lead and going toe-to-toe with them until the final moments of the game.  The game lasted nearly five hours and ended up pushing the 4:30PM matchup between the Vikings and Giants 20 minutes back.
It's no question: Bills fans were anxious. I found myself wondering if maybe the pressure was too much for this team and the hubris of the fanbase/team alike was more parts toxic than playful. Yet, the Bills battled until the end. Wide eyed rookies and grizzled vets came together to put away a divisional opponent who put it all on the line to send the Bills packing early. At the end of the day, Josh Allen is right, no one cares how you win, it's if you win. Do you think the Giants don't celebrate Superbowl XXV because Scott Norwood missed the game winning kick? Do you think Peyton Manning doesn't consider Superbowl 50 a win for himself since he didn't pass for over 150 yards or throw a single touchdown in the game? Of course not, why the hell would they? Football is a cruel sport and entire careers are defined by single plays. A win is a win, and the Bills are onto the next round. That is all that matters. Nothing comes easy in the playoffs and the Bills were far from the only team to face intense hardship last weekend. The difference? They're still here.
Today, I'm going to dive into what exactly happened during the emotional roller coaster of a win over the Dolphins, what shifted the momentum in the game, the players who helped seal the win, and preview the upcoming AFC Divisional Round showdown against the Cincinnati Bengals this Sunday at 3 p.m. ET in Orchard Park.
Bills get off to a hot start
After both teams traded offensive possessions to no avail the Bills struck first featuring a drive that showcased Allen's arm talent and Stefon Diggs recording three catches for 74 yards, blowing past Dolphins CB Xavien Howard for a 52-yard strike.
Throughout the game, Miami continued to send the house after Allen. Knowing their offense wasn't going to procure a ton of points, they put faith in the defense to cause havoc and hopefully get Allen to turn the ball over by blitzing him as much as possible. It was an all or nothing approach and it did help the Dolphins stay in the game. After Jerome Baker recorded a 7-yard sack on second and eight, the Bills went deep on third & 15 finding Diggs in a one-on-one matchup. Dawson Knox and Devin Singletary stayed with the O-Line to pick up blocks and gave Allen enough time to launch an absolute rocket. The next play, Dawson Knox had one of the best catches of his career, securing a 6-yard TD pass with one hand over Jerome Baker's shoulder.
On the next drive, Bills safety Dean Marlowe (who is replacing Damar Hamlin) picked off Thompson in MIA territory by undercutting a pass intended for WR Tyreek Hill. A few plays later, James Cook ran left for a 12-yard rushing TD. The Bills forced another punt and then began to drive down field with WR Gabe Davis securing an incredible low thrown catch for 19 yards. As the Bills marched down the field, they presumably went up 20-0 after what was assumed to be another Dawson Knox TD, but unfortunately the ball hit the ground as he tried to bring it in and was ruled incomplete. On the next play, Allen tried to rush forward, but DT Christian Wilkins and DT Zach Sieler closed in on Allen and forced a 2-yard sack. The Bills settled for a 33-yard FG and went up 17-0, but their hot start abruptly ended there.
Dolphins Get Momentum
After Thompson lead the Dolphins down the field to get their first points of the game on a FG, including a third & 19 conversion by Hill, the Dolphins defense found the big play they were looking for. On first and 10 at midfield, Allen once again found Howard in a one-on-one deep matchup against WR John Brown, and fired deep down the field for him, but the pass was a little off and Howard was able to track it down and take it back 49 yards to midfield.
As I mentioned last week, Wilkins and Allen were bound to go at it at some point in the game, and as Howard began to return the INT, Wilkins threw a block on Allen and they got into a shoving match. By the end of the play, more Bills players were dogpiling Wilkins than trying to tackle Howard. The Dolphins physical brand of football and impressive defensive play (it's worth noting their defense was not missing starters) began to push the Bills away from the blowout it felt they were creating.
On the ensuing drive the Dolphins scored another FG, miraculously converting a fourth and 8 on a check down, where LBs Matt Milano and Tremaine Edmunds somehow both missed a tackle on RB Jeff Wilson. On the next drive for the Bills, Allen completed another deep shot, this time to rookie WR Khalil Shakir for 54 yards on third & 8, yet after an official review the ball was ruled incomplete as Shakir did not maintain possession when hitting the ground.
Dolphins WR Cedrick Wilson returned the ensuing Bills punt 50 yards and would have taken it to the house if it wasn't for Punter Sam Martin slowing Wilson down so TE Quintin Morris could secure the tackle. The Bills defense forced a three and out, but due to the great field position the Dolphins kicked a 37-yard FG to make the game one-score at 9-17. A few plays later on second & 10, Allen threw a pass to Beasley which was deflected by CB Kader Kohou and into the arms of safety Jevon Holland who brought the ball back 29 yards to the BUF 18-yard line. A few players later and Thompson found TE Mike Gesicki for a 7-yard TD pass and then found Hill for the 2-point conversion. All it took was a few plays and the game was tied 17-17.
With 33 seconds left, the Bills showed their tenacity, completing two passes to Gabe Davis for 50 yards. Yet again, the Bills nearly scored another TD, on an incredible 21-yard pass and catch to Diggs, but Diggs was ultimately ruled out by the officials. The Bills kicked a FG to take the lead, 20-17, but it still felt like they couldn't catch a break in a second quarter dominated by the Dolphins.
The Bills began the second half by forcing a quick three and out. Right when it felt like the Bills could finally begin to have some momentum, the Dolphins defensive pressure got to Allen and gave them a 24-20 lead.
The Dolphins brought six defensive players to the line of scrimmage, but when the ball was snapped DE Melvin Ingram dropped into coverage and Safety Eric Rowe blitzed towards the left side of the line and got a clean hit on Allen forcing the fumble which was recovered by Sieler who brought it into the end zone. It's difficult to necessarily cast blame which folks often want to do. Allen is responsible for identifying/avoiding free rushers with quick passes and Singletary ran right past Rowe, but the Dolphins knew they needed these plays to win the game and they were relentless about bringing the heat. Allen could have just gone down the moment he got hit, but he instead tried to fight off Rowe which resulted in the fumble.
There has been a lot of murmurs about if Allen's league-leading turnovers are ultimately going to get Buffalo booted from the playoffs. I will admit, it's been a disappointing development this season as he seemed to overcome his problems with turnovers in the 2020 season, but Allen is still one of the best players in the NFL and is an integral component to their continued success. Allen has lot of confidence in himself, his arm, his teammates, his coaching staff, and his ability to straight-up brawl with defenders to get a first down. Since 2018, when Josh Allen joined the team, the Bills are fifth highest in turnovers, but are second in wins and third in point differential. OC Ken Dorsey has also been called into question by fans, who believe he is somehow dragging Allen's play down, but I encourage fans to remember Allen is the one who wanted Dorsey to stay here and he publicly stated that last offseason, and it's worth noting Allen is usually monk-like silent when it comes to decisions made internally at One Bills Drive. Allen plays a dangerous game with risk attached, but it works more often than it doesn't. A leader needs to believe in himself and those around him, even when it might not be working out, and Allen embodies that through and through.
Bills Bounce Back for the Win
After facing a four-point deficit, with two consecutive punts, the Bills found the spark they were looking for when rookie CB Kaiir Elam intercepted a pass at the MIA 33-yard line.
After CB Dane Jackson went down with a knee injury in the second quarter, Elam was thrust into the starting lineup opposite of Tre'Davious White. It's been a puzzling season for 1st-round pick Elam, who has struggled behind the scenes in his first year, with reports over the summer indicating Diggs got testy with Elam over his tendency to hold in coverage. The first game of the season Elam was benched over sixth round rookie Christian Benford, which is not a good look considering the Bills actually traded up for Elam in the first round. Elam has also struggled with injuries throughout the year. Yet, Elam got his chance and absolutely balled out against the Dolphins last Sunday. In addition to his athletic interception, where he moved out of his spot in zone coverage, following Thompson's eyes to high point the ball, he allowed a total of one catch for two yards on five targets. Elam very well may have won the CB2 job moving forward into the postseason.
With the Bills in MIA territory they immediately went into attack mode and ended up scoring on two back-to-back TD drives. On third and six Allen barrel rolled through the defense, picking up a first down. The following play he found WR Cole Beasley who he motioned to gain leverage and scored a TD, which was the first of his postseason career. After the Bills forced a punt on the Dolphins (shoutout LB Tyrel Dodson who recovered a potentially disastrous muffed punt by Nyheim Hines) the Bills once again marched down the field. Beasley took a short pass down the middle for 29 yards dragging Dolphin's defenders for a solid 15 of those aforementioned yards. On the following play from the MIA 23, Allen found Davis in the corner of the end zone, on a flat-footed throw where he launched an absolute rope only Davis could get. The throw even grabbed the attention and excitement of future Hall of Famer Aaron Rodgers.
Davis finished the contest with six catches for 113 yards and a TD. Davis showed he can be a reliable threat and is currently on a ridiculous track for his postseason play. The Dolphins responded with their own 11-play 75-yard TD drive, but the Bills were able to continually fight defensively and got the Dolphins to punt again and ultimately forced a turnover on downs with 2:30 left in the game. Once again Kaiir Elam showed up big, breaking up a pass intended for Gesicki on fourth and six. The Bills defense ended up posting some good numbers, recording a total of 10 pass deflections, seven tackles for loss, two interceptions, and four sacks. Elam, Edmunds, White, and Taron Johnson all had impressive pass breakups against the talented/fast MIA receivers.
Despite being unable to put points on the board again in the fourth quarter, the Bills offense ended the game on their own terms with a third and seven dominant run by Devin Singletary. Shakir, Bobby Hart, Dion Dawkins, and Singletary absolutely battled to get the first down (which once again went under a lengthy replay review – a theme for the day).
Although this win definitely tested the patience of Bills fans, it was a great team playoff win against a squad that clearly knows the Bills well. The Dolphins played great, especially defensively, finishing with seven sacks and three turnovers, and they're a team that is certainly going to challenge Buffalo again next season for the AFC East title. It's worth remembering the Dolphins are a team that is built with the overhanging thought of taking down Josh Allen. They have a lot of great players and Mike McDaniel had an incredible first season as a head coach. There are certainly questions surrounding Tua's ability to withstand injury, which was a major concern of his coming out of college, and it will be interesting to see how that pans out this offseason with him entering his fourth year in the league. It'll never be easy to defeat a divisional opponent and thinking back on the season none of those wins came relatively easy. Of course, we would have all loved to see a more dominant win, but need I remind you the star studded LA Rams won their final three playoff games (including SB) last season by three points. This is the playoffs. Games will be tight and not for the faint of heart.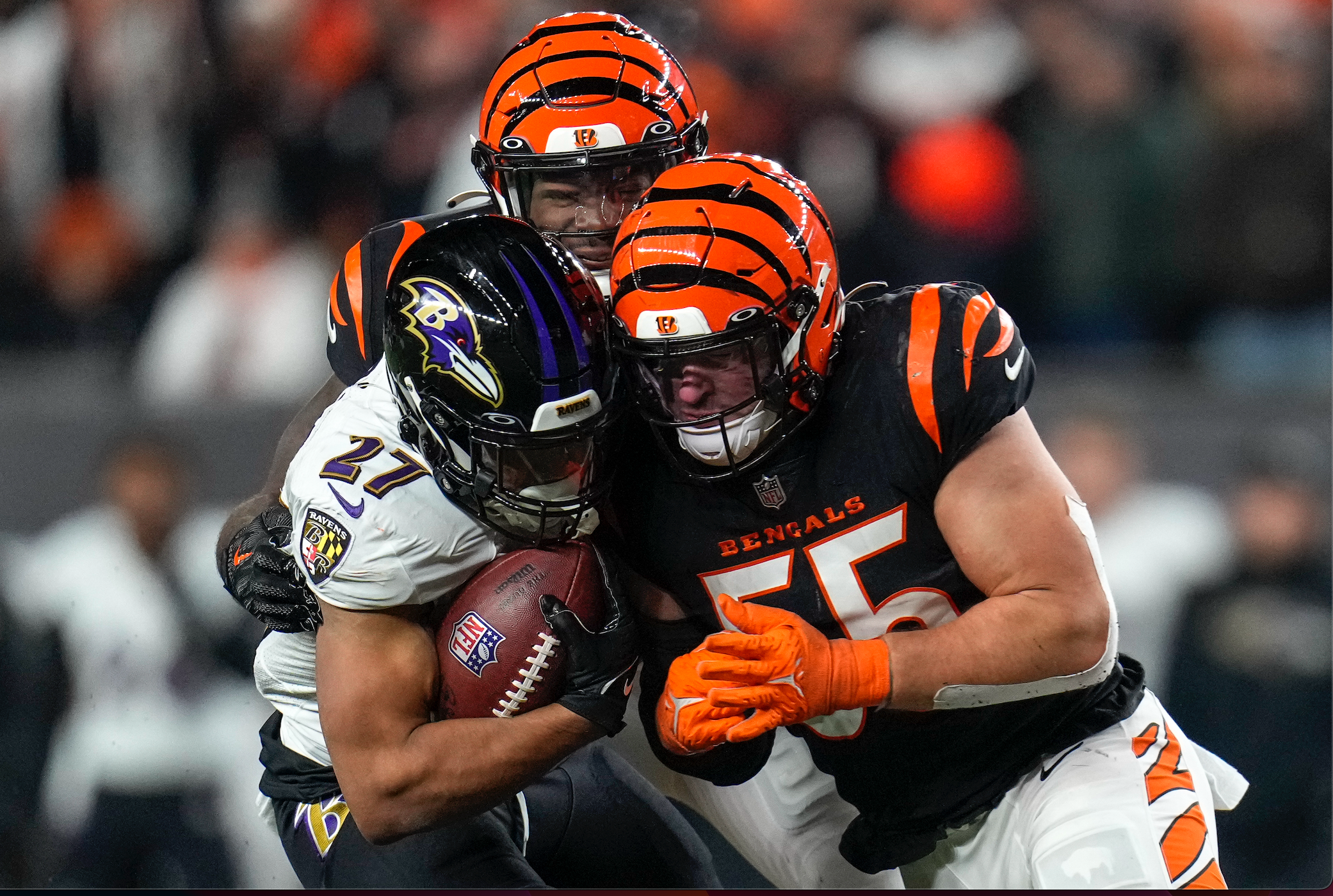 Divisional Round Vs. Bengals
On Sunday at 3 p.m. ET the Bengals (3-seed) and Bills (2-seed) will finally meet again for the anticipated rematch after their last game was stopped due to Damar Hamlin suddenly suffering cardiac arrest on the field. In an unprecedented moment the game was cancelled permanently and now the two teams have a chance to battle again to move onto the AFC Championship. If the Bills and Chiefs win, they will play in a neutral site, at Mercedes-Benz stadium in Atlanta, GA, due to the cancelled game depleting the chance for the Bills to win the 1-seed. If the Bills win and the Chiefs lose to Jacksonville the Bills will host the AFC Championship. If the Bengals win and the Chiefs lose, they will host Jacksonville, and if the Bengals win and the Chiefs win, the Bengals will travel to Arrowhead.
The Bengals are coming off a 24-17 home win against the Baltimore Ravens, where they also played against a backup QB (Tyler Huntley) since Lamar Jackson is still recovering from a knee injury which kept him sidelined. Although it doesn't seem to be getting the same level of media attention as the Bills struggles last Sunday, the Bengals also went down to the wire with their divisional opponent and were a dropped Hail Mary away from being the first team to have a playoff game go into overtime with the new format where both teams get a chance to touch the ball no matter what. Joe Burrow finished the game with 209 yards, one TD, and a stellar 72% completion percentage. The running game did not do as well where a combined 18 carries went for a dull 51 yards, averaging a weak 2.8 yards a carry. TE Hayden Hurst had a critical fumble which helped Baltimore have a 10-9 lead at halftime. The game was ultimately won by a 98-yard fumble recovery brought back for a TD by DE Sam Hubbard when Huntley tried to cross the plain but fumbled before he could do so.
Looking into the injury report, the Bengals will be without starting RG Alex Cappa who injured his ankle Week 18 and starting LT Jonah Williams who dislocated his kneecap last Sunday. It's also worth mentioning they lost RT La'el Collins for the season Week 16. CB Tre Flowers also did not practice Wednesday. The Bills actually look healthy for once as every member of the Bills practiced in at least limited fashion Wednesday. The health of the Bills looks to be a big advantage going against the Bengals this weekend.
Both the Bengals and Bills are on long win streaks at the moment. The Bengals have won nine games straight and have not lost since Halloween night, in that span the team averages 28.4 points per game, 261 pass yards a game, and Burrow has had 19 TD passes to 6 INTS over that span. The Bills have won 8 games straight, losing their last game in November, averaging 29.9 points, 237 pass yards a game, and Allen has had 18 TD passes to 6 INTS over that span. Both teams have dominant offenses and the athleticism of the Bengals skill position players from Ja'Marr Chase, Tee Higgins, Hayden Hurst, Tyler Boyd, and Joe Mixon is legitimately scary. Although they might be down a lot of offensive linemen, Burrow is elite at getting the ball out as quickly as possible and the guys he throws to often can make plays off shorter routes. In the brief sample size where the Bengals went up 7-3 and were driving against the Bills before Hamlin's collapse, they continually spread their receivers out and forced the Bills to show their hand over what coverage they were giving, and I'd expect them to do the same this weekend as it seemed to work.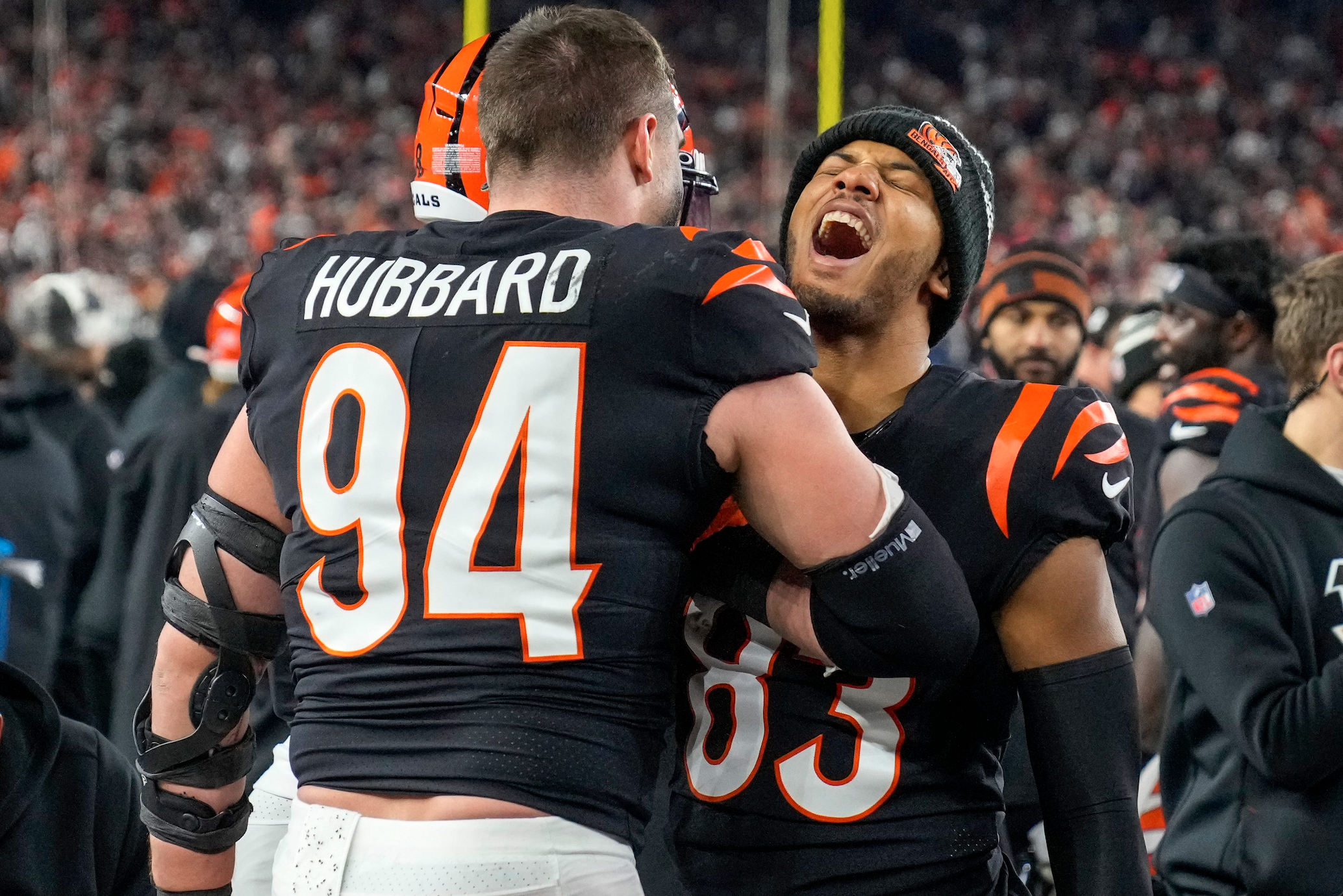 The Bengals have a lot of great players on defense with DE Sam Hubbard and DE Trey Hendrickson combining for 14.5 sacks and four forced fumbles on the season. Both of their safeties, Vonn Bell and Jessie Bates, are incredible in coverage and have both come down with four INTs a piece this season. Both of their LBs Logan Wilson and Germaine Pratt lead the team in tackles and combine for 14 pass deflections on the season. They might not be the biggest names in the league, but this team absolutely shell-shocked the Chiefs at Arrowhead in the AFC championship last year, causing two interceptions between the second half and OT which sent the highly favored Chiefs packing.
There's no doubt about it: this is the best game coming up this weekend and probably the hardest to pick who will win. The game will be a high-scoring affair and whoever wins the turnover battle will most likely win the contest. The Bills are going to need every man on their roster to step up to beat the reigning AFC champions. The coaching staff is going to need to be smarter in regard to game management and scheme up some confusing concepts to keep "Joe Cool" guessing about where he should go with the ball. Highmark Stadium is going to be absolutely rocking and if the Bills can keep their composure, make some big plays on defense, take advantage of the Bengals banged up o-line, and match the Bengals explosive offense I think they got a good shot to win. Allen has yet to lose a playoff game at home and this could be the last home game for several Bills such as Jordan Poyer, Tremaine Edmunds, and Devin Singletary. It's time to buckle up everyone, this is what we've all been waiting for. Remind yourself this is a 60-minute game and it's more than likely going to come down to the wire. Let's do it for Damar and show the world why the offseason hype wasn't a fluke!
Editor's babble: We are thankful for Joe Larkin's contributions to our blog. You can also find Joe on Twitter @jooelarkin.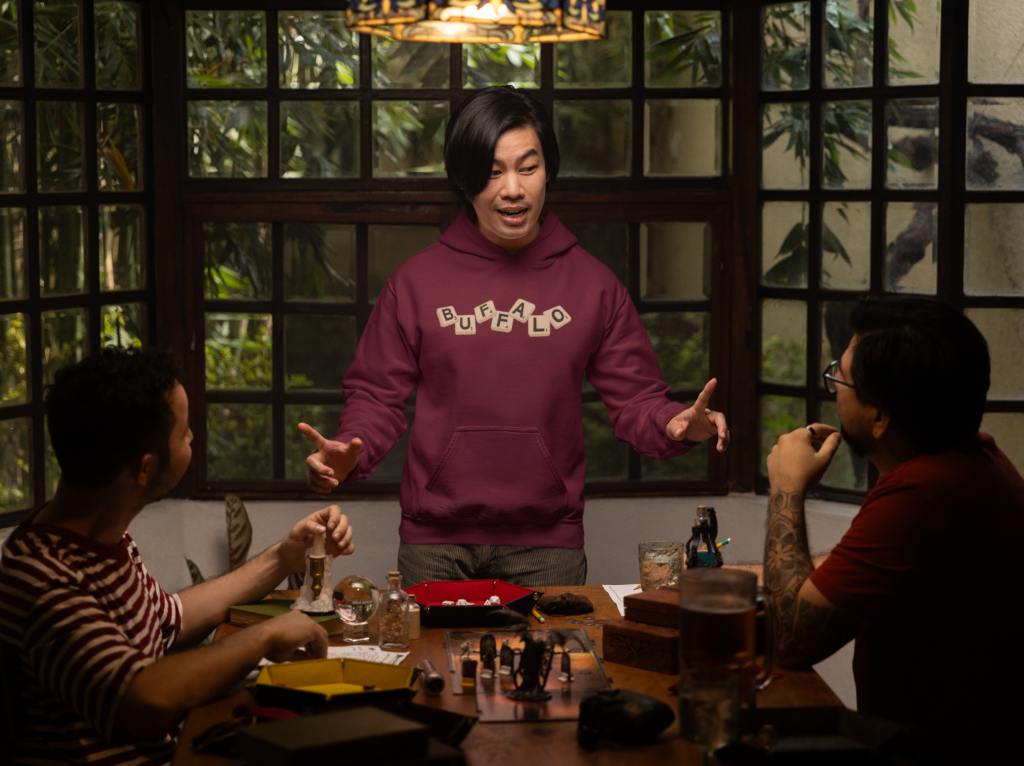 BuffaloFAMbase.com is sponsored by 26 Shirts
Every Monday, we launch a new two-week campaign of a limited edition t-shirt design. Every shirt purchase results in a donation to a local family in need. After the campaign ends, the shirt is retired. A new design is released, and a new family benefits from your fandom!