"No Pulse".
These are the terrifying words players overheard when Bills safety Damar Hamlin collapsed on the field last Monday in Cincinnati while trainers vigorously attended to the 24-year-old who suddenly stopped breathing after making a routine tackle. Denny Kellington, the Bills assistant athletic trainer, performed CPR and used an AED on Hamlin as players had to helplessly watch while Kellington tried to revive Hamlin back to life. Injuries are routine in the NFL. Football has a 100% injury rate, and every player is usually dealing with something by midseason, even if it's not showing up on the injury report or being disclosed by the team. When players go down it's nothing out of the ordinary and more often than not the training staff can attend to it and get the player to the medical tent during the commercial break. For example, Bills CB Taron Johnson went down with a concussion before Hamlin's cardiac arrest and by the time they resumed action after a commercial break he was already walking to the locker room. This time was different.
When action resumed from the break an ambulance was on the field and the camera panned to clips of Josh Allen, Stefon Diggs, Tre'Davious White, and Jaquan Johnson who all had tears in their eyes and were visibly distraught by what they were witnessing. At that moment, I, like many others, knew something out of the ordinary was going on. When the words "CPR" were uttered by announcer Joe Buck, we all waited with bated breath for any update on the situation, and prayed for a young man who was clearly fighting for his life in front of the entire nation. As we all know the game was cancelled indefinitely, but the silence lingered. The nearly fatal situation couldn't help but to bring up feelings of guilt and anxiety in fans over what players go through in order to play this game and entertain us on a weekly basis. The harsh reality: people put their lives on the line to play football and every player is a routine hit or play away from their life being changed forever.
As the good news of Hamlin's miraculous recovery started to flow in throughout the week it reminded fans and the NFL community at large there is more to the game than fantasy football, draft picks, and X's & O's. There are human beings under every helmet. Hamlin received incredible care by doctors, trainers, and thousands of people/organizations who have raised over 8.5 million dollars for his Chasing M's foundation that looks to give back to the youth of Mckees Rocks, Pennsylvania where Hamlin grew up.
With the emotional rollercoaster of a week the Bills had and the very real trauma that comes with watching someone have CPR performed on them the Bills somehow still had to play a game Sunday in Orchard Park against their division rival New England Patriots who were fighting for a chance into the postseason. CBS analysts Tony Romo and Jim Nantz mentioned on the broadcast that Josh Allen openly stated to them he had no idea how the team was going to perform in the game and if they'd be emotionally and mentally prepared for an NFL contest. Within the first play, the Bills reminded everyone they're the most resilient team in the NFL and that tragedy often begets triumph.
An Unforgettable Moment in Buffalo Bills History
After paying homage to the medical staff who saved Hamlin's life and having their walk-onto the field televised live with flags in honor of Hamlin, the Bills were set to take the ball first after the Patriots won the coin toss and deferred the first possession. Before Josh Allen and company could get a chance to touch the ball, RB Nyheim Hines, who the Bills traded for moments before the trade deadline back in November, had different plans. The Patriots opted to not kick the ball out of the end zone and Hines recovered the ball around the 5-yard line. After heading straight down the field into the scrum of players colliding around the 25-yard line, Hines bounced his run towards the right sideline and took off. The Patriots never stood a chance once Hines had open real estate on the boundary and he scored an explosive and jaw-dropping opening kickoff return for a TD.
Hines ran with the spirit of Hamlin beside him, and it felt unreal as it happened. The play will unquestionably go down as one of the best plays in Buffalo Bills history and something that will turn mythical as the years go on. Although it felt like the game was over in the first 14 seconds alone, the Patriots weren't going to let a Georgia vs. TCU situation happen on their watch. After the Patriots and Bills traded punts, then touchdowns, the half ended with another costly Josh Allen redzone interception that left the game tied at 14-14.
Bills Resiliency Rings True
After receiving the ball first in the third quarter the Patriots methodically moved the ball down the field, on a 10-play 60-yard drive, which included conversions on third down and fourth down. From the Buffalo 21-yard line Mac Jones looked to score after seeing WR Nelson Agholor matched up one-on-one against CB Tre'Davious White, who teams have been testing frequently since he returned from his ACL tear. Jones had his eyes on Agholor the whole time waiting for him to get open near the goal line and to get in front of White. White stayed on top of Agholor and ensured he couldn't get past him and when the ball went up White was able to secure it at the 2-yard line which immediately killed a long drive by the Patriots. This marked White's first interception of the season and his first since November of last year.
Unfortunately, Devin Singletary fumbled the ball two plays later and it was recovered by Devin McCourty at the Buffalo 11-yard line. The Bills defense proved to be stingy and only allowed the Patriots to come away with a FG, giving New England a 3-point lead. Yet again, Nyheim Hines did the unthinkable and brought the ensuing kickoff return to the house to give the Bills a 21-17 lead.
After recovering the kick 1 yard into the end zone, Hines jetted towards the left side of the field between two excellent blocks by special teamers Tyler Matakevich and Taiwan Jones. When met one-on-one with Patriots CB Myles Byrant, Hines bounced right off of him and was gone without a Patriot in sight. Jones caught up with his teammate and they both high stepped into the end zone Deion Sanders style.
After forcing the Patriots to punt Josh Allen and the offense got in on the fun. After completing a 28-yard throw to rookie WR Khalil Shakir, Allen rolled out to his left from around midfield and directed reunited WR John "Smoke" Brown down the field and found him for a great 42-yard touchdown pass. This was Brown's first reception since rejoining the team and his last reception since the 2020 season. This play could serve as some serious traction for him being permanently in the starting roster come next weekend. In a monumental play for Brown, he proceeded to find hero trainer Denny Kellington on the sideline and gave him the ball he scored with as a token of appreciation for his herculean efforts last Monday.
The Patriots immediately responded with their own 8-play 85-yard TD drive where they converted on yet another fourth down and found DeVante Parker who scored regardless of good coverage by rookie CB Kaiir Elam. Making it a one-score game at 23-28, the Bills knew they needed to respond and relied on their two best players to do so. After James Cook was called for an illegal chop block the Bills were faced with second and 23 from their own 38-yard line. After finding McKenzie for a 13-yard gain to make it third and 10, Josh Allen found Stefon Diggs for a 49-yard touchdown pass that helped give the Bills a comfortable 12-point lead at the top of the fourth quarter.
Allen took the snap from shotgun and right before the play clock expired, he motioned to Diggs to move closer inside to give him some leverage. Faced one-on-one against CB Johnathan Jones, Diggs burned by him on a double move and was able to catch the pass while crossing the goal line. Allen's pass traveled 62.2 yards in the air which was the third-longest completion by air distance this season. Allen was given good protection from his o-line, who managed to give him just enough time to get off the throw before 305-pound DT Daniel Ekuale came bearing down on him. After tons of chatter about Diggs not getting the ball enough, Allen reminded everyone they're still one of the most lethal QB/WR duos in the league.
Although the Patriots were able to get Taiwan Jones to accidentally touch a punted ball, which resulted in a fumble recovered by the Pats, the Bills responded yet again. This time LB Matt Milano picked off Mac Jones in the end zone and returned it 41 yards. With the game out of reach, Tremaine Edmunds joined in on the party and also picked off Mac Jones to seal a 12-point victory. Regardless of any momentum the Patriots could garner throughout the afternoon, the Bills immediately responded with a big interception, kickoff return TD, or long passing TD of their own. It felt like the Bills couldn't lose from the first snap and in hindsight that remained true. Not only was it a magical afternoon considering Damar Hamlin is recovering significantly and the Bills won at home to secure the second seed and potentially host two playoff games (if they play KC in the AFC Championship it will be at a neutral location), but they now have knocked the Patriots out of the postseason in two consecutive seasons. If that doesn't heal the Western NY soul, I'm not sure what else will.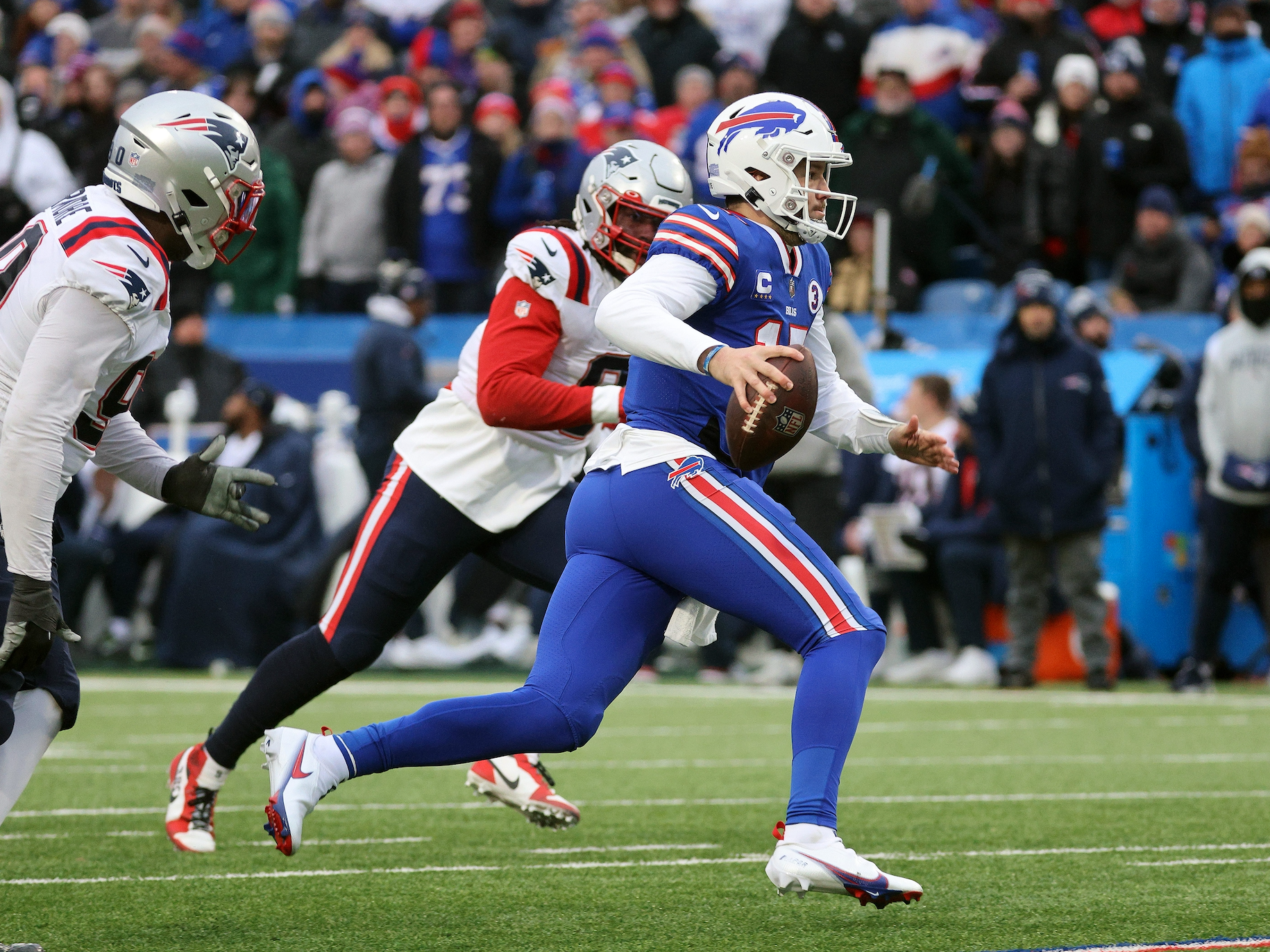 Season in Review
Now that the regular season is over, I wanted to take this time to discuss what I thought of their 13-3 season and what is encouraging/concerning heading into the postseason for the Bills.
To begin with, our leader, Josh Allen, had yet another incredible season. Allen combined for 42 touchdowns (35 through the air and 7 on the ground) passing for 4,283 yards and running for 762 yards. The Bills offense had the best 3rd down conversion percentage at 50.2% in the NFL this season and that is largely due to Allen's arm strength and ability to extend plays/use his feet to pick up first downs. The running game in general took a big leap forward with James Cook, Josh Allen, and Devin Singletary forming a three-headed monster attack all gaining over 500 yards a piece. Singletary finished the season with 819 rushing yards, averaging 4.6 yards carry. Cook gained 507 rushing yards, averaging a stellar 5.7 yards a carry. If the Bills find themselves in a violently windy Orchard Park this postseason where throwing conditions are not ideal, they can certainly lean into a developing and explosive run game.
Stefon Diggs had another masterful season finishing with 1,429 yards and 11 touchdowns. Diggs has yet to record less than 1,200 yards in a season with the Bills and his chemistry with Allen remains tangible. Even though the Bills have tried to get others involved in the offense lately it's no question who the Bills are going to look for throughout the postseason when they need a big play. After starting off slow, Dawson Knox came onto the scene with a force in the latter half of the season finishing with 517 yards and 6 touchdowns. Knox is signed through the 2026 season, and I think the Bills were smart for signing him when they did last summer. I wouldn't be surprised to see him have a big moment this postseason. His athleticism and red zone ability make him a nightmare matchup against defenses, especially linebackers and safeties.
The defense had another excellent year, even if it feels like they've given up a lot of points recently. Looking at the overall season, the Bills still managed to give up the second-least amount of points by a defense this year at 286, only trailing the top defense (SF) by 11 points. I think in a shootout style game you can count on this squad to make a big play even if the opposing team is putting up 30+ points. LBs Matt Milano and Tremaine Edmunds are arguably the best players on the defensive side of the ball this season and they combined for over 200 tackles, with 18 of them resulting in a tackle for a loss.
Jordan Poyer had another great season. He recently revealed he is playing with a torn meniscus, yet he still finished the season with 4 interceptions and 63 tackles. The Bills were 12-0 in contests that Poyer appeared in throughout this season, and I don't think that is a coincidence. DE Greg Rousseau finished with 8 sacks and 10 tackles for a loss even though he missed about a month of play. The defense finishes tied for third with the most takeaways at 27 on the year and will need to keep that number churning if they want to beat some of the elite QB talent in the AFC this postseason.
Lastly, what concerns me most about this team is their tendency to shoot themselves in the foot. It seemed like nearly every game came with a good load of anxiety as the Bills continually made unnecessary mistakes. Allen led the league in turnovers with 19 total on the season. Allen often makes up for it with his big play ability, but it is a concerning pattern when you're about to go up against some of the best defenses in the NFL. If you look at any of their three losses the Bills registered in the regular season (at MIA, at NYJ, vs MIN) they lost the turnover differential which directly correlated to points coming off the board in one-score games they could have won. Considering the red zone turnovers makes it even more worrisome. Allen finished with 5 interceptions in the red zone (he also threw a pick at the 21-yard line against PIT) and one fumble lost. An area he was borderline perfect in throughout his career thus far became a cause for concern for this season. Gabe Davis is also worth mentioning as a concern, as he has lacked consistency since the BYE week. The Bills are tied for second with the most dropped passes at 27 and Davis is responsible for 9 of them.
My biggest concern for the defense would be injuries and their struggles against stopping the pass lately. Losing Von Miller as our "game closer" is huge. It's no secret he was brought into Buffalo to put pressure on opposing QBs in the playoffs. Miller is just as much a reason the Rams won the Superbowl last year as any other player that was on their roster last postseason. Miller's tendency to make big plays in the second half showed up big time against Patrick Mahomes back in October. In recent games against Detroit, Minnesota, and Cleveland it felt like the defense couldn't stop anything in the passing game. The Bills are still trying to figure out a CB rotation behind White, but I think White's improved play down the stretch will be huge moving forward. It's a good sign they seemingly have three corners (Dane Jackson, Kaiir Elam, and Christian Benford) they trust opposite of White. Although it feels like the Bills have given up a lot of third down conversions they finished a top 10 unit in that department, ranking at 7th best with a 37.5% conversion rate for opponents. On fourth down conversions, the Bills defense ranked in the bottom half at 22 with a 57.6% conversion rate for opponents.
Obviously, and most importantly, getting Micah Hyde back is massive. Hyde shockingly and unexpectedly came back to the practice field Wednesday after it was presumed he'd miss the rest of the season with a neck injury he suffered week two against Tennessee. It has been well over a year since Hyde, White, and Poyer were all on the field at the same time, and they're one of the main reasons the Bills had so much success against the pass over the years. Hyde and Poyer have an elite chemistry between each other much like Stefon Diggs and Josh Allen. Hyde has been ruled out this Sunday, but if the Bills can win this weekend, having him against (presumably) Joe Burrow and the Bengals would be a game changer for an offense they had no answers for last Monday, albeit in a brief sample size. Hyde still needs to test his neck out and see how hits feel and he has already stated it's up to his doctor when he plays, not him, but the general feeling seems to suggest Hyde should be able to return next week.
Although the Bills dominating wins (LA, TEN, and PIT) went by the wayside after the BYE week, I still think this is a lethal team that demonstrated they know how to win close games/can handle adversity. They won three road games in 12 days (CLE, DET, and NE), persevered through countless injuries to starters, withstood the disturbing controversy around released punter Matt Araiza, overcame an ugly two-game losing streak, and more importantly did not let the "13 seconds" fiasco from last year break the team apart. We've seen these tragic post-season L's put a bullet into what seems like a promising team more than once – just look at how quickly former Seattle Seahawks players jumped on the chance to trash Russell Wilson this year nearly a decade after their SB gaffe. Those types of losses sting for years and these Bills have only grown closer together since.
When teams got tired in the fourth quarter and the game was on the line, the Bills showcased they continually know how to put it away – on both sides of the ball. Josh Allen registered four game winning drives (at BAL, at KC, at DET, and vs. MIA) and the team won a total of six one-score contests. This team is special and feels different than previous seasons even though it's mostly the same cast of characters. They know how to win, and I will never count this team out until there is double zeros on the clock. We also have a kicker with one of the strongest legs in the NFL, who made three separate game winning kicks (at BAL, at DET, vs. MIA). Regardless of what happens in the coming weeks, I am incredibly proud of this team, and you should be too.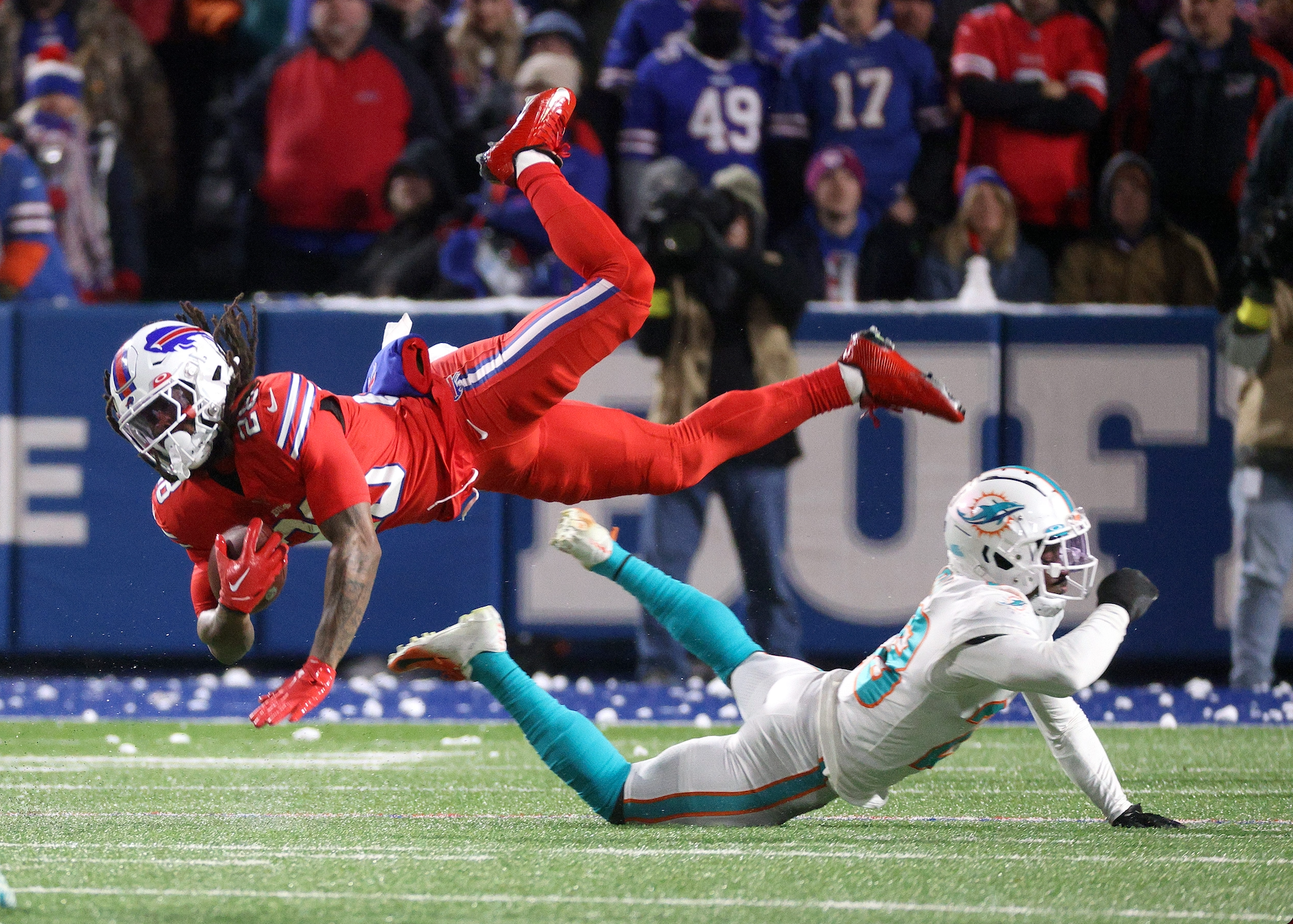 Matchup against the Dolphins
The Bills (2-seed) will once again host the Dolphins (7-seed) this Sunday at 1 p.m. ET for the Wild Card matchup. Although there are serious injury concerns impacting Miami right now, which is why I think they were given the earlier time slot, it is urgent to remember they are going to give everything they got against the Bills. Tua Tagovailoa has been officially ruled out Sunday and it appears Teddy Bridgewater's issue with his right finger (he could not grip the ball against NE two weeks ago) is not resolved enough for him to play. Rookie seventh round pick QB Skylar Thompson is expected to start who has started two games this season. On the year he has thrown for 543 yards, 1 TD, a 57% completion percentage, and 3 INTS. The Dolphins have gone 1-4 in contests where Tua has not finished the game. This is clearly a less than ideal situation for the Dolphins, but Tua has suffered two *reported* concussions and the Dolphins appear to be prioritizing his own personal health and future which is the right move.
Other players to monitor throughout this week are starting LT Terron Armstead, LB Bradley Chubb, starting LG Liam Eichenberg, starting RT Brandon Shell, and RB Raheem Mostert who all did not participate in practice Wednesday. Clearly, the Dolphins are extremely banged up and this seems like a cakewalk for a Bills team that is on a 7-game winning streak. I would advise against assuming we can easily beat a familiar foe as both contests against them have been decided in the fourth quarter and the margin of victory for both sides was three points or less.
I think Miami holds a slight advantage having travelled here just a month ago where the temperamental climate of Western, NY was on full display. I fully expect Josh Allen and DT Christian Wilkins to go at it Sunday, as these two seem to be quietly having one of the biggest QB vs. defensive player feuds in the NFL right now. Don't be surprised if things get chippy immediately. The Dolphins gave the Bills a run for their money last month, leading the Bills by 8-points in the fourth quarter. Both Waddle and Hill (who have both had spectacular seasons) burned past the defense for TDs and Mostert ran all over the Bills, averaging a whopping 8-yards a carry. There is a good chance Mostert won't be playing, but his backup Jeff Wilson Jr. is a solid replacement if needed. Even if winning the AFC championship or Super Bowl seems highly unlikely for the Dolphins at this moment, the thought of kicking a highly favored Buffalo out of the playoffs has to make them salivate at the mouth.
Regardless of what Vegas thinks will happen, this game is more than likely gonna be a dogfight. The Dolphins know the Bills well and although Josh Allen posted great numbers against the Dolphins this year (704 passing yards, 6 TDs, 124 rushing yards), it'd be unwise to underestimate any NFL opponent. Always remember, the NFL playoffs is unlike any of the other major sports leagues in America such as the MLB, NHL, or NBA. The postseason games are all decided by a single contest and seemingly inferior teams win all of the time when they catch a great team who thinks they can sleepwalk through the postseason into the Super Bowl off-guard.
The time is now. Every team is 0-0. What happened September through January no longer matters. It's time for the Bills to prove their offseason hype was not an exaggeration. It's time to prove this franchise isn't "cursed". It's time to end the "Four Super Bowls, no rings" jokes. It's time to put "Wide Right" to bed. It's time to show why this Buffalo Bills team is one of the most resilient teams in NFL history. It's time to win it all, and that begins or end this Sunday.
Editor's babble: We appreciate Joe Larkin's wonderful contributions to our blog! You can also find Joe on Twitter @jooelarkin.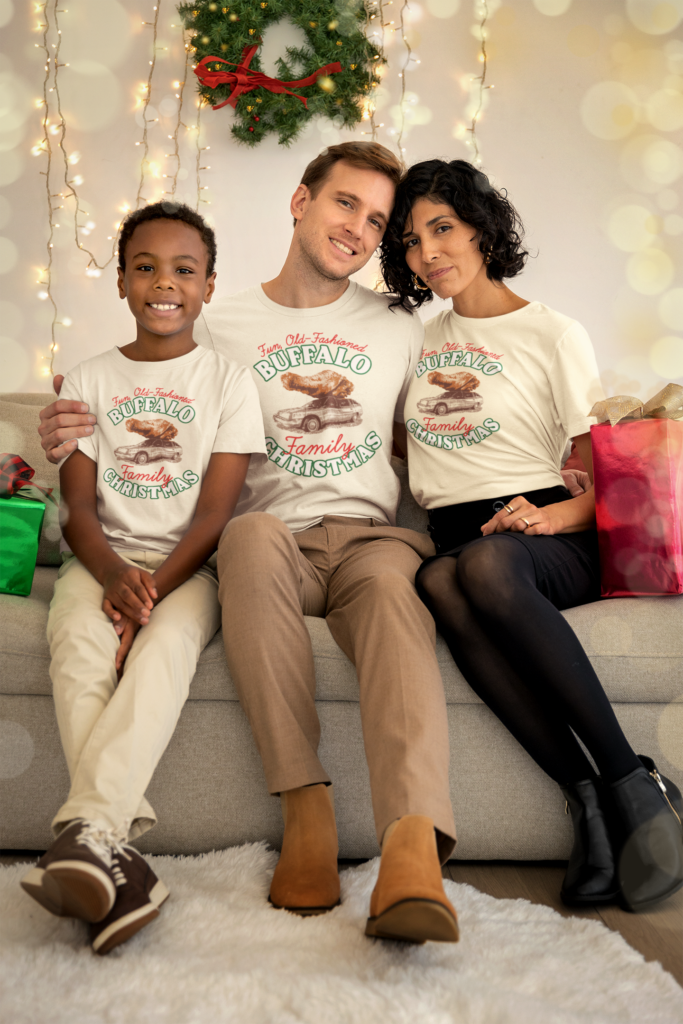 BuffaloFAMbase.com is sponsored by 26 Shirts
Every Monday, we launch a new two-week campaign of a limited edition t-shirt design. Every shirt purchase results in a donation to a local family in need. After the campaign ends, the shirt is retired. A new design is released, and a new family benefits from your fandom!