The Buffalo Bills and Miami Dolphins faced off in the AFC Wild Card round on Sunday. After splitting the previous two meetings this season, the playoffs provided a winner-take-all scenario for the AFC East rivals. Josh Allen has had his best performances against the Fins, but Tyreek Hill still haunts the memories of Bills fans, even with rookie quarterback Skylar Thompson throwing him the ball this time.

Bills Pull Ahead Early

Allen and company got to work right away in the passing game. Even though the opening drive ended with a failed 4th down conversion attempt, Allen connected with rookie Khalil Shakir for 17 yards and Stefon Diggs for 14. Thompson threw back-to-back incomplete passes after a one yard run from Jeff Wilson, so the Bills got the ball right back.

Allen hit Diggs for gains of 20, two, and 52 to set up first and goal for the Bills, where Dawson Knox made an incredible one-handed catch for a six yard score. Two plays later, Buffalo took the ball right back, thanks to Dean Marlowe lurking Thompson to generate an interception that he returned to Miami's 23 yard line.

After gaining a first down, Allen and rookie James Cook lined up in the backfield on first and 10 from the 12. On a read option, Allen gave it to Cook, who accelerated downfield, picking up a great block from John Brown and reaching the end zone nearly untouched.

Thompson, facing a third and 15 thanks to a false start penalty, threw a deep pass to Jaylen Waddle down the sideline. Waddle had outrun Tre'Davious White, but White showed incredible recovery speed, as he was able to break up the pass that landed in the receivers hands.

Allen connected with Gabriel Davis for a gain of 19 to start the ensuing drive, then used his legs to move the chains again on third and seven with a run for eight yards. A 14 yard completion to Diggs moved Buffalo deep into Miami territory, but a sack from Christian Wilkins forced the Bills to settle for a 33 yard field goal from Tyler Bass.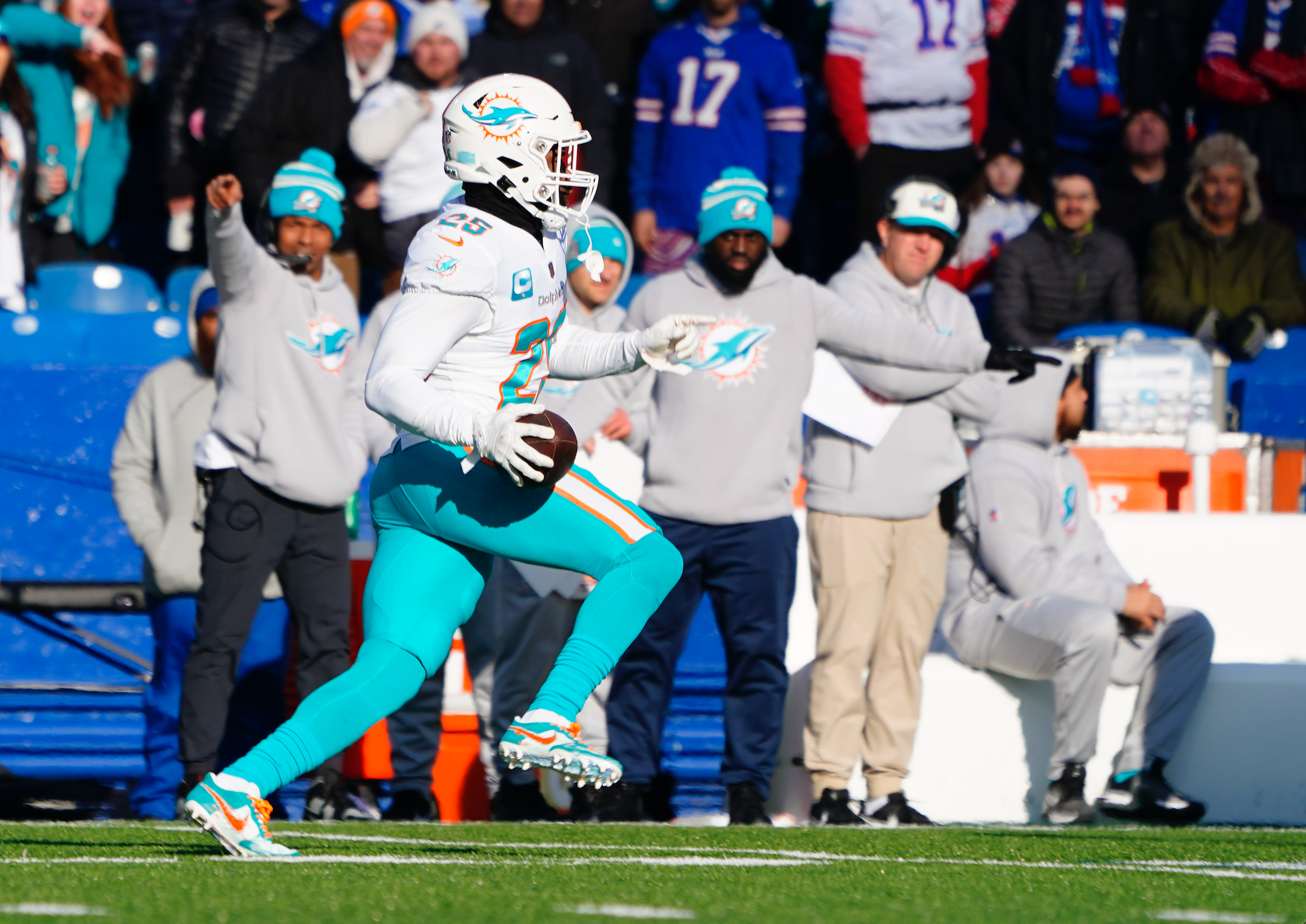 Miami Storms Back

Buffalo's 17-0 lead crumbled away in the second quarter, with the Dolphins tying the game at 17-17 before halftime. Allen threw two interceptions, though neither were entirely his fault. On the first, he was looking for John Brown deep down the field, but the two were not on the same page, and Pro Bowl cornerback Xavien Howard was able to come down with the ball (and return it nearly 50 yards to midfield). On the second turnover, Allen's pass bounced off the hands of Cole Beasley and into the hands of Jevon Holland, who returned the interception 29 yards the other way into the red zone. Khalil Shakir also dropped what could've been a 50 yard gain, but he couldn't secure the catch and Buffalo needed to punt as a result.

The Dolphins slowly chipped away at Buffalo's lead, thanks to the stout defense from Leslie Frazier's unit. Despite the turnovers and returns from the defensive backs giving their offense great field position, Miami was forced to settle for three field goals. Boogie Basham recorded a sack to stall one of the drives, and the inexperienced Thompson was plagued with dropped passes from his receivers.

Eventually, the Dolphins found the end zone. With a drive starting at Buffalo's 18 yard line, Thompson eventually found tight end Mike Gesicki over the middle for a seven yard touchdown. With confusion on coverage assignments by the defense, Thompson found a wide open Tyreek Hill for a successful 2 point conversion. Suddenly, the game was tied 17-17.

Bills Take the Lead

With just 33 seconds left in the half, and two timeouts, Allen orchestrated a five play, 54 yard drive to set up a Tyler Bass 39 yard field goal. Davis found his way into a pocket in Miami's coverage, and came down with a 33 yard catch before running out of bounds. Two plays later, Allen hit Davis over the middle for a gain of 17. Diggs was unable to haul in a one-handed attempt, and the Bills settled for three.

Miami Retakes Momentum

Just when it looked like the momentum was starting to swing in Buffalo's favor, thanks to a quick three and out to start the second half, the Dolphins dialed up a blitz that Allen wasn't ready for. Eric Rowe blitzed off of Allen's blindside, and was able to knock the ball out as he sacked the QB. Zach Sieler recovered the fumble and ran it back for a touchdown. With Allen's third turnover of the day, the Dolphins took a four point lead.

'Playoff Josh' Returns

Allen led two scoring drives to retake the lead in the third quarter. The first drive was just 33 yards, thanks to a Kaiir Elam interception setting the offense up in Dolphins territory. Allen connected with Davis for 13 yards, and ran for 12 yards on third and eight to keep the drive alive. On first and Goal from the six, a screen to Beasley found the end zone thanks to blocks from Diggs and Davis.

After gaining just one first down, the Dolphins punted back to the Bills, where Allen threw another touchdown. He found Quintin Morris underneath for a 12 yard catch and run, one of the few times Allen actually utilized a check down option. Three plays later, Beasley created separation across the middle of the field, thanks to a nice stutter step on the defender in man coverage. Thanks to the blitz from Miami, Beasley had room to run, picking up 29 yards and getting deep into opposing territory. On the next play, Allen threw a dime to Davis in the back corner of the end zone, who made an incredible toe-tap catch for a touchdown. The pass sailed just over the head of Rowe, who was not in bad positioning to make a play. Allen's precision and power on the pass was simply unstoppable, and combined with the great feet from Davis, created an impressive highlight play. Up 34-24, the Bills just needed to hang on for the remaining 17 minutes.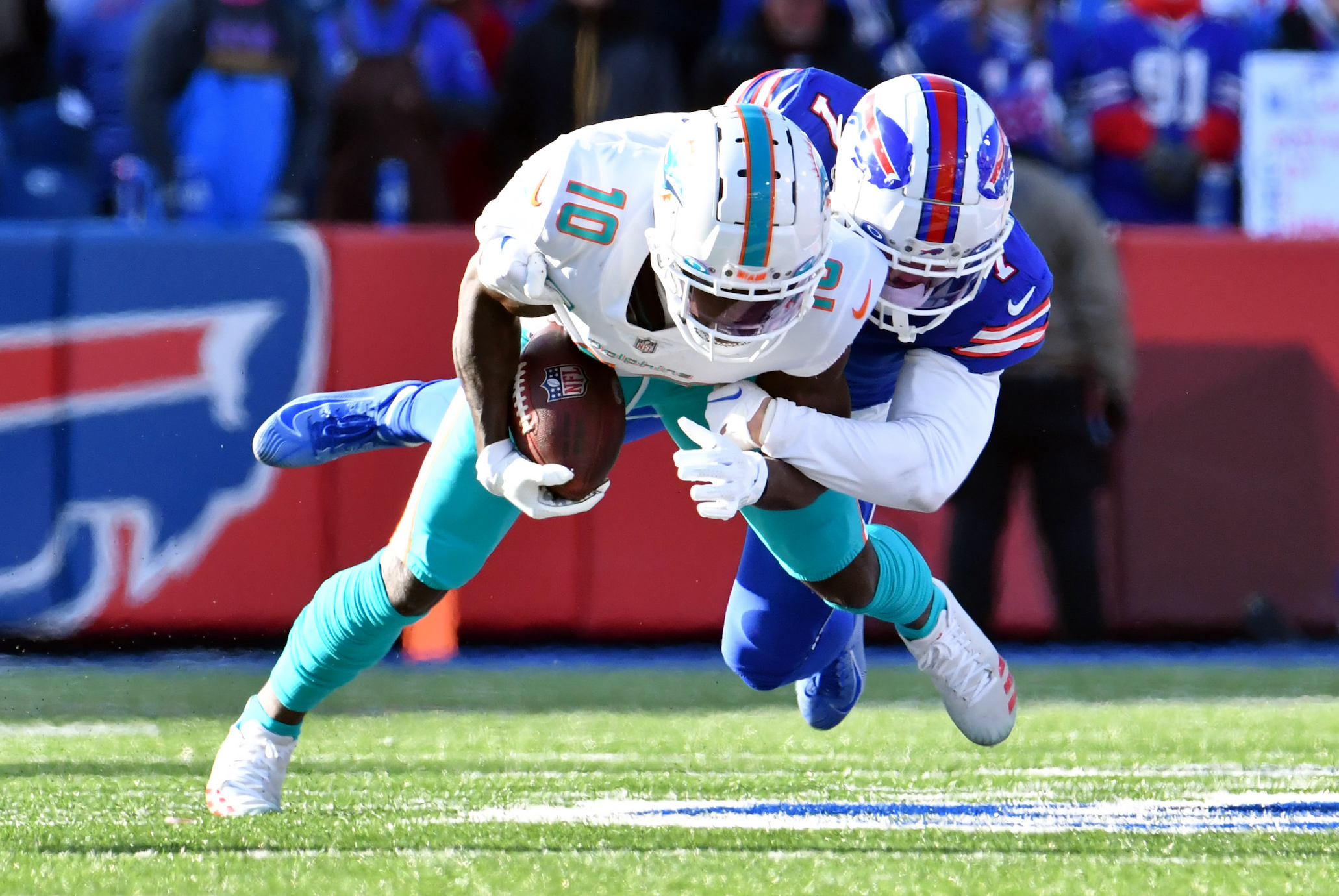 Dolphins Keep It Interesting

Thompson and the Dolphins answered with an impressive drive of their own. The 7th round pick led a 12 play, 75 yard drive that resulted in a one yard touchdown run from Jeff Wilson. On the drive, Thompson completed a 14 yard pass to Cedrick Wilson and gains of 13 and 20 to running back Salvon Ahmed.

Buffalo recorded what might've been their worst drive of the season, with a quick three and out to give the ball right back to Miami. On first and second down, Allen threw 50/50 balls to Gabriel Davis down the sideline, both of which fell incomplete. On third down, Allen was sacked by Sieler for a three yard loss. Not only was there no creativity or help for Allen from the play calling, but the drive took less than 60 seconds off of the clock.

Thankfully, Buffalo's defense stood tall, maintaining the three point lead despite the Dolphins getting the ball back two more times. On their first drive, Thompson found an open Waddle short of the first down line, and Taron Johnson was able to make a beautiful open field tackle to force a punt. Buffalo drove into Miami territory with a 31 yard completion to rookie Khalil Shakir. Despite the impressive catch, the play calling could once again be scrutinized, as three different players were 20+ yards downfield when the Bills needed just one yard to move the chains. After taking back to back sacks, including a seven yard strip sack by Bradley Chubb (that Spencer Brown was able to recover), the Bills were out of field goal range and needed to punt.

With just 4:24 remaining in the game, and only one timeout, the Dolphins needed to score. Facing third and 10, Thompson connected with Waddle along the sideline for an impressive 25 yard gain. A false start penalty backed them up five yards, but Miami made it up with a 14 yard catch from Waddle on second and 15. Matt Milano weaved through blockers to meet Wilson at the line of scrimmage for no gain on the third and one rush attempt. Facing four and one, the Dolphins committed a detrimental delay of game penalty, backing them up five yards. On fourth down, Thompson rolled right (thanks to good pressure from Greg Rousseau), and threw a pass towards Gesicki, but it was broken up by a diving Kaiir Elam to nearly end the game.

Buffalo Squishes the Fish

Miami had no timeouts left, but the 2 minute warning would provide one clock stoppage. A run up the middle to Cook for a one yard loss brought the game to said stoppage, then Singletary ran up the middle for a four yard gain. Facing third and seven, with a first down sealing the game, Singletary carried the ball towards the left, getting blocks from Knox, Dion Dawkins, and Bobby Hart. Singletary was hit by a defender well short of the first down, but an amazing effort by 'Motor' (with some help from Hart) saw the 5' 7" running back power forward right to the line to gain. It was ruled a first down on the field, and instant replay showed no conclusive evidence to overturn the call on the field, so the play stood, and the Bills officially won the game with an Allen kneel down.

Afterthoughts

It was very encouraging to see the Bills start off hot with 17 unanswered points, but things completely crumbled in the second quarter. A three turnover day from Allen would be hard to compete against if it wasn't for Buffalo's stout defense. And while the Skylar Thompson led Dolphins recorded 31 points, the defense only let up two touchdowns throughout the course of the game. Miami was only 4/16 on third down, and generated just 231 total yards. The 'blame' for the struggles in this game need to be placed on the offense. In addition to the three turnovers, Allen was sacked seven times, despite his efforts to counter blitzes with audibles at the line of scrimmage.
Furthermore, it would be hard to find anyone who was content with Ken Dorsey's play calling throughout the game. Too many plays had multiple receivers simply running deep vertical routes downfield. But when there were outlets for Allen underneath, the QB still chose the 50/50 ball almost every time. Buffalo isn't going to score a touchdown on every play, and it feels like Dorsey and Allen need to wrap that around their heads. Plus, a drop in the end zone from Knox and a drop on a bomb to Shakir didn't help. Not to mention, Dorsey needs to find a way to keep Stefon Diggs consistently involved in the offense. After generating nearly 100 yards in the first quarter, he gained just 18 yards in the remaining 45 minutes of football. Regardless, the playoffs are about surviving and advancing. It doesn't have to be pretty, as long as you do enough to get the win.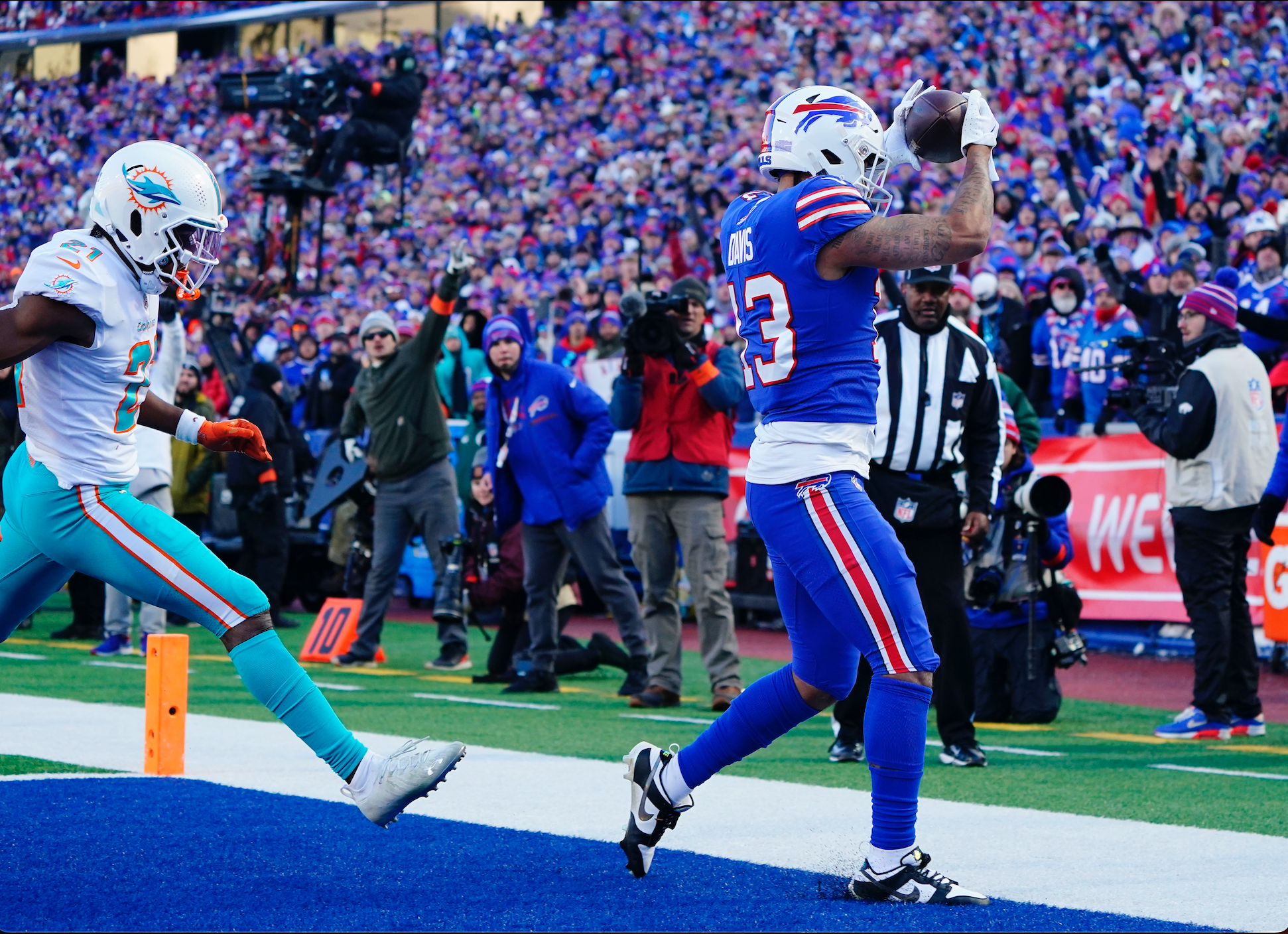 Game Awards

Offensive Player of the Game: Gabriel Davis

'Playoff Gabe' is back! After a rocky regular season, Davis was back in playoff form, catching six passes for 113 yards and one touchdown. He seemed to come in clutch on important downs, especially when Diggs was being double covered for the majority of the contest. He now has six touchdowns in his last three playoff games! He'll look to continue his impressive postseason résumé next week.

Defensive Player of the Game: Matt Milano

Many defensive players shined on Sunday, including Tremaine Edmunds, Kaiir Elam, and Tre'Davious White. However, Milano came up big when the defense needed him, registering two sacks, three QB hits, and 10 tackles, including stuffing Wilson on third and one on Miami's last drive. The first team All Pro linebacker is enjoying a career year, and he carried that momentum with him to the postseason.

MVP: Josh Allen

I get it, Allen isn't putting up the same video game numbers he did last season against New England and Kansas City. But that was literally the greatest postseason performance (including both games as his 'performance') in NFL history, so it's nearly impossible to replicate those stats when the bar is set so high. Still, disregarding the three turnovers that you could argue Allen had no fault or only partial fault for, he finished with 352 passing yards, 3 touchdowns, and 4 rushes for 20 yards. Miami played a very risky style of defense, blitzing on nearly every play to create as much chaos as possible. Allen burned them a lot, but also fell victim to the strategy several times. I doubt any of the remaining AFC playoff teams will blitz with such recklessness, giving me confidence that Allen will clean up the turnovers/decision making. If Allen can simply learn to take the check downs when they are given (and that's a big when), then he won't be too far off from his play last postseason.

What's Next: Bills vs Bengals 1/22

The Bengals travel to Buffalo in what will be a rematch of the game that never was during the 2022-2023 NFL season. The Bengals barely survived Tyler Huntley, and have severe injuries to 3 of their 5 starting offensive linemen. Still Joe Burrow and company are hard to stop when they get hot, so Josh Allen and Buffalo's defense better come ready to play next Sunday
Editor's babble: We are grateful for Colin RIchey's contributions to our blog. You can also find Colin on Twitter @whatthef00tball.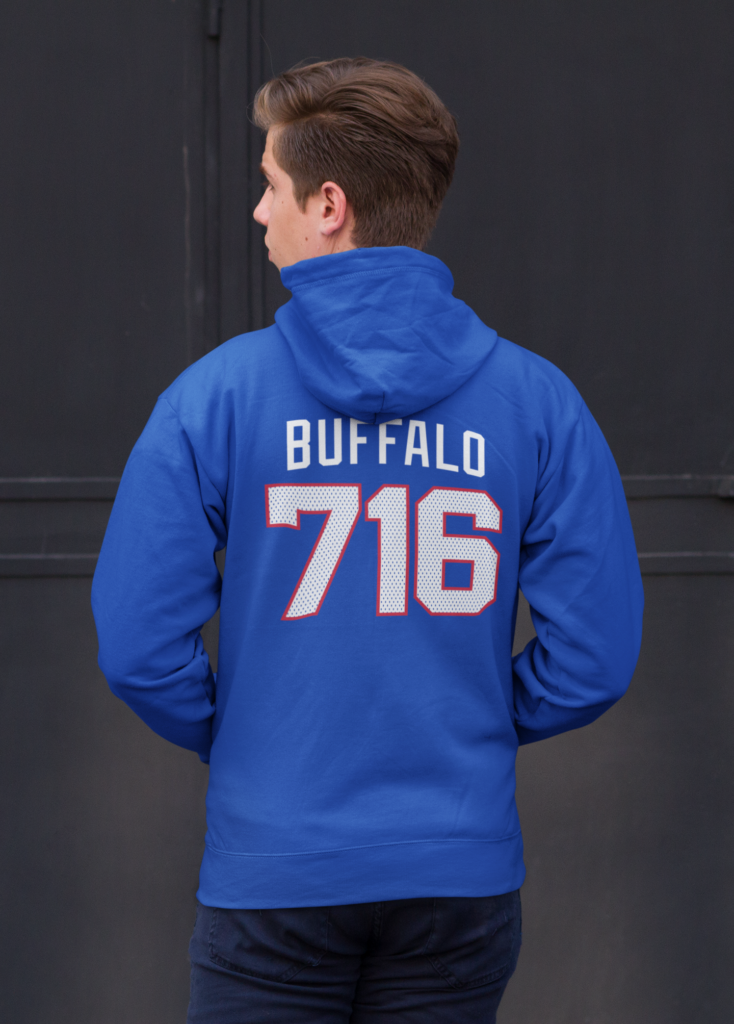 BuffaloFAMbase.com is sponsored by 26 Shirts
Every Monday, we launch a new two-week campaign of a limited edition t-shirt design. Every shirt purchase results in a donation to a local family in need. After the campaign ends, the shirt is retired. A new design is released, and a new family benefits from your fandom!