And neither are we.
The Bills' 35-23 win over the New England Patriots on Sunday was almost an afterthought in the minds and hearts of players, coaches, families and our entire fan base. After Damar Hamlin's cardiac arrest on the field during Monday Night Football in Cincinnati on January 2, many of us are still running on fumes.
While we watched Coach McDermott, Brandon Beane, Josh Allen and several other players be interviewed over the last few days, the psychotherapist still residing in my brain was on full tilt mode. What I saw from the interviews, especially those after the victory over the Patriots on Sunday were telling.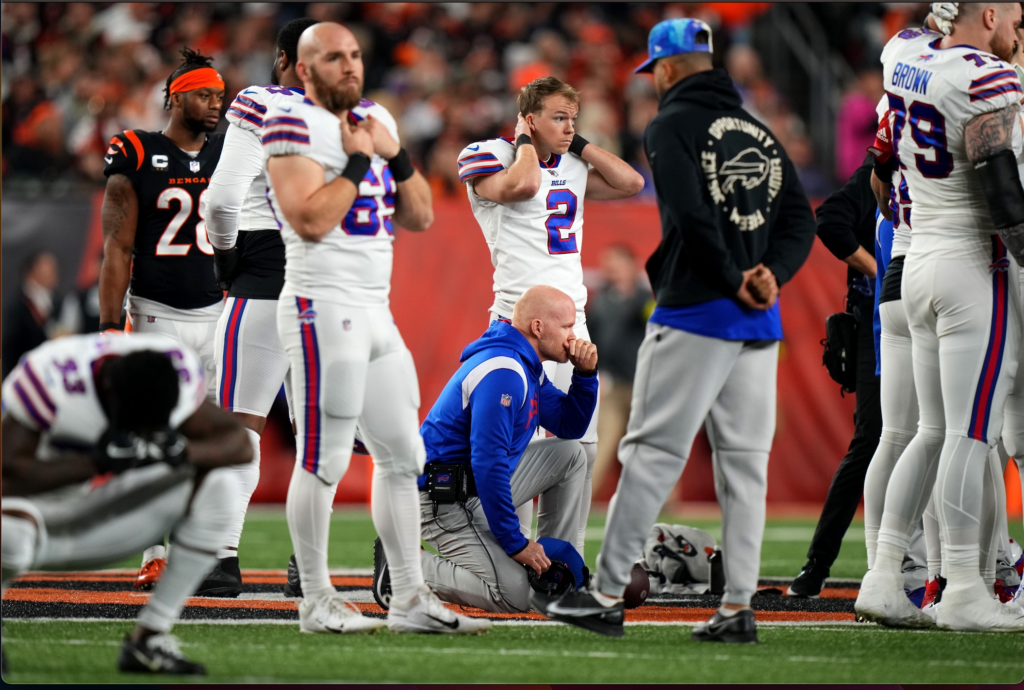 Coach McDermott is OK (at this time).
I think most people who witnessed Damar Hamlin's cardiac arrest on national TV also saw Coach McDermott lead the way, but always being his authentic self. He expressed his fear and other emotions while taking leadership about doing the right thing and suspending the game. The entire response by the NFL clearly came from the leadership shown by Coaches Zach Taylor and Sean McDermott.
I don't know much about Coach Taylor, but I've studied Sean McDermott since he was named head coach of the Bills. If you want a representative example of a person who LIVES their faith, look no further. Deeply religious and highly intuitive, McDermott understands and accepts his role as a mentor and leader of people. He is a proud man, but you won't find much in the way of an out control ego. His mantra "hungry and humble" is preached, but Coach McDermott's actions speak louder than words.
Yet even as Coach McDermott helps to guide us through this hellacious mental pathway and move forward, his admission he will reach out for help was a message for all of us. Just because we're a week out, a month out or a year out from this event, it's been seared into our brain as intensely as a Yellowstone Ranch brand on our chests.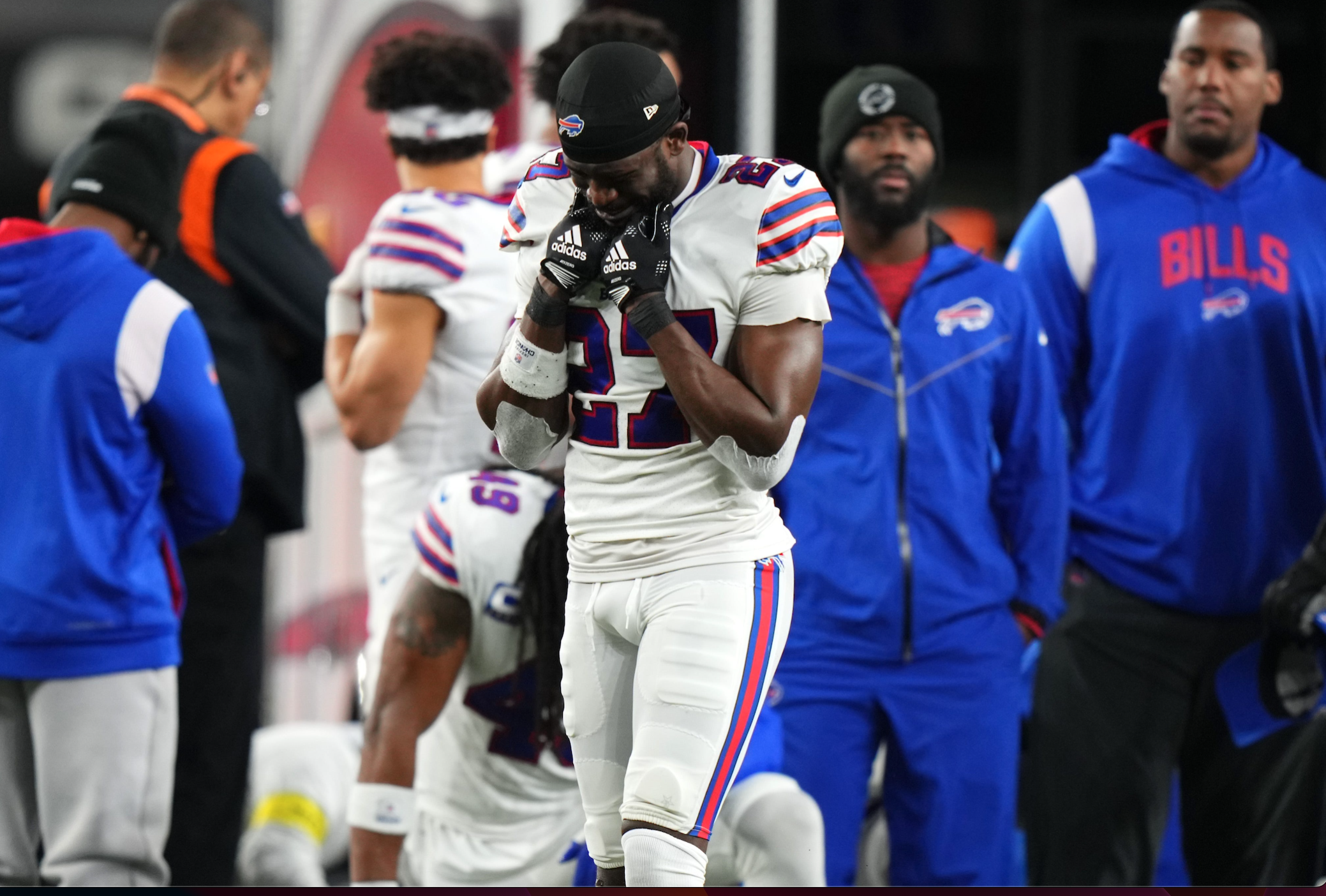 We are only in the beginning stage of this journey.
The necessary processing of any life altering event takes place over time. It happens for people in unique ways. Some processing behaviors are more productive than others, but we must keep an open mind about how people experience mental trauma and anguish. These are weighty issues, and are generally avoided until confronted with in reality.
For example, when you look and listen to Tre'Davious White talk after the game against New England on Sunday, you can easily see how raw all of this remains for him. No doubt the entire fan base wanted to give him a big hug in that moment. Regardless of mindset, the players all functioned well enough to win the game. But make no mistake, some are more emotionally fragile about what happened to Damar Hamlin than others, as evidenced by Tre's heartfelt response to the media.
Watching Josh Allen momentarily break down in tears with the media was heart wrenching. The high level of empathy this Bills team has for one another is remarkable. Allen's emotional state was clearly on display during his press conference on Sunday after the game.
Allen was honest and blunt about how he replays the scene when Hamlin was getting CPR over and over again in his head. Thankfully he is self aware and getting the support he needs to control any intrusive thoughts he may have in the future.
Now is when chronic problems are more likely to emerge.
Necessary healing after watching Damar Hamlin fight for his life on national TV is only in the beginning stages. The brain will process this 'event' as it does any other highly disturbing situation in life. We can choose to define ourselves by these events as a victim or use it to grow it into our 'wisdom tree'.
From this old woman's viewpoint, the most important thing we can do for each other right now is to show compassion. The world is full of bad behavior and dysfunctional thinking. But Damar Hamlin's cardiac arrest stopped us all in our tracks for a moment.
And then on we went.
However, it does often cause us to evaluate our own behavior and situation in life as we go about our merry way. Are we wasting our time in our job, relationship, whatever? Is it time for a change, whatever change regarding self improvement we promised ourselves in the year ahead… and already trashed before the middle of January???
Preaching kindness is being blasted all over the media… and while there's little doubt this is a good thing, from my view it's the ACTS of kindness that matter more. Words must be followed by action. Letting go of grudges and personal animosities benefits everyone.
You can see Buffalo Bills players (and Coach McDermott) developing a sense of spiritual awareness about what happened to Damar Hamlin. But each is doing so in their own way. This is what we can also do for each other as we process our own feelings as we go about the business of life.
Showing love and compassion is the most effective recipe for healing a sad soul I've ever witnessed in decades of experience evaluating behavior. We as a fan base are known for being compassionate with the millions of dollars raised for benevolent causes over the years.
As fans of the Buffalo Bills, we should remind ourselves acts of kindness should include being patient and understanding with whatever happens in the NFL Wild Card Matchup with the Miami Dolphins this weekend… because this thing ain't easy for no one.
News coming in that Damar Hamlin was released from the University of Cincinnati Hospital and transferred/transported to a hospital in Buffalo is surely good news. A step in the right direction. A step toward 'OK'.
Editor's babble: You can also find me on Twitter @RobynMundyWYO.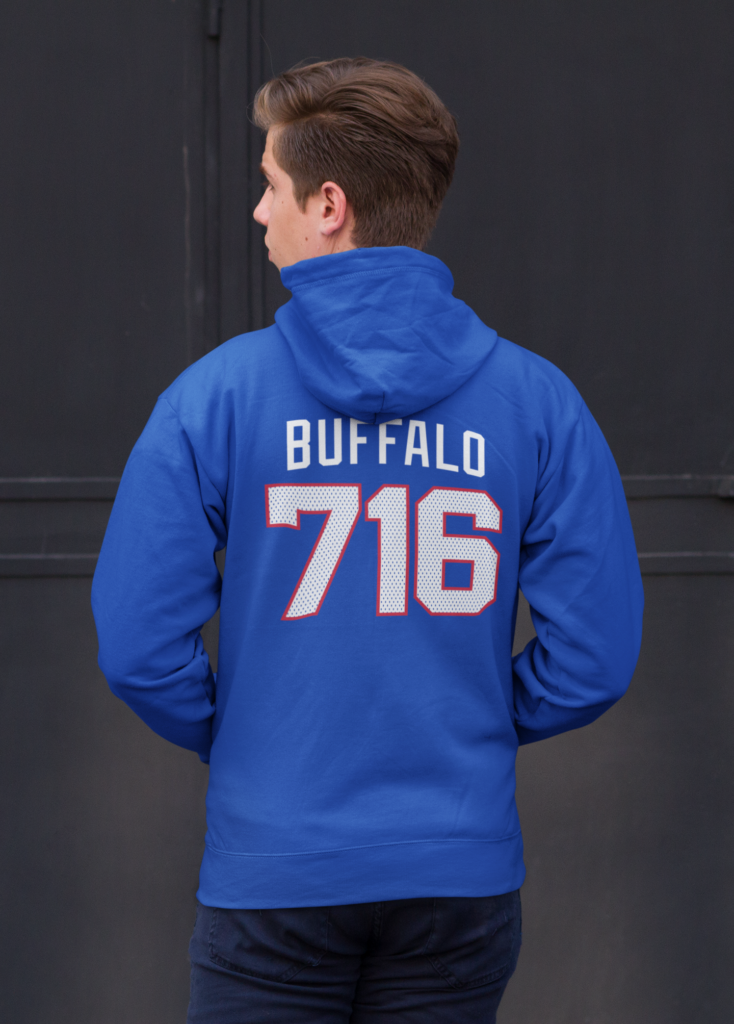 BuffaloFAMbase.com is sponsored by 26 Shirts
Every Monday, we launch a new two-week campaign of a limited edition t-shirt design. Every shirt purchase results in a donation to a local family in need. After the campaign ends, the shirt is retired. A new design is released, and a new family benefits from your fandom!