The most ardent fans never cared less about football. Buffalo Bills followers woke up excited for a matchup and tried to sleep while begging for breathing. We had no way of knowing anticipated tension would be applied to the vulnerability of one's physical self. The biggest event of the season became so in an unexpected manner with a horrifying outcome. Yearning for a welcome update has nothing to do with points.
Everyone is on Damar Hamlin's team. Cheering for his well-being is the sole victory in mind. We wish more than anything to never hear silence from a host crowd again except after clinching the top seed.
The hours feel paused while checking for news. Seeing how much others care may pass the time. Take the suddenly popular hobby of checking how much has been donated to Hamlin's foundation, waiting a few minutes, then reloading to see how much it's grown. Contributors prominently include Bengals fans donating like our side did to the Andy Dalton Foundation. Repaying helping perpetuates gratitude.
All NFL teams have the same avatar in reflection of where they stand. There's lamentably an occasion to demonstrate unity is possible. Even rivals we claim to loathe join the most laudable cause. Dedicating so much attention to men chasing a ball might seem silly upon consideration, especially when the reality of a person's health takes the forefront. But the distractions we choose reflect what we value.
Backers of teams can still care about sports even if rooting doesn't feel remotely interesting right now. The joys we add to our days embody the meaning we imbue. Aficionados could get by without seeing paintings or binging programs but wouldn't want to do so. As with football, we gain tremendous amounts by experiencing what others create.
Our days are suddenly filled coping with a distressing reminder of just how much risk is involved in trying to limit points.  We talk about potential perils in a vague sense that something dreadful could happen to one of the competitors.  The actuality of a prayer circle while an ambulance pulled away will remain haunting.  I never want to see the replay again, and not just because the horrible moment is impossible to forget.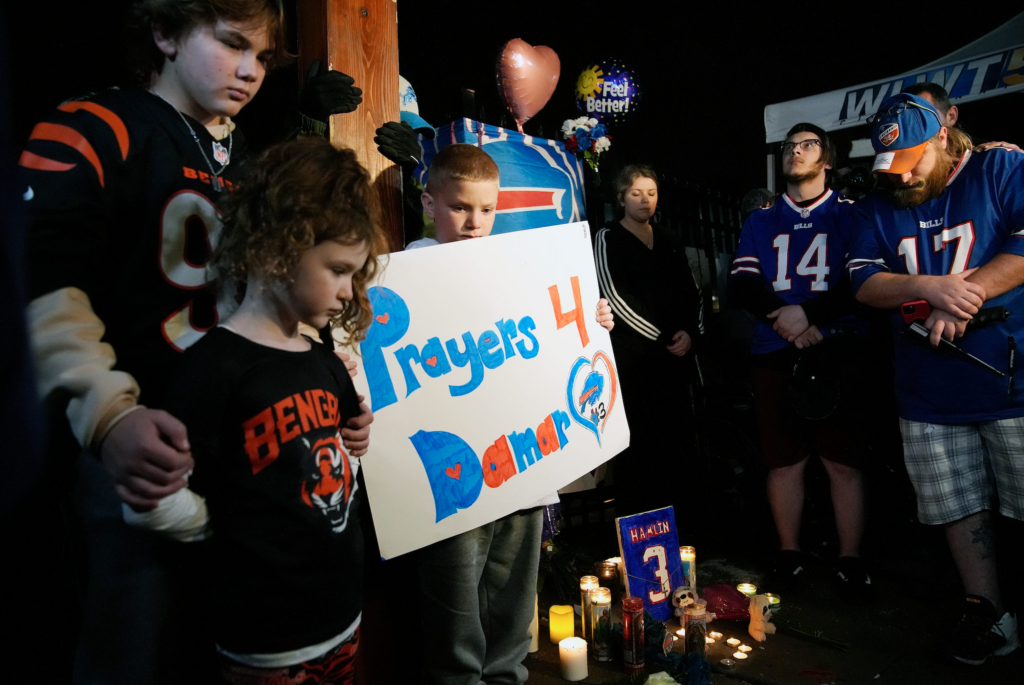 There's no comfort in thinking of how many games have occurred without incident.  The rarity exacerbates the shock.  Viewers are not prepared for such a frightening outcome after a play that initially seemed to resemble countless others.
Buffalo sports enthusiasts can sadly recall a few other awful scenarios where athletic competitions turned into struggles to aid gravely injured players. The helpless feeling as medical personnel worked on Kevin Everett took place only a few months before Richard Zednik found himself rushed from the ice to the hospital. Clint Malarchuk's ghastly injury besieges memories. I attended the Canisius College basketball game during which student-athlete Jeff Taggart collapsed before passing away later that evening. One terrible moment at what's supposed to be the site of a staged recreational competition is of course too many.
This football player is a person. It's easy to forget who's wearing the jerseys even when we try to keep the individuals in mind. Getting caught up in athletic feats is natural. But our favorites are vulnerable humans even if they seem capable of virtually superhuman feats.
Sports revolve around not knowing what's going to happen. Usually, unwelcome occurrences are limited to scores we disdain. Building up all week to determine who's the best in one conference seems like the most trifling notion now.
Everything not only changed for the worst but in an instant. Concerns from a few minutes before about strategy and execution seem like they're from the era of black and white television. The score was 7 to 3, which hadn't come to mind and was a surprise to remember. The notion of not having the plays committed to memory would have felt baffling around 8:30 p.m. Monday. Life regrettably sometimes features discovering how much seriously circumstances can turn how quickly.
We're not going to get a world free of trauma.  We can have one where we bolster those afflicted.  The choice to help in any way possible when there's not much that can be done is the moment where people show character.  An inability to affect what's happened is precisely why the choice to offer assistance is significant.  Fellow Buffalonians suffering has brought out the best in others at the worst time. The world joins us in hoping for good reports about Damar.
Editor's babble: We can't thank Anthony Bialy enough for putting to words what our hearts are all feeling. You can also find Anthony on Twitter @AnthonyBialy.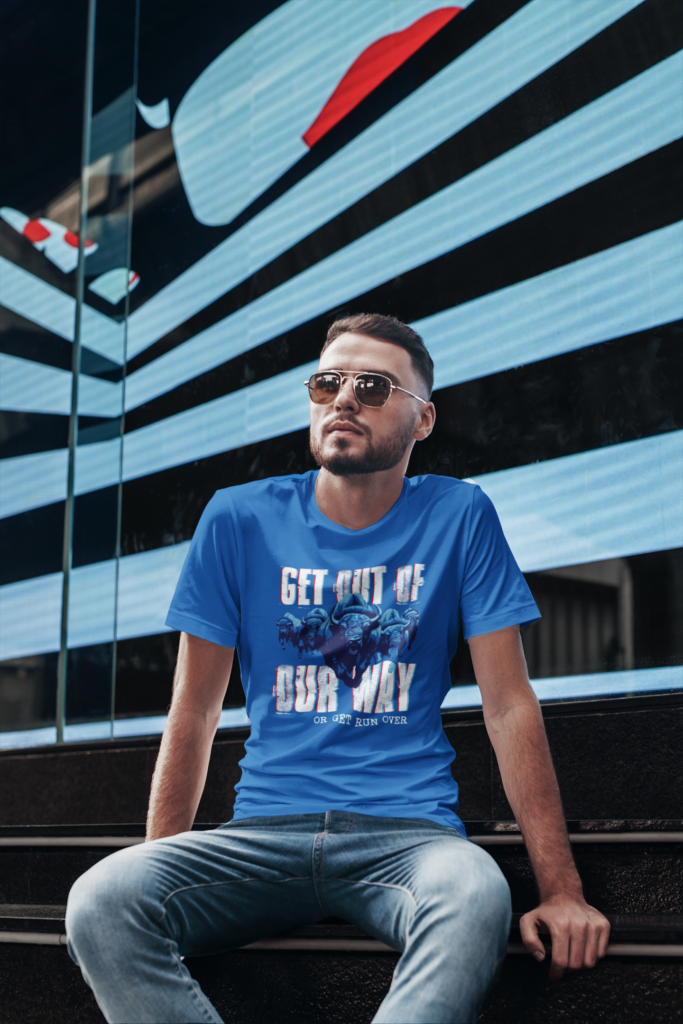 BuffaloFAMbase.com is sponsored by 26 Shirts
Every Monday, we launch a new two-week campaign of a limited edition t-shirt design. Every shirt purchase results in a donation to a local family in need. After the campaign ends, the shirt is retired. A new design is released, and a new family benefits from your fandom!