How long has it been since the Patriots were this irrelevant in December in the AFCE? Well, that's the reality we are looking at as the Buffalo Bills continue their revenge tour through the division. And of course the Bills saved the best for last… a snow event to bring in the Dolphins and their alleged fan base to Buffalo (doubt many will travel to Buffalo for the predicted lake effect snowstorm).
The so called 'Revenge Tour' started with drubbing the Patriots in every way but the stat column last week. And the same can be stated for Buffalo's win over the New York Jets on Sunday. No flashy 50 burger for either game, but anyone expecting that type of performance were kidding themselves. Division games have a very distinct flavor of the worst of sibling rivalry traits. Grudges get carried for years, and there's plenty to go around in the AFCE.
Before I start trying to put together some cohesive thoughts about the upcoming Dolphins game, please allow me the opportunity to meander a bit about the Jets game, and specifically one aspect of it. As most of us expected, it was a slugfest in the trenches at Highmark Stadium. Bills OL Ryan Bates went down and Jets' star DT Quinnen Williams went out with a calf injury. It was a high price to pay for both teams.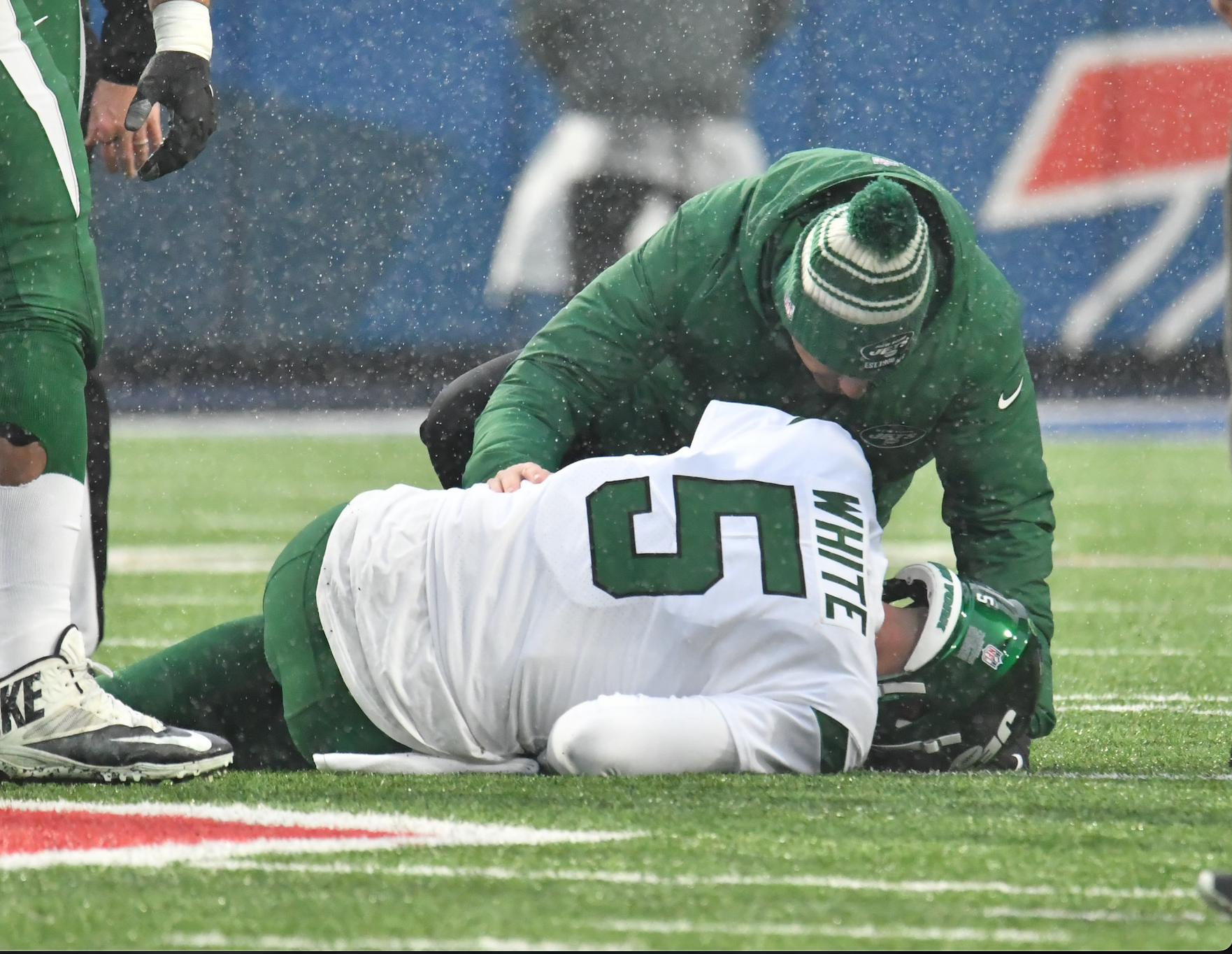 However, one guy who would not be denied was QB Mike White.
Put me categorically on the Mike White bandwagon. He certainly showed he is no Zach Wilson and gutted through obvious severe pain to continue playing and giving his team the best chance to win. These Jets players have a whole different vibe on offense when he is in the game. The Jets' defense is already something to be feared. I mentioned early in the season I feared the Jets more than anyone the Bills had on their remaining schedule.
BLEAV it.
The New York Jets are a legitimate contender and an organization building itself for sustained success. Their 2022 Draft was a solid 'A' for them. Robert Saleh is the real deal as a head coach. I don't have any idea where Mike White's NFL career is headed, but I do know he is one tough MOFO. He's right up there with Josh Allen as far as playing through pain.
Those types of players energize a team to play above and beyond their expected ability because they inspire loyalty… by gutting it out when others like the Zach Wilson (or Russell Wilson for that matter as well) would just use an injury as an excuse to make a quick exit from a self inflicted bad situation in the locker room.
It happens.
Jay Cutler is my favorite example. So kudos and much respect going out to Jets' QB Mike White. As they say in Wyoming, he's cowboy tough. The Bills' defense and particularly Matt Milano made White literally feel the pain in the Jet's' 20-12 loss at Orchard Park. Despite whatever the Jets medical staff did in the locker room to get White back on the field after Milano trucked him… he played with an extraordinary amount of effort through significant pain. For that reason, as well as the competence/poise Mike White showed on the field deserves respect from all fans who love NFL football. Tip of the 'wyohat' going out to Mike White. He is a football player.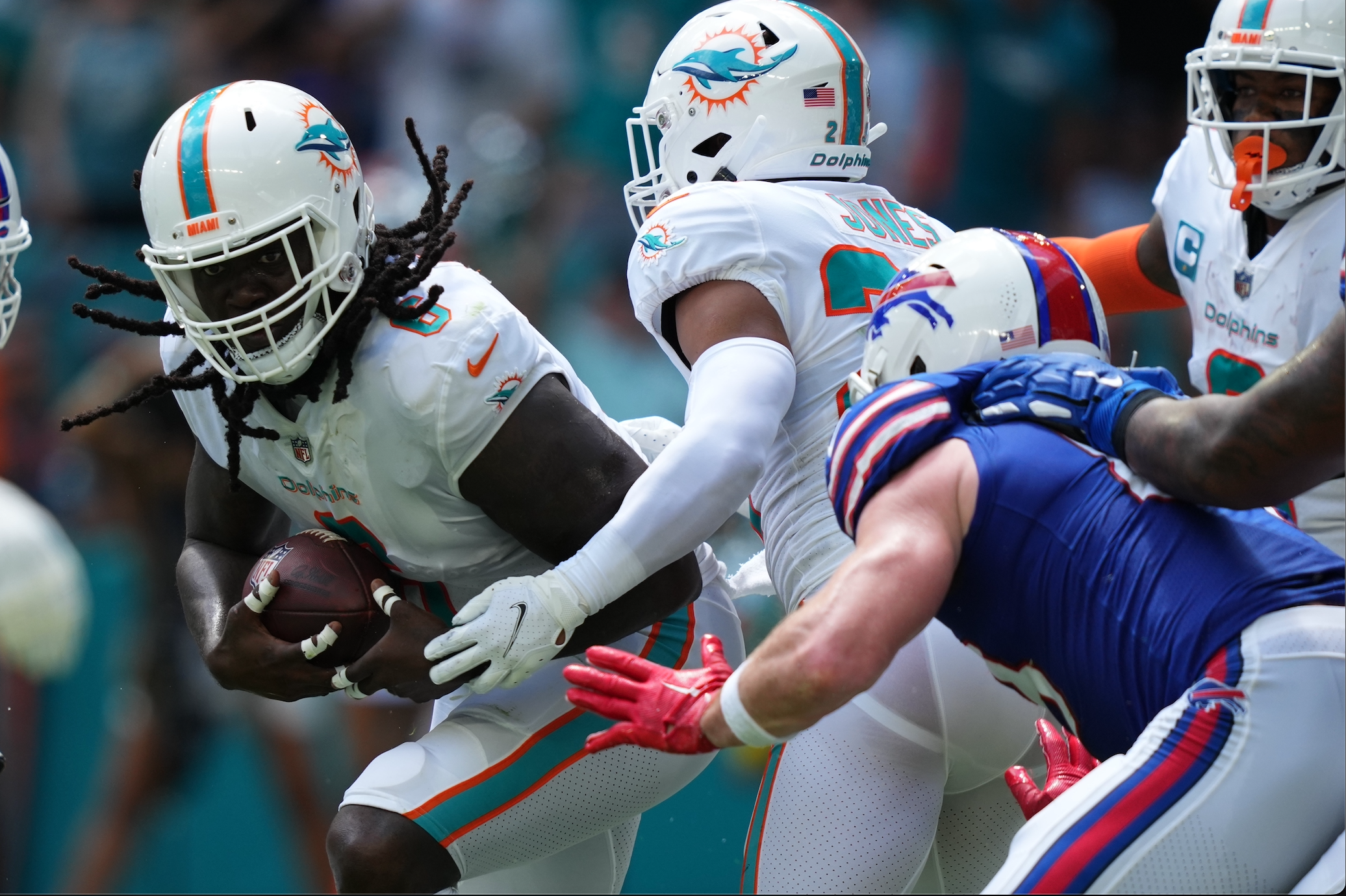 On to the Fins Game
Well, well, well… Dolphins fans better get ready for the biggest revenge game by the Bills they've seen in a very long time. We saw what the game in September in Miami did regarding the obvious episodes of heat exhaustion by players throughout the game. What we didn't see but Josh Allen confirmed later at a press conference is the toll the heat took on players for the following three days it took for them to recover from the detrimental effect of the stifling heat and humidity experienced during that game. The NFL will likely have to deal with the death of a player before they get serious about dealing with the temperature discrepancy between sidelines in terms of heat at Hard Rock Stadium early in any given season. A 25 degree difference in heat when it's 90+ outside is asking for trouble.
However, the cold is a different story.
I would venture a guess most Bills fans (including myself) are hoping the early prediction for snow and cold weather for the matchup at Highmark Stadium at 8 p.m. ET on Saturday becomes reality in horrific fashion. Let's see how much the Dolphins like playing in weather that makes them physically uncomfortable for a few hours. At least it's far less likely they will die from winter conditions in WNY than heat stroke in Miami. So this Bills fan has zero qualms about wishing the worst experience the Dolphins could possibly have on Saturday night.
As far as the actual matchup, I'll leave the particulars to the analytics folks to figure out. All I can tell you as a retired 'shrink' is that THIS Bills team right now has every Dolphins player in their crosshairs. You can tell the animosity has been brewing ever since the HEATgate game. Josh has had the Dolphins' number for years, and I suspect he will bring his 'A' game no matter the weather conditions.
This grudge has done a slow burn over the season. The more claptrap coming from the hoo-hoos about how Tua should be considered for MVP this year, the more the Bills suck up these reports and download them into their memory banks. This matchup, after what Bills' players went through has a totally different vibe. Feels like it's personal with the players. It sure as heck is for the 'FAMbase'.
Buffalo really did snatch the AFCE division crown from the dynasty that was the Patriots. The Jets are up and coming, and should be taken as a serious contender. I really hope they don't make the playoffs because they are a nightmare as far as physicality. But the Dolphins are another story. It's no secret I've never been a fan of Tua Tagovailoa.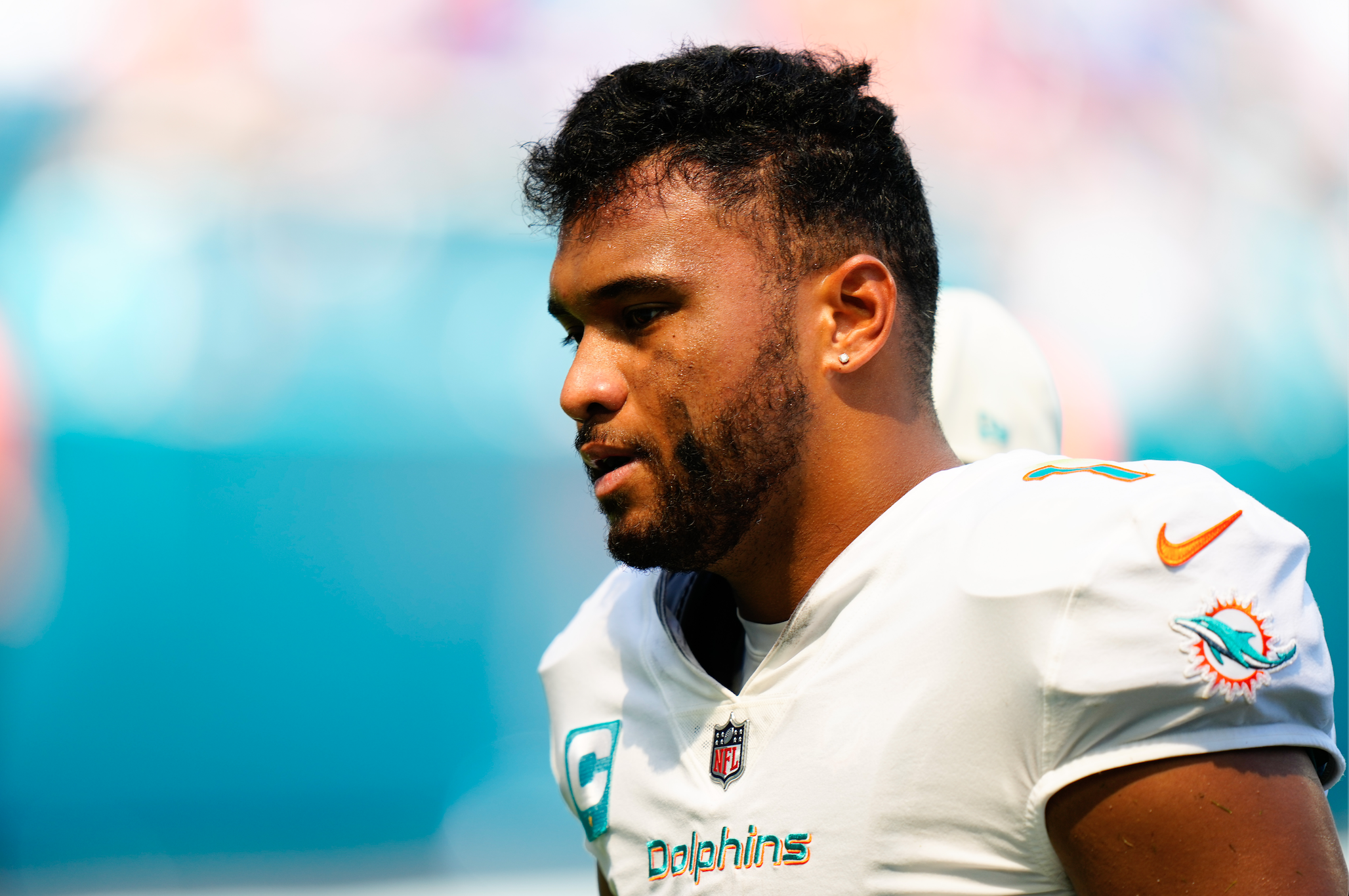 Tua's lack of talent in the areas where NFL QBs are currently coveted (size, speed, mobility, versatility, instinctiveness) limits the kind of offense you can design around him. Frankly, in my opinion he's a one-trick pony who possesses an accurate shot if all conditions around him are perfect. He is a head case if he gets pressured or confused by what a defense is doing. I'm not sure what the Dolphins were thinking when they drafted him instead of Justin Herbert. But then I remember all the knuckle heads in Buffalo's front office and realize it's not uncommon.
At least the Dolphins aren't the Broncos. Denver's quarterback situation is dire at the moment. I saw a only brief glimpse of Russell Wilson going into a medical tent yesterday and wondered if injuries might be his excuse to end the most horrific year of his NFL career. Russell Wilson fleeced Denver and its hard core fan base are angry about it, rightfully so.
I digress.
The Buffalo Bills have an opportunity to shut the traps of an insufferable group of Dolphins fans this weekend. Some Dolphins fans are the best people on the planet… but there is a subset of every fan base that's beyond annoying. We have some of our own 'BillsMafia' who are an embarrassment to our fan base as a whole.
But this particular group of Dollies I see floating around on social media project a different vibe of petulance. Their team wins a few games in a row with this quarterback and they think he's an MVP candidate? How about he's more likely to have a CVA (old term for stroke or cerebrovascular accident) than be an NFL MVP?
I stand firmly with the medical opinion Tua Tagovailoa is playing with fire by continuing to play football in the NFL after sustaining two serious concussions within a week of each other. He is of course free to do as he wishes, but it may come at a terrible cost to his health and maybe his life at some point. This just adds more fuel to my frustration with the Dolphins in general. Having lived through the decade of despair during the 70's when the Bills could not muster one single win against the Dolphins, the grudge is real. And deep.
Go Bills.
Editor's babble: Old fart Bills fans like myself harbor a major amount of disdain for all things Miami Dolphins. It goes way back. For me, it's honestly deeper than my disregard for the New England Patriots. Screw them both, but don't fall asleep on the Jets. You can read this and more of my blabber on Twitter @RobynMundyWYO.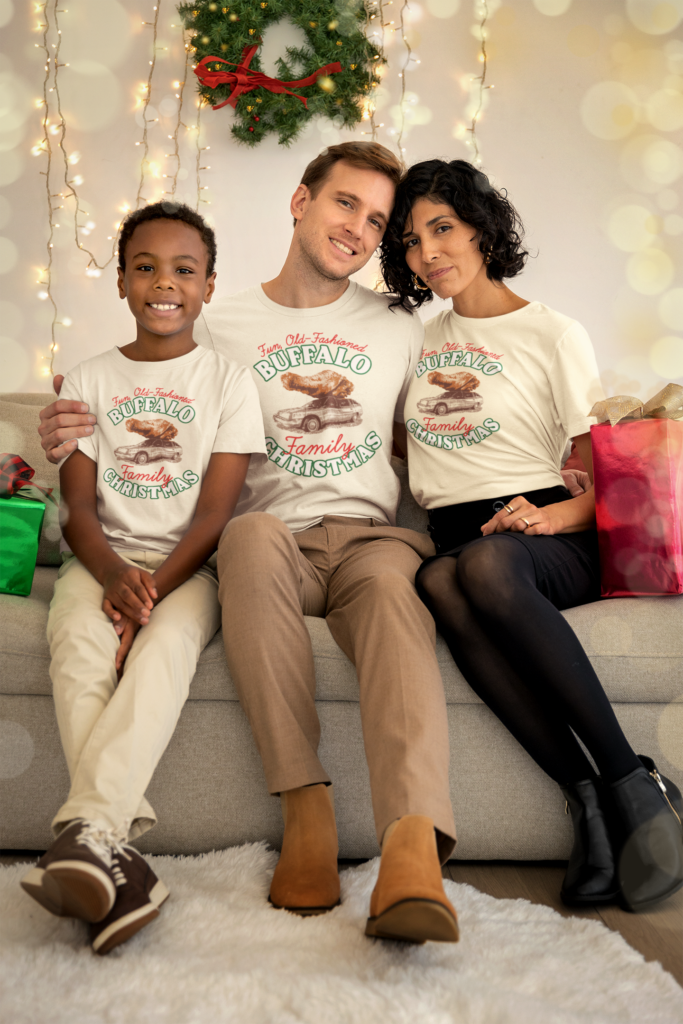 BuffaloFAMbase.com is sponsored by 26 Shirts
Every Monday, we launch a new two-week campaign of a limited edition t-shirt design. Every shirt purchase results in a donation to a local family in need. After the campaign ends, the shirt is retired. A new design is released, and a new family benefits from your fandom!