If the Buffalo Bills organization as a whole has one definitive ethos it is keeping the faith. Down by 32 in the third quarter? Win the game. Lose three Super bowls in a row? Go to another. Have a playoff drought so barren the majority of NFL franchises would move in a heartbeat to a new A-Market city that could easily attract free agents? Keep them in Buffalo because the fans still show out and love the team. Lose to Tom Brady and the New England Patriots 32 times over a 19-year span? Keep fighting and never let them see your put your head down. Lose in the last 13 seconds of one of the most memorable playoff games in NFL history? Address what's wrong with the roster and prepare for a deep run next year.
Say what you want about the Bills and their fans, but we ride for this time when the times are bright and when the times are as dark as it can get. It might seem masochistic or pointless to an outsider, but it is a way of life and living. Show me a lifelong Bills fan and I'll show you someone who knows how to cope with devastating outcomes and doesn't turn their back on where they came from when things aren't picture perfect. With all that said, we all know no one can stay at the top forever. With the New England Patriots, who had one of the greatest dynasties in sports history with Coach Belichick and Tom Brady, that top has been turning on its head for some time now, especially since the rise of Josh Allen and Coach McDermott. Today, I'll talk about the Bills definitive victory over the Patriots last Thursday and all that it revealed, as well as previewing the upcoming matchup against the New York Jets this Sunday at Orchard Park 1 p.m. ET.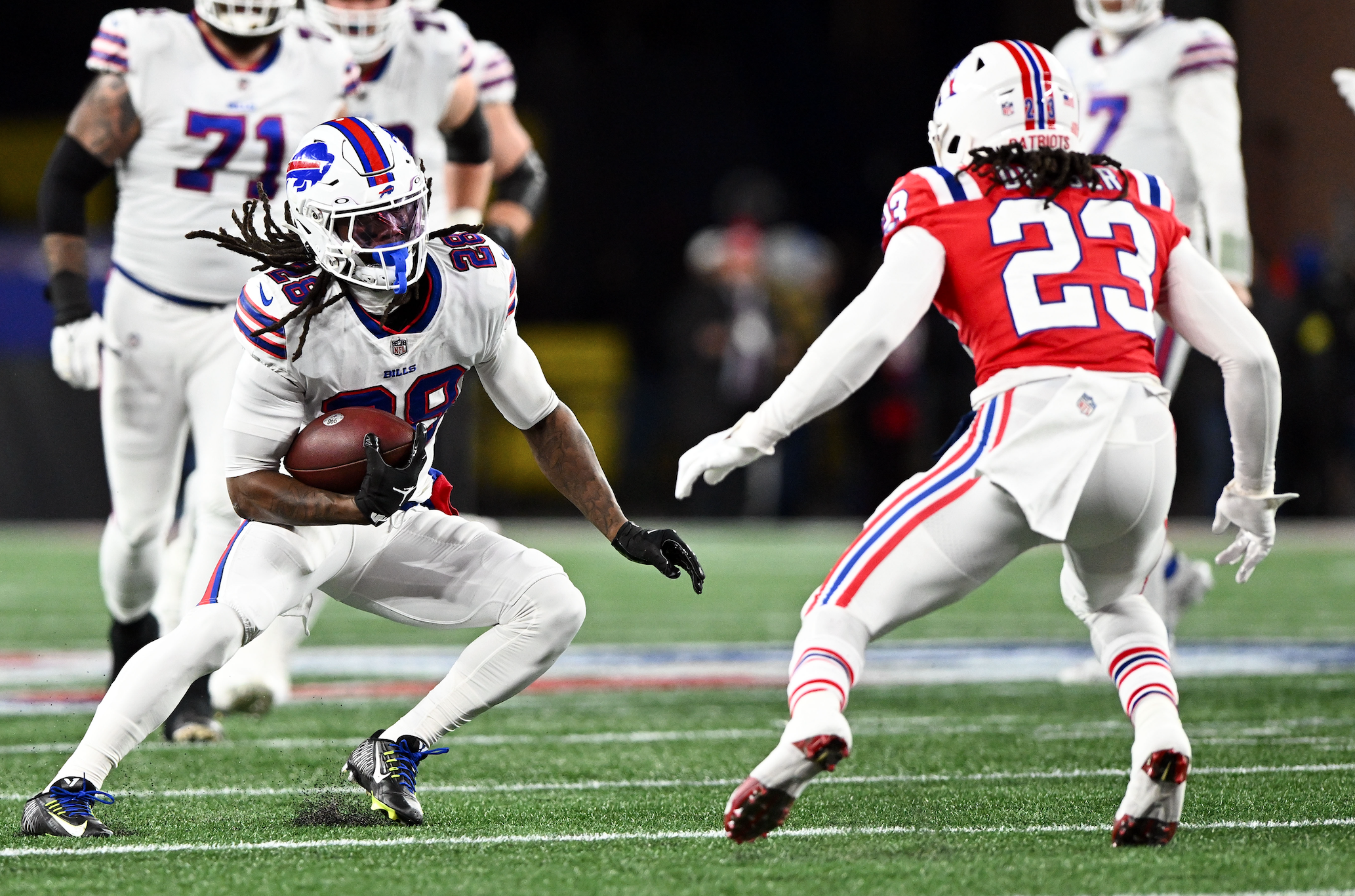 Offense Finds Balance
One of the main concerns about the Bills offense from critics and fans alike is the lack of balance the team has. It's no secret the Bills live and die on the superhuman arm of Josh Allen, but a lack of a running game from their backs makes them vulnerable and predictable against NFL defenses. Throw in some crazy weather and the Bills offensive game plan goes out the window. The Patriots only threw the ball three times the last time they defeated the Bills during a severe windstorm that saw gusts up to 40 mph. This becomes increasingly concerning when you consider how the majority of AFC teams making the playoffs consistently have open-air stadiums. To the credit of Ken Dorsey the team has shown an investment in the running game Bills fans haven't seen since Allen broke onto the scene in a big way in 2020. The 1A and 1B combination of Devin Singletary and James Cook has helped propel this offense since the bye week and I expect it to continually do so for the rest of the season.
After the Bills were trailing 7-3 in the middle of the first quarter, the Bills needed a big play and finally got it from their running game. After WR Gabe Davis drew a PI that gave the Bills a first down and 22 yards, James Cook ran up the gut for 28 yards and got them into the redzone.
On the play, TE Tommy Sweeney and RT Spencer Brown helped move some bodies to create a hole for Cook. Cook's burst brought him into the second level and gave him a chance to be 1-on-1 against S Devin McCourty who he blew by with a slight change of direction. After Cook showed off some moves, Allen joined in on the fun and dove over the pile for an eight-yard gain and first down to get into goal line territory. On second and goal the Patriots made the mistake of covering superstar WR Stefon Diggs 1-on-1 with CB Johnathan Jones and Diggs easily won the contest with his elite route running skills.
If you watch the video above, you can see how wide the separation Diggs gets on Jones is. Allen doesn't have to pump fake or manipulate the safeties at all because he knows Diggs only has a single man covering him. The second Diggs makes his cut and move to get open Allen is already placing the ball where he is running to. Diggs even hits Jones with a ridiculously well-timed "Gotcha" stare as he secures the TD before going out of bounds. It might look routine because they're so talented at it, but the chemistry between Allen and Diggs is impeccable.
For the rest of the game, the Bills continued to deploy a balanced approach to their offense, relying on all the playmakers throughout the roster. Between Cook and Singletary the Bills ran the ball 27 times while Allen threw the ball 33 times. They trusted their backs on first and second down and completed nearly 2/3 of their third down attempts throughout the game. The Bills showed an emphasis on being patient, controlling the clock, and not trying to do too much at once, but also not being afraid of turning to Allen's playmaking ability when needed. After converting three separate third down conversions, the following drive after the Diggs TD they faced a third and goal from the NE eight yard line and Allen showed why he is one of the best QBs in the game.
After the Patriots sent pressure into Allen's face, he scrambled towards the sideline and fought against a tackle from spy LB Mack Wilson. Only being a mere 0.3 yards away from the sideline, Allen threw a TD pass to Davis away from Patriots defenders who had seemingly thought the play was over. It took a while for the confusion of a flag to get sorted out, but Allen made magic happen again and instantly knew it.
One of the key components of success from the Bills passing game is they make you defend every blade of grass, and a play is never over until the whistle is blown. The Bills improved mightily in the red zone last Thursday after earlier struggles in this season and went 3/3 on TDs all night after entering the 20-yard line. With a running game gaining steam, the Bills present opponents with a lot of different factors to consider in game planning against them. The same can't be said for New England.
New England too Conservative to Compete
After scoring an explosive TD on their second possession the Patriots only put up three points for the rest of the game and even that was painstaking to watch unravel. To put it bluntly: New England's offense was ugly. Nearly every third down the Patriots faced was greeted with a check down to an open receiver that did not get enough yards to warrant going for it on fourth down. It's worth noting the Bills defense is usually allowing those receivers to get open because they are not close enough to get a first down. With the Patriots down three scores at the top of the fourth quarter on third & 15, Jones took a check down to Jakobi Meyers for eight yards and then they punted from their own 46-yard line.
I wrote down in my notes how the Patriots had waived the white flag at that moment. To compete with the Bills, teams have to give them a taste of their own recipe and play a little fearlessly on offense. Mac Jones let his frustrations known and in his defense he has every right to be upset. There are millions of dollars at stake for every player in every game, especially those who have not gotten a second contract yet. Belichick's decision to hire two memorably bad ex-head coaches (Matt Patricia and Joe Judge) to run the offense (something neither of them have ever done) is baffling to say the least. Jones is a young and growing QB, and he isn't being offered much help from the organization. It will be interesting to see how their offense responds and what they play like when we see them for the final regular game of the season in Orchard Park next month.
Allen has incredibly memorable postgame interview
If you haven't watched the postgame interview from Thursday night, I seriously implore you to do so right now. Not only is it awesome anytime our QB gets a moment with the media after a big win, but this one felt special, for various reasons. I don't think it'd be possible to find a guy more fit to be a franchise QB for the Buffalo Bills. He just gets it. Allen rolled out in a signed Ryan Fitzpatrick Buffalo Bills jersey, to greet the now-analyst for the TNF broadcast crew with a big hug. Allen continually made jokes throughout the interview and genuinely just seemed excited to be up there. With so many jaded interviews over the years we've all been subjected to as fans of the sport, it's fun watching someone who seems thankful to be in his position.
It's clear by Allen's demeanor he never forgot where he came from and how he had a much different path to the NFL than most starting QBs. He wore the big ridiculous hat originally seen by Washington RB Brian Robinson and then tried to shove it on Fitzpatrick's head, who resisted because it messed up his hair. Most importantly though, and maybe not Allen's best business decision, he partially admitted why he signed with Gillette as a sponsor, "We're in Gillette Stadium. I'm a Gillette guy. I think people understand Gillette's a great sponsor to have, but I know where this stadium's at, who plays here, the fans here". Honestly, bravo Josh Allen. The Patriots dynasty was nearly over by the time he got drafted, but he understands how much a troll to them still means to all of us. I imagine this moment is one we will all look back fondly on when he decides to hang up his cleats.
Looking Forward
Bills Injuries
Unfortunately, the Bills were faced with some unexpected devastating news Wednesday afternoon. Von Miller will miss the remainder of the 2022 season, including the playoffs, as an ACL tear was discovered from his injury in the Thanksgiving Day game against the Lions. While initial reports from Miller suggested he was potentially only going to miss the Patriots game, he was put on IR shortly before the game last Thursday, meaning he would be unable to return until the January 2 MNF matchup in Cincinnati. Miller went into surgery Wednesday and is now beginning his recovery process which could take up to a year or more. It's worth considering Miller will most likely not be ready to go at the start of the 2023 season.
It's tough news, but it's the reality of the sport. My biggest concern is Miller's age and how his body will respond to a second season-ending injury in three seasons. Although the Bills signed him to a six year deal, there is an opt-out after three seasons so if the injury never fully heals, I imagine them letting him go by then. Miller has a motor unlike anyone else on the Bills defensive line, and I would argue the Chiefs game earlier in the season showed how vital he could be in the playoffs against some of the elite QB talent in the AFC. Miller is an irreplaceable figure on the field and in the locker room and his absence will be felt. Nevertheless, the Bills have put a lot of investment into their defensive line and with it being at full health aside from Miller, it's time for them to step up.
In other injury news, Matt Milano, Reggie Gilliam, and Jordan Phillips are starting off the week not practicing. LT Dion Dawkins is practicing in a limited fashion, but there is uncertainty around if he will be able to start. The Bills are dramatically thin at O-Line, so that is something to seriously monitor as the week progresses. Matt Milano is also a huge loss if he cannot play Sunday and came as a bit of a surprise in addition to the Miller news. Lastly, the Jets are facing an illness bug as DE Michael Clemons, WR Corey Davis, OL George Fant, and CB D.J. Reed all missed practice Wednesday due to illness.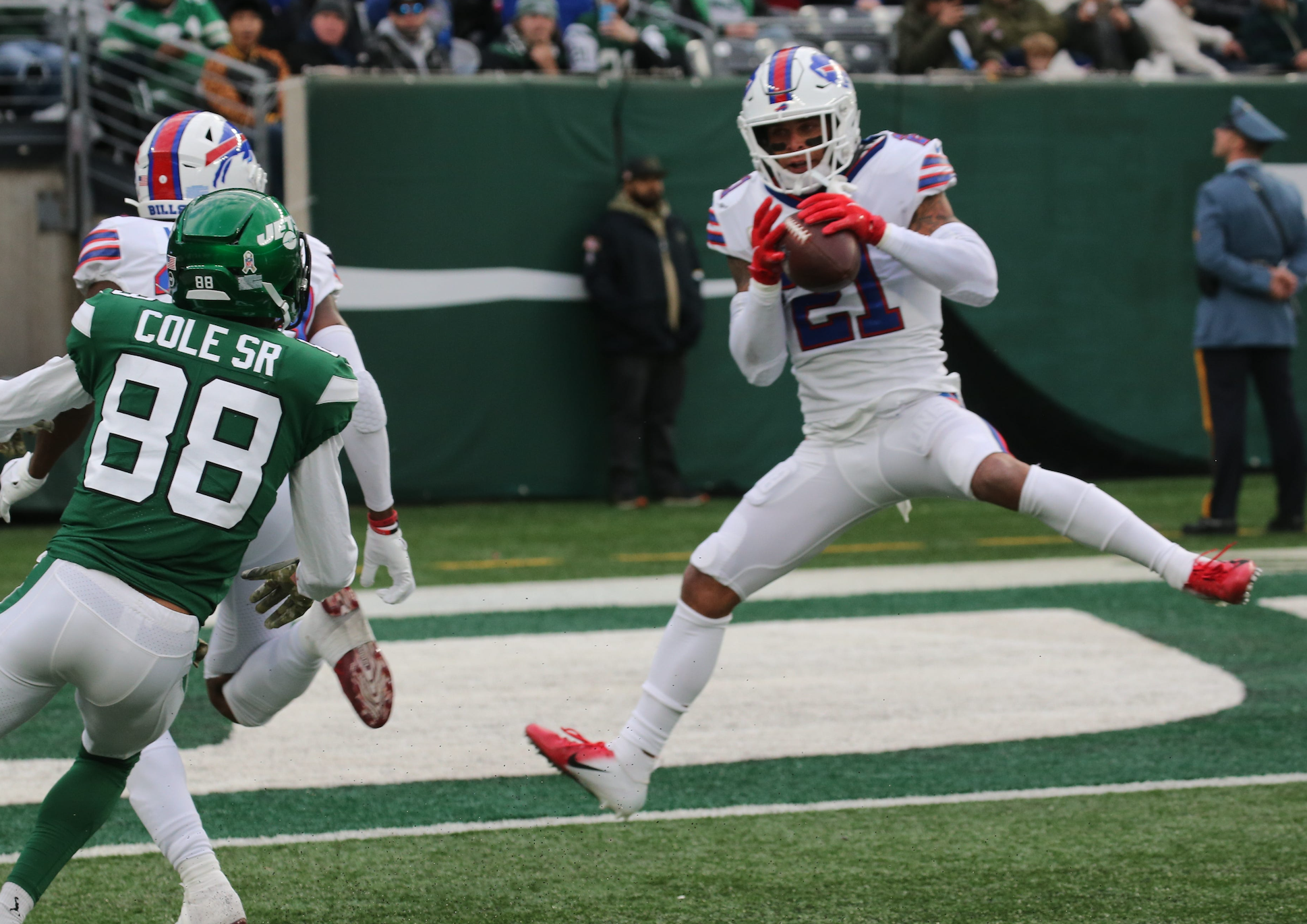 Matchup Against the Jets
After losing to the Jets (7-5) last month, the Bills will take them on again this Sunday at Orchard Park at 1 p.m. ET. After Josh Allen had a remarkably bad day as a passer against the vaunted Jets defense, the Bills will look to rebound and reestablish themselves as the leaders of the AFCE they were originally viewed as at the start of the season. The only difference? The Jets are a much different team since their last meeting. QB Zach Wilson has been benched since their matchup against the Patriots where he only threw for 77 yards and nine completions and fully refused in a post-game interview to acknowledge he is letting a good defense down with his own bad play. In place of Wilson came backup QB Mike White, who the following week initiated a full-on coming out party for the Jets offense against the Chicago Bears, where he passed for 315 yards, 3 TDs, and helped the Jets put up 31 points. Last week, in a loss to the Vikings, White threw for 369 yards, putting up 22 points, but also struggled in the red zone and threw a game ending interception as well.
There's no question: the Jets are riding for Mike White. Watching the film of the last two games, it's clear he knows what is going on and where he should go with most of his throws. The same can't be said for Wilson. It will be an interesting matchup for the Bills, and I expect the Jets to air it out a lot more than they did the previous matchup. White played against the Bills last season which ended up being a disaster for him, as every single starting DB got a turnover in the game. The Jets are light years better this season, so expect an absolute bar room brawl between these two squads. Just remember, always keep the faith.
Editor's babble: I just love Joe Larkin's 'Lessons'. We at BuffaloFAMbase.com are so grateful for his contributions to our blog. You can also find Joe on Twitter @jooelarkin.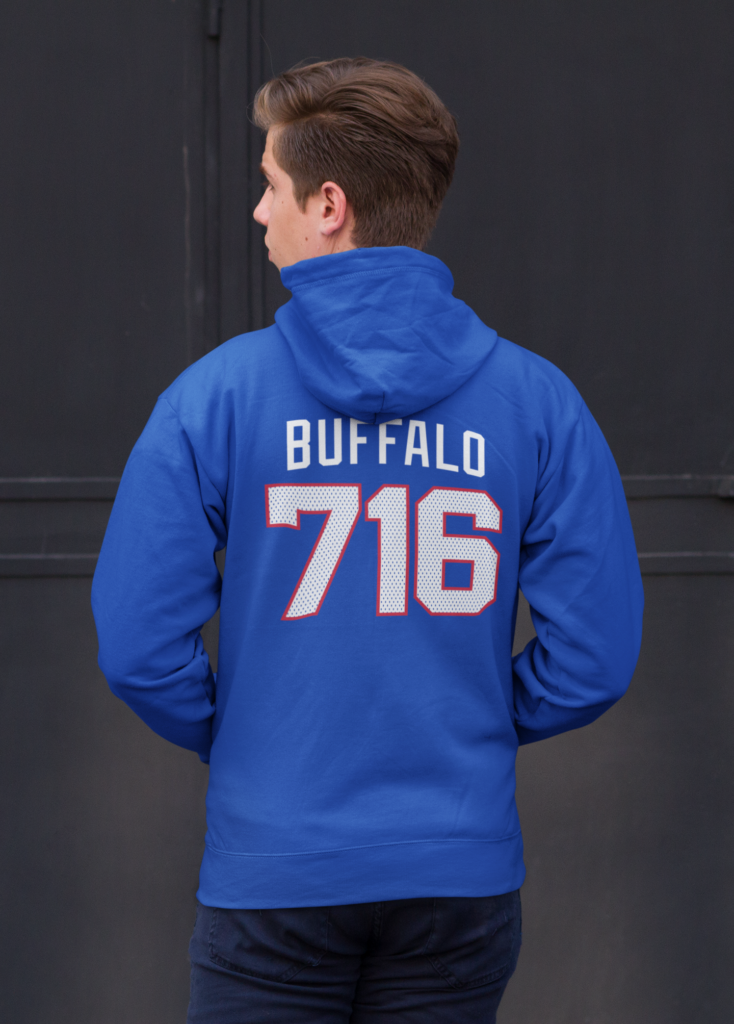 BuffaloFAMbase.com is sponsored by 26 Shirts
Every Monday, we launch a new two-week campaign of a limited edition t-shirt design. Every shirt purchase results in a donation to a local family in need. After the campaign ends, the shirt is retired. A new design is released, and a new family benefits from your fandom!