The 6-2 Bills hosted the 7-1 Vikings in a game where Buffalo's starting quarterback wasn't known until minutes before the opening kickoff. Ultimately, it was superstar Josh Allen who played, despite suffering a UCL injury against the Jets at the end of last week's game. While Buffalo had their MVP candidate under center, they were missing several key pieces on defense, including Greg Rousseau, Tre White, Kaiir Elam, and Jordan Poyer. The team also possesses many connections to Minnesota, with backup QB Case Keenum and wide receiver Stefon Diggs forming the connection of the legendary Minneapolis Miracle, rookie running back James Cook being the younger brother of Vikings star RB Dalvin Cook, and former Bill and Walter Payton Man of the Year nominee Harrison Phillips lining up against Allen for the Vikings. In the battle between two of the best teams in the league, this game had the potential to be one of the best of the year…and it delivered.

Struggles Continue on Opening Drives

For the fourth straight game, Buffalo did not score on their first possession. Stefon Diggs caught a bubble screen on the first play of the game, but he tried to reverse field and ended up losing four. Allen's next two passes were incomplete, including a 3rd down pass that was nearly intercepted.

Trading Touchdowns

Minnesota got Justin Jefferson involved early and often. On their opening drive, the star wide receiver had two catches for 68 yards and a touchdown. He beat rookie corner Christian Benford on a 46 yard catch and run, and then snatched the ball out of the air on Dane Jackson for a 22 yard score.

Buffalo responded with a score of their own. Thanks to practice squad call up Duke Johnson's 43 yard return, and a horse collar tackle on a Minnesota defender, Buffalo was inside the 25 yard line after just one play of offense. Devin Singletary ran three straight times for 27 yards and an eventual touchdown to tie the game at seven.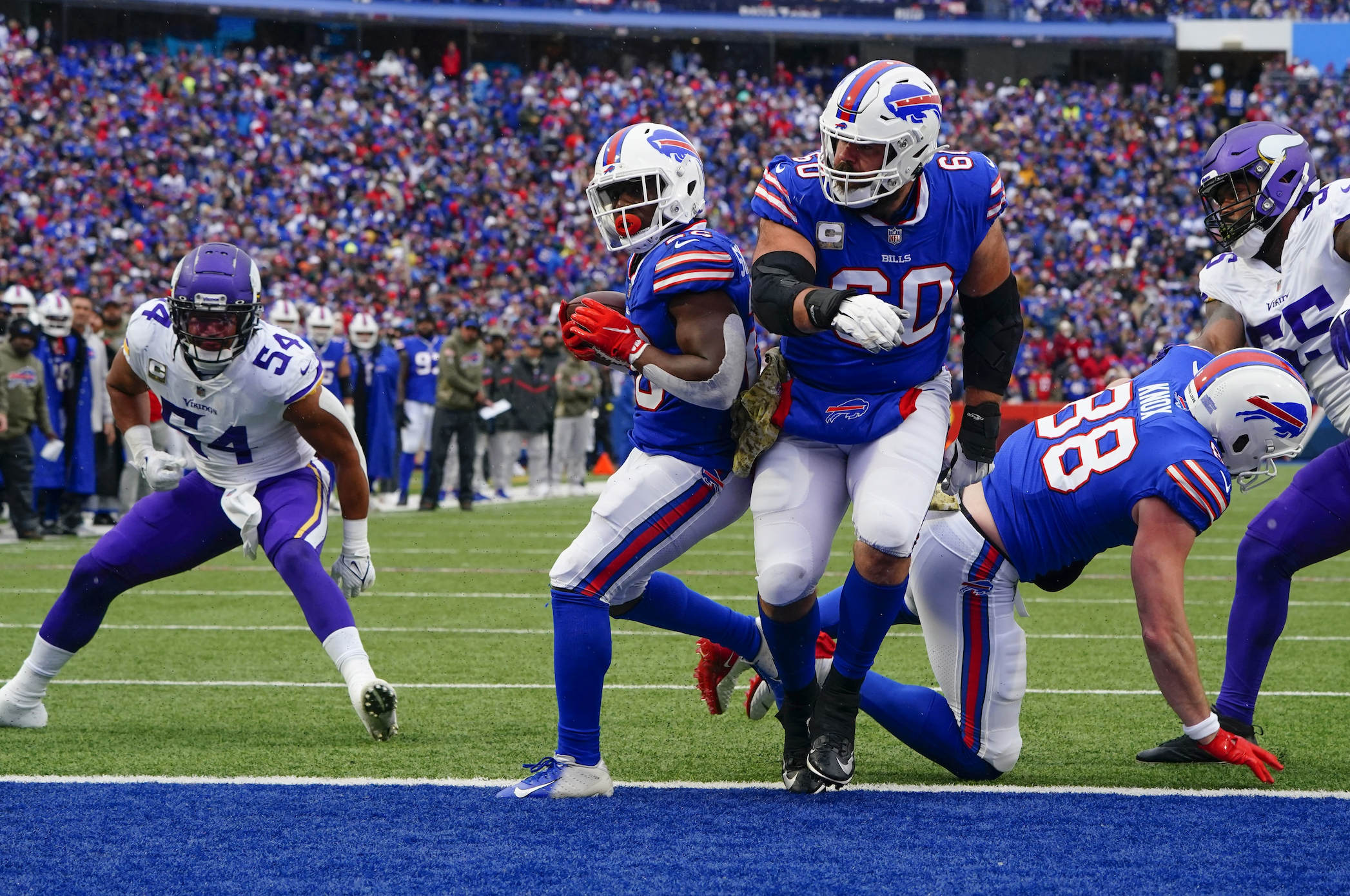 Buffalo Runs Ahead

The Bills defense forced a three and out, and their offense answered with another touchdown courtesy of Singletary. On the drive, Allen connected with Gabriel Davis for 19 yards, Isaiah McKenzie for eight yards, and Diggs for 16 yards. Thanks to a 12 yard run by Allen on 3rd and 11, and an eight yard run by James Cook, Singletary was set up on the one yard line where he scored his second touchdown of the game.

Two plays later, Kirk Cousins overthrew a pass down the middle of the field, and it was intercepted by rookie Christian Benford for the first of his career. A 36 yard return gave Allen and the offense promising field position to score again. Buffalo ultimately settled for a 34 yard field goal to give them a 10 point lead.

The Vikings orchestrated a 12 play drive, including converting on two 3rd and longs, that resulted in a field goal. Despite facing 1st and Goal at the two yard line, Buffalo's defense held strong. On 1st down, a great push by DaQuan Jones forced running back Alexander Mattison right into Matt Milano for a five yard loss. After a rare (but correct) offensive pass interference call, Minnesota was backed up an additional 10 yards. First and goal from the two yard line quickly turned into 2nd and Goal from the 17! In the end, the Vikings settled for a field goal to make it a one possession game.

Finishing the Half Strong

Buffalo's next drive came to a halt after Singletary coughed up the football. But, the defense stepped up again to force a four and out (Minnesota turned it over on downs thanks to a Benford pass break up). Buffalo marched down the field to extend their lead. Allen ran for 25 yards, then hit Diggs for 14 and Davis for 15. Eventually, Allen threw a beautiful over the shoulder fade to Davis that was corralled for a 24-10 Buffalo lead. Buffalo's defense closed out the half with another three and out.

Third Quarter Passes in a Blur

Cousins threw his second interception of the game to open the third quarter. Feeling pressure from Shaq Lawson, the quarterback quickly threw it to his left, not realizing that he was actually targeting Bills cornerback Dane Jackson, rather than a Minnesota receiver. A holding penalty and a sack were too much for Buffalo and they ended up punting right back to the Vikings. A holding penalty on third down for Minnesota forced them to punt back to the Bills.

Eventually the second half shutout was broken thanks to a Tyler Bass 45 yard field goal. On the scoring drive, Allen hit Diggs for 11 and Dawson Knox for 22 (his longest reception of the season).

The Beginning of the End

Buffalo's historic collapse is even more startling when you realize that they were winning 27-10 with 1:46 left in the third quarter. That's just 16:46 minutes of football and Minnesota needs to score three more times than Buffalo. Unfortunately, we all know what happens…

Minnesota wasted no time in their comeback efforts. On their first play of the drive, Dalvin Cook broke loose for an 81 yard rushing touchdown to make it a ten point game. On the play, Benford met Cook in the gap, but took a poor angle and was easily dodged. Linebacker Tyrel Dodson would've gotten to the runner, had it not been for Justin Jefferson literally throwing Damar Hamlin into Dodson while blocking. Cam Lewis was the last defense, but took a bad angle and Cook blew right by him. Cook had run past the entirety of the Bills defense by the time he reached his own 40 yard line, and it was only a matter of speed before he found his way into the end zone.

After a holding call set Buffalo back ten yards, the team faced a 3rd and 15 from their own 21. However, Stefon Diggs performed an acrobatic 'OBJ-like' one-handed catch over the middle for 25 yards to move the chains. This ended the third quarter. Buffalo had 1st and 10 at midfield up by ten.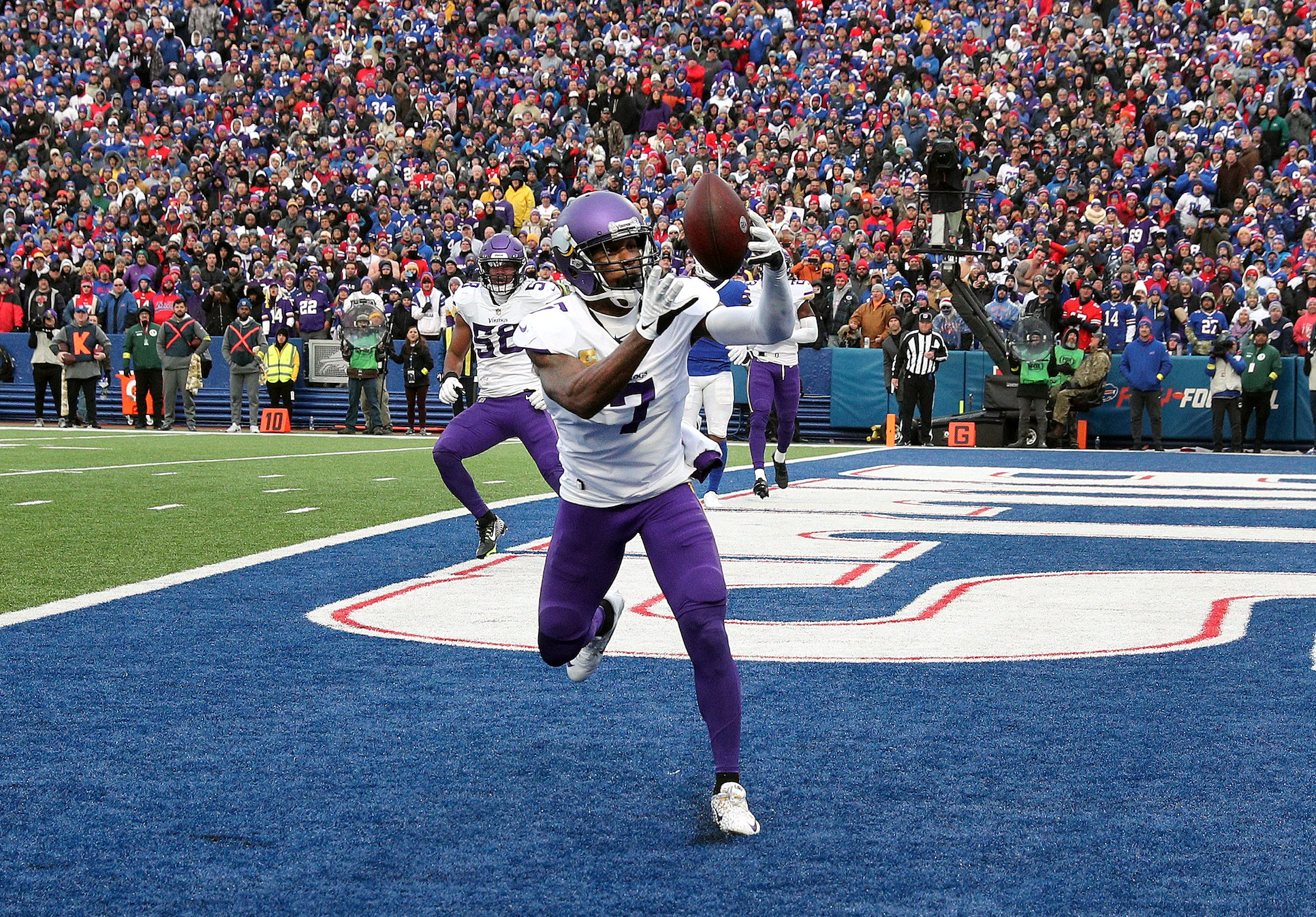 The Collapse

After Allen was sacked for a six yard loss on 2nd down, he was able to hit Davis for a 22 yard gain to move the chains. A James Cook seven yard run, Diggs 16 yard catch, and McKenzie eight yard catch set up 2nd and two from Minnesota's seven yard line. On 2nd down, a questionable tight end screen was blown up by the Vikings and Allen was forced to throw it into the dirt. On 3rd and two, Allen threw an incomplete pass over the middle that was a bit behind McKenzie. On 4th and two, Allen forced a pass into the end zone that was lurked by future Hall of Fame corner Patrick Peterson, who proceeded to run 34 yards in the other direction before being tackled by Allen. The decision to go for it on 4th and 2 was a hot debate. If Buffalo took the three points, it would've extended their lead to 30-17. The problem with this is that it's still a two possession game regardless of whether or not you kick the field goal. I believe that the decision to go for it was correct, but the play itself was not appropriate. Buffalo needed two yards, not necessarily a touchdown. A designed Allen run or quick pass to Diggs or McKenzie would have sufficed. Instead, Buffalo not only scored zero points and turned the ball over, but the return on the pick was detrimental, giving Minnesota life close to midfield rather than within their own ten yard line.

Minnesota converted twice on 4th down to help keep the chains moving against Buffalo. Interestingly enough, Justin Jefferson was targeted three times on the drive but failed to record a catch. Still, Vikings fullback CJ Ham punched in a three yard touchdown to make it a one possession game. Kicker Greg Joseph missed the extra point, so it remained a four point lead for Buffalo.

After a run for no yards and a false start, Allen threw two incomplete passes (which stops the clock), and Buffalo was forced to punt. They subtracted just 54 seconds from the clock on the drive, which is simply not good enough when you're trying to close out a game.

Minnesota spent the next two and a half minutes driving 75 yards down field, which included the play of the year. Thanks to sacks from Carlos 'Boogie' Basham and Von Miller, the Vikings faced 4th and 18 from their own 27. With the two minute warning to deliberate what to do, Cousins chose the 'throw it up to Jefferson' play which was not a bad strategy. Despite Cam Lewis being in perfect coverage, and even getting two hands on the football, Jefferson somehow ripped the ball away with one hand and somehow held onto it as he was falling to the ground for a completed catch and a first down. It was the catch of the year, and probably the play of the year from Jefferson, but it's absolutely infuriating from a Bills perspective. Cam Lewis has two hands on the ball because he's going for the interception. It's 4th down – swat the ball away to end the drive. What's most concerning is that it appears Buffalo just hasn't learned from past mistakes. The Hail Murray was the same thing – three Bills defensive backs all trying to get an interception, rather than trying to break up the pass with a swat. Just one week after that miraculous play, the same thing happened against the LA Chargers (although it wasn't a touchdown and Buffalo still won). It seemingly came full circle when Micah Hyde batted down a pass to end the playoff game against Indy and give Buffalo a playoff victory. However, with Hyde not in the game, it fell onto the shoulders of Lewis in his first career start at safety.

After an unnecessary roughness call on Benford, plus a 14 yard catch by Jefferson, Minnesota faced 1st and goal from Buffalo's three. On first down, Cousins was tripped by his own lineman for a loss of three. After completing a five yard pass to Jefferson, Cousins was denied on a 4th and goal QB sneak thanks to a great push from the defensive line. Buffalo would take over at their own one yard line with 49 seconds left and the lead.

Allen and center Mitch Morse mishandle the snap on the QB sneak, causing Allen to drop the ball. It's picked up by Minnesota's Eric Kendricks in the end zone for a touchdown. It was obvious that the Bills would attempt a QB sneak, from everyone being tightly packed in at the line of scrimmage to Gabriel Davis in motion to push Allen forward. The question is, could the lack of creativity or attempt to disguise the play cost Buffalo the lead and the game? The defenders who made the play were the interior defensive linemen and the middle linebacker. I'd argue that regardless of the formation Buffalo came out in, if Allen was under center, all three of them would've done the exact same thing, forcing a fumble and recovering it in the end zone.

Late Game Heroics Lead to OT

With just 36 seconds left, Buffalo needed a field goal to force overtime. Allen completed back to back passes to Dawson Knox to gain 20 yards, all while burning just 12 seconds. Allen then hit Davis along the sideline for a 20 yard completion, although a replay showed this actually wasn't a catch. The Bills quickly ran to the line and started the next play, cementing the Davis 'non-catch' as otherwise in the stat books. Allen hit McKenzie for 15 yards, where he smartly ran out of bounds after it looked like he was going to attempt to run upfield. A double move from Davis drew a pass interference penalty at the 11 yard line, giving Bass a chip shot 29 yard field goal for the tie.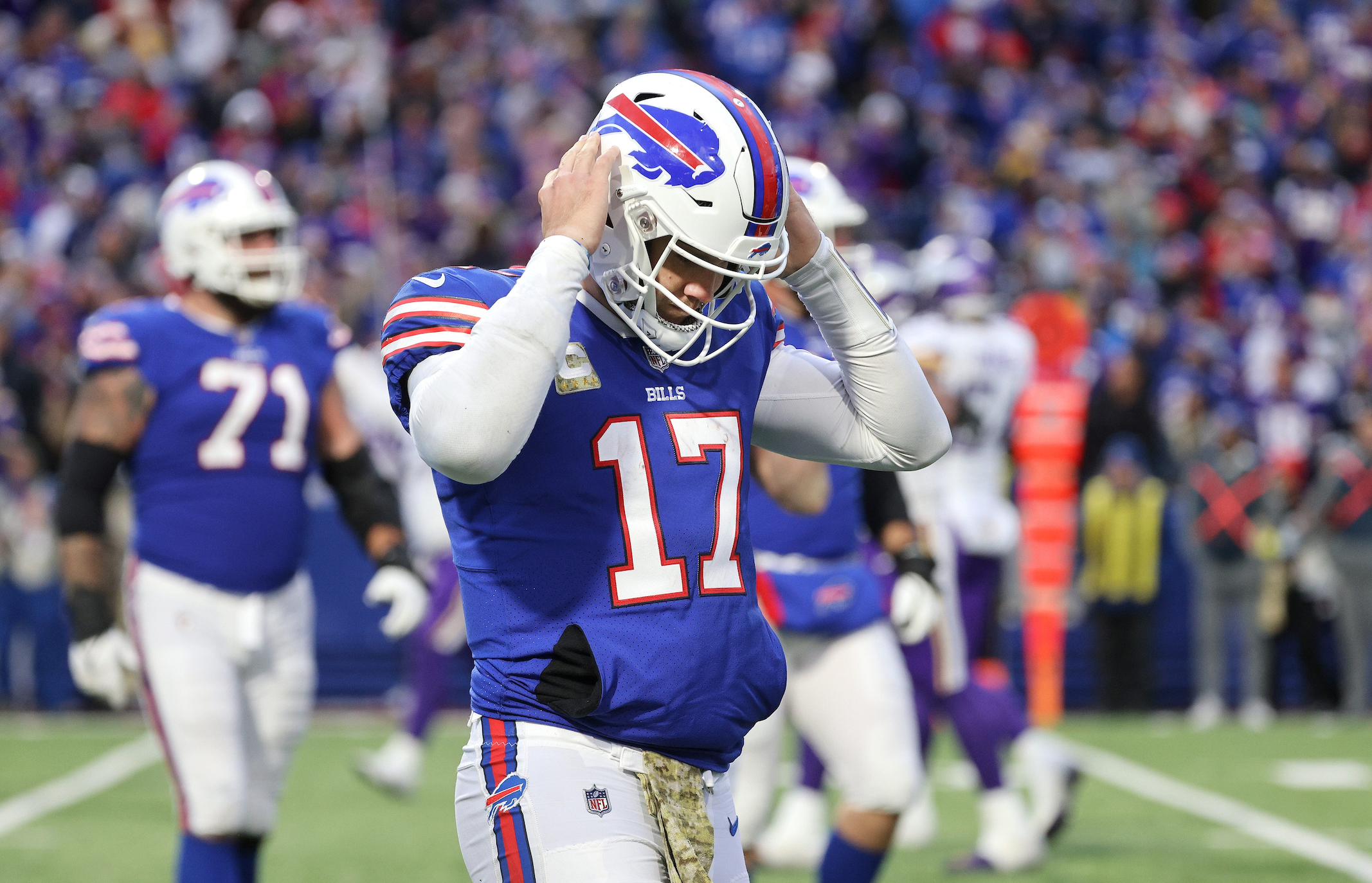 Franchise Struggles in OT Continue

Josh Allen was 0-3 in overtime heading into this game (Houston in the playoffs, Tampa Bay last season, and Chiefs in the playoffs), and notched another loss against the Vikings. Minnesota won the toss and their strategy was to feed Cook and Jefferson as much as possible. Cook ran for 10, 9, and 10 yard gains, and Jefferson caught passes for 13 and 24 yards to set up 1st and goal from Buffalo's two yard line. On the 24 yard hookup, Cousins was facing a 3rd and 10 and heaved a sideline pass to Jefferson, who was well-covered by Dane Jackson. Jackson nearly deflected the pass, but the ball sailed just over his fingertips into the hands of the star wideout. Matt Milano made a nice tackle for loss on Cook, and Ed Oliver and Shaq Lawson combined for a sack on Cousins to set up 3rd and Goal from the 15. An incomplete pass on the following play meant a 33 yard field goal for Greg Joseph. Buffalo would need a field goal to tie or a touchdown to win.

Allen ran twice for 38 yards to move quickly into Minnesota territory. He connected with Diggs twice for seven yards each, setting up 1st and 10 from the Vikings 20. An incomplete pass on first down meant 2nd and 10 from the 20. Again, Buffalo could've settled for a field goal if necessary, but Allen forced a pass into the end zone that was jumped by Peterson for his second interception of the game. The game was over, and Minnesota had completed their comeback victory. On the play, Davis created separation as he cut inside, but continued running vertical downfield, towards the back of the end zone. Allen anticipated the separation, but threw it as if Davis was going to continue running laterally across the field. If Davis did run laterally, it probably would've been a touchdown. If Allen anticipated Davis running vertically, it probably would've been a touchdown. The separation was there, but the timing and understanding of the route wasn't.

Afterthoughts

This Bills team led by Allen loves to design new ways to lose in heartbreaking fashion. From From 'Hail Murray' to '13 seconds', and now 'Kirk's Comeback', it begs the question:
"Is this a fluke or a trend?" The team certainly struggles with situational awareness, consistently being unable to bat down deep passes which could end the game. Buffalo's defense was the definition of "bend don't break" against Minnesota, holding the Vikings to two field goals on drives that reached the two yard line, as well as stuffing Cousins on a QB sneak when he needed literal inches. Plus, the three sacks and two interceptions certainly helped keep the game close. I know the defense gave up the big run, and couldn't stop Justin Jefferson, but good teams and good players are going to score points and make big plays – it's the nature of the NFL.

I think the focus should be on the utter collapse on the offensive side of the ball, who let's not forget, gave Minnesota the go ahead touchdown. After scoring 27 through three quarters, Buffalo had three offensive drives. A three and out, and two Allen interceptions. While Allen certainly deserves blame and criticism for his unacceptable turnovers (which has become a pattern over the last three games), Buffalo's refusal to run the ball is noteworthy. I know it's weird to criticize the Bills for not running, when most of the time they're being criticized for running too much. Again, it's situational awareness. Up three possessions, the goal should be to end the game as soon as possible so shenanigans like this don't happen. Not to mention, the run game had actually looked pretty good in the first half, giving Singletary some great yards and two touchdowns, as well as Cook several solid carries. Speaking of running backs, where is Nyheim Hines? Brandon Beane traded Zack Moss and a 6th round pick for Hines for a reason, and it wasn't just so he could return punts. The speed and route running ability that Hines offers can create mismatches and add another nuance to this offense. He played six offensive snaps. Practice squad call-up Duke Johnson had five snaps. In a game where the Bills started off running the ball well, and had five running backs dressed, there needed to be more running involved to chew the clock and take some of the weight off of Allen's shoulders. Instead, neither happened, and Minnesota had just enough time to claw back into the game, and Allen threw two costly picks.

The season is far from over. Yes, Buffalo is no longer leading the AFC or even the AFC East for that matter. But they have make-up games against the Jets and Dolphins (both at home), still have New England twice, and a relatively easy schedule remaining. The Bills control their own destiny, and wins versus the other division leaders in the AFC (Chiefs, Ravens, Titans) certainly help. But there's no denying that the Bills, and Allen, will need to fix some issues if they want to live up to their Super Bowl aspirations.

Game Awards

Offensive Player of the Game: Josh Allen and Stefon Diggs

Here's the thing, if Case Keenum starts, the Vikings win by double digits. I know Allen's three turnovers were consequential, but he made plenty of other plays that most other QBs simply cannot. Aside from his turnovers, he finished with 330 passing yards and 1 TD, plus 84 rushing yards.

Diggs continues to prove why he is one of the best receivers in the game. His 12 catch, 128 yard day was overshadowed by Jefferson's 10 for 193 and 1 TD, but Diggs continued to be the only consistent weapon at Allen's disposal.

Defensive Player of the Game: Matt Milano

Milano has truly stepped up his game this season, performing at a higher level than arguably any other linebacker in the league. His talent in pass coverage matched with his ability to stop the run is extremely valuable, and he came in clutch on several key downs for the Bills. He finished with six tackles, two of which were for a loss, and both of those TFLs were on the goal line.

MVP: Jordan Poyer

This game proved that Poyer is arguably Buffalo's most valuable defensive player. The Bills are 6-0 when he's played, and 0-3 when he hasn't. Simply put, Buffalo wins with Poyer, and loses without him. This secondary lacks experience. No Poyer, no Micah Hyde, and no Tre White (where is he by the way?). Although Buffalo is hypothetically getting White back later this year, and Hyde for next year, it should still be one of Brandon Beane's top priorities to give Poyer a short extension to keep him in Buffalo.

What's Next: Bills vs Browns on 11/20

The 3-6 Browns visit Buffalo in what early weather reports are forecasting as a potential snow game. The makeup of Cleveland's offense, plus the weather, will be a big test for Buffalo's run defense. Limiting the running back duo of Nick Chubb and Kareem Hunt will be crucial to earning the win and bouncing back from these consecutive losses.
Editor's babble: This must have been as painful to write as it was to read. Many thanks for Colin Richey's terrific recaps. You can also find Colin on Twitter @whatthef00tball.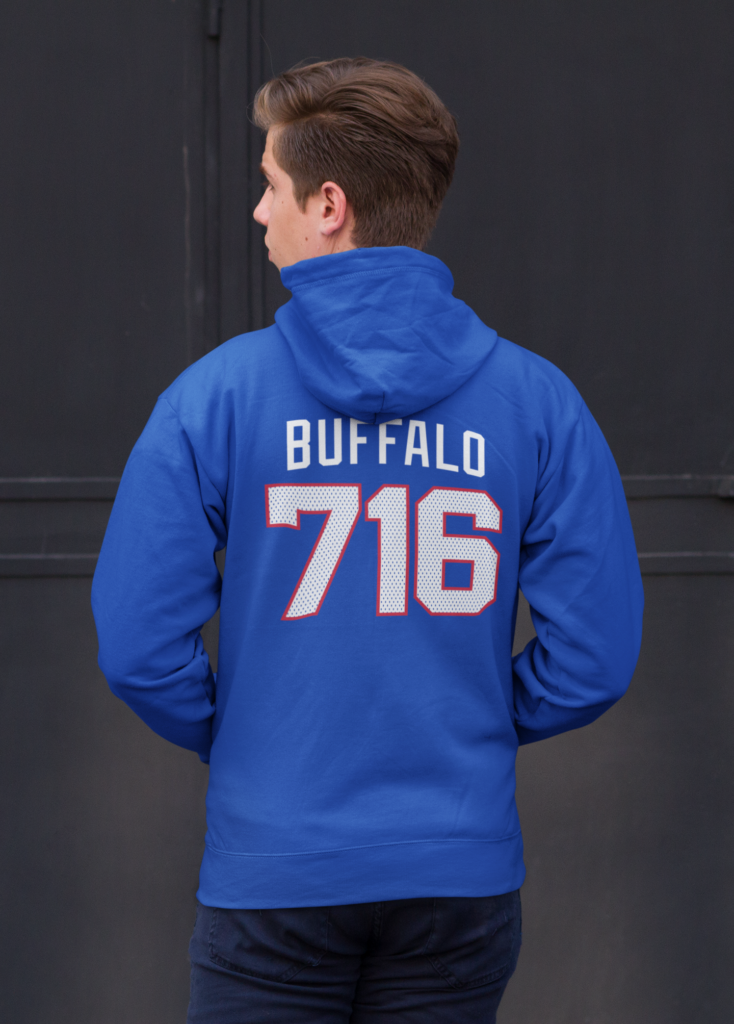 BuffaloFAMbase.com is sponsored by 26 Shirts
Every Monday, we launch a new two-week campaign of a limited edition t-shirt design. Every shirt purchase results in a donation to a local family in need. After the campaign ends, the shirt is retired. A new design is released, and a new family benefits from your fandom!