Virtually the entire state of Wyoming has embraced BillsMafia in a way no other region outside Western New York (WNY) has done within the continental United States. Of course the link between these regions is based upon the phenomenon that is Josh Allen. But the connection feels like the weirdest sort of karma for someone who spent half their life growing up in WNY and the last 30 years in the boontillies of Wyoming. I challenge any wyo to step forward who has been a lifelong fan of the Buffalo Bills in Wyoming in 1990. It felt like I was alone in a state of perpetual insanity.
A few casual fans of the 1990 Bills were here and there throughout Wyoming, but there were no fans who had a bison imprinted in their DNA like I did. Most wyos thought WNY was a borough of New York City when I moved here. Regardless, I proudly wore my Bills gear throughout the drought years, trying to find solace in mediocrity. There's been a lot of bantering with NFL fans in Wyoming over the years. Most Wyomingites followed the Denver Broncos until Josh Allen came along, and the marriage made in heaven was off and running.
Along the way in my Wyoming life I readily adopted a love for the University of Wyoming (UW) Football program as it is the only major university in the state. I naturally I became curious when I read about UW being dumped by their intended starting quarterback Eric Dungey just before the 2015 college football season. Oddly enough the Oregon product dumped Wyoming to play for Syracuse. It was the best decision Dungey ever made for the Wyoming football program.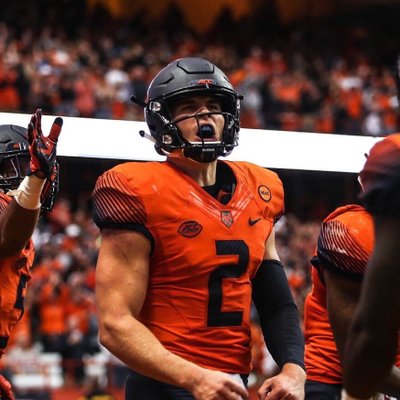 Sadly, we barely got to see what all the fuss was about when Josh Allen went down with a broken clavicle in his second game of the season at Wyoming in 2015. The quick peek piqued many wyos about this farm kid from Firebaugh, including myself. Allen's rocket arm already popped out most of our eyeballs after a couple of games. It wasn't until his junior year in 2016 when we really got to see the fire that burns inside Josh Allen.
We saw IT when Allen moved the ball up and down the field like a five star general. We saw him yapping on the sidelines and talking trash to opponents. But what stood out the most about Josh when he played at Wyoming was the unfathomable amount of passion he has for the game. It was palpable when he was on the field that he was determined to take apart any defense thrown at him.
That year Josh Allen became Wyoming's favorite son, and that love eventually grew eastward after he was drafted by the Buffalo Bills in 2018.
However, it wasn't smooth sailing leading up to the 2018 NFL Draft when the Bills selected Josh. There were a sizable number of fans in Buffalo who were not enthralled with the selection of Allen over other quarterbacks in the same draft… notably one also named Josh… who is having quite a divergent journey in the NFL at the moment.
As Allen has grown and worked at refining his craft with Jordan Palmer, he's become even more deadly on the field. Aside from hurdling players, the way Josh can place a long ball between and over the head of defenders is breathtaking. He did what Wyoming fans hoped he would do… end up in a good situation in the NFL.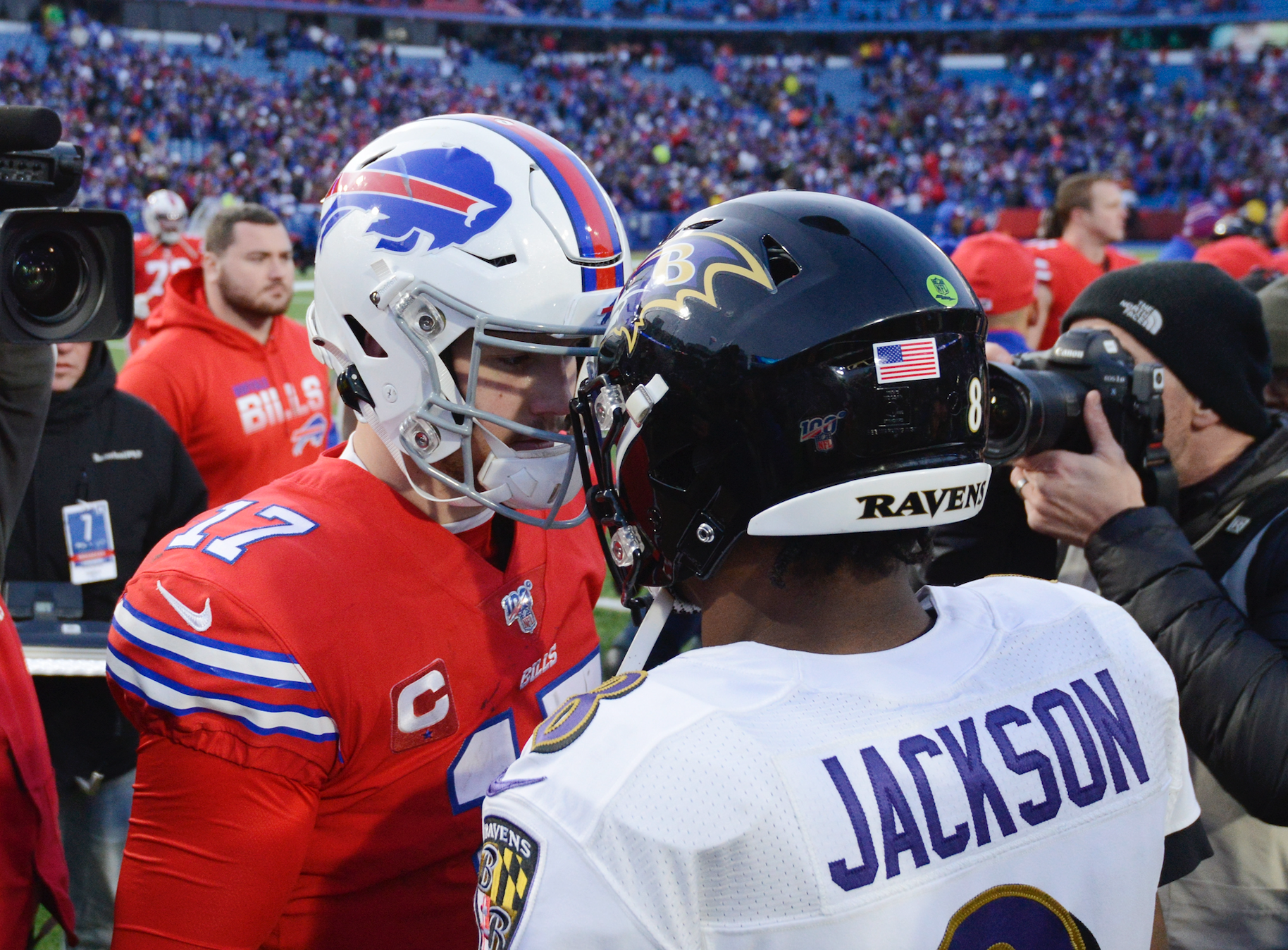 Most of us hoped Allen would be drafted by a team where he could be properly developed over time. Thanks to Nathan Peterman (not), Josh was thrown into the fire at Baltimore. The Ravens ate his lunch. Allen talks about his first start against the Chargers in Orchard Park N.Y. on occasion. He he jokes about how he had no idea what he was looking at in terms of a defensive scheme.
This is supporting evidence about why Josh Allen is literally a creature.
Most other rookie quarterbacks in his situation would have been overwhelmed. And this is why some don't make it (think EJ Manuel) because they are not mentally strong enough to deal with the criticism that goes with growing pains for young quarterbacks in the NFL. But Josh stood tall and continues to grow as a leader, at his craft, and as a human being,
We saw these traits in Allen when he played at Wyoming. Josh looked like a noodle because he was a late bloomer in terms of physical development. You could see he was barely through the first stage of puberty in 2015 when he was 19 years old. Now when you look at Allen at 26, his body has changed dramatically and he's built much more like his father, Joel.
NFL scouts obsess over hip size of corners or wide receivers, but no one talks about what makes Josh Allen so hard to bring down when defenders try to tackle him. Allen has very wide hips (thanks to Joel) that are well disguised by his near 6'6″ stature. Those hips give him a wider base making him much harder to drag to the ground. Josh truly is a physical specimen.
However, though his body was just beginning to fill out when Allen played at Wyoming, his mental age was much, much older. Josh definitely is an "old soul" but he's much more than just a kid who likes Frank Sinatra. He's wise beyond his years, filled with anecdotes shared by his father, usually on the way to school when he was young. Those lessons were burned into Josh's psyche and remain the platform of wisdom he uses to this day and I suspect will be embedded in his brain forever.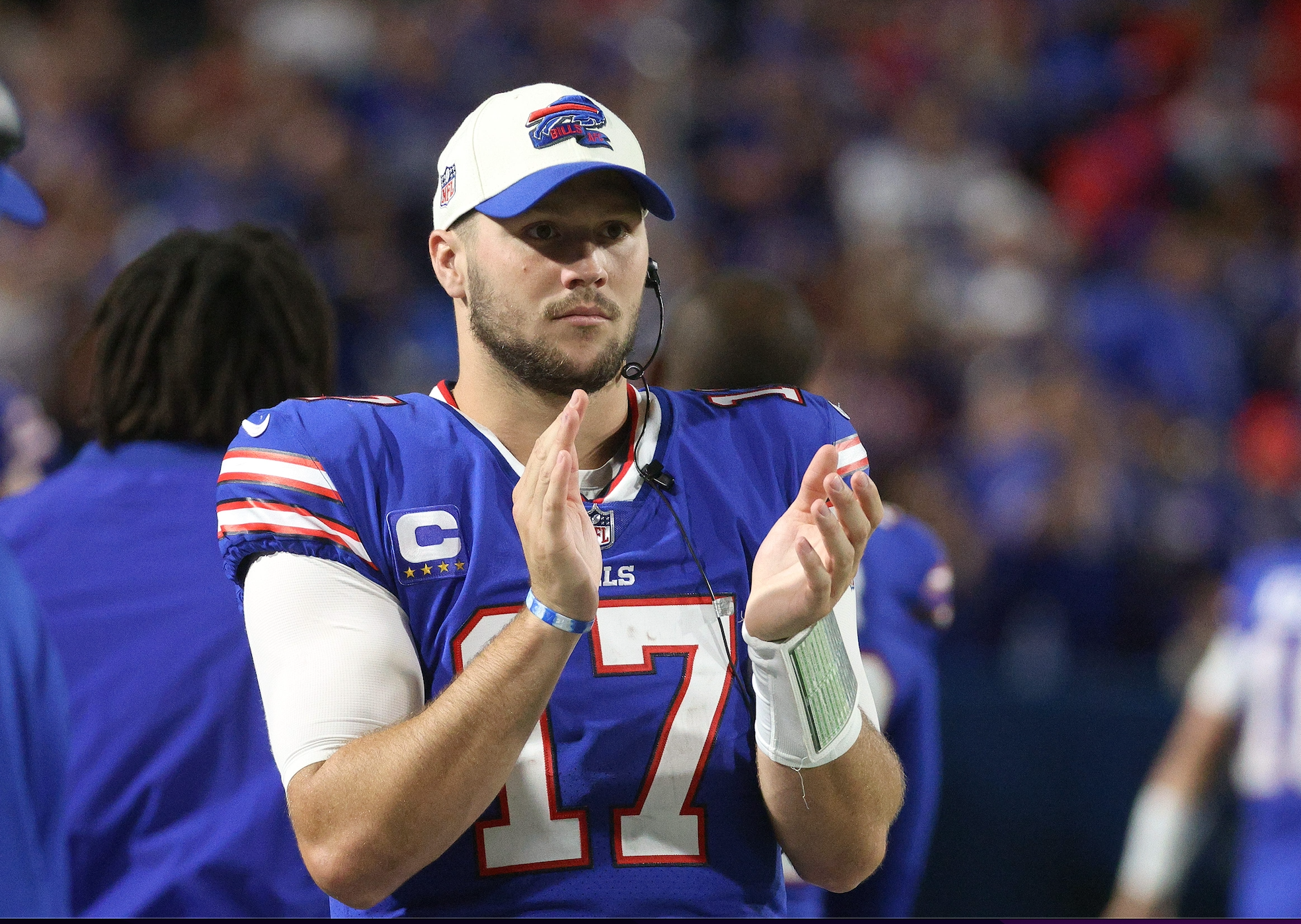 Those critical thinking skills combined with increasing experience in the NFL and Allen's 'old soul' wisdom is a recipe for success. But add in the big kid passion inside a nearly 6'6″, 250 pound, wide bodied, man with a rocket arm and you have achieved quarterback nirvana.
To all my friends in wyo who read this, I want to thank you for all the support you gave me during the rough period when a significant number of Bills fans panned the pick of Josh Allen as the face of the franchise leading up to the 2018 NFL Draft. Y'all knew what you saw when Josh played at Wyoming and stood tall when the inevitable criticism came that Allen didn't play at a 'big school' college program and was raw with his mechanics. We knew he would work harder than anyone to refine his craft.
And oh my… how Josh Allen has refined his craft.
We hope there are many more chapters to the story of Josh Allen yet to be revealed. But his stop along the way certainly created an entirely new fan base in Wyoming; BillsMafia West. As a person who has lived a split life between WNY and Wyoming, it's like having the best of both worlds.
Editor's babble: You can also find me babbling or yapping about the Bills and Sabres on Twitter @RobynMundyWYO.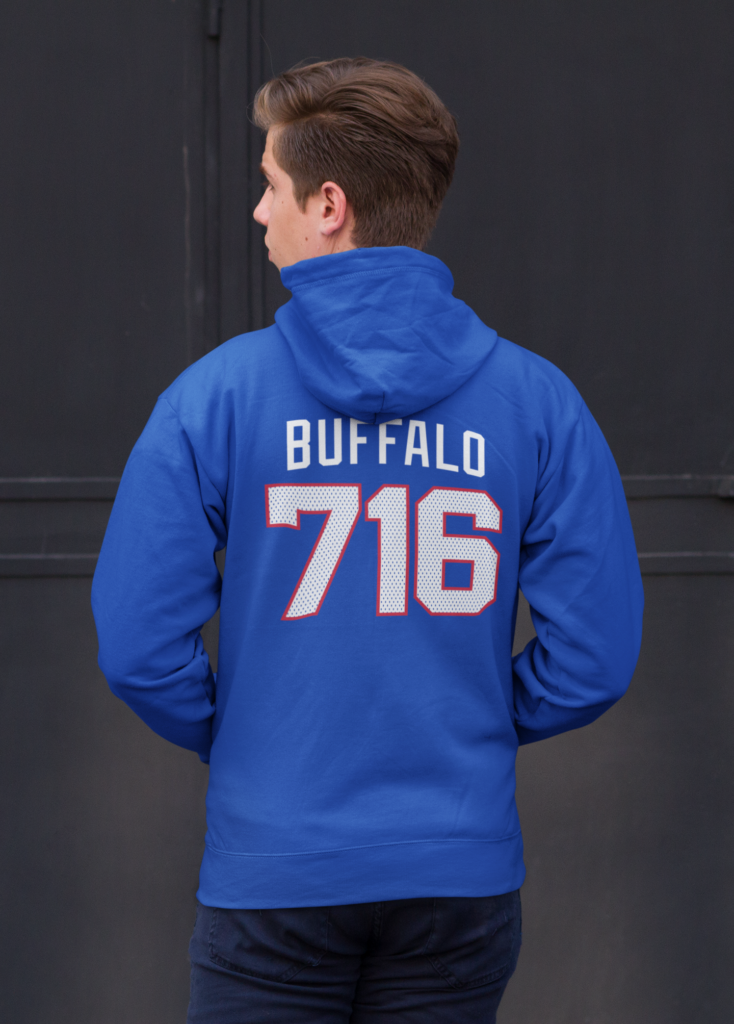 BuffaloFAMbase.com is sponsored by 26 Shirts
Every Monday, we launch a new two-week campaign of a limited edition t-shirt design. Every shirt purchase results in a donation to a local family in need. After the campaign ends, the shirt is retired. A new design is released, and a new family benefits from your fandom!