The Sunday night game was bound to be a letdown. I continue my lifetime policy of never offering sympathy to the Dallas Cowboys. The feeling now extends to Patrick Mahomes and his State Farm rec league team. America went from Tony Romo to Cris Collinsworth, which is like switching from the first Halloween movie to the most recent.
The truly national matchup was dramatic in general without taking the specific tone expected. Thrills came naturally despite the lack of touchdowns during timeouts. The Buffalo Bills worked with curious conditions as they unfurled. And we didn't have to wait for the score to be tabulated like a boxing decision.
Nothing goes according to plan. Successful organizations plan for that. The year's most anticipated shootout was scoreless after one quarter just like everyone figured. A relatively modest points total offered a reminder that predictions are as useless as Miami's concussion doctor.
Conquering the Chiefs means Buffalo can now focus on beating Verizon Fios.  Declining to carry what was destined to be the season's best regular season game won't lead to a bill refund.  The Bills win began a delightful week that's been wasted watching Beavis and Butt-Head on Paramount+ after signing up for the free preview which just happened to include NFL broadcasts.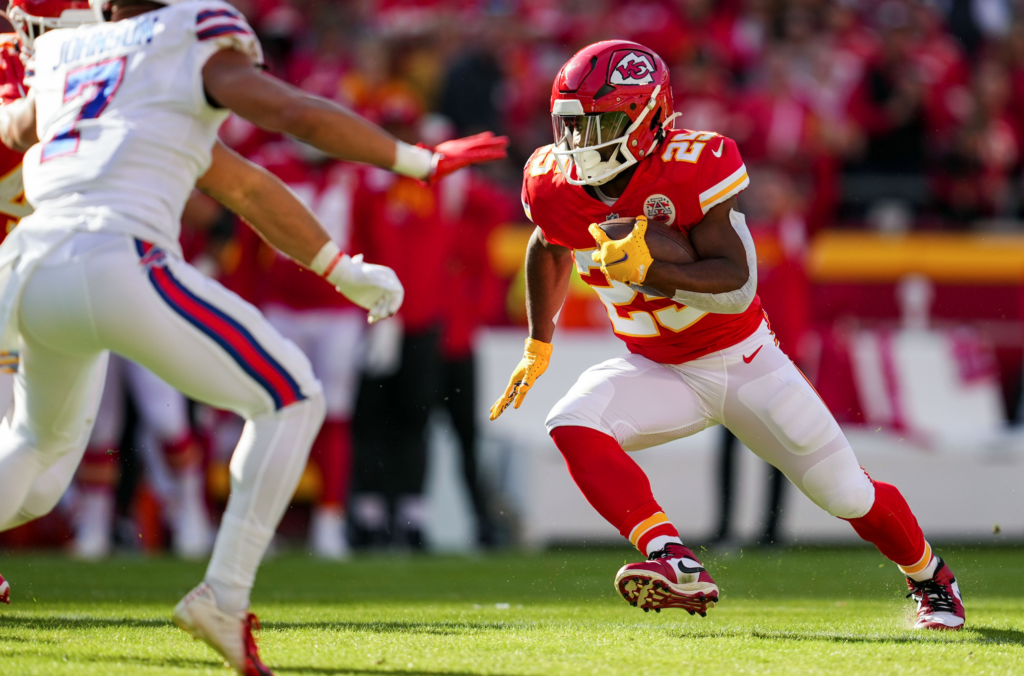 Our favorite postgame hobby this week was deleting invective about Taron Johnson. Numerous Buffalo-based social media feeds became tidier with way less swearing as the city's NFL team engaged in kneel-downs. Fans forgave the cornerback for shaky outcomes on less important plays in the same way Jim Carr noted Ned Braden changed his ways.
There's a new variety of déjà vu where we recognized exactly when we felt a few seconds of unease before. We experienced it for the first time. Every single human connected to the Bills couldn't have checked the clock more quickly after Dawson Knox scored. Yet the outcome didn't revive past trauma concentrated in a few seconds.
A tie after every quarter seemed like losing. We know how Yale felt against Harvard. But eventually slightly outpacing the Chiefs didn't remain a fantasy. The result was as fun as how it unfolded. Enjoy the era where someone mentions the Josh Allen hurdle game and must clarify which one.
There's no reason to make it exciting. A few missed tackles gave Kansas City help they certainly don't need. Some defensive lapses can't be blamed on Leslie Frazier unless the lack of fundamentals is his fault.
Lots of teams struggle to stop this particular conference juggernaut. But calmness prevailed despite concessions that don't seem egregious in retrospect. The Bills ultimately established that they can do more than dominate statistically by rising to circumstances.
Fuming about the clunky lateral thankfully isn't dominating the week off. Now, please don't try it again. The Bills stopped doing what worked in order to try something goofy, as defenses will never expect that. Ken Dorsey can't turn into the Hulk about Isaiah McKenzie when the former himself kept calling the latter's number. Continually turning a player having the worst game for the Bills this season was dropping the ball figuratively.
By contrast, some big plays grew in stature as their impact became apparent. The most prominent rookie cornerback is adjusting to the job at just the precise moment. A Kaiinterception offered an auspicious preview. Elam wresting the ball away Gabe Davis-style showed how each side teaches the other. Meanwhile, Davis's motion shove of his quarterback over the first-down line was a nice addition to his repertoire. Doing it twice created a precedent. He just needs one more for a trend.
Davis scores like both cities still have NBA teams.  As for his favorite distraction, only Stefon Diggs could have sneakily accumulated 148 yards.  Depriving Kansas City's attendees of the opportunity to field a post-touchdown punt was delightfully cruel.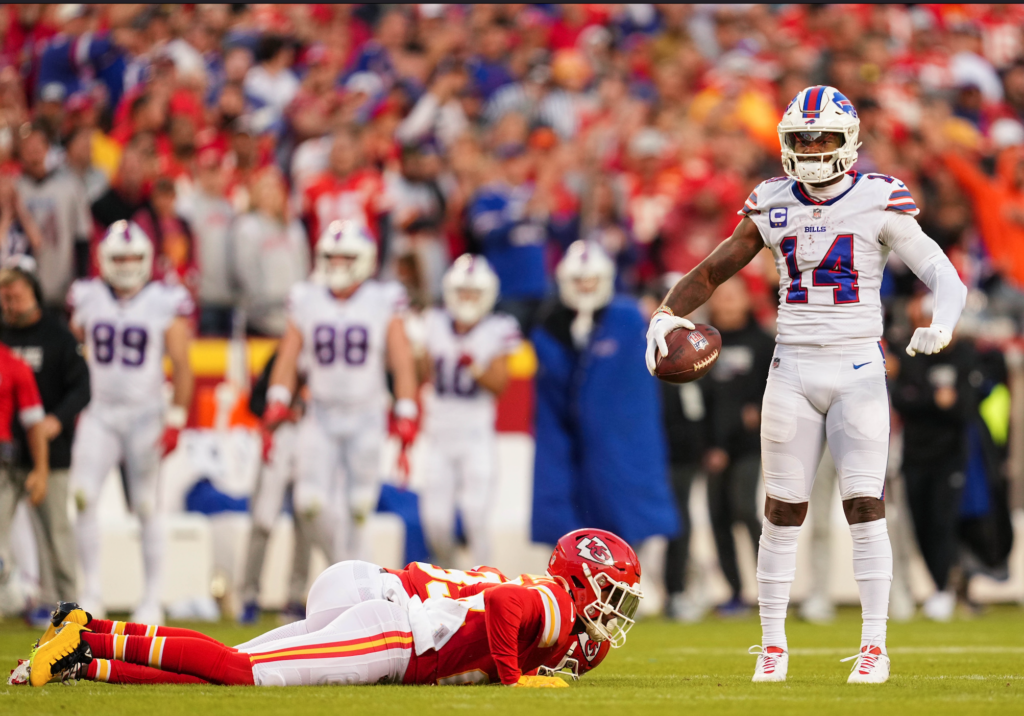 Staying cool prevents a meltdown. Preternatural calmness leads to furious passer pursuit. A triumphant mindset put into action during the most challenging conditions is why you let Von Miller access the owner's PayPal account. If an asteroid is heading toward Earth, send Miller to stop it. The biggest debate regarding the Bills is whether you'd cast Miller or Allen in a Flash Gordon remake about a football player tasked with saving the universe. Why not produce both? Stream them and I'd watch back-to-back.
The clock continues even after the Bills prevented the Chiefs from controlling the last moments. A significant result that nonetheless won't define what's next sure feels like more than one win. It's a welcome problem to avoid feeling overstimulated about leaving Kansas City in possession of the two-game conference standings swing. Locker room denizens are surely emphasizing that they only leaped over the biggest challenge so far.
Practice balance during a desolate week. The most free time available for awhile offers a chance to ponder what tasks lie ahead while setting aside an hour or two to celebrate recent accomplishments. Seizing a potential tiebreaker is the perfect way to cruise into idling.  Cherish memories of a momentously fortuitous October outcome to cope with anxiety prompted by spending a free Sunday lost in a corn maze.
Editor's babble: We are grateful for Anthony's contributions to our blog. You can find Anthony on Twitter @AnthonyBialy.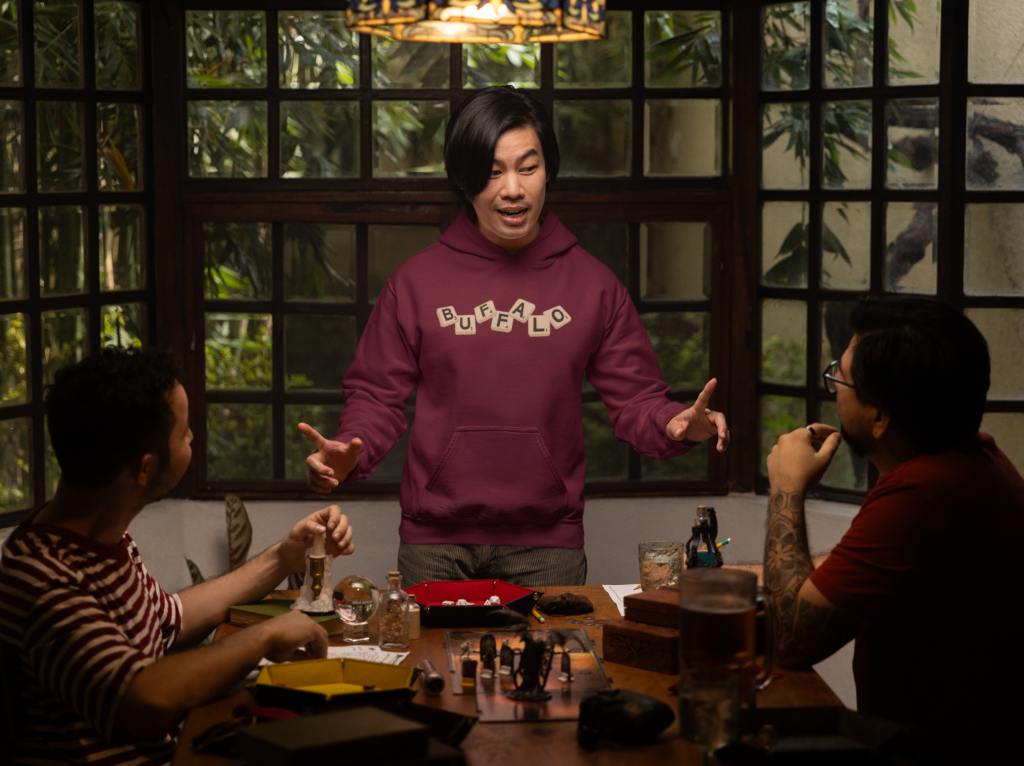 BuffaloFAMbase.com is sponsored by 26 Shirts
Every Monday, we launch a new two-week campaign of a limited edition t-shirt design. Every shirt purchase results in a donation to a local family in need. After the campaign ends, the shirt is retired. A new design is released, and a new family benefits from your fandom!