"Partly cloudy. High 91F. Winds W at 5 to 10 mph. Humidity 56%. UV Index: 8 out of 10". All of that's accurate if you're an anemometer at the Frederick Douglass – Greater Rochester International Airport, but on aluminum bleachers at St. John Fisher University, you're a damp sponge in a microwave for a mid-day Sunday practice. Armed with my bucket hat, slathered with SPF-50, and an Aquafina, I make my way to The Far Side to soak up Bills news scoops …and hopefully, wind.
The ink from Reggie Gilliam's new 2-year deal isn't even dry yet, but it signals to me:
(1) Ken Dorsey loves playing pieces whose function you can't know pre-snap;
(2) the unlikelihood that the Bills carry 3 TEs on the 53-man roster; and
(3) Chameleons change their look in each environment, thus imitating the 2022 Buffalo Bills Offense.
New Jersey sightings: Willis McGahee, and a Dareus. Joe saw an "I was here for Losman to Evans". The most offensive jersey was a Mac Jones.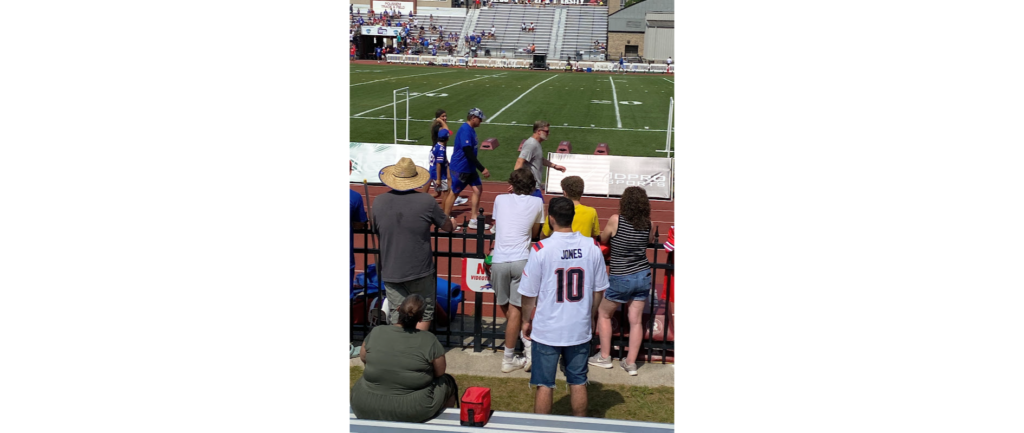 Joe is munching on a piece of pizza, wearing Bills flip-flops, and my water seems non-nutritive in comparison.
The TrackWalkers, just like at the Blue and Red game on Friday night, are walking around the outside. CJ Brewer and Raheem Blackshear are stretching already, and Ed Oliver is out here early. So is Jordan Phillips, with a hoodie on…WHY? Wendell the offensive line assistant coach walks by. GPS transponders are in position on our side, ready to place in helmets. Kelly Skipper has finished his walk and is chatting with the guy setting up the hurdles, ladder drill, and blue wastebaskets for his RBs to duck, weave, and dodge.
Reggie Gilliam got some applause when he came in, because of his new 2-year contract. McCloud enters with him, and there's no doubt he's made himself a great camp. Jaquan Johnson is warming up. There's lots of applause for Sean McDermott, who started this whole 'Process' thing going.
Practice squad OL guys are out there already: Alec Anderson, Tanner Owen, big Luke Tenuta, maybe Jacob Capra. Oh, and Cody Ford.
Isaiah Hodgins is stretching in front of us, and Sean McDermott shakes his hand.
Tons of applause erupts for Gabe Davis and Matt Milano. Baylon Spector is there inlockstep by Milano –a good place to be to learn from a pro.
No pads.
Haack and Bass are playing catch while a solitary Araiza booms punts at midfield. Here lies the dilemma because number two and number three are good friends socially, and even their wives are close.
Diggs comes out with the greatest cheer of all. Stefon just gets it. Sir, what you are doing in this community is amazing.
11-on-11 just for the ones today before Calisthenics. Allen starts with a pass to Jamison Crowder on an in-route. Josh follows that with a pass to the sidelines, to Crowder again. He's making the team; he's just too shifty and sudden in his moves, so order your Crowderheads T-Shirts from Del Reid soon, because you, too, could be juked.
Davis has not missed a single reception pass all camp, we think. A 100% catch rate is good, we hear. Micah Hyde almost got his hand on the pass to Tavon Austin. Now to the sideline with an out route to Knox. Players move to calisthenics.

Calisthenics Stars
Crowder
Tanner Gentry
Dane Jackson
Zack Moss
DaQuan Jones
Tanner Owen
Kaiir Elam
When calisthenics ends, Barkley and Ja'Marcus Ingram tear off for the other field like they're shot out of a cannon.
Returning punts today (without Shakir) include a new dude, Olajiah Griffin. Tavon Austin, Duke Johnson, Blackshear, and James Cook, are back there, but absent is Khalil Shakir, who was on the Peloton. Christian Benford was one gunner and Cam Lewis was the other.
Positionals
Kelly Skipper is exercising the reaction times of the running backs, tossing a football to them from behind their backs. Moss catches all but one. There's a lot of hydration going around, to keep cool and lubricated, including those GPS transponders on the sidelines. They are covered with towels. Diggs is sitting on the same table taking it all in. He grabs the towel that's over some of the transponders to wipe his face.
It's going to be a war of attrition on these bleachers today. Skipper is throwing balls to Singletary after he ducks under the PVC hurdle, doing a comeback route.
Kromer is stressing arm use way more than Bobby Johnson did. He has them doing each movement in unison, which looks way cool. Kromer then has each OL doing a reset with their arms. I never saw this level of emphasis with the prior O-Line Coach. He continues this with player movements to the second level, executing a block. Then it's doubling a defender. Saffold is out there today. Clean jersey. Either that or the Equipment Manager remembered the Tide Pods.
Gabriel Davis dropped his first pass of the season in practice number nine. I repeat: Gabriel Davis dropped his first pass of the season in practice number nine.
I yelled, "Boise State! Boise State!" and Khalil Shakir looked up, smiled, and waved. We'll be in Boise in five days to see my son and his family. Yes, they're Bills fans.
When the WRs do their drills, we wonder if there's a pecking order. Diggs is used as the demo for each drill, followed by Gabe Davis, Crowder, (Shakir rest day), Kumerow, Hodgins, Pau'u, Gentry, Austin. It's clear Chad Hall has the WR Room in the palm of his hand.
Finally the defense returns to Polisseni Stadium and 11 and 11 begins.
Dane Jackson has perfect coverage on Crowder, but he still makes the catch. Elam gets burned by Gabe Davis. Kumerow makes a nice catch on Jordan Miller. Then Diggs burns Elam. You know they'll talk about it later, and Elam will write something in his notebook. Hodgins executes a crisp out-in-and out-in move to take advantage of number Tim Harris. Olajiah Griffin has a tough time, Kumerow catches one over the middle against 46. Other teams are going to be poaching the WR squad. Pau'u catches a neat sideline pass versus Jordan Miller.
Quessenberry is playing left guard today! Is that a position that possibly becomes his place with Saffold back in the fold? The Hogmollies –offensive line ones versus the defensive line ones– are almost more interesting than the sizzle of the wide receivers versus the defensive backs.
11 on 11
It's Dawkins-Quessenberry-Mancz-Bates-Tommy Doyle for now. Nice Guard pull by 77, getting him out in space, and we have a shoving match at the 50 yard line. Bobby Hart is in now. Gabriel Davis takes advantage of Dean Jackson, and Dawson Knox gives Davis a high five enroute back to the huddle. On the next play, they use 'New Contract Boy' in motion to help block Boogie Basham.
The Twos are out there now, with a line of Alec Anderson, Cody Ford, Jacob Capra, Bobby Hart, and Luke Tenuta. James Cook is the running back, with Austin and Gentry the speed wideouts split out to the right. They put Austin in motion, and hand off to Cook, who shows just how fast he is. He's faster seeing him from our spot nearer the action, a fourth gear you just don't get that from the top level of the grandstands.
Kerstetter muffs a hike to Barkley with the threes, and Hodgins and Pau'u had nice catches, but that's all you need to know.
That's going to do it for me. I've called Mrs. Astro to pick me up. A shout-out to Franklin and his friend at the security gate for giving me a second bottle of ice cold water. You likely helped a fellow fan out today more than you know. Go Bills!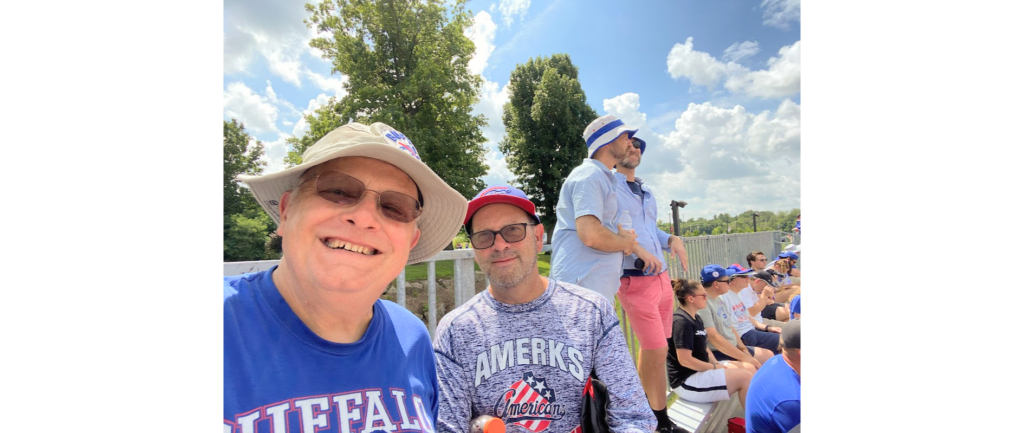 Editor's babble: Many thanks to Dean Kindig and Joe Reagan for defeating the heat and posting for us. You can also find Dean on Twitter @TCBILLS_Astro and Joe @joer869.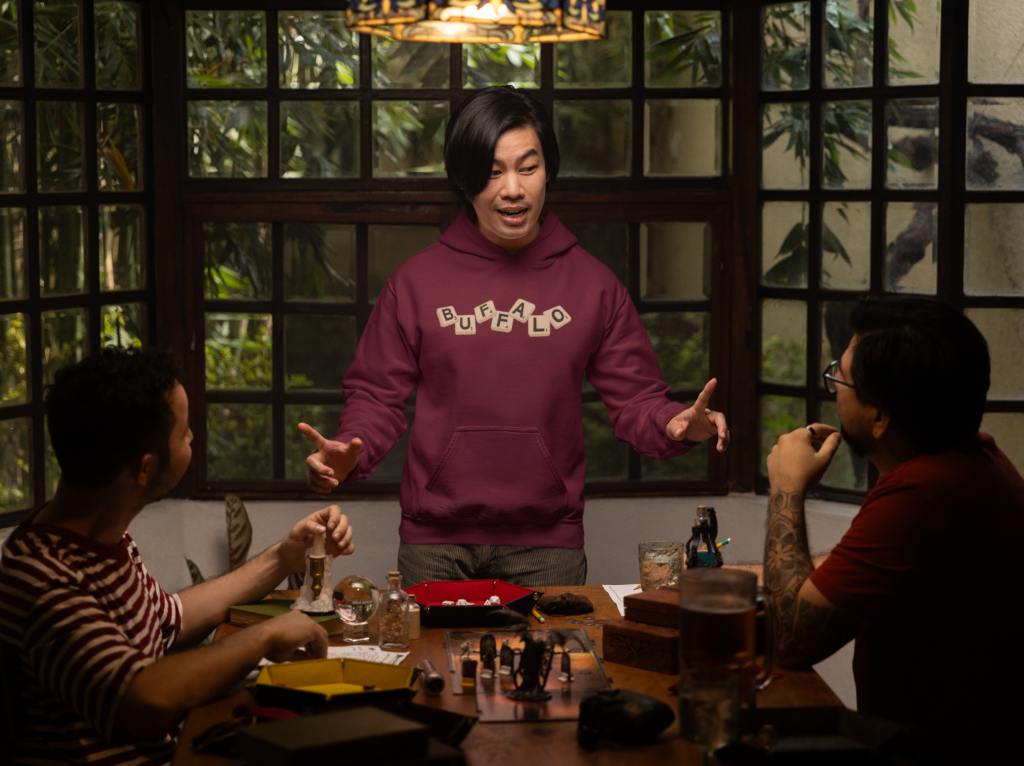 BuffaloFAMbase.com is sponsored by 26 Shirts
Every Monday, we launch a new two-week campaign of a limited edition t-shirt design. Every shirt purchase results in a donation to a local family in need. After the campaign ends, the shirt is retired. A new design is released, and a new family benefits from your fandom!