Practice Notes from Bills Camp, Monday, August 1.
Brandon Beane thinks of everything. It's 8:50 and there is one cirrus cloud in the sky (strategically positioned over the VIP hospitality tent fence) and it's going to be a hot one for the aluminum bleachers crowd. It rained last night, and there's no rain in the forecast for this practice, and it will rain tonight. My nephew T and his mom are here today (on the shaded side of the field), and Joe will be here presently.
Brian Freedom is here. His binoculars don't miss much.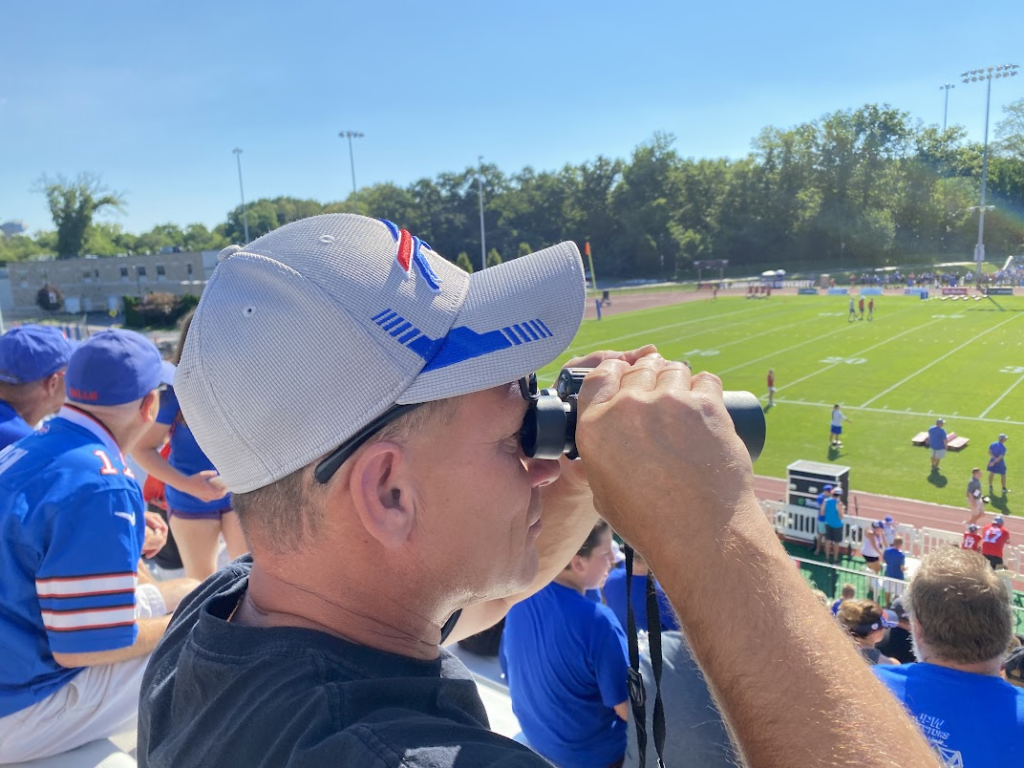 We'll try to give you our perspective on training camp, and we know it's a big responsibility, especially to all of you to tried to get tickets and couldn't, and to our followers in other foreign countries: Olivier in France, Nick in England, and, of course, Robyn in Wyoming. Kelly Skipper has already walked around the quarter-mile track at least three times. Rob Boras, Salacious Crumb, and Kathy have put in two circuits of the track.
New Jersey of the Day: a Von Miller Broncos jersey in bright orange (He looks far better in blue).
As per usual, CJ Brewer makes his way to the stretching area to our left. DJ Milk is setting up. Raheem Blackshear takes passes from the JUGS machine. As per usual, Jaquan Johnson is doing stretches on the new field. Matt Araiza is going to be an awkward situation. They're going to give both punters equal chances in the Blue and Red and in the three preseason games, but Reid Ferguson, Matt Haack, and Tyler Bass and their wives are friends, and they play golf together. Wonder if Bass wears eye black for that. Araiza always walked alone, at least up until today. Darrell Johnson walked in to practice every day alone, and he was traded. To be fair, this is the first day Araiza has walked with anyone.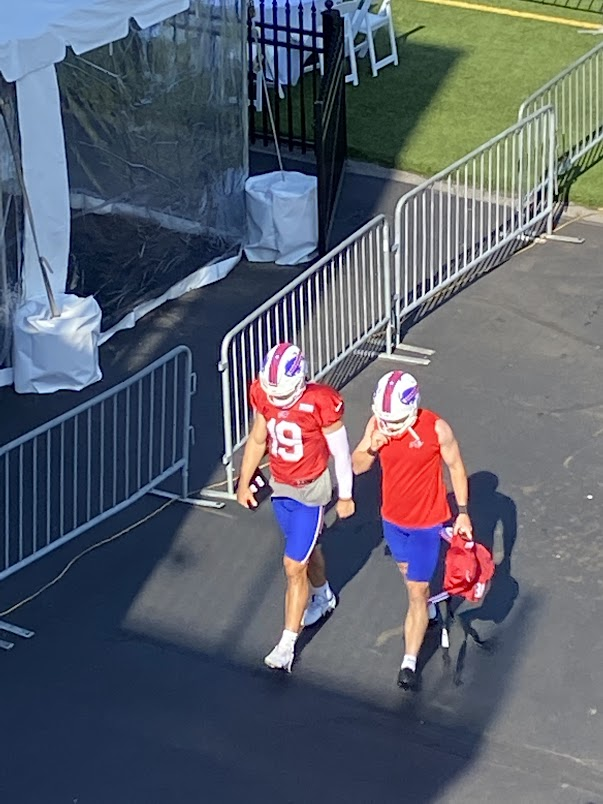 The punters are at midfield, working on hang time. It's so nice that the coaching staff is listening to the fans.
Bass just made a 61 yard field goal on the other field. See why I have spotters and sit where I do?
We're doing 11 and 11 before calisthenics again, beginning with an effortless out pattern to Gabe Davis on the sidelines.
Here are today's calisthenics stars, showing how each exercise is supposed to be done at 100% effort:
Isaiah Hodgins
Ed Oliver
Andre Smith
Nick McCloud
Dane Jackson
Taron Johnson
Both punters are now dropping them inside the five. Araiza's kicking them 70 yards, from the 40 to the back of the end zone, which is 17 feet in. Araiza is getting more air on them now.
After Calisthenics, the team huddles at midfield, then the defense heads for the third field. OL are to our left, with a kick return drill front of us. Haack shows more inconsistency; however, he did hit one of his own players in the back with incredible accuracy. Araiza's clearly working on hang time, Haack's probably about 6.3 seconds in the air, to Araiza's 5.1 but an extra 15 yards. Siran Neal taps a Matt Araiza punt back into play. It was 75-yarder with over 5 seconds of hang time.
Wide receivers have the hurdle out again; they're working on quick stops. After that they add going through a hurdle with a quick stop, and then finally getting the pass immediately after coming out of the hurdle. Diggs leads the group, followed by Davis, followed by McKenzie.
It's 76°, which converts to 96° in the E-Z Bake Oven bleachers. Josh is throwing dig routes.
Jamison Crowder has been sighted. I repeat; Jamison Crowder has been sighted in Bills Camp. This is Jamison Crowder's Bills practice debut. Watch Number 80. At first blush, Crowder is more sudden than the other slots, with the possible exception of Isaiah McKenzie. He has a long row to hoe with the successes we've seen from Khalil Shakir, Tavon Austin, and Isaiah Hodgins. Kumerow, however, is still working on the side in a red practice jersey.
The kickers are both working on hang time. Araiza booms a 65-yarder, a spiral, but spinning in the opposite way. Joe notes that Bojo, Haack, and Araiza are all left-footed, so a nod to Belichick for starting something that endures. Speaking of videotaping, they have the 360 cameras mounted on poles on each side of the field the Bills use each day. Haack's punt travels from 8 feet deep in the end zone to the opposite 30 yard line, 58 yards. Both punters exceed 6 seconds by my rough counting.
Tre White is doing DEEP KNEE BENDS on the main field, not many of them, but I'm impressed. A New Jersey: Moulds. The Autograph line has 15 people in it at 10:28.
Some mano-a-mano blocking is going on in front of us, and the winners are Sweeney over Damar, Taiwan Jones, James Cook, Devin Singletary vs Reggie Gilliam (!), Jalen Wydermyer takes his opponent to the ground, Duke Johnson with two notable reps, Marquel Lee, Poyer (I think vs Knox), and Reggie Gilliam to split his reps.
Light 11 on 11's
The most important thing I have to say today: Dion Dawkins is back, and Micah Hyde is back (albeit he's on the sidelines beside his BFF Po). That and the Tre White progress should make BillsMafia happy. Quessenberry is the RG, Dawkins is the LT, and Doyle's the RT for now. First catch: Isaiah McKenzie shows excellent catch radius defying his small stature, Tavon Austin catches a dart from Josh (don't count him out of this race), and a Catch of the Day by Gabe "my Mom calls me Gabriel" Davis on a long deep slant to the sidelines.
Moss is another to write down in ink with our first of two Angry Runs. The Defensive Line is formidable; Von Miller and Elam push Singletary wider horizontally than he would have liked and it's lost yardage. A pass intended for McKenzie is too far out in front, then Dion creates Shnowstorm Right, moving Milano out of the way and allowing Josh clear sailing inside that snowplow. Keenum's in, and I like Kaiir Elam on Tavon Austin. Elam shows veteran feistiness.
James Cook goes on the second Angry Run of the Day. Cook's so smooth, you won't think it's as angry as Moss, but it will be when he notice your ankles are broken. The twos have an O-Line of Alex Anderson, Cody Ford, Mancz, VanRoten, and Tenuta. Capra comes in at C with the threes. Keenum had to throw the next one away; you have DaQuan Jones at DT1T to thank. Settle is not out there, likely because DaQuan is back, so more good news.
The next session was run at 1/3 speed vs air, and not worth your time or inference. If a tree falls at 1/3 speed in a forest, an nobody's there to read about it, it doesn't make a sound. The only takeaways you need to know for the quiz tomorrow: Shakir lined up at both slot and boundary, Moss lined up out wide with Knox on 5-wide, and defensive coordinators are going to need anxiety meds.
11 on 11 – Situational
Teams moved all over the field during this set of 3 plays for each of the ones, twos, and threes. We teachers love this; it's called targeted instruction, prescriptive teaching, or "common sense". The O-Line from L->R: Dion Dawkins, Greg VanRoten, Mitch Morse, David Quessenberry, and Tommy Doyle. Ed Oliver's pressure was too much, especially next to DaQuan. They miss Saffold. The screen to Devin Singletary gives him a chance to show off his improved slipperiness, this from college's #2 in Missed Tackles Forced in his draft year. Knox catches a pass in the red zone to end the ones' session.
Case Keenum got an up-close look at Shaq Lawson as he ran unabated to the quarterback. James Cook showed off his athleticism on a neat catch and run (Keenum's good at throwing it so players can keep running). Keenum rolls out and hits O.J. Howard deep for the Catch of the Day #2. Duke johnson puts on a neat spin move vs Boogie Basham, and we have another fight. Good time to call out the threes.
Tanner Owen gets called for a false start. Mike Love says "Remember Me?" with a would-be sack. He's too quick and agile vs the twos, yet isn't getting a shot with the Bills' ones. Here's another play where the receivers to our side are Sweeney (TE) and Morris (TE). Whoop! The Rams' Defensive Coordinator just took another anxiety med… Neil Pau'u has some talent, and he's matched pretty evenly by Walkoff CB Travon Fuller's replacement, the 6'2″ but skinny Jordan Miller. I'd give Pau'u the narrow win for a PS spot. He's good on slants especially. Later Tavon Austin and Tanner Gentry line up on the near side, presenting the opposing DC with two speedy players.
The ones return to the field. VanRoten's the LG. My third Catch of the Day is Allen's long pass to Gabe Davis for an easy 30 yards. Diggs slipps on the next play, offering a gimme to Jaquan Johnson, who's thinking, "This is why I stretch every day on the other field". Doyle goes down on the next play, and it looks to me like upper right arm. He's up in 90 seconds and heading to the training room with one trainer.
When the twos are out there, Siran Neal and Mike Love are the most noticeable. Alex Anderson at LT acquits himself pretty well, and what with Doyle, Brown, and Tenuta, I'm impressed with the youth movement behind Dawkins. Case Keenum has to do a lot of scrambling, but it's not so much the OTs' faults.
Micah Hyde is shaking hands and laughing on the sidelines. The ones start strong, with a very-convincing fake to Moss and a nice lead pass to Stefon Diggs, who gets some RAC. Allen follows it up with a fourth Catch of the Day on a slant-in to Knox for the touchdown. The mind-reading Josh continues shredding the NFL's best defense with a quick-in to Stefon, a T-out to OJ Howard (ridden out of bounds nicely by McCloud, likely your fifth corner).
The twos return to do hurry-up, first Hodgins with a juggling catch, quickly returning to the line for another play, then Shakir (playing slot) on an underneath pass. Now Shakir lines up on the boundary, with Hodgins the tall slot. Capra and Anderson are running with the twos. Pau'u runs a great underneath route, and I dunno if Keenum didn't see him, but Case throws it away. Benford makes a nice tackle on the next play.
All you need to know about the threes is that the DL is still going to give teams fits in preseason. Daniel Joseph on two plays from the DE position (Sack, then tipped ball) urges me to work him into the PS. Ja'Marcus Ingram, who's not been mentioned yet, gets an INT on a deep Barkley bomb, and Prince Emili gets his mitts on a tipped ball. Not a good look for the offense here.
After Tyler Bass hits on FGs from the 15, 22, 22, 29, 33, and 33 (alternating hashes and holders), I head for the exit.
Sal Capaccio: "Towards the end of #BillsMafia practice, Tremaine Edmunds made the kind of play everyone has been clamoring for. He dropped in coverage, read the play perfectly, then came out of nowhere to sky for a ball intended for Stefon Diggs and made a terrific interception off Josh Allen."
Editor's babble: We are so grateful for Dean Kindig's many contributions to our blog. You can also find Dean on Twitter @TCBILLS_Astro.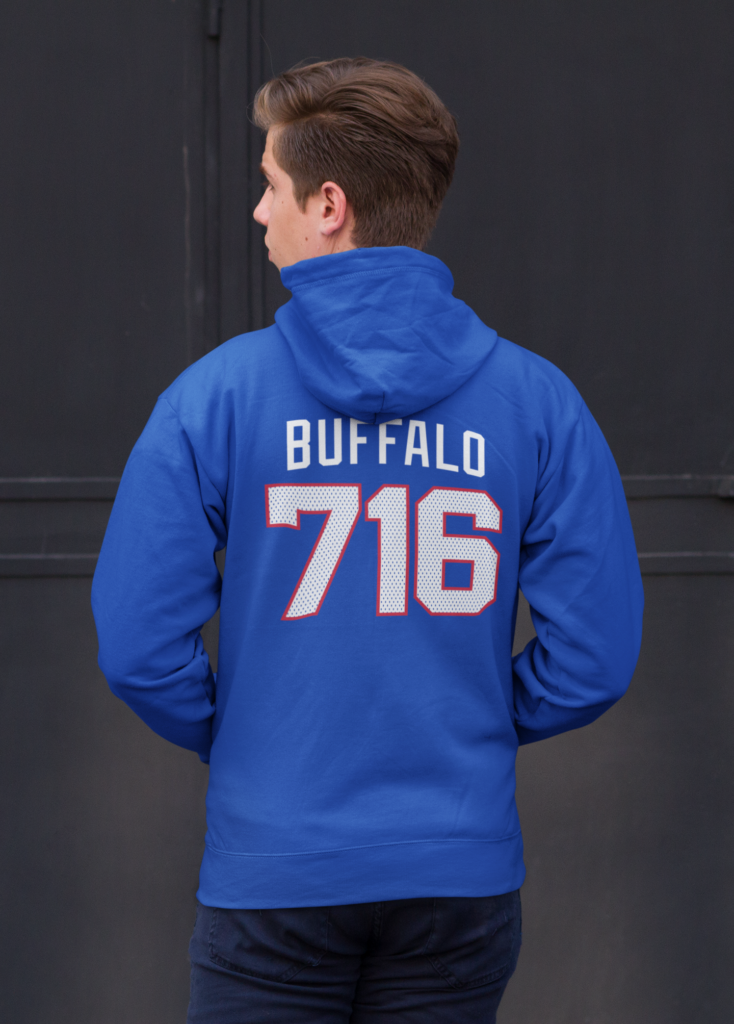 BuffaloFAMbase.com is sponsored by 26 Shirts
Every Monday, we launch a new two-week campaign of a limited edition t-shirt design. Every shirt purchase results in a donation to a local family in need. After the campaign ends, the shirt is retired. A new design is released, and a new family benefits from your fandom!