It's 76* and the 70% cirrus cloud cover makes the sun almost as dull as Lamar's Wonderlic. We see New Jerseys: a David Nelson, a one-and-done Emmanuel Sanders, an Antoine Smith, and a Marshawn Lynch. Joe has a Buffalo Braves jersey. Boras, Shula, Salacious Crumb, and Kathryn Smith (I think) are out walking the track, and later will do wind sprints across to our side, then walk to the far side about 20 times. They might be on the Brandon Beane Diet, which has made him look 30-40 pounds lighter this year. I could lose weight too.
The First Five today are Terrel Bernard, Jordan Phillips, Ja'Marcus Ingram, Ed Oliver, and Baylon Spector (which autocorrects to "bail inspector").
It's 9:28, and the music starts (DJ Milk takes requests; just use the hashtag #BillsCamp). Ed Oliver has signed some autographs and is finishing a Sqwincher Sqweeze Electrolyte Ice Pop (I had to look it up). Love his swagger; I expect great things from EdO. Tim Settle has the same swag. He's ready to show the Washington Redsk–Washington Football Tea—Washington Commanders that he shouldn't have been buried on their depth chart, and that they should use a rotation like the Bills do. James Cook is over at the JUGS machine with Singletary; they're super-best buds now. Duke Johnson is nearby. Alone. Stretching. Cam Lewis and Tremaine Edmunds sign autographs. All-Pro Po helps put the footballs into the bin near the JUGS machine, then trots over to sign autographs. When he comes through the tunnel to a big cheer from the stands, his arms are up in the victory position. Brandon Beane isn't out there right now… Coincidence?
Just putting it out there: O.J. Howard is huge, and makes Knox look normal. The cheers for Josh Allen, Von Miller, Poyer, Knox, and Davis are the loudest, with the cheers for Sean McDermott right in there. A blonde near us yells, "Josh! Sign my neck!!!"
Players go to their respective spots on the field, and I'll describe some with one word:
Energetic=DBs
Cohesive=Defensive Line
Regimented=O-Line
Disparate=RBs
Attentive=TEs
Calisthenics begin at 9:47, with the following exemplary performances: Hodgins, Capra, Elam, Oliver, and Taron. The entire team huddles afterward, then break into their respective units.
The WR and RBs are to our right, all getting a shot at kick return. The DBs are at the front right of us, the QBs are in the center, and the O-Line is to our left in the end zone. The WR/RBs are practicing blocking, and this includes lots of the bubble guys: Blackshear. Sweeney. Marquel Lee. Benford. Daniel Joseph. Kingsley Jonathan. It also includes Epenesa and Basham. My guess is that Taiwan Jones isn't going anywhere soon; he's integral to the kicking games. McKenzie's getting more work at it than Stevenson.
Coach Boras is with Knox, throwing him 2 tennis balls, which he must throw right back to Boras. They're likely trying out for America's Got Talent, and by Friday will have switched out the tennis balls for chain saws and bowling pins.
The O-Line is working on pull blocking, and full-on effort stars are two players I've been rough on: Ford and Hart. Alex Capra also stands out at these pull blocks, and I'll throw Alec Anderson in there, too. Jordan Simmons and Tanner Owen make up in agility what they lack in size. The need wings.
The full complement of players line up for the "real" kick return now, and I don't think the receiving team saw the onsides kick coming. Kudos to Christian Benford for raking it in and falling on it immediately. James Cook got a return and looked smooth as silk returning it, albeit at half-speed. Hodgins got work as a gunner, and Taiwan Jones looked impressive blocking for McKenzie.
Meanwhile, the kickers headed to the main field, where Araiza and Haack take turns on directional punts. Araiza's goes out at the 10, Haack hits the coffin corner at the 2, Araiza's left-footed punt causes the returner to miss at the 3, Haack's low-trajectory punt with short hang time bounces weirdly at the 3, and Araiza's punt is caught at the 5. You think you know who's going to win this, but it was closer than you'd think today.
The wide receivers are taking turns hopping on one foot though a ladder drill, then catching a pass. No misses.
Josh is doing a fade route to the near corner. Tavon Austin and Diggs excelled at that. Next, they did out patterns, slants, and in-routes at 15 yards. If I had to pick two WRs impressive in their breaks, it would be Neil Pau'u and Khalil Shakir.
The TEs are getting individualized instruction from Boras. Those seeming to excel are Wydermyer and Knox.
Case Keenum is a step up even from Trubisky, imho. He is "West Coasty" in his pocket presence, and gets it out quick. I still want to see both Case and Josh lead their receivers to give them a chance at RAC.
Blackshear drops it on an out route from Keenum. Quintin Morris runs a very nice route. O.J. Howard make the catch despite the defensive pass interference. Dawson Knox absolutely astounds with a dig route with excellent timing with Allen. Reggie Gilliam shows why he'll likely be the TE3FB with a nice deke on a post route. James Cook just runs by Spector like he's not there.
The defense huddles up, and we're on to 11 on 11. Left to right, the O-Line has Greg Mancz cross-training at LG all day. It's Dawkins, Mancz, Morse, Quessenberry, and Tommy Doyle, who on the first play blocks down well enough to spring Moss on a nice run. A handoff to Singletary, then Cook, showed the new emphasis on establishing the run, at least to make play-action more effective. Terrel Bernard almost tipped the first pass of the session, then A.J. Epenesa blows up the next play singlehandedly. Tim Settle is off the ball like Ed Oliver (who I thought it was at first). He's being double-teamed quite often in there. Luke Tenuta kept Boogie Basham from a sack attempt, then a sweet run by Singletary up the middle draws applause from the stands. Singletary was gone faster than the Springsteen presale tickets.
A pass to Diggs out on the flats follows a D-Lineman being offsides (Von Miller??) Hyde comes out for a rest, and Damar Hamlin comes in. Every DB is giving up big cushions. The twos come out, and it looks like Tenuta, Ford, Capra, Van Roten, and Hart out there.
This part of the practice feels sluggish, although maybe my morning coffee is wearing off. I'm jolted back to reality when the incredible Erik Turner comes up to say hi. This is a seminal moment for this giddy fanboy, because Erik's analysis at Cover1, especially on YouTube, is unmatched. You made my month, Erik!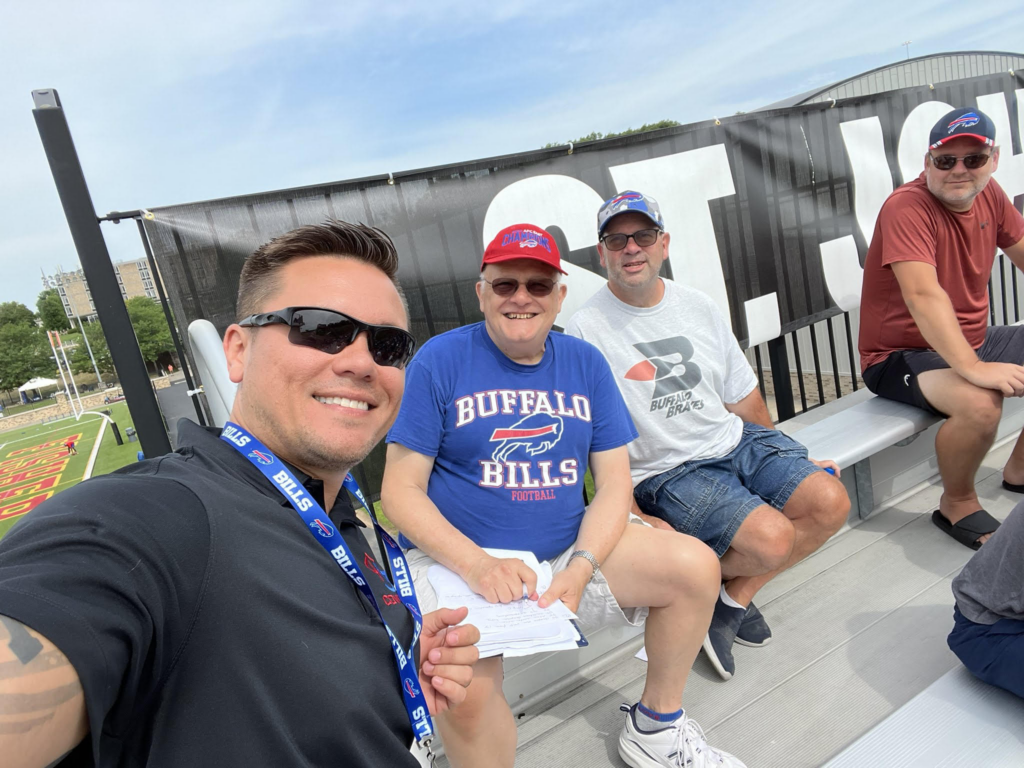 Skip to the next 11 on 11, and Moss gets the start, and he's kept in to block the relentless D-Line pressure. Josh hits Davis on a slant. Allen goes through his progressions on the second play (really wanted the downfield options to McKenzie/Davis but Hyde foiled his plans). James Cook is getting some work with the ones in this series. McKenzie in motion with a fake handoff precedes a missed target for Josh –possibly his last miss for a long while. A completion to O.J. Howard finishes the series for the ones.
When the twos are out there, the middle pressure generated by Settle and Brandin Bryant is too much, and Epenesa profits. He's in like shot. It's his best day since his first practice, and he makes hay while the sun shines. The O-Line has a false start, then the D-Line's Tim Settle is drawn offsides.
The threes were out there for 1 play. Hard to get noticed during one play. Olajiah Griffin runs off the field late, like he wasn't supposed to be out there. We'll give him the 12th Man Award.
Allen comes back in for some more 11 on 11. Moss is again the RB. Diggs is called for a false start, and he immediately responds with a Catch of the Day. Two plays later, Diggs turns in another Catch of the Day for a touchdown off an RPO to Singletary. Tommy Doyle's blocking is excellent, allowing Allen to connect on a Knox touchdown with Hyde in perfect position. Doyle stays in his chair, anchors down and uses his arms to leverage Boogie Basham.
On the ensuing play, Mike "Remember Me" Love knocks Allen's pass down, and you don't want to anger Josh Allen. He fires a touchdown to Gabriel Davis, putting it in the perfect spot for him even with Tremaine Edmunds dropping into coverage. Again we see McKenzie put in motion, with a razzle-dazzle handoff to the RB, but this D has seen this O too often. The defense sniffs it out well.
Again, the back-and-forth between Defense and Offense. The sharpening of iron with iron. This time, the attention paid to Knox releasing into the flat leaves space on the crossing route by Davis, and it's a TD. Elam and Diggs are mixing it up, and have to be separated by McCloud. This was tweeted out by Rochester's own Thad Brown, Sports Director, WROC-TV. Siran Neal is getting some CB work in. It MAY not have been DPI by Neal, but let's just say he was riding his receiver like a pony.
This is a long practice. My fingers are getting tired. May have to go ice them soon. In related news, our Peloton Patrol says the exercise bikes are empty today.
Keenum held onto the ball too long, and would have given the defense time to close in, AND would have made Trent "Pat Pat" Edwards jealous. The pressure from Shaq Lawson and Boogie Basham was noticeable. Undaunted, Keenum gives Khalil Shakir his moment in the dull sun. Shakir drives forward a bit, hesitates, drives forward again, hesitates, then takes off on a slant, and the middle is wide open. He scores. Tweets that Shakir had a quiet day are unfounded. That was a Diggs-like move.
Stars for the Day:
Joe has the stars as #3=Ed Oliver, #2=James Cook, and #1=Isaiah McKenzie.
I have it #3=Gabe Davis, #2=Stefon Diggs, and #1=AJ Epenesa, tied with Jenna Cottrell.
Current Depth Chart and Practice Squad: https://docs.google.com/spreadsheets/d/1XO2kWQtr9m01lGJJOirYmRdFeWUmPDL1LtiIUs67MuA/edit?usp=sharing
Editor's babble: We can't get enough of Dean Kindig's AstroNotes and are grateful for all his contributions to the blog. You can also find Dean on Twitter @TCBILLS_Astro.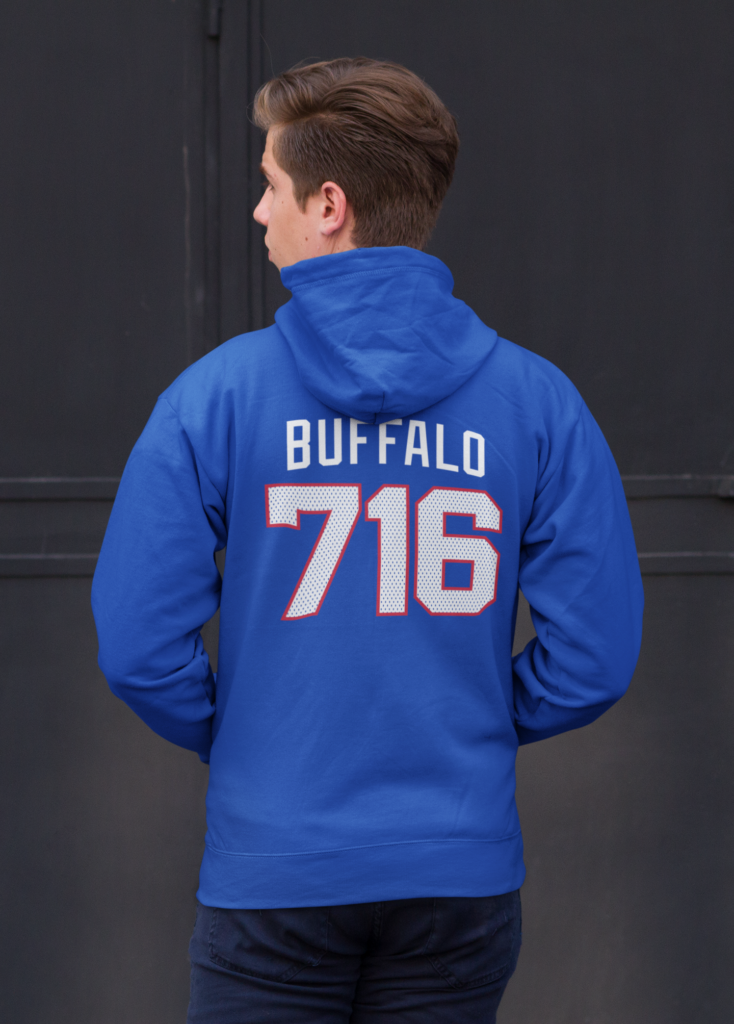 BuffaloFAMbase.com is sponsored by 26 Shirts
Every Monday, we launch a new two-week campaign of a limited edition t-shirt design. Every shirt purchase results in a donation to a local family in need. After the campaign ends, the shirt is retired. A new design is released, and a new family benefits from your fandom!