#AstroNotes Background– AstroNotes began when I was on the chat site The Stadium Wall, then TwoBills Drive as Astrobot (named after an educational software company). Many fans on those chat sites were from out of town: Olivier in France and Nick in England wouldn't be at training camp, Robyn Mundy was in Wyoming. I lived five minutes away. I loved writing, so I wrote up practice summaries each day, originally posted on TSW, then on BillsMafia.com, and now on BuffaloFamBase.com and in the paper, Tidbits of Akron Falls.
Please follow me on Twitter at @TCBILLS_Astro . You'll be the first to know when the #AstroNotes are up!
AstroNotes is back after over 1000 days…longer than the Kennedy Administration!
Weather
It's 76* right now with just a slight breeze. The sky is 70% clouded over, and there's a 50% chance of rain, so we have the Bills umbrella and a waterproof pen at the ready.
Attendance
It's still early, but with 15 minutes to go before the start of practice, there is no one in my section of the stands. The tickets were sold out, but unless 600 fans are parachuting in shortly, you readers could've come to camp. At least for a while. By the time the 11 on 11 started, we were 90% full.
Spotters
With me today spotting is Joe Reagan. Mike McDonough (pictured), his wife Courtney, and his two sons had field passes, but he scored me a Bills cup.
The First Five Out
The first person out there was Asst. O-Line Coach Eric Wendell, who is stretching, including a very impressive 30-second deep knee bend. The first players out of the indoor facility are Prince Emili, CJ Brewer, Raheem Blackshear, and Daniel Joseph, who begin stretches in their corner of the end zone. Jaquan Johnson goes to the other field for some calf stretches. Matt Haack joins him. Isaiah Hodgins trots back and forth, limbering up.
The first cheer is to welcome Jordan Phillips back. He plays it up with his hands up, twirling for good measure. CB Benford is the first to use the JUGS machine. Terrel Bernard, Stefon Diggs, and Kaiir Elam walk out together. CJ Brewer gives fist bumps to the entire D-Line.
The Sick, Lame, and Lazy (Last Five)
Dragging their sorry asses out of the locker room, and were thus literally the tail end of the roster, were O.J. "You Must Acquit" Howard, Spencer Brown, Quintin Morris, Tim Settle (who redeems himself later), DeQuan Jones, and Neil Pau'u.
The Pre-Calisthenics Session
Some eleven-on-eleven work preceded calisthenics, to the tune of Sinatra's "The Best Is Yet To Come", obviously selected by Josh. Cody Ford is your starting LG (Saffold's been in a car accident, rib injury but smiling on the sidelines) and David Quessenberry is your RT. Gabriel Davis, OJ Howard, Diggs, and Knox are wide in your first look at a 2 TE look, JA fires three successive strikes, one to McKenzie on the sideline, Diggs on a curl-in, and Gabriel on the sideline. The twos have Tenuta at RG, Spencer Brown at RT, Mancz at C, Bobby Hart, and Tommy Doyle, with Moss the RB and Keenum the QB. Jamison Crowder and Hodgins are the WRs I see. They're doing "hurry-up" plays, so kudos to Ken Dorsey. The threes' OL have Alec Anderson-VanRoten-Capra, (?), and Tanner Owen. Tavon Austin raised some eyebrows with this group, with a nice 20-yarder from Barkley and then a 7-yard out. A dumpoff to James Cook over the middle and a sweet catch by Hodgins finished that series. They weren't done, though; the playmakers were Hodgins, Sweeney, Gentry, Cook, and Kumerow. Best catch of that set was a nice TD by Isaiah Hodgins, who in college went 12 for 12 on red zone throws. His streak is still alive.
Calisthenics: 4 Stars, and 5 Bizarres
Putting forth Extra Effort during the calisthenics was shown by James Cook, Ed Oliver, Taiwan Jones, and Daniel Joseph. No bizarres today, as our eyelids were put on stilts by the punters. Longest hang time was by Haack, almost 6 seconds. Araiza's 5.3-second punt went from his 25 to the other 2 yard line, but he was just warming up. Two more punts sailed into the end zone (75 yarders, no wind). Dawkins, Ford, and Kerstetter were there just watching, mouths agape.
KR Drills
Blackshear, McKenzie, Shakir, Marquez, and Tavon Austin took turns fielding kicks, with gunners Cam Lewis and Taiwan Jones on the prowl.
Positional Drills and Thrills
Ken Dorsey comes back over with the offense from the far field #3. He's wearing the popular Bills camo cap, and Salacious Crumb, a bald guy with a duffel bag, follows along behind him. The music is softer, definitely 70's (Eye of the Tiger's on right now), and I notice "No Videotaping" signs every 25 feet along the front fence. No sign of Belichick.
WRs were over with Position Coach Chad Hall. They first did sudden stops (first time I've seen this drill in 10 years of doing this), then adding a stop and turn, then adding a ball being thrown to them on great timing. This is called successive approximation in teacher talk, adding one thing at a time to a chain of actions. I'd commend Hodgins, Tavon, and Gentry. Pau'u fell once.
Knox, Howard, and Sweeney are doing curl-ins with Josh. Barkley is throwing to the threes (Gilliam, Morris, and Wydermeyer. OJ Howard is the tallest at 6 foot six, but 6'5" Jalen Wydermyer is the most solid-looking. The TEs would later do run-blocking.
OL were working with Kromer and Ryan Wendell (narrowly winning the award for best beard over Morse and TD Jesus) on hand placement. Ford is gigantic, north of 320. The youths –Tenuta, Doyle, and Brown– are taller, but have more athletic builds. Kromer is not taking any grief; he has them five wide and 3 deep military-style, like at Fort Drum.
RBs worked with Kelly Skipper, who's surely in his 300th year. Special Teams ace Taiwan Jones is right behind him in age, beginning his 12th year at age 33. Singletary's hold on RB1 is still strong, Moss's injuries look like they're behind him, Duke Johnson is 34, but a good receiver, and James Cook is young and a good receiver. You see his effortless speed (remember Karlos Williams? That's who he reminds me of). Blackshear is fast but smaller, even smaller than Breida.
Seven on Seven
The starting five OL were the same from left to right were Dawkins, Ford, Morse, Bates, and Quessenberry. Cody Ford is your starting LG (Saffold's been in a car accident) and David Quessenberry is your RT. We saw more 12 personnel (2TE groupings), with Knox more often out wide and OJ Howard inline.
James Cook as a receiving and as a burst niche option is so exciting, but his playing time will be reliant on his blocking and as a runner. Today, Cook didn't look out of place at all. Josh overthrew some (overthrew Cook with great coverage by Milano, then threw it out of the EZ, and then overthrew Gilliam))
Eleven on Eleven
Josh continued missing his targets, overthrowing Diggs on a sideline pass, but finally finds his groove on a completion to Hodgins. Tim Freaking Settle (313 pounds of him) goes up and snags a Case Keenum pass and is encouraged to take it 80 yards to the house. He had the athleticism to get his hands on that bullet by Keenum, but lacked …um… aerobic capacity on that Pick Six!
Case Keenum handed the ball of James Cook on a nice long run, with kudos to Turnstile Bobby Hart for blocking down on a roll-out. Tim Harris, a corner, had a nice PBU of Barkley on a 3rd-string WR, Siran Neal got a PBU as he was all over Crowder, and Groot Rousseau got a would-be sack on Barkley's QB Keeper. Nice pressure up the gut from Prince Emili on Barkley.
WOW of the Day
Araiza got one star of the day for his booming punts, but with a nod to Haack's hang time. Von Miller's get-off is as fast as Ed Oliver, and Von blew up a play from the get-go. The third star goes to Gabriel Davis in the end zone catching a zinger of pass from Josh. If I gave 5 stars, the other two would go to Isaiah Hodgins and Tavon Austin.
Depth Chart As I See It => On Google Docs . I'll update it after a couple practices.
Editor's babble: Be sure to follow Dean's 'AstroNotes' throughout training camp!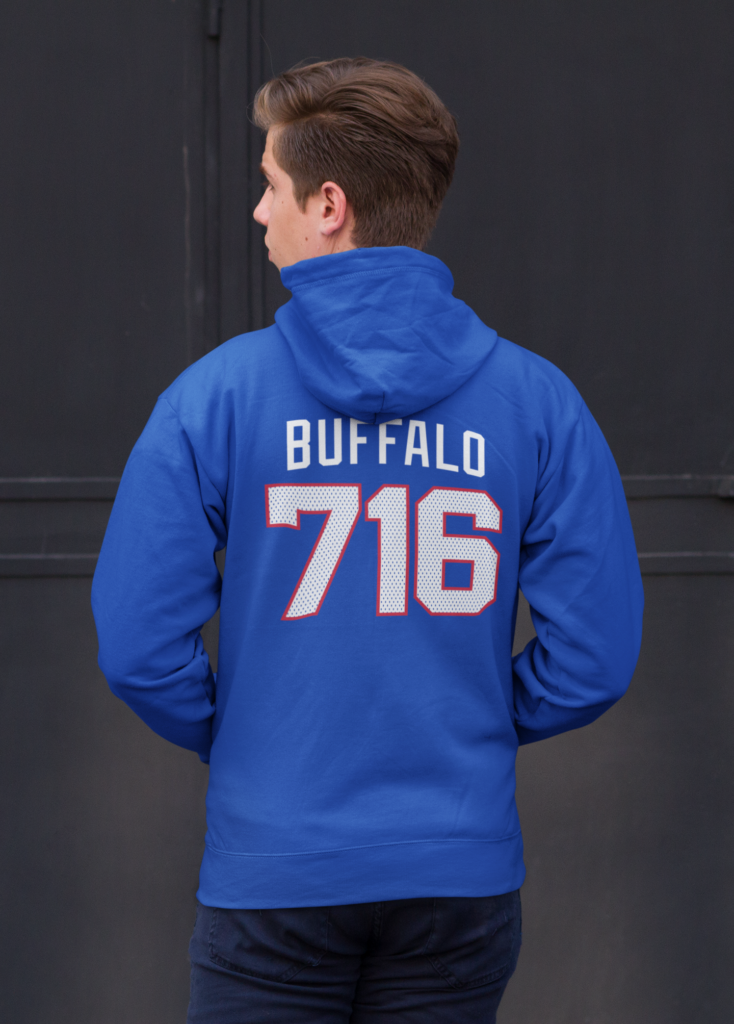 BuffaloFAMbase.com is sponsored by 26 Shirts
Every Monday, we launch a new two-week campaign of a limited edition t-shirt design. Every shirt purchase results in a donation to a local family in need. After the campaign ends, the shirt is retired. A new design is released, and a new family benefits from your fandom!