In baseball they call it the Hot Stove league; named for spirited discussions of the coming season and ranking the all time greats around the wood stove on frosty off season nights. For our purposes, the venue shifts to that backyard fire pit over a few cold ones. I wanted to use the down time to put our current Buffalo Bills in context of the franchise's history. Originally I was going to re-do the 50th Anniversary team that is a decade old now. But I think that might be something to save for special anniversaries OR a milestone achievement. Hope the milestone achievement, aka the Vince Lombardi Trophy, comes first!
Top ten lists are more fluid and easier to work with, and offer more blasts from the past. My criteria includes a minimum 50 games for the Bills…so Stefon Diggs isn't eligible now, but will be after this season if he plays all 17 games. I am an eye witness to all the post-merger Bills' seasons, and my uncle and his friends have been an invaluable resource on the AFL years.
It's more fun to save QB for last, so let's start with the Defensive Line.
Just missed: Ben Williams, Marcellus Wiley, Chris Kelsay
10. Ron McDole: 1963-1970
If you took his post Bills career into account, "The Dancing Bear" would rank higher, as he spent eight more years with the Washington Redskins, starting until he was nearly 40. He ranks #44 all time in games played. He was a pro bowl caliber left defensive end on the Bills back to back AFL Championship teams. More about that defensive line later.
9. Aaron Schoebel: 2001-2009
This starts the run of the Bills #2-3-4 all time sack leaders, but I'll shake up the order a little. His 78 sacks denote a solid career for a 2nd round pick, but in the first decade of "the drought", it was largely under the radar.
8. Phil Hansen: 1991-2001
Hansen was overshadowed by Hall of Famers and Pro Bowlers on the Super Bowl teams, but was an every down standout for a decade and made the Bills Wall of Fame in 2011. Long before Carson Wentz, Trey Lance, Dillon Radunz, and Christian Watson, Hansen was the most notable North Dakota State Bison to play in the NFL.
7. Jerry Hughes 2013-2021
The longest tenured Bill has left One Bills Drive, but made quite an impact in his nine seasons here. I give him a slight edge over Hansen and Schobel based on peak performance. Kelvin Shepard for Jerry Hughes would rank high on a list of the best trades ever by the Bills. His numbers were best as part of the spectacular Jim Schwartz defenses, but has been a solid contributor in McDermott's rotations. Here's an interesting thought: Will the 2022 version of Von Miller outperform the 2013-14 Jerry Hughes? Can't wait to find out!
6. Mario Williams: 2012-2015
We were surprised when the Bills landed this big ticket free agent, but super Mario was worthy of his hefty contract. His production over four seasons probably earns him the OTHER starting DE spot on an All-Time Bills team. He is the first example of how many good players the Bills had during "the drought" years..but alas, no QB.
5. Ted Washington: 1995-2000
Similar to McDole, the Bills enjoyed a nice chunk of the prime years in a long career. Picking the four DTs that made the top 10 was easy; ordering them was not. Washington was one of the best run stuffing nose tackles I've ever seen. It's no stretch to imagine he would have been a difference maker in those Super Bowls if the timing had worked better.
4. Fred Smerlas 1979-1989
Trust us old timers…the late '70s Bills were awful. Within two seasons, Chuck Knox had them two minutes away from the AFC Championship Game. A pair of 2nd round picks from the 1979 draft were a big part of that success: Fred Smerlas and Jim Haslett. A bull of a nose tackle, Smerlas was a perfect fit for the 3-4 defense. It is tough to compare players in different systems, but Smerlas anchored the defensive line from the good Knox years through an awful stretch and into the Marv Levy era. Sadly, he missed the first Super Bowl run by one season.
3. Tom Sestak 1962-1967
After Steve Tasker gets the gold jacket he deserves, Bills Mafia needs to mount up for Tom Sestak. Knee injuries shortened his career, but at his peak he belonged in the conversation about elite DTs with names like Bob Lilly and Merlin Olsen. High praise indeed. The Bills 17 game streak of not allowing a rushing TD that spanned the '64 and '65 seasons still stands. It is also tough to compare eras, but the more I learned about Sestak the higher he climbed on my list. I would like to learn more about this guy and see more film of him in action.
2. Kyle Williams 2006-2018
I didn't think about it before doing this list, but Kyle Williams has a fair shot at the Hall of Fame. He has to be one of the most popular Bills in their history. Kyle was the second DT the Bills drafted in 2006…four rounds later than the immortal John McCargo. It was a special moment to see the Bills break the drought in Williams' final season. As the game gets more specialized, a DT capable of playing at a Pro Bowl level on all three downs is extremely rare. What a treat it was to watch him for 13 seasons!
1. Bruce Smith 1985-1999
BBBRRRUUUCCCEEE! Even typing it, I get flashbacks to being among 80,000 screaming fans watching another sack celebration by #78. Bills Mafia says Bruce edges Reggie White as the greatest defensive lineman in NFL History. Taking over this spot is about as daunting as taking over first base on an all time Yankees team.
With Jerry Hughes moving on, no one on the current Bills roster has enough "time in the place" to qualify for this list. What are the long term chances? Cracking the top 4 would seem to require longevity.
Von Miller:
Two seasons worth of vintage Von Miller and the team result we crave would override Mario Williams four non playoff years
Greg Rousseau:
Only time will tell, but the upside is there, and he just turned 22! And he is being tutored by Von Miller!
Ed Oliver:
Assuming he earns a second contract, it becomes a question of where, not if, Oliver makes the list. Expectations were very high when he was drafted, and maybe he hasn't quite hit that level yet, but the Fedora Focus says Oliver is primed for a career year.
Boogie Basham:
The long shot, will have a lot to do with opportunity.
I would love to hear any and all dissent or agreement! Since we are so far away from football, I'll throw in a summer beer recommendation for you: from Big Ditch Brewing, located on Huron St. in downtown Buffalo: Dayburner. I would describe it as somewhere between an IPA, a summer ale, and a shandy. So refreshing!
Next week we tackle the linebackers.
Editor's babble: The thought that went into ranking these players is right on in my opinion. But that doesn't surprise me coming from the creator of the Fedora Focus. We are grateful for Joe Reagan's many contributions to our blog. You can find Joe on Twitter @joer869.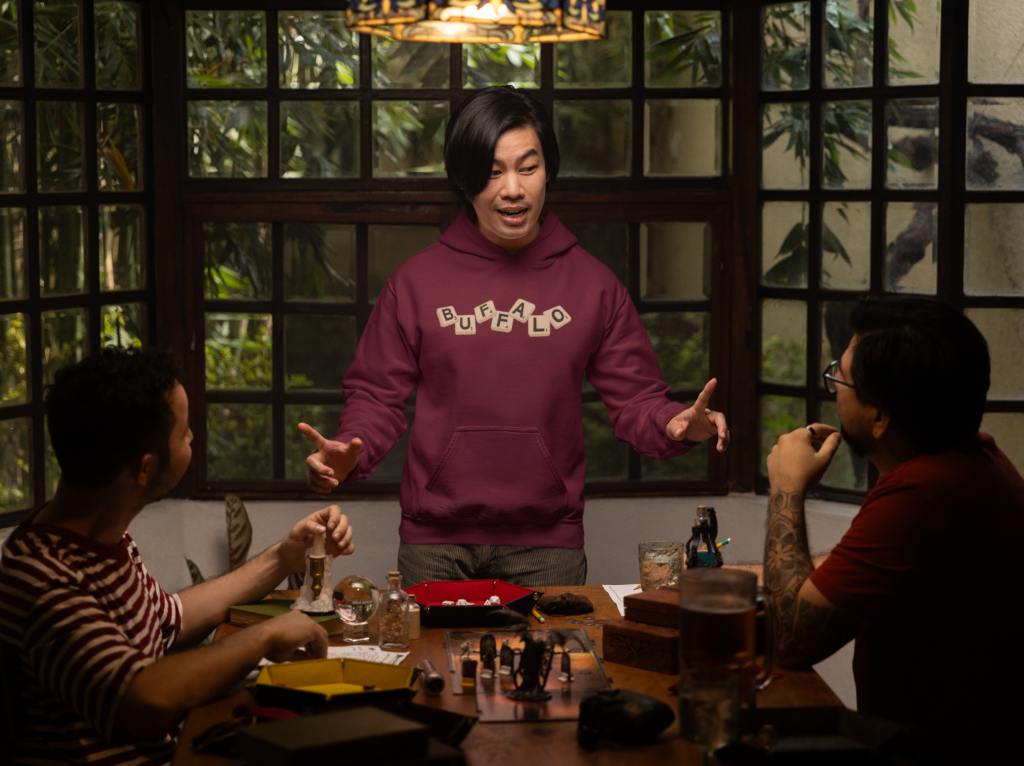 BuffaloFAMbase.com is sponsored by 26 Shirts
Every Monday, we launch a new two-week campaign of a limited edition t-shirt design. Every shirt purchase results in a donation to a local family in need. After the campaign ends, the shirt is retired. A new design is released, and a new family benefits from your fandom!